A synthetic-free, moisturizing body wash is just what your skin needs
Posted on June 13, 2018
Written by: 100% PURE®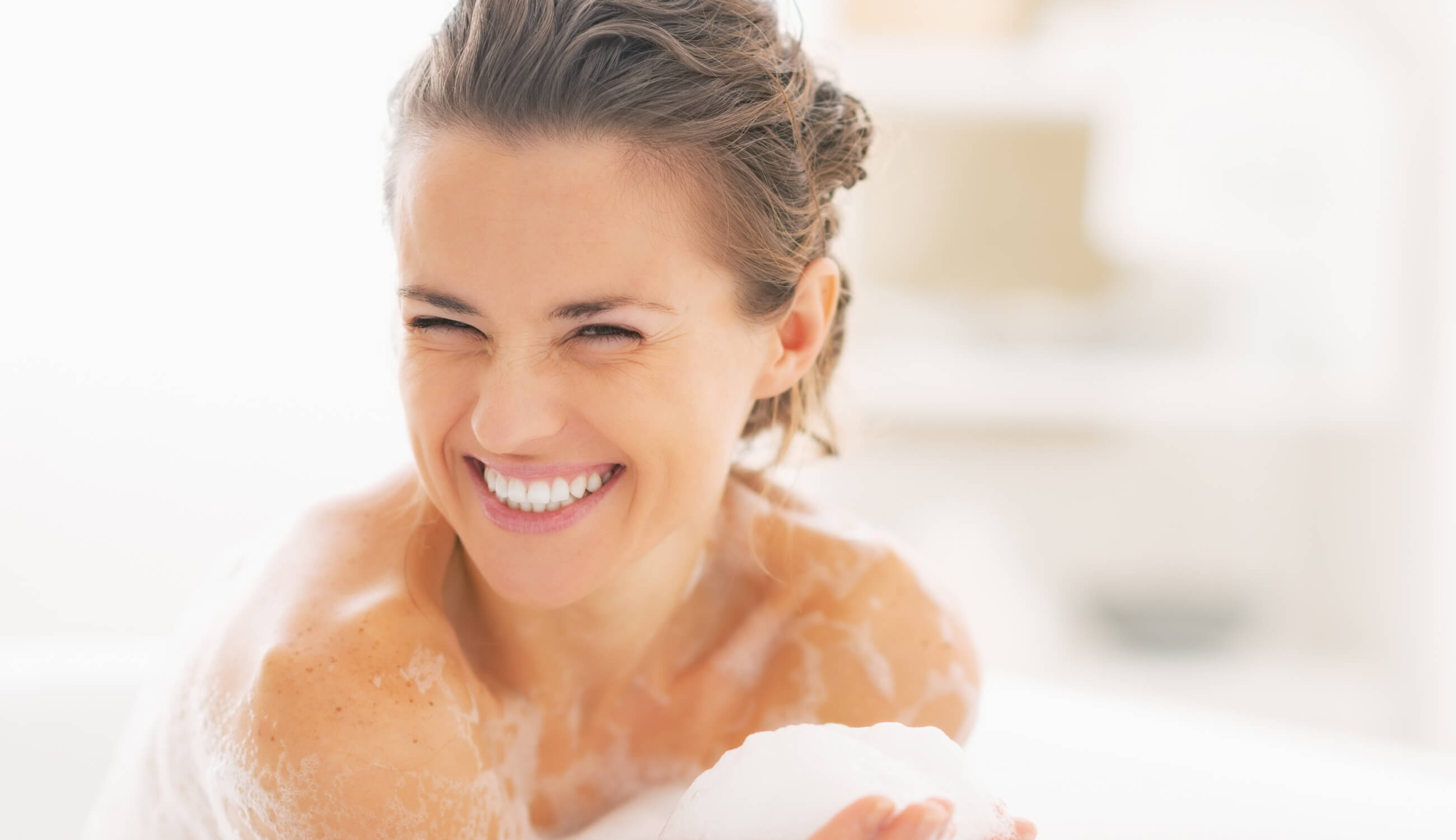 Summer is coming! What does that mean? Warmer weather, longer days, and more opportunities to treat yourself (and your skin) to something wholesome and lavish. That body wash you're currently using – do you know how it's cleaning your skin? With many conventional shower gels, we find that harsh ingredients like synthetic chemical surfactants are high on the list of things going directly on your skin. This can affect more than how our skin gets clean but how it feels, how we treat any skin conditions such as eczema and psoriasis, and ultimately how we age. Outside of their environmental impact, synthetic surfactants can also be harmful and toxic to us, yet they are still commonly used in many products.
You should know what's going on your skin, and that's why we practice transparency with our ingredients. We also choose to focus on infusing our products with what's good for you and leaving out what isn't. From body wash for sensitive skin to moisturizing body wash for quenching tanned summer bodies, we've got it all. You're sure to fall in love with the 100% PURE Shower Gel collection.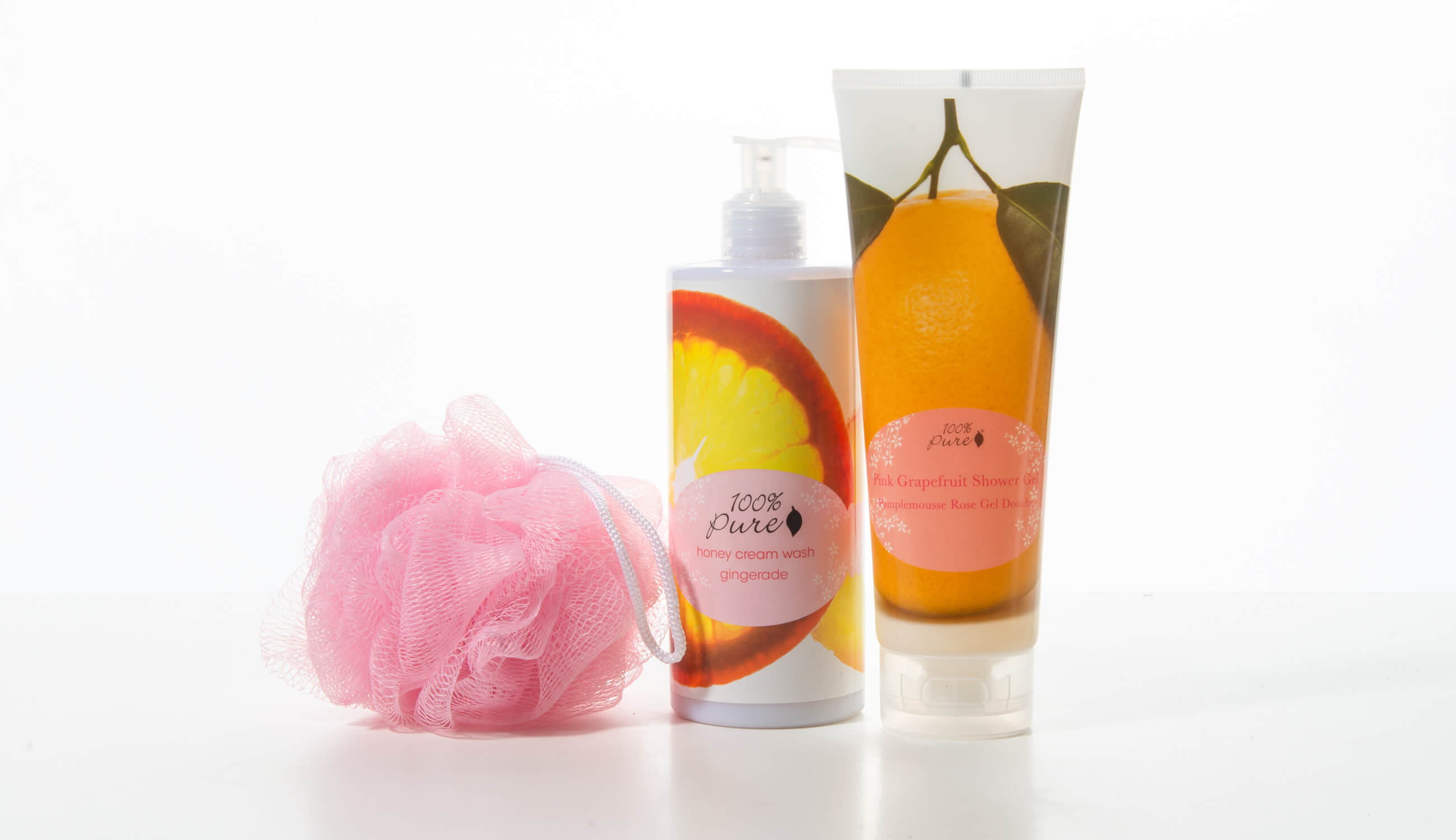 How Do Our Natural Shower Gels Get You Clean?
We know what you're thinking. Without the presence of detergents or other synthetics and chemicals, how exactly do we get ourselves clean? Often we find keeping it simple is best, and that is why we use whole, pure, and natural ingredients. In place of harsh detergents, we use essential oils and plant extracts that are filled with natural antibacterial properties as well as providing nutrients for our skin. Examples of some of the ingredients we like to use might include antifungal tea tree oil, anti-inflammatory lavender honey, or disinfecting lime essential oil (all found in one or more of our shower gels).
Our products do contain natural surfactants – instead of synthetic alternatives that can do some serious damage. What is a surfactant? It's basically a middle man between two liquids, like water and oil or grease. The surfactant allows those liquids to intermingle and this better releases dirt and debris during the cleansing process. Natural surfactants, like the saponified coconut oil you will see in a lot of our body cleansing products, results in a cleansing yet soothing lather that is as rich as it is enriching. The problem with synthetic surfactants is that our skin can actually absorb them. This can cause build up, poor skin conditions, and it's even been suggested that the prolonged use of these harsh chemicals can lead to cancers and birth defects.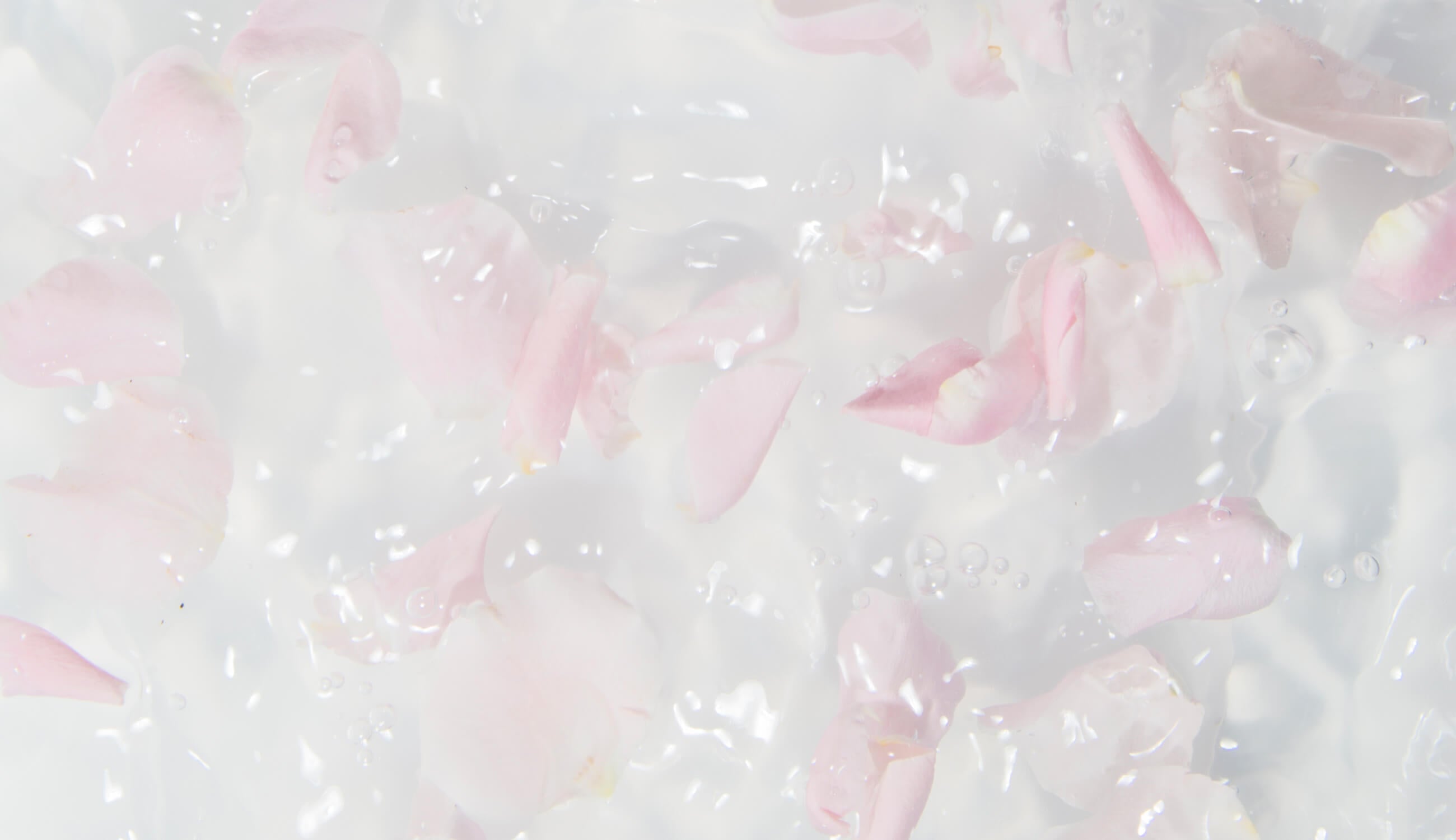 Our Natural Alternatives to Synthetic Surfactants
Our body washes and gels often contain a high concentration of aloe juice. Did you know this miraculous succulent plant can treat a multitude of issues like sunburn, skin irritation, aging, and dry skin? Aloe is also used in many healing products because of its ability to treat wounds, sores, and blemishes. The naturally antifungal properties in aloe help it to treat burns, cuts and mild infections, but aloe is also very soothing and antibacterial. Long story short – while the aloe in our shower gels and body washes is calming and moisturizing the skin, it's doing a great job of cleansing it, too. We've also included hydrating, soothing rose hydrosol in our shower gels for the same reasons! Rose is a famous friend to sensitive skin types, making it a gentle yet effective addition to our ingredients.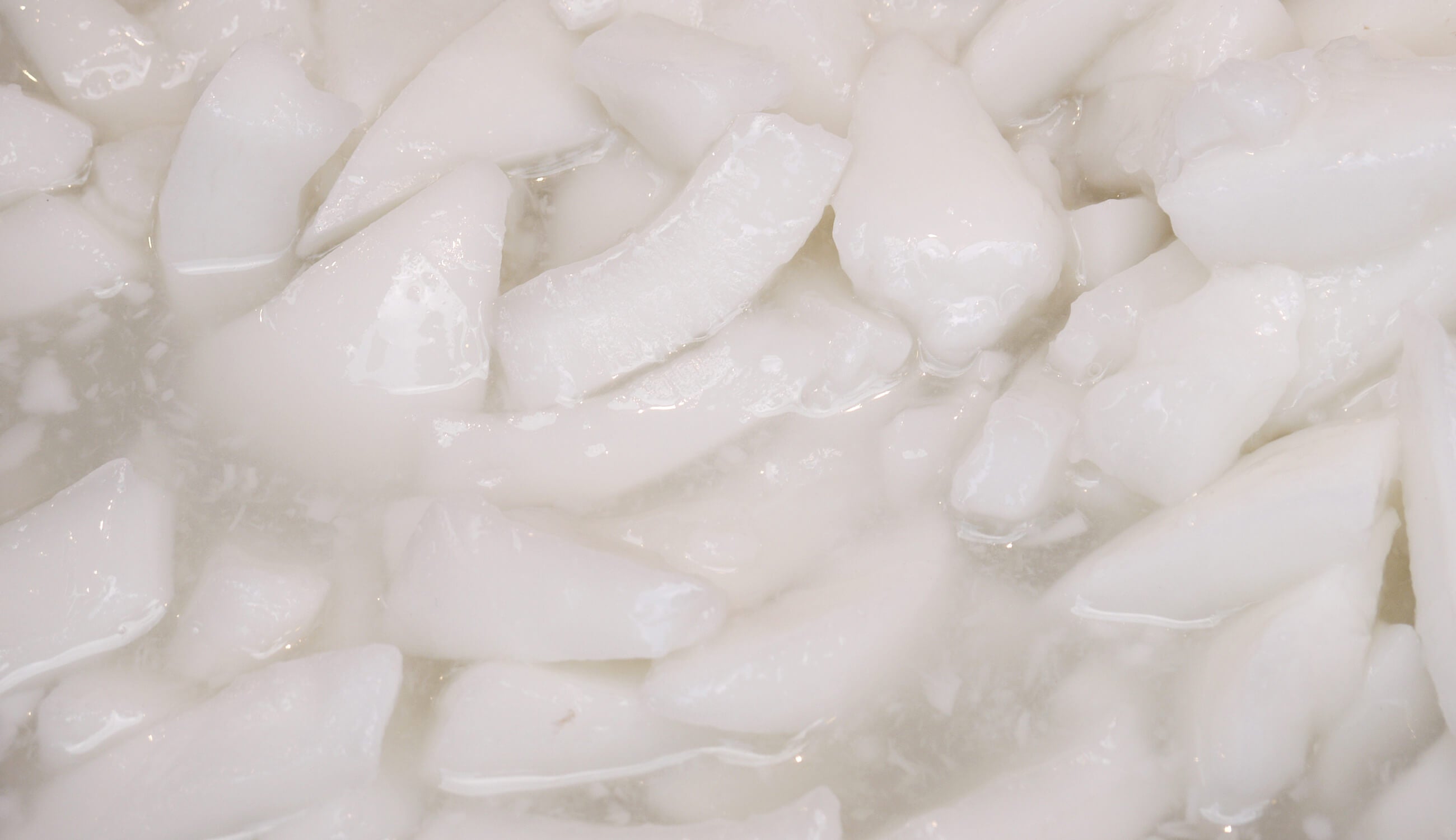 We're in love with coconut, and can't resist using its rich oil as a substitute for skin detergents that can lead to dry, itchy, and irritated skin. The benefits of coconut oil for skin are endless. Coconut oil contains fatty acids capric, lauric and caprylic acids which contribute antibacterial and anti-inflammatory properties as well as being soothing and moisturizing on the skin. Coconut oil also contains skin-healthy vitamin E, which is an antioxidant for fighting aging and wrinkling in the skin. Coconut oil helps to protect skin and has even been used to fight sun damage and sunburns, so it is no wonder why we include this miraculous, silky oil in our shower gels.
The coconut oil you see in our formula is labeled as "Saponified Coconut Oil." This oil has gone through the chemical reaction of mixing an oil with an alkali. It results in a creamy, moisturizing and cleansing soap base that is actually safe to use and naturally produces glycerin as well which helps the skin retain moisture. Saponified coconut oil contributes to baby soft skin and a richer lather in our gels – without the skin irritation and dehydrated squeaky clean feel common with other brands. Because of the addition of saponified coconut oil in our cleanser, the texture is lightweight and foamy rather than being an unhealthy pile of hollow bubbles. This silky texture treats our skin how we want it to feel – with love.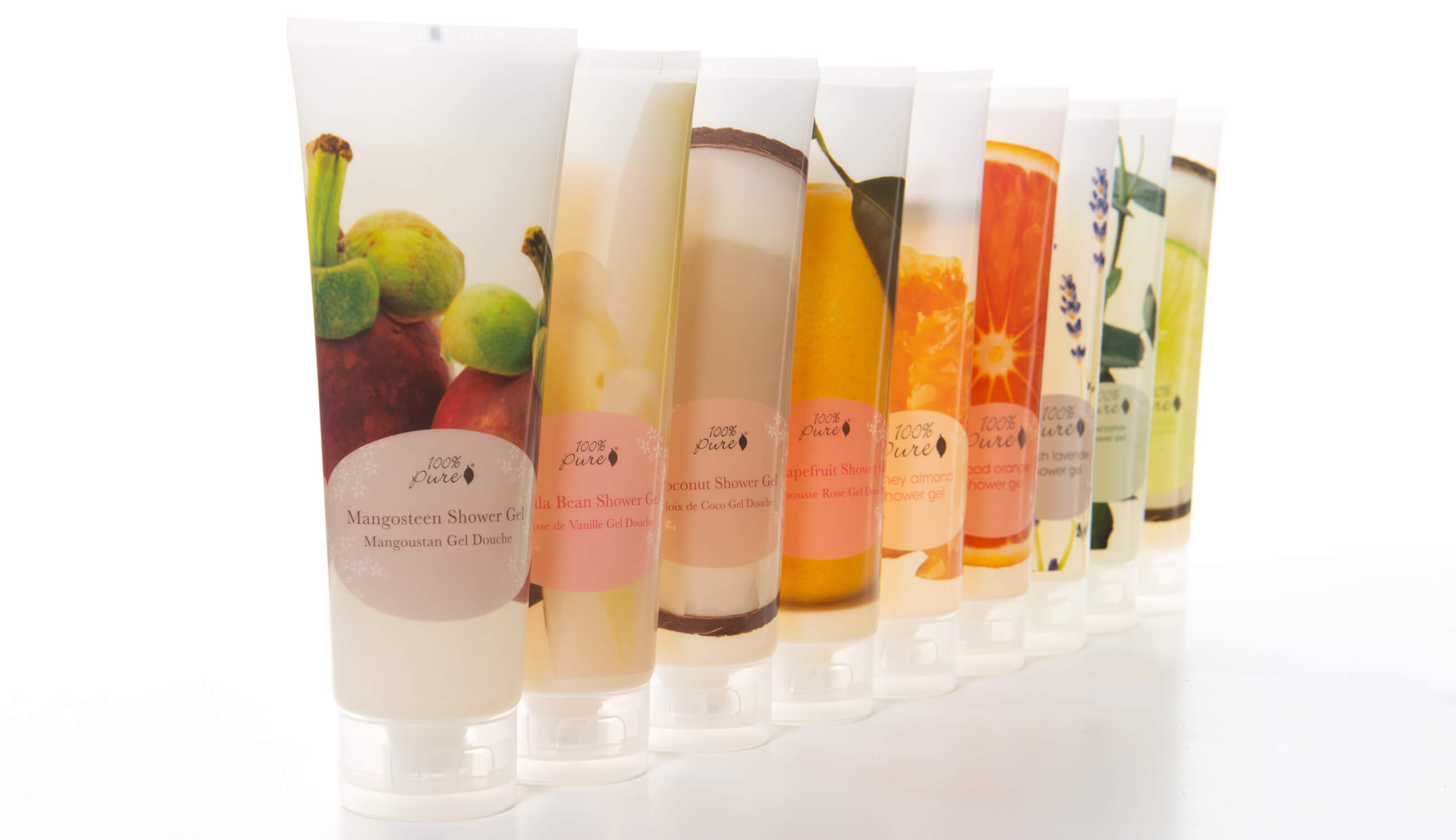 Moisturizing Body Wash and Shower Gel Collection
We offer a diverse variety of shower gels in irresistible scents, including tart pink grapefruit and sensual vanilla. They'll help turn your shower experience into a spa-like retreat, and they're packed with natural fragrances, fruits and florals. As we mentioned, all of our shower gels have an aloe juice base. This gives the product the perfect feel and consistency.
Looking for a rich, softly scented shower gel that blends perfectly with your body lotion and perfume? Our Honey Almond Shower Gel features real almond extract and lavender honey, and is perfect to use year around. It soothes dry, flaky skin in the harshness of winter, yet keeps skin perfectly smooth and moisturized after long summer days in the sun.
Speaking of sunshine, looking for the perfect summer scent? Drape yourself in the scents of the tropics with our Coconut Lime Shower Gel. In addition to the aloe and saponified coconut oil for the perfect gel texture, this shower gel includes fresh bright key lime and lavender honey. This coconut lime shower gel smells like waking up in Hawaii, and brings up all the feels when your work-bae gets a whiff at the water cooler.
Our shower gels have real ingredients, like the blood orange extract and blood orange essential oil in our shower gel by the same name or the fresh lavender, thyme and oregano in our French Lavender Shower Gel. This floral treat is perfect for skin types with body acne, eczema or severely itchy skin, as the herbs inside are soothing for these kinds of skin conditions.
The shower sensations don't stop there; the creams and oils in our shower gels treat the skin with nutrients and vitamins supporting supple skin, skin health, and a deeply moisturized glow. Maintaining skin's moisture barrier is important for any skin type, especially dry skin types. To leave your skin feelings nourished and moisturized after cleansing, be sure to skip those synthetic ingredients and opt for something a little more luxurious. For all the hard work it does, your skin deserves it!
We carefully hand-select products based on strict purity standards, and only recommend products we feel meet this criteria. 100% PURE™ may earn a small commission for products purchased through affiliate links.
The information in this article is for educational use, and not intended to substitute professional medical advice, diagnosis, or treatment and should not be used as such.
Sign up to our email newsletter for more blog updates and exclusive discounts.
< Older Post | Newer Post >