Benefits of Coconut Oil for Skin and Hair
How to use coconut oil to moisturize skin and add shine to hair, plus 7 DIY ways to reap the benefits of coconut oil!
Udpated on September 20, 2018
Written by: 100% PURE®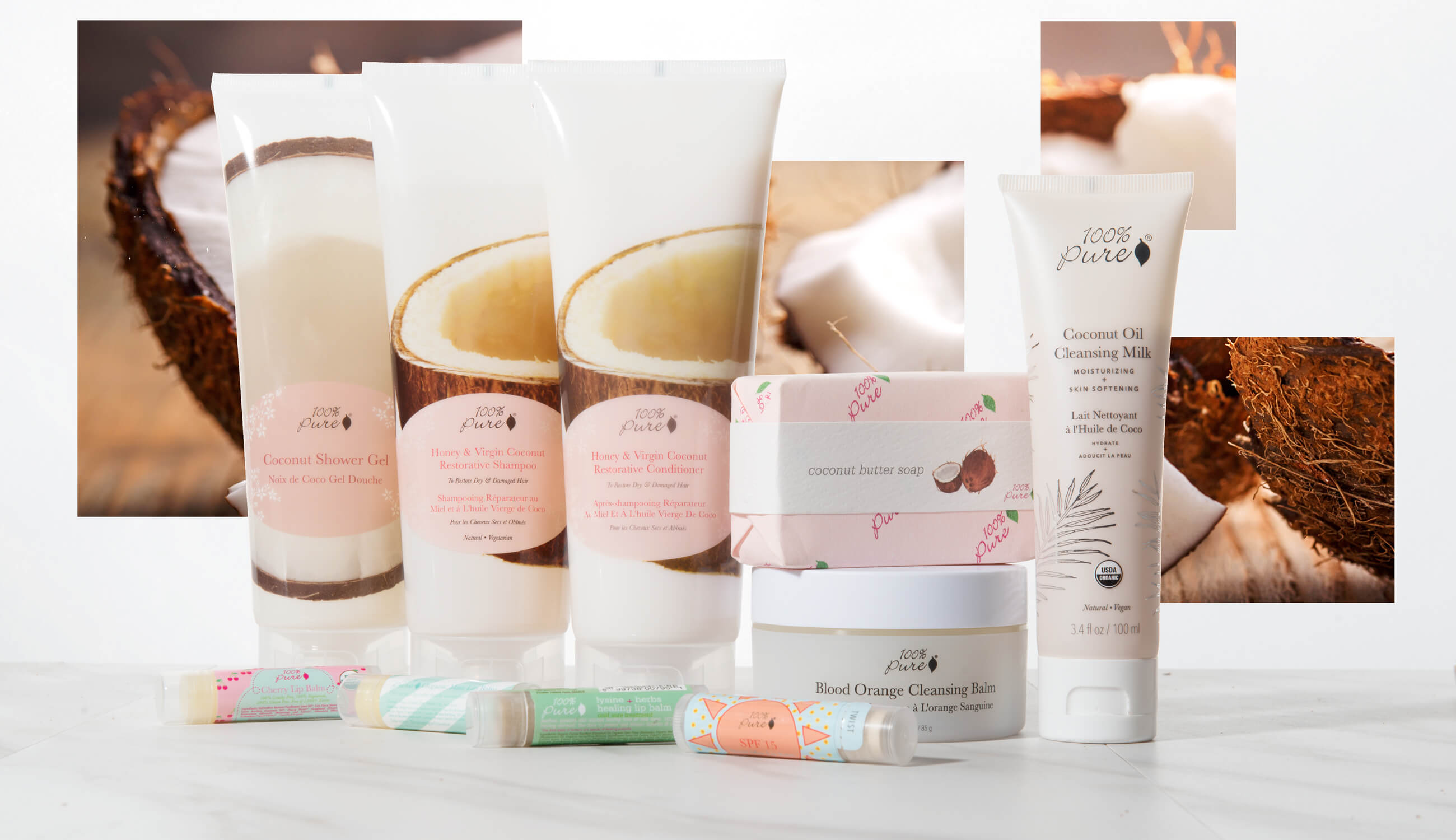 By now, you've probably figured out that coconut oil is a gem that's here to stay. Whether you're looking for a massage oil or a superstar skin care and hair care ingredient, the benefits of coconut oil are numerous. This aromatic, sweet oil comes from the meat of the coconut palm tree which grows in wet, tropical climates. Coconut oil is rich in antioxidants that act as a first line of defense against aging. We've created natural skin and body care to support radiant, gorgeous looking skin. Our natural hair care supports smooth, sleek hair. All thanks to coconut oil!
Why Use Cosmetic Grade Coconut Oil?
Cosmetic grade coconut oil is virgin coconut oil, which is pressed from the meat of the coconut without drying or use of solvents. Virgin coconut oil has a lower melting point than refined, or food grade coconut oil. This means that there are fewer molecular bonds that link the individual molecules together. What does that mean for you? Skin that's capable of absorbing more water and oil.
All 100% PURE products go through an extensive nine step testing process to ensure that they won't clog pores. That means our coconut oil products will keep your skin looking healthy, and your pores clean as can be. Using coconut oil for the skin is great because first, it's packed with antioxidants that allow a longer shelf life and fight free radicals. It can also heal, with studies linking coconut oil to faster wound healing and anti-inflammatory effects. As such, coconut oil is a skin calming oil that's even safe for acne prone skin!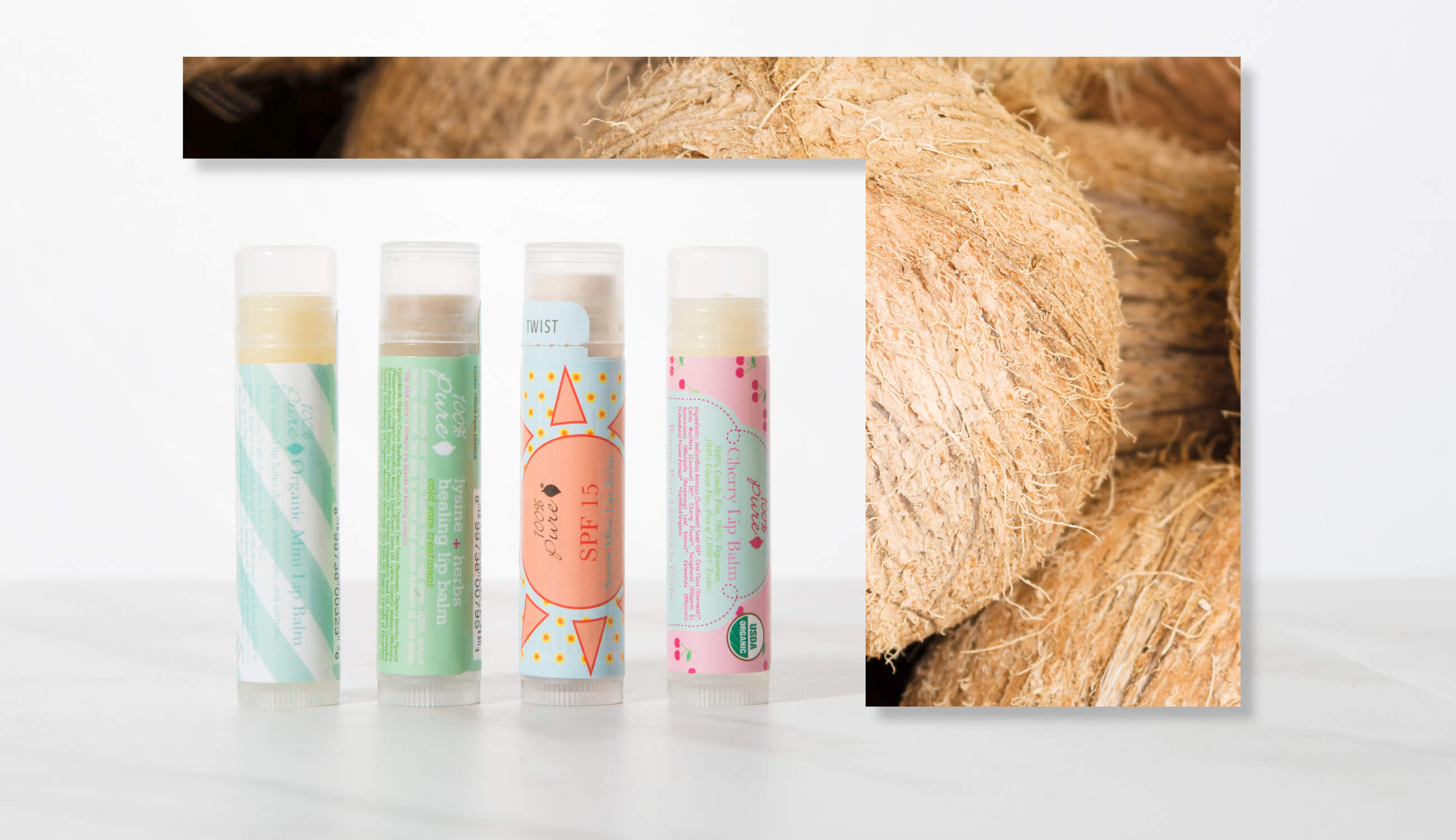 Nutrients in Coconut Oil
Coconut oil is high in saturated medium chain triglycerides like lauric acid, myristic, palmitic and caprylic fatty acids. These fatty acids are processed quickly by the liver and, in moderation, may help with weight loss. In skin care, lauric acid has been identified as beneficial for acne treatment thanks to its microbe fighting abilities. On top of being an acne-fighter, it is also an emollient, deeply moisturizing the skin. Good for all skin types, our coconut oil products use this superhero ingredient. You can find them in the Blood Orange Cleansing Balm and Coconut Oil Cleansing Milk.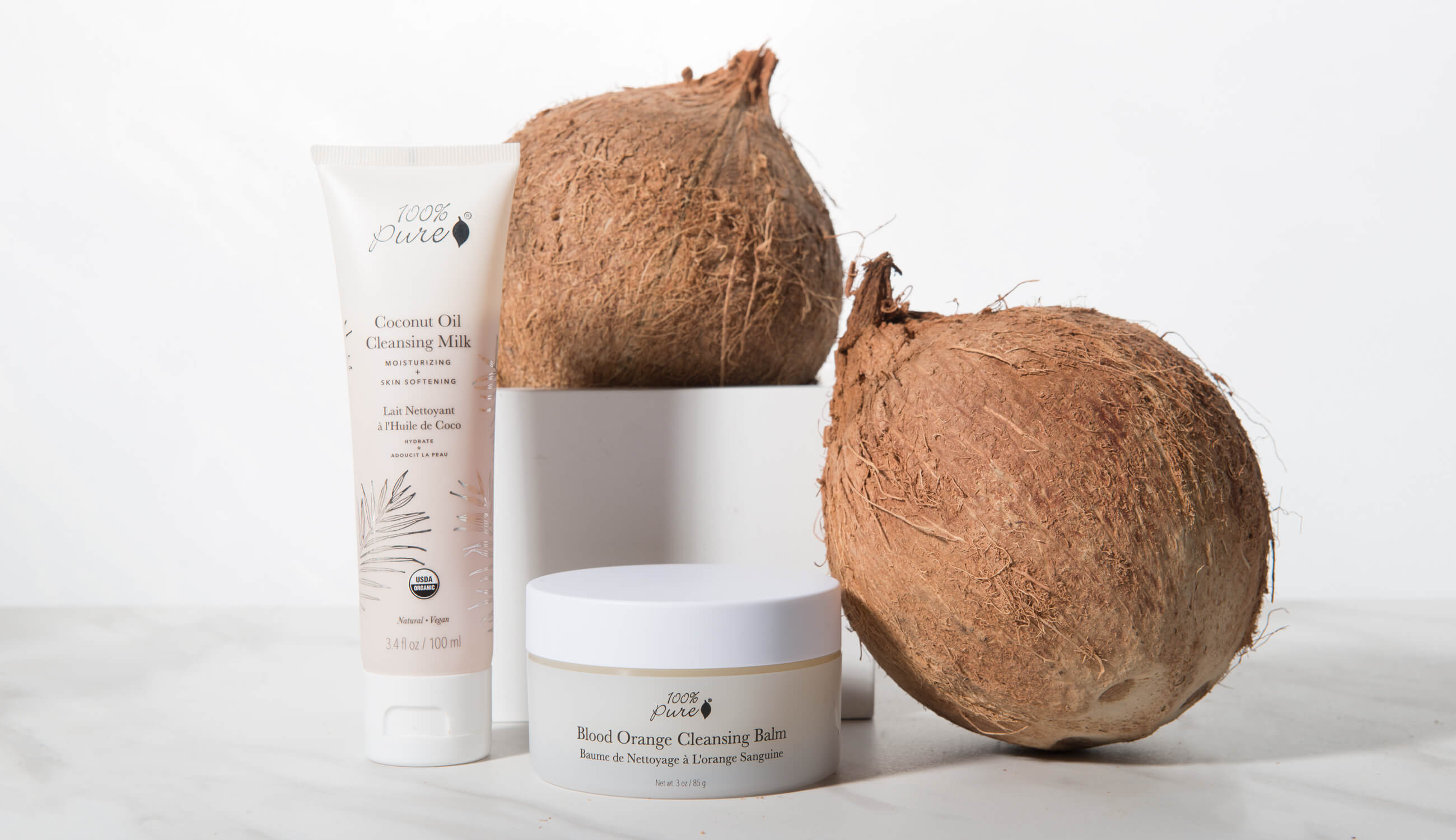 Two Step Coconut Cleansing with Coconut Oil
Blood Orange Cleansing Balm is packed with nourishing oils, vitamins, and antioxidants. This blend of oils will remove makeup, impurities, and even waterproof mascara. Apply it to skin with dry fingers, and remove with a warm, wet face towel. The avocado, coconut, olive, and olive leaf oils work together to soften and cleanse the skin. Olive leaf oil is particularly antimicrobial. Olive oil, Cleopatra's beauty secret, is rich in antioxidants, vitamin E and anti-aging squalane. Let the scent of blood orange uplift, while essential oils brighten the skin for a healthy, glowing complexion.
The second step in our two step cleansing ritual (made famous by Korean beauty) is using a liquid natural cleanser. Since we're obsessing over coconut milk here, we prefer our USDA certified organic Coconut Oil Cleansing Milk. Coconut milk is a liquified version of the inner white coconut meat, sometimes mixed with coconut water. It is rich in vitamin A, E, plant phytosterols and special phenolic antioxidants. The benefit of using antioxidants is that they neutralize free radicals. Free radicals contribute to accelerated skin aging, and antioxidants are our first line of defence.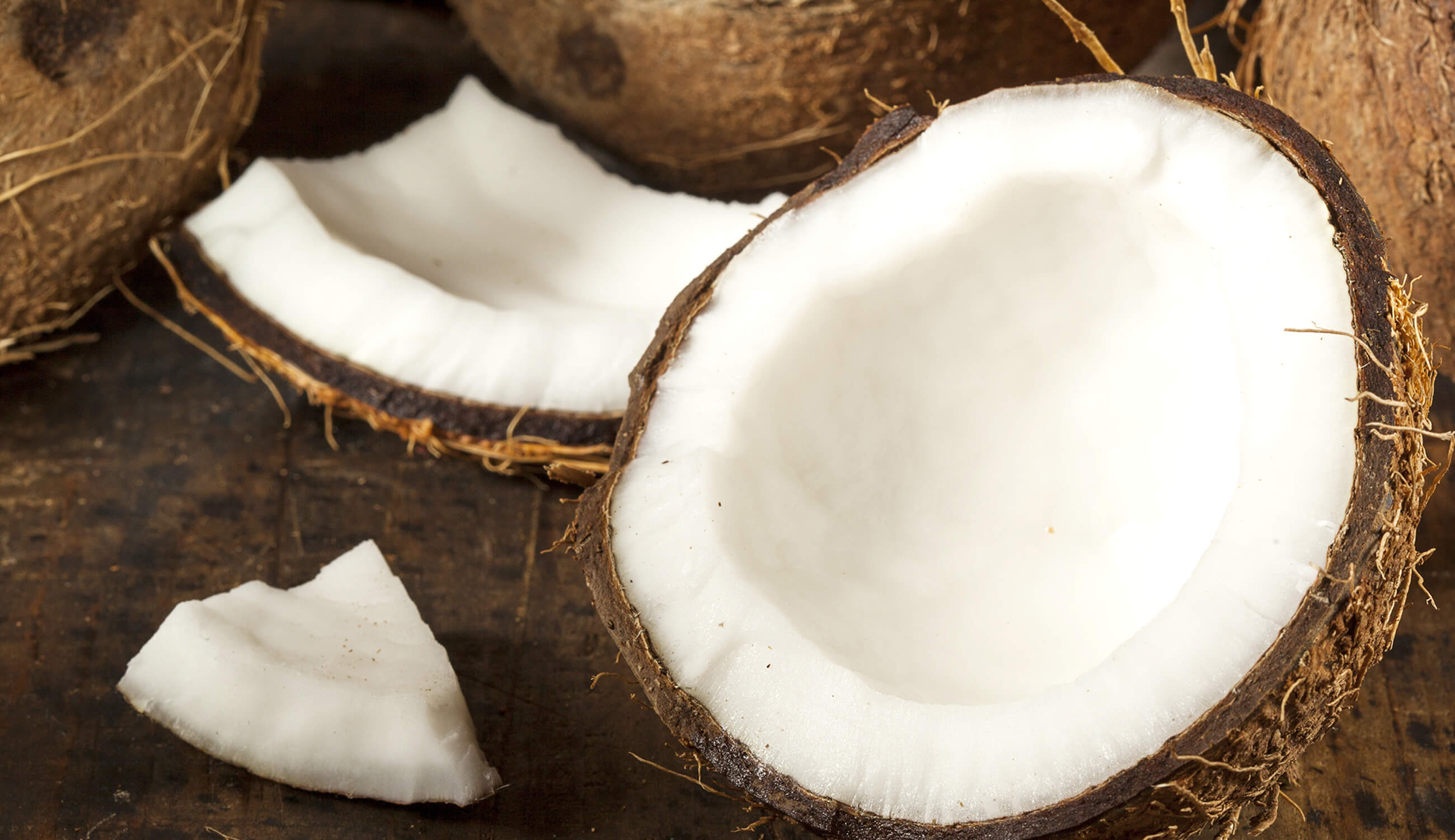 Our Coconut Oil Cleansing Milk contains all the benefits of coconut milk and coconut oil, and is scented with organic vanilla. The best way to use it this coconut oil cleanser is to gently massage it into moistened skin. Moisturizing coconut milk and oil soften the skin, while saponified coconut oil deeply cleanses. The coconut oil will help seal in the moisture provided by the coconut milk.
Saponified coconut oil, or potassium cocoate, is a potassium salt of a coconut fatty acid. This is what helps our Coconut Oil Cleansing Milk foam and cleanse. Potassium cocoate is an all natural liquid surfactant (aka cleanser) made from 100% whole coconut oil and potassium hydroxide. Unlike conventional surfactants, it's free of irritating and stripping sulfates. That means you can enjoy a good foam without drying out the skin! This cleansing milk will moisturize the skin while you cleanse the face, and is ideal for even the most sensitive or dry skin types. For more amazing coconut based products check out our shower gels, butter soaps, and lip balms!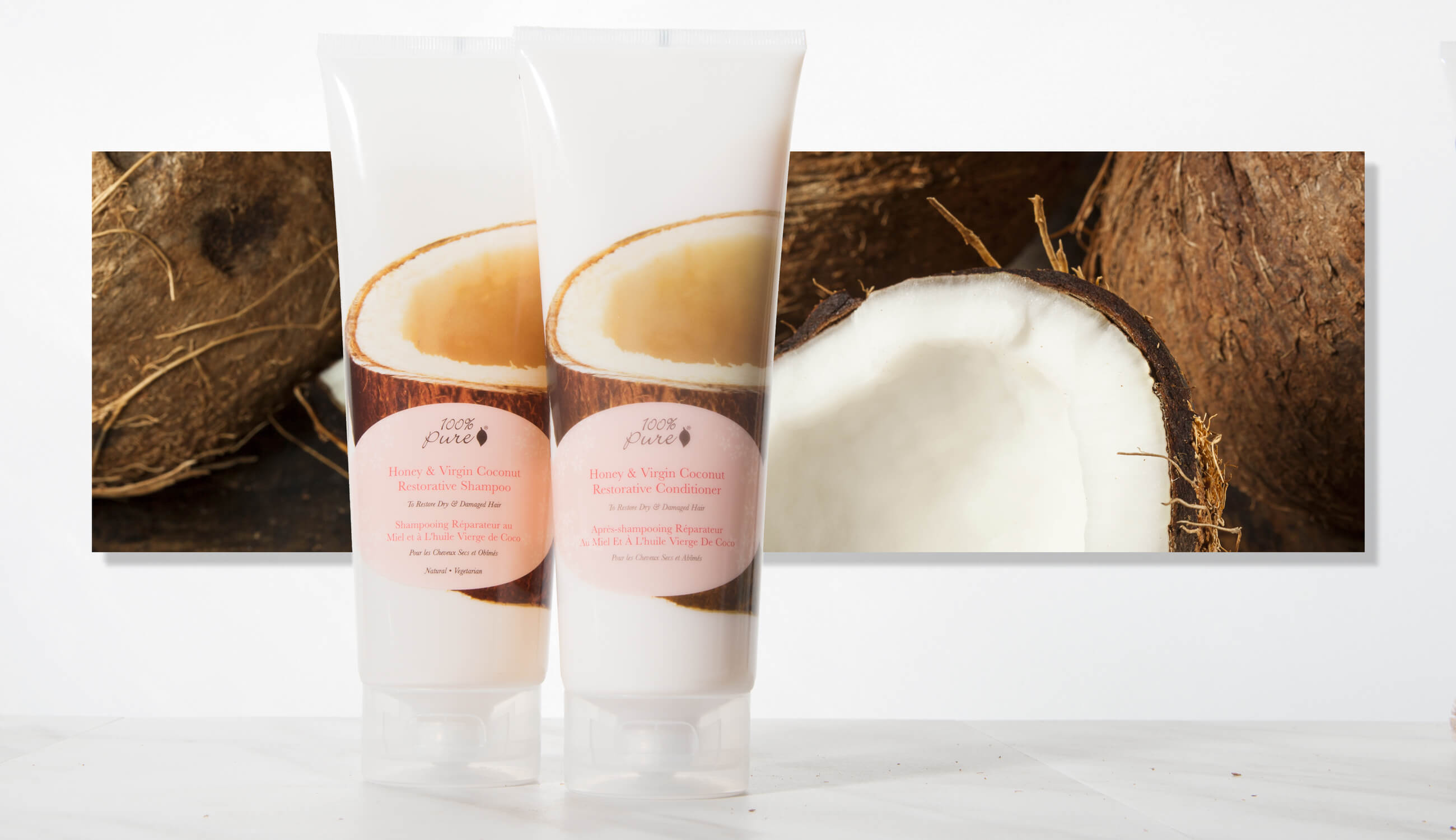 How to Use Coconut Oil for Hair
Virgin coconut oil isn't just for moisturizing your skin. Coconut oil also makes for an excellent deep conditioning hair mask and frizz tamer! Simply apply coconut oil all over the hair, then put on an a shower cap to seal in moisture. Leave the mask on for at least 15 minutes (or all night), and wash away with our restorative Honey & Virgin Coconut Restorative Shampoo and Conditioner. The fat in coconut oil keeps hair follicles healthy and moisturized, which can even help with hair loss. When you're in a bind and hair looks frizzy or dull, you can use a pinch of coconut oil warmed between the fingers to help calm rebellious hair.
More DIY Uses for Coconut Oil
There are lots of coconut oil beauty hacks out there! Here are a few more to try:
To soften cuticles, use as a cuticle balm. Simply melt 2 tbsp of coconut oil in a small glass bowl, then rest your fingertips in the oil. Allow them to soak for 5-10 minutes, then remove and massage extra oil all over hands and arms.

Use as a makeup remover by combining it with a gentle cleanser. Mix 2 tbsp liquid coconut oil (fractionated is best), 1 tsp of Coconut Oil Cleansing Milk, and 1 tsp distilled water. Mix the 3 ingredients in a bowl until well combined, and then apply to face, lips, and eyes for removing makeup. Gently rinse with warm water when you're through. Great for dry skin types!

Coconut oil makes a great massage oil, to nourish dry skin and deeply moisturize the body while you work it into stiff or sore muscles. Its naturally rich, nutty scent will transport you to tropical beaches and ice cold Mai Tais… yes, please!

Create your own coconut bath oil with 15 drops essential lavender oil (or your favorite essential oil). For more information about essential oils check out our blog, Best Essential Oils for Skin and Other Beauty Oils You Should Know About

Coconut oil is a very popular alternative to a body moisturizer. We prefer to start with a hydrating and moisturizing body cream with aloe, before locking it in with ultra emollient coconut oil.

Using coconut oil as a treatment for hair loss or dry hair is a great option for dry scalps, but may not work long term for everyone. It will definitely improve dry scalps and lower risk of further hair loss, since coconut oil closely mimics the scalp's natural oils. Keeping follicles well-oiled and in healthy balance translates to healthier hair growth and a moisturized scalp.

Last, give oil pulling a try! It's an Ayurvedic practice in which you swish a tablespoon of coconut oil or sesame oil in your mouth for about 20 minutes when you first wake up. It helps to whiten the teeth and freshen the breath (recall how coconut oil is antimicrobial).
These are our favorite coconut oil beauty secrets! Share your favorite coconut oil obsession by using the hashtag #100percentpure or #nodirtybeauty.
We carefully hand-select products based on strict purity standards, and only recommend products we feel meet this criteria. 100% PURE™ may earn a small commission for products purchased through affiliate links.
The information in this article is for educational use, and not intended to substitute professional medical advice, diagnosis, or treatment and should not be used as such.
Sign up to our email newsletter for more blog updates and exclusive discounts.
< Older Post | Newer Post >