Tips for Beautiful Bronzing
Highlighting 3 versatile bronzers made with real cocoa, plus simple tips for flawless summer bronzing
Posted on May 13, 2019
Written by: 100% PURE®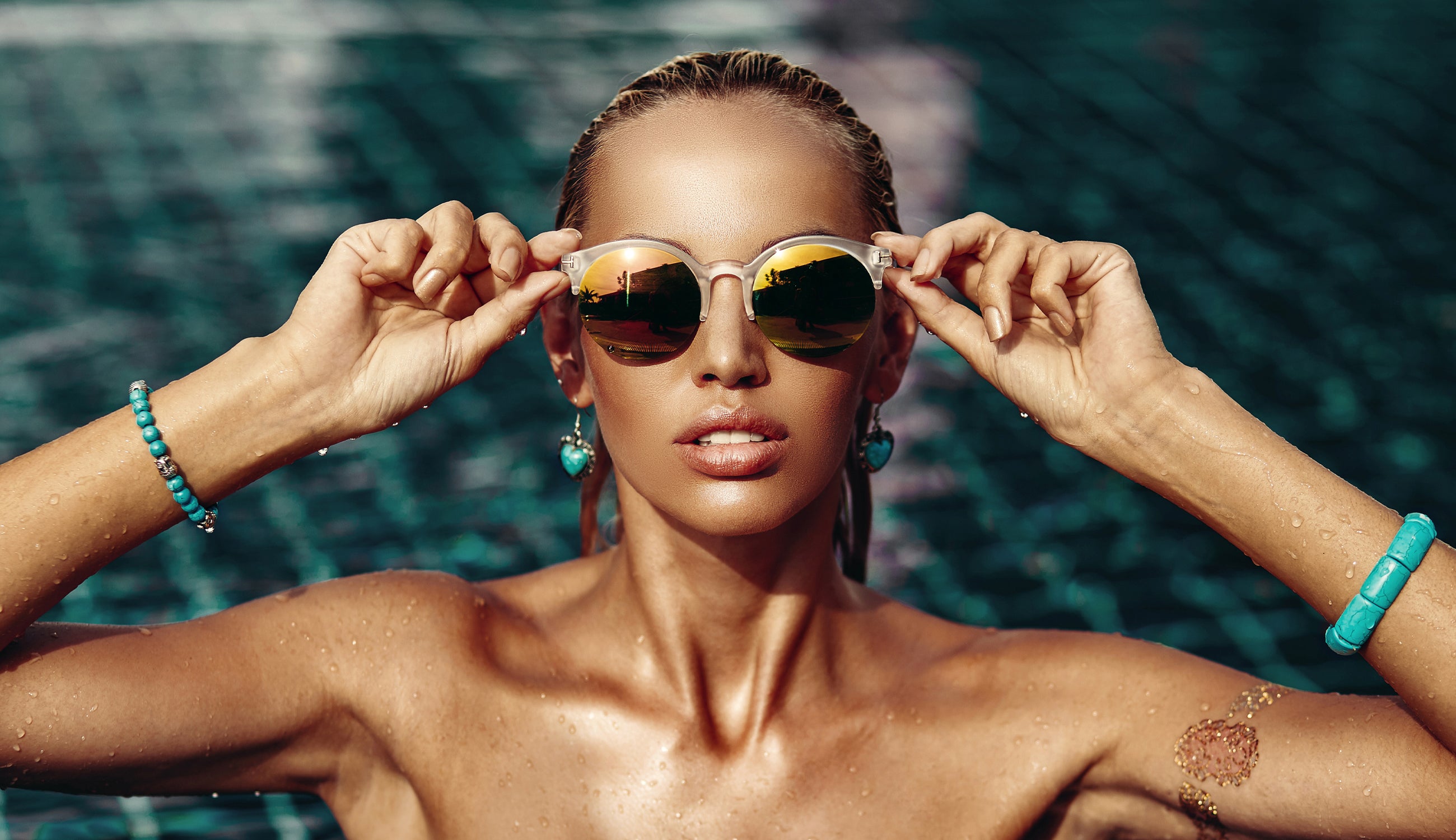 This summer's everyday theme: bronze and golden. We love a rich, deep tan (but sun safety first, of course!) and a golden glow. The rub? It's totally not easy to get. Either you've got to lay out in the sun all day and expose your skin to harsh UV rays – not the way to go, or you've got to go the artificial route via either tanning salons or greasy lotions that leave stains everywhere and an orange cast to your skin. Instead of the hoopla, go for a glow that looks real, red-carpet worthy, but also feels amazing on the skin. We'll also include a few tips to make your application as smooth as a bronze silk.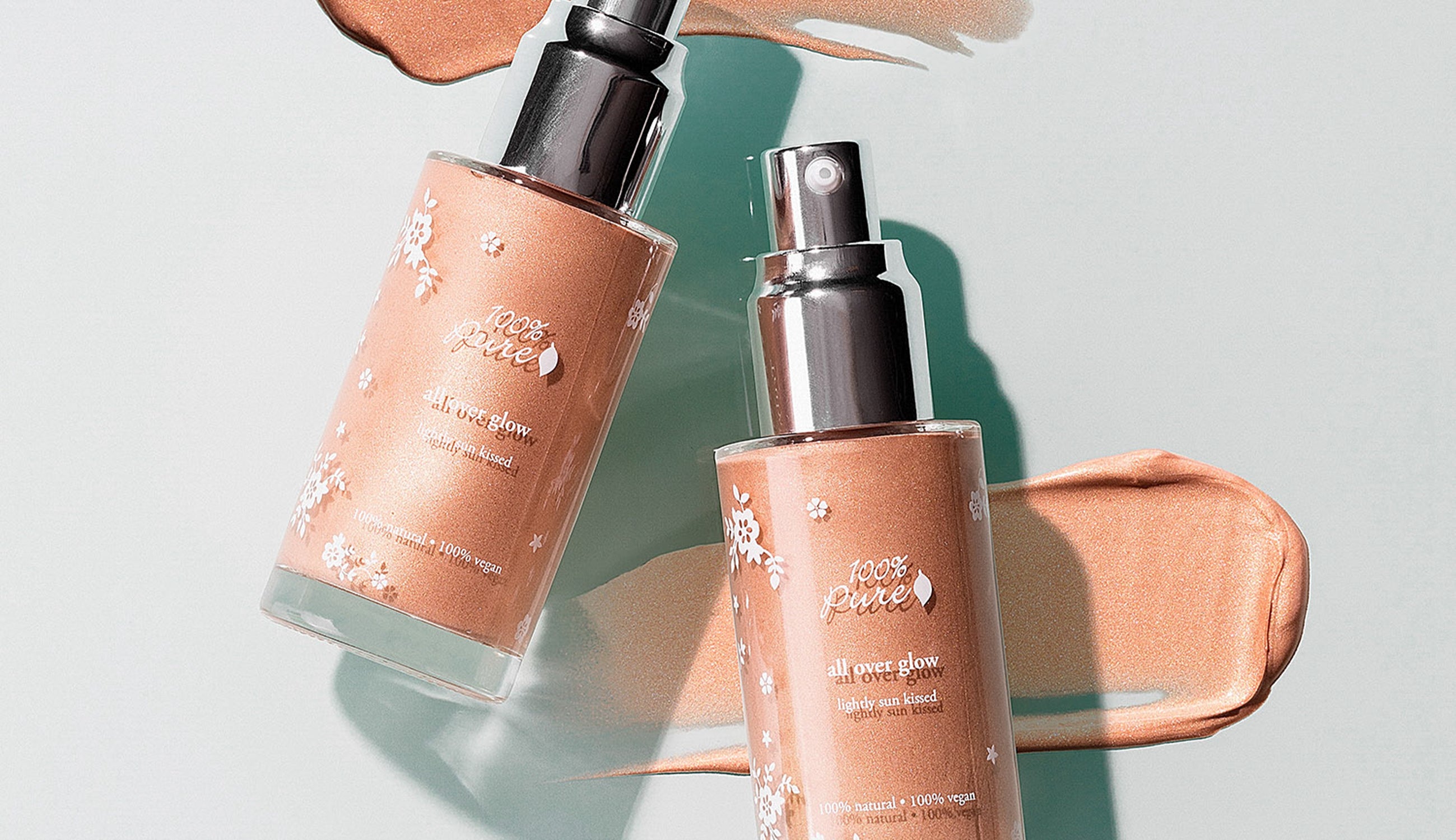 Tips for Bronzing with All Over Glow
Shades offered:
Lightly Sun Kissed, Deeply Sun Kissed
This liquid bronzer gives us all the summer feels. We couldn't be more in love with this luminizing, glow-perfecting face and body formula that bronzes and shimmers at the same time. One of the best features of this bronzer is that it is completely vegan and cruelty free! This mineral and fruit pigmented® wonder also glides easily onto the skin with a nourishing, hydrating aloe base that leaves skin softer, smoother, and more vibrant.
This power-packed liquid bronzer features some of our favorite super fruits like pomegranate and acai. The antioxidants from these fruits help to rewind the clock on aging, by working to diminish signs of wrinkles. Antioxidants are also known to help with scarring and hyperpigmentation, all while making you glimmer like the ethereal goddess you are.
Lightly Sun Kissed (a honey gold) and Deeply Sun Kissed (deep bronze) are suited for a wide range of complexions, with the ability to seamlessly bronze skin tones from alabaster to espresso. Feel free to apply directly onto the skin for the most pigmented results. We also love blending this glow product in with our foundations, body lotions, SPF and body oils for an illuminating addition to our existing routine.
How to get beautiful, bronzed results with All Over Glow
Liquid bronzer can be intimidating – especially if you have horror stories of trying to apply your own fake tan – but we promise, these aren't half as hard as that, and way more forgiving!
For a streak-free finish that effectively transfers the metallic glow of this liquid bronzer, apply it directly onto the skin with your clean and slightly damp Non-Latex Makeup Blender or favorite sponge. You'll definitely want to dampen your sponge first, to ensure the sponge doesn't absorb all of your product. Next, pump out your desired amount before buffing into the skin. Stamp it on lightly wherever you want a bit more coverage and voila – you're golden, baby!
This bronzer makes the ideal base for your summer makeup look, without making you look unnaturally tan. Try using your Cruelty-Free Kabuki Brush to buff it onto the high points of your face after your moisturizer. Allow it to dry, then follow with your daily foundation for a warm, lit-from-within glow.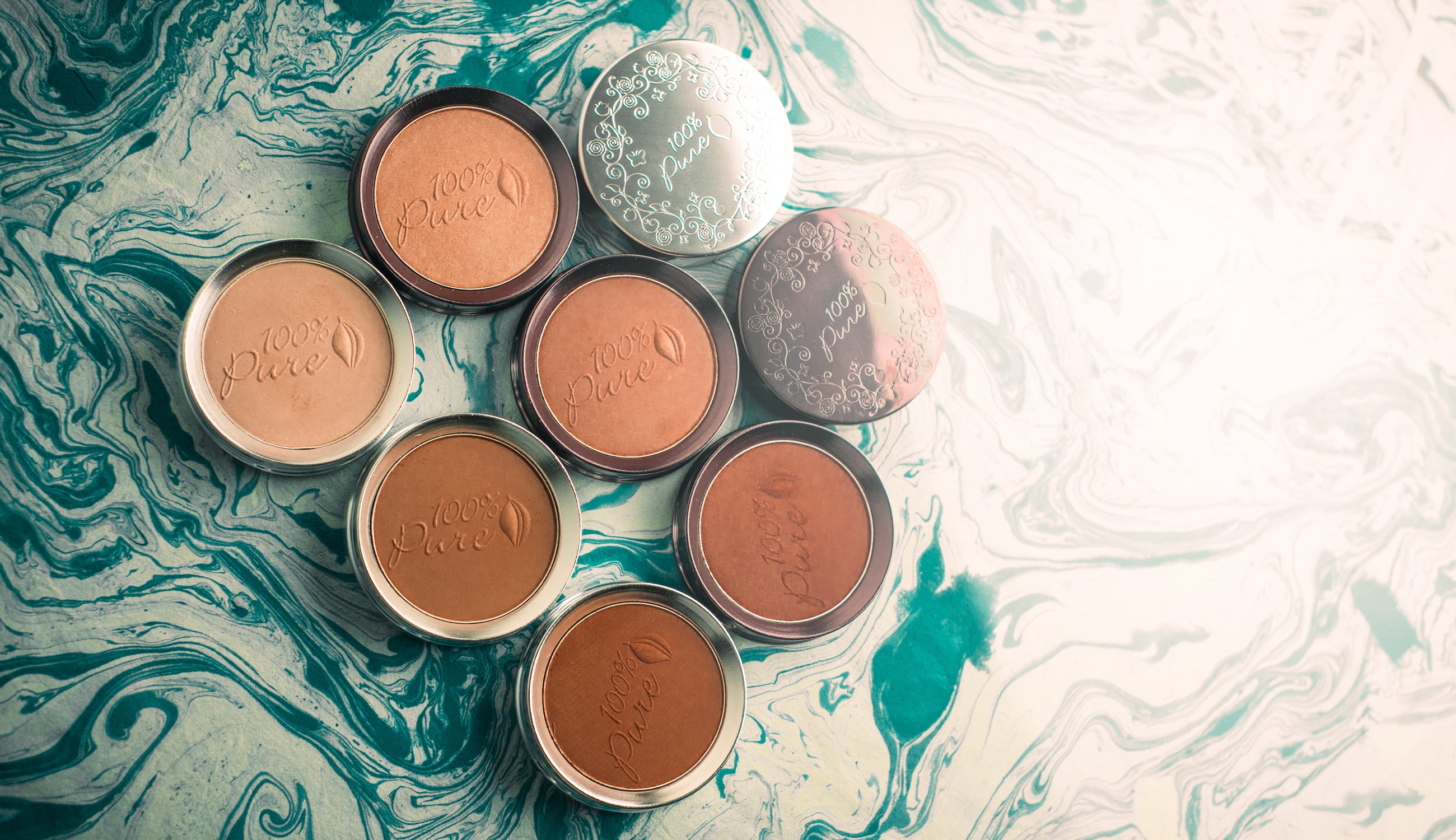 Tips for Bronzing with Cocoa Pigmented Bronzer
Shades offered:
Cocoa Gem, Cocoa Kissed, Cocoa Glow
We're guilty of being a little decadent with our chocolate intake, but this bronzer takes our cocoa addiction to a whole new level. Talk about mixing pleasure with pleasure! This bronzer is buttery and rich – what bronzer dreams are made of – and features all-natural pigmentation courtesy of pure cocoa powder and real fruit extracts.
So what does cocoa powder actually do for your skin? Besides providing a rich, buildable, blendable pigment to create an eye-catching bronze or contour, the cocoa in this formula actually helps to enhance buttery smooth softness in your skin. Cocoa contains antioxidant properties (just one more reason to love it) and helps to neutralize sun damage, repair blemish scars, and improve skin hydration.
More than just a bronzer that falls flat on our skin, this baby gets us beach-ready with subtle but visible shimmer to create that summertime glow we're craving June through September. Slightly more than a powder but less than a shimmery highlighter, this trio of bronzers works as a layering option over your existing makeup, to catch the light without blinding your admirers. You can also blend our bronzers out on the eyelids for a sultry, smokey coordinated look that's perfect for smoldering at your crush around a beach bonfire.
Cocoa Gem, our lightest bronzer option, is best for light to medium skin tones that want a honey-kissed glow. Cocoa Kissed bronzer is the perfect in between shade that makes you look nice and toasty in seconds. Reach for Cocoa Glow when you want a deep, chocolatey bronze for medium to deep skin tones, or to add bronze-copper color to the eyes or cheeks.
How to get beautiful, bronzed results with Cocoa Pigmented Bronzers
Quick rule of thumb: powders are best applied with brushes. We can't think of a scenario where this is not true. The reason is that brushes allow us to buff and blend the product better for a texture and finish that mimics our own skin, as opposed to leaving the pigments just sitting on the skin and creating that uneven, chunky texture.
For the Cocoa Pigmented Bronzer, our favorite brush to use is our ultra fluffy Kabuki Brush. This fluffy baby may look innocent – but it can pack on pigment like a pro! The design of the brush means it's fuller on the application side, giving you more creative control but also allowing for a smoother blend and better transition. Tap the brush directly into the product the flick off the excess before buffing in tight, circular motions onto the skin.
Tips for Bronzing with Powder Foundation
Shades offered:
Creme – Cocoa
Alright, so we're slightly addicted to bronzer in all shapes and forms – even in standard foundation powders. Spend your time in the spotlight while keeping your cool with a matte foundation, which can be repurposed as a bronzer for an ultra soft finish. Offered in 8 diverse shades, this foundation is well loved amongst fans for being lightweight with buildable coverage.
Part of the power of this matte foundation powder is the rice starch included in the formula. This gives the product a super silky texture, aided by lightly moisturizing acai oil and vitamin E. The rice starch base also makes this powder/bronzer second to none when it comes to neutralizing shine and oil in combination or oily skin. Don't forget rose, white tea, and eucalyptus, which fight bacteria and tone skin.
How to get beautiful, bronzed results with Powder Foundations
Because this is a foundation, wear it however you'd like, wherever you'd like! If you're using this for a super soft bronzer only, definitely be sure to apply it with our Cruelty Free Angled Contour Brush. The slanted shape really helps you to get around the curves of your face, like the rainbow of your forehead and the hollow of the cheeks. The soft, longest end actively blends out harsh lines while the shorter side is great for depositing pigment. Softly sweep into your desired bronzing areas until you're as chiseled as a glowing bronze statue.
Follow along on our blog for melt-free makeup tips, warm weather skin care tips, and even high-temp hair tips all summer long!
We carefully hand-select products based on strict purity standards, and only recommend products we feel meet this criteria. 100% PURE™ may earn a small commission for products purchased through affiliate links.
The information in this article is for educational use, and not intended to substitute professional medical advice, diagnosis, or treatment and should not be used as such.
Sign up to our email newsletter for more blog updates and exclusive discounts.
< Older Post | Newer Post >