Intimidated By Your Eyebrow Pencil?
How to use an eyebrow pencil, and common mistakes to avoid
Posted on March 22, 2022
Written by: 100% PURE ®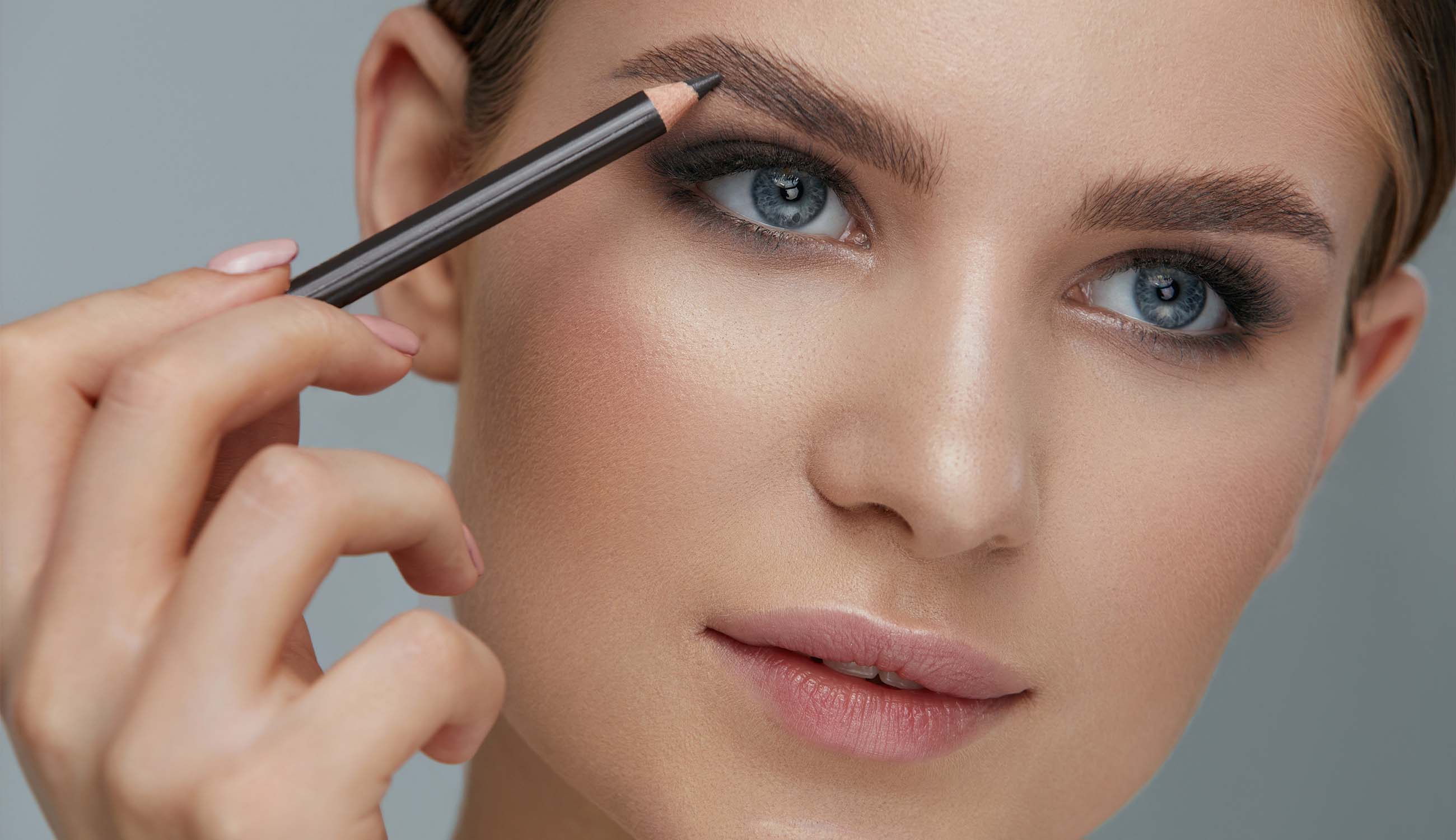 Brows have become a big deal in the past few years. After spending the 1990s and 2000s with a pencil-thin, super-fine look, social media has gotten us all in love with brows that are bushy, fluffy, and defined.
And despite the fact that brows have been big for years, some of us still just don't feel comfortable with an eyebrow pencil, and plenty of us have struggled with creating full, natural-looking brows. That's why we're here today with this quick piece!
What Makes Brows Go Wrong?
Was there ever a time when you were filling in your brows, and everything was fine until you made one wrong move? And suddenly, the defined, natural-looking brows you wanted became blocky and extra solid-looking.
So, where did you go wrong with the eyebrow pencil? Filling in your brows takes some delicate work. Even a small mistake can have an effect on your overall look. But knowing some of the most common mistakes will help you feel more confident with your eyebrow pencil.
#1: Choosing the Wrong Shade
While it might sound logical to match your eyebrow pencil color to your eyebrows, most individuals will use a medium taupe for their brows, even those with dark brows. When in doubt, you're usually going to want to go lighter with your eyebrow pencil, not darker.
#2: Using a Heavy Hand
As with most types of makeup, a heavy-handed application won't create definition in your brows, it will only make them look harsh and unnatural.
#3: Trying to Make Them Identical
You might've heard the old adage before: your eyebrows are sisters, not twins. When we try to make our brows look exactly the same, it's a recipe for something going wrong: you may over-pluck one or overfill the other to make them look alike, and even if you succeed, it will look off!
Beginner Eyebrow Tips: What You Need to Know
When we fill in our brows, of course we want to know how to reverse any stumbles we have, but let's talk about the know-how. Here are some beginner-friendly tips to know before you even pick up an eyebrow pencil.
Brush Your Brows First
Before you begin to fill in your brows, brush your brows upwards first with either a brow brush or spoolie. Spoolies are traditionally used for mascara, but their spiraled bristles are perfect for smoothing and flattening individual brow hairs.
Apply With a Flicking Motion
When it comes to drawing in brow hairs that look fluffy and realistic, it's important to go in with a light hand. Instead of drawing heavy-handed, bulky lines, make a flicking motion with your wrist to create tiny, hair-like strokes.
Choose the Right Product First
Back in the day, the eyebrow pencil was all we had to fill in our brows. But nowadays, there's an endless range of options to choose from. There are brow products like pomades, gels, and powders available, which will look different for each brow shape.
Eyebrow Pencils: Are They for Everyone?
As we touched on above, eyebrow pencils aren't the only products you can use to get your brows defined and feathery. Aside from pencils, there are pomades, powders, gels, and even markers. So, it begs the question: are eyebrow pencils for everyone? Are brow products universal?
In short, not necessarily. While an eyebrow pencil can be incredibly versatile, different products can fulfill different needs based on your own unique brow shape. If you're new to brow products, though, a brow pencil is a great starting point. Using one will help you get comfortable with trying different choices.
Different Eyebrow Pencils to Try
Even when you elect to stick with brow pencils, you're still going to get hit with an endless wave of options. It can be hard to distinguish what will and won't work for you. That's why we're giving a quick breakdown of some of our favorite eyebrow pencils, including their pros and cons.
PYT Beauty Brow Goals Pencil
Pros:
Smooth, matte formula

Tip allows precision shading

Vitamin E for
Cons:
Shape may be difficult for some users

Not suitable for oily skin

Blonde shade sometimes appears greenish
Jones Road The Brow Pencil
Pros:
Wide range of shades

Excellent pigment

Great for sparse brows
Cons:
Needs to be sharpened

Texture is a bit waxy

Chubby pencil may make precision difficult
Ere Perez Almond Brow Pencil
Pros:
Dries naturally

Creamy, blendable formula

Great for building subtle b
Cons:
Only one shade

Light pigment

Needs to be sharpened
Kosas Brow Pop Dual-Action Defining Pencil
Pros:
Twistable

Conditioning formula

Easy to b
Cons:
Widely angled

Pigment not always perfect

Pencil becomes rounder with each use
Plume Science Nourish & Define Brow Pencil
Pros:
Refillable

Creamy formula

Great for preci
Cons:
Thin pencil, may run out quicker

Easy to break

Light pigment
On the days you're looking for a natural look, check out our guide on 8 ways to use clear eyebrow gel!
We carefully hand-select products based on strict purity standards, and only recommend products we feel meet this criteria. 100% PURE™ may earn a small commission for products purchased through affiliate links.
The information in this article is for educational use, and not intended to substitute professional medical advice, diagnosis, or treatment and should not be used as such.
Sign up to our email newsletter for more blog updates and exclusive discounts.
< Older Post | Newer Post >