Trends and Tips for Wearing Liquid Lipstick
Spotlighting the top shades for 2019, tapping ancient ingredients for vibrant pigment, and a complete color guide for our Lip Caramel collection
Posted on April 28, 2019
Written by: 100% PURE®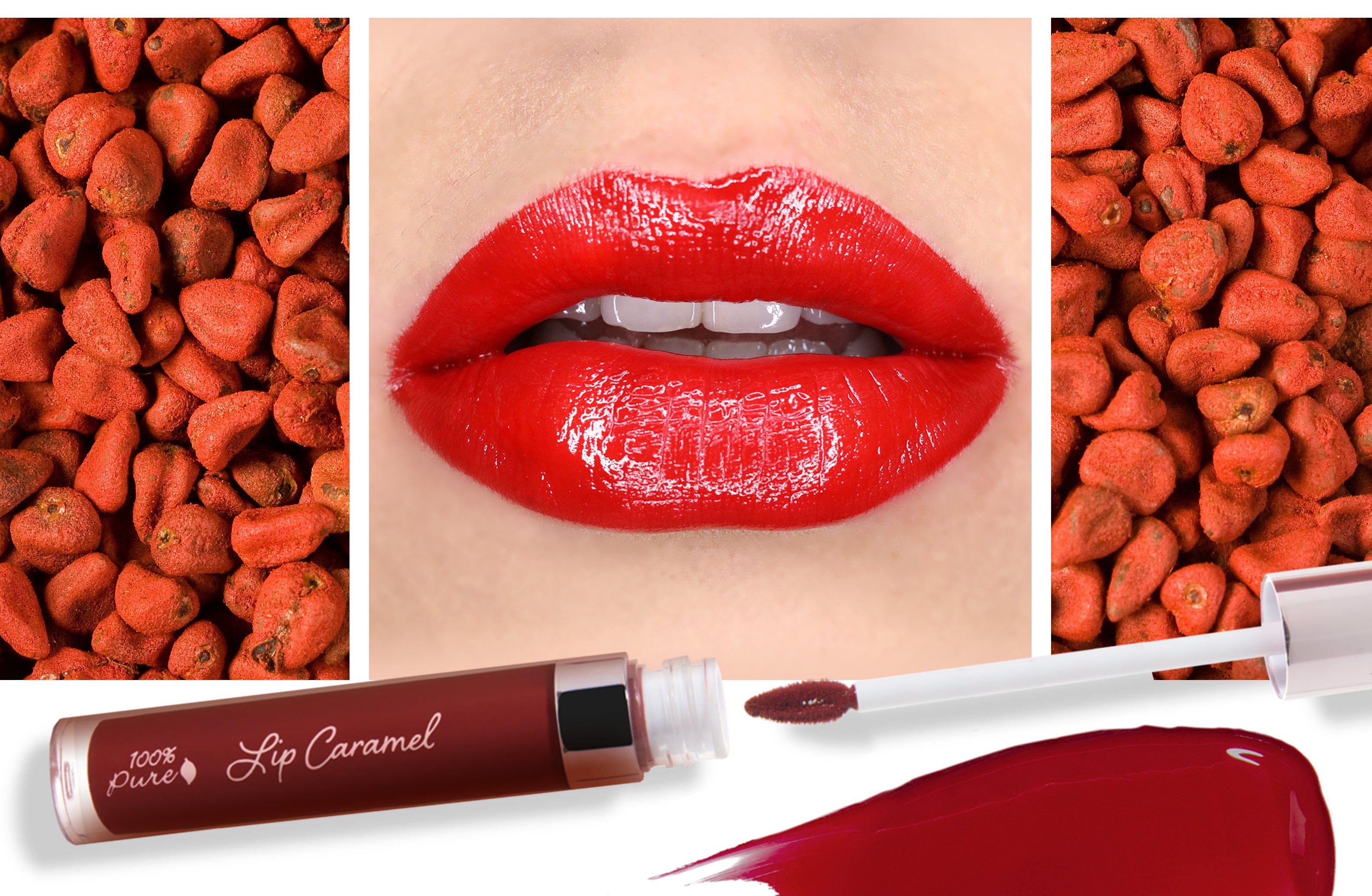 Are you a liquid lipstick lover in search of intense color payoff? We've got just the formula for you: enter our Lip Caramel Collection! These timeless liquid lipstick shades are a treat for your lips, thanks to their sweet natural flavors and fruity pigments. Our lip saturating, long-lasting shades are colored with natural fruit extracts and achiote seeds that will leave your lips looking silky smooth.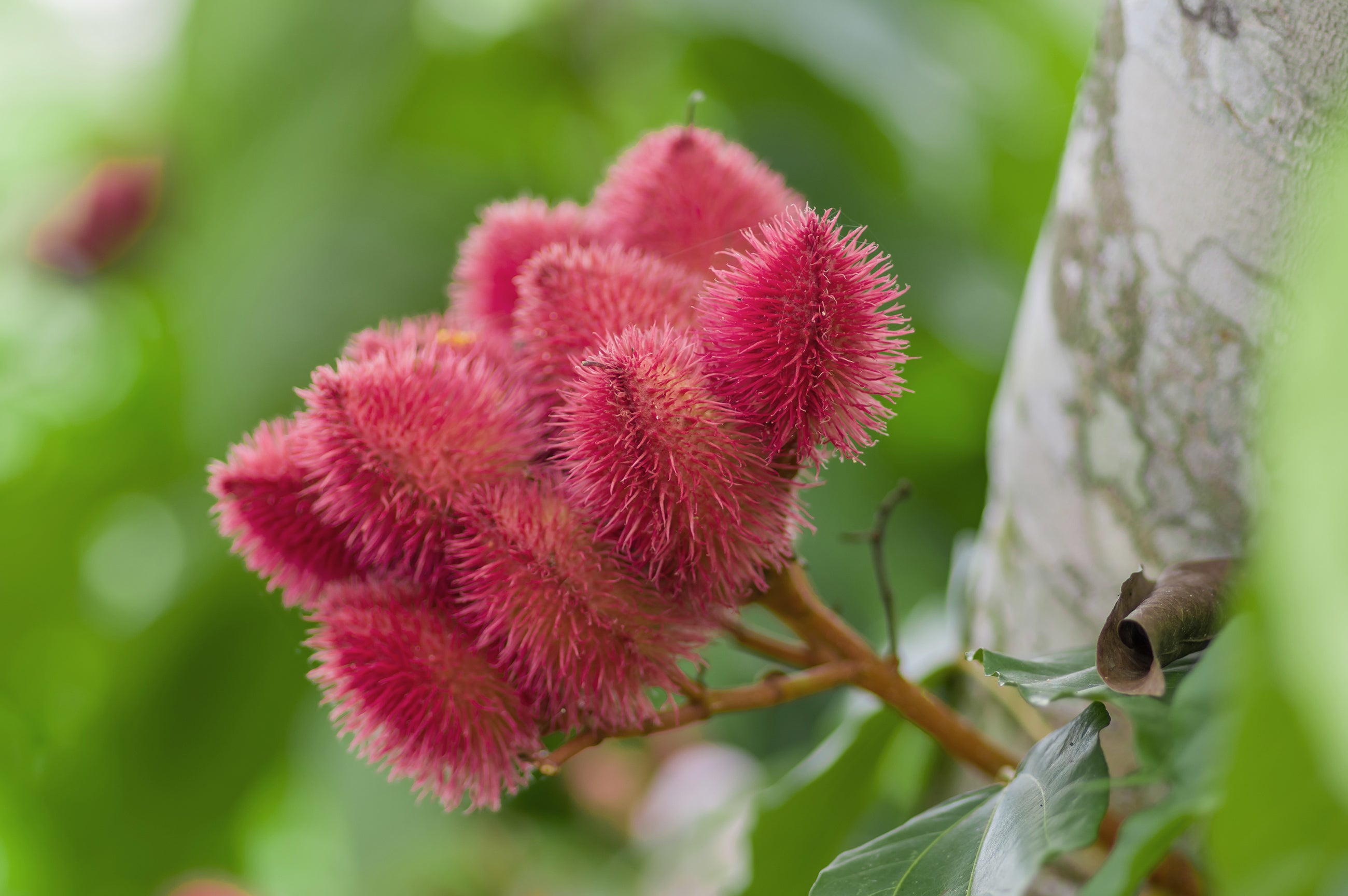 What Is an Achiote Seed?
Achiote seeds are a plant-derived pigment found in Central and South America. The spiky green pods hold the intensely pigmented achiote seeds, which have been used by many ancient civilizations. Mayans created body paint, the Wayampi used them as an insect repellent, and Aztecs made a delicious chocolate drink with it. By harnessing the power of ancient achiote, we've formulated ten beautifully opaque liquid lipstick shades for the 21st-century.
Our innovative liquid lipsticks combine the smooth texture of a gloss with the high color payoff of a natural lipstick. Inspired by current beauty trends – from nudes to neon – each liquid lipstick is reminiscent of a sweet, delectable treat!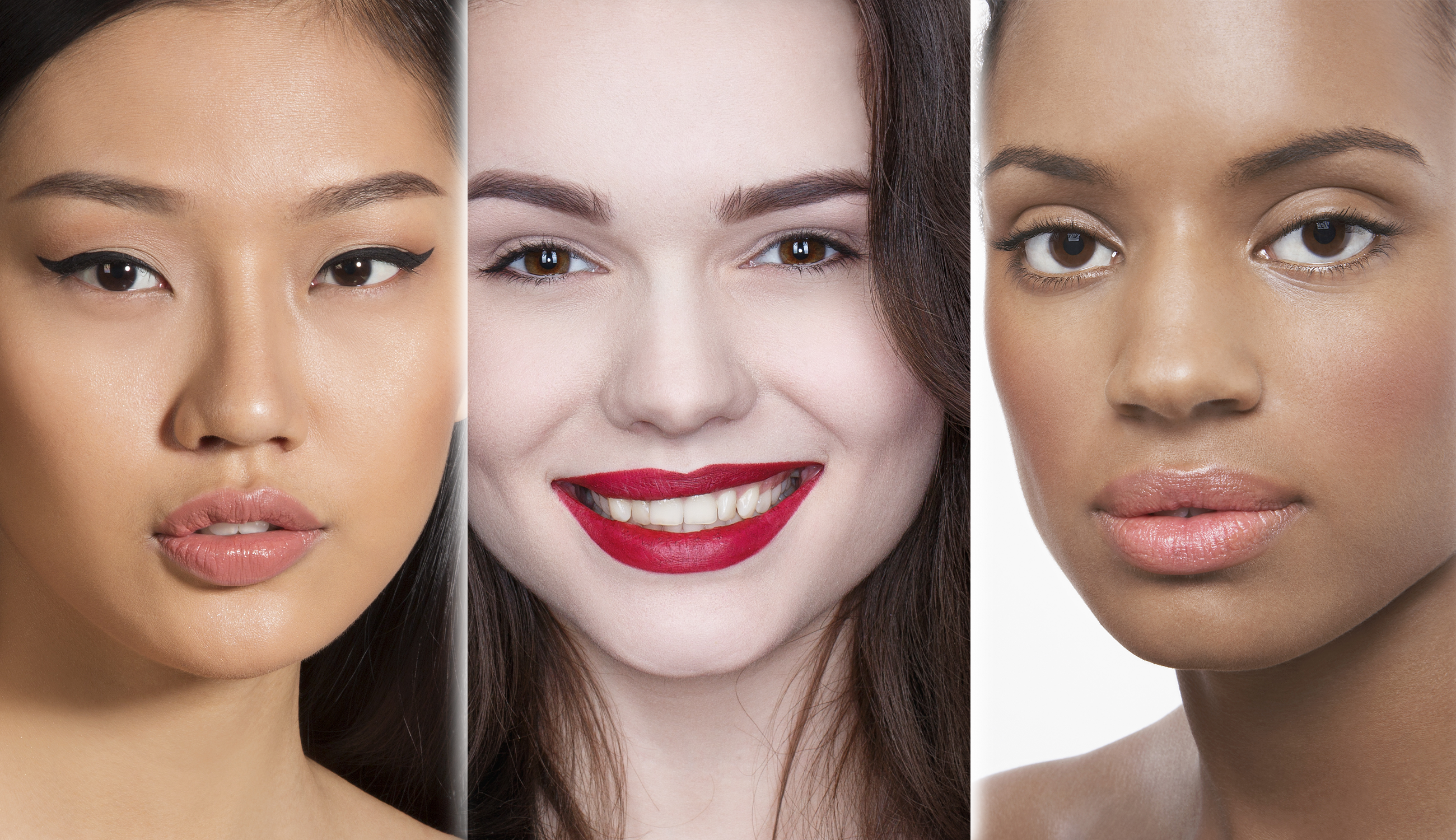 3 Liquid Lipstick Trends to Wear in 2019
Red Lacquer Lips
Oh la la! As if red couldn't get any more seductive. It's getting turnt up like this year's latest trend: red lacquer lips. Just like the famous Parisian shoe, this high shine liquid red is just as eye-catching. Replicate this captivating liquid lip trend with our Lip Caramel in Red Velvet. Delectable like the cake it's named after, our red velvet liquid lipstick will turn heads, so be careful and apply with caution.
90's Brown
We all know decade inspired trends come and go but the '90s will always have a special place in our hearts. Growing up as a '90s teen meant plaid shirts, black braided choker necklaces, and brown lipstick. Relive your youth and pay homage to recent runway trends by giving a 2019 update with our Lip Caramel in Butterchew. Our pinky, brown nude is much more flattering than the original 1990's brown. Hurry up and get on board before we start singing our favorite '90s sitcom opening theme song.
Muted Mauves
This lip trend is straight out of a romance novel: dusty colored roses, naturally beautiful maidens with their pouty mauve lips (insert a knight or evil stepmother here). The key to keeping this liquid lip trend fresh is by tapping the liquid lipstick on the center of your lips and feathering out the color for a less rigid vibe. You're in luck fair maidens because we have two beautiful shades to match this romantic trend; Lip Caramel in Rum Nougat and Lip Caramel in Ganache.
Lip Caramel Color Guide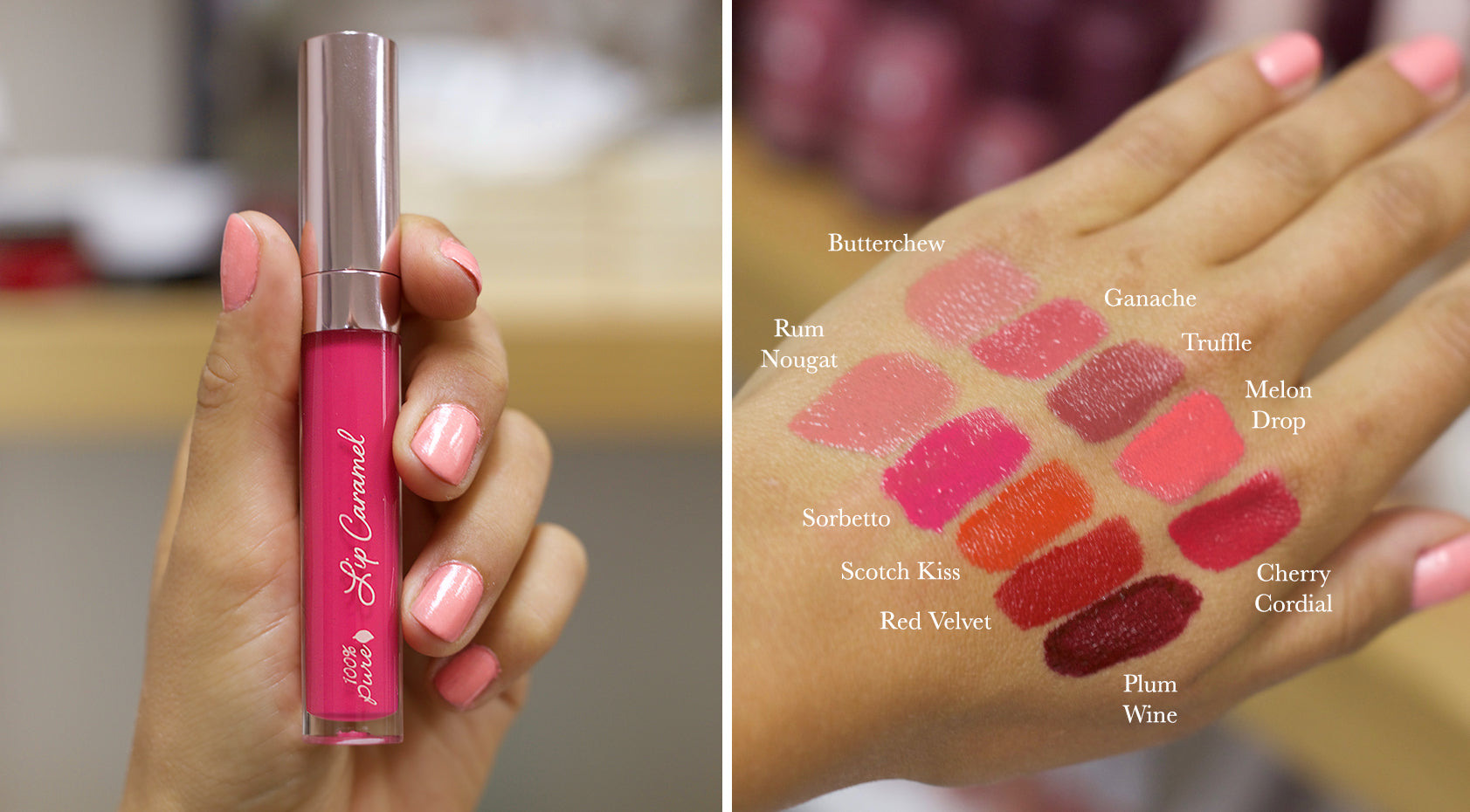 Rum Nougat: Peachy nude
Butterchew: Pinky brown nude
Ganache: Medium rosy nude
Truffle: Deep mauve brown
Cherry Cordial: Bright berry
Scotch Kiss: Deep classic red
Red Velvet: Deep classic red
Sorbetto: Medium pink-purple
Plum Wine: Deep purple wine
Melon Drop: Bright coral pink
★★★★★
"I usually look for matte transfer-proof liquid lipstick but this is a nice version as well. Really gives full coverage (my lips are naturally dark so I can almost always see it coming though with lipstick that isn't true full coverage) and is glossy as you could ever want. Although not transfer proof I will definitely be working this on my glossy days!" - Dicki
★★★★★
"One of my first 100 PURE™ purchases and I'm not disappointed! Love that it's all natural. Butterchew is a beautiful color. I can see why it's a favorite. Not drying or sticky." - Shannon
★★★★★
"I don't usually buy lip products, so I kind of went on a limb to order a Lip Caramel. I bought it in the shades Ganache and Red Velvet. I have to say that I want it in every single color! The color is super pigmented and literally lasted the entire day. I am SO impressed by the quality of this product!" - Becca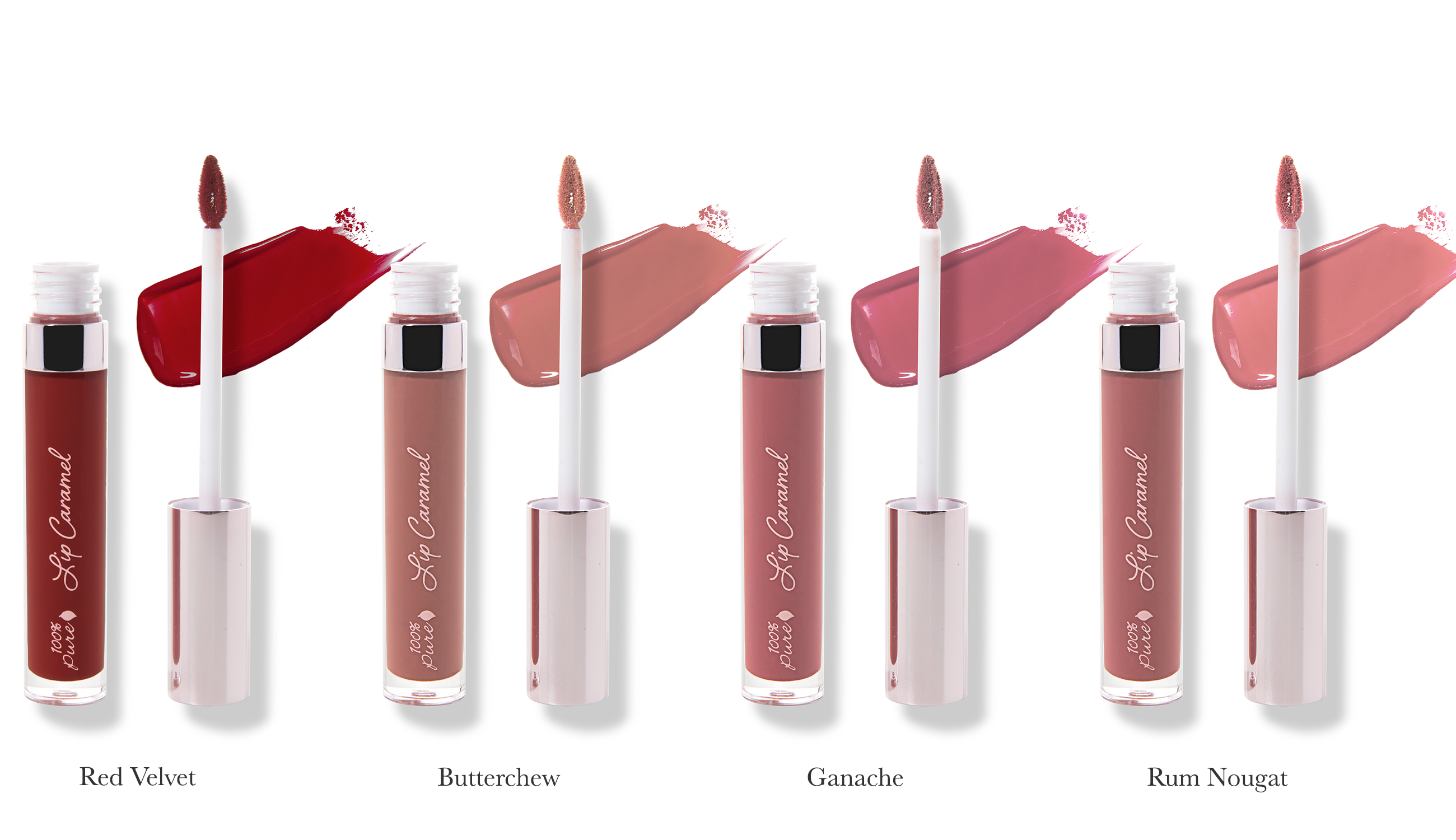 Skin Benefits of Liquid Lipsticks with Achiote
Achiote seeds are loaded with antioxidants. This ancient superfood has a powerful chemical composition with a high concentration of tocotrienols, which come from vitamin E tocopherols. This critical ingredient can help fight free radicals as well as UV and ozone rays.
These special seeds also have a lot of carotenoids (responsible for the bright red or orange seed color). This antioxidant powerhouse ingredient is sought after for its anti-aging properties as well. When applied topically (like in our liquid lipsticks), achiote paste has been shown to reduce the signs of wrinkles and blemishes by helping to tighten skin, giving it a more youthful appearance. Also boasting antimicrobial properties, this wonder seed can also help heal burns or wounds when applied topically. On top of all that, achiote also helps to speed up the skin's healing process, while reducing the appearance of scars.
Natural liquid lipsticks are not only beautiful (and fun) to rotate into your makeup routine, but they're also a secret weapon for anti-aging. Go ahead and try out a new trending shade of liquid lipstick, and use #100percentpure to share with your fellow beauty lovers!
We carefully hand-select products based on strict purity standards, and only recommend products we feel meet this criteria. 100% PURE™ may earn a small commission for products purchased through affiliate links.
The information in this article is for educational use, and not intended to substitute professional medical advice, diagnosis, or treatment and should not be used as such.
Sign up to our email newsletter for more blog updates and exclusive discounts.
< Older Post | Newer Post >