Summer Essentials: Bold Nude Makeup
Over 10 unique tips for repurposing your favorite nude makeup for a bold, beautiful summer look
Posted on April 26, 2019
Written by: 100% PURE®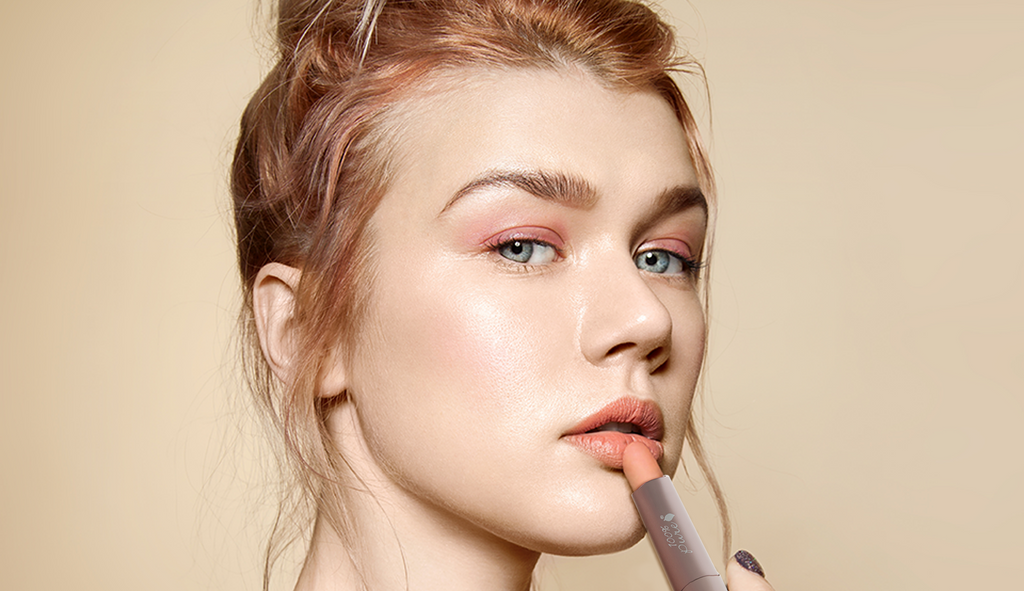 If given a choice between nude lipstick and, um, nude lipstick – we'd choose nude lipstick every time. Yes, we're guilty of being obsessed with nude makeup but in our defense, they're always flattering and nothing to be ashamed of – wear those nude shades with pride!
Some describe nude tones as safe, boring, and criticize them for being predictable. So we're proposing a remix to nude makeup, by introducing some twists on textures, finishes, and unique methods to add some excitement to your favorite color palette. Elevate your basic beauty faves with interesting new uses! See how we're being PURE-ly playful with nude makeup in beautiful, neutral-friendly ways.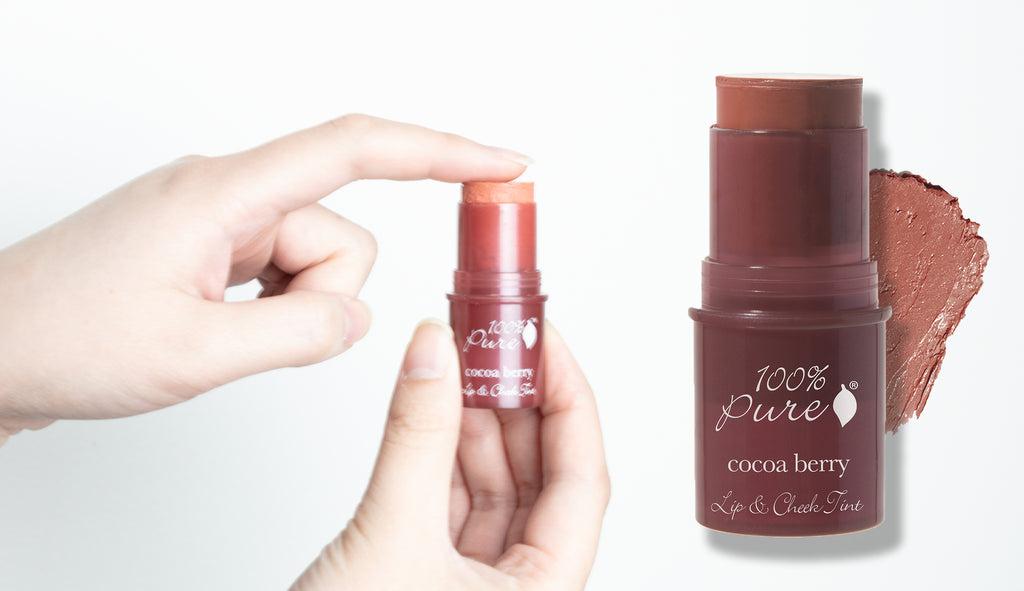 Tip #1: Repurpose Your Cream Blush
DIY your very own nude lip shade by dusting a bit of your favorite nude cream blush over your lips, then topping with a bit of sheer or iridescent gloss. This simple trick paired together is the ultimate sweet, spring beauty look.
Fruit Pigmented Lip & Cheek Tint: Cocoa Berry
A cocoa berry kiss sounds lovely (see above), but coordinating tones on the eyes will look twice as nice. Did you know that you can wear this shade on your lids for a soft, warm brown that's perfect for sunny days?
Creamy, moisturizing cheek tints and lipsticks can make great eyeshadows or eyeshadow bases. They're meant to be hydrating, pigmented and long lasting, which is why they perform well even on the high-traffic zone around our mouth. This durability makes them quite comfortable on the eyes and easy to apply with a makeup sponge, brush, or fingertip. Be sure to sanitize your lipstick first with alcohol before creating an exciting eye look with this lip and cheek tint.
Tip #2: Multi-Task with Nude Lipstick
As we mentioned above, the anti-aging and moisturizing properties of our natural lipsticks are ideal for dual-purpose nude makeup looks. If you've got a nude lipstick shade that suits your skin tone – or even one that borders the brown of bronzer territory – you'll get miles more out of your favorite lipstick.
Fruit Pigmented Cocoa Butter Matte Lipstick: Mojave
Cooler than brick red and more wearable than terracotta, our Cocoa Butter Matte lipstick in Mojave is the perfect unifying shade that acts as a rich nude on deeper skin tones. Instead of (or in addition to) wearing it on the lips, this color will compliment brown, green and hazel eyes by topping on the lids as a wash of color or smoked out with liner.
The antioxidants in the formula will also help to reduce signs of aging, so kiss those pesky eye wrinkles goodbye while this buttery lipstick moisturizes skin and delivers on flattering color for nude, sophisticated intensity.
Fruit Pigmented Cocoa Butter Matte Lipstick: Agave
Sister shade to Mojave is Agave, the more neutral toned version with just as much richness but better for caramel and deep golden skin tones. This shade on the lips is magic but, on the eyes, it can transform our peepers from just awake to sparkling. This just might become your new favorite crease color!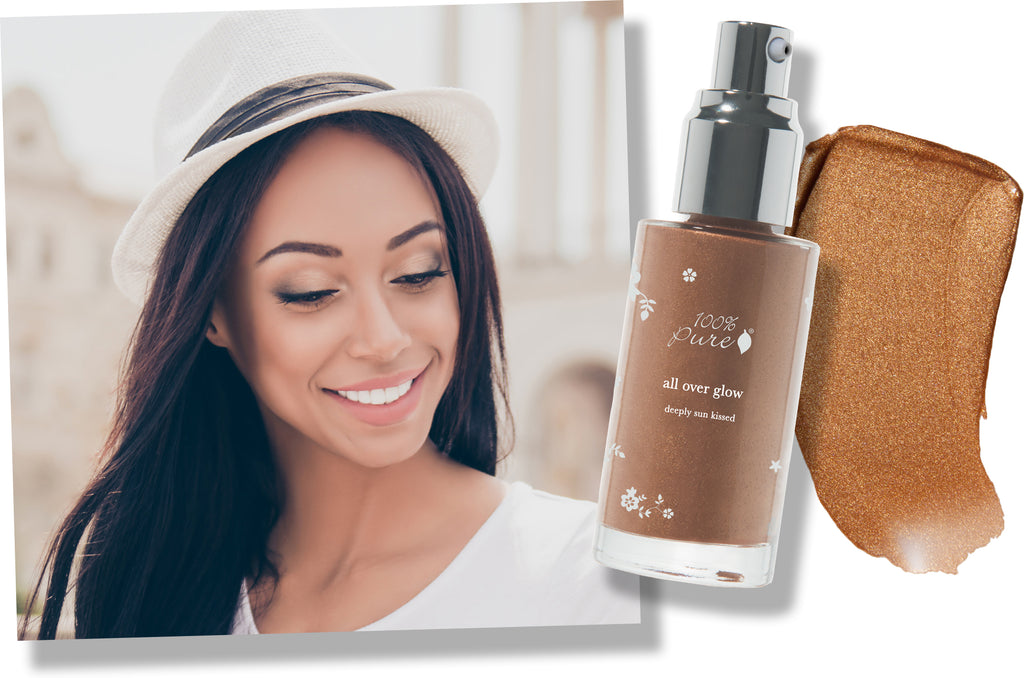 Tip #3: All Over Glow
When we say 'all over', we really mean it! In addition to wearing this nourishing glow all over your skin this summer, we can't wait to see how you rock it on your eyes, lips, and all over your skin. In two melted gold shades, you're sure to love how the shimmer of All Over Glow enhances the depth of your eyes and the warmth in your cheeks. Try Lightly Sun Kissed for daytime looks with a flirty, soft color story, or wear Deeply Sun Kissed for a bit more drama and depth.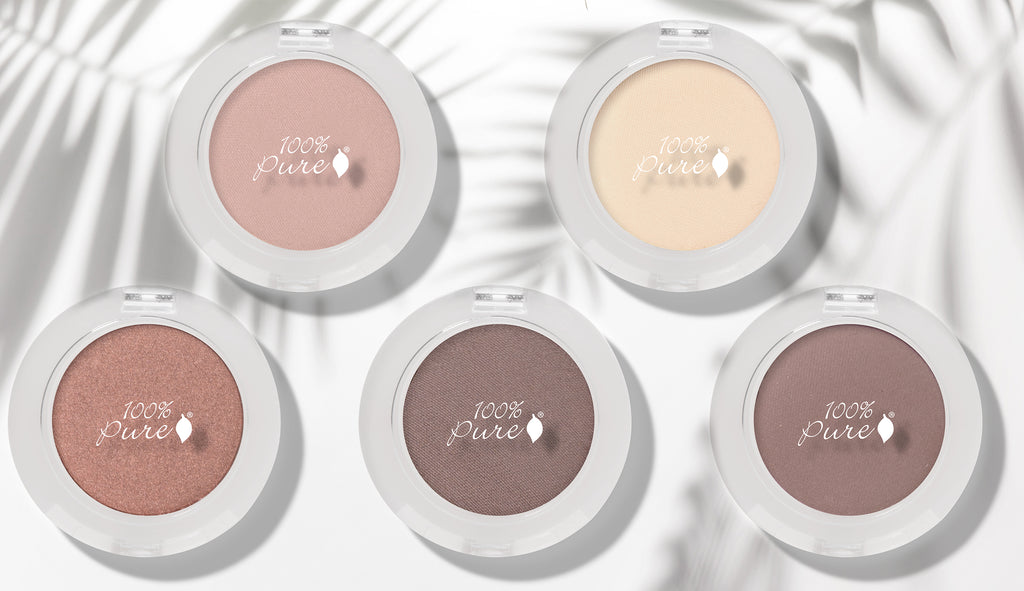 Tip #4: Single-Shade Smokey Eye
Want a look that's bold in its subtleness, and takes a fraction of the time than your winged liner does? Look no further than the single-shade smokey eye technique. You'll need a nude eye shadow that has similar undertones as your own skin (think warm, cool or neutral). You can go with matte, satin or full metallic, just remember to sheer out the color a bit so your own skin peeks through. Apply more product toward the lash line and less through the crease for an easy transition and 30-something sexy that never gets old.
6 More Nude Makeup Shortcuts
Bronze & Contour with Lipstick
Breaking news: you can totally contour with your lipstick. We're not sure why we never thought of it before, but the richness in pigmentation and long-lasting ability will elevate our contour game to the next level. The same shades we mentioned earlier – Agave, Mojave, and even Cacti – are excellent contour or bronzer colors for light the medium skin tones. Now you can travel light with just your lipstick to touch up your lip color and cheek color, too!
Get Glossy
What do Rainbow Aura, Moonstone and Crystal all have in common? Besides being part of our Gemmed Lip Gloss collection, these shades make excellent cheek toppers for literally making your highlighter shine. In the warmer months when we're wearing less face makeup, a bit of this on the cheeks and lips with a swipe of mascara is our go-to look. Select the gloss that compliments your skin tone best for adding a bit of sparkle to your daily glow.
Faux Freckles
Love freckles but don't have enough of your own? Faux-it as naturally as possible with a liner or brow gel in brown or blonde, using a tiny angled brush. Use liquid liner and softly dot over the face, then tap over top with powder for freckles that look real or go for a pencil liner which can be a bit more forgiving. Play around with brown shades that have both warm and cool undertones for one of a kind freckles that last as long as you want them to.
Brow Glow
Did you know that adding a little highlighter dust to your brows or brow gel can make you look tanner? It gives the illusion of having highlighted hair and tanner skin. Yup, you're welcome.
Bronze with Intention
For an all-over cohesive look, match your cheek bronzer to your crease color. This simple addition to your daily beauty routine elevates your nude makeup look, for a result that is purposeful yet super easy to execute.
Lip Highlight
Our lips deserve to glow too, don't they? Add your liquid or powder highlighter right over top of your matte lipstick with a gentle finger for a soft addition of shine that brings your look all together.
We carefully hand-select products based on strict purity standards, and only recommend products we feel meet this criteria. 100% PURE™ may earn a small commission for products purchased through affiliate links.
The information in this article is for educational use, and not intended to substitute professional medical advice, diagnosis, or treatment and should not be used as such.
Sign up to our email newsletter for more blog updates and exclusive discounts.
< Older Post | Newer Post >