https://purity-res.cloudinary.com/image/fetch/q_auto:best,f_auto,fl_lossy,w_auto,c_limit,dpr_auto/https://cdn.shopify.com/s/files/1/0648/1955/products/313fc1dfaf9d8e4c222ab6f09db6613f.png?v=1547168067
https://purity-res.cloudinary.com/image/fetch/q_auto:best,f_auto,fl_lossy,w_auto,c_limit,dpr_auto/https://cdn.shopify.com/s/files/1/0648/1955/products/d6405a01883f3bb3c6b6ac503d9efee2.png?v=1547168067
https://purity-res.cloudinary.com/image/fetch/q_auto:best,f_auto,fl_lossy,w_auto,c_limit,dpr_auto/https://cdn.shopify.com/s/files/1/0648/1955/products/779f3038d808fbf3d67c5b4931135414.png?v=1547168067
https://purity-res.cloudinary.com/image/fetch/q_auto:best,f_auto,fl_lossy,w_auto,c_limit,dpr_auto/https://cdn.shopify.com/s/files/1/0648/1955/products/7d631ddafb63c70a14ec8bbaefcc73ff.png?v=1547168067
https://purity-res.cloudinary.com/image/fetch/q_auto:best,f_auto,fl_lossy,w_auto,c_limit,dpr_auto/https://cdn.shopify.com/s/files/1/0648/1955/products/07f2215cedab9c5f374d63ff6322cb2b.png?v=1547168067
https://purity-res.cloudinary.com/image/fetch/q_auto:best,f_auto,fl_lossy,w_auto,c_limit,dpr_auto/https://cdn.shopify.com/s/files/1/0648/1955/products/af0b612bcd0ccfc081ec6192069f3ca9.png?v=1547168067
https://purity-res.cloudinary.com/image/fetch/q_auto:best,f_auto,fl_lossy,w_auto,c_limit,dpr_auto/https://cdn.shopify.com/s/files/1/0648/1955/products/4c976ab5c7549ff86259b42874715aa7.png?v=1547168067
https://purity-res.cloudinary.com/image/fetch/q_auto:best,f_auto,fl_lossy,w_auto,c_limit,dpr_auto/https://cdn.shopify.com/s/files/1/0648/1955/products/e473b475cef5618d6d00ef35b3e76107.png?v=1547168067
https://purity-res.cloudinary.com/image/fetch/q_auto:best,f_auto,fl_lossy,w_auto,c_limit,dpr_auto/https://cdn.shopify.com/s/files/1/0648/1955/products/990bf26b42bec976deba9c59a717d4cc.png?v=1547168067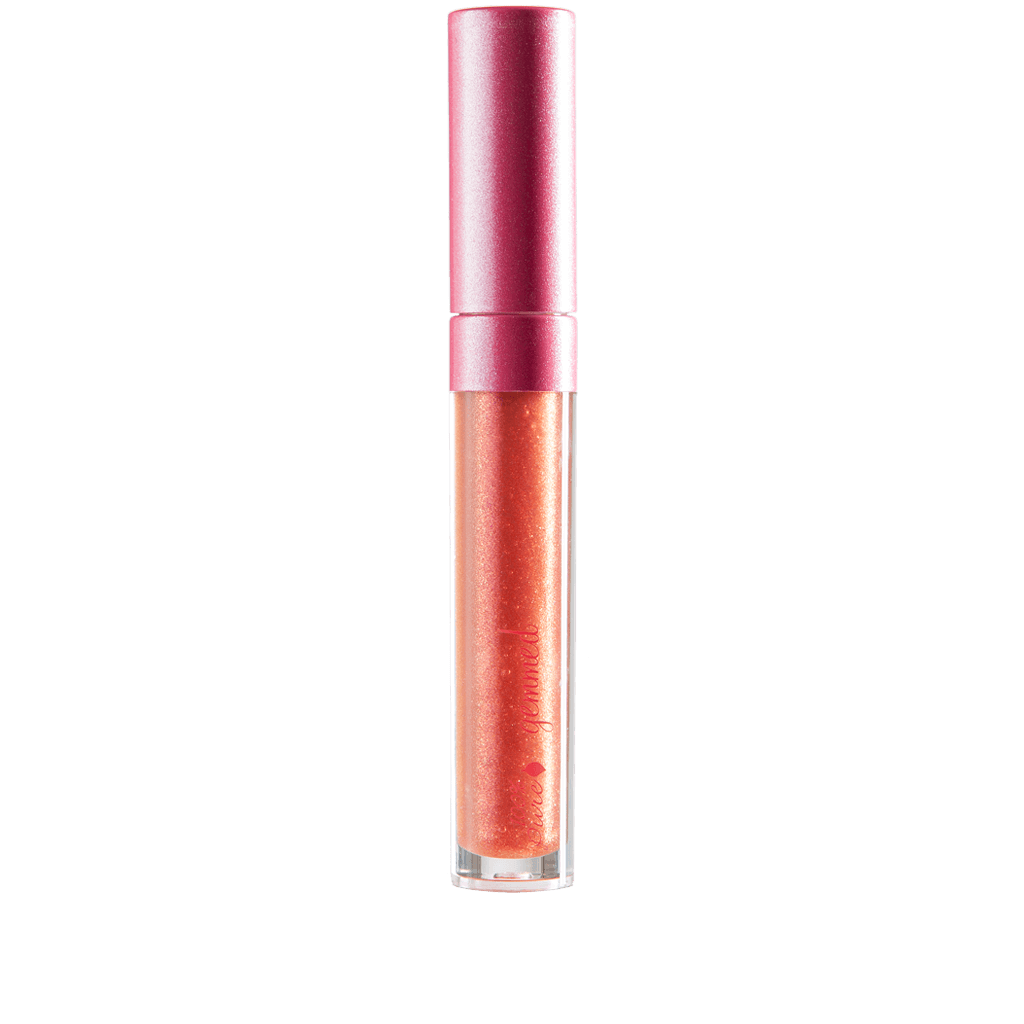 Gemmed Lip Gloss
Fruit Pigmented®

Natural

Vegan

Cruelty Free

Gluten Free
Sheer pops of color from fruit pigments and glimmer from semi-precious gemstones make your gorgeous lips sparkle and shine.
For All Skin Types
Sheer Coverage
Gloss Finish

Experience plump, juicy lips and spectacular shine with our glimmering Gemmed Lip Gloss collection. Sheer pops of color from natural fruit pigments pair with soft shimmer from real gemstones for a gorgeously glossy finish, while vitamin E replenishes essential hydration.

Coverage

Finish

Shade Chart

Rainbow Aura

A sheer, peachy nude.

Moonstone

A sheer, mauve nude with light shimmer.

Crystal

A sheer, pale nude.

Ruby

A semi-sheer, deep red.

Garnet

A semi-sheer, deep red.

Peacock Ore

A sheer, pinky red.

Citrine

A sheer, peachy red.

Rose Quartz

A sheer, pinky purple.

Directions

Apply to clean, bare lips. Can also be layered over your favorite lipstick or lip stain.

Every ingredient we use is beneficial, here are a few:

Sunstone

Sunstone is a natural mineral with sparkle.

Pyrite

Pyrite is a natural mineral with shimmer.

Australian Opal

Australian Opal is a natural gemstone with shimmer.

Moonstone

Moonstone is a natural gemstone with shimmer.

Labradorite

Labradorite is a natural mineral with shimmer.

Complete list of ingredients:

Vegetable Glycerin, Tocopherol (Vitamin E), Pigments / Extracts Of Vaccinium Myrtillus (Bilberry), Punica Granatum (Pomegranate), Wine (Red Wine) Lees, Vaccinium Macrocarpon Fruit (Cranberry), Rubus Fruticosus Fruit (Blackberry), Prunus Persica Fruit (Peach), Theobroma Cacao (Cocoa), Rubus Occidentalis (Black Raspberry), Aronia Melanocarpa (Chokeberry), Prunus Cerasas (Cherry), Theobroma Cacao (Cocoa Bean) And Vaccinium Angustifolium (Blueberry) Skin, Granatum (Pomegranate) Seed Oil, Butyrospermum Parkii (Shea Butter), Euphorbia Cerifera (Candelilla) Wax, Rosmarinus Officinalis (Rosemary), Origanum Vulgare (Oregano), Thymus Vulgaris Flower/leaf (Thyme), Natural Flavors, Oryza Sativa (Rice) Starch, Labradorite (Natural Mineral Stone), Moonstone (Natural Mineral Stone), Australian Opal (Natural Mineral Stone), Pyrite (Natural Mineral Stone), Sunstone (Natural Mineral Stone), May Contain Mica
Customer Reviews
one
color
colors
look
ingredients
shimmer
gloss
lip gloss
shine
sparkle
Great lipgloss
I like to wear this over their matte lipstick. I really like the two paired together. The lipgloss works really well on its own as well.
The perfect lipgloss
Love it! Texture is perfect-lasting for a lipgloss and a very flattering shade for me (citrine-I have light colored warm toned skin with some freckles) I have been wanting a lipgloss that looks good on me and lasts-this is it! Will be getting more shades but love this company's lip products-very nourishing and non drying on lips. Only complaint is it reacts weird when putting this over their matte lipstick that came in the kit I got but it actually looks better on it's own I find anyway. Most lipglosses are either not colored enough or too brightly colored or have this weird shine that makes it look tacky and cheap but this is perfect and makes my lips look plump and healthy!
I took my driver's license picture wearing Rainbow Aura and I'm so proud of my DL picture now.
I waited in the queue for four hours!!! During that time, I bought snacks. I ate mangoes, pineapples, cantaloupes, and papayas and it stayed through it all!!!!!!! I'm so in love. I was a little scared it wouldn't stay on while I was in the queue because I forgot to bring my lip gloss with me but by the time I took my picture, my lips stayed luscious after 6-hours of wear with no reapplication. It's so moisturizing for the lips and it's a great color too! Get it, it smells so good. My boyfriend doesn't even complain after he gets some on his lips after a kiss, and I put on a LOT of this stuff. Like, piles of it.
Pretty good!
I like this glass. I am later 40's and I appreciate that I do not look like teeny bopper with this Gemmed Lip Gloss. I did not care for the Lip Glaze bold color and application appearance personally (but I do not wear any make-up except eye concealer and like natural look!! This was nice for a little color without being bold and accented - not looked like "Make-Up." feels a bit "sticky" on lips though for the consistency, which is not the biggest deal. This is the ONLY company for skin care /make-up products I will buy.
Glossy Lips
I love just a little gloss to my lips, and this feels sticky when you put it on. However, its refreshing once one and it allows the natural color to shine forth.
Complete the Package
Continue Shopping →