Trend Alert: Metallic Smokey Eyes
Tips and tools for day and night smokey eyes – to make your summer beauty look smolder!
Posted on April 25, 2019
Written by: 100% PURE®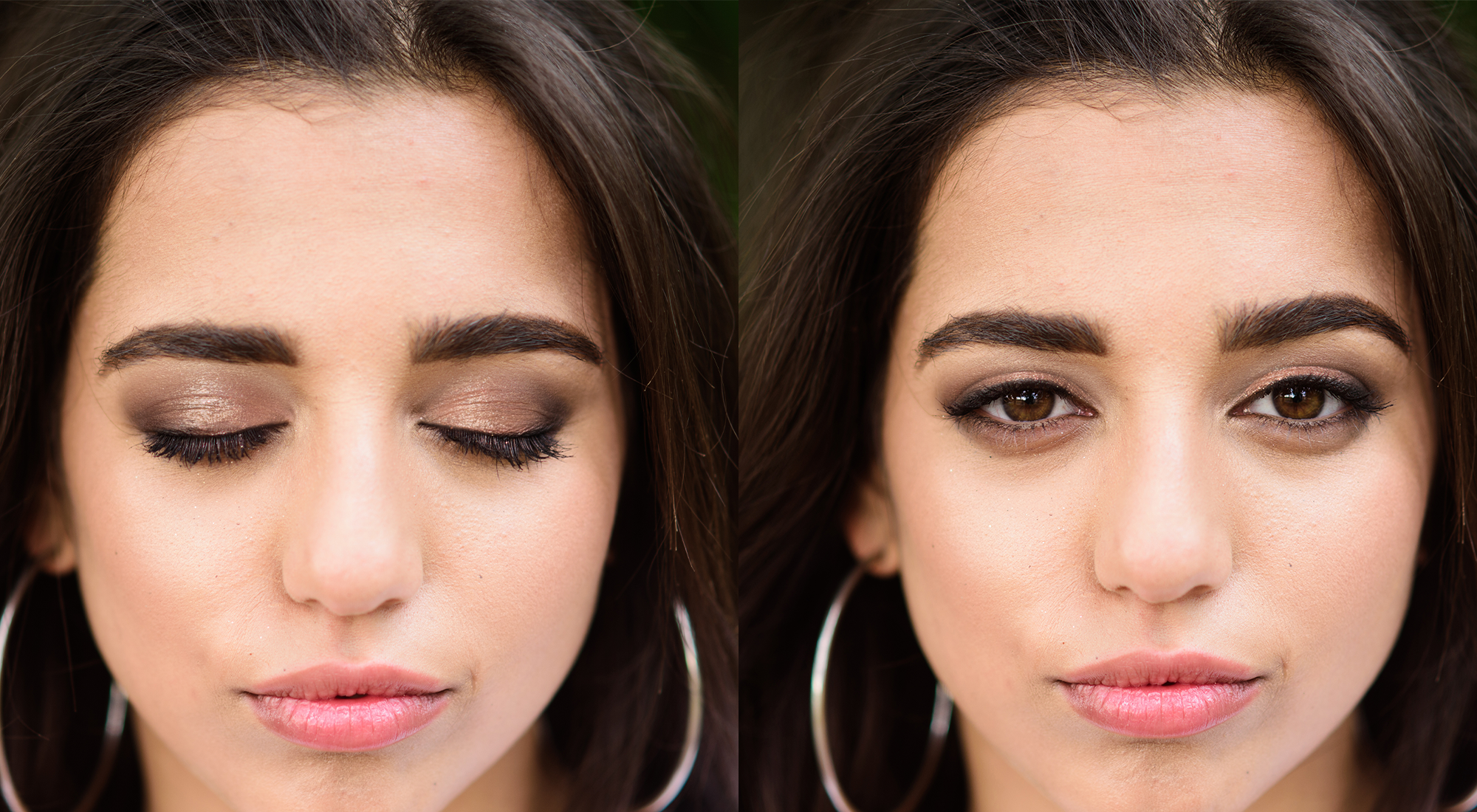 The metallic smokey eye is one of our favorite beauty looks for the summer – it's versatile, forgiving, and can be paired with nearly everything. The look is also totally trending: Julianne Moore sported the look just days ago at the TIME 100 Gala, Tessa Thompson went full metallicat her latest movie premiere, and Lady Gaga basically went down in history for her powder blue and metallic smokey eye ensemble at this year's Golden Globes.
To spread our love of this ultra glamorous trend, we're sharing our favorite shades of fruit pigmented® eye shadow, each laced with gems and minerals for a metallic sheen. We'll break down one metallic smokey eye for day, and one for night – both complete with lip color pairings. Our makeup breakdown will have you more than ready for summer, with sultry smokey eye makeup looks that can't help but smolder!

What You'll Need
Brushes
If you love eye shadow, you've probably met these two makeup brushes before! Our cruelty-free eye shadow brushes are made with vegan taklon fibers – NOT animal fur. The E30 flat shader brush is ideal for distributing your base color all over the lid. Our E20 smudger brush is our go-to for swiping signature smokey eye color beneath your bottom lash line. Finally, the E40 crease brush is what you'll need if you're looking to create a dimensional smokey eye, with deeper tones in your eyelid crease.
Makeup Primer
Since we're going for a metallic finish, your makeup primer should be one that compliments and enhances shimmer and luster. Our Luminous Primer is more than just a best-selling base for makeup – it's also a nourishing skin treatment made with anti-aging resveratrol, hydrating aloe extract, and moisturizing avocado butter. What makes this primer really special are the ultra-fine specks of mineral mica that create a soft, subtle glow beneath your makeup.
Fruit Pigmented® Eye Shadow
It's difficult to think of a world where toxic dyes are banished and healthy fruits can create gorgeous makeup. While we can't singlehandedly do away with synthetic dyes in eye makeup, we CAN create stunning fruit pigmented® eye shadows that defy conventional beauty rules! Our range of matte to shimmer eye shadows will help you create any form of smokey eye your heart desires – including one made with metallics!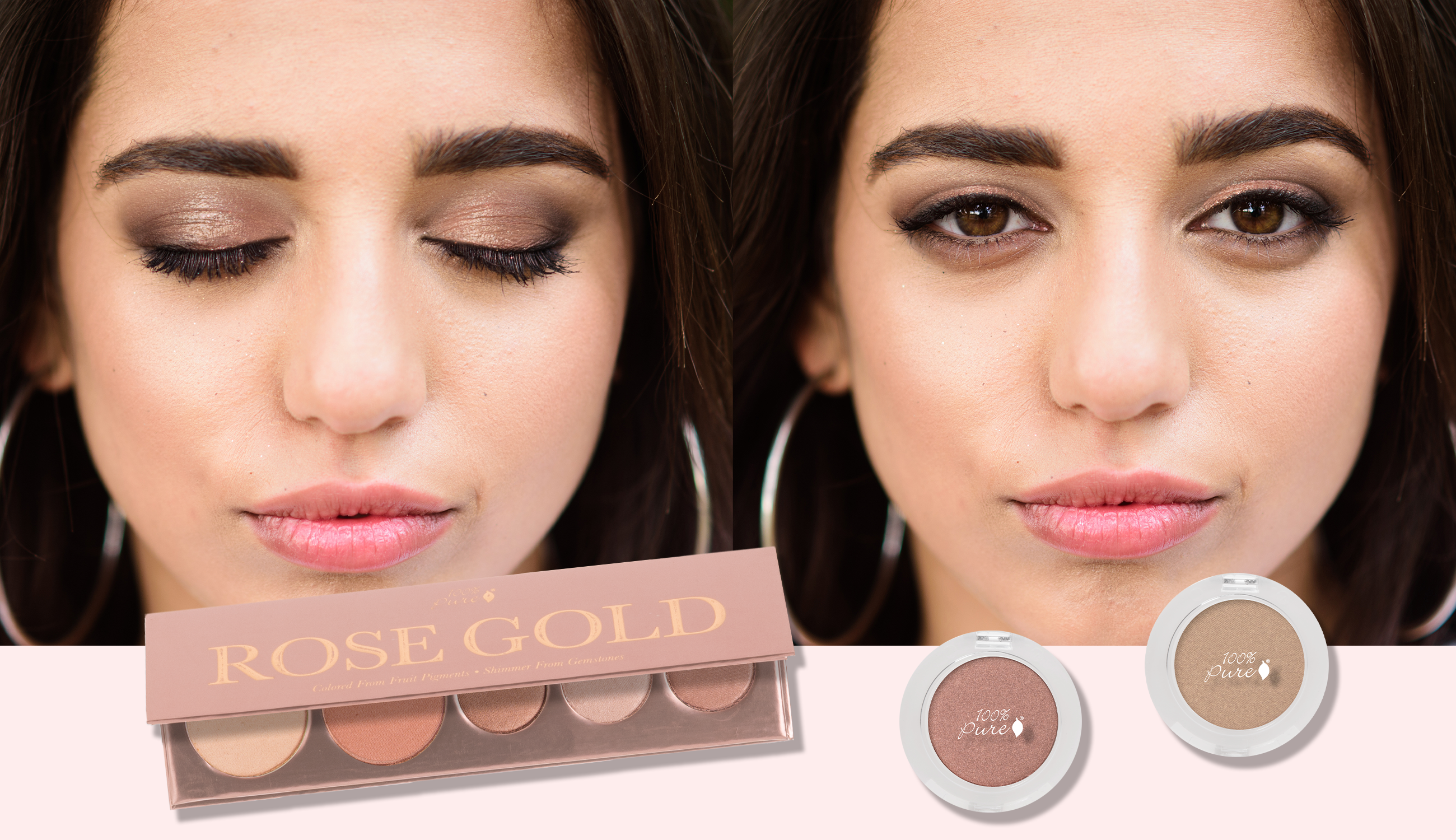 Daytime Metallic Look:
Neutral Copper Smokey Eyes
The stars of this show are warm, glittery gold Gilded and shimmery copper Cinnaban, which is laced with rosy pink undertones. We add touches of plum-bronze Luster from the Rose Gold Palette for a neutral tint. This eye makeup look is warm, summery, and just neutral enough for any complexion or skin tone.
Start with a primed lid. First, swipe Cinnaban on as your base, using the flat shader brush to distribute the pigment across your entire lid. Next, grab your crease brush and blend Luster into the crease between your brow bone and lid, concentrating your efforts in a sideways "v" that connects the crease and outer corner of your eye, and points to your temple.
Finish this look with your flat shader brush, dabbing Gilded onto your inner corner – both on your upper lid and below your eye. Now grab your smudger brush to intensify the smokey eye effect, by dipping into Luster again and buffing it along your bottom lash line, stopping beneath the center of the eye.
Pair this look with neutral lip gloss Citrine and a glow-enhancing layer of All Over Glow beneath your favorite foundation, for a truly luminous summer complexion that matches the warmth of your makeup look.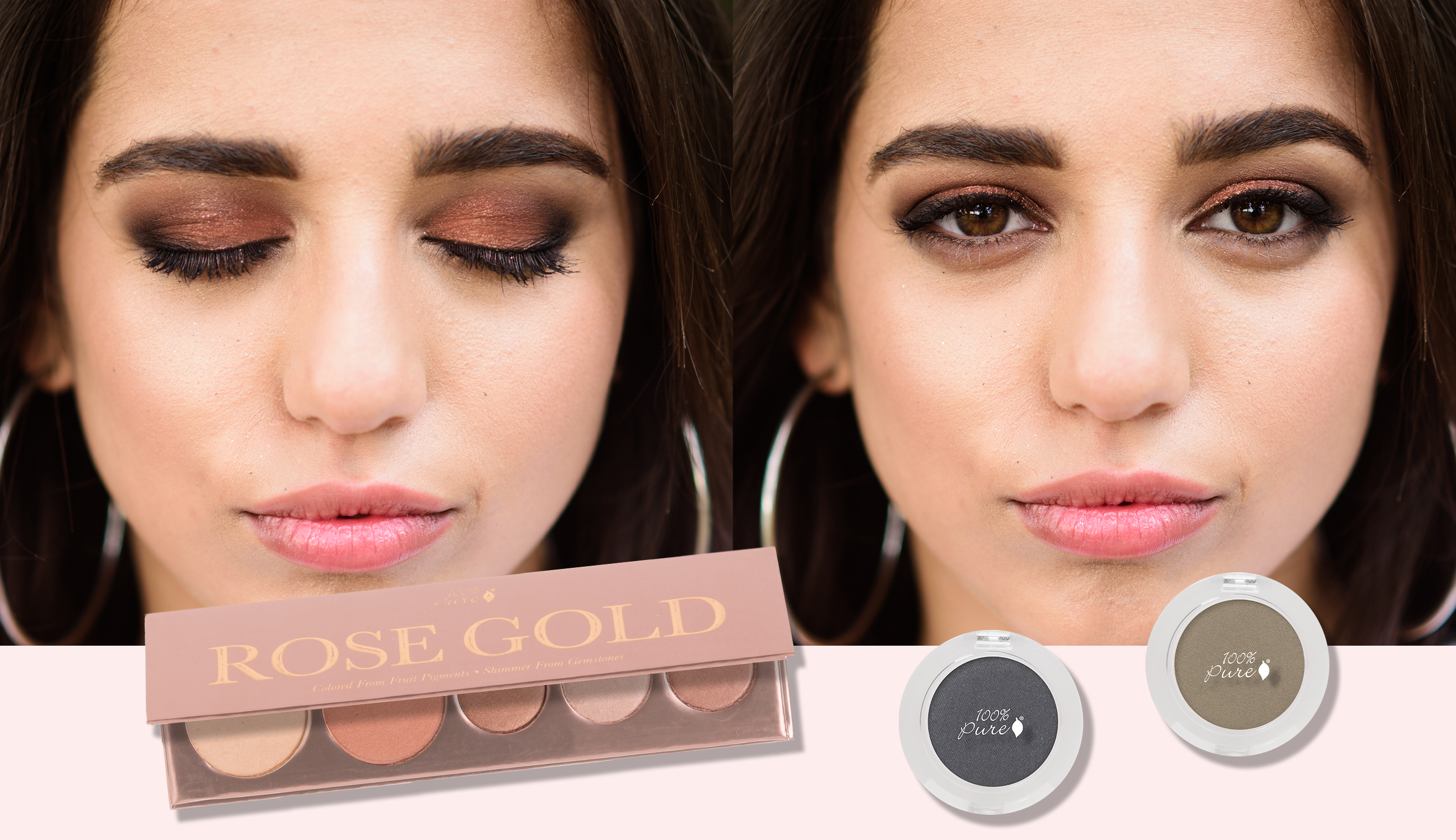 Nighttime Metallic Look:
Smoldering Rose Smokey Eyes
For this fiery night time smokey eye, you'll be calling upon the powers of deep bronze, gold sheened Bronze Gold and deep pewter Black Platinum. You'll be adding a bold layer of rosy copper Primp blush from the Rose Gold Palette, too – a move that beauty amateurs will never expect! This look is bold, feminine, and sets blue, green, and brown eyes ablaze with a red-hued smolder.
Start with a primed lid. Start by swiping Primp blush on as your base, using the flat shader brush to layer the pigment across your entire lid. Next, grab your trusty crease brush and blend Bronze Gold into the crease between your brow bone and lid, creating a soft and subtle transition between your rosy-copper lid and brow bone.
Next you'll go in with the deepest color, Black Platinum, and your crease brush. Etch a sideways "v" at the outer corner of the top lid, blending from your crease to the outer corner of your eye, pointing to your temple. To ensure all colors are well-blended, clean off your crush brush then gently buff the transition areas.
Finish by taking your smudger brush and dipping it into Black Platinum, then lightly tracing your bottom lash line from the outer corner to below the center of your eye. From the center of the eye to the inner corner, trace with Primp for an eye-opening blush of smokey copper.
You can pair this deep, red-hued metallic look with a sheer, shimmery lip gloss, or with a brown lip that's suited to your complexion, like Mojave or Agave matte lipsticks.
Want more summer guides? Check out our guide to natural sunscreen, our music festival survival guide, and more on our makeup blog feed!
We carefully hand-select products based on strict purity standards, and only recommend products we feel meet this criteria. 100% PURE™ may earn a small commission for products purchased through affiliate links.
The information in this article is for educational use, and not intended to substitute professional medical advice, diagnosis, or treatment and should not be used as such.
Sign up to our email newsletter for more blog updates and exclusive discounts.
< Older Post | Newer Post >