Find Your Tinted Moisturizer Soulmate
Cracking the code on this dewy, skin-healthy natural makeup product, plus how to find the one you're destined to use
Posted on September 5, 2022
Written by: 100% PURE®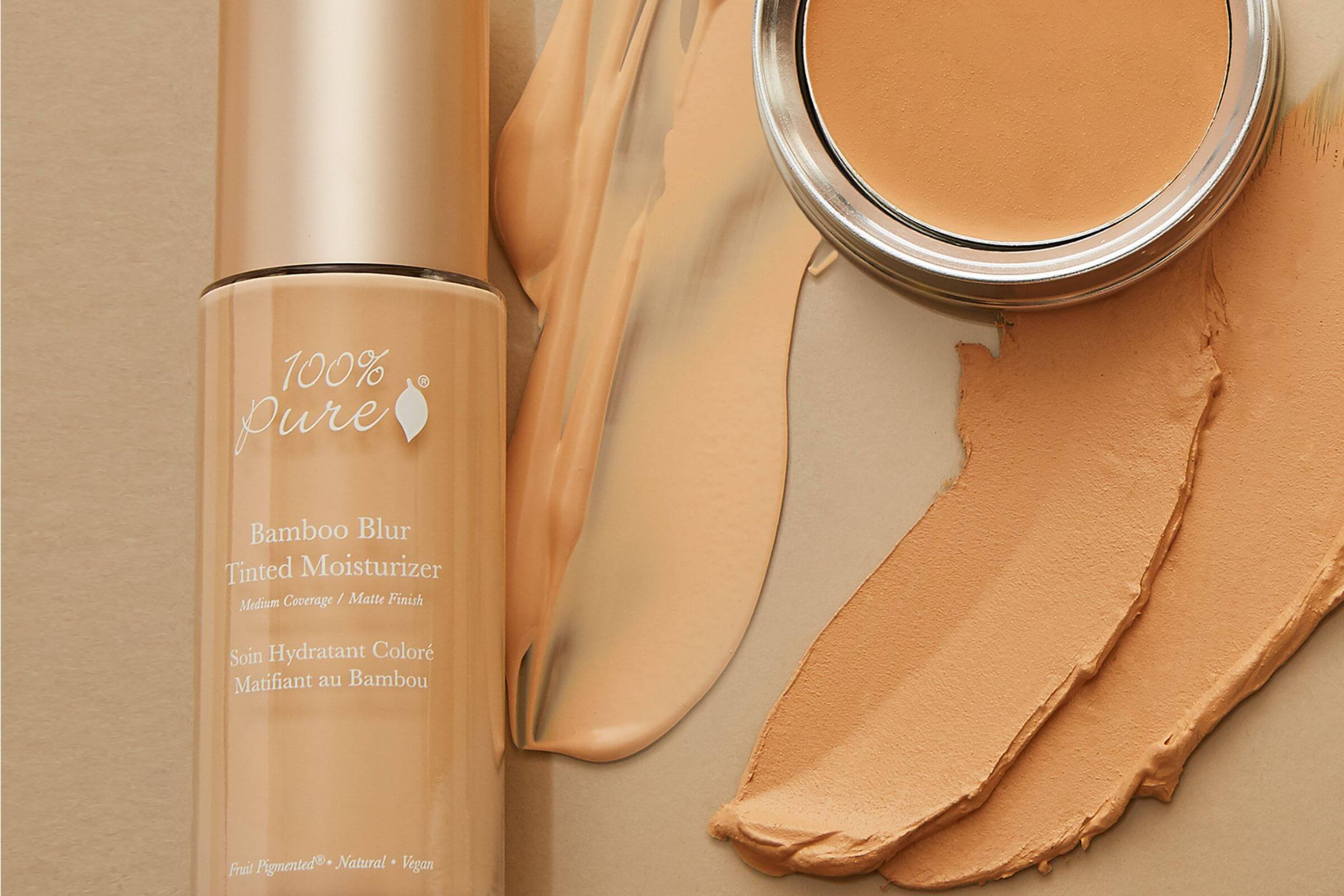 Fall 2022 makeup forecast: dewy with a chance of glowy. That's right – forget about the impending dreary days and fall temps ahead. If you're looking for the perfect natural foundation to match your skin goals and the weather, look no further than a tinted moisturizer.
Here we'll explain the merits of using a tinted moisturizer instead of a full-coverage foundation or a BB cream, and what sets these two makeup heros apart. We'll also share the best finishes, and the top tinted moisturizers, plus why you'll fall in love with (or rediscover) this multi-tasking makeup hero.
What Are Tinted Moisturizers? Do They Differ from Foundation and BB Cream?
With so many options for makeup foundation coverage, it can be tricky to decide what will work best for your skin. When you throw different types, consistencies, coverages, and finishes into the mix, things get even more confusing. Luckily, this quick makeup guide is here to help!
One of the first products most of us are introduced to — aside from mascara and lip gloss – is foundation. Traditionally, foundations were full-coverage as they had to cover all the skin bases; scars, blemishes, dark spots, basically everything! Nowadays, these formulas have varying coverages, and you can always build your coverage to suit you by applying more of the product until you're satisfied.
Contrary to a foundation, BB cream is your all-in-one daily foundation that's usually comprised of foundation, primer, and moisturizer. This 3-in-1 beauty balm is a great alternative to traditional foundations, which can be too heavy for our evolving beauty preferences. While a BB cream is more lightweight than the usual foundation, it still has buildable coverage, making it able to correct imperfections.
This brings us to tinted moisturizers: Is it a moisturizer? Is it a foundation? How about both! A natural tinted moisturizer is a moisturizing liquid-cream makeup product that is easier to wear than foundation, since its coverage is more dewy and seamless like the texture of your skin. This means it requires less touching up than a natural foundation, while still serving a level of coverage that's somewhere between bare skin and foundation.
A product like this is simple, yet usually provides skin-loving ingredients and hits all the bases for what we need from coverage and skin hydration in the cooler months.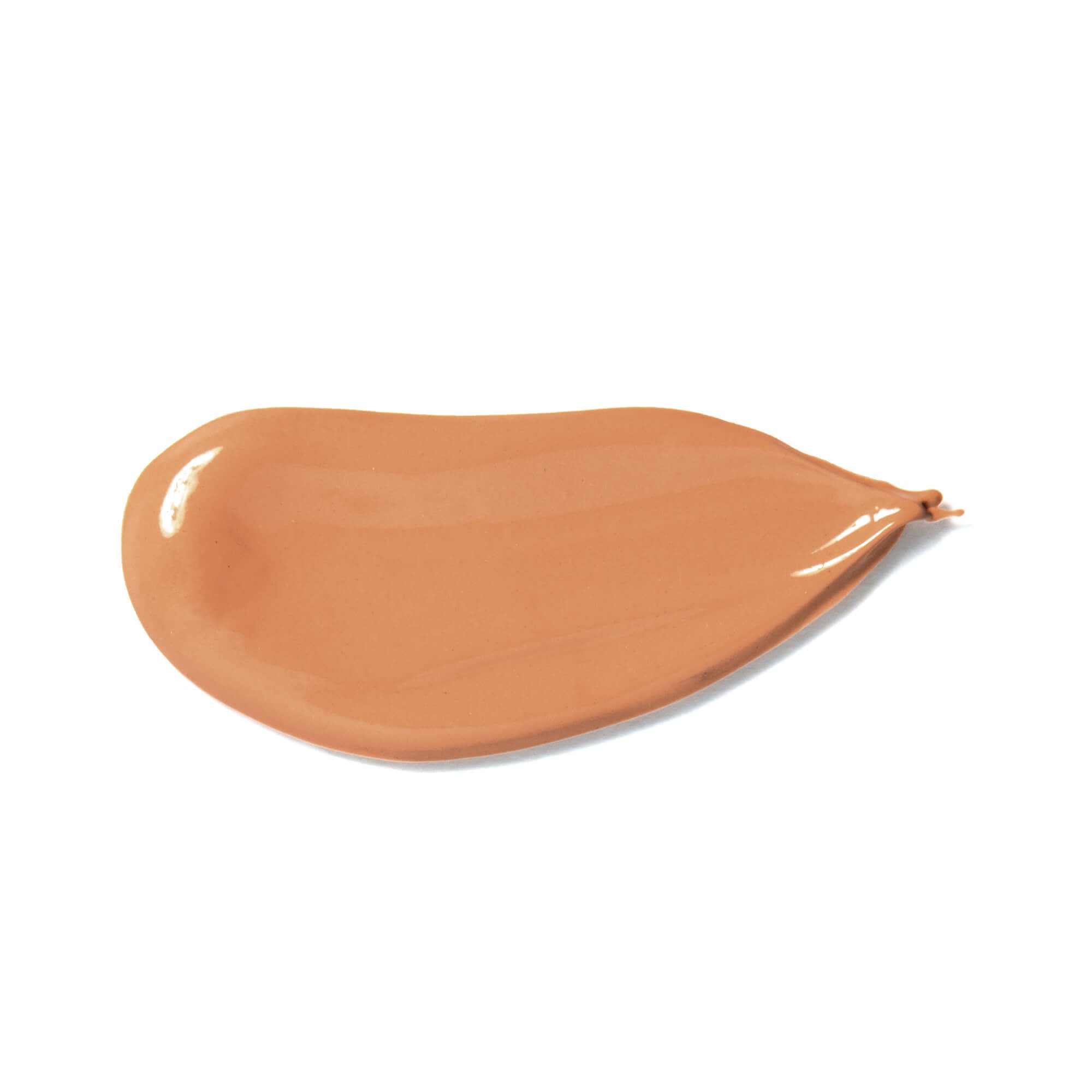 What Are the Main Finishes of Tinted Moisturizers?
While we might associate tinted moisturizer more with summer day looks at the beach, they're incredibly practical when it's cold out. They're hydrating moisturizers with your-skin-but-better coverage, and they work to blur the skin.
When we think of tinted moisturizers, we tend to think of sheer, light coverage. However, there are formulas on the market that offer more coverage. With that in mind, it's important to assess your own skin's needs, and what finish - sheer, dewy, matte, and buildable medium to full coverages -is going to work best for you.
Sheer Finish:
Sheer coverage is transparent with the least amount of pigment and blends with your skin tone. This allows your complexion to shine through, creating the perfect soft, barely-there to subtly elevate your beauty game. Let your freckles shine!
Dewy Finish:
Unless you've been out of touch with makeup, looks like "dewy" or "glowing" were all the vibes and rage this summer! A dewy finish uses ingredients that help the skin look hydrated, luminous, and at times add more sheen to the skin for a natural glow. This light reflection gives the appearance of younger-looking skin.
Matte Finish:
A matte finish is non-light-reflective, often with a powdery texture. It doesn't use any oil, resulting in a look that may be described as "clean" and "velvety." A matte finish doesn't reflect light so it's better at hiding breakouts, oversized pores, and textured skin. But those with aging skin often find matte finishes to cause their skin to look dryer and accentuate fine lines
Medium to Full Finishes:
Medium coverage gives you a natural skin finish but still provides enough coverage to give you an even complexion. This foundation coverage level is the most commonly requested, because it's buildable. To really make your skin look completely even-toned, full coverage foundation is the way to go. Full coverage foundation is meant to completely cover the skin.
Newsletter
Subscribe
for more blog updates and exclusive discounts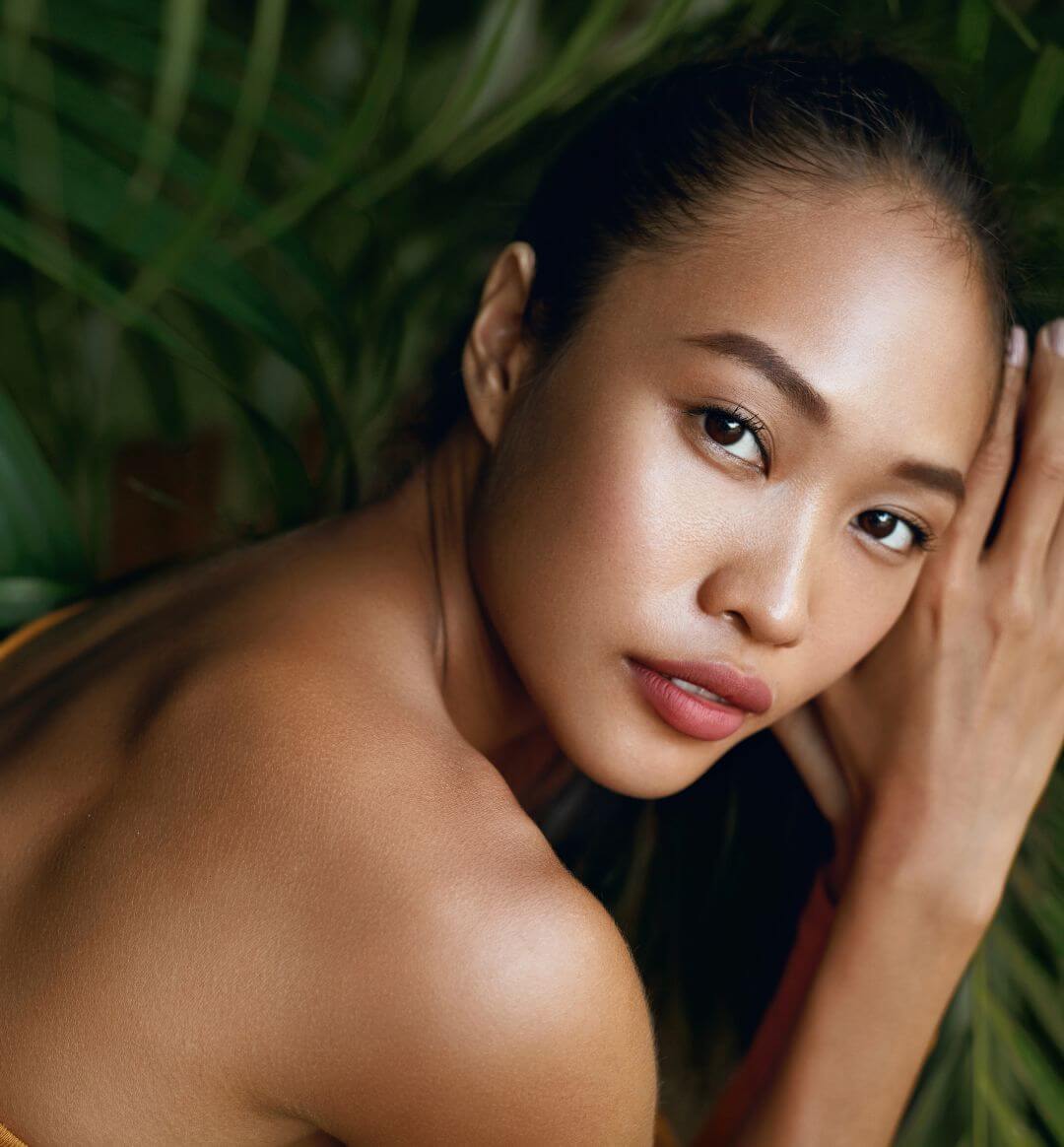 The Top 5 Tinted Moisturizers
When we're in the depths of the impending cooler months, we're not really making sun-kissed skin a priority. But glowing, plump-looking skin looks great all year round. And even with brisk temps, it's totally possible to achieve it! Here's a life hack: tinted moisturizer is perfect for this. Ready to find your skin's soul mate? Let's go!
#1. 100% PURE Fruit Pigmented Tinted Moisturizer
Our tinted moisturizer is much like a CC cream, which stands for "coverage and correct." The fruit-derived pigments in our tinted moisturizers provide dewy, light-medium buildable coverage. Those same fruits, essential oils, and natural ingredients are also working overtime to renew and protect the skin for that aspect of skin "correction" that we'd get from a natural skin care product.
Did you know the 100% PURE Fruit Pigmented Tinted Moisturizer is an O.G. fan favorite product? That's right – with over 700 reviews on our website and an average rating of 4.4/5 stars, this product continues to fly off the shelves. The reason? Fans love how it pulls double-duty with hydrating, skin-loving ingredients and has buildable coverage for a flawless, healthy complexion.
#2. Kjaer Weis The Beautiful Tint
There's a reason it's called "the beautiful tint"; it's the perfect complexion-enhancing fusion of skincare and makeup for beautifully-beaming skin. This lightweight, breathable tinted moisturizer deeply hydrates, soothes, and boosts your skin's natural luminosity instantly and over time. Tinted, luminous skin that lasts driven by our potent high performing certified organic illuminating ingredients.
Why it's people's skin soulmate: It's the perfect touch of tint for beautiful undetectable coverage, blends seamlessly, evens skin tone, and creates a 'lit-from-within' fresh glow.
#3. Kari Gran Essential Tinted SPF 28
If you're looking to brighten and leave your skin looking radiant, this tinted moisturizer imparts a glowy, dewy, and radiant finish sure to be your next skin BFF. This sheer-coverage tinted moisturizer with SPF helps even skin tone as it protects against sun's damaging rays with SPF 28 mineral sunscreen all in an antioxidant-rich trio of red raspberry seed, French plum, and macadamia nut oils.
Why it's people's skin soulmate: It moisturizes, fortifies, and restores radiance to skin in a reef-safe formula that blends in effortlessly, leaving skin bright and glowy. Just enough coverage to give you the confidence to go bare face.
#4. Josh Rosebrook Nutrient Day Cream SPF 30 Tinted
Hydrate and protect your skin all at once with this antioxidant-rich tinted moisturizer, packed with bilberry, rosehip, sea buckthorn, borage, and marshmallow for deep nourishment. This color-adjusting formula provides an even skin tone, and looks equally wonderful when worn alone or as a smoothing primer before makeup.
Why it's people's skin soulmate: It's a makeup-trio marvel featuring a powerful hydrating moisturizer, a broad-spectrum sunscreen, and light makeup in one, plus color-adjusting minerals that can correct and brighten your complexion.
5#. Well People Bio Tint SPF 30 Tinted Moisturizer
Bio Tint SPF30 Tinted Moisturizer is a triple threat tinted facial moisturizer that allows you to instantly blur imperfections, build coverage with a dewy finish, moisturize your skin, and shield it with SPF 30. The plant-powered formula is bursting with organic skincare superheroes like pumpkin seed oil that brighten, smooth, and hydrate skin to perfection without clogging pores.
Why it's people's skin soulmate: It shields skin from the sun with SPF 30, while the lightweight, fast-absorbing texture sinks in quickly for a grease-free glow.
While there's plenty to consider as you're finding the right tinted moisturizer for your makeup arsenal, remember there are really no wrong answers. It all comes down to what feels best on your skin – and what won't cause you to break out or dry up. These skin-healthy makeup marvels are a great option any time of the year, especially when you want a little extra vibrance without too much effort. If you're true to your skin likes, you'll find your tinted moisturizer soulmate – and much more!
We carefully hand-select products based on strict purity standards, and only recommend products we feel meet this criteria. 100% PURE™ may earn a small commission for products purchased through affiliate links.
The information in this article is for educational use, and not intended to substitute professional medical advice, diagnosis, or treatment and should not be used as such.
Sign up to our email newsletter for more blog updates and exclusive discounts.
< Older Post | Newer Post >