Coffee - We Drink It But Should We Wear It?
The answer is a resounding YES
Posted on September 6, 2022
Written by: 100% PURE®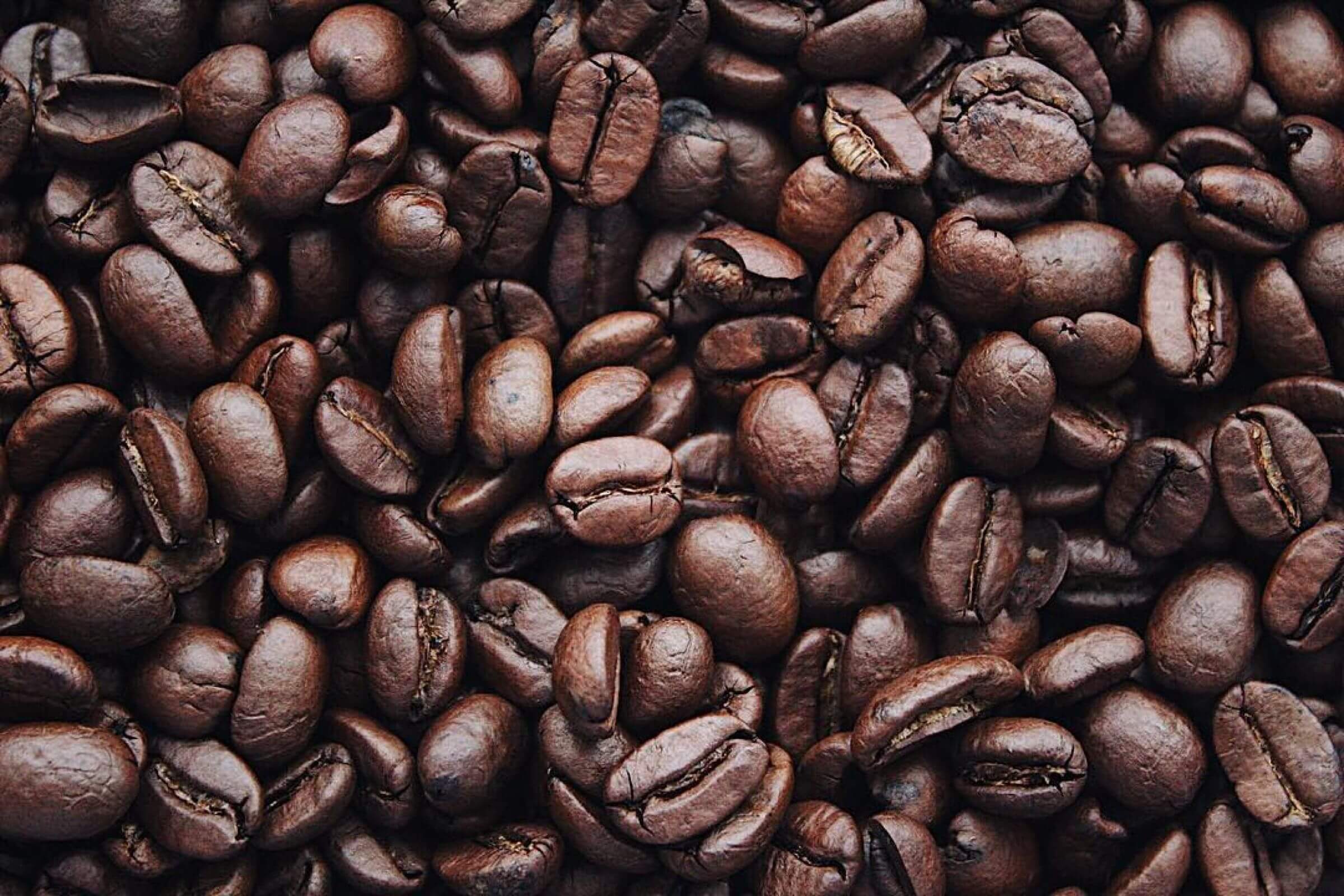 Adulting is hard. Imagine it without coffee?! Many adults simply cannot function without an infusion of coffee in our systems. Thanks to the zing of energy that a cup of brain juice provides, we're able to function and play nice with others on a regular basis.
Coffee is not just for your morning go-go juice, it's also an amazing skincare ingredient - and used in our most iconic product: Coffee Bean Caffeine Eye Cream. Come along while we provide some perks of coffee for our skin and why over a million others adore our award-winning eye cream!
The Benefits of Coffee for Your Skin
Before we get down to the impressive details about our famed eye cream, let's talk about the beauty benefits that coffee brings to the table. One of the most impressive assets of caffeine is its A(ntioxidant) game: with beverages like coffee (and green tea in its corner), no other food can go toe to toe with caffeine. Check out some other amazing beauty benefits of coffee:
Free-radical Fighting
Coffee contains a plethora of antioxidants, which can help to repair skin damage caused by UV rays by fighting free radicals (sun, pollution, smoke) that contribute to premature aging. Antioxidant components – like polyphenols, catechins, and flavonoids – can even be activated through brewing, so drink up!
Anti-inflammatory
Your morning cup of Joe contains the antioxidant ferulic acid, which is shown to have an anti-inflammatory effect on the body and skin. This key ingredient also helps to reduce redness and swelling in your delicate eye area.
Boosts and Repairs
Coffee is also high in niacin (vitamin B3), which helps the body's systems function properly. This wonder ingredient also promotes cellular turnover, and can be helpful in repairing sun damage while strengthening the skin barrier.
Brightens
The stimulating properties of coffee improves circulation and blood flow and makes your skin appear brighter, and, well – alive! By improving circulation to the skin around your eyes, your cup of java increases the flow of nutrients (carried by your blood) to your skin tissue, which in turn results in brighter, more vibrant skin.
Calms Redness and Irritation
Though it seems paradoxical given its stimulant nature, coffee can actually calm inflamed and red skin thanks to the same antioxidants that protect it from premature aging. It's also a vasoconstrictor, which means it shrinks blood vessels and reduces the rush of blood to the skin's surface – thus lessening the appearance of redness and flushing.
Decreases Dark Circles and Puffiness
The 'awake' effect you'd get from your morning go-go juice has the same effect on our skin. The super ingredient is great for dark circles, as it helps to improve circulation by constricting the blood vessels. Coffee can also absorb accumulated water, and is vital in reducing puffiness and swelling found around the eyes.
We love the ingredient so much that it's used in our most iconic product: the Coffee Bean Caffeine Eye Cream. Though it may seem hard to believe that a clean beauty product could achieve such dazzling results, we'd like to spill the beans on those cool coffee beans!
Newsletter
Subscribe
for more blog updates and exclusive discounts
Why You Need Our Coffee Bean Eye Cream
So, you have your morning or maybe all-day coffee fix, but what about in the evening? Don't let your go-to juice interrupt your sleep; instead, get your coffee fix in your eye cream! (Psst; it can be used in the morning, too).
If you've been searching high and low for a pick-me-up for your peepers, look no further than our best-selling, fan favorite Coffee Bean Caffeine Eye Cream. Let's dish some insider info on why this product is the best natural eye cream for dark circles, and how organic ingredients give this skin care hero its zing.
Benefits:
A super lightweight formula that's rich in coffee and green tea for mega eye brightening and depuffing benefits.
Revitalizes the tired eye area with naturally-derived caffeine to stimulate microcirculation, effectively detoxifying fluid buildup, which causes puffiness, and reducing dark circles.
Nourishing vitamin E and rosehip oil deeply nourish delicate, dehydrated skin for added softness.
Formulated with potent antioxidants, vitamins and plant extracts to reinforce the delicate eye area against environmental aggressors.
Vitamins C and E make star appearances in the formula: they're both powerful antioxidants that protect skin from pollutants, and help reverse and prevent signs of premature aging like fine lines.
Strengthens and nourishes your under-eye skin, so that your next sleepless night or salty meal won't phase your eye area so much.
Vegan, cruelty free, preservative, and fragrance free, because we're 100% committed to creating holy grail natural beauty products (and to helping you look like you got a normal night's sleep).
Over 1 million sold, and counting!
Results:
Our Coffee Bean Caffeine Eye Cream is totally vegan, and flaunts amazing stats via real results from 100% PURE fans. 97% saw reduction of puffiness with regular use; 93% saw reduced appearance of fine lines and wrinkles; and 100% saw increased hydration and moisture.
Want to give those peepers more glow? Pair with Bright eyes mask for the ultimate Bright Eyes Duo. Our best-selling Bright Eyes Mask is made with cooling cucumber and natural caffeine to de-puff, boost circulation, and brighten dark circles. Our Bright Eyes Duo features our famed Coffee Bean Caffeine Eye Cream, paired with a five-pack of our Bright Eyes Masks in a fan-favorite nutrient-packed duo.
PRO TIP: Keep your Coffee Bean Caffeine Eye Cream in the fridge for faster eye-depuffing action!
Press:
As we mentioned earlier, our Coffee Bean Caffeine Eye Cream is beloved by many, and considered one of THE best natural eye creams you can get.
This powerful de-puffer was crowned by the editors at Marie Claire in the top one in five eye creams to get rid of puffy eye bags, while Self crowned it as one of the 7 best eye creams on Amazon. And the reviews didn't stop there!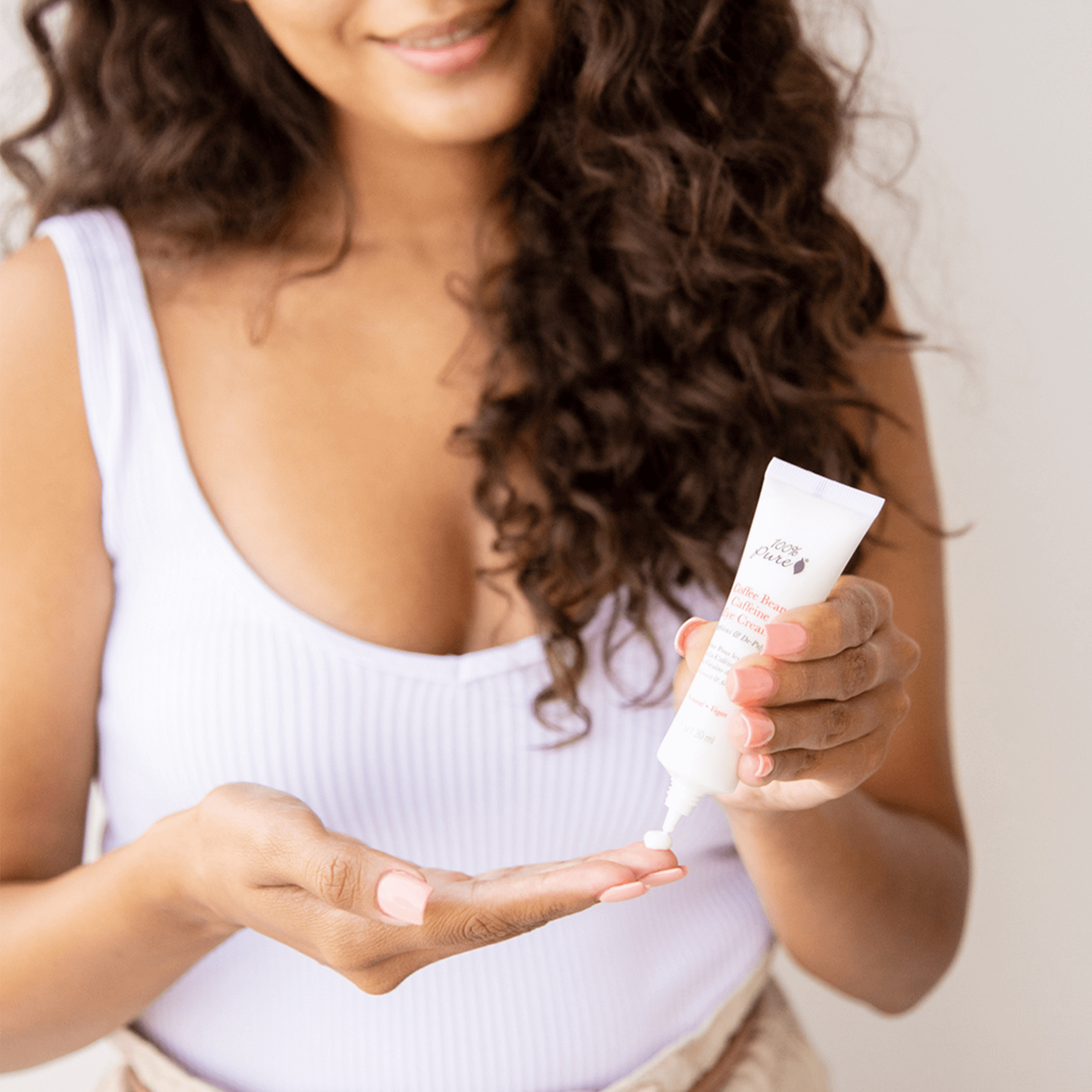 Customer Reviews
How's that for an effective eye cream? Let's ask our fans!
Reviews of Coffee Bean Caffeine Eye Cream
★
★
★
★
★
Love, Love, Love
I love everything about this eye cream. The smell is light and pleasant. It doesn't feel heavy on and it actually works! I love it!
Andrea, Verified Buyer
★
★
★
★
★
Amazing eye cream!!!
First of all, this stuff smells amazing!! Honestly putting it on just makes me smile. And it has helped reduce the dark circles under my eyes. I'm a college student, so sleep does not always happen and this stuff keeps me looking fresh and awake :)
Rebekah B., Verified Buyer
★
★
★
★
★
Put it in the fridge!
This is like a shot of espresso for my face. I keep it in the fridge in the kitchen, and dab it on while I'm brewing coffee. By the time I'm done eating breakfast and have had my (first cup of) coffee and go back to put my make up on, my eyes are brighter and my circles are less noticeable. So I need even less makeup! And when my husband kisses me bye in the morning he says I smell like a cookie 🤗
Anna Bush, Verified Buyer
For most of us, sipping on coffee is a nonnegotiable and essential part of our daily routines. Who knew these magical drinks not only affect your mood and body, they affect your skin in grande ways, too? (We kind of did.) Hopefully with our tips and the benefits of coffee and our Coffee Bean Eye Cream, you'll make the superstar product another non-negotiable in your skin care routine. Mugs up!
We carefully hand-select products based on strict purity standards, and only recommend products we feel meet this criteria. 100% PURE™ may earn a small commission for products purchased through affiliate links.
The information in this article is for educational use, and not intended to substitute professional medical advice, diagnosis, or treatment and should not be used as such.
Sign up to our email newsletter for more blog updates and exclusive discounts.
< Older Post | Newer Post >