The 100% PURE Gift Guide For Every Occasion
We've got you covered with our amazing gift sets!
Posted on September 7, 2022
Written by: 100% PURE®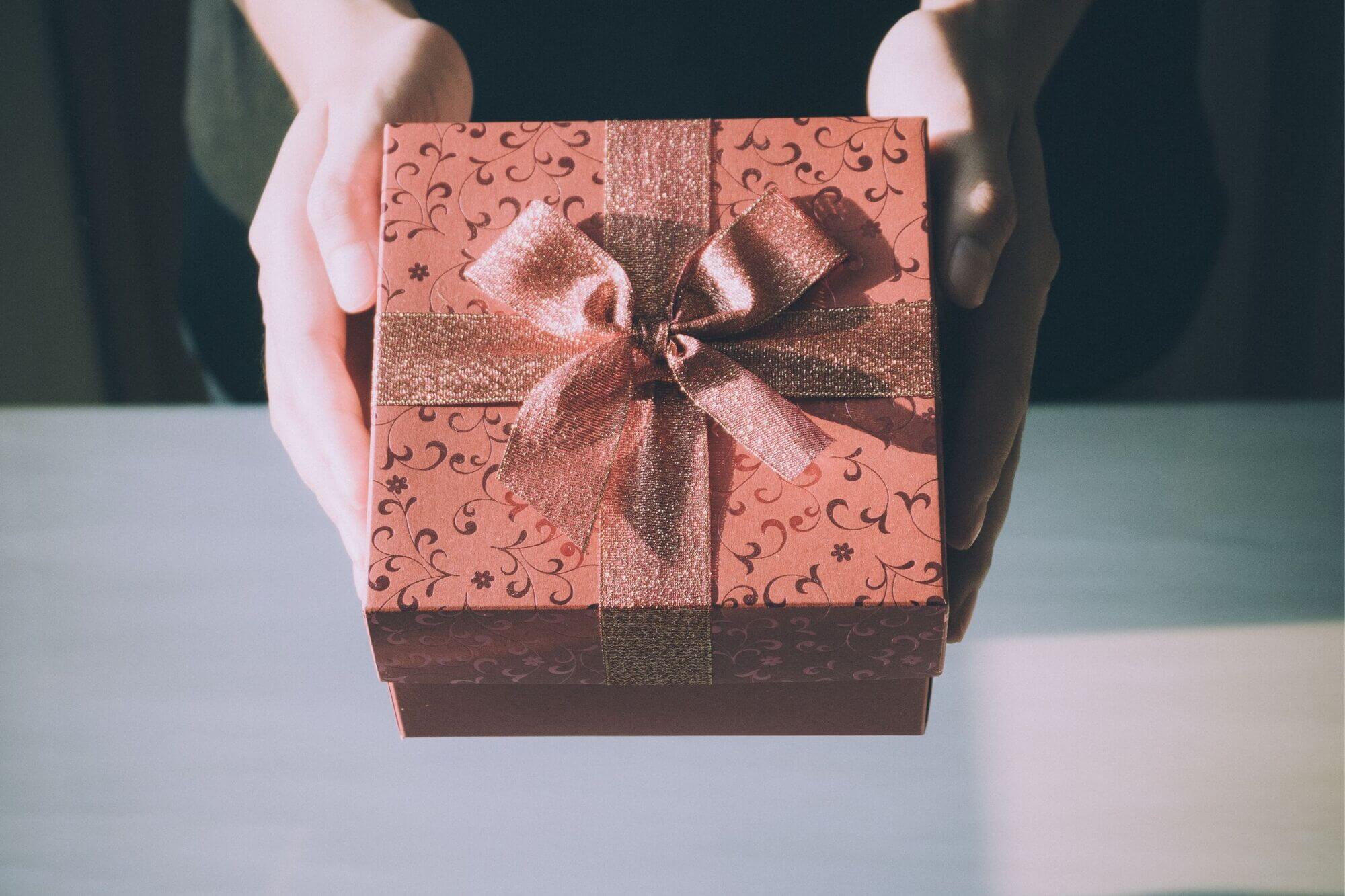 Raise your hand if you've ever been totally stumped on what to gift the wonderful people in your life. We've been there, too! Finding the right gifts can be a challenge, and it can get even trickier if you (or your recipient) resolved to stay cruelty-free this year!
You don't need to shop till you drop! We've compiled a list of our ready-to-gift sets and gifts on a budget, with something to please everyone on your list. Sit back and relax as we lead you through our gift guide sure to impress even the most (ahem) discerning giftee.
Our Gift Guide for Every Occasion
Somehow, we blinked, and now the major holidays are right around the corner, not to mention the special days that occur in between. We love to give gifts to the people we care about, but we sometimes struggle with gift inspiration. And we don't want to do the same old gift card or flower bouquet.
That means self-care gifts are going to be perfect. Here's a shortlist of curated gift ideas for taking care of your loved ones the way they take care of us.
Your Go-To Gift Guide for All Occasions
We don't want to do the same old gift card or fresh fruit or sweets gift baskets. We find it best to imagine not just what the wonderful people in our life want but how they want to feel: happy, taken care of, relaxed, and pampered are feelings that come to mind.
All the sets listed below are perfect and can be gifted for any occasion, but we're making it easier for you to decide with our recommendations! An added bonus: These sets are clean and cruelty-free to make your shopping even more of a breeze!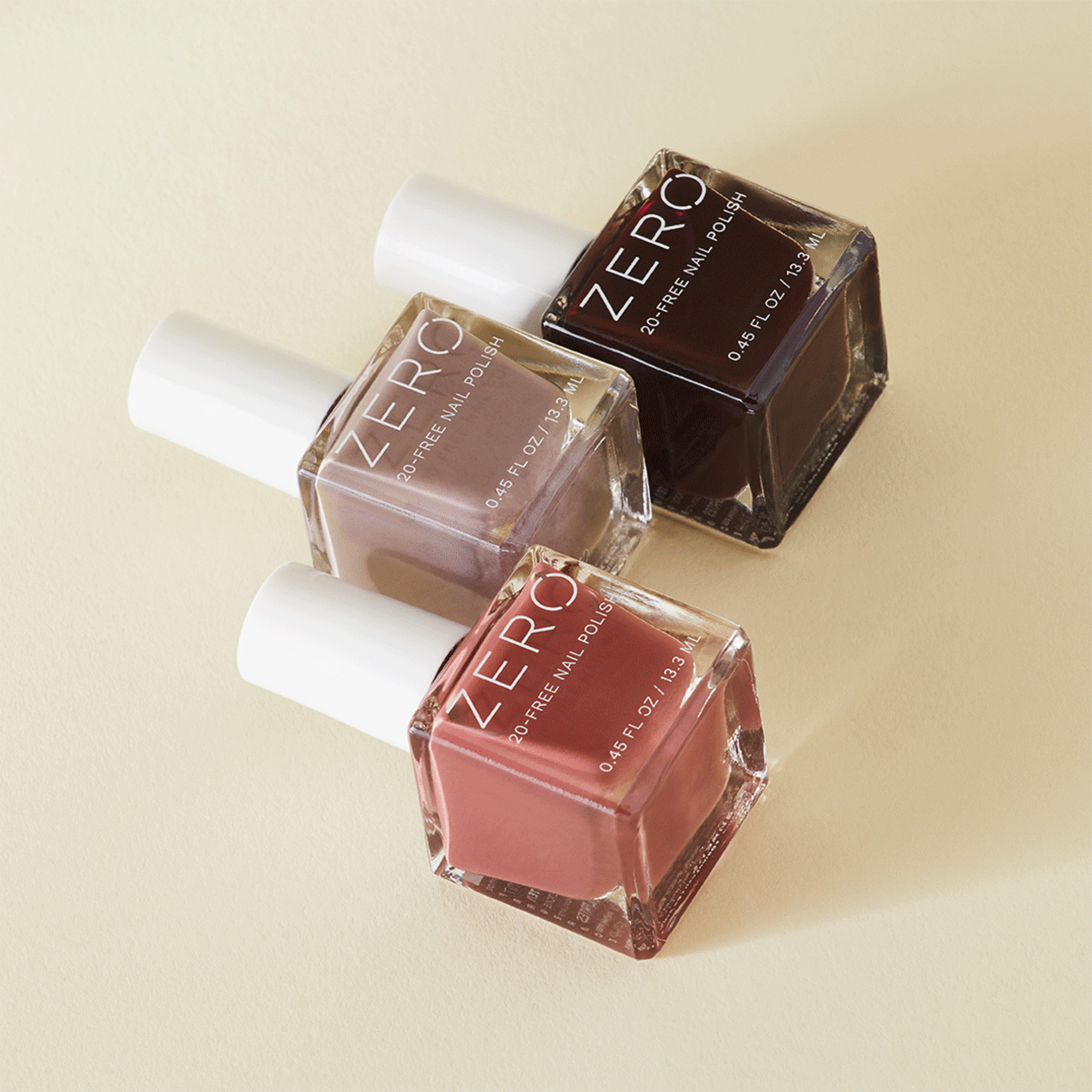 Birthday:
BFF Nails Bash, BFF Makeup Set & BFF Skin Routine
How do you find the perfect present for the person who you rant to over glasses of vino and helps you organize your impulse purchases into keeps and throwaways? We've taken out the guesswork with our BFF sets that are perfect to show your bestie just how much they – and their skin care – mean to you!
A party for your best friend's nails? Yes, please! Our ZERO nail formulas exclude the 20 commonly used toxic ingredients in nail polish, and can still deliver long-wearing, high shine, opaque colors to coat your nails to perfection. This set includes:
I'm A Little Rusty Nail Polish
Elderberry Nail Polish
Fog-et About It Nail Polish
Our Better Naked Palette turns up the fall temperatures by adding deep, rosy tones and combining them with high-performing neutrals and gilded metallic, which are colored with vitamin-rich fruit and vegetable pigments. The Better Naked Palette includes:
Fox: Beige pearly-gold, luminescent highlighter
Bunni: Rosy nude blush with warm undertones
Kitty: Golden shimmering eyeshadow with warm undertones
Bear: Milk chocolate brown eyeshadow with rosy undertones
Butterfly: Deep taupe eyeshadow with charcoal undertones
What better gift than something for your BFF to get dolled up? The Fruit Pigmented® Ultra Lengthening Mascara in shade Black Tea is infused with tea for rich pigmentation and lash conditioning. The result? The most fluttery lashes your bestie can dream of. Create a staple smokey eye with our Dark Cacao Creamy Long Last Liner; a daytime-appropriate dark brown liner for eyes that will sparkle and smolder.
Want to share the gift of eternal youth? Brightening and anti-aging, this trio comes pretty close with a juicy boost of collagen at night with our Multi-Vitamin + Antioxidants Potent PM Serum and a fast track to breaking up scarring and melasma with our Vitamin C Serum. Add our award-winning Coffee Bean Caffeine Eye Cream for the brightest, peppiest peepers!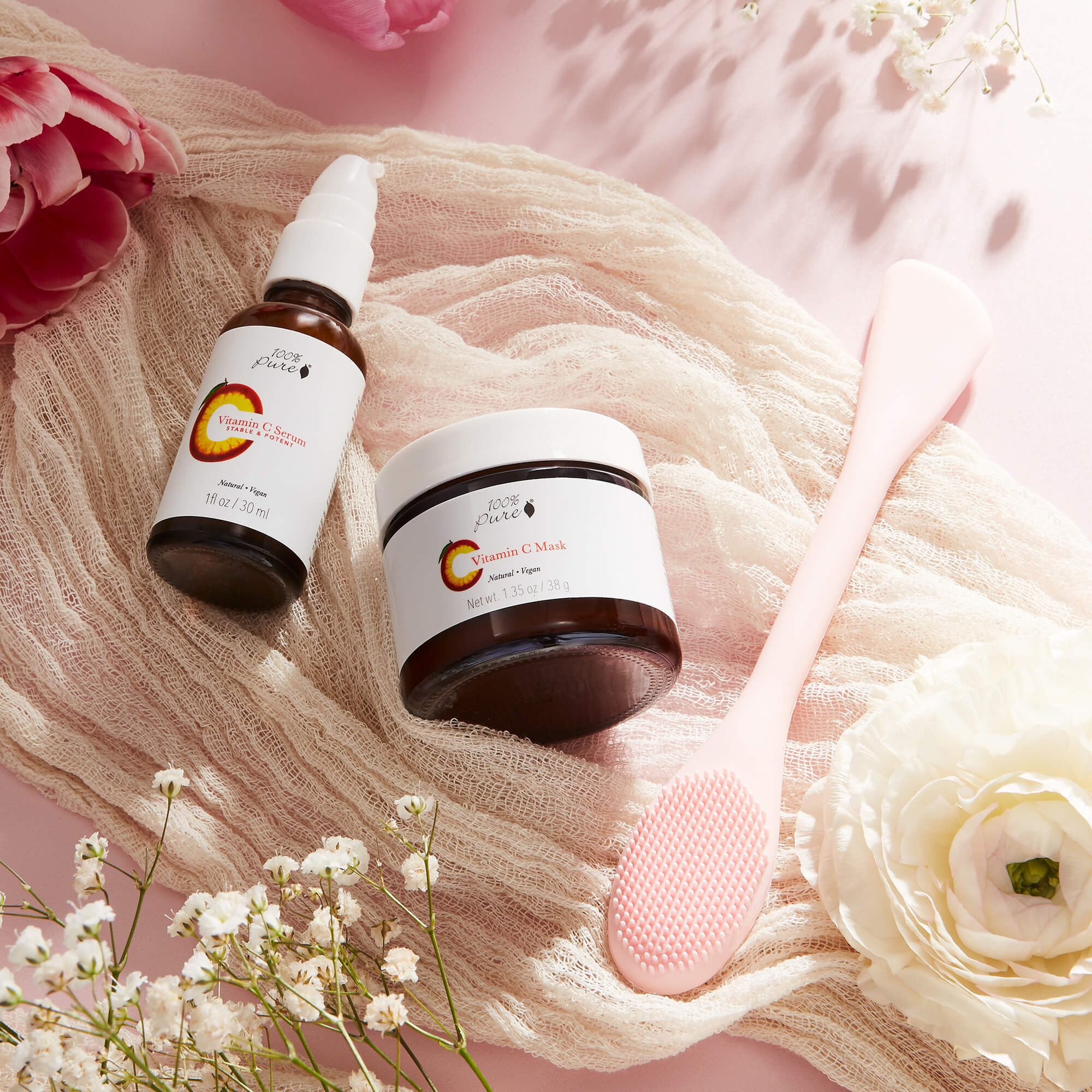 Christmas:
Revitalizing Trio & 5 Stars Home Spa
Ah, the Christmas holiday: a time of year for relaxing, being with loved ones, making merry – and perfecting the all-important holiday gift list. If you struggle with the art of gift-giving, don't sweat; you're not alone!
Finding the right gifts can be a challenge, which is why the merry ones in your life (and you) will need lots of energy. This revitalizing trio will breathe new life into your anti-aging routine! Brightening and anti-aging, Our Vitamin C Mask and Vitamin C Serum combo is one of the gift ideas that'll give your loved ones a mini makeover, but in the best, holiday brightest way.
A juicy boost of collagen and a fast track to breaking up scarring and melasma, this trio is going to make gift-giving jolly and bright. No revitalizing facial is complete without a Mask Spoon – and not just any spoon will do! This limited-edition silicone mask spoon in our trio is an all-star at this and more!
Christmas shopping for the merry people in our life can make for some weary bodies. Hit tired skin where it hurts with this powerhouse trio designed to soften and rejuvenate skin. Any one will enjoy how the Matcha Oak Face Scrub gently exfoliates and softens skin for a brighter complexion.
They'll also love the supple and youthful-looking refresh, thanks to a quality break time wearing our Matcha Oat Milk Nourishing Mask, which features plumping hyaluronic acid, and restorative matcha green tea. And don't forget our signature Mask Spoon for easy, mess-free application!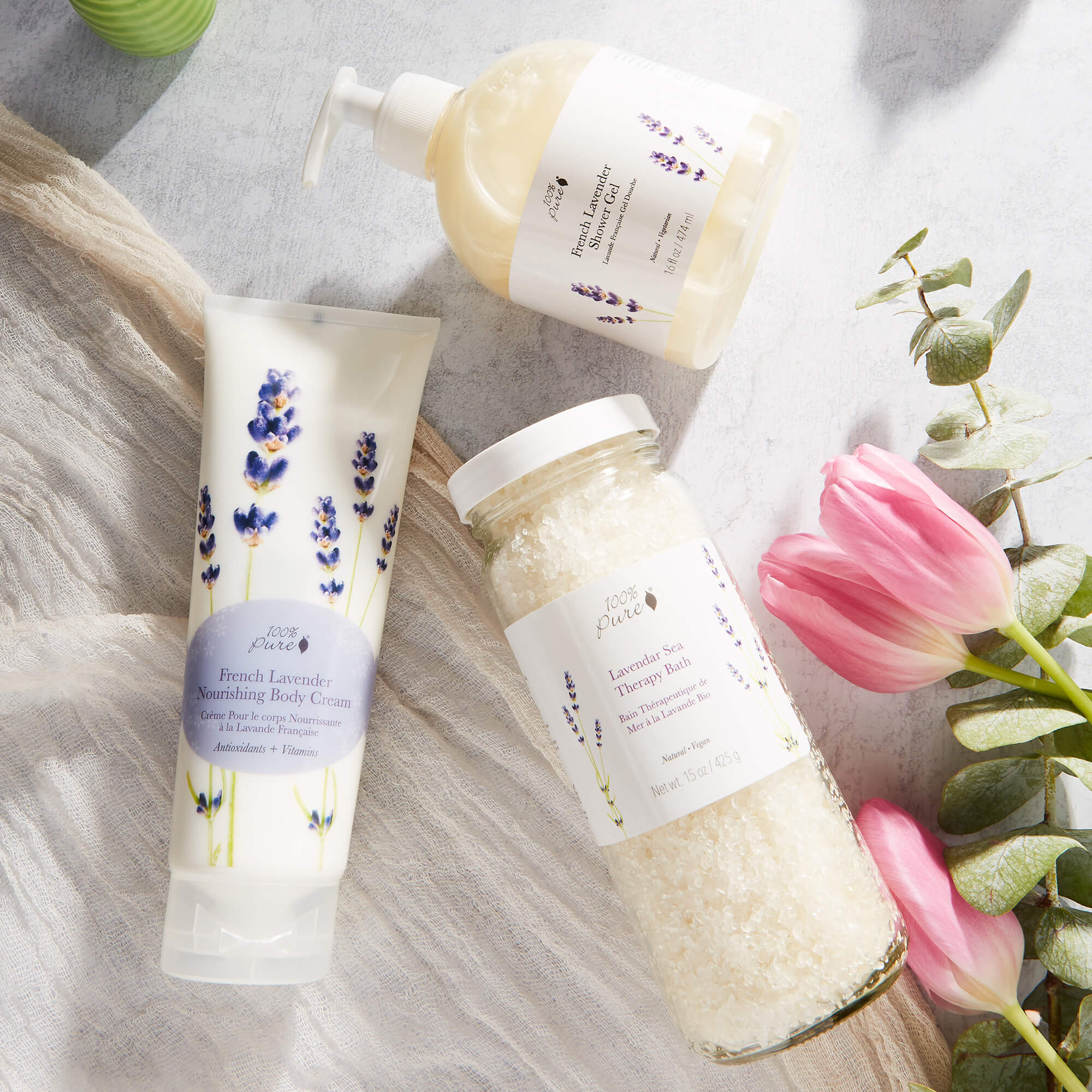 Valentine's Day
Lavish Lavender Trio & Dreamiest Skin Set
It's that time of the year again, when we gorge ourselves on chocolate (priorities!), and, also, of course, celebrate our loved ones - Valentine's Day! Whether you're celebrating Galentine's Day with your BFFs or you're celebrating your fave gal pal, we have some gift sets to help you melt away any cold weather blues with feelings of love.
Treat your Valentine's to the ultimate skincare routine with this hydrating and nourishing trio of essentials sure to create glowing skin. The richly foaming French Lavender Shower Gel lifts away dirt, oil, and impurities while rehydrating thirsty skin with soothing essential oils.
If your Valentine's sometimes prefer baths, this trio includes our Organic Lavender Sea Therapy Bath sure to enhance relaxation while calming both mind and muscle tension. Shower singers and Cupid's alike will love the calming impact of our French Lavender Nourishing Body Cream on the skin, which is enriched with potent anti-aging vitamins. This cream is sure to leave them with sweet dreams.
Looking to pair the wonderful people in your life with the perfect Valentine? We shot an arrow and caught a dreamlike skin set sure to pleasantly delight them and capture their hearts.
Our Better Naked Palette is perfect for when you want a little bit of romance added to your look. With a trio of shimmering and neutral eyeshadows, accompanied by an extra-delicate dusting of nude and matte tones, this palette is incredibly versatile.
What romantic look is complete without long lashes, dreamy eyes, and luchious lips? We have those boxes ticked with our Ultra Lengthening Mascara in shade Black Tea, which is infused with tea for rich pigmentation and lash conditioning, while our renowned Coffee Bean Eye Cream will have those eyes fresh and flirty. To top off the look, our Cocoa Butter Matte Lipstick will leave lips soft and kissable!
Newsletter
Subscribe
for more blog updates and exclusive discounts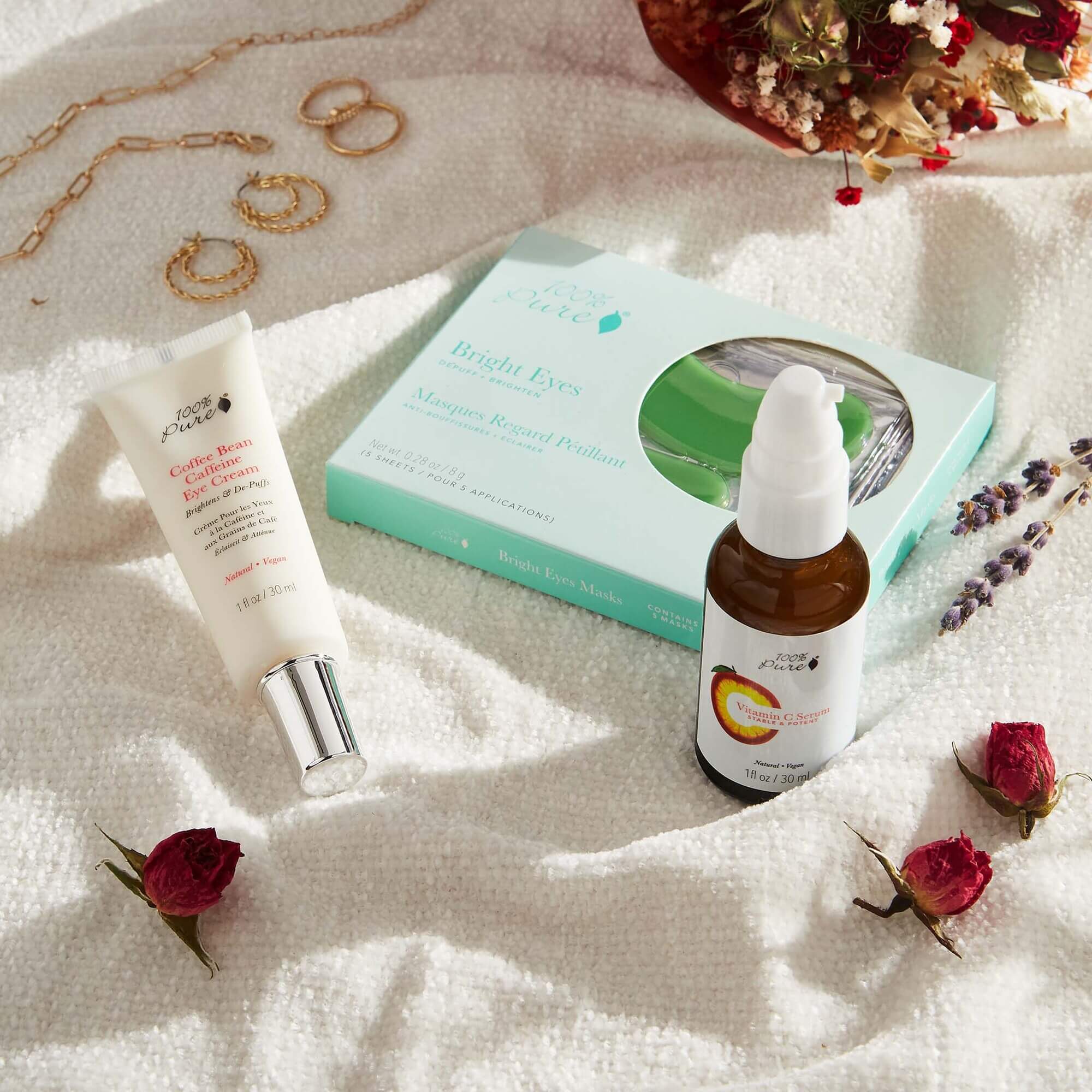 Anniversary
Clean Beauty Essentials Kit, Get Up & Glow Kit & 100% PURE Mystery Box
Paper, silk, crystal or platinum? Whether it's a traditional or modern gift, sometimes we need to insert into those decades old lists the gift of self-care. What better way to mark the special occasion than with clean beauty and skin care for the ultimate in self-pampering on the big milestone. We got that!
What a perfect gesture to show your loved ones just how much they (and their skincare) mean to you with products that are mindfully created and produced without any proven or suspected toxic ingredients. That's our clean beauty philosophy bestowed into this set of four Clean Beauty Essentials by 100% PURE to help nourish your skin and amplify your natural beauty using only the purest vegan and cruelty-free ingredients.
Our Berry Naked Palette features a trio of metallic and nude eyeshadows, which are colored with vitamin-rich fruit and vegetable pigments., accompanied by an extra-delicate dusting of pearly pinks and peaches. The Berry Naked Palette includes:
Illume: Pale, dusty pink highlighter with a pearly shimmer
Afterglow: Rustic peach-pink blush
Beam: Nude gold eyeshadow with soft gold flecks
Splendor: Deep, taupe-brown eyeshadow with a bronze shimmer and charcoal undertone
Vivid: Deep, charcoal-purple eyeshadow with flecks of ruby sparkle
Top off the natural glam look with natural powder, lipstick, and mascara! Our Bamboo Blur Powder is made with mattifying bamboo silica to stamp out shine for a soft, poreless finish. Pair the naturally airbrushed-like skin with our Ultra Lengthening Mascara in Black Tea for clump free, flirty lashes
Be sure to add a pop of color to your pucker with our Cocoa Butter Matte Lipstick in shade Sahara. Our lipstick provides a vibrant, long-lasting color made from real fruit for that long anniversary kiss good night.
What better way to start an anniversary occasion than with gifting a set that can awaken, reveal, plump, and revitalize skin? That's exactly what we set out to do with this does-it-all – and more – trifecta of skin care faves sure to make the "modern list". The multitasking Does It All Sheet Mask smooths the appearance of wrinkles, brightens skin tone and restores moisture, while the Rose Water Face Mist is designed to pep the skin awake with potent caffeine and delicious-smelling extracts.
The skin will absolutely drink in key ingredients like calming and healing aloe, and green tea and coffee from the Bright Eyes Eye Mask for increased circulation and brighter eyes. Our hearts are fluttering already just thinking about how that's an anny gift written all over it!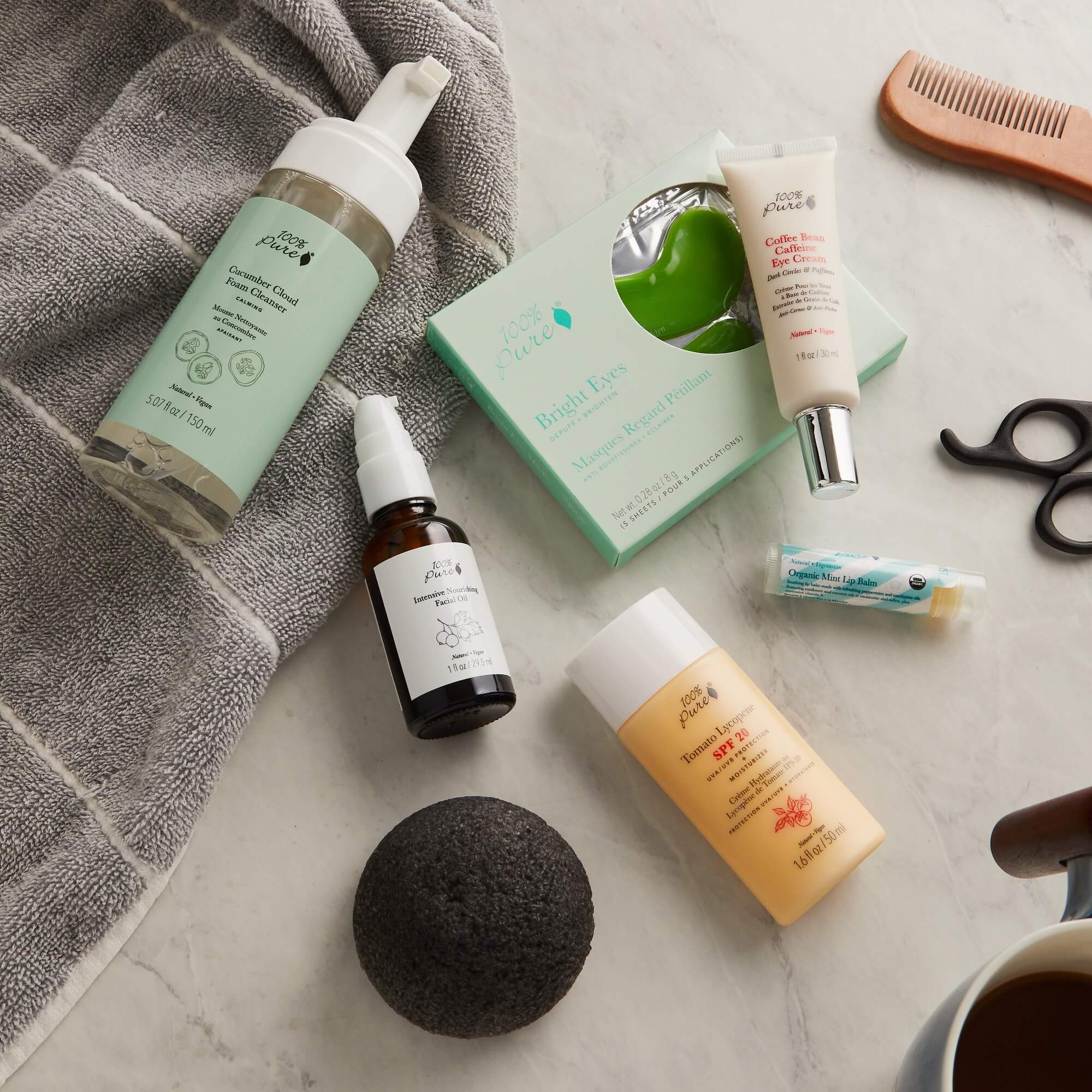 Mother's Day and Father's Day
Ric's Father's Day Picks & Mother's Day Kit
We love to honor our moms, mom-figures, moms-to-be, dads, fathers, dadas or fur parents – you get the idea - with epic gifts to celebrate their unparalleled love, but we sometimes struggle with gift inspiration. We don't want to do the same old hardware store gift cards or rose bouquets. That's why we curated gift sets for taking care of them the way they take care of us.
Richard's Father's Day Essentials Richard Kostick, 100% PURE founder, shares his favorite skincare products and steps for Father's Day! For great skin and the ultimate in self-pampering, wake up your tired eyes with the Bright Eyes Mask, followed with cleansing the night away with our Cucumber Cloud Foam Cleanser using our Konjac Sponge.
Lightly dab the Coffee Bean Caffeine Eye Cream around your eye area, and then gently pat 1 drop of Intensive Nourishing Facial Oil over your face and neck. Apply a small amount of Tomato Lycopene SPF onto your face, and don't forget to smooth your lips with our Organic Mint Lip Balm. Happy Father's Day!
How do we possibly put into words how much mom's means to us? It's hard to sum up a mother's love and sacrifices into just a few words, but with the right maybe handmade card and a gift set curtailed to her likes just might due.
Our aptly and appropriately named Mother's Day Kit for mother's "always and forever", encapsulates how much a mother's love means – and a gift set of beauty staples is always a great idea. Three options with three different beauty shades for all the ladies in our life, the lightweight BB Cream adds a smooth complexion and glow.
Create thicker-looking lashes or a staple dark brown smokey eye with our daytime-appropriate, Creamy Long Last Liner in shade Blackest. A buildable Lip & Cheek Tint for the lips and cheeks completes the set with the cherry on top.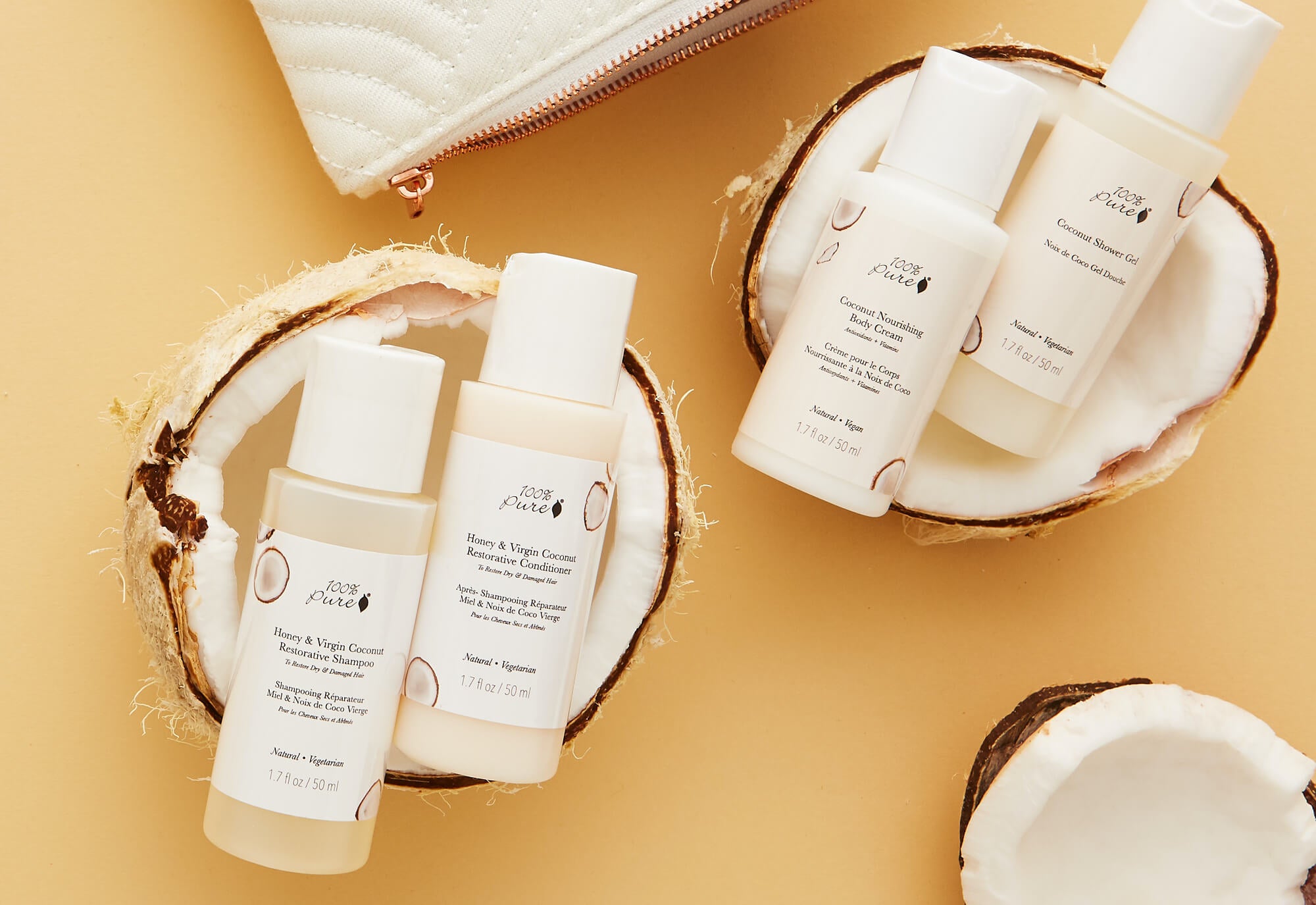 Just Because/On a Budget
Gift Card, Mini Body Scrub Trio, Head To Toe Minis, Jelly & Water Mask Trio
If you struggle with the art of gift-giving, especially if you're on a tight budget, don't sweat; you're not alone! Besides, it's the thought that counts, so anything you give as a gift to the wonderful people in your life will be appreciated. Sit back and relax, as we curated bite-size gifts that you can stay within your budget while personalizing a bundle of goodness for that special someone on your list, or supplement a larger gift with a thoughtful add-on.
Sometimes the best gift for our loved ones is letting them choose. Our Online Gift Cards are perfect for that, allowing the purchaser to choose from $10 to $150 dollars and many increments in between.
Our best-selling body scrubs: now in mini size! Yes, please! This travel-friendly trio includes calming Lavender, tropical Coconut, and energizing Blood Orange body scrubs sure to nourish and protect your skin for long-lasting hydration.
The ultimate getaway goodie bag! Includes our best-selling Honey & Virgin Coconut hair care duo, Coconut Body Cream, and Coconut Shower Gel for serious head-to-toe moisture. This set features deeply moisturizing products to restore softness and strength to dry, damaged hair, while infusing the body with needed hydration.
Spending an evening with your loved one watching your favorite series? Wearing one of our hydrating or anti-aging masks will be an entire pleasure! Choose from our Water Green Tea Bomb Mask, our Caffeine Mask, or our Ginseng Collagen Boost Mask.
While "cruelty free" can be a tough category to navigate for newbies, it's clear that nature-friendly beauty isn't so hard when you have a gift guide to show you where to look! Remember: the spirit of giving lives in ``the moments you spend with your loved ones. Whether that's a sheet mask night, an afternoon of board games, or a day spent giving back to your community, we wish you a truly fulfilling season of giving!
We carefully hand-select products based on strict purity standards, and only recommend products we feel meet this criteria. 100% PURE™ may earn a small commission for products purchased through affiliate links.
The information in this article is for educational use, and not intended to substitute professional medical advice, diagnosis, or treatment and should not be used as such.
Sign up to our email newsletter for more blog updates and exclusive discounts.
< Older Post | Newer Post >