13 Natural Makeup and Skin Care Swaps
Time to replace those toxic products in your makeup bag with natural skincare and cosmetics – plus the best clean makeup swaps!
Posted on April 11, 2023
Written by: 100% PURE®
You've probably come across one of the many of detox diets and juice cleanses on the market, and may have wondered, what's the point? The truth is, our bodies are put through A LOT. They're constantly bombarded by not only toxins from our environment to the foods and drinks we consume, but also personal care and beauty products.
That's right! Unfortunately, skincare and cosmetics are not exempt from chemical culprits. There are many harmful effects on our health, skin, and the environment from toxic and synthetic formulas that are linked to harmful ingredients in mainstream skincare and beauty products.
We decided it was our mission, and it literally is, to help you replace those toxic products in your beauty arsenal with natural skincare and cosmetic products. You'll be surprised by how many well-known products boast a host of toxic ingredients that are harmful to your skin and health.
Switching to natural beauty formulas is a game changer and easier than you might think. And, for the knockout round, conventional products may stand little chance against the fabulous, natural skincare and cosmetic swaps we have in the ring for you. Let's get ready to rumble!
Why 100% PURE Is a Leader in Natural Skincare and Cosmetics
100% PURE™ isn't just our name. We are 100% committed to producing the purest, healthiest skincare products and cosmetics made only with the highest quality ingredients with the safety of your health and skin at the forefront of our mission and every skincare and cosmetic formulation that we create.
We have a proven track record for over two decades of providing the highest quality ingredients that are free of toxic chemicals. Our formulations adhere to strict purity standards with sensitive skin types in mind, and will never contain harsh ingredients like sulfates, parabens, silicones, or phthalates.
We go through a painstaking process to make sure each ingredient sourced is never animal sourced. We source our pigments from fruits and vegetables instead of synthetic FD&C colorants and heavy metal dyes. Our commitment to protecting animals, and as a cruelty-free brand, we will never test on animals.
We emphasize its goal of educating customers on the importance of natural ingredients and the harmful effects that toxic ingredients can have on the skin, body, health, and environment. As we continue to push for formulation transparency, non-carcinogenic beauty, long-term testing, and precautionary regulation, we're likely to not only achieve reform in the industry but help to spread more wholesome options.
Hold yourself to the highest standard for natural beauty products – just like we do at 100% PURE!
Our 13 Natural Makeup and Skincare Swaps
A way to simplify the process of understanding and avoiding toxic ingredients is to buy from brands that are committed to choosing safe, all-natural alternatives to mainstream cosmetic ingredients. Find a natural skincare brand whose values align with yours, so you can rest assured that you're using safe, quality ingredients.
That's where we're here to help! Read on to find out the best natural skincare and cosmetic swaps for the glowiest and healthiest skin – inside and out!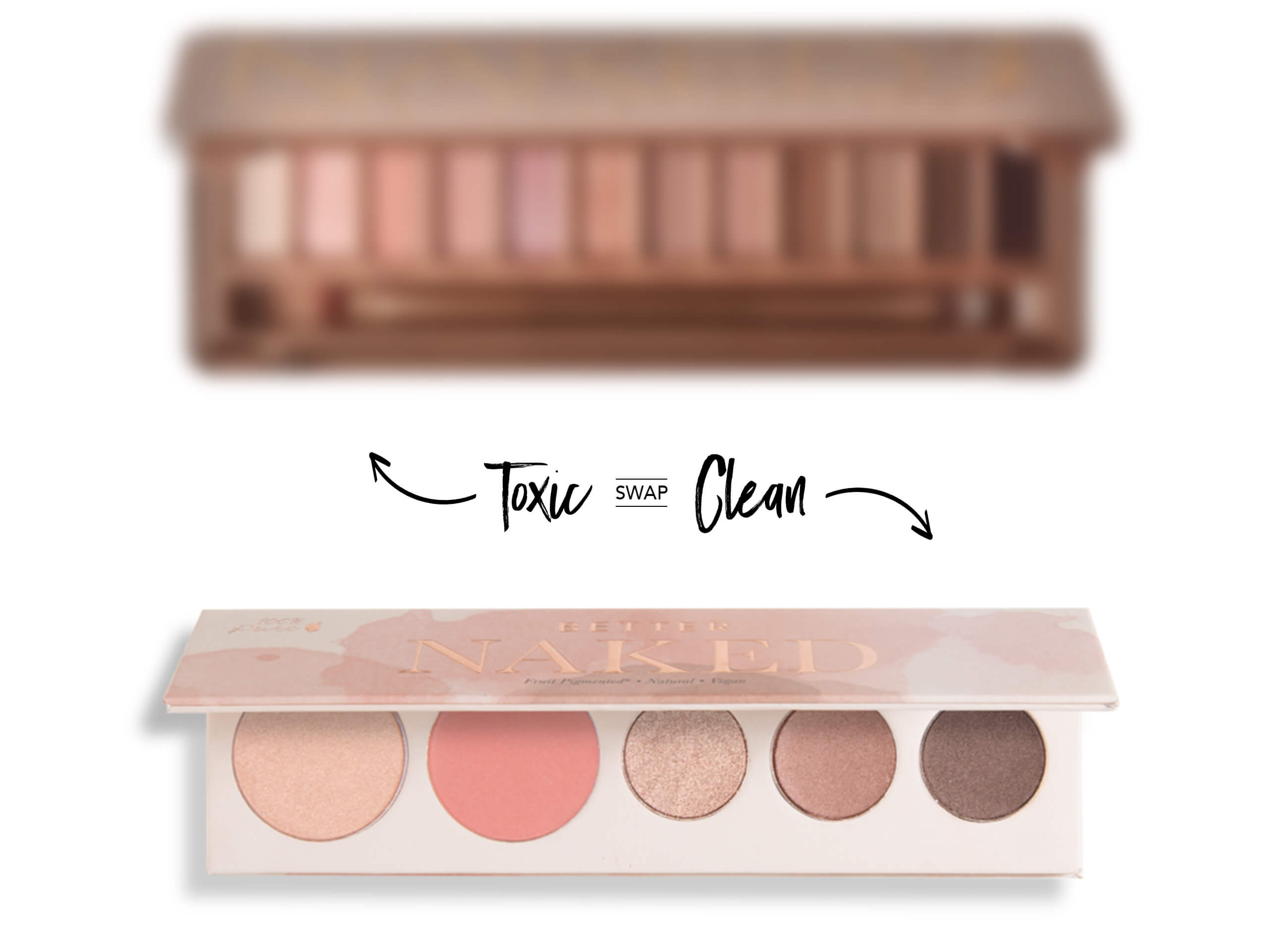 1. Makeup Palette Swap
TOXIC: Decomposing City: Grunge Clothes Palette
CLEAN: Better Naked Palette
No shirt, no shoes – no clothes – no problem! You may just opt for being unclothed compared to grungy clothes. Fact: You might not know that 100% PURE was the first to introduce a naked makeup palette. It was about five years before this "original" to be exact. This conventional makeup palette with similar rose-hued neutrals might look the same on the surface, but the real difference lies in the ingredients.
While this famous makeup brand touts a "proprietary blend of ingredients" that promises each shade to be a velvety, rich texture, we know everything that glitters are not gold. Instead, it can be a whole lot of cheap, toxic ingredients. The first ingredient is talc, along with carmine, acrylic acid copolymer, which is on the Environment Canada Domestic Substance List, with many other questionable ingredients. We'd recommend doing some homework and a simple Google search - you'll be shocked at what you discover.
Why not swap to a clean beauty version of this beautiful rose gold inspired makeup palette loaded with smooth avocado butter and highly pigmented tones from berry powders? Pigmented from antioxidant rich fruits, vegetables, tea, and other skin-beneficial plants, this palette features 3 eyeshadows, a blush, and a highlighter.

2. Acne Cleanser Swap
TOXIC: Dermis Clothes: Acne Face Cleanser
CLEAN: 100% PURE Tea Tree Cleanser
Often, you'll find that most acne cleansers are too harsh to use on a regular basis. We're firm believers in natural skin care, so we offer an acne cleanser that's tough on acne, while still gentle on the skin. Instead of using the chemical surfactants polysorbate 20 and cocamidopropyl betaine, we use potassium cocoate, which is derived from coconut, to deeply cleanse skin.
Synthetic chemical surfactants can strip even acneic skin, which overt time, can lead to increased oil production and clogged pores. This means more oil, and potentially more blemishes. Our cleanser won't strip your delicate skin of essential moisture – a huge bonus compared to conventional cleanser.
This natural, blemish-fighting formula is a potent mix of antibacterial and anti-inflammatory herbs that calm blemishes while killing acne-causing bacteria without disrupting skin's pH. Made with plant-based detoxifying herbs like neem and tea tree, this acne face wash promotes a soothed, refreshed complexion.

3. Face Mask Swap
TOXIC: Gotcha: Glowing Intense Water Raising Mask
CLEAN: 100% PURE Wrinkle Smooth Sheet Mask
Are you ready for the glowiest skin that will make the sun jealous? Got'cha! The sun might have us beat, but we'll bet we can get you pretty close to glowy skin and lessen the signs of aging. We're all looking for that miracle working mask for bringing youthfulness back to dull or aging skin.
While we don't believe in miracles, we do believe in using natural skincare ingredients like retinol, coQ10, vitamin C, and hyaluronic acid to help lessen the signs of aging. We extract these from plant-based sources, so you don't have to worry about synthetic ingredients found in most anti-aging skincare that can irritate skin.
Unlike this conventional face mask, we skip the fluff and go straight to pure, potent natural skincare ingredients. We use Japanese honeysuckle as a preservative to keep this mask fresh and pure. They use phenoxyethanol, a chemical preservative that has been linked to skin irritations and organ toxicity. This conventional mask also uses alcohol, which is another harsh ingredient you'll want to dodge if you don't enjoy dry, stripped skin.
REPLACE THIS PHOTO (LIP GLOSS SWAP)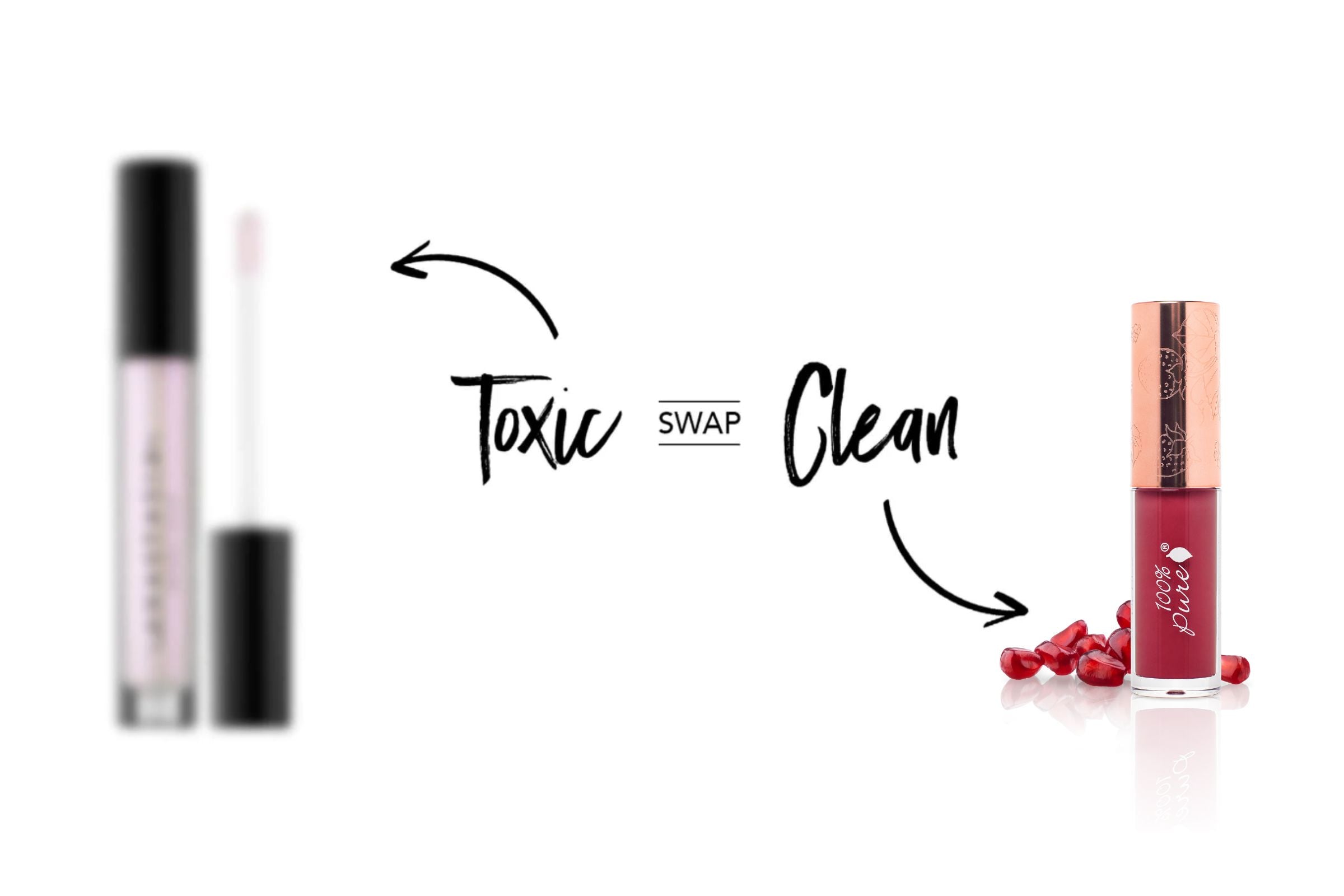 4. Lip Gloss Swap
TOXIC: Isabella Hollywood: Lunar Jam
CLEAN: Fruit Pigmented® Lip Gloss
Everyone needs a go-to neutral, shimmery gloss. While there are plenty of gorgeous shades made by 'Isabella Hollywood', 100% PURE makes equally stunning shades that will have your lips puckered up. The major difference? As creators of natural makeup, we avoid harsh ingredients like tin and aluminum, especially since lip glosses can be easily ingested on our lips.
We also opt for delicious natural, food-grade fragrances and real-fruit pigments to flavor our lip gloss, instead of potentially endocrine-disrupting synthetic perfumes and fragrances. Our lip glosses use vegetable glycerin and shea butter for their juicy texture, instead of silicone. And last but not least, we moisturize your lips with recognizable ingredients like pomegranate oil and vitamin E.
Good luck finding more than one or two recognizable ingredients in a conventional lip gloss!

5. Blush Swap
TOXIC: Super Into Yourself: Afterglow
CLEAN: Fruit Pigmented® Blush: Mimosa
Have you been hooked by this "universally flattering shade" that promises the perfect pink-peach flush? While this famous blush might be in many editors' makeup bags and MUA kits, this blush comes in with another major ingredient list offender: talc (listed first). We already covered the potential harm from using talc, but did you know there is a better (and safer) alternative? And, guess who has it?
That's right - 100% PURE uses finely ground rice powder in our blush formulas. We've hit the mark when matching this well-known blush shade for all skin types, with our Mimosa blush, in a light, pinky coral hue. We're literally giving you the perfect pink peach blush because our natural blush formulas use actual peach, strawberry and raspberry powders. There's no need for synthetic dyes or minerals when you can choose antioxidant and vitamin-rich fruit pigments.
Need help finding the best blush for your skin tone? We've created a helpful blush guide just for you!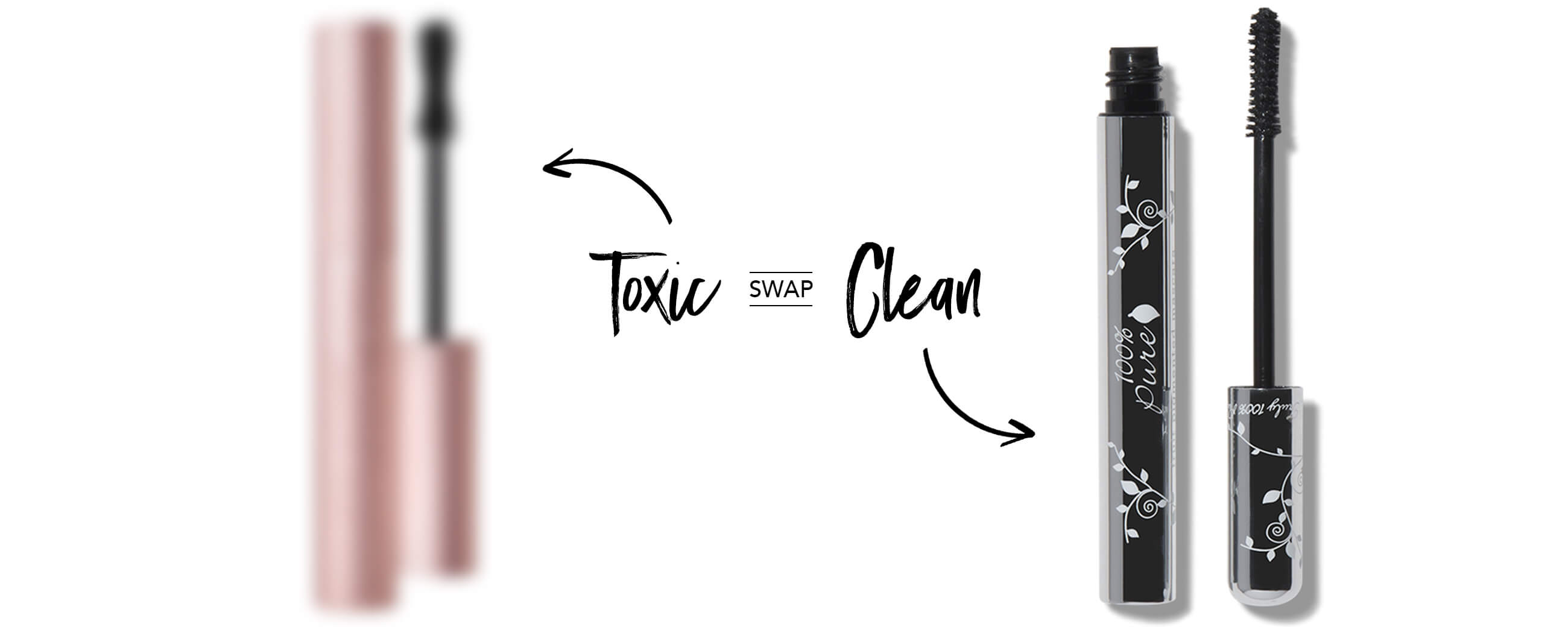 6. Mascara Swap
TOXIC: Double Visage: Exceptional Bed Experience
CLEAN: Fruit Pigmented® Ultra Lengthening Mascara - Black Tea
When searching for the best-performing mascara, there are a lot of boxes that need to be ticked off to truly call one mascara your "holy grail." The usual top three must-haves for any amazing mascara are: builds length, non-clumpy or flakey formula and smooth wand application. Done. But have you ever thought of the fourth, lesser known box, of "is it clean beauty?"
There may be thousands of conventional mascaras that check off the first three boxes, but only our natural black mascara checks off (in our humble opinion) the most important box - clean beauty. Did you know that the EU has banned many chemicals that are still allowed in US conventional cosmetics?
We want you to have an exceptional experience, too - with a mascara, of course - so that's why we only use micronized black tea leaves to naturally color our mascara formula instead of gross ingredients like black tar. We'd beg to differ that their mascara formula is actually better than what they're advertising.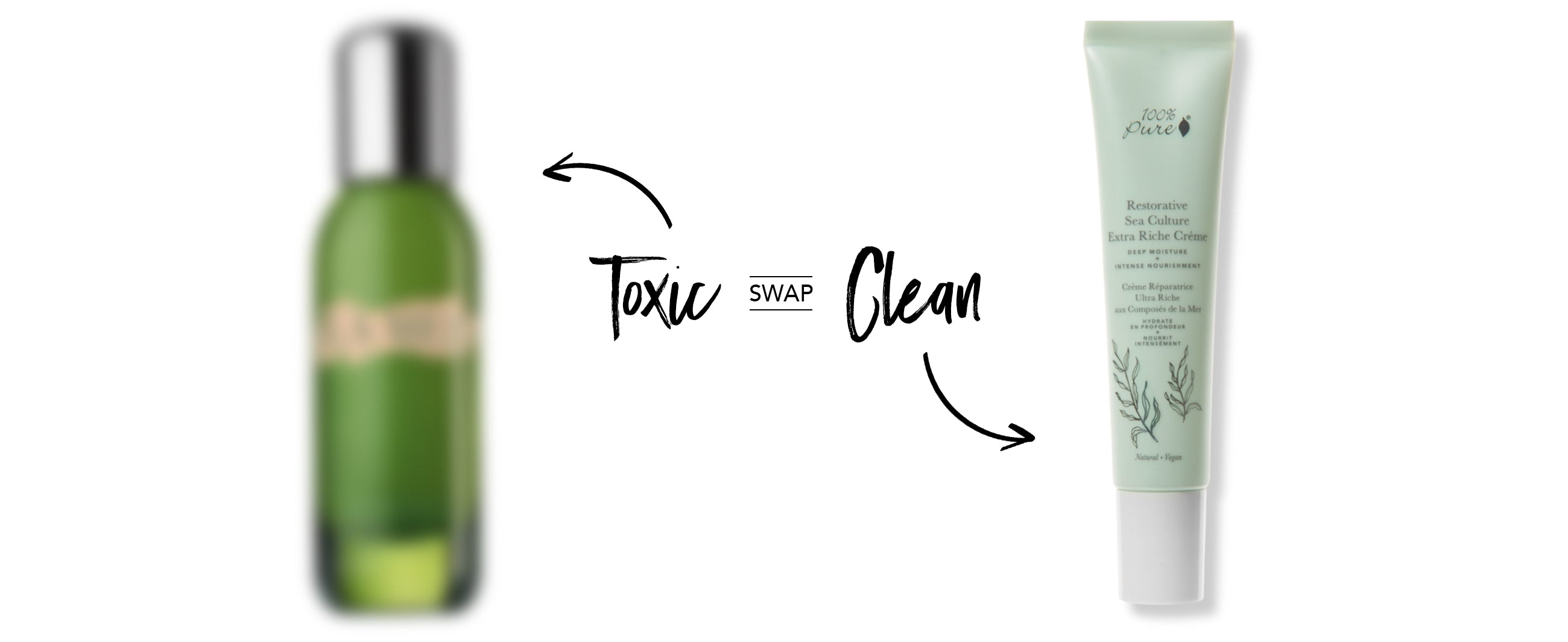 7. Moisturizer Swap
TOXIC: The Sea: Moisturizer
CLEAN: Restorative Sea Culture Extra Riche Créme
Have you tried this "miracle broth" from the sea? While this face cream elixir does contain seaweed extract and ocean nutrients, it's hard to look past the ingredients that aren't ocean-foraged, or even considered natural. It can be difficult to decipher which skin care products are natural versus which products are getting greenwashed. A pure white, perfectly staged cream container surrounded by healthy kelp forests...what's not to believe? Hmm...everything.
The marketing advertisement might lead you astray, but the ingredient list never lies. Right at the top of the list are Cyclopentasiloxane (silicone), petrolatum (petroleum jelly), Dimethicone (another silicone) and Glyceryl Distearate (glycerin). It's a little less glamorous and less truthful than what you might have been expecting.
We'd recommend swapping to a natural seaweed infused cream with only healthy, nutrient-rich ingredients. Seaweed is good for you, both ingested and applied topically, so let's just stick with only the ocean's goodness in a face cream versus a cream formulated with harsh, toxic fillers with a little dash of beneficial sea plants.
Newsletter
Subscribe
for more blog updates and exclusive discounts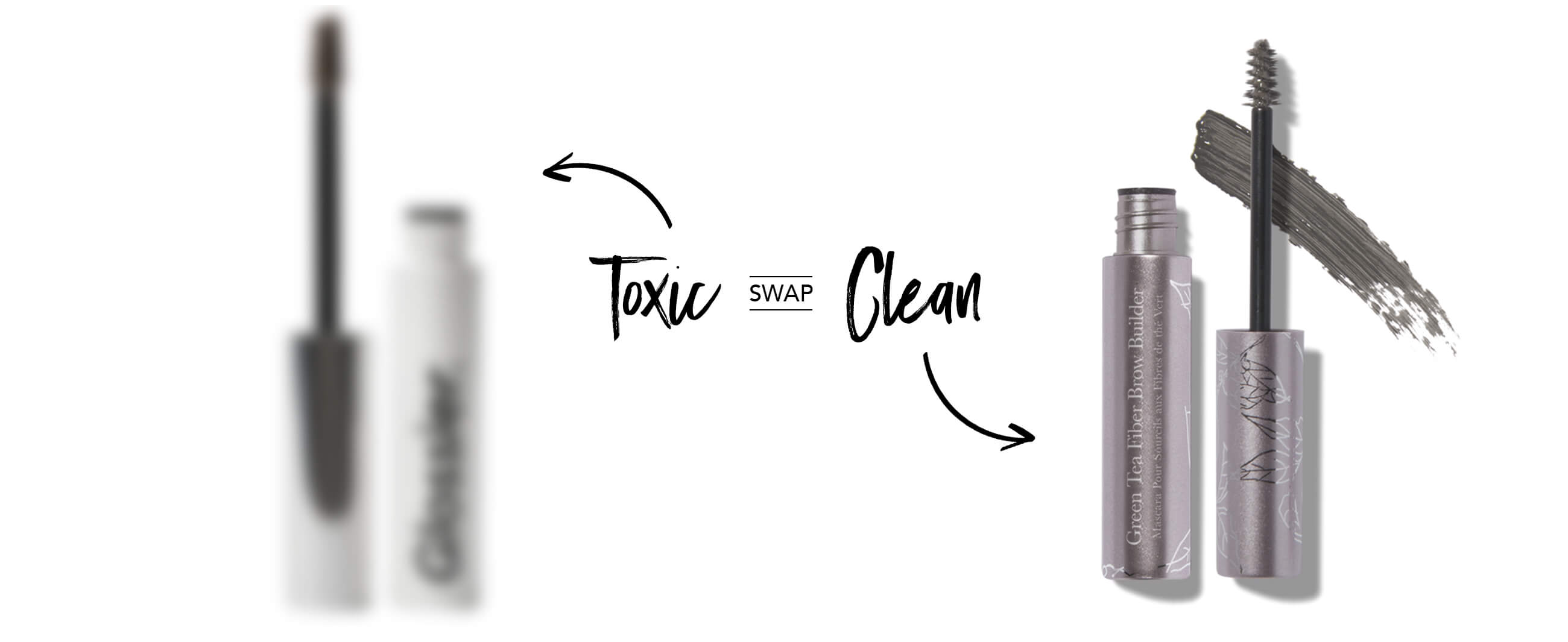 8. Brow Swap
TOXIC: Shinier: Male Eyebrows
CLEAN: Green Tea Fiber Brow Builder
All-in-one is the name of the game here: thicken, groom and fill. This brow product is perfect for an eyebrow novice or just someone short on brow time. If this conventional brow product is advertising a natural young man inspired brow, then shouldn't it be an actual natural brow?
We went head-to-head on the ingredient list to see who comes out ahead when paired up with our truly natural eyebrow product:
First Ingredient: Water (Theirs) versus Green Tea Extract (100% PURE)
Wax: Beeswax (Theirs) versus Candelilla (100% PURE)
Coloring: Iron Oxides (Theirs) versus Cocoa Powder (100% PURE)
Vitamins: (Theirs) versus Pro Vitamin B5 (100% PURE)
Preservative: Phenoxyethanol (Theirs) versus Honeysuckle (100% PURE)
If we've said it once, we'll say it again...the ingredient list doesn't lie. If you're ready to switch to a natural brow product, we've got the your bases and brows covered so you can start your natural eyebrow journey off right.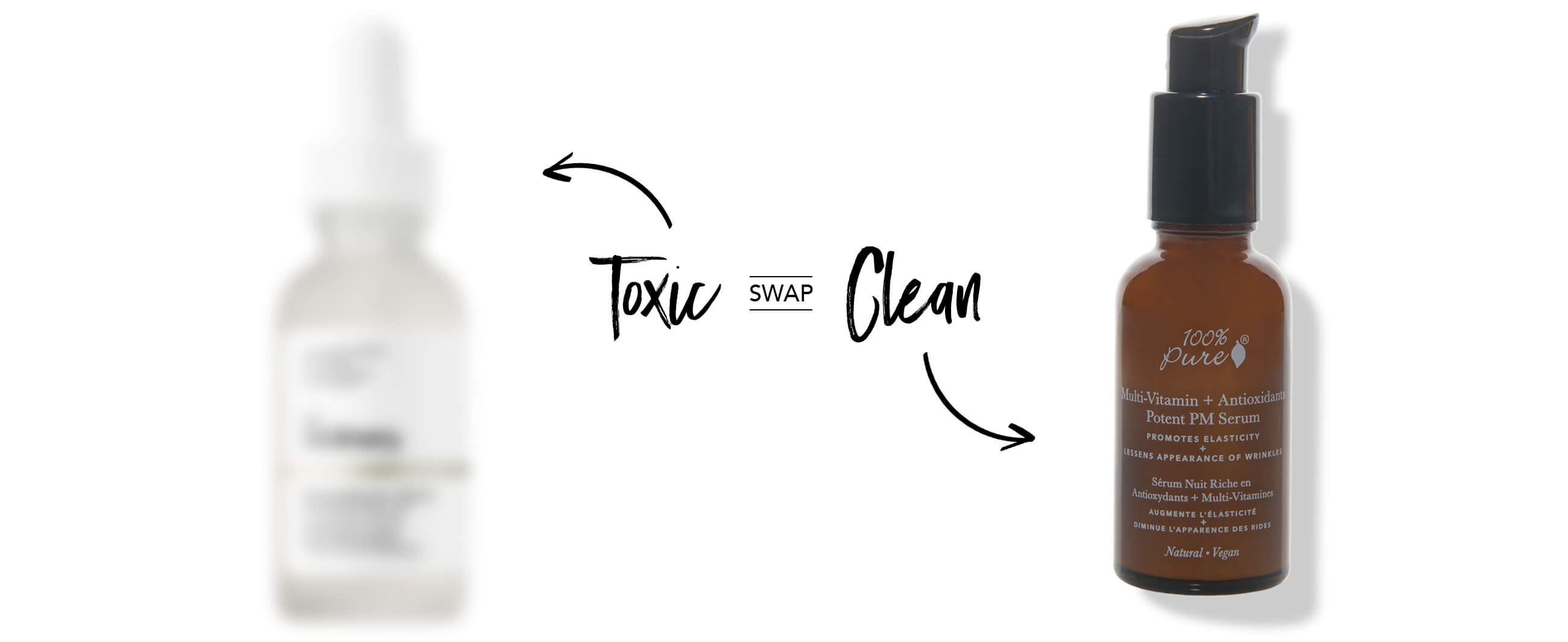 9. Serum Swap
TOXIC: The Regular: Niacinamide
CLEAN: Multi-Vitamin + Antioxidants Potent PM Serum
Serums are a fantastic way to layer vitamins on to your skin. Silky, highly absorbent and full of essential skin-nourishing ingredients, serums are a skin routine must-have. But as you are going through our top ten list, not all products are created equal and sometimes going cheaper (or way cheaper) is not always a great idea. Low prices can be extra appealing (especially when you're budget conscious) but usually there is a reason for that little price tag; the major being cheap, toxic fillers!
When the base formula is water and the concentration of active ingredients are very low, it begins to make more sense why some brands can produce extremely cheap skincare products. There is science, expertise and patented ingredient stabilizing technology behind our natural serum. Anyone can whip up a serum to sell, but it's important for a skin care company to care about what is getting absorbed into your skin. There are long-term effects, some that we might not even fully understand yet.
While we aren't questioning whether their serum is effective, what we are asking is if you can achieve the same results with a clean beauty product, then why would you potentially jeopardize your health for the same end game?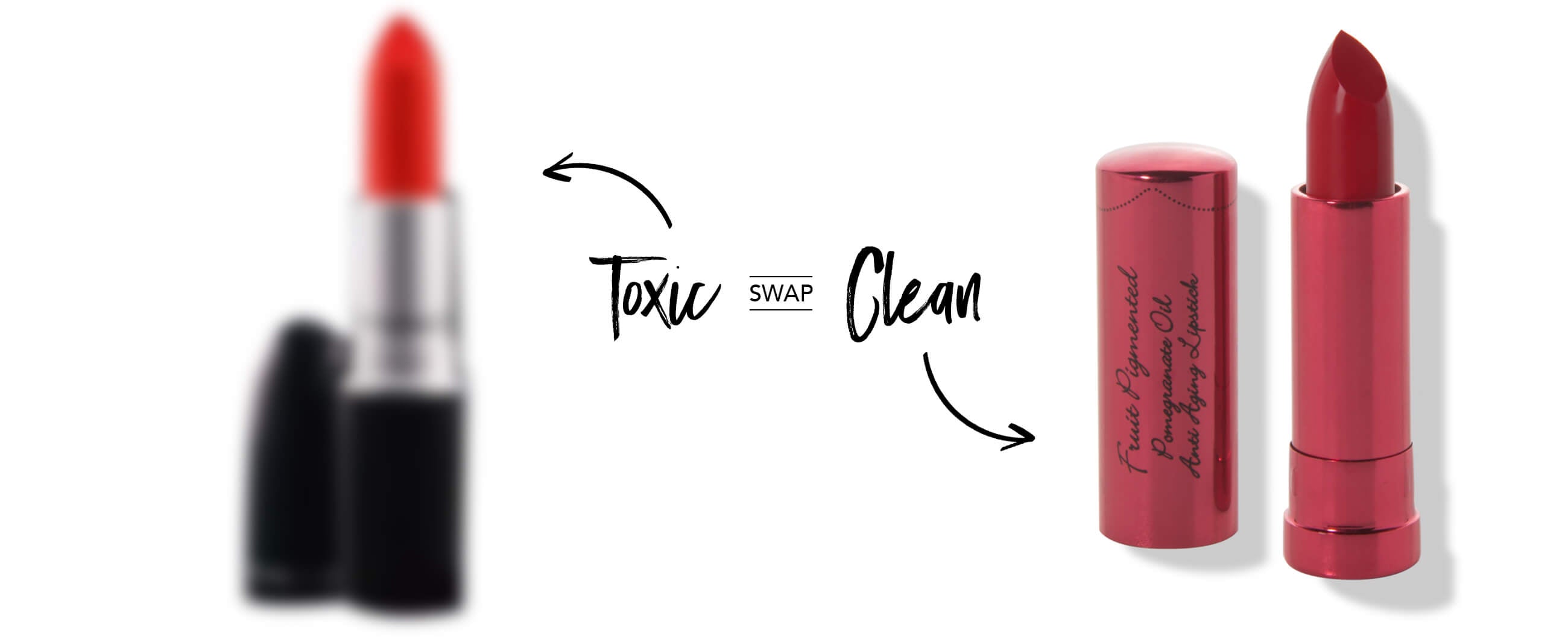 10. Lipstick Swap
TOXIC: Beauty Masterpiece Cosmo: Lipstick
CLEAN: Fruit Pigmented Lipstick Collection
Lipstick addicts - we're talking to you. You appreciate and celebrate the subtle shade variations between a neutral, pink lipstick and a cool, pink lipstick. You understand the nuances when trying to find your perfect natural lipstick formula. You devour all lipstick guides on the internet, searching for your true "perfect shade." Shade favorites may come and go with each passing trend, but using a natural lipstick shouldn't.
Lipsticks are so close to our mouth, getting licked, kissed and sipped off throughout the day. Multiple applications daily lead to a few empty tubes later, and some of that lipstick is bound to end up directly in our bellies. Does Octyldodecanol, Microcrystalline Wax or Carmine sound tasty? Yeah, we didn't think so either.
That's why we chose to formulate our natural lipsticks with healthy and safe to eat ingredients like cocoa seed butter and shea butter. Our lipstick formulas also include a bunch of fruit pigments like plums, raspberries, and peaches. If you can't pronounce it, you most likely wouldn't want to be wearing (or eating) it. Trends change, but preserving your body's health should never go out of style.
11. B.B. Cream Swap
TOXIC: Sour: Rainforest Mud Foundation
CLEAN: BB Cream
Just reading that conventional foundation collection name and you are like "Wow, from the rainforest? That's got to be natural and loaded with pure ingredients." Ooph! This one is going to sting. But we aren't going to sugar coat this beauty swap either. There are 37 total ingredients that make up this "natural" appearing formula and it takes until the 13th ingredient to reach a natural one: Kaolin (clay).
If you know anything about ingredient lists, or are just learning, the order of the listed ingredients is based on the amount within the formula. So, if we are talking about something that is at the way bottom of the list, then it means there is a very small amount of that particular ingredient included in the overall formula. We aren't able to deconstruct their exact formula ratios, but we're going to go out on a limb to say #30 out of 37 means there isn't a whole lot in there.
Some other ingredient red flags that were raised: Cyclopentasiloxane, PEGs and Phytantriol. We're giving you homework to do your own research on those ingredients. If you are looking for an actual natural BB Cream, that also happened to be one of the top selling 2017 beauty products, we'd recommend our BB Cream Collection. Not much of a BB cream fan? We've got eight natural foundation formulas for you to choose from with our in-depth natural foundation guide.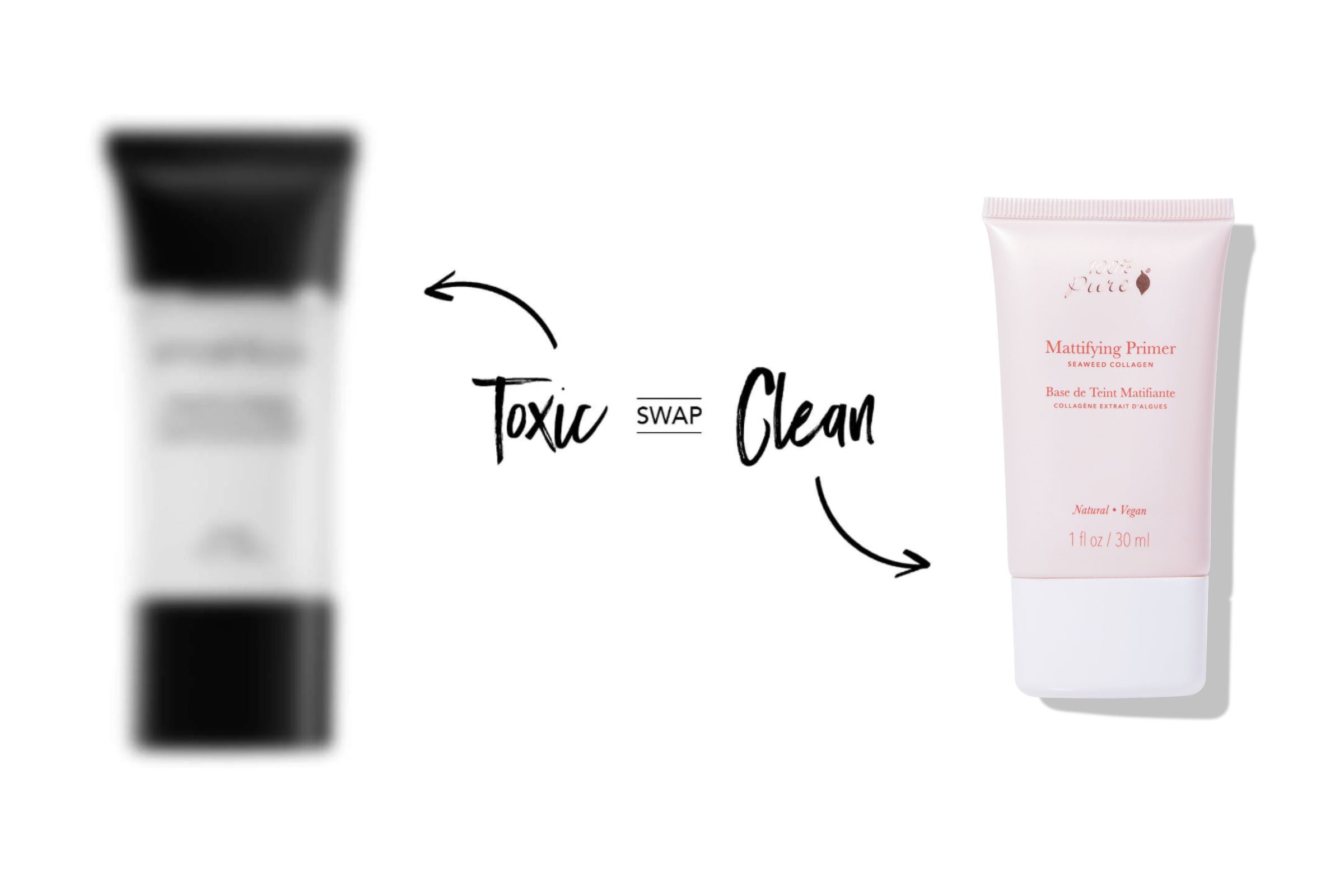 12. Primer Swap
TOXIC: Destroy Container: Primer
CLEAN: Mattifying Primer
Makeup primer. The silent partner to foundation, a hidden hero that's keeping everything together. Where would we be without you? Answer: mostly likely a more melting, oily version of ourselves. You are the perfect start to any foundation routine. Professional makeup artists (and makeup experts) know a good primer will set the rest of your makeup application on the correct course. The job of a primer is to fill in and smooth out your skin texture to create the perfect canvas.
While we've been focusing on the ingredients inside makeup formulas (red flags on this primer for Cyclopentasiloxane, Trisiloxane and Retinyl Palmitate), you also should consider what the formula is contained in. There's a little more to that plastic tube than you might expect, especially BPA and phthalates, lurking within the plastic packaging.
Our natural primer formulas are kept safe and sound in recyclable glass bottles, free of any toxic chemicals that could be potentially seeping into the formula over time. Phew!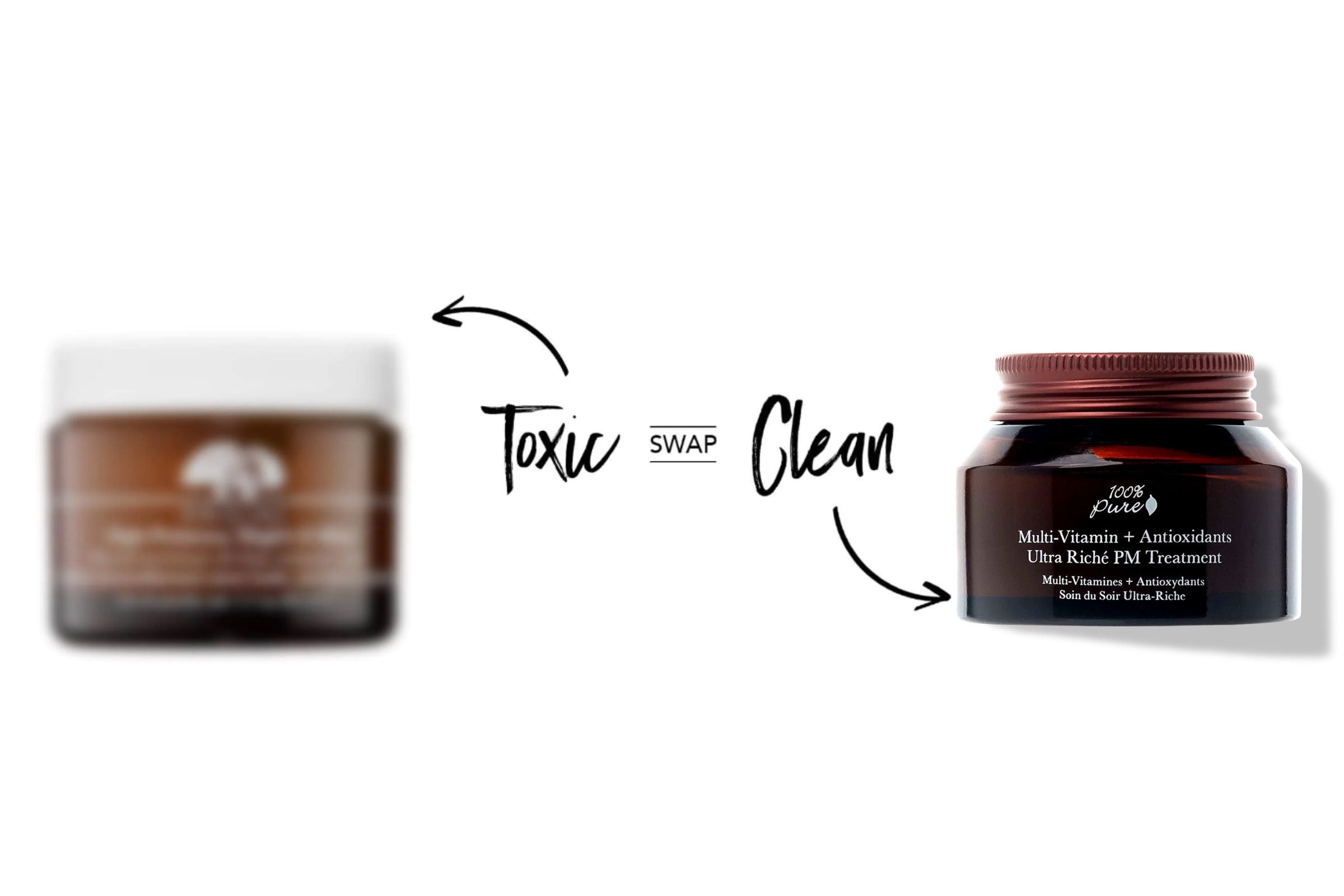 13. Night Cream Swap
TOXIC: Beginnings: Dusk Supplement Cream
CLEAN: Multi-Vitamin + Antioxidants Ultra Riche PM Treatment
While you're sleeping in dreamland is the perfect time to multitask, right? Get onboard the beauty sleep express train and you'll be waking up to brighter, healthier skin. When talking about beauty sleep, it's hard not to touch on night creams, especially retinol skincare products. There are creams, balms, eye creams and serums specially made for nighttime use only. If you are just learning about the powers of natural retinol, we'd recommend you continue on to read the Do's and Don'ts of Retinol Products. You can never be too informed.
But sadly, all night creams, aren't formulated with your health and wellness in mind. We're shining the greenwashing spotlight on this night skincare product (and brand) that cloaks themselves in green boxes and ingredient based product names. It's hard to distinguish what is fact or fiction at first glance. There are definitely natural ingredients in this popular night time cream formula, but they are sprinkled between some questionable and potentially toxic ingredients, too.
We have to call out a few that have made our well-rested eyes widen:
PEG-100 Stearate
Polysorbate 40
Ceteareth-20
Methyl Trimethicone
Dimethicone
Phenoxyethanol
Hmm a little less "green" that you might have imagined. Swap your pseudo natural night cream for a natural beauty version containing:
Vitamin E, A, B3, B5, C, D, K2
Avocado Oil
Cocoa Seed Butter
Aloe Vera Juice
Sea Buckthorn Oil
Our ultra-rich natural evening cream is an absolute multi-vitamin powerhouse. We've perfectly formulated skin correcting and reparative vitamins to help combat the daily UV and environmental damages caused to your delicate skin. You can go to sleep tonight with happy dreams of natural botanicals and vitamins dancing on your face versus skincare ingredient nightmares.
In conclusion, natural skincare and cosmetics is the way forward! The benefits of using natural ingredients cannot be overstated. From promoting better skin and a healthier you to preserving the environment, natural beauty has it all.
So, make the switch today and see the difference for yourself. Say goodbye – and good night - to harmful chemicals and hello to a beautiful, healthier you and the planet! Nighty, night! Sleep tight. And, don't let the bad ingredients bite!
We carefully hand-select products based on strict purity standards, and only recommend products we feel meet this criteria. 100% PURE™ may earn a small commission for products purchased through affiliate links.
The information in this article is for educational use, and not intended to substitute professional medical advice, diagnosis, or treatment and should not be used as such.
Sign up to our email newsletter for more blog updates and exclusive discounts.
< Older Post | Newer Post >