Must-have beauty products for your holiday plane, train, and automobile travels
Posted on November 9, 2018
Written by: 100% PURE®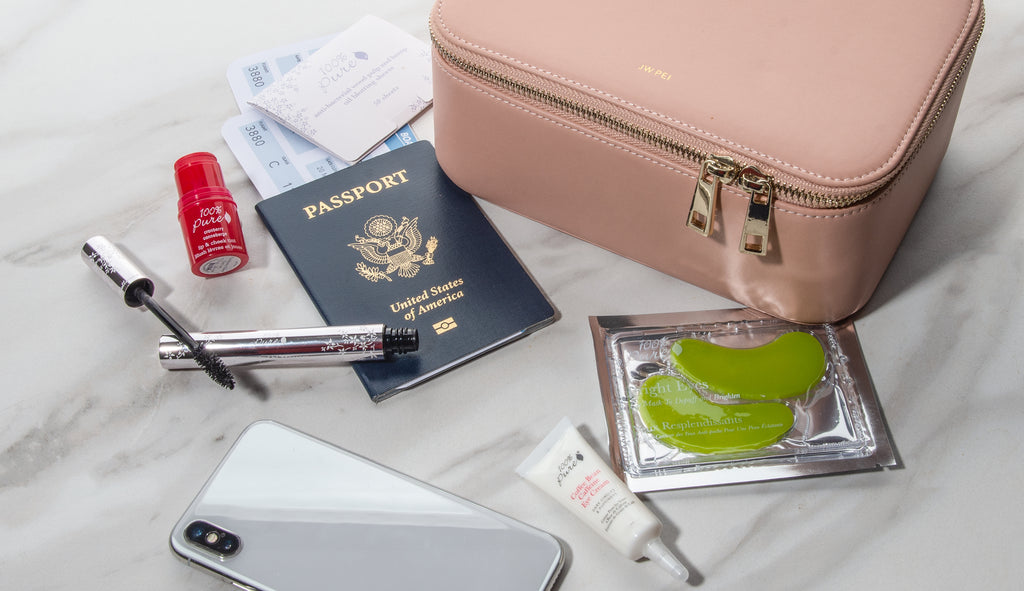 When you're on-the-go, having to worry about makeup can feel like a huge hassle. It's often hard to know exactly what you'll need to pack before you actually reach your destination. More often than not, you find yourself wishing you'd thought to pack that extra something that would have made all the difference to your travel makeup toolkit. It's never fun to reach your destination, only to think longingly of that makeup sponge or concealer that you left behind.
That's why we've created this ultimate guide to travel makeup essentials: so that you can skip those "oops" moments, and enjoy your travels to the fullest. Whether you're scrambling to the airport to get home for the holidays, or zooming out of town on a road trip with your squad, we've got your makeup needs covered.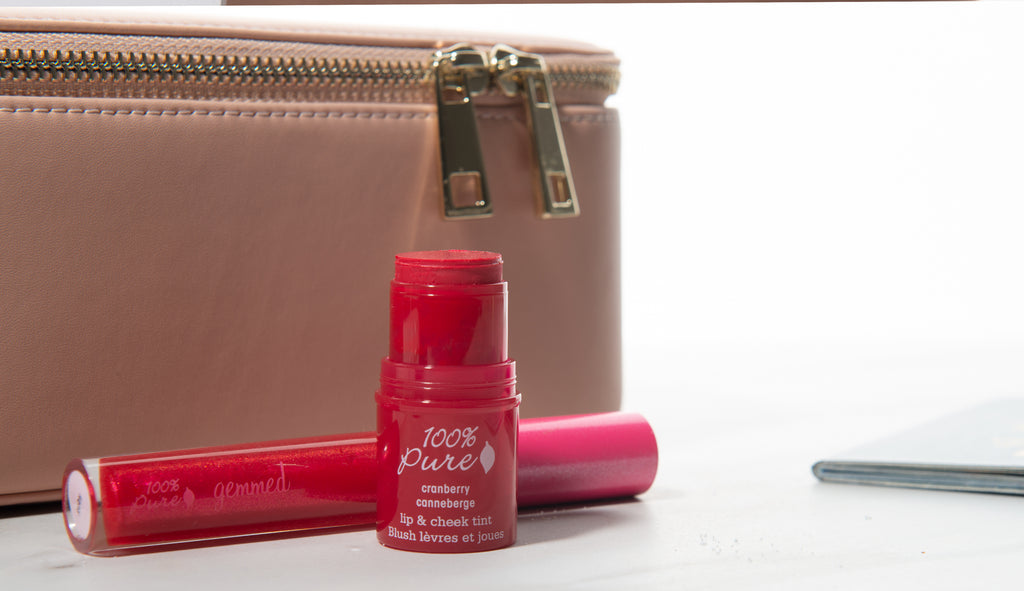 Face Makeup Essentials for Travel
Face makeup can get really complicated, really quickly. Many of our bathroom counters are littered with primers, coverage products, contouring tools, and finishing products -- not to mention makeup brushes and sponges. When you're traveling, taking this entire war chest with you isn't always an option--but luckily, there are some great, multi-functional products out there to simplify your life:
Fruit Pigmented® Lip & Cheek Tint
This handy, gorgeously pigmented tint can function as a blush and a lip tint, making it ideal for travel. It contains shea butter and cocoa butter to keep your cheeks and lips hydrated throughout the day; and you can apply it with your fingers, eliminating the need to pack any extra brushes or tools. Best of all, this multitasking tint is colored using fruit pigments rather than artificial dyes, so you won't need to compromise between convenience, beauty, and health.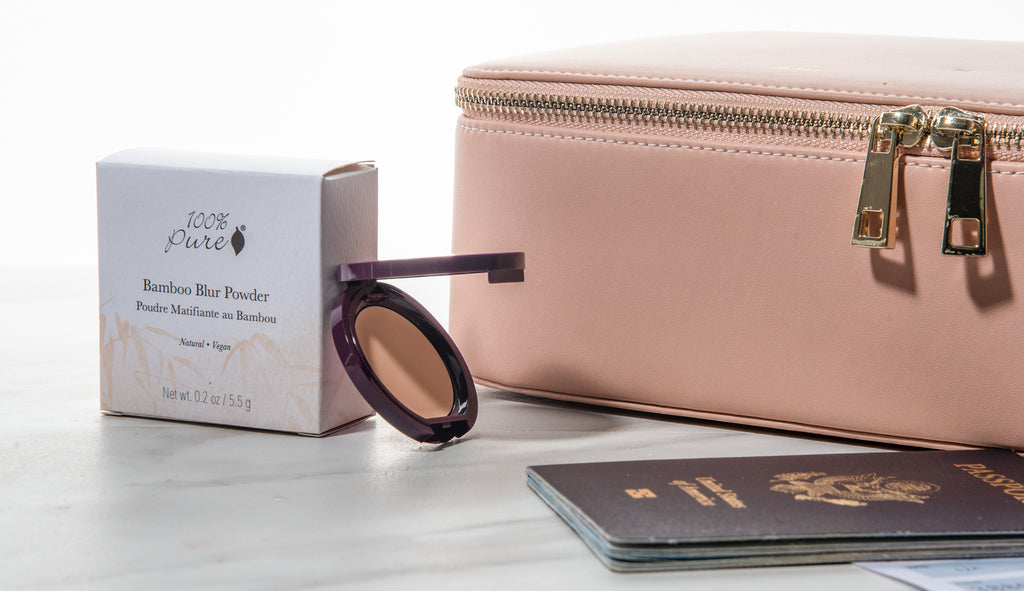 This finishing powder will keep your skin looking photo-ready while you enjoy your adventures. When used overtop of foundation or another coverage product, it'll keep your makeup in place and prevent if from setting into pores and fine lines or from taking on an oily sheen; when used alone, it'll softly blur away imperfections and provide a picture-perfect finish. And when it comes to skin health, this powder's got your back: it's formulated using bamboo silica, which supports your skin's natural collagen production while it evens out your skin tone.
Fruit Pigmented® Long Last Concealer with Super Fruits
Whether or not you wear foundation, concealer is an absolute must for your makeup travel bag. You can use it as a spot coverage product in the event of a breakout, or dab it underneath your eyes to conceal tiredness and brighten your appearance. Our concealer is water-proof, sweat-proof, and oil-proof, and formulated to prevent caking--making it perfect for travel.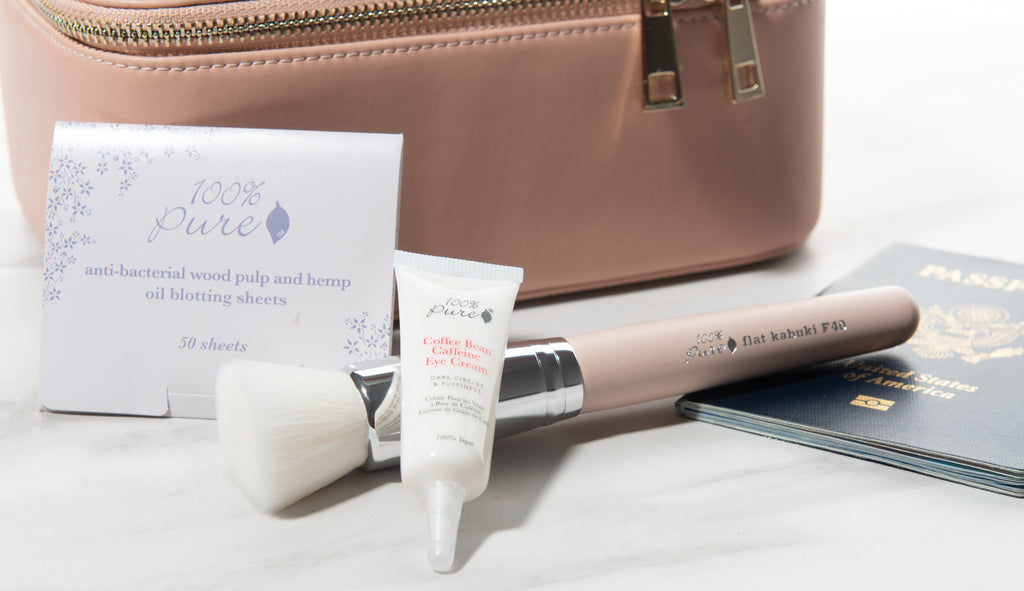 Makeup Brushes for Travel
When you're traveling, it can be tempting to simply toss a makeup brush (or several) into your bag, and hit the road. We recommend storing your brushes in an individual case or bag before packing them, though! This will help to prevent them from picking up bacteria that may be lurking at the bottom of your purse or suitcase. Storing them in a solid case will also prevent their bristles from being bent out of shape.
Cruelty Free Flat Kabuki Brush
Having to pack a dozen different makeup brushes is a hassle--and that's where this multi-functional kabuki brush comes in. Not only do its tight bristles and blunt surface make it the perfect tool for applying foundation; they also make it an excellent brush for brushes and luminizers. (Just make sure to wash and dry the brush when switching from one product to another.)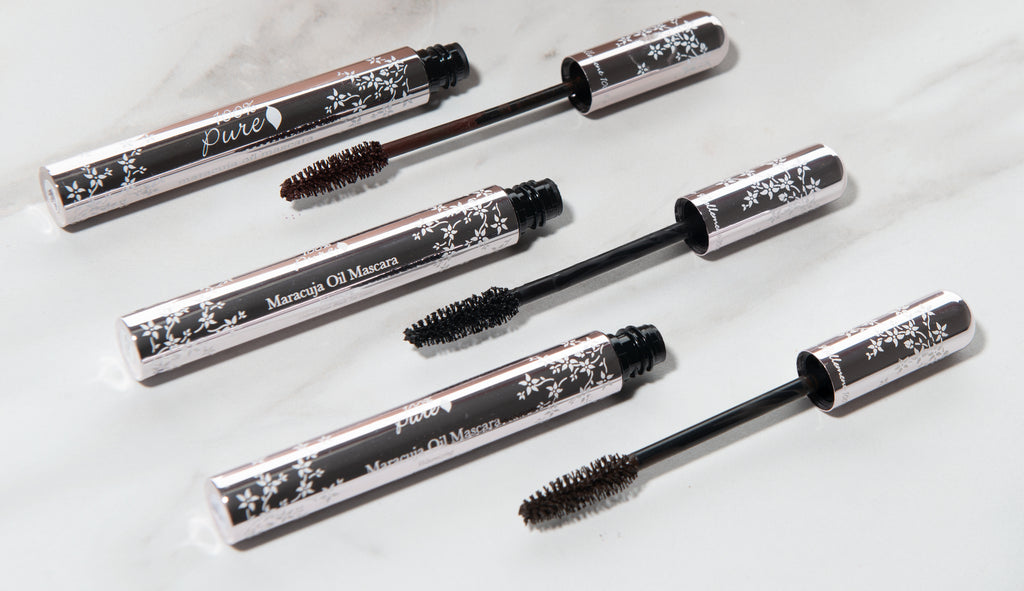 Eye Makeup for Travel
When you're on-the-go, it's best to keep your eye makeup routine fairly simple. It's always great to have a small palette of neutral eyeshadow tones on hand, as well as some mascara and eyeliner. We recommend packing a small eyeshadow palette that closes firmly, to avoid having it spring open and litter the contents of your makeup bag with eyeshadow dust. Eye primer can also be a great makeup item for travel, as it will help to hold your eye makeup in place throughout the day.
This mascara volumizes your lashes without clumping or flaking, making it both effective and low-maintenance. It's also smudge-proof and long-lasting, allowing you to leave your eye primer at home and simplify your makeup routine. Better still, it's infused with maracuja oil and other healthy ingredients to condition your eyelashes while it darkens and volumizes them. This mascara provides the perfect polish to a full face of makeup, or to a no-makeup makeup look.
Lip Makeup for Travel
As with eyeshadow, it's best to keep your lip makeup simple while you're traveling. Keeping track of a handful of different lipstick options can be more irritating than it is fun--plus, you don't want to run the risk of having your favorite products melt in your bag. We love lip options that can multitask, like the Fruit Pigmented® Lip & Cheek Tint mentioned above.
This lip gloss gets its ethereal shimmer from semi-precious gemstones. Its subtle, natural-looking shade makes it an excellent addition to any makeup bag: It's both easy to apply and easy to wear, either with a full face of makeup or with a touch of mascara and concealer. It's a low-maintenance, skin-healthy way to touch up your lips before you live it up.
Whether you're headed to a fancy resort, a wilderness adventure, or a week at home, these essential makeup products will keep you looking your best with minimal hassle. In addition to these products, we recommend stocking up on makeup remover wipes before you go, and having a makeup bag for travel on standby to keep your products organized.
We carefully hand-select products based on strict purity standards, and only recommend products we feel meet this criteria. 100% PURE™ may earn a small commission for products purchased through affiliate links.
The information in this article is for educational use, and not intended to substitute professional medical advice, diagnosis, or treatment and should not be used as such.
Sign up to our email newsletter for more blog updates and exclusive discounts.
< Older Post | Newer Post >