Should You Really Avoid Hydroquinone?
Plus natural skin-brightening alternatives to hydroquinone
Posted on October 6, 2021
Written by: 100% PURE ®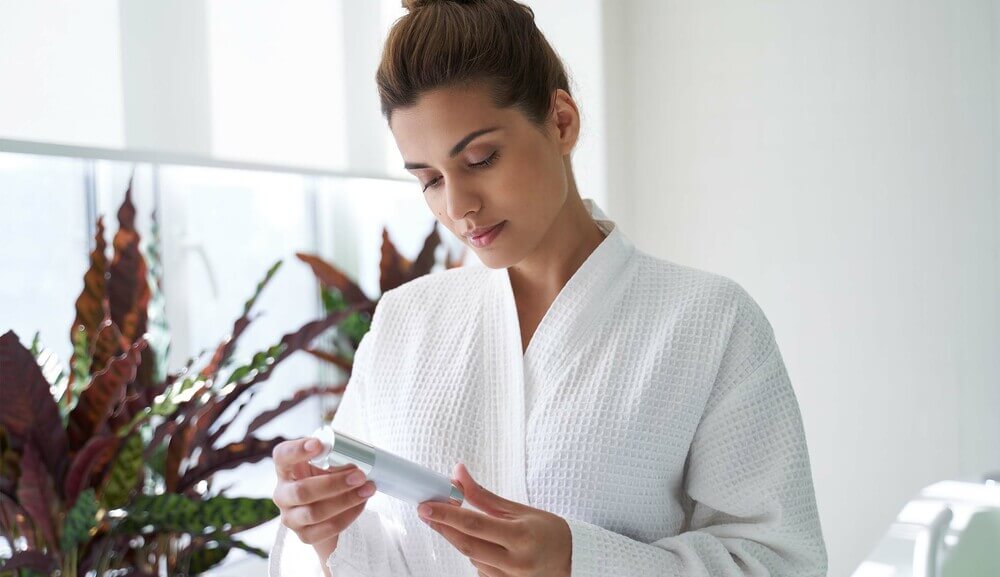 While retinol is revered as something like a 'Fountain of Youth' for aging skin, hydroquinone is the gold standard for treating hyperpigmentation. Since the skin-lightening product essentially bleaches your skin, it's naturally going to ruffle features in terms of safety.
That said, we're offering the 411 on hydroquinone and why it's been vilified. Plus, you'll learn the best ways to brighten your complexion and enhance radiance – all while avoiding harsh bleaching agents.
What Is Hydroquinone and Where Did It Come From?
While there are a few skin concerns that require a tad more than TLC to combat – think wrinkles and fine lines – uneven skin tone shares the limelight. As a topical skin-lightening agent often prescribed to treat dark spots, hydroquinone is a bleaching agent. It works by decreasing the chemical building blocks of melanin in your skin.
Hydroquinone is a chemical that has been used for over a century in everything from skin care to photo developing. Since it's costly to harvest hydroquinone from natural sources (like from bombardier beetles and fungi), it's manufactured by combining it with other harsh chemicals that are non-negotiably toxic.
Since hydroquinone's uses date back to the 1800s and it's the preferred prescribed (and inexpensive) agent for lightening and brightening, it's no wonder hydroquinone has its place in skin care.
How Is Hydroquinone Used in Skin Care?
Considered the go-to for evening out skin tone, you can find hydroquinone in just about everything from skin-lightening creams and serums to cleansers and moisturizers. It helps to treat areas of darkened skin, such as hyperpigmentation. It also treats freckles, age and sun spots, acne scars, melasma, hormonal fluctuations, or injury to the skin such as burns.
One of the other supposed benefits of hydroquinone is its ability to play well with other products such as Retin-A, which can both improve skin complexion. Since its easily absorbed, less of the product is used. The lightening agent also comes in a variety of strengths, with 2-percent or less of the agent being available over-the-counter. Stronger creams need a prescription from a doctor.
What Are the Side Effects of Hydroquinone?
Despite its popularity and effectiveness, hydroquinone is deemed dangerous. Its use is controversial for health and safety reasons. Out the gate, the lightening agent is banned in the U.K., Europe, and Japan. Some research studies showed that it was a carcinogen, but it has not been definitively proven to cause cancer.
Hydroquinone is also the source of a serious dermatitis condition known as exogenous ochronosis, which causes the skin to darken further. That's basically the opposite of its intended use to fade dark spots. Ochronosis has proven to be especially damaging to those with darker complexions. It has been linked to increased exposure to UVA and UVB radiation. So, it can actually contribute to sun-related skin hyperpigmentation.
Hydroquinone can also result in dryness, redness, and increased sensitivity. That's the case especially when combined with sun exposure or if your skin skews sensitive. And if that's not enough of a red flag, it's also worth mentioning that many skin whiteners containing hydroquinone also contain mercury, a chemical which is toxic to the human nervous system.
What to Use for Skin Brightening Instead of Hydroquinone
While hydroquinone seemingly works for its desired purposes, it's not worth the risk to your skin and health. There are several safe alternatives to hydroquinone that can be used long-term. You can find them in a variety of skin care products.
Other safe, natural alternatives to hydroquinone include brightening ingredients like kojic acid, vitamin C, mushroom, licorice/glycyrrhizin, azelaic acid, and niacinamide (vitamin B3). All of these are key ingredients in our products!
Our Brightening Serum is one of our faves in this category. It has a formula that relies on lemon juice, licorice, and kojic acid. All three of these ingredients have plant chemistries that work naturally to bring brightness to your complexion.
Another favorite is our Dark Spot Remover. It targets hyperpigmentation and dark spots with a concentrated formula featuring vitamin C-packed lime, plus papaya and red algae. These are both skin-brightening VIPs with long lists of complementary benefits.
Our Vitamin C Mask is a plant-based mask that was created to revitalize the skin and slough away dullness and dark spots. It includes lactic acid, kojic acid, enzymes, and vitamin C.
Last but not least, opt for fermented rice water products. They are key for eliminating hyperpigmentation and boosting skin brightness. Our Fermented Rice Water Cleanser and Fermented Rice Water Serum are must-haves for building a more radiant, balanced complexion.
So that's the 411 on brightening, lightening, and bleaching with harsh hydroquinone and major points that connect the three – and healthy alternatives that naturally do the same. Stay away from the whitening and lightening junk. Opt for natural skin care that works with – instead of against – your natural complexion!
We carefully hand-select products based on strict purity standards, and only recommend products we feel meet this criteria. 100% PURE™ may earn a small commission for products purchased through affiliate links.
The information in this article is for educational use, and not intended to substitute professional medical advice, diagnosis, or treatment and should not be used as such.
Sign up to our email newsletter for more blog updates and exclusive discounts.
< Older Post | Newer Post >