The Best Retinol Products for Your Skin Type
Retinol benefits for dry skin, fine lines, acne, and more
Posted on November 25, 2019
Written by: 100% PURE ®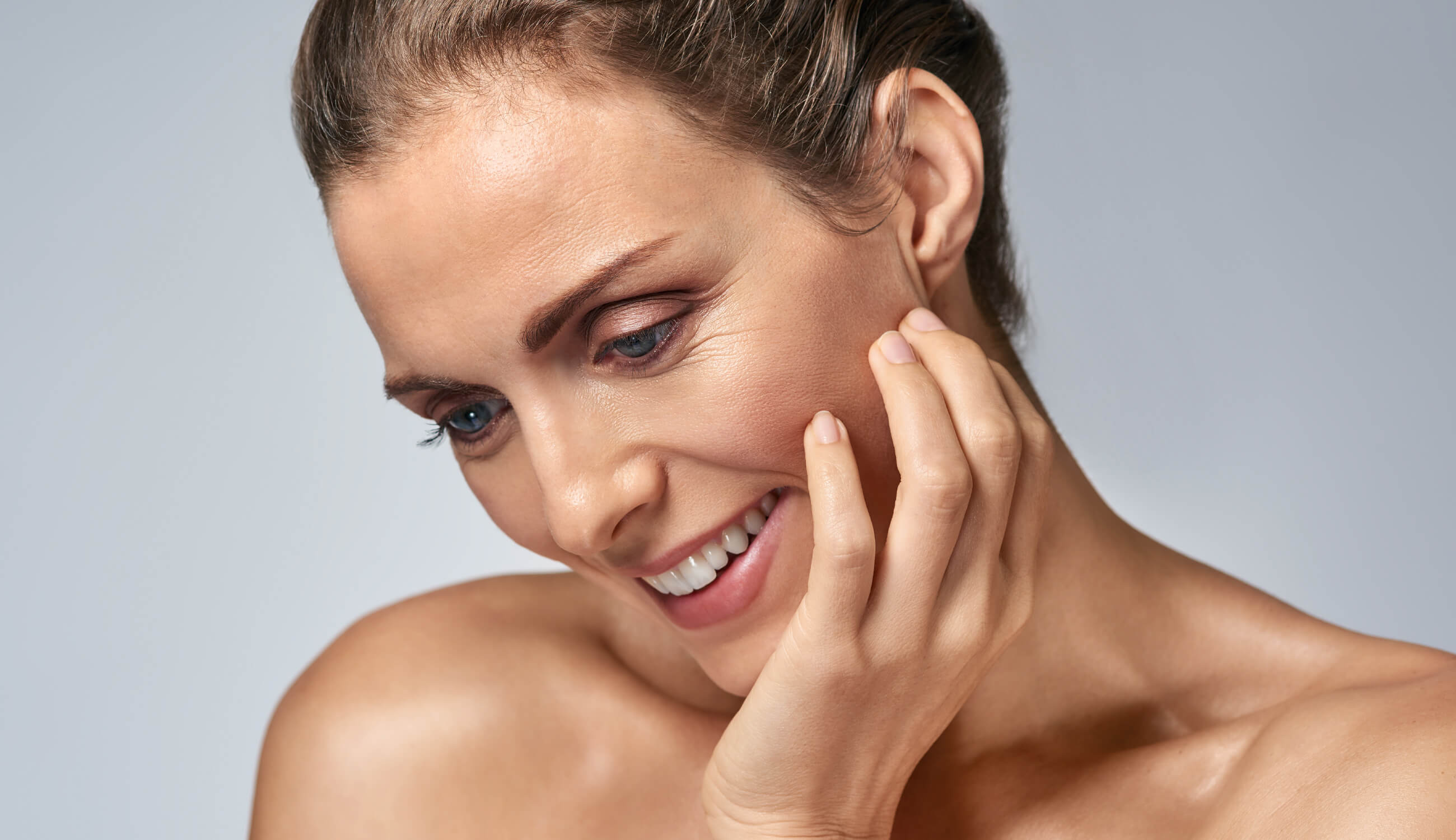 Anti-aging ingredients come and go, but there's one contender that's remained on top for decades. Dubbed the 'fountain of youth' by skin care experts, retinol is hands down the industry's gold standard ingredient for keeping signs of aging at bay.
However, just like the various forms of retinol, not all vitamin A derivatives are created equal – or can be safe for your skin. We're shining a spotlight on the key retinol benefits for achieving a youthful complexion, and our top retinol treatments for maintaining a luminous, more youthful complexion.
What Are the Benefits of Retinol?
Before we get down to the fine lines of this anti-aging superstar, let's talk about which forms of retinol are safe for your skin, and which should be avoided.
Retinol is a preformed vitamin A found in animal-derived ingredients called retinoids – and are something we avoid. Vegan retinols, by contrast, are synthetic forms of retinol. These are the potent ingredients in our anti-aging treatments, among other naturally occurring vitamin A enhancers.
When applied topically, retinol has tons of impressive skin-boosting benefits to improve skin's texture and tone. Key retinol benefits include increased elasticity, cellular turnover, and enhanced collagen production. This results in a more even, smoother complexion, and helps reduce the appearance of sun spots, fine lines, wrinkles, and acne.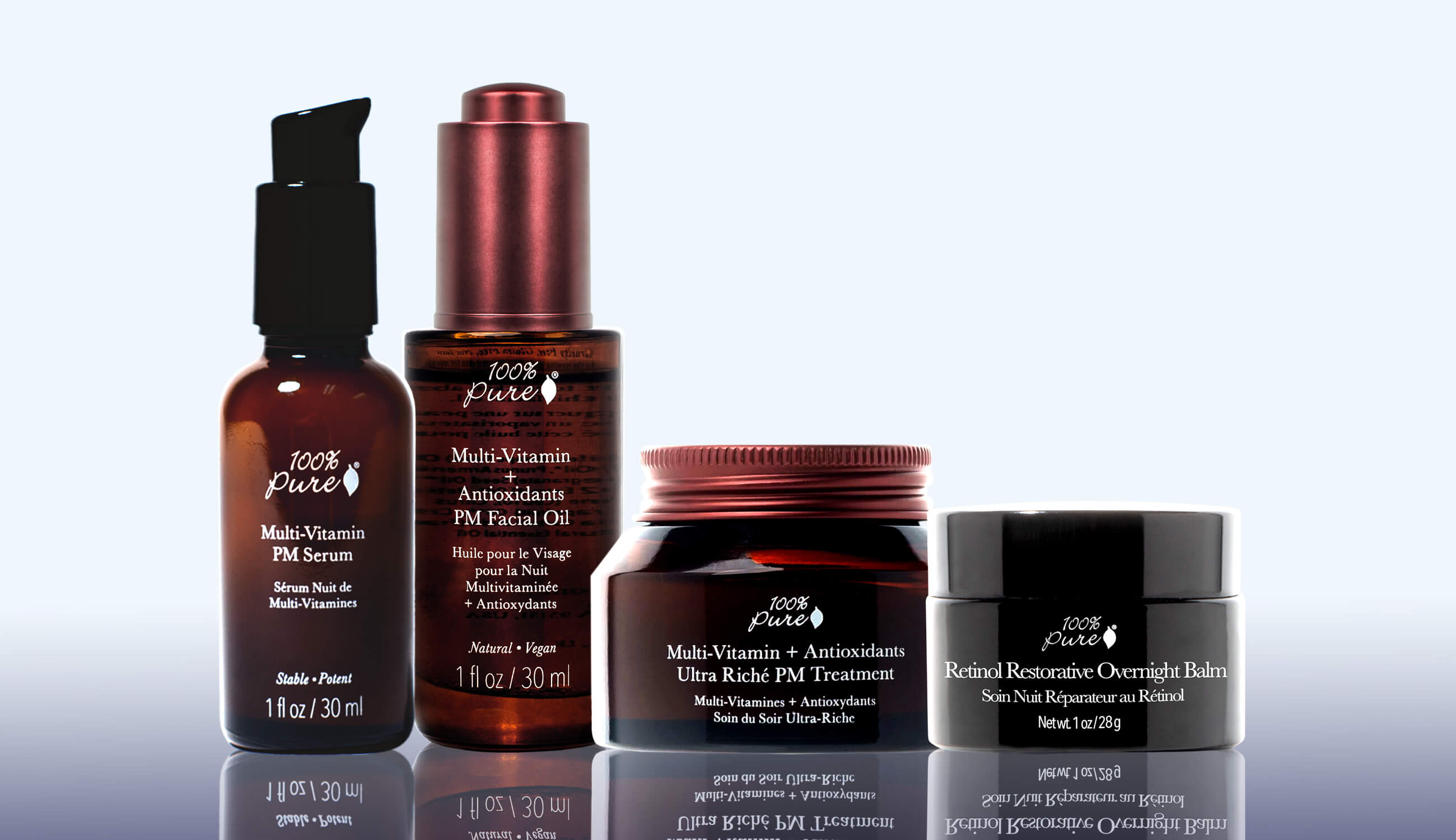 The Best Retinol Treatments for Your Skin Type
Skin types are like fingerprints: each one is different. Knowing your skin type can help in selecting the best retinol treatment for you, with reduced risk of irritation.
For acne-prone skin
Our Multi-Vitamin + Antioxidants Potent PM Serum is a major player in the retinol regimen, having achieved superstar status nearly overnight. Retinol helps to promotes cellular turnover and sloughs away dead skin, helping to lift stubborn blockages and debris from deep within pores. The potent, stabilized vitamins in this PM serum work synergistically to reduce the appearance of lines and wrinkles, while brightening and balancing skin.
For dry skin
Looking for a skin-corrective powerhouse that can also combat dryness? Our Multi-Vitamin + Antioxidants PM Facial Oil is a multi-vitamin facial oil treatment designed for targeted anti-aging benefits. Stabilized multi-vitamins – E, C, D3, retinol and CoQ10 – and potent antioxidants work to drastically lessen premature signs of aging.
For dull / sun-damaged skin
We formulated our Retinol Restorative Overnight Balm to be a potent retinol product by using vegan retinol and carrot seeds! Carrots and carrot seeds are high in beta carotene, which enhances the effects of vitamin A on the skin. Made with vegan retinol, avocado butter, and plant oils to moisturize and restore skin's radiance and elasticity while you sleep.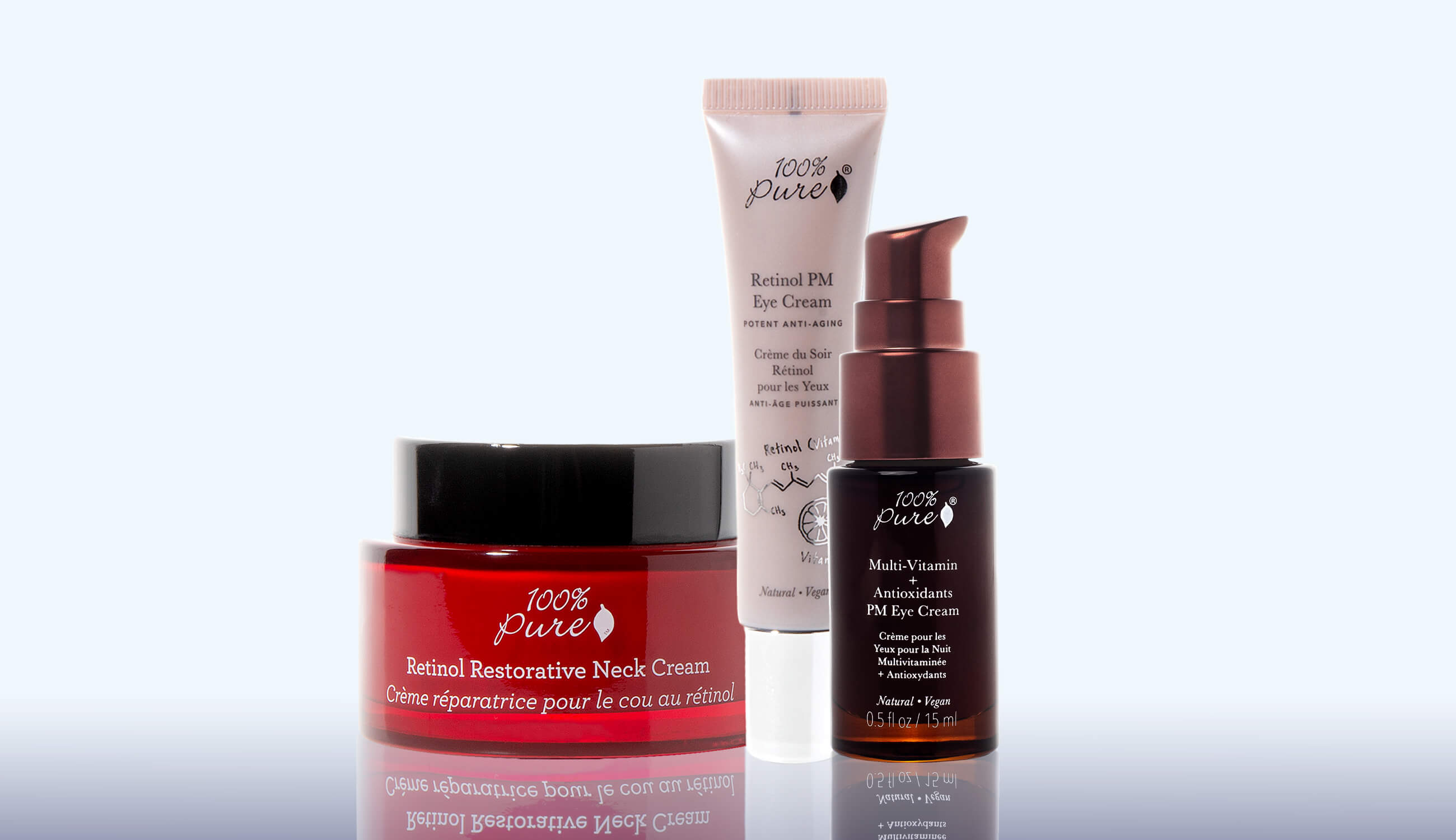 How to Supplement Retinol into Your Skin Care Routine
Now that you have a nighttime bestie for your skin type, perhaps you're needing a little extra anti-aging TLC in specific areas of concern. Whether it's to correct, prevent, or maintain status quo, we have something for all areas of skin woes! Check out more ways to supplement retinol into your skin care routine while you Zzzz.
EYE AREA: Correction / repair
Our Multi-Vitamin + Antioxidants PM Eye Treatment is our latest and greatest retinol eye treatment designed to restore youthful characteristics to the eye area. This revolutionary oil-based formula is packed with retinol and other vitamins, and draws upon nutrient-dense oils from jojoba, avocado, rosehip, and green tea to enhance plump suppleness in the skin.
PRO TIP: Our innovative eye treatment is extremely concentrated, and is perfect for those focused on correction and repair. If you're looking to bump up prevention on the crow's feet front, we'd recommend checking out our Retinol PM Eye Cream.
EYE AREA: Prevention
Our Retinol PM Eye Cream is a hydrating concentration of anti-aging vitamins, stem cells, and peptides that promote collagen production, elasticity, and lessen the appearance of wrinkles. Using an eye cream made with retinol (plus plant stem cells and peptides) is the quickest way to make significant improvement in the eye area for lessening of crepey skin, wrinkles, and fine lines.
NECK / DECOLLETE
Our Retinol Restorative Neck Cream is the unsung hero of our retinol lineup, as it works hard through the night to enliven a spot most forgotten during most skin care regimens. With a healthy dose applied to fingertips then gently massaged into the neck and décolleté before bedtime, our overnight neck cream will help to reduce telltale signs of aging in one of the most delicate and visible areas of the skin.
How to Incorporate Retinol for Maximum Benefits
As with any great and powerful beauty accessory, there are some do's and don'ts that come with the territory. It's just as important how you're applying and using retinol, as it is how you're caring for your skin when you wake. Check out some tips and precautions on how to achieve the maximum results from your retinol treatments, and how you can eat your way to vitamin A!
The Nighttime Multi-Tasker
Not only will the retinoids work their most potent magic while you sleep, but they'll also be at their safest. When exposed to sunlight retinol and carotenoids (beta-carotenes) will break down, resulting in increased sensitivity and vulnerability in skin due to a weakening of the skin's top-most layer. No matter what light source you're around – even fluorescent or halogen light sources – just remember the cardinal rule: retinol works right at night!
PRO TIP: As with any retinol product, it's important to stick with regular application for 10-12 weeks to see the effects. Some may see results after only a few weeks!
Next Day Regimen
Your next-day skin care routine after using retinol is just as important! First, a best practice is to cleanse or rinse in the morning to ensure you have no leftover retinol that will degrade in the light. Then, to really help any leftover retinoids or carotenoids be properly swept away, apply a sunscreen to any areas where retinol was applied the night before.
You Are What You Eat
Vitamin A and retinol are closely related, but depending on how you apply or ingest, they can show a multitude of beneficial functions. Sources of vitamin A include dairy, meat, fish, fish oil or vitamins, and many wonderful vegetarian sources. Dark green leafy vegetables and yellow or orange fruits and vegetables are the best sources of beta-carotene.
Want to hear more about the benefits of retinol for the skin? Check out our blog to get the latest on these topics and more!
We carefully hand-select products based on strict purity standards, and only recommend products we feel meet this criteria. 100% PURE™ may earn a small commission for products purchased through affiliate links.
The information in this article is for educational use, and not intended to substitute professional medical advice, diagnosis, or treatment and should not be used as such.
Sign up to our email newsletter for more blog updates and exclusive discounts.
< Older Post | Newer Post >