Boost Skin with a Green Tea Face Mask
Why masking is the best way to squeeze a potent dose of green tea into your routine
Posted on November 21, 2019
Written by: 100% PURE ®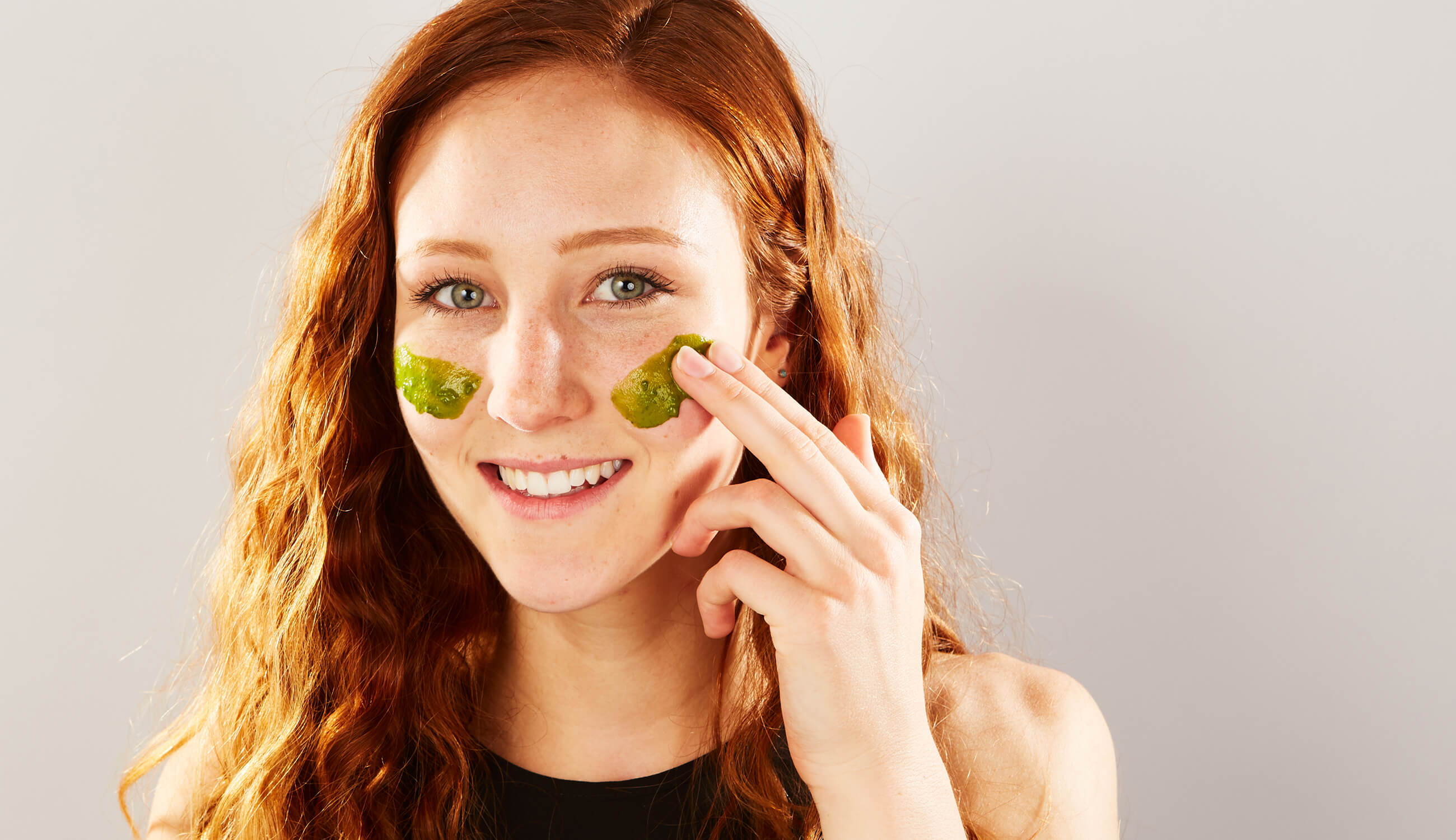 We've got the tea, are you ready for it? Skin care authorities big and small are obsessed with making masks with our all-time favorite ingredient: green tea. The major question is, of course, do they work?
It's easy to get swept away into the self-care trend and treat yourself mentality and forget what really matters – results! So now we'd like to get back to basics, focusing first on some of the key benefits of green tea. We'll discuss why face masks are your best bet for reaping the benefits of green tea – and which masks to use for a potent dose of this super tea.
Skin Benefits of Green Tea
The many reasons why we love green tea are no secret. Green tea has long proven useful in the treatment of skin conditions like dandruff and psoriasis. It slows skin cell production that contributes to flaking and inflamed skin.
Green tea contains an antioxidant compound called EGCG – a popular ingredient in daily defense skin care. EGCG works to repair free radical damage, inflicted on our skin by UV exposure and toxins within our environment. You know what that makes green tea? Our hero – and perfect for any skin type, too.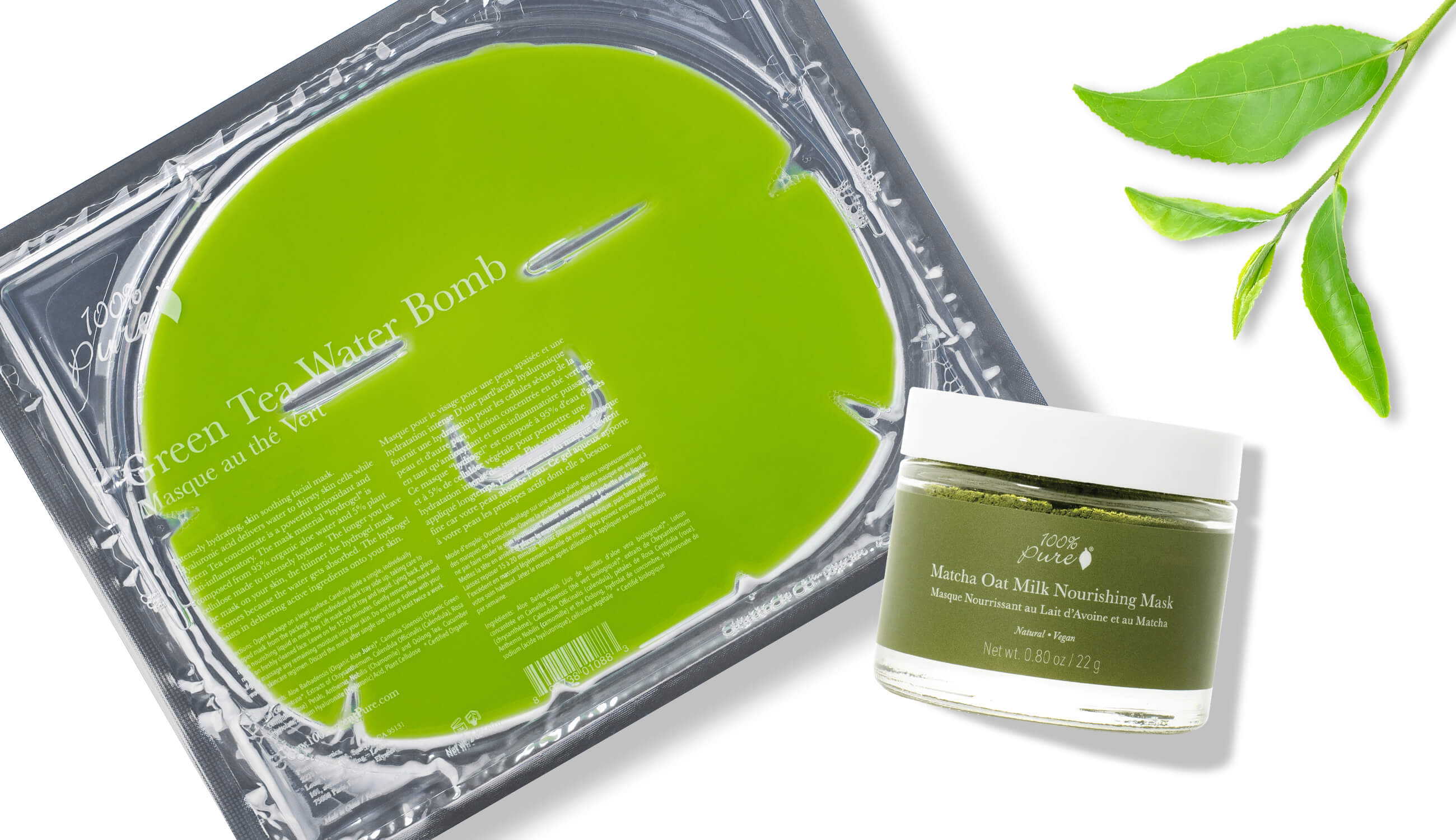 2 Powerful Green Tea Masks
These days, it's easier than ever to treat your skin with green tea – and masks are the best way to get the job done. With a mask, skin can instantly drink in nutrients directly where we need them, yielding what seems like instantly noticeable results.
Face masks seal ingredients into skin, while keeping out air or anything else that might interfere with skin's delicate balance. Lastly, applying a mask allows us the benefit of gentle exfoliating or facial massage as we rub in – or wash off – the ingredients.
We love treating our skin with this green dream after a long flight or a day outside exposed to harsh sun and chilly wind. Made with ultra fine matcha green tea powder, this concoction is easily the most potent green tea mask you'll find.
You control the concentration of this green tea face mask by adding more or less water. Smooth mask over skin, and allow to set for 15 minutes. To finish, rinse skin with warm water and follow with a reparative facial oil for enhanced glow.
Coconut milk helps green tea to boost the glow of your complexion, due to its natural vitamin C content. This rich, luxurious ingredient also helps with toning and anti-aging, making the power combo of these two a matcha-made in heaven.
Green tea is known to calm red and irritated skin, and combining it with soothing oat milk spells big benefits for sensitive skin. Together they'll work to banish acne, active breakouts, and any redness lingering on your complexion.
After a mask, we love to lock in the radiance with a complementary serum or cream. Follow up with the EGCG Concentrate Cream to seal in daytime dewiness. Nourishing acai butter and olive squalane provide a rich, smoothing feel on the skin that's suitable for all – even oily skin types. Brightening cedarwood, bergamot, and blood orange oils balance out the formula to brighten and balance.
We couldn't resist creating a green tea face mask within our favorite hydrogel format! This sheet mask has an aloe base – better for the environment and for your skin, too! This cooling, refreshing mask feels great on dry, thirsty skin and is packed with green tea extracts.
No more tired, dull or puffy skin. With a high concentration of cucumber water, there's plenty of vitamin C and caffeic acid to go around. Did you know that cucumbers actually have the same pH as our skin? This makes it an incredibly restorative ingredient for skin that's been pushed off balance. Cucumber is high in vitamin C; brightening and reviving, cucumbers help to tone and hydrate the skin for a more youthful appearance.
We spilled the tea earlier, but here's more: there are TWO teas in this formula! While green tea soothes and protects, we've also included oolong tea for double antioxidant power. You'll experience a blend of transformative florals in this green tea face mask. These beauties include soothing chamomile, toning chrysanthemum, antiseptic calendula, and balancing rose.
Want even more moisture or need mega repair? Give your skin a little extra sip with another layer of hydration via our Green Tea EGCG Concentrate Serum. A wonderful serum to use in the morning, this serum is lightweight and provides another dose of toning and depuffing. We're sure you didn't need more convincing, but this serum uses avocado oil to enhance radiance, protection, and healing.
We carefully hand-select products based on strict purity standards, and only recommend products we feel meet this criteria. 100% PURE™ may earn a small commission for products purchased through affiliate links.
The information in this article is for educational use, and not intended to substitute professional medical advice, diagnosis, or treatment and should not be used as such.
Sign up to our email newsletter for more blog updates and exclusive discounts.
< Older Post | Newer Post >