Skin Brightening Vs. Skin Whitening
The best ways to brighten your complexion and enhance radiance – all while avoiding harsh bleaching agents
Posted on July 24, 2019
Written by: 100% PURE®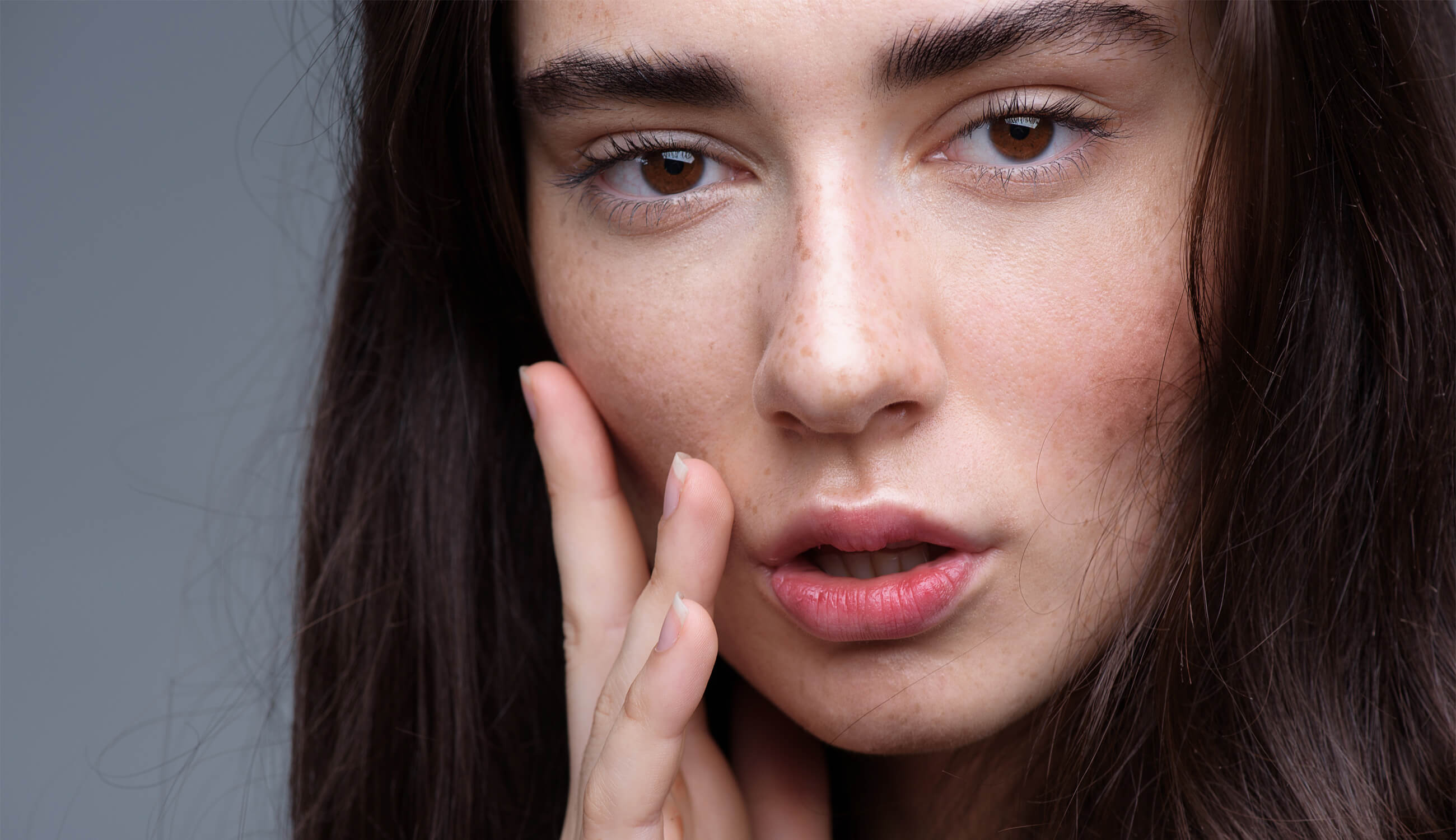 Today we're tackling a skin care conversation for the beauty big leagues: skin brightening vs. skin whitening. What exactly do these beauty practices entail? What's the difference, and is one better for your skin than the other? We'll shed light on some of the nastier chemicals lurking in this broad beauty conversation, to help you avoid products with dangerous side effects – and teach you to opt for the skin-loving stuff, instead!
Where to Highlight for a Glowing Complexion
First of all, let's unpack some of the terms floating around here:
First, there's 'skin whitening'. This refers to cosmetic procedures and products aimed to lighten darker areas of skin pigmentation on the face and body. Applied topically, these products essentially reduce the concentration of melanin in your skin.
The first thing to say about this is that the results (procedures aside) of skin whitening products can be dangerous and compromising to your natural skin function. Melanin exists in your skin to protect it from UV exposure, and stripping your skin of its melanin can make your dermis more sensitive and prone to cellular damage from the elements.
That said, it's also necessary to emphasize that this is a political beauty issue: it's rooted in narrow beauty standards, and a culture that valorizes white skin. As a result, a cottage industry of products and procedures exists around the aim of bleaching skin to make complexions lighter, and – as the name suggests – whiter.
The Problem(s) with Hydroquinone
It's not just the political story that's ugly; the products that fall under the 'whitening' category are full of chemicals that are non-negotiably toxic. Typically, skin whitening products include hydroquinone, a bleaching agent that works by decreasing the chemical building blocks of melanin in your skin.
Research has shown Hydroquinone to be a carcinogenic ingredient that encourages the rate of harmful cell mutations. It's also the source of a serious dermatitis condition known as exogenous ochronosis, a skin condition which produces blue-black hyperpigmentation and allergic reactions. Ochronosis has proven to be especially damaging to those with darker complexions.
Ironically, Hydroquinone has been linked to increased exposure to UVA and UVB radiation, so can actually contribute to sun related skin hyperpigmentation. And if that's not enough of a red flag, it's also worth mentioning that many skin whiteners containing Hydroquinone also contain mercury, a chemical which is toxic to the human nervous system.
'Skin lightening' is a term that's often used interchangeably with 'skin whitening'. Both refer to practices of bleaching your dermis, and can result in chemical burns, poisoning, heightened risk of developing cancer, not to mention redness, irritation, rashes, and hormonal disruption.
The verdict: skin whitening and skin lightening products are part of a dangerous and politically problematic ecosystem of beauty products.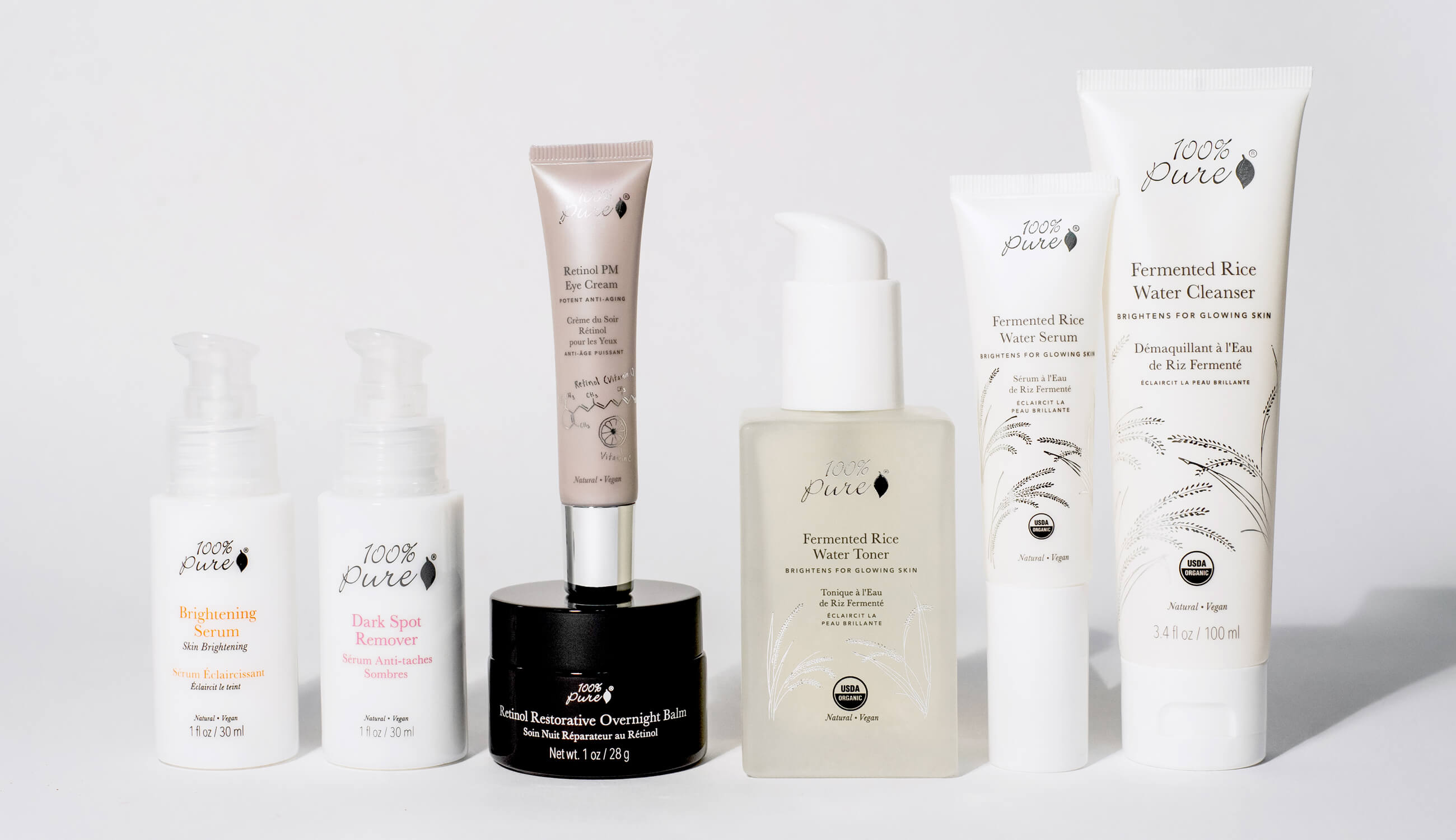 Why 'Skin Brightening' Is a Gentler, More Targeted Alternative
The term 'skin brightening' represents an entirely different category of skin care treatments, with a cosmetic goal that's vastly less extreme. We're here to myth-bust its inclusion in any of the aforementioned methods, ingredients, or harsh beauty standards.
Brightening products target areas of discoloration, like post-acne marks, sun-spots, age-related hyperpigmentation, and scarring. In other words, these brighteners look to heal areas of melanin concentration in your skin that exist due to damage that has occurred in a specific area. The broader goal is to restore brightness, radiance, and vitality to your skin – to bring your skin back to its original healthy complexion, before it was variously scarred/ irritated/ discolored (you get the idea).
Brightening products use a completely different set of ingredients than whitening and lightening products, and are considerably more gentle and nourishing to skin. Our favorite brightening products rely on plant-based ingredients that are full of Vitamin C, enzymes, and antioxidants that work to restore cell regeneration. Areas of discoloration on your face can often be treated by ingredients that focus on this aspect – on cell regeneration – whereby your skin uses its natural restoring mechanisms to replace damaged skin cells with new skin cells.
Natural, Skin Brightening Alternatives to Hydroquinone
Our Brightening Serum is one of our faves in this category, with a formula that relies on lemon juice, licorice, and kojic acid. All three of these ingredients have plant chemistries that work naturally to bring brightness to your complexion.
Lemon juice is full of vitamin C, which is essential in collagen synthesis and the production of healthy new skin cells in scarred areas. Licorice contains a chemical called Glabridin, which works to keep your skin's melanin production even and uniform, as well as to spread out melanin that's present in existing hyperpigmentation. Kojic acid is a chemical derived from fungi, and it has natural properties that reduce dark pigmentation associated with acne scarring.
Another favorite: our Dark Spot Remover targets hyperpigmentation and dark spots with a concentrated formula featuring Vitamin C-packed lime, plus papaya and red algae. These are both skin brightening VIPs with long lists of complementary benefits.
The potassium present in papaya hydrates skin to battle dryness and dullness, and it's also a rich source of Vitamin A (key for skin cell turnover). Red algae has ultra concentrated hydrating powers, and works to amp up the strength of the top layer of your skin, so it can stand up to weather and irritants and circumvent hyperpigmentation before it begins.
Next up: plant-based retinol, featuring in our Retinol Overnight Balm and Retinol PM Eye Cream. Sourced from carrot seed oil, retinol is powerful skin resurfacer and works to counter free radical damage while balancing the tone of your complexion. That means even skin tone, overall brightness, and a refreshed texture. Remember to use retinol products only at night, as they can greatly increase your skin's sensitivity to sunlight.
PRO TIP: Always follow your retinol treatment with a broad spectrum sunscreen the following day.
Last but not least, opt for fermented rice water products! Fermented rice water is a hard working skin tonic filled with amino acids, antioxidants, and essential vitamins. It's rich in Vitamin A: key for skincell production, skin health, and firmness. It also contains a nutrient called pitera, which develops during the fermentation process. Pitera helps to increase skin cell regeneration – key for eliminating hyperpigmentation and boosting skin brightness. Our Fermented Rice Water Cleanser and Fermented Rice Water Serum are must-haves for building a more radiant, balanced complexion.
So there's our skin care guide to skin brightening, whitening, lightening, and major points that connect the three. Stay away from the whitening and lightening junk, and opt for plant based beauty that works with – instead of against – your natural complexion!
We carefully hand-select products based on strict purity standards, and only recommend products we feel meet this criteria. 100% PURE™ may earn a small commission for products purchased through affiliate links.
The information in this article is for educational use, and not intended to substitute professional medical advice, diagnosis, or treatment and should not be used as such.
Sign up to our email newsletter for more blog updates and exclusive discounts.
< Older Post | Newer Post >