Mushroom Benefits for Your Skin
Get to know this trendy natural skin care ingredient
Posted on November 24, 2022
Written by: 100% PURE®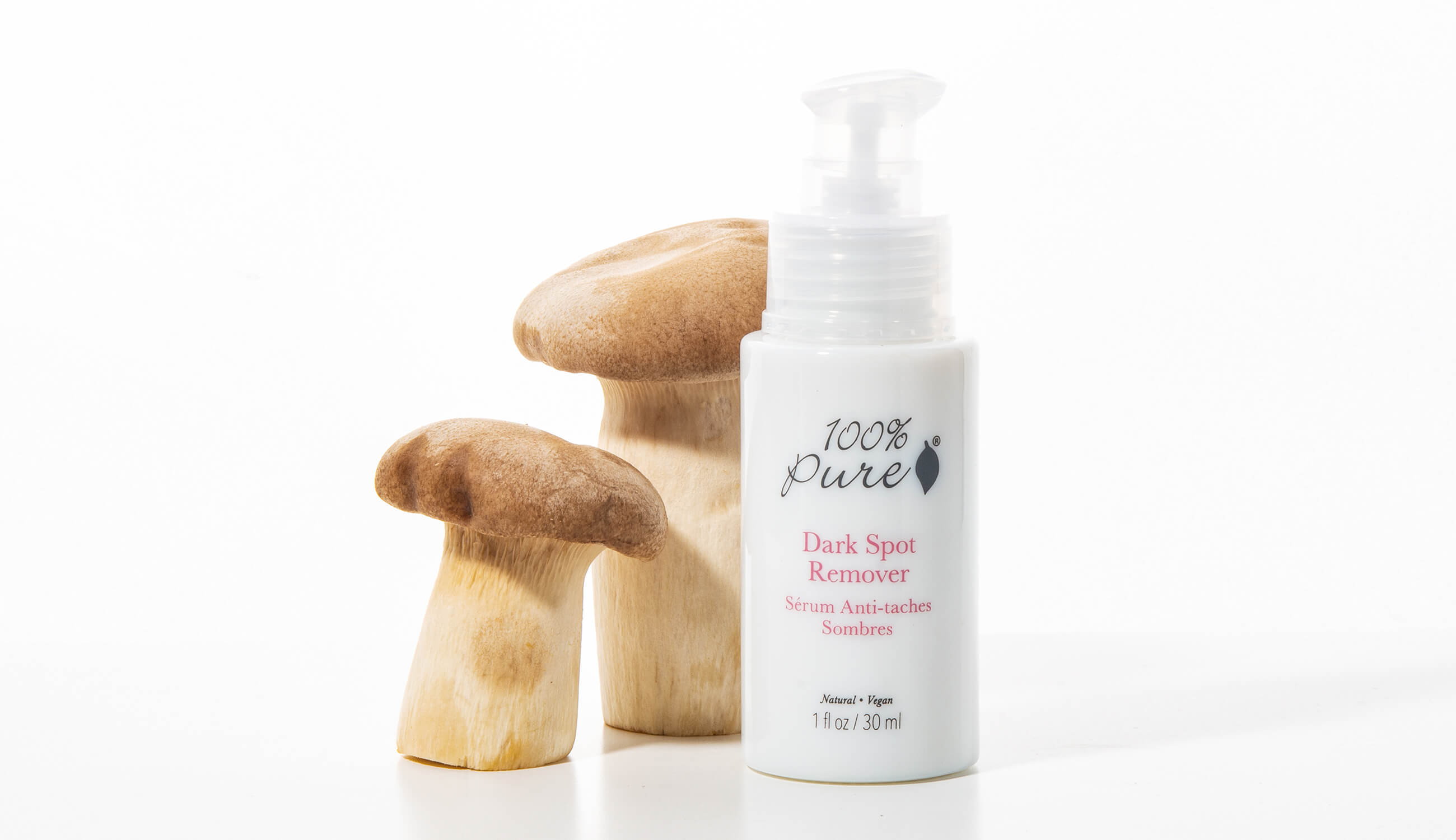 We know them for their cute umbrella shape, their medicinal properties, and as culinary delights – but as a skin care ingredient!? Yes, mushrooms are trending in skin care, setting off a 'shroom boom in beauty routines.
It turns out these humble fungi are mega-multitaskers when it comes to improving the appearance of your skin. We'll be covering mushroom benefits for skin, the hype over one of skin-care's hottest ingredients, and where you'll find it in clean beauty.
Mushroom Madness
Though the humble ground dwellers are now taking center stage in the beauty world, mushrooms aren't exactly a new ingredient. Mushrooms have deep roots in Chinese and Ayurvedic traditions, and have been praised for their healing potential.
Their recent rise in popularity is owed to an increased interest in health and wellness, natural beauty, and clean skin care practices. In fact, many clean beauty brands – including us – have been on the 'shroom boom long before their benefits were common knowledge to beauty consumers.
Mushroom Benefits for Skin
They're great on pizzas, exceptional in pasta sauces, and have endless culinary uses – but what are mushrooms?
Mushrooms are the fleshy, spore-bearing body of a fungus typically produced above ground, on soil, or on its food source. Unlike plants that make their food via photosynthesis, mushrooms use their root system to grow into or around food sources. They secrete digestive enzymes which break down the substrate, making it easier for the fungus to absorb the nutrients it needs.
Mushrooms are "adaptogens": a variety of non-toxic plants that can help our bodies resist or "adapt" to stress. They also contain many antioxidant and anti-inflammatory benefits. It's no wonder they would create a fungi phenomenon in the skin care realm!
Mushrooms can help protect the skin from environmental aggressors and hyperpigmentation caused from sun damage. Mushrooms also contain skin-barrier-protecting beta-glucan, making it particularly attractive to those with sensitive skin.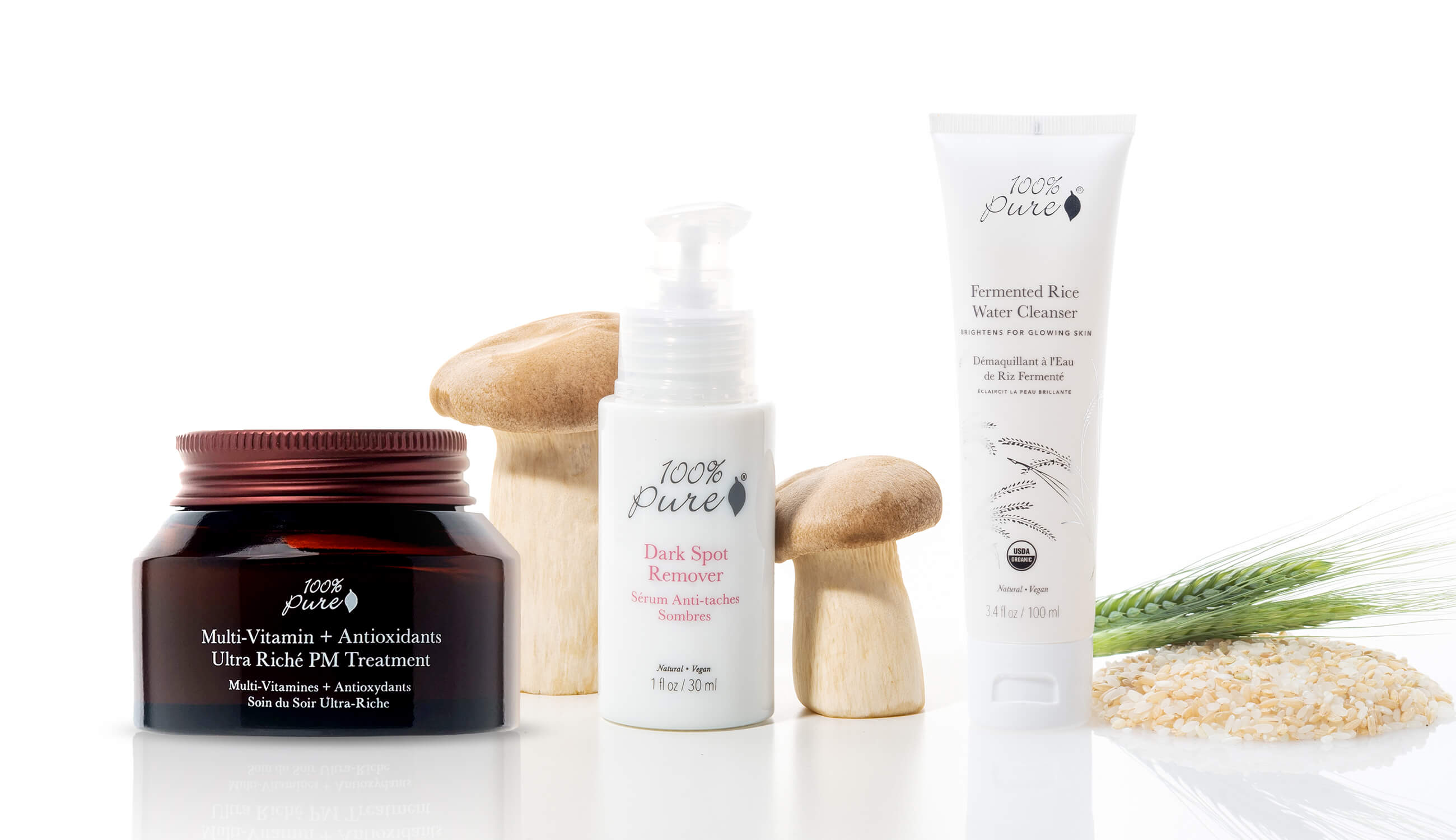 4 Mushroom Skin Care Products to Try
The antioxidant, anti-aging, anti-wrinkle, skin brightening, and moisturizing effects of mushrooms have officially been revealed to the world. There's no need to go foraging forests or beauty aisles on a hunt for fungi: we've rounded up the top mushroom skin care products for you to sample!
Newsletter
Subscribe
for more blog updates and exclusive discounts
#1: Mushroom Peptide Serum
Featured Fungi: Shiitake
Packed with nearly a dozen different medicinal mushrooms, this serum is perfect for those looking to combat dullness and dehydration. Hydrating polysaccharides from mushrooms blend beautifully with hyaluronic acid, which work together to plump skin with intense hydration. Meanwhile, quinoa peptides prompt the production of collagen to promote firmness and elasticity.
#2: 100% PURE™ Fermented Rice Water Collection
Featured Fungi: Matsutake
Rice water has a centuries-old reputation in holding restorative properties for skin. This is thanks to its plethora of beneficial nutrients – and why we use it in many products! Our Fermented Rice Water Serum is formulated to encourage a healthy glow, nourish the skin, and help it recover from the effects of sun exposure.
Serums should be applied to skin after being both cleansed and toned. Our Fermented Rice Water Cleanser brightens and refreshes dull skin. The Fermented Rice Water Toner softens, hydrates, and ticks all the boxes for getting glowing skin.
#3: 100% PURE™ Dark Spot Remover
Featured Fungi: Matsutake
We understand dark spots and acne scars can be a major pain point. That's why we created our Dark Spot Remover: to restore balance and brightness to dull, blemished skin. Featuring Matsutake mushroom to brighten the source of the dark spot, this product helps to reveal fresh skin layers while keeping our faces firm and bright.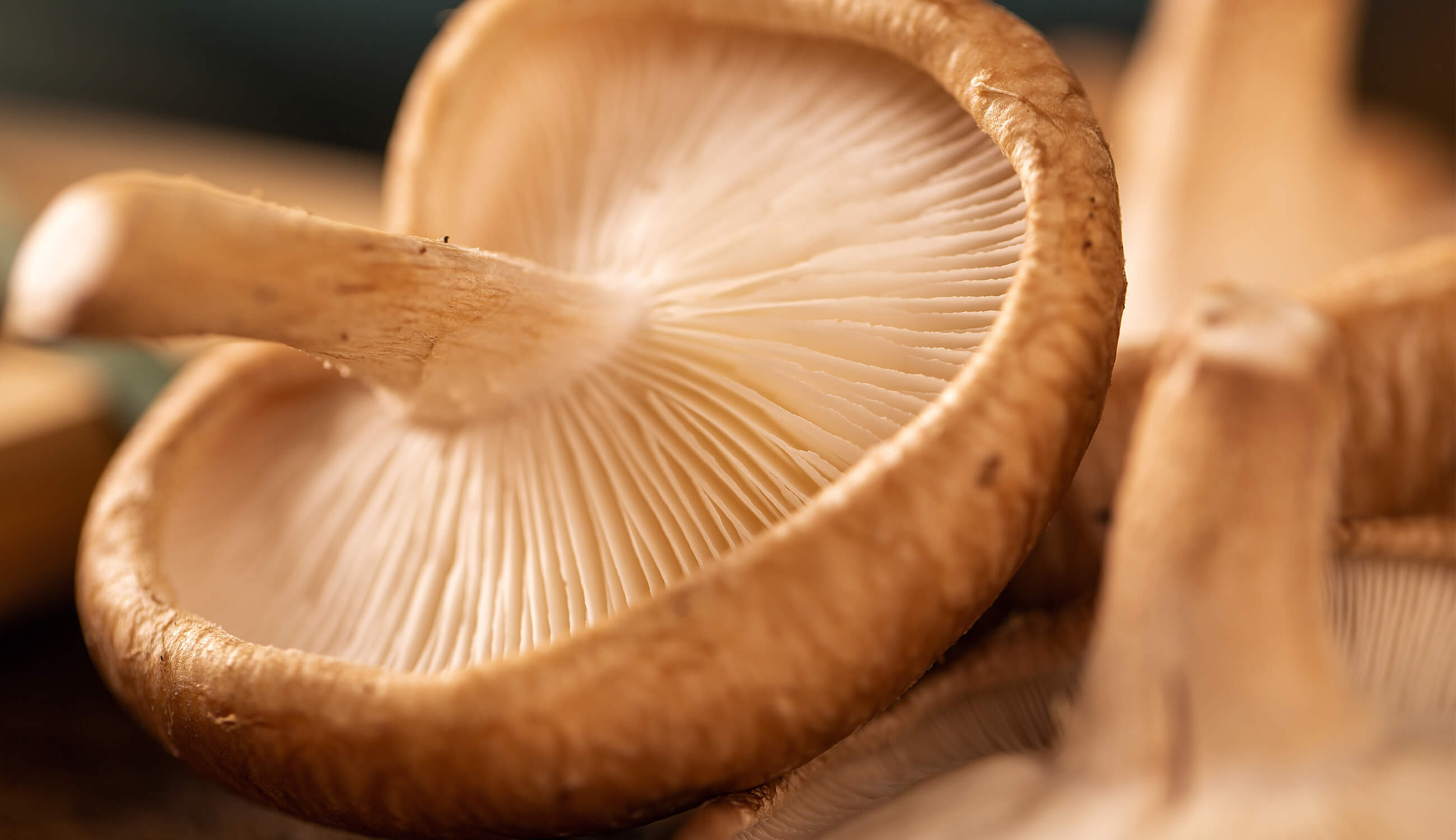 #4: 100% PURE™ Multi-Vitamin + Antioxidants Ultra Riché Creme
Featured Fungi: Lingzhi/ Reishi, Shiitake
While you're snoozing and skin is in repair mode, our Multi-Vitamin + Antioxidants Ultra Riché PM Treatment gets to work. Featuring two types of mushrooms, this moisturizer pulls out all the stops when it comes to long-lasting hydration for abundantly supple, nourished skin.
Now that we've covered mushroom benefits for skin, now you can wield this clean ingredient in your beauty routine! Check out more ingredient highlights on our blog.
We carefully hand-select products based on strict purity standards, and only recommend products we feel meet this criteria. 100% PURE™ may earn a small commission for products purchased through affiliate links.
The information in this article is for educational use, and not intended to substitute professional medical advice, diagnosis, or treatment and should not be used as such.
Sign up to our email newsletter for more blog updates and exclusive discounts.
< Older Post | Newer Post >