Fruit pigmented® makeup made its Spring 2019 runway debut at New York Fashion Week -- get the looks here!
Posted on September 13, 2018
Written by: 100% PURE®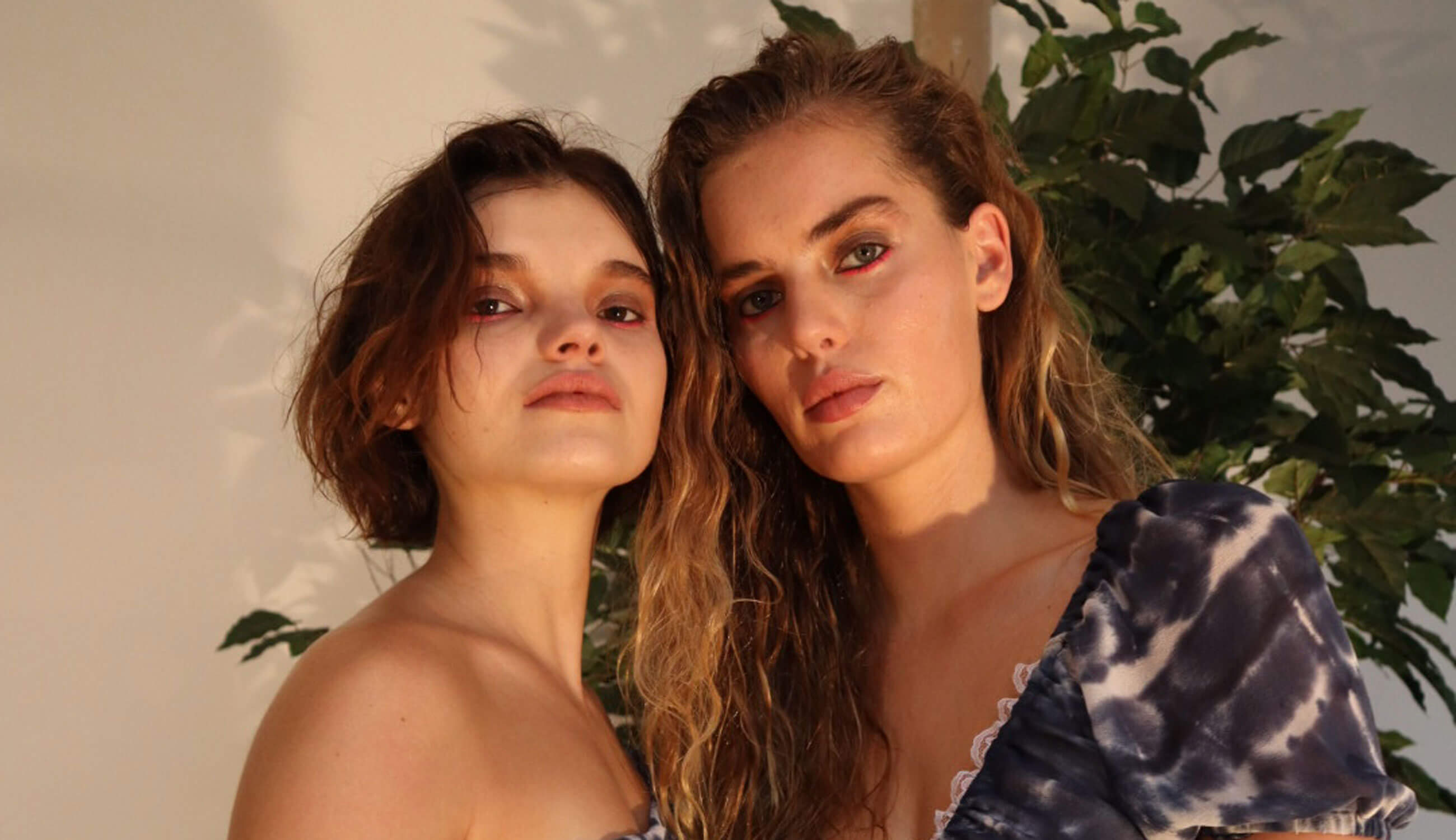 The Label
Alexia Elkaim's label Miaou has recently taken the New York Fashion scene by storm, with a cult denim collection as its shining star. She's expanded her repertoire to include dresses and sportswear, while still highlighting tailored denim creations made to suit every woman's body. Miaou's Spring '18 collection impressed with a blend of 90's grunge-pop fashion and retro La Dolce Vita tailoring. For Spring 2019 New York Fashion Week, the same 90's influences made their return -- with additions of statement prints, bold neons, and form-flattering sportswear.
Elkaim's newest collection called for something unique in the makeup game: gritty grunge finishes, glossy browns, and razor sharp traces of neon. 100% PURE founder Susie Wang and her team were backstage with a special delivery of fruit pigmented® makeup, plus custom creations made especially for the Miaou Spring 2019 Fashion Week show.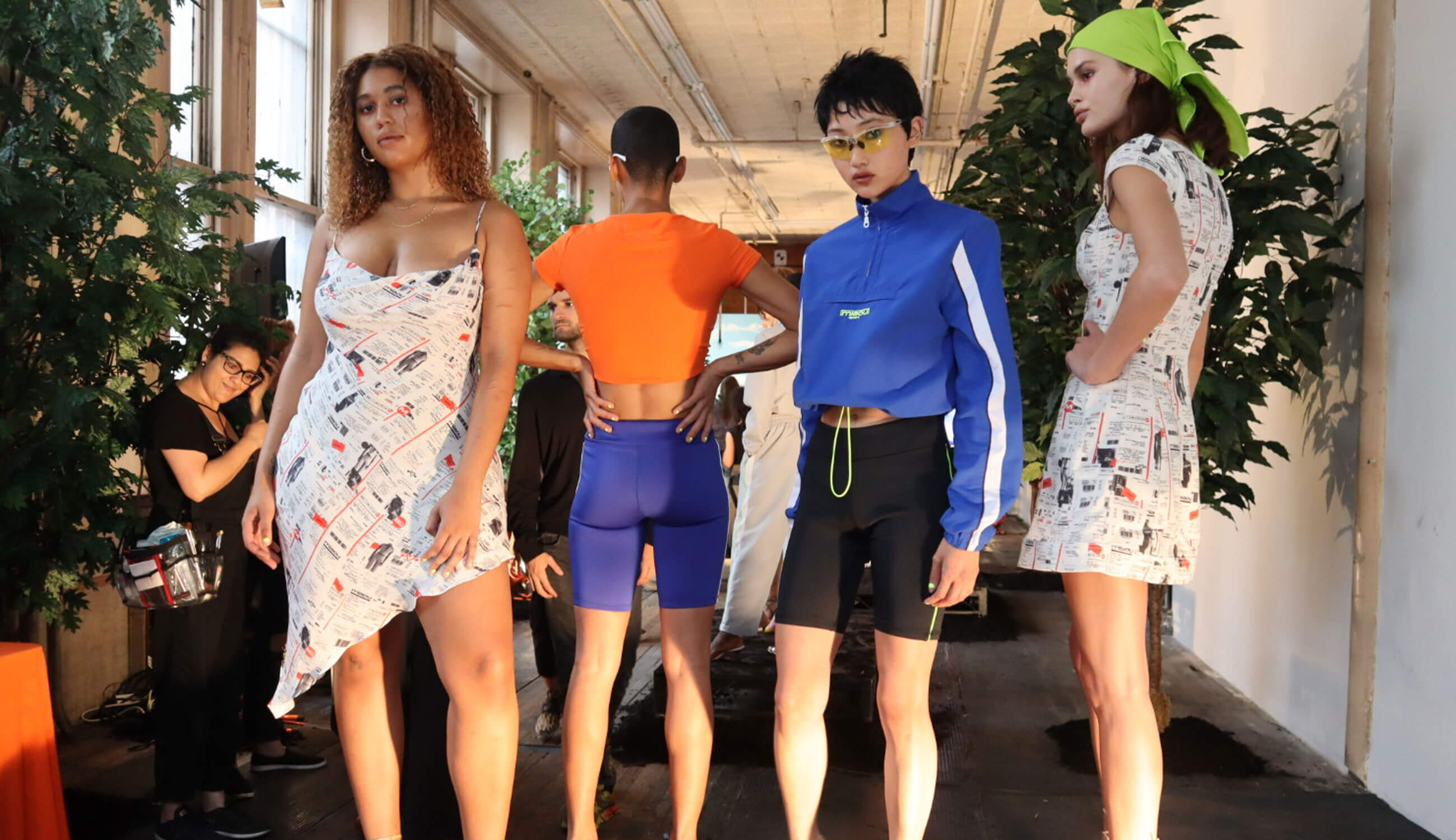 The Show
Miaou's presentation for New York Fashion Week is a love letter to the sweet-but-bad-girl icons of the late 90's and early 2000's (think Keira Knightley, Christina Aguilera, TLC). Neon nylon, dip-dyed denim, and ruched mini dresses were a few creations walking the runway at this off-Canal show, with curves, legs, and fresh skin being served up in spades.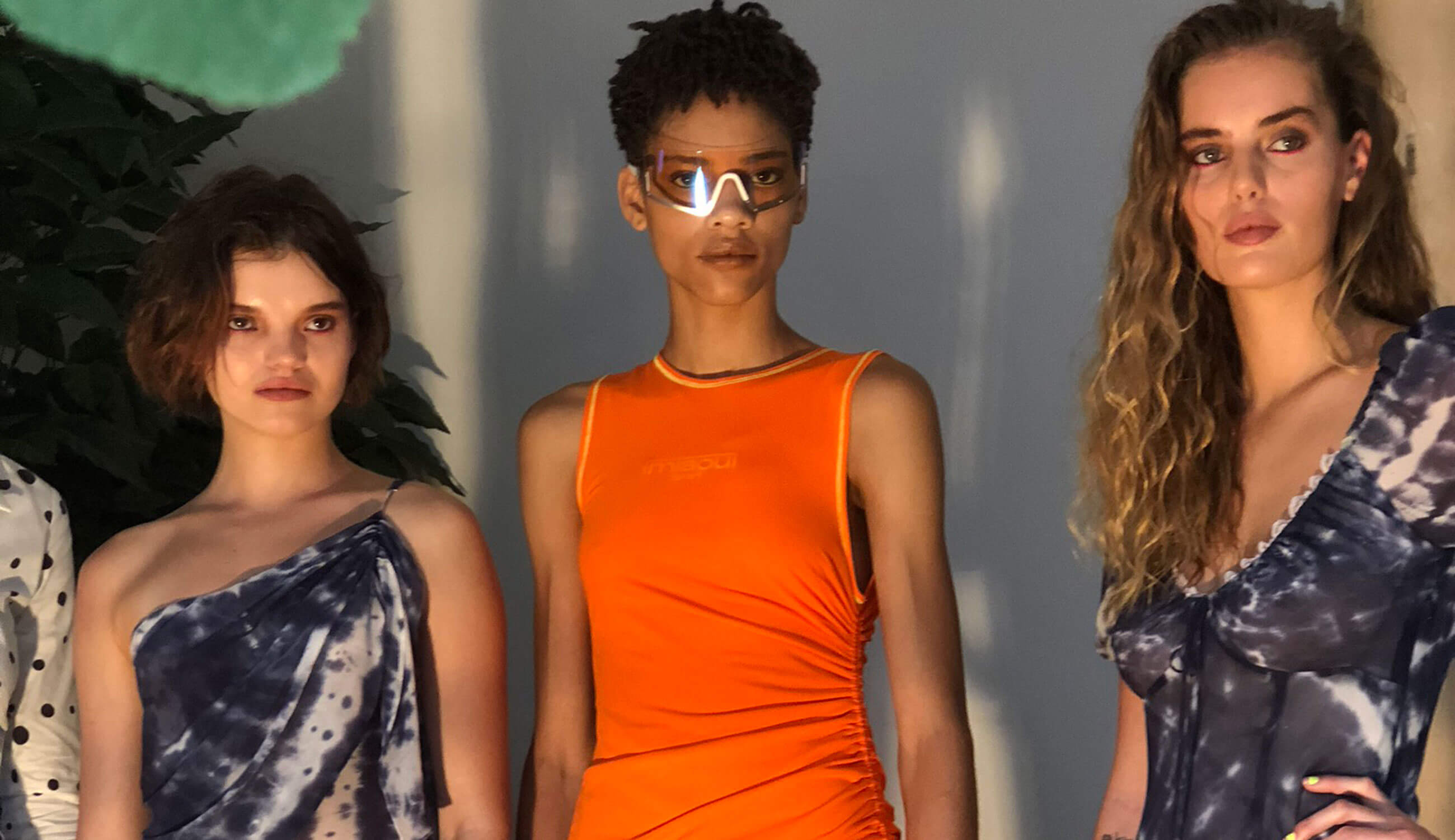 Lead Makeup Artist Deanna Melluso's concept for Miaou was centered around a healthy glow, but with strong 90's grunge influences. "Really spring, really colorful -- and it's all about skin," says Melluso. Piercing neon eyeliners gave creamy browns and lit skin a signature edge, while remaining true to a 90's party girl vibe.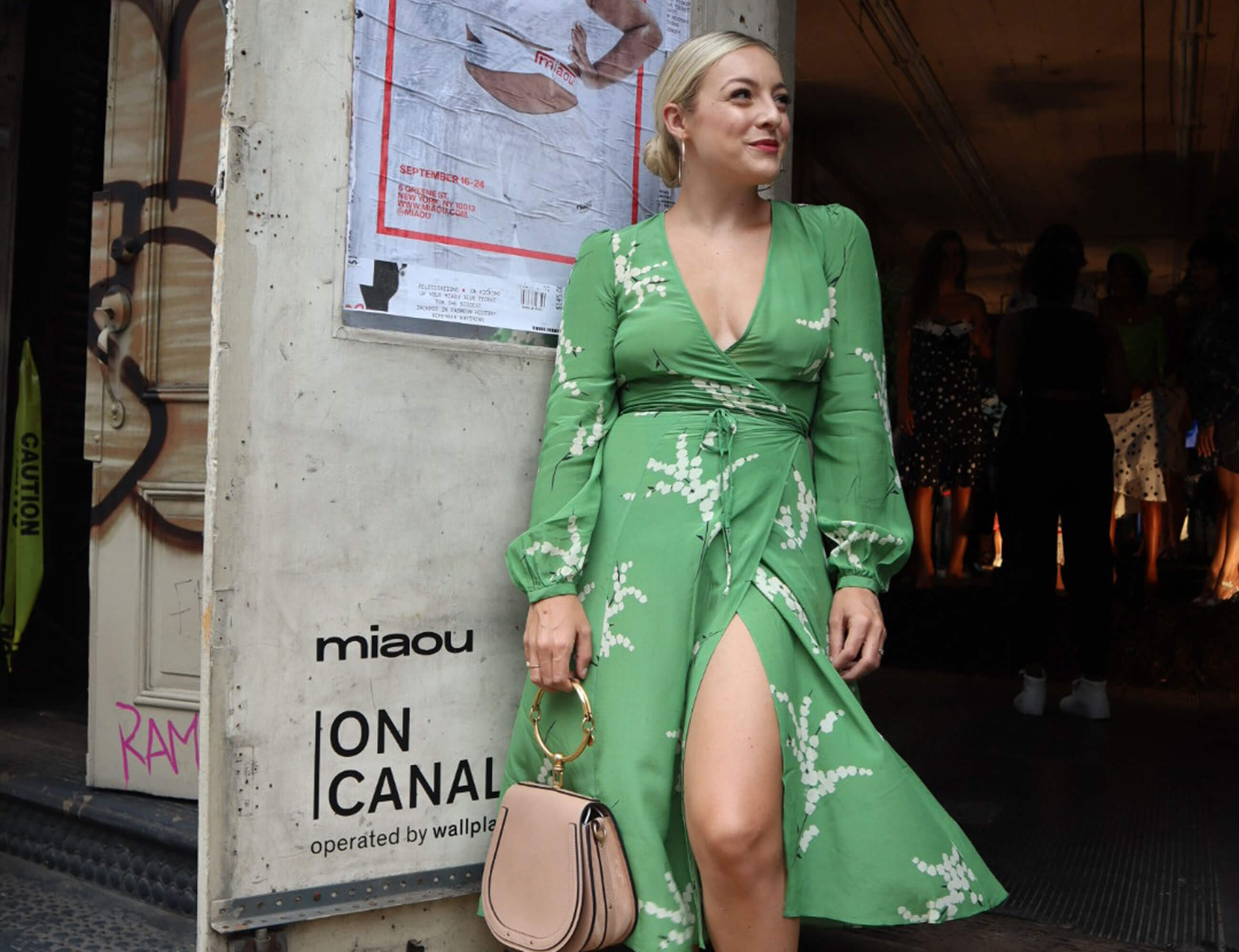 More exciting news from Fashion Week? Bubbly beauty Rachel Martino, a southern belle and current NYC local, was spotted backstage and spent the day with 100% PURE! She sported brand new matte lipstick shade Plume Pink, and looked fabulous in her emerald wrap dress with a sky-high slit. Check out her IG for more Fashion Week highlights!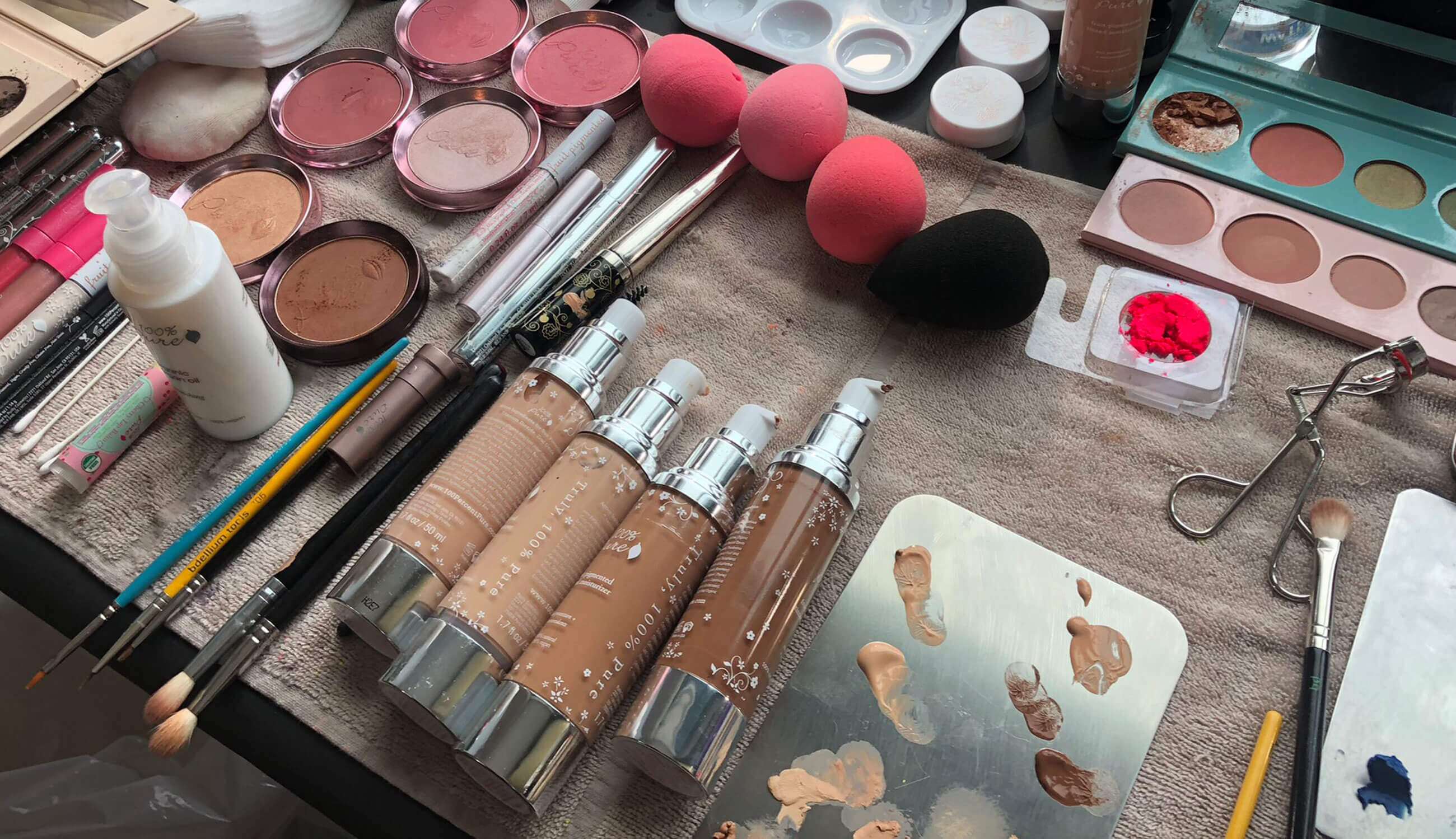 The Tools
Skin: Facial oil / Fruit Pigmented® Tinted Moisturizer / 2nd Skin Concealer
Cheeks: Facial oil / Luminating Creme: Moonlight
Lips: Fruit Pigmented® Tinted Moisturizer: Cocoa
Eyes: Exclusive custom neon pigment / Cocoa Pigmented Bronzer: Cocoa Kissed / Fruit Pigmented® Better Naked Palette: Fox / Creamy Long Last Liner: Blackest / Facial oil
Brows: Green Tea Fiber Brow Builder
The Look (and How to Get It)
Want the Fashion Week look created by Lead Makeup Artist Deanna Melluso and her team? Peep the details below Miaou's custom makeup creation! We'll give you the official breakdown on how to get a soft and edgy makeup look worthy of New York Fashion Week!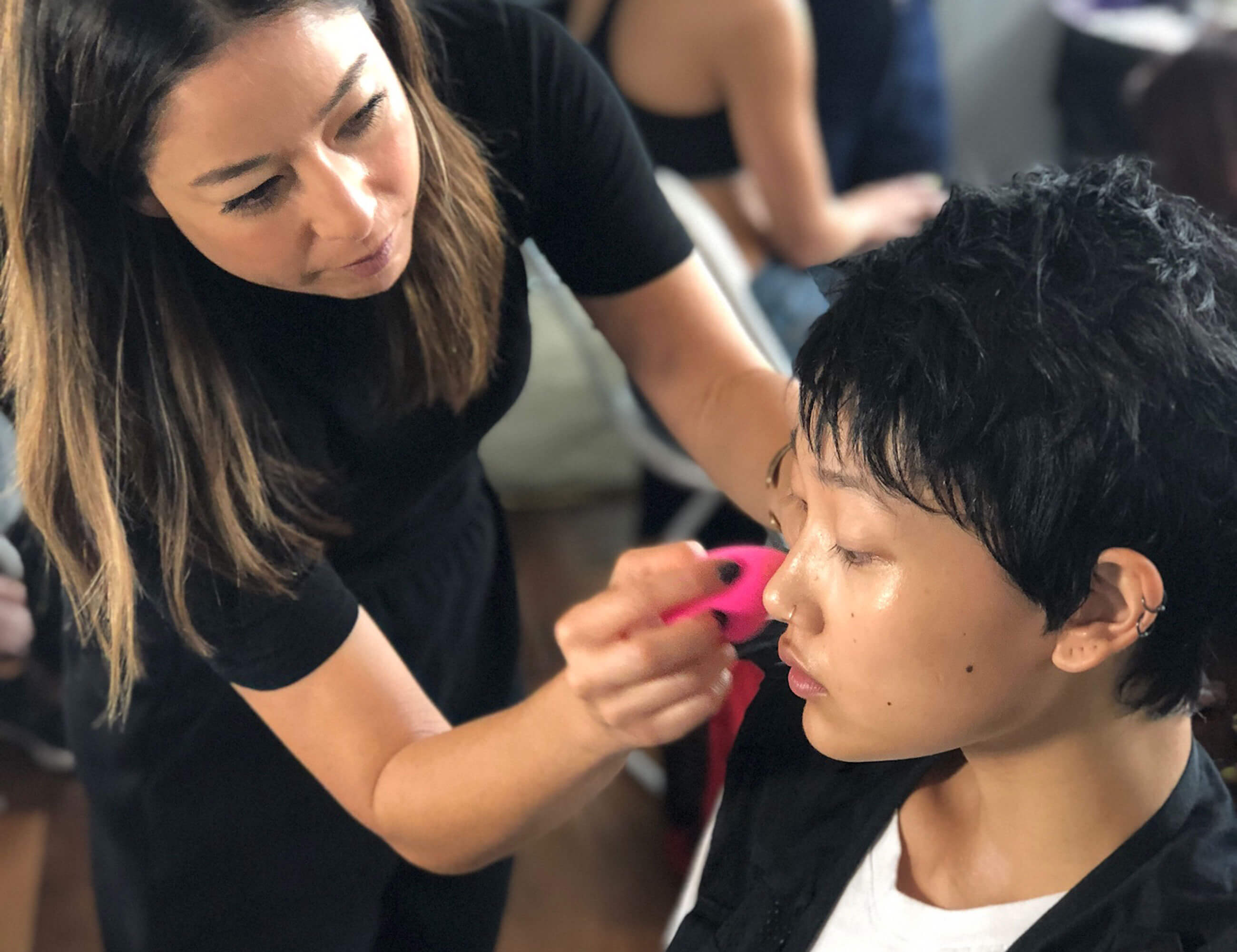 Skin:
Melluso kept skin looking natural and glowy by first massaging a facial oil into the skin. She finished by adding light touches of tinted moisturizer with a makeup sponge, only where needed. Any imperfections were then covered with an ultra lightweight concealer for a seamless, skin-like finish. The goal was for skin to shine, without looking greasy or feeling heavy.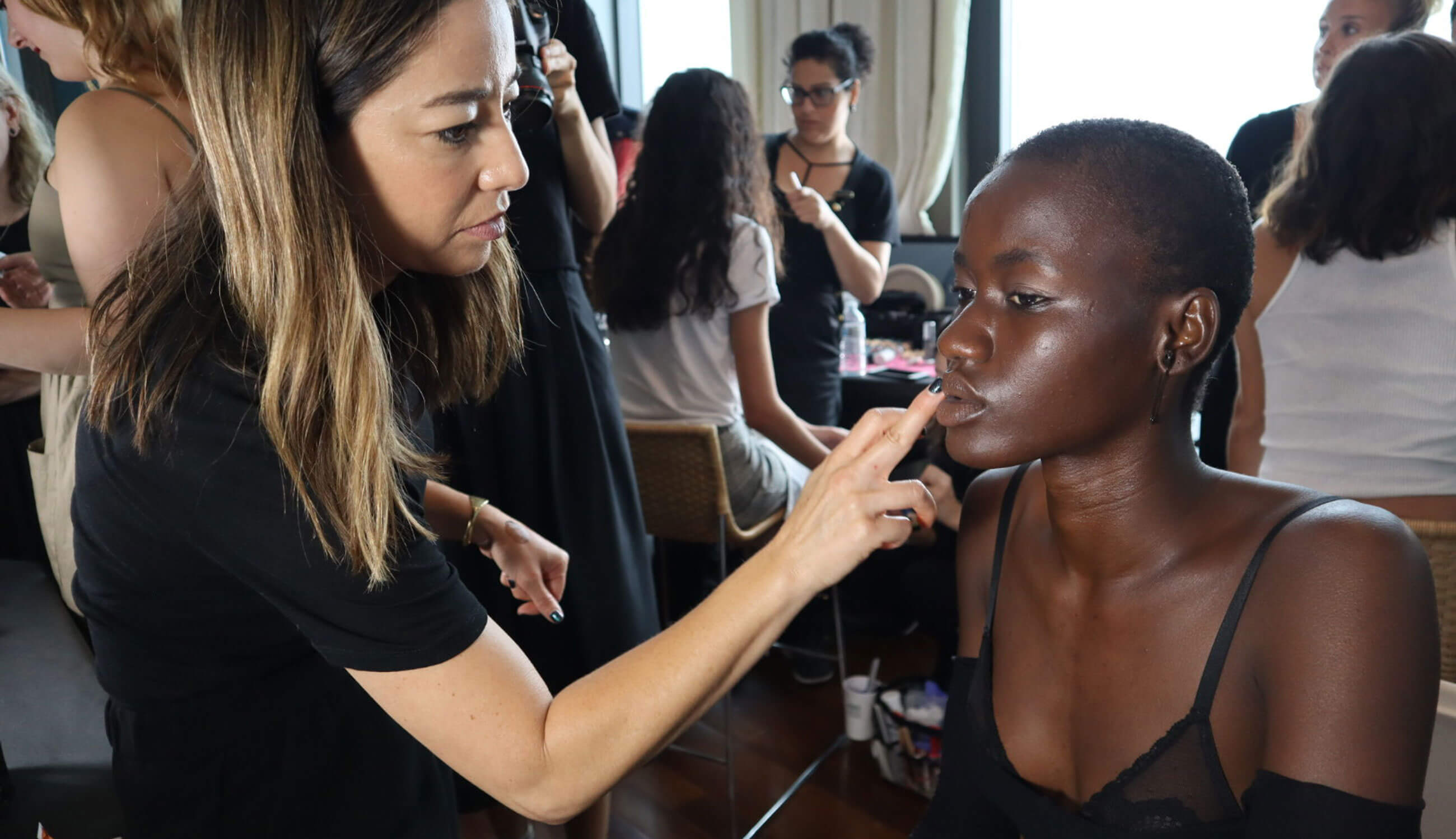 Cheeks:
To enhance skin's suppleness and glow, makeup artists for Miaou mixed Moonlight liquid highlighter with facial oil on the hand. To apply, they warmed in palms before gently pressing into model's skin at the cheekbones. This hands-on application helps to pick up highlights on the cheekbones and give skin a beautiful texture.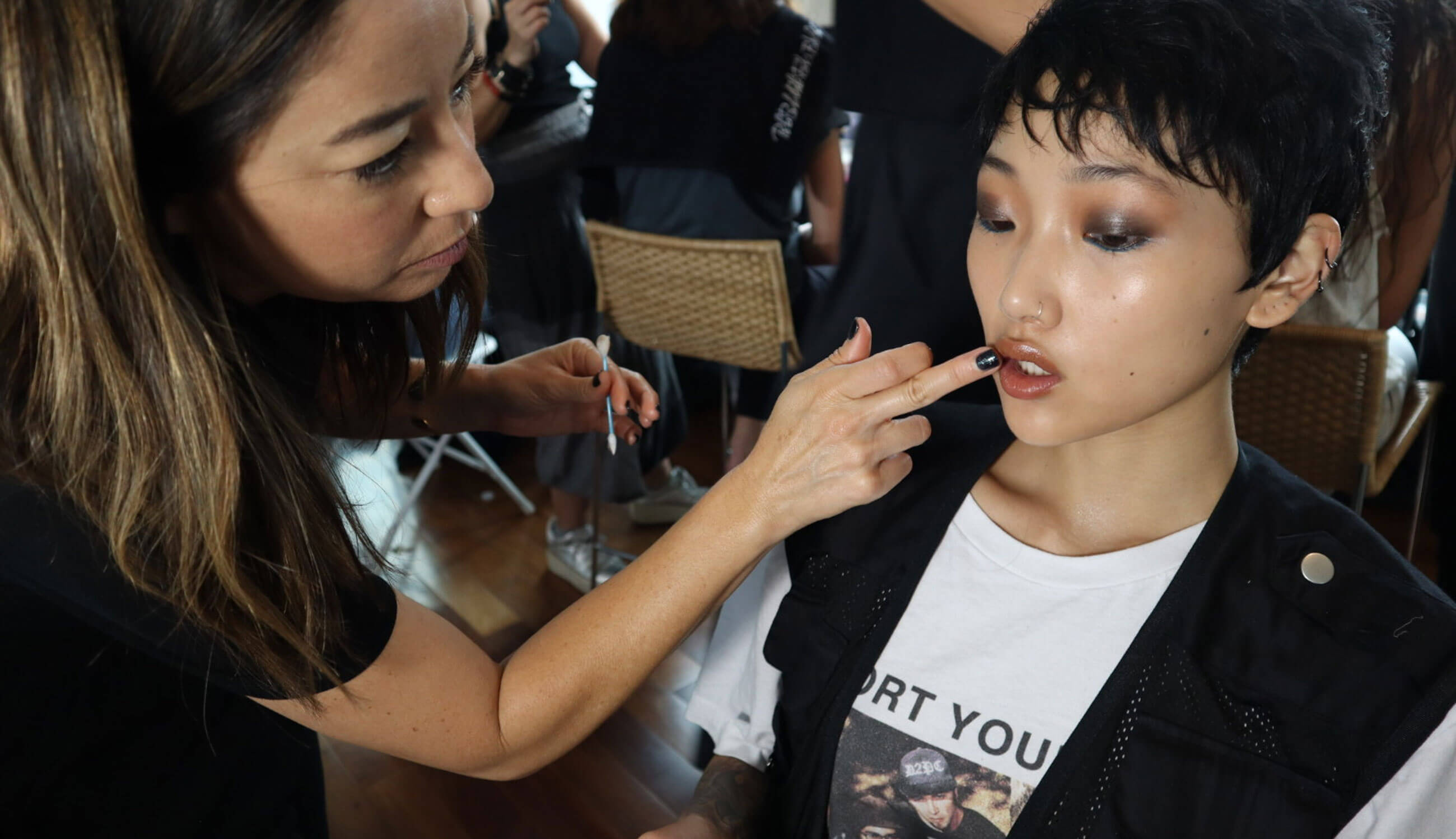 Lips:
This lip look may seem unconventional, but New York Fashion Week calls for creativity! Melluso brilliantly double-purposed Tinted Moisturizer in Cocoa on the lips, for a glossy brown 90's grunge look. "It's like a 90's Christina Aguilera, Drew Barrymore moment."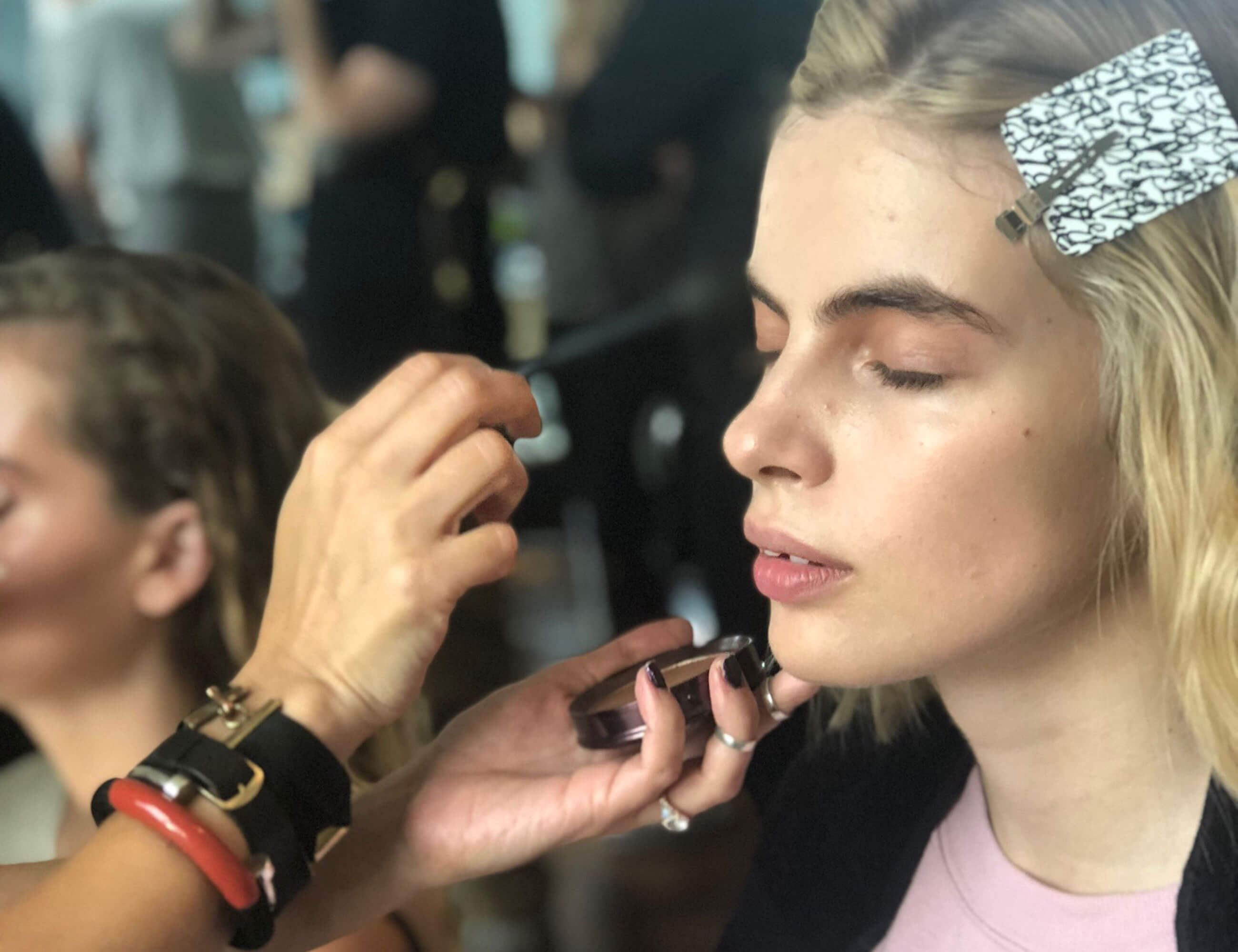 Eyes:
The definitive cherry-on-top for this sporty, sexy Miaou presentation was the eye makeup look created by Melluso. Applied in four parts, this look is a lot easier to get than you might think. The goal is a partied-all-night, slept-in look that's anchored by a pristine pop of color at the waterline to awaken your eyes.
Step 1:
Apply Cocoa Pigmented Bronzer all over the eyelid, from lash line to brow bone for a "nice brown 90's look". Swipe your small, fluffy brush in a back and forth motion, and don't be afraid to go over the edges. Melluso also went in with bronzer under the eye, to give models a slept-in, grungy look.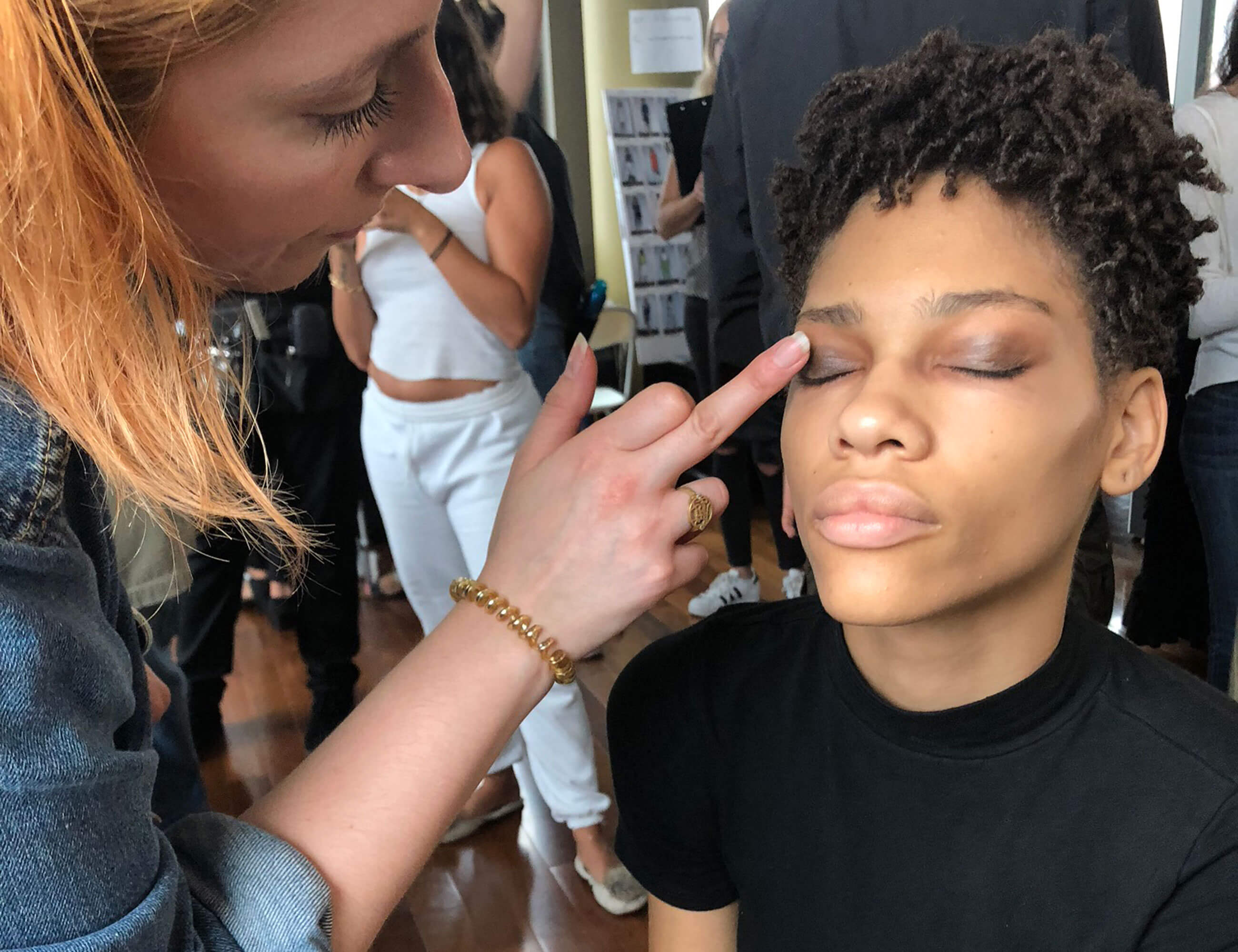 Step 2:
To add a bit of grit and texture to the lid, tap your ring finger or brush into "Fox" eye shadow from the Better Naked Palette. Tap onto eyelid for a dimension of smokiness over your rusty brown base.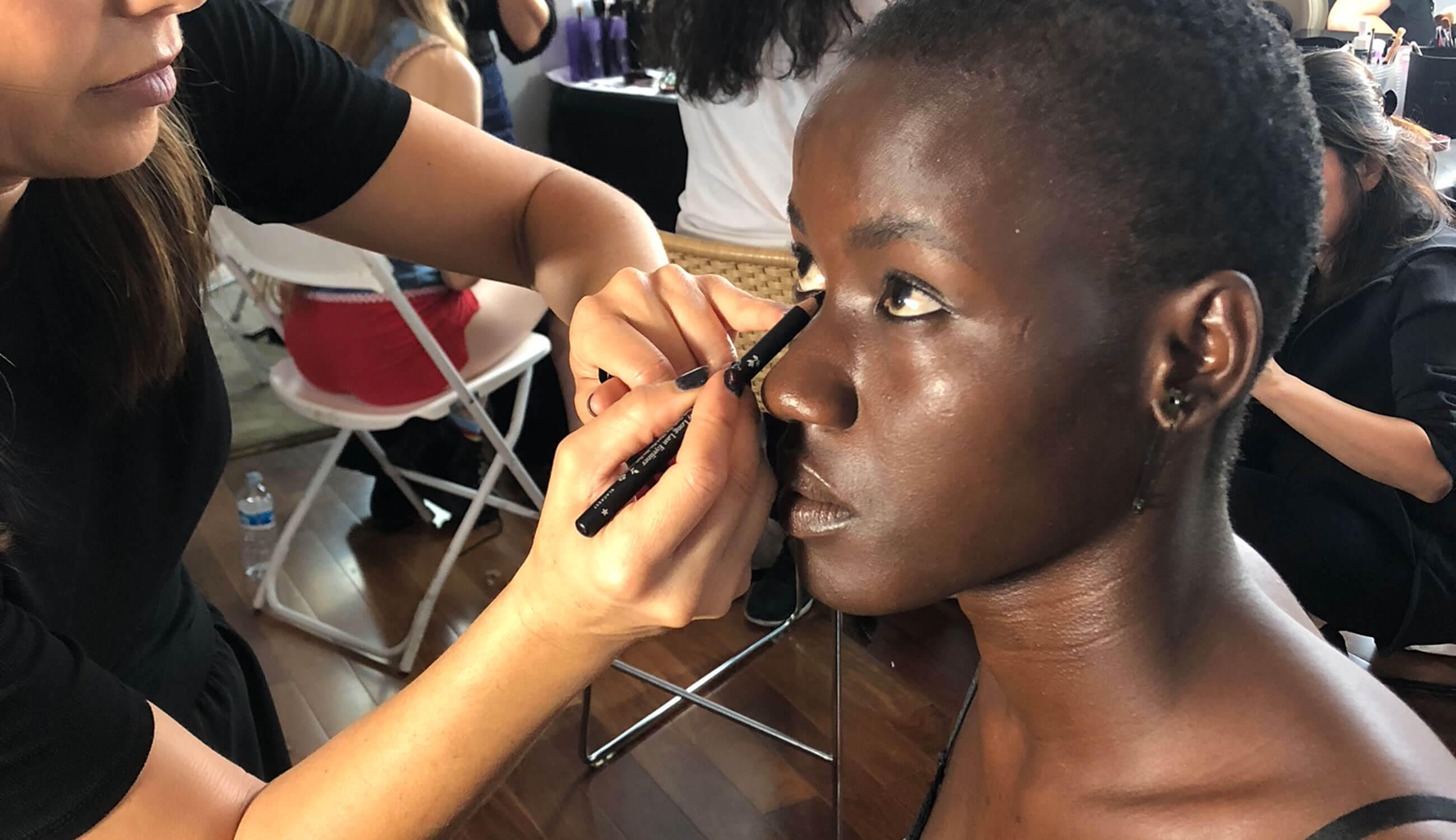 Step 3:
Swipe a good amount of black liner onto hand, with a pump of facial oil. Mix the two with your finger until you get a creamy pigment. Apply this all over the lid for a smudged, glossy finish. You actually WANT it to look like you've slept in your makeup (and if you're show-hopping at Fashion Week, you probably have)! Oil gives the black liner a spreadable body and soft, gritty texture on the eyes.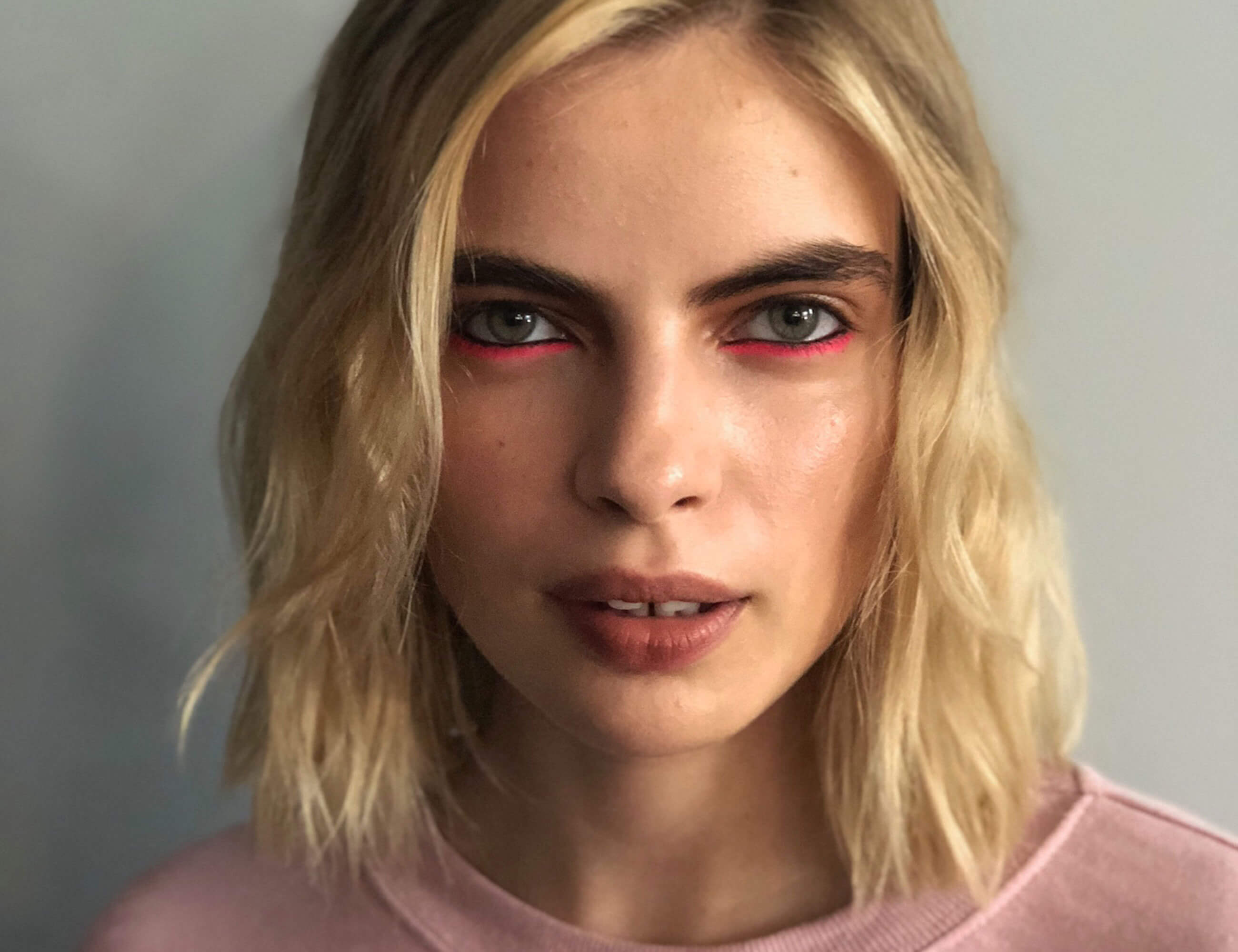 Step 4:
Finish by going back in with your kohl-black eyeliner. Trace your waterline in black to ground the look and add smokiness to eyes. Pink, orange, green, and yellow neons* were applied with a fine tipped makeup brush to the bottom lash line, for a piercing pop of color to compliment bold fabric shades brought by Miaou.
Brows:
To finish off this definitive 90's makeup look, makeup artists made brows "straight and gorgeous" with Green Tea Fiber Brow Builder. Melluso's direction for applying is to first brush upwards to lift hairs that might be lying flat. Then, "for the 90's look, pull (the brush) straight across." Hello, 90's Liv Tyler brows!
This concludes your 90's grunge beauty tutorial, straight from backstage at New York Fashion Week! It might be a wrap for 100% PURE at this year's Fashion Week, but we're officially drooling over Spring 2019 fashion, and can't wait to create more inspired fruit pigmented® looks to match! Check back on our blog for more behind the scenes makeup guides!
*Custom neon pigments made for Miaou are not colored with fruit.
We carefully hand-select products based on strict purity standards, and only recommend products we feel meet this criteria. 100% PURE™ may earn a small commission for products purchased through affiliate links.
The information in this article is for educational use, and not intended to substitute professional medical advice, diagnosis, or treatment and should not be used as such.
Sign up to our email newsletter for more blog updates and exclusive discounts.
< Older Post | Newer Post >