How to Use Raw Cocoa Butter for Face and Hair
Key benefits of using raw cocoa butter for skin and hair
Posted on October 29, 2021
Written by: 100% PURE ®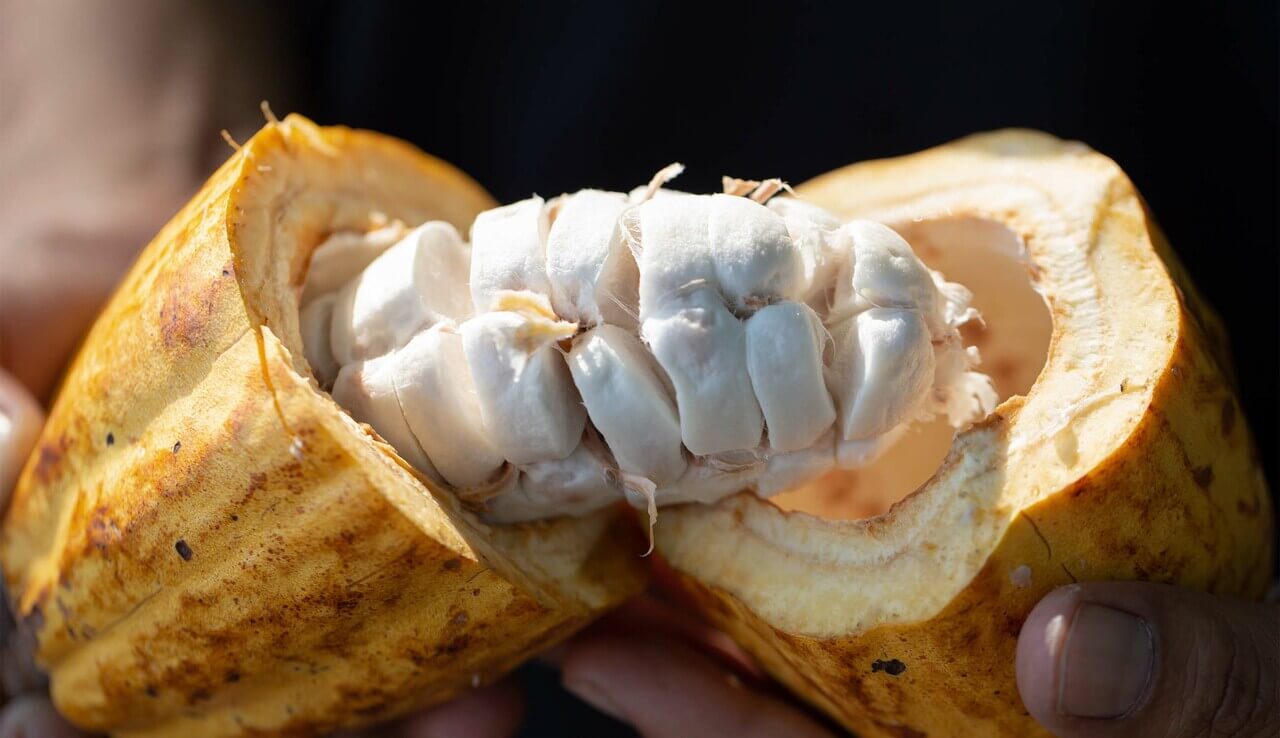 Cocoa butter is a staple ingredient in every piece of chocolate you've ever savored. It's also a buzzy ingredient in skin care. Yes, even chocolate has an important place in your beauty routine! Let's explore the benefits of raw cocoa butter for face and hair, and how you can use it in your daily regimen.
Cocoa Butter Benefits for Your Skin
The versatile beauty benefits of cocoa butter for face and hair might just make it your new coconut oil. Just like its closely related bean and powder sibling forms, raw cocoa butter is rich in natural fatty acids and antioxidants. This makes them loaded with prized benefits for your face, hair, and body!
Check out what it can do for you:
Anti-Aging Powerhouse
Cocoa butter contains high amounts of polyphenols. These types of antioxidants can help minimize signs of aging, like fine lines, dullness, and loss of elasticity.
Skin Soothing
Studies have shown that polyphenols can help soothe sensitive or inflamed skin that might be suffering from dermatitis, rashes, or irritation.
Sun Damage Defense
As a form of antioxidants, the polyphenols in cocoa butter help fight free radicals that contribute to early signs of aging, like dark spots and uneven skin tone.
Complexion Booster
Numerous vitamins and minerals can be found in cocoa butter. It contains vitamin E, vitamin K, copper, and iron. Iron is a great nutrient for a glowy complexion. Copper is stellar for promoting collagen and elastin for supple, bouncy skin!
Skin Moisturizing
Cocoa butter is high in fatty acids and deeply hydrates the skin. The fats in cocoa butter form a protective barrier to lock in moisture. It also contains oleic, palmitic, and stearic acids, all of which nourish the skin.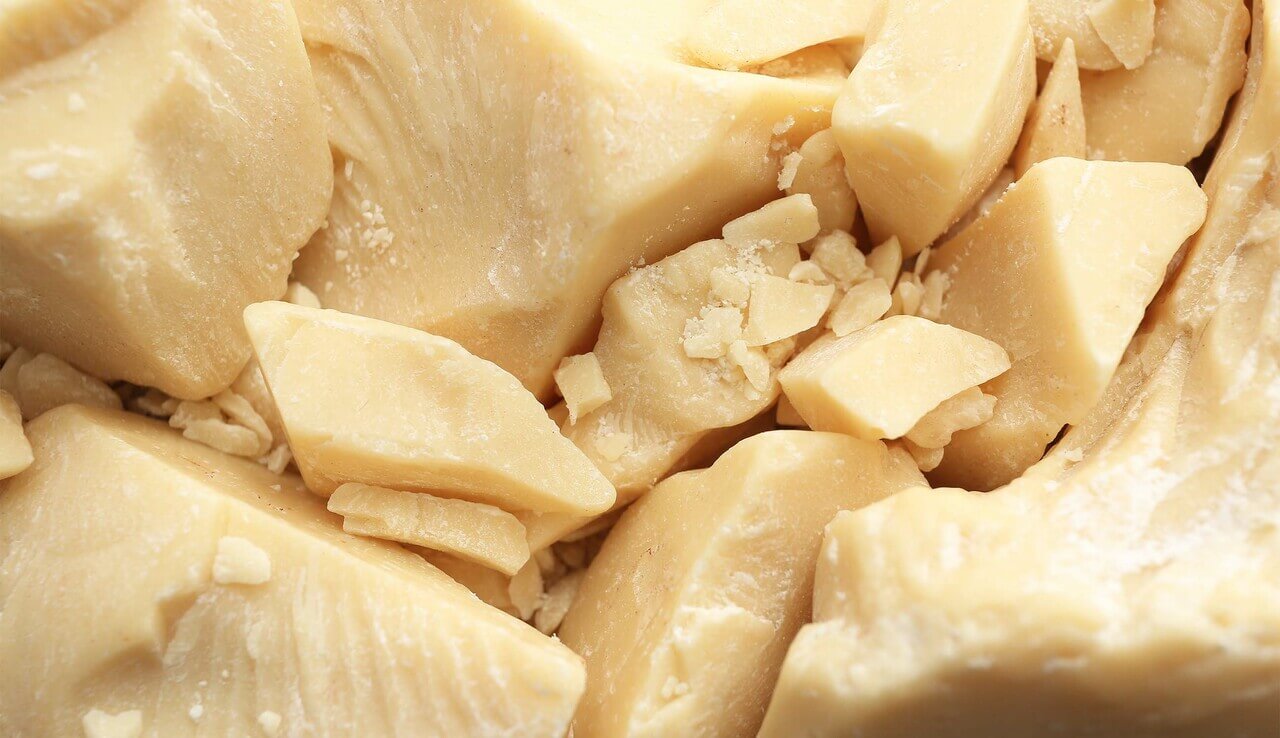 Cocoa Butter Benefits for Your Hair
The ways you can use raw cocoa butter are seemingly endless – and not just limited to food and your face! In fact, many might argue that cocoa butter can do it all, from head to toe. Let's explore the uses of this wonder ingredient for your hair.
Scalp Health
Cocoa butter deeply penetrates and nourishes the hair, while soothing and supporting scalp health. It won't weigh your hair down and helps maintain long-lasting hydration.
Treatment for Natural Hair
Using a scalp treatment with cocoa butter is especially nourishing for natural hair. It helps to maintain healthy oil production. This will help minimize dandruff and promote healthy hair growth.
Hair Conditioning Mask
As a humectant, cocoa butter has healing and softening properties that will make your hair happy and healthy. Strong follicles naturally lead to thicker, stronger hair.
Strand Strengthener
Raw cocoa butter can strengthen the hair shaft and prevent further hair damage. It will also help reduce hair fallout.
How to Find the Best Cocoa Butter
After being extracted from the cacao bean, raw cocoa butter has a characteristic pale yellow to light brownish color. And you can't miss its signature pleasant chocolate aroma! Choosing raw cocoa butter ensures that the most valuable and beneficial natural components of the butter are uncompromised.
Many conventional cocoa butter for face and hair products contain only a small amount of cocoa butter, along with other ingredients and additives. Be on the lookout and go for raw, which is 100 percent cocoa butter! The result is a completely pure and natural butter with very high quality and highly potent attributes.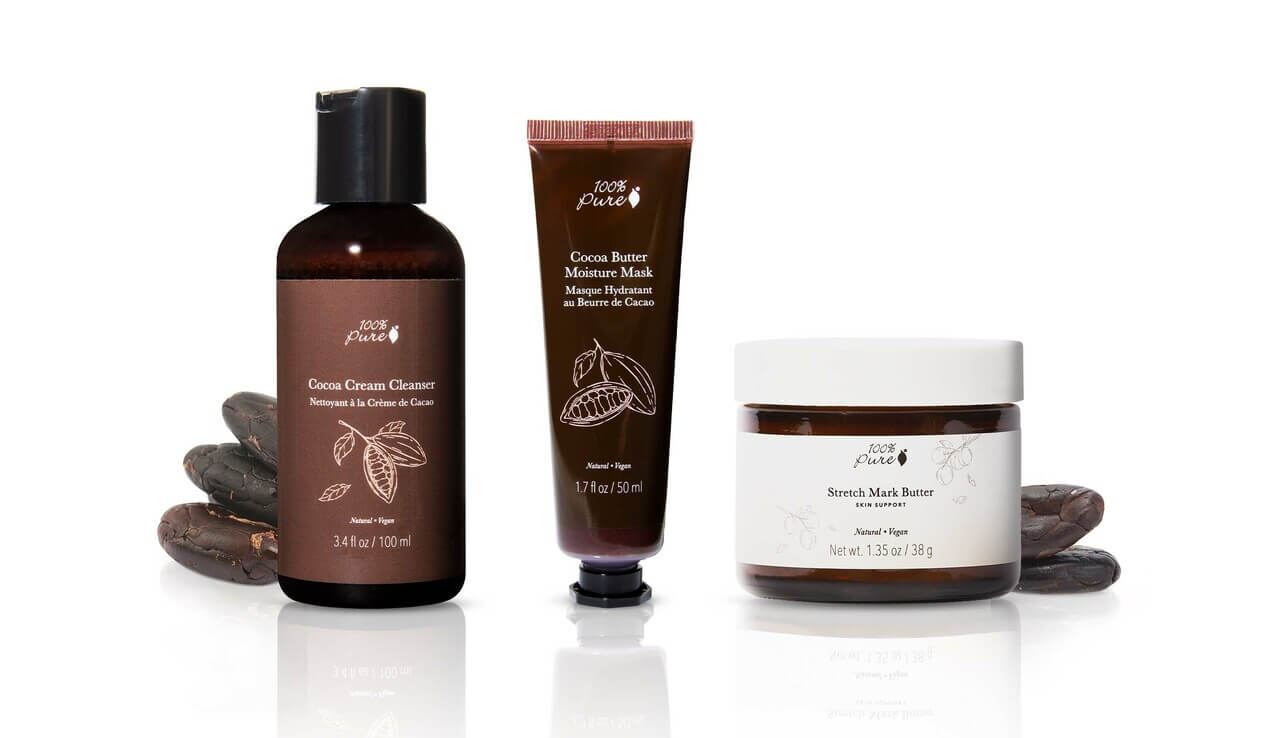 How to Use Raw Cocoa Butter for Your Face
There are many uses of this super ingredient – especially for the skin! Let's explore 3 ways you can use cocoa butter for your face and why it's a must-have for your beauty routine.
#1: Dry Patches
Cocoa butter contains copious amounts of vitamins and antioxidants, which makes it a no-brainer for many skin types, especially dry skin. If you're struggling with annoying dry patches or sun-damaged skin, our intensely nourishing Cocoa Butter Moisture Mask might be your new daily companion!
This deeply decadent, cocoa-infused mask is chock-full of skin-beneficial antioxidants, minerals, caffeine, and other phytochemicals for a vibrant, glowing complexion. It contains vitamin E and glycerin to nourish and smooth skin. This mask helps lessen the appearance of fine lines while enhancing youthful elasticity. It supports all skin types, especially dry or dehydrated skin.
If you're looking for a sweet match made in heaven, pair this mask with our Cocoa Cream Cleanser, which nourishes skin and lifts away impurities with a rich, chocolatey lather. We source the highest quality organic and fair trade Ecuadorian cacao, which contains beneficial tannins, flavonoids, and antioxidants.
The natural caffeine content in cacao offers anti-inflammatory benefits to reduce redness and promote healthy circulation for a soft, glowing complexion.
#2: Scars
Cocoa butter is a superior healer for common skin ailments like scars. Its high amount of fatty acids and antioxidants have excellent reparative functions for skin and might help smooth and minimize the appearance of scars.
#3: Stretch Marks
Many mamas believe that cocoa butter can help lessen stretch marks by boosting elasticity and replenishing essential hydration. Our Skin Support Stretch Mark Butter is the perfect go-to for the stretch mark struggle.
This butter is made with super rich ingredients to deeply nourish and support growing or shrinking skin. The moisturizing blend of shea and cocoa butters instantly soothes dry, itchy skin – a common symptom of stretch marks. It's also great for the face!
How to Use Raw Cocoa Butter for Your Hair
We've already explored cocoa butter's fantastic reputation for the face, so why stop with just putting it on your skin? Its healing and softening properties will make your hair happy and healthy! Let's check out 3 ways you can use cocoa butter for shiny strands.
#1: Treatment for Frizzy Hair
If you're fighting frizz, cocoa butter makes a stellar pomade for hair styling and smoothing flyaways. Mix a dime-sized amount with warm water and smooth away.
#2: Pre-Wash
Cocoa butter makes a wonderful pre-shower treatment. You can melt the butter, massage it into your hair and scalp, and leave it on for no longer than 10 minutes – before it starts to solidify. Then, shampoo as usual.
#3: Conditioning Treatment
Cocoa butter is super moisturizing and makes a wonderful conditioner. You can melt it and add it to your conditioner, or use it as a treatment for your ends.
A little cocoa butter goes a long way – so go with a dime-sized drop. Spread through the ends of your hair and leave on for 3 to 4 minutes.
There's so much more to be learned about the endless benefits of raw cocoa butter for your face and hair, but hopefully, we've started you on your journey! Your love for chocolate can now go hand in hand with this skin savior – now that's what we call a sweet deal!
We carefully hand-select products based on strict purity standards, and only recommend products we feel meet this criteria. 100% PURE™ may earn a small commission for products purchased through affiliate links.
The information in this article is for educational use, and not intended to substitute professional medical advice, diagnosis, or treatment and should not be used as such.
Sign up to our email newsletter for more blog updates and exclusive discounts.
< Older Post | Newer Post >