Best Products for Stopping Frizzy Hair from Humidity
What you can do to tame summer's frizzy hair
Posted on June 28, 2021
Written by: 100% PURE ®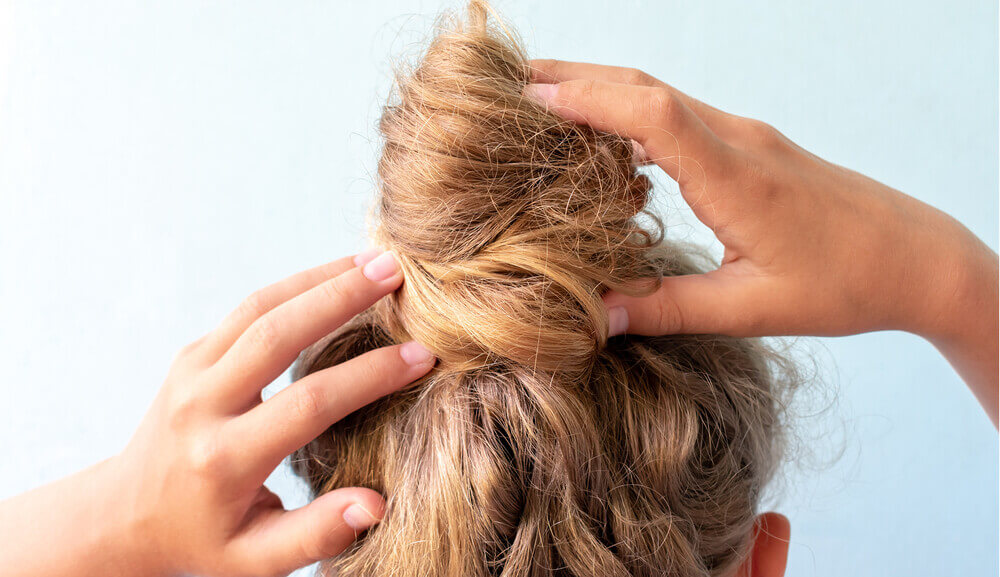 Big, bouncy, voluminous hair: we're all in. Big, frazzled, frizzy hair: no thanks!
When it comes to 'poofy' hair, our hair can have a mind of its own. Sometimes we can't figure out what's causing it to puff or frizz up – especially during a certain season. That's right: even the straightest, most tame hair types can suffer from poof and frizz in the summer.
But this summer, we're determined to find out how to stop hair from frizzing in humidity. And our search turned up some helpful hints! We're beating the heat and frizz with the best products for frizzy hair in humidity, without turning to heavy silicones or toxic ingredients.
Why Does Hair Get Frizzy in Humidity?
Our hair contains a certain amount of moisture and water in its strands. When the weather is humid, the water content of the air can become higher than ours. Because hair is porous, our strands start to absorb the water in the air then puff up, fall limp, or a combination of both.
Different types and textures of hair will react differently to humidity, too:
Fine Hair: Typically, fine hair will fall limp; so we'll see our curls go flat, or our blowout lose its body.
Straight Hair: Probably the most tolerant to humidity, straight hair will often become slightly limp and soggy in humidity. It may also experience some frizz depending on hair length and existing hair damage.
Wavy & Curly Hair: These types of hair often have a greater capacity for water retention; so rather than being weighed down, they'll actually swell or puff up and frizz.
Damaged Hair: Damaged hair of any type or texture is the most susceptible to frizz. When the hair becomes damaged it becomes more porous, so there are more openings for our hair to absorb water vapor from the air.
There are different types of humid climates, too. Cooler climates that experience humidity tend to be less harsh on the hair, causing some frizz and limpness. Warmer, tropical humidity is especially difficult on our hair, and when we'll most often turn to products that protect hair from humidity.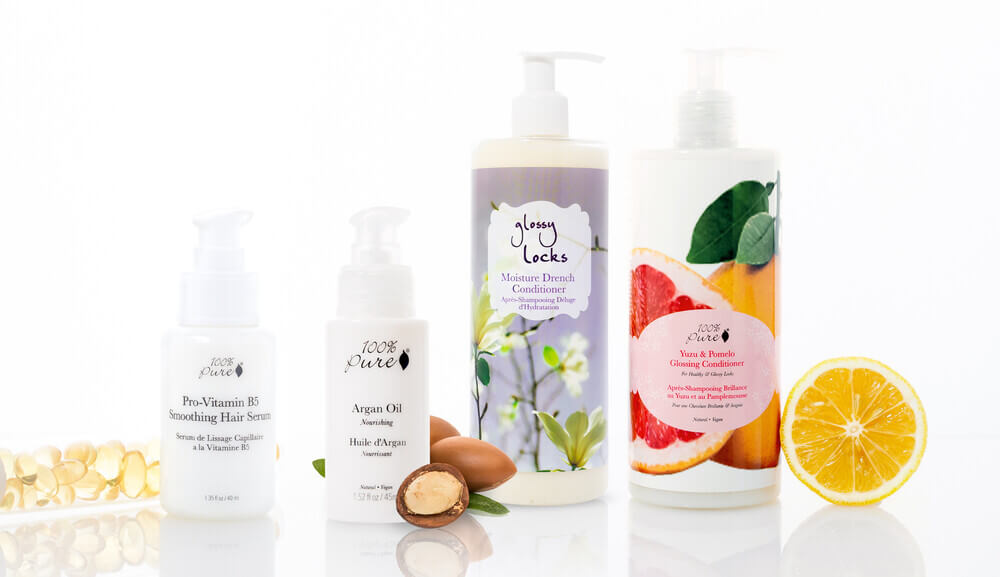 Frizz Management
If you're wondering how to keep hair from frizzing in humidity, it comes down to 5 simple tips (and techniques). We've incorporated these into our hair care routines, and found them to be helpful from pre-wash to styling.
Step 1: Sleep Care
In between washes, protect the hair from non-humidity-related frizz by wrapping it in a silk scarf or sleeping on a vegan silk or satin pillowcase at night.
Step 2: Pre-wash
Before washing the hair, consider a pre-wash deep conditioning treatment. This will give the hair time to absorb moisture, oil, and nutrients (and limit the space water vapor can move into when humidity is high). Before washing, we also believe in gently detangling the hair. This will remove knots that can cause tangles and more frizz.
Step 3: Shampoo
Any go-to wash routine should include conditioner – yes, even for fine hair types. When hair is lacking moisture it will seek it out from the environment, resulting in limp, frizzy locks. For fine and thinner hair, a lightweight shampoo and hydrating conditioner will set hair up for anti-humidity success.
Step 4: Hair Drying
Hair drying is critical, since most bath towels will cause major hair frizz if used to towel dry or towel wrap the hair. Opt for a microfiber cloth or cotton tee to squeeze out moisture and absorb water from freshly washed hair. Rather than rubbing the fabric against the hair, we employ a 'wrap and squeeze' method that doesn't create friction against the hair cuticle.
Step 5: Styling
Styling the hair when humidity is in the air can be tricky. Preserving our hair's moisture is the top priority, so it is best to avoid heat styling. If an iron or blow dryer is necessary, we always follow-up a wash routine with a leave-in. We suggest a hair serum that treats texture and humidity concerns. It should have good moisture and oil content that'll keep the hair as smooth as possible. Finish any style with an anti-humidity hair spray to really seal the deal.
Best Products for Frizzy Hair in Humidity
Okay okay, we do have one more secret: some hair products beat frizz better than others. We're dishing on keeping hair as smooth as silk (or at least, as smooth as possible) in relentless summer humidity and heat.
Yuzu & Pomelo Glossing Conditioner | 100% PURE
Achieve shiny, glossy hair with a combination of brightening citrus fruits and conditioning coconut oil. Lightweight, nutritious oils from flax and vitamin E fight damage and restore elasticity, while balancing herbs keep the scalp balanced and happy.
Moisture Drench Conditioner | 100% PURE
The more moisture we give our hair, the better – that's how to keep hair from frizzing in humidity. A conditioning and softening aloe juice base comes together with nutrient-rich seaweed collagen, biotin, and green tea included in this formula. Humidity doesn't stand a chance against moisturizing avocado butter and conditioning argan oil.
Milk Anti-Frizz Leave-In Nourishing Treatment | Reverie
A lightweight, intoxicating blend of wholesome nut oils helps to condition the hair and scalp with moisture that doesn't weigh the hair down. This well-balanced leave-in treatment imparts moisture, shine, and an exotic herbal scent.
Provitamin B5 Smoothing Hair Serum | 100% PURE
Our pre or post blow-out companion, strengthening wheat protein and vitamin B5 bolster the integrity of every strand. Scalp soothing lavender and coconut buff over dryness and split ends to seal in moisture; this is one of our holy grail hair products for humidity!
Argan Oil | 100% PURE
This simplistic alternative to a hair serum is especially beneficial for waves and curls smooth. Pure argan oil contributes enriching fatty acids to deeply restore the hair. While serums are the best products for frizzy hair in humidity, this organic oil can go above and beyond for all hair types.
Mermaid Hair Oil| Captain Blankenship
Make a splash with a tropical oil that promises the best beach hair ever. Kukui, argan, and jojoba give our mermaid manes all the vitamin E it needs to thrive. Rosemary and fir extracts achieve balance for hair that shines and goes with the flow.
We carefully hand-select products based on strict purity standards, and only recommend products we feel meet this criteria. 100% PURE™ may earn a small commission for products purchased through affiliate links.
The information in this article is for educational use, and not intended to substitute professional medical advice, diagnosis, or treatment and should not be used as such.
Sign up to our email newsletter for more blog updates and exclusive discounts.
< Older Post | Newer Post >