DIY: Rice Water Hair Rinse
An easy DIY that leaves hair super soft and shiny
Posted on October 19, 2021
Written by: 100% PURE ®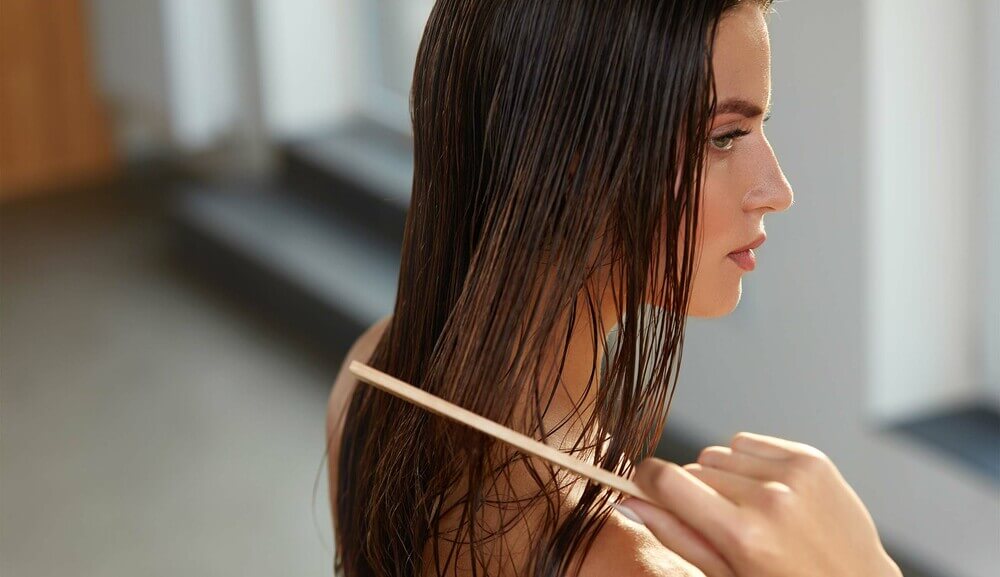 Want an almost free way to improve shine, length, and strength in hair? For that, we look no further than our cupboards. With a few minutes and a couple of ingredients, we can turn the plain, dry grains of rice in our pantry into fermented rice water for hair. Known to improve the hair's shine, as well as help with growth, rice water is an established Japanese and Southeast Asian technique for improving hair health.
Benefits of Fermented Rice Water for Hair
Rice seems like such a simple ingredient, but this tiny grain is a powerhouse of vitamins and minerals that our strands are happy to put to work.
Some frequently asked questions are: Does rice water really make hair grow? What does rice water do for the hair? First, we'll review some of the nutrition stats:
Vitamin A: helps regulate sebum production for a well-moisturized scalp. Also promotes hair growth and strength.
B Vitamins: helps keep circulation and oxygen supply functioning for a healthy scalp. Plus, B-vitamin biotin promotes growth and strength.
Vitamin C: helps create and maintain protein and collagen for strong strands and improved growth.
Vitamin E: helps with the strength and elasticity of hair as well as moisture and scalp circulation.
Magnesium: improves hair health overall.
Amino Acids: support circulation, oxygenation, collagen, and elasticity.
There are always trendy DIYs that pick up in popularity, but don't seem to deliver on results. But rice water isn't a trend – it's a technique that's been used for generations, and its track record speaks for itself.
So, what's the big deal with fermented rice water for hair? How is fermented rice water different from regular rice water? We like to think of fermented rice water as rice water's big sister: she's more independent, wiser, and has a little more perfection to her practice.
Enhances the shine of the hair, instantly bringing luster back to color-treated or heat-damaged hair types.

Smooths the hair cuticle, resulting in softer, smoother locks and diminished tangling.

Just as vitamin-rich as rice water, but even more enhanced. The minerals and nutrients in fermented rice water are ideal for not only improving hair but really repairing hair damage.

Addresses hair concerns like lack of growth, slow growth, and hair fallout. Because of the minerals that fermented rice water contains, it helps to boost hair proteins and replenish keratin to slow damage and encourage growth.

We don't often discuss hair pH, but it is a very important aspect of how healthy our hair looks and feels. Fermented rice water helps to balance the hair's pH, which seals nutrients into the cuticle, enhances shine, and diminishes frizz and brittleness. Over time, this helps to diminish breakage and improve hair strength.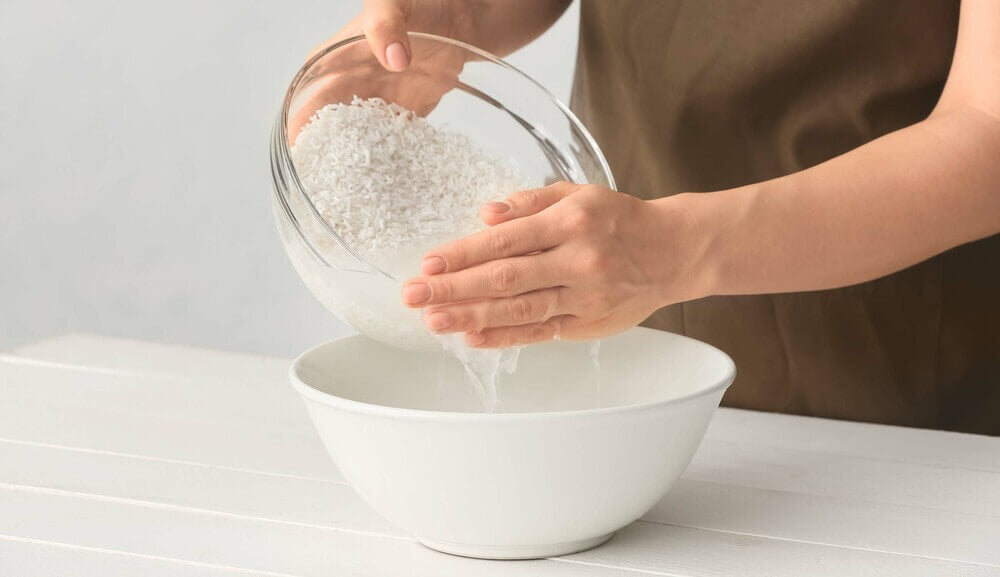 Quick & Easy DIY Fermented Rice Water for Hair
You know we love a good beauty DIY. We've got a super simple 2-ingredient fermented rice water recipe for your hair. It takes just a minute or two to make, and can be used for days! Here's how we do it:
Ingredients:
1 tablespoon rice

1 cup water

Optional: floral essential oils like lavender or rose, rosemary for calming the scalp and assisting with growth, or fruit zest for fresh fragrance
For the first step, we need a resealable container. This will be important for allowing our rice water to process and ferment. It also comes in handy for reusing any excess rice water.

Next, we'll want to rinse the rice in cold water. This removes dust and dirt and allows the rice water to be as pure as possible.

From there, we'll strain the rice and add our equal parts rice and room temperature water to a bowl or container. We'll leave this alone to extract the nutrients from the rice into the water. At minimum, this should take half an hour.

Once we notice cloudiness forming in the water and feel a silky slip to the liquid, we'll know the water is ready. For traditional rice water, we'd stop here and strain the rice grains out to immediately use the water. This can be transferred into a jar or spray bottle for easy application. Keep this refrigerated and reuse it for up to 3 days.

For times when we want to DIY fermented rice water for hair instead, we need to allow the water to process for 12+ hours at least. When we revisit our concoction in the morning (or evening), it just needs to be strained and transferred as well, then refrigerated and used within 3 days.
PRO TIP: For those adding essential oils or fruit zest, drop it in and shake gently or stir just after the final strain when transferring the rice water into the reusable container.
This DIY takes less than 5 minutes, and can be made in an even larger batch for all the beauty lovers on the premises. Since it is super easy to make and store, we make it throughout the week and incorporate it into our regular routine below!
Rice Water, the Hair Routine
Now that we know how to make our own fermented rice water for hair, how do we use it? We always want to start with a good deep clean. We usually opt for an herbal-enhanced formula that revitalizes our scalp and clears follicles. For many of us that have struggled with fallout or lack of growth, scalp buildup is a silent enemy.
Rice water treatment works best when we allow them some processing time. We usually apply it by spraying from roots to ends or dunking our hair into a bowl of it after shampooing and conditioning. Here are a few duos that complement the benefits of rice water:
Once we've washed and conditioned, we'll lightly coat the hair and then clip it out of the way to soak in the nutrients for at least 5 minutes, or until no longer dripping wet. To help seal in the benefits, we finish up with a super chill water rinse which preserves the softness and shine. This routine can be done twice a week for aggressive improvements, or once weekly for a beneficial hair boost.
Fermented rice water can have a bit of a sour scent. So if you prefer, you can add in an essential oil or fruit zest for a sensory boost.
Rosemary helps fight hair loss, so those wanting extra hair growth may want to add rosemary essential oil to the mix.

Lavender and rose are extra soothing and offer aromatherapeutic benefits. Rose will help with itch and dandruff and may even help stabilize hair porosity. Try out lavender for extra conditioning.

Peppermint helps to increase circulation, which improves scalp health. It also has a delightful cooling feeling, and the potent scent helps to neutralize the scent of the rice water.

Feel free to add zest of lemon, lime, or orange peel as options to enhance this hair care DIY.
We carefully hand-select products based on strict purity standards, and only recommend products we feel meet this criteria. 100% PURE™ may earn a small commission for products purchased through affiliate links.
The information in this article is for educational use, and not intended to substitute professional medical advice, diagnosis, or treatment and should not be used as such.
Sign up to our email newsletter for more blog updates and exclusive discounts.
< Older Post | Newer Post >