6 Reasons to Use Lavender Oil for Skin
How it's made, how it benefits your skin, and how to start using it in your routine
Posted on September 25, 2022
Written by: 100% PURE ®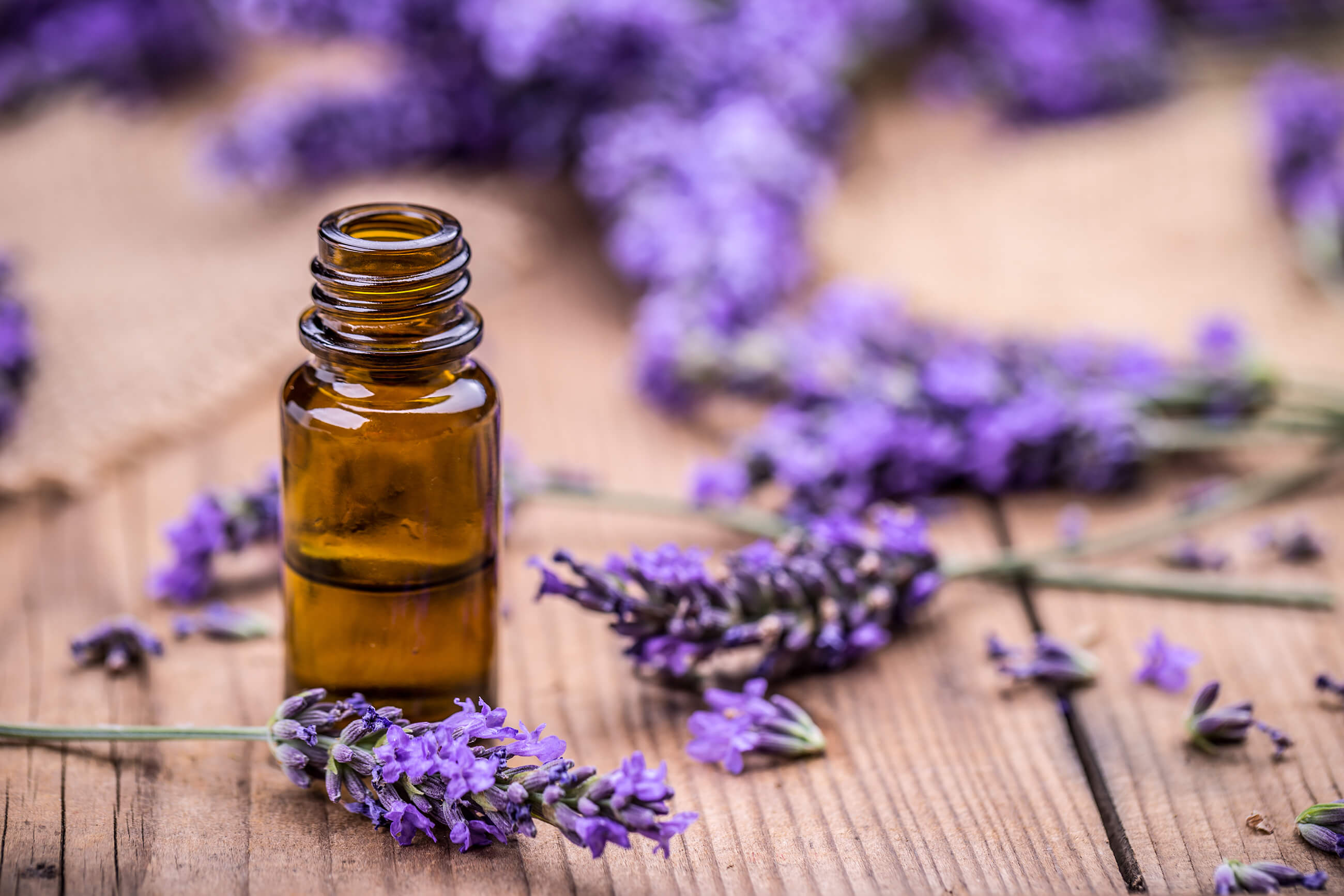 Gone are the days when lavender was nothing more than grandma's secret weapon for freshening up the powder room. From milk tea to marshmallows, cleansers to masks, it's safe to say that this singular purple bloom is bigger than ever – and has been hailed a hero in the skin care world.
For those weighing the pros and cons of adding lavender oil to your beauty arsenal, we're here to make your decision easy. We'll give you the details about what makes this flower unique, and how to use its benefits for a clear, calm complexion.
An Introduction to Lavender Flower
This legendary botanical belongs to the mint family, but its taste and aroma are wholly unique. The strong, crisp scent profile has been described as a mix of mint and rosemary with a sweet, floral twist. It's long history as a beauty and medical treatment suggests that lavender oil is far more than just a pretty plant.
Lavandula angustifolia has long been enjoyed in its oil form for its lavish scent and healing effects. Queen Elizabeth loved using lavender as a perfume, and even added it to her tea. Victorian ladies loved using lavender oil as perfumes, and it was even used as an antiseptic in the First World War.
Today, we celebrate lavender oil as a means to fight headaches, reduce stress, and even keep bugs at bay (bye bye, mothballs)! We adore the benefits of lavender oil for skin, and take any chance we can get to slip it into our beauty routines.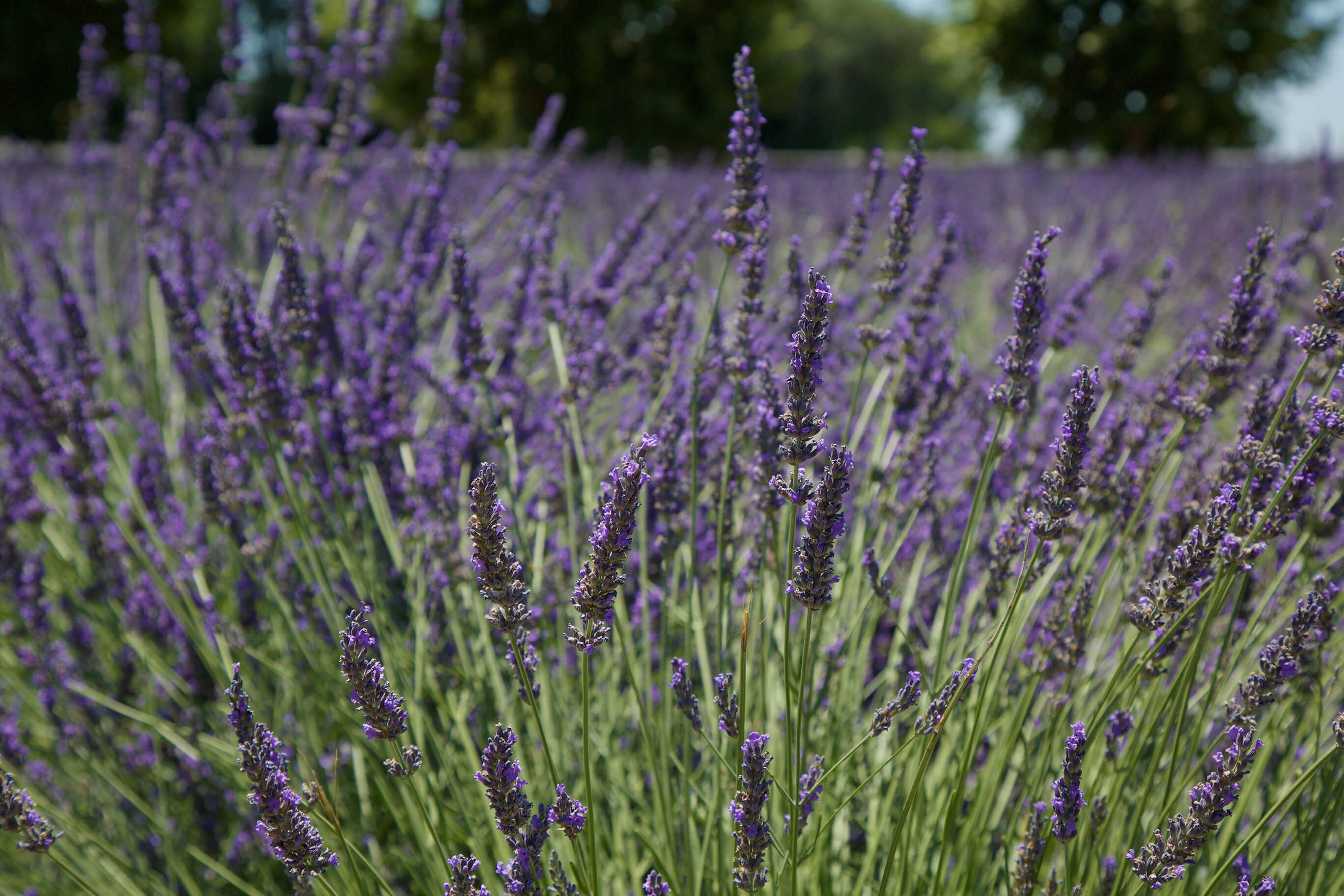 How Is Lavender Essential Oil Made?
Needless to say, lavender oil has always been a favorite among essential oil lovers. But how exactly do those flowers transform into their well used oil form?
Lavender is usually hand harvested from the fields. The flowers are tied together in bunches and laid out to dry for several weeks. This is to prevent the oil from going rancid, and the buds are more easily removed from the stems when they are dry.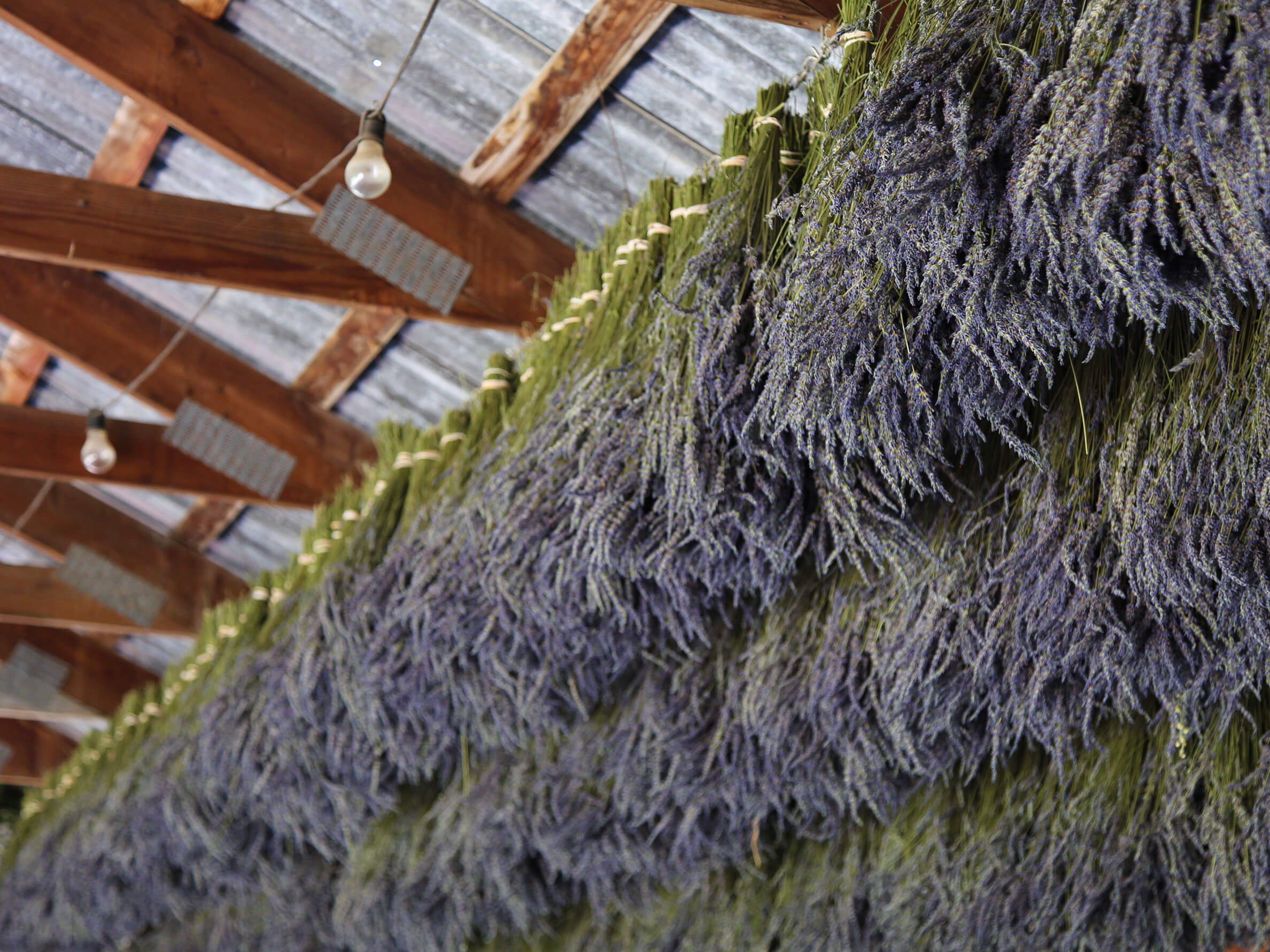 Once the flowers are sufficiently dried, it's time to begin steam distillation. Steam distillation ensures you get the most benefits from lavender, without being contaminated by acetone or hexane used in solvent extraction methods.
During distillation, lavender buds are placed above boiling water, and as the boiling water gently steams the lavender, the high pressure and heat push oil out of the flowers. The steam carries the mixture of steam and oil to a condenser – this is where it's cooled and turns back into a liquid. The steam becomes a hydrosol, and precious drops of lavender oil are naturally separated.
6 Benefits of Lavender Oil for Skin
With skin care entering the self care realm, and more of us who are enjoying a 10 step Korean skin care routine more as pamper time rather than a chore, lavender oil for skin is a match made in heaven. Lavender oil not only boosts potent anti-inflammatory properties, but is also ultra soothing for skin with a therapeutic scent. Here are all the ways to use lavender oil for skin.
1. Fights Acne
Yes, it makes perfect sense to use an oil to fight acne. Acne often flares up when your skin does not have enough oil. Dry skin can start to overproduce sebum (your skin's natural oil) to compensate, leading to clogged pores and acne formation. Lavender oil gently moisturizes skin, and is non-comedogenic for pores.
Lavender oil is naturally antibacterial, meaning that it kills acne-causing bacteria that might infiltrate your pores. This makes the purple flower perfect for preventing, calming, and healing painful acne breakouts.
Who said that full coverage makeup has to clog pores? We included antiseptic lavender oil in our BB Cream and Long Last Concealer, for full coverage that leaves skin refreshed and soothed. Combine them with a targeted acne treatment plan infused with tea tree or witch hazel for a one-two punch at acne.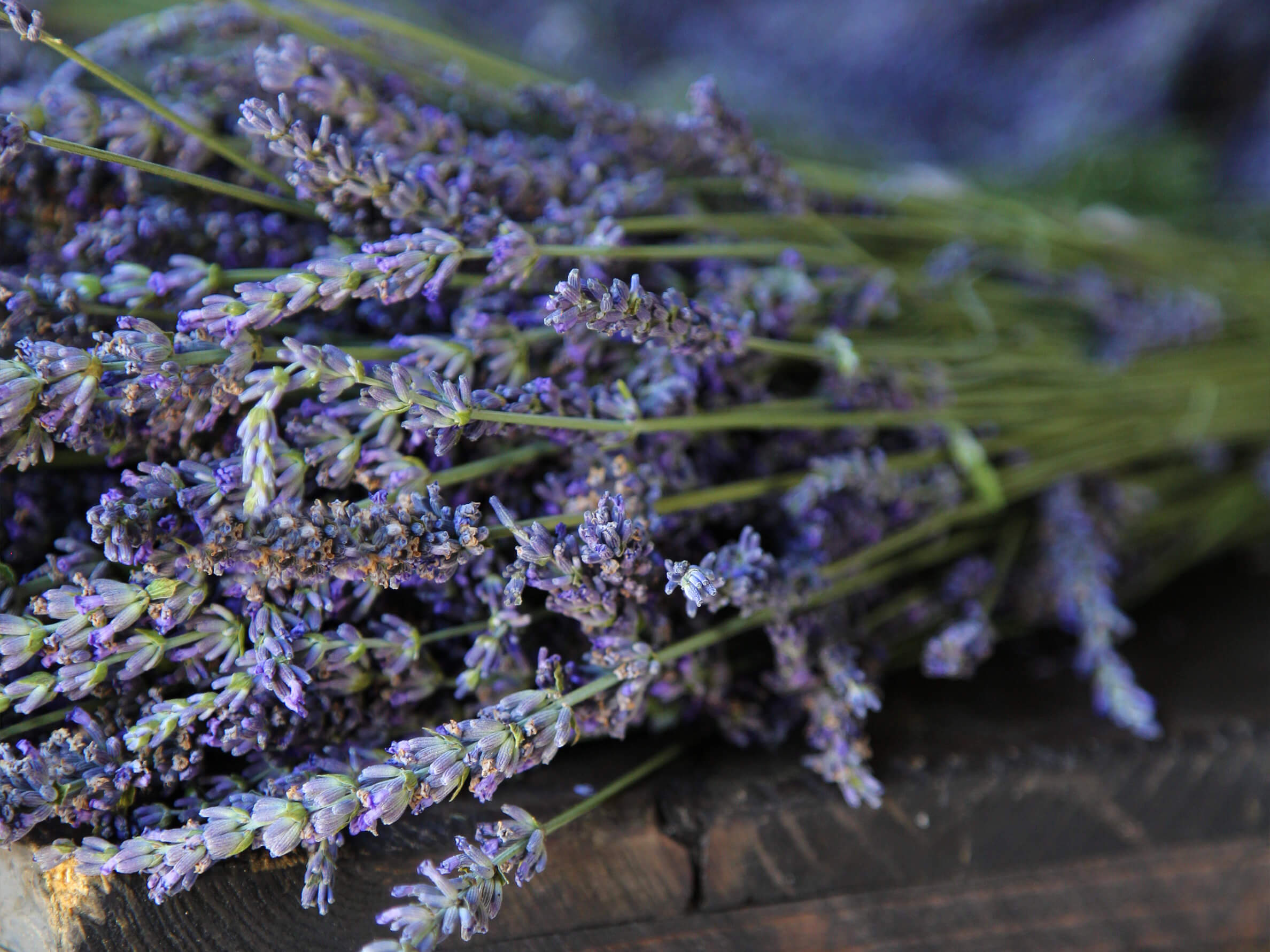 2. Soothes Eczema and Dry Skin Conditions
If you've been itching away at dry skin patches with no hope in sight, turn to lavender oil for some much needed relief. As we mentioned, lavender oil does a stellar job at balancing your skin's moisture barrier, so that it isn't too oily or too dry. Massage some french lavender lotion all over, or a lavender body butter onto extra dry areas to promote soft, itch-free skin.
For skin on your face, warm the rich Intensive Nourishing Balm between fingers and dab it onto extra dry, flakey patches of skin for instant smoothness. For everyday defense against dryness, apply the Intensive Nourishing Facial Oil after your daily moisturizer. Both formulas are infused with lavender oil to calm and balance your skin.
3. Anti-inflammatory Superstar
The effects of lavender are known far and wide for managing stress and reducing anxiety. Not surprisingly, it offers the same calming benefits for your skin. You can use calming lavender oil for skin to help reduce redness, blotchy patches, and acne scarring. Lavender oil's anti-inflammatory properties make it great for soothing and healing skin that's irritated or reddened from the sun, insect bites, or bacteria.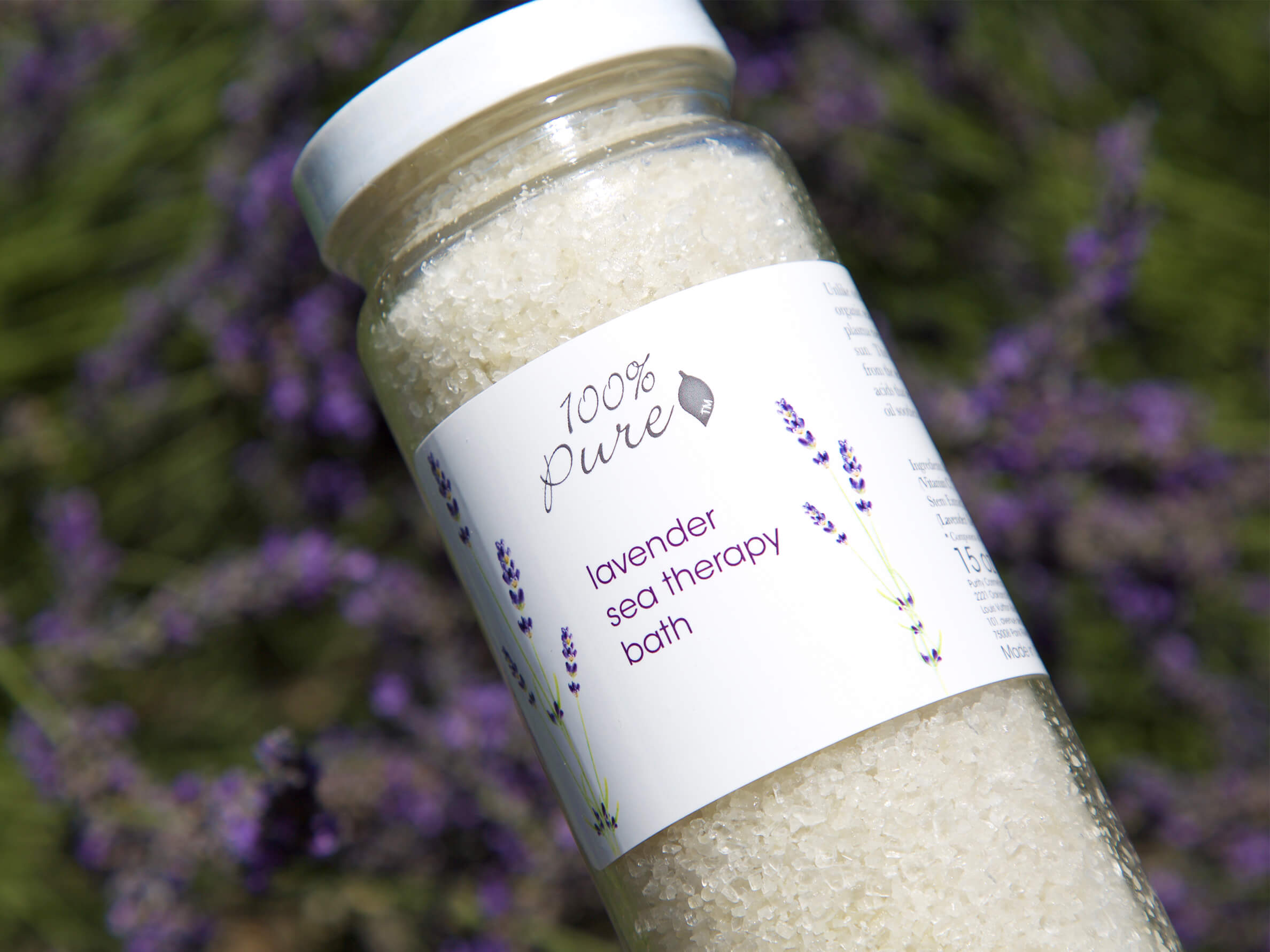 4. Detoxifies Skin
With an eye on lavender's incredible aromatherapeutic resume, we've enlisted this essential oil for the bathtub, too. The Lavender Sea Therapy Bath combines lavender oil with nourishing crystallized kelp for a spa worthy self-care experience at home. These bath salts deeply detoxify to purge harmful toxins from the skin, while promoting tension-release for sore muscles and a tired mind.
No time for a bath? Tote along our French Lavender Shower Gel in the shower for super cleansed and nourished skin, thanks to a concentrated blend of healing herbs, soothing aloe and rose flower water, all rounded out by the dreamy scent of lavender oil.
5. Heals Injured Skin
The ancient Greeks used lavender oil to clean wounds, heal burns, and treat other skin injuries. Its antiseptic properties also help skin to heal faster, while fighting and preventing further infection.
Washing hardworking hands with a lavender-infused soap is a great way to maintain healthy skin without irritating minor cuts and abrasions. The Lavender Butter Soap is made with a rich coconut oil base, formulated with lavender and rosehip oil to leave hands super smooth.
6. Helps Prevent Wrinkles
Lavender oil is a potent source of antioxidants and other beneficial phytochemicals, making it useful for battling signs of premature aging. Antioxidants fight free radical damage, which is caused by environmental stressors like UV rays and pollution.
Supplementing your skin care regimen with antioxidants is an easy way to help protect against wrinkles, fine lines, and dark age spots. Give skin a dose of anti-aging botanicals with the refreshing Lavender Oat Milk powder cleanser, the purifying Lavender Niacinamide Pore Minimizer Tonique, the moisture-rich Lavender Tonique, and replenish thirsty skin with the Hydra Drench Cream.
The benefits of lavender oil for skin are seemingly endless – making it one of the easiest ingredients to add to your routine. For a deeper dive into the magic of this lovely bloom, check out our feature on the benefits of lavender for mind, body, and beauty. This flower isn't the only plant hero with serious beauty benefits – check out our full list of the best essential oils for your skin!
We carefully hand-select products based on strict purity standards, and only recommend products we feel meet this criteria. 100% PURE™ may earn a small commission for products purchased through affiliate links.
The information in this article is for educational use, and not intended to substitute professional medical advice, diagnosis, or treatment and should not be used as such.
Sign up to our email newsletter for more blog updates and exclusive discounts.
< Older Post | Newer Post >