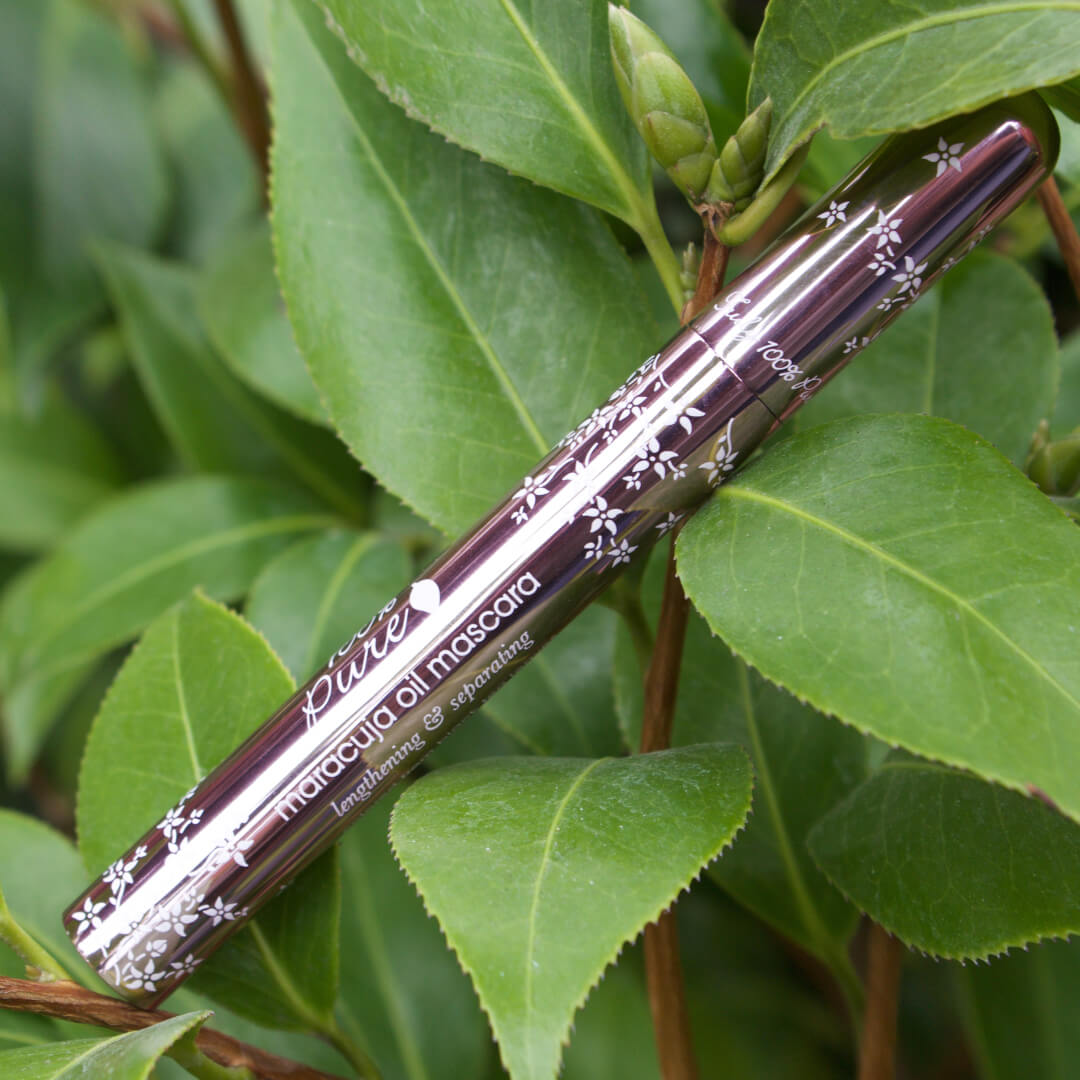 It's the item in our makeup bag that we use without really thinking about it - just whip out that wand, take a swipe, and voilà! But if you wield your mascara with a little more care - and this handy primer - you can dramatically change your look in the blink of an eye.
Whether you want to keep up with runway trends - like the clumpy, Twiggy-inspired lashes we started seeing everywhere (last spring) - or stay in step with a more natural approach to your face, here's everything you need to know about what mascara can do for you:
---
Trendsetter
Runway trends come and go, but whenever you hear about a look - from the smoky eye to "no make-up" makeup - remember that the un-sung, invisible hero is almost always mascara. That's because this heavy-hitter is the most familiar piece of makeup in our arsenal - and its iconic power is often overshadowed (pun intended!) by more dramatic eye makeup. But change the way you apply mascara - yes, there's more than one way! - and you can completely transform your look. Not sure what we mean? Let's take a few off-the-runway trends and break it down:
---
Drama Mama
We're talking va-va-voom volume, those mysterious clumpy lashes making a comeback, and even the colored mascaras sneaking back into style. Take a look at these pics of Kate Mara and Jennifer Lawrence rocking a smoky eye over at Marie Claire. Sure there's plenty of priming and blending with neutral shadows to help define and diffuse the glam. But, according to Giorgio Armani makeup artist André Drykin, the look would be incomplete without two - count em, two - coats of volumizing mascara. And while the whole world - okay, just pop culture - might be obsessing of the 80s and 90s, the 70s are making a big-time comeback in the makeup world. The iconic look brought to you from the world's very first super model - Twiggy - clumpy mascara is in with a vengeance on the runways. Over at The Cut, Kathleen Hou muses about the Jason Wu show that embraced this lash throwback that some viewers found strange, unkempt, or just plain ugly. Instead, Hu thinks this trend might be more about juxtaposition - and rebellion. "[Sometimes], when you least expect it, the runway can subvert your previously held notions of what is beautiful, making you reevaluate things you've always believed," writes Hu. "That subversion can be as minor as making you love clumpy lashes, but it can be as major and sweeping as the move toward celebrating natural hair and individual beauty." Intrigued? Mastering these otherworldly lashes is as simple as finding the right wand - and switching up your application. "Apply the first coat normally by holding the wand horizontally and combing it through," explains makeup artist Nick Barose at Harper's Bazaar, "then turn it vertically and use the tip of the brush to push the mascara on the tips of lashes and group them together." If you draw the line at a vertical brushstroke - sorry, Twiggy - tinted mascara might give you the drama you're looking for - without any of the potential mess. "Pick a mascara that contrasts your eye color. [If it's] too similar, it won't pop as much," suggests Barose. His pairings? Emerald green makes blue or brown eyes pop, while cobalt blue does a number on hazel. Plum mascara is the stand-out neutral.
---
Go Au Naturel
Of course, in the makeup world au naturel never really means au naturel - unless you're these models from Gucci, who really did forego mascara on the fall runway last year. But if dramatic lashes aren't your cup of tea, toned-down mascara can still help polish your look with color and definition. Bonus: subtle makeup is making a comeback, so you're right on trend. Experiment with tinted lash primers, brown mascara, or even clear mascara that can lift and curl lashes away from the eye for added dimension with minimal fuss. Check out Vogue UK's quest to find the perfect everyday mascara for more inspiration - all the looks they discuss embody the "natural" fresh face you've been curious about.
---
Know Your Lashes
We're totally used to thinking about matching our foundation to our skin type and tone - if you're prone to breakouts, you'd never by a rich, heavy cream foundation! - but here's betting few of us actually consider what kind of lashes we bat. But the better you get to know your lashes, the more effective your next mascara-buying spree will be. Believe it or not, not all mascaras will look good on you - that's because each formula is made with a different need in mind. Here's the down and dirty on which mascara will work best with your lash type:
---
Lengthening
"Lengthening mascaras...work on both short and full lashes, and help to elongate and separate," celebrity makeup artist Marni Burton told Refinery29. From our catalog: Go bold with our Fruit Pigmented Ultra Lengthening Mascara in Blackberry. The deep purple hue should complement most skin types, while the luxurious formula lengthens, separates, and conditions lashes Vitamins E and B5.
---
Volumizing
Designed for ladies with thin lashes, "[volumizing] mascaras often contain silicone and/or minerals — which plump and nourish the lashes — and tend to dry faster, allowing you to build multi-layer volume more quickly," explains Wendy Rose Gould at Refinery29.   From our catalog: Our Maracuja Mascara in Black Tea gives your lashes great volume and drama while holding your curl. With nourishing maracuja oil and pro-vitamin B5, your lashes will stay long, luxurious, and conditioned no matter how many coats you apply.
---
Curling
Give your lashes major curl with a formula designed to lift, separate, and sweep straight lashes upward. "Curling-mascara formulas use supple waxes to soften the lashes, and shape them to have a curved dimension," said Burton. Once you've found the right formula for your lashes, don't just swipe on a coat and walk out the door. Get ready to master the wiggle. "I wiggle [the wand] at the roots," explains makeup artist Julie Harris. "Then, as I sweep upward to the end of the lash, I blink, so it forces the brush to comb every lash." The wiggle helps to separate your lashes, prevent clumping, and give you major definition. Try it out and tell us how it works!  
---
Mix it Up
Of course, if you need more than one kind of mascara to unlock the look of your dreams, that's not unusual. "Mascara cocktails" blend the power of multiple lash formulas - say lengthening and curling - into one delicious result. "Combine a lengthening lash-enhancer with a thickening formulation, or top a defining mascara with a curling one," suggests Jessica Cruel at PopSugar. Learn more about which formula combinations work best at Birchbox.
---
Beauty Toolbox
As much as we love mascara - and boy, do we ever - our go-to makeup-of-choice looks even more fabulous when paired with the right tools. First up? The beauty staple that looks most like a medieval torture device: a lash curler. "Lash curlers flip the lashes upward, and allow more light to hit the iris of the eye, so the overall effect is that eyes appear larger and brighter," makeup artist Troy Surratt explained to Refinery29. "If you wake up feeling like you could use two extra hours of sleep, use a lash curler." So that's how the professionals do it. In addition to a lash curler and a killer mascara, invest in a primer that helps strengthen and condition lashes, and a fan brush to maximize volume and get rid of gaps. Now any look you choose - whether it's full-on drama or everyday subtle - will brighten your eye area and make your lashes appear even longer and more luxurious. While the rest of the world flips over red lips and teal eyeliner, we all know the true star of any put-together face. Armed with the knowledge of our favorite beauty bloggers and makeup artists, go on and show  'em why mascara's the queen of your makeup bag. Do you have a mascara formula you swear by? Tell us which products flip your lid - and your lashes - in the comments below:
We carefully hand-select products based on strict purity standards, and only recommend products we feel meet this criteria. 100% PURE™ may earn a small commission for products purchased through affiliate links.
The information in this article is for educational use, and not intended to substitute professional medical advice, diagnosis, or treatment and should not be used as such.
Sign up to our email newsletter for more blog updates and exclusive discounts.
< Older Post | Newer Post >