4 Benefits of a Serum Foundation
For featherlight feel and impeccable coverage
Posted on August 6, 2021
Written by: 100% PURE ®
When it comes to makeup, few steps are as nuanced as foundation. Not only are there a ton of brands and foundation types to choose from, but foundation needs are unique for each individual. Some want full-coverage, while others love a lighter formula to keep skin texture looking more natural.
No matter your foundation preference, we can all agree that we want our makeup to look seamless – while improving the appearance of texture and tone, of course.
To showcase the innate beauty of your skin while perfecting your complexion, dip your toe into the world of serum foundation!
What Is Serum Foundation?
Serum foundations are emulsions of oil or silicone, which help them attain that characteristic weightlessness associated with a facial serum. In our commitment to clean and non-toxic ingredients, we ditched the silicones and created our Fruit Pigmented® 2nd Skin Foundation with olive squalene.
Olive squalane is a non-comedogenic emollient derived from olive oil, but it's quite different from any kind of oil. Squalanes are thoroughly hydrogenated, making them infinitely more stable while improving their shelf quality in products.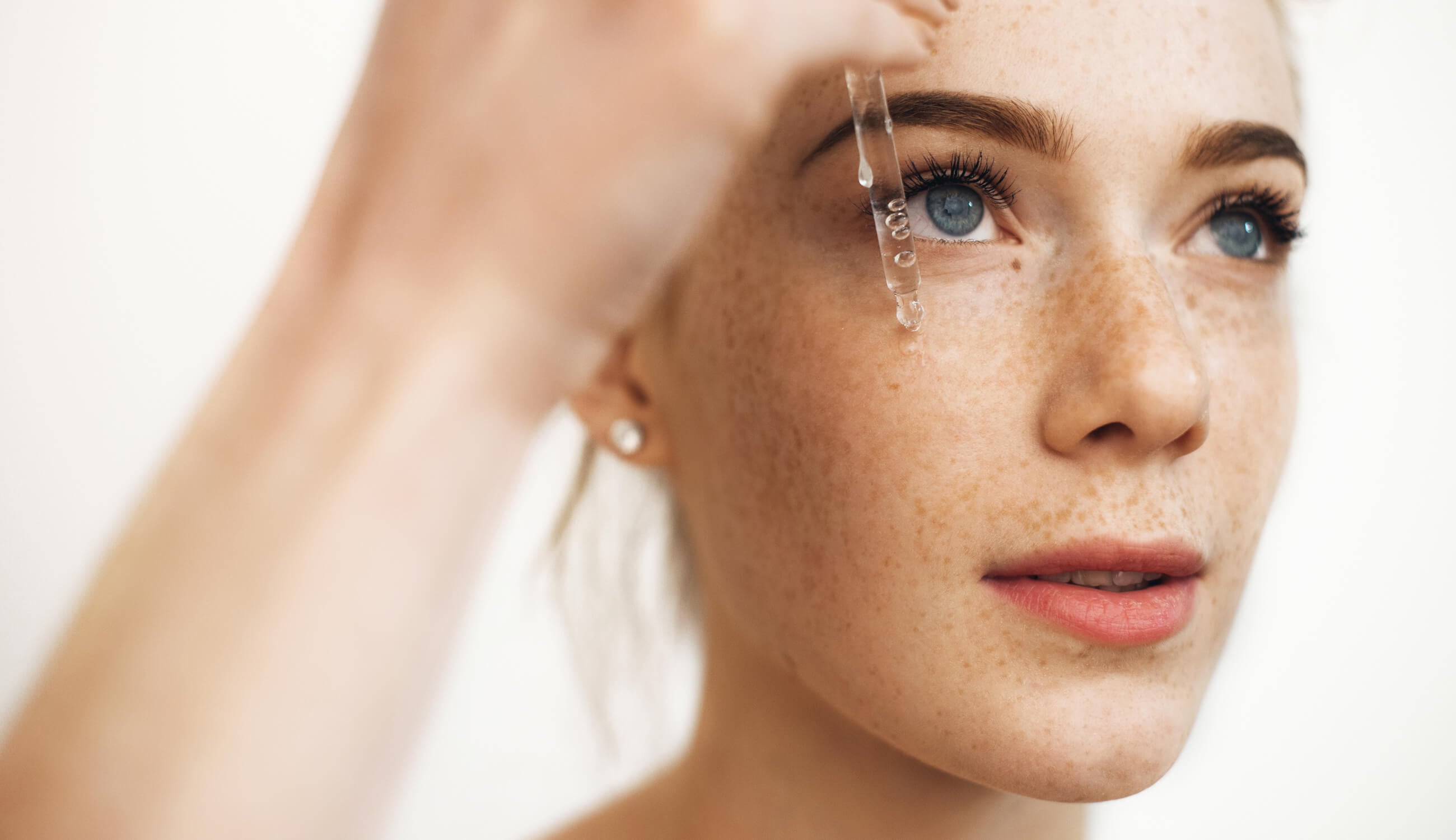 Squalane acts similar to squalene, which is one of the main components in sebum: the natural oil created by our sebaceous glands to lubricate and moisturize the skin. In this way, you see how olive squalane helps create that "second skin" effect!
Another noteworthy thing about olive squalane is that while it's still hydrating like most vegetable oils, it doesn't have their fatty chains of triglycerides. As a result, it is significantly more lightweight and easier for the skin to absorb – meaning less pore clogging and more efficient moisturization.
Olive squalane delivers that same lightness to our 2nd Skin serum foundation. While squalane can help reintroduce water and moisture to the skin, you won't have to worry about this serum foundation leaving an unwanted oily residue.
Plus, if you've used silicone-based serum foundation before, you may be all-too familiar with the streaky spreadability and pore-clogging side effects. We find that this isn't so true when we use olive squalane as our base ingredient, because olive squalane makes the whole formula silkier and smoother.
4 Serum Foundation Benefits
Now that we've closely examined the ins and outs of serum foundations, let's gush about how they work to keep your skin looking radiant! Here are 4 major benefits of using a serum foundation:
#1: Minimizes your morning beauty routine
When getting ready for the day, it's important to moisturize and add SPF; for those with a hectic schedule, multitasking products are key. Serum foundations are often formulated to provide the skin with anti-aging benefits and moisturizing properties, while some types even offer SPF protection.
#2: Flawlessly Blends with Skin
If you've struggled with finding the right coverage in the past, you're not alone. Full-coverage foundations can make dry skin types appear older or roughly textured, while tinted moisturizers may not provide oily skin with enough coverage to last all day.
Serum foundation could be considered a happy medium for all skin types because it provides medium coverage with a light, airy texture. This allows the formula to adhere to the skin, while also mimicking your skin's natural appearance and texture.
#3: Offers Anti-Aging Benefits
Serum foundations are often formulated with anti-aging ingredients like resveratrol, which is a powerful antioxidant found in red wine. Resveratrol can help reduce appearances of redness in the skin, while lessening the appearance of sun damage.
Another great anti-aging ingredient found in some serum foundations is bamboo silica, which can help support collagen production while promoting a soft, seamless glow. It's a featured ingredient in our Fruit Pigmented® 2nd Skin Foundation, helping to add a hint of velvety softness for a satin finish.
#4: Buildable Application
Serum foundation's application may be a bit different from traditional foundations: for starters, you may have noticed that most are packaged in a glass bottle or jar with a traditional serum dropper.
While it may seem a little 'extra' to those used to basic foundation pumps, those who enjoy full control over coverage will rejoice. The supplied dropper (also called a 'pipette') offers users an extra degree of control, appealing to the highly buildable nature of serum foundation.
Thanks to that ultra featherlight texture and extra element of application control, it's a lot harder to get a cakey or clumpy finish. So those looking for your perfect spring-to-summer formula: serum foundation is the perfect beauty base for summer!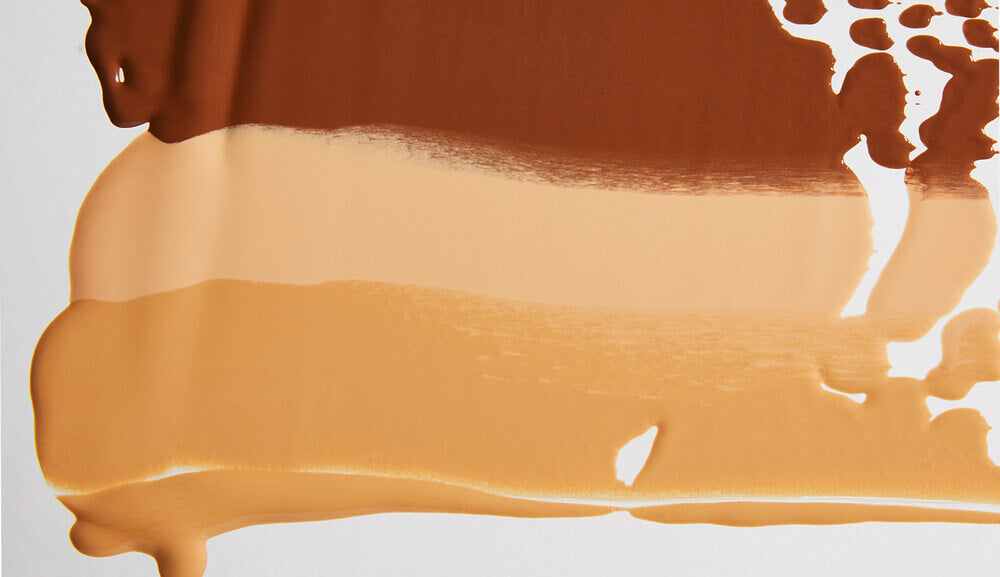 More Serum Foundations We Love
Needless to say, we're pretty proud of our 2nd Skin Foundation. But if you're looking to experiment, there are plenty of options to try!
The following are some of our favorite serum foundations, created by clean beauty brands with a passion for non-toxic, high performance ingredients.
Ilia Super Serum Skin Tint SPF 40 Foundation
Vegan, Cruelty-Free, Fragrance-Free, Gluten-Free, Wide Shade Range, SPF 40
When you see how plump, dewy and fresh it makes your skin look, it's no surprise that Ilia's Skin Tint's become a cult favorite. With a squalane-based formula, this spreadable serum foundation blends effortlessly into the skin for a flawless, yet undeniably natural skin texture. Plus, it includes skin-loving ingredients we adore: niacinamide to keep sebum in check, and hyaluronic acid to plump the skin and lock in hydration.
Kjaer Weis Invisible Touch Liquid Foundation
Vegan, Organic, Cruelty-Free, Gluten-Free, Wide Shade Range
Skin care and makeup truly come together in this weightless, nourishing serum foundation. The Invisible Touch Liquid Foundation blurs fine lines & blemishes while evening out skin tone, all the while creating a natural, light-to-medium coverage with a healthy, radiant glow. With beloved natural ingredients like hyaluronic acid and rosehip oil, Kjaer Weiss takes on their own unique spin with botanicals like dioscorea batatas (or Root of Light), spilanthes acmella, and mimosa flower.
HAN Serum CC with SPF 30+
Vegan, Cruelty-Free, Gluten-Free, Alcohol-Free, Soy-Free, SPF 30+
This serum foundation is not only nourishing to skin, it's incredibly versatile! HAN's Serum CC is a unique hybrid of serum foundation, which works to smooth out texture, and CC cream, which color corrects to blur imperfections. And with light, nourishing oils like rosehip and jojoba, this formula is hydrating but never greasy, and utilizes a texture that works for all skin types.
Juice Beauty Phyto-Pigments Flawless Serum Foundation
Vegan, Cruelty-Free, Fragrance-Free
If you're looking for a little more coverage, Juice Beauty's Phyto Pigments Flawless Serum Foundation is the perfect choice! We love this serum foundation not only because it provides flawless coverage, but because organic aloe vera is the very first ingredient, so you know it's hydrating. This serum foundation is also chock-full of organic ingredients, and loaded with antioxidants like vitamins C and E.
Typology Tinted Serum
Vegan, Cruelty-Free, Fragrance-Free
Typology is a Parisian B corp company on a mission to take the guesswork out of skin care, so you know their serum foundation is something your skin's going to like. With their philosophy that skin care comes first, this serum foundation is first and foremost a serum, which is loaded with squalane for a skin-like finish, aloe vera for hydration, and vitamin C for brightness.
PRO TIP: Interested in serum foundation, but not in spending more money? Make one from a foundation you already have!
Take a small amount of your current go-to liquid foundation (a dime-sized amount should work), and add a few drops of facial oil. We recommend lightweight oils with lots of antioxidants, like rosehip, marula, and argan. Alternatively, you can also try adding a special formulation like our Intensive Nourishing Oil.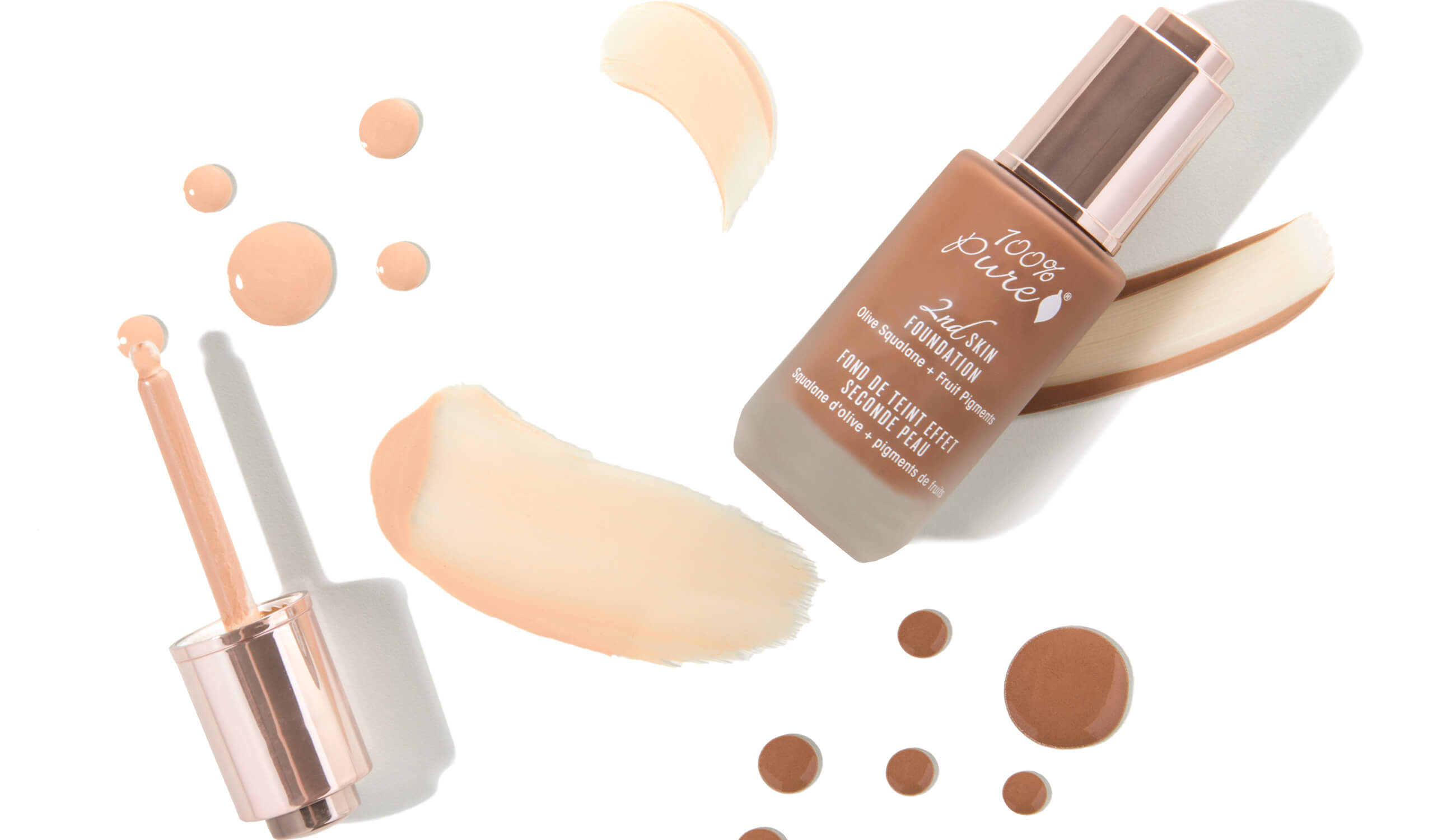 How to Apply Serum Foundation
Serum-like foundations are designed to provide a velvety finish, without looking heavy or cakey.
However, because of their unique texture, you may experience a learning curve when first applying any serum foundation.
We recommend using a clean Non Latex Makeup Blender that's been dampened and then squeezed to prevent dripping. A teardrop sponge will seamlessly blend foundation – whether liquid or cream – onto the canvas of your face.
Using the serum pipette, drop 2nd Skin Foundation onto the forehead, cheeks, nose, and chin. Blend outwards using your makeup sponge for a seamless satin finish. For areas that require full coverage, wait 30 seconds before applying a second layer.
PRO TIP: To address dark spots or blemishes, pair your serum-like foundation with a concealer or color corrector that looks and feels like a second skin.
We carefully hand-select products based on strict purity standards, and only recommend products we feel meet this criteria. 100% PURE™ may earn a small commission for products purchased through affiliate links.
The information in this article is for educational use, and not intended to substitute professional medical advice, diagnosis, or treatment and should not be used as such.
Sign up to our email newsletter for more blog updates and exclusive discounts.
< Older Post | Newer Post >