Concealer that Looks and Feels like a Second Skin
Say goodbye to cakey concealer woes with the Fruit Pigmented® 2nd Skin Concealer.
Posted on April 15, 2018
Written by: 100% PURE®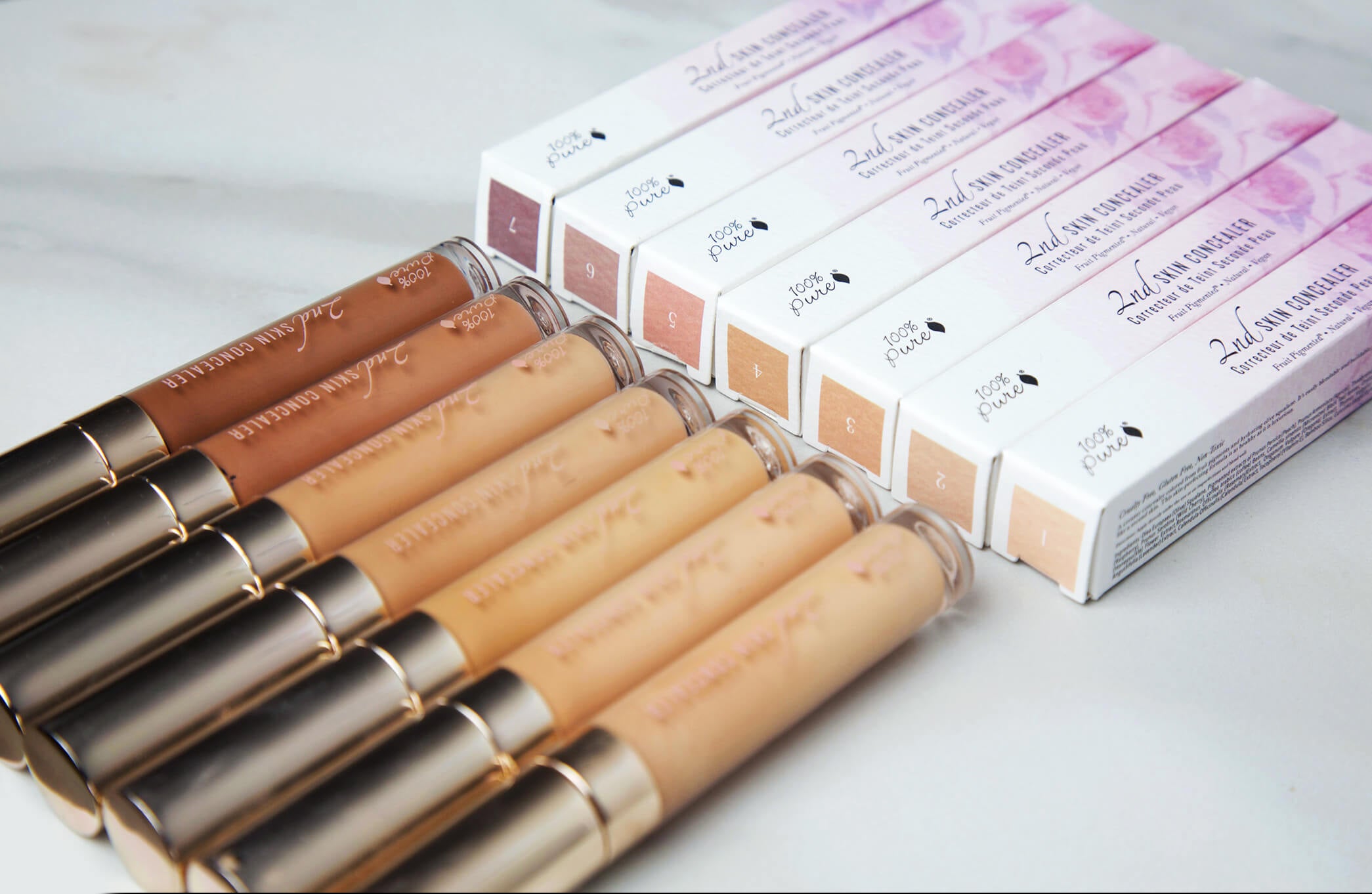 We all have those off days. Whether it's staying up too late and missing a few hours of beauty sleep, or getting a breakout from all that stress, there's one makeup product that you'll always cling to: concealer! Wouldn't it be nice to have a concealer that actually looks natural and not caked on - or how about like you have a second layer of flawless skin? We're a step ahead of you right there. Keep on scrolling to learn why you need a concealer, and discover the nourishing ingredient that makes Fruit Pigmented® 2nd Skin Concealer our best selling concealer.
What's the Difference Between Concealer and Foundation?
Foundation and concealer are both forms of face coverage makeup. You might wonder: Why do I still need concealer if I use foundation? Or vice versa. Foundation is used to even out your skin tone to create a smooth, uniform canvas for makeup application. It's applied all over your face to enhance your natural skin tone (we do that with the power of fruit pigments!) and give you a desired finish of your choice: matte, satin, or dewy. Foundation also offers different levels of coverage, from sheer to full coverage. These options will all help guide you on choosing the best natural foundation for your skin.
On the other hand, a concealer is often slightly creamier, thicker and more pigmented than a foundation. That makes it a great option for concealing dark eye circles, dark spots, acne scars, and blemishes. While foundation creates a flawless base, concealer is used for spot treatment on top of that. Ideally, both are used (unless your face is blemish free) to create the most natural coverage and finish.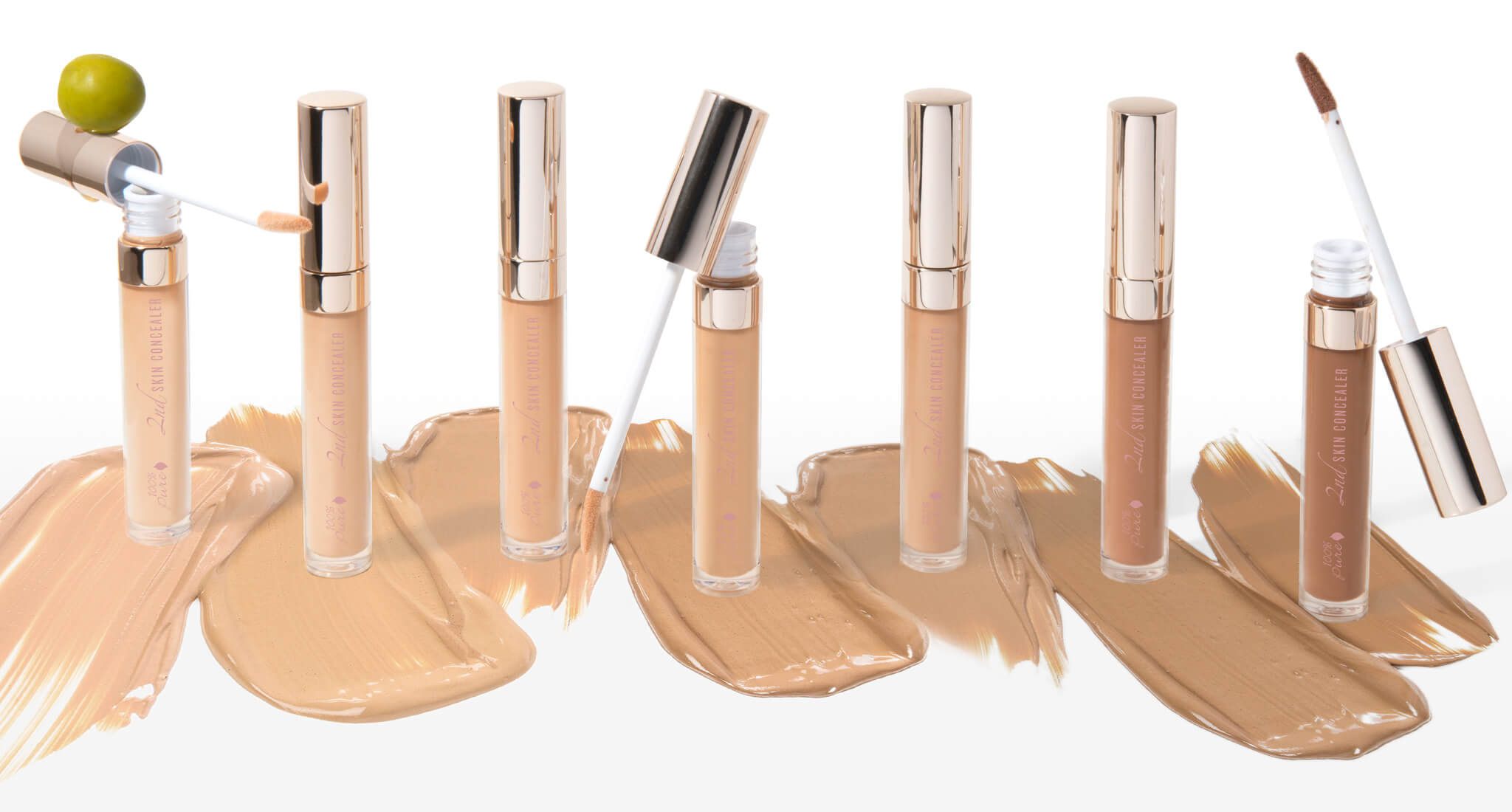 Applying concealer can be pretty tricky and nerve wracking. We've all struggled with a concealer that cakes on, making your eye bags look even heavier than in the first place. Or maybe it refuses to blend, and you're left with patchy blobs all over your face. Even worse is if your concealer creases, making you look like you have wrinkles where you really don't!
Fortunately with the natural ingredients and a safe formulating process, we've created a concealer that ticks off all the right checkboxes. That's right, our Fruit Pigmented® 2nd Skin Concealer comes with even coverage and a natural finish. The formula is easily blendable and buildable, but you won't have to worry about caking or creasing thanks to olive squalane (more on that below). Use on top of an acne healing treatment so your self esteem doesn't have to take a blow while you wait for those pesky pimples to disappear. All in all, it performs flawlessly as a concealer that looks and feels like a second skin (hence the name!), without any of the harmful chemicals in makeup that do damage to your precious epidermis instead.
We've skipped out on synthetic dyes and iron oxides for our 2nd Skin Concealer, and used skin nourishing fruit pigments instead. Peach pigments provides a natural skin-tone color, along with other antioxidant rich fruits like apricot, pomegranate, raspberry and wild cherry. Olive squalane is the star ingredient here (more on that below!) that makes this formula feel and look like a second skin. Turmeric extract works to fight inflammation for more even skin tone and also naturally brightens skin, making this concealer ideal for brightening dark eye circles. Vitamin E restores and protects your skin, making our formula healthier to wear than not (yes, your skin needs vitamins too!).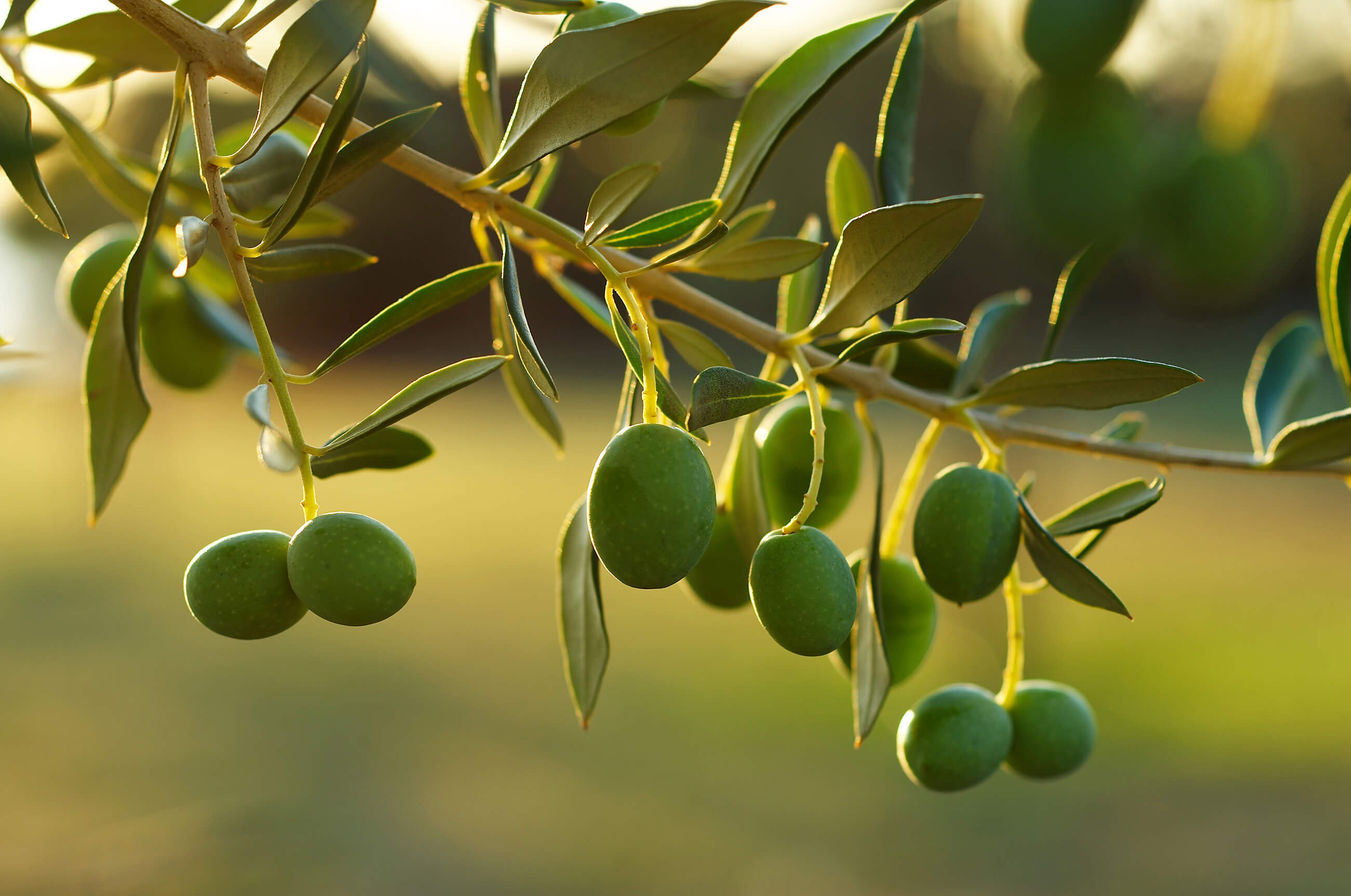 What's Olive Squalane
Olive squalane is the superstar ingredient that gave our Fruit Pigmented® 2nd Skin Concealer its name. Your skin actually naturally produces this lipid to prevent moisture loss for more supple, elastic skin, making it an ideal skin care ingredient. Squalane is also found in other plants and animals. That's why you need to pay close attention to where your squalane comes from! Squalene from shark livers is hydrogenated to produce squalane. But why endanger this beautiful species when you can obtain the same nourishing ingredient from a plant source instead?
Thanks to olive derived squalane, our 2nd Skin Concealer remains vegan and cruelty free. Because of how similar in composition it is to our skin's natural sebum, olive squalane is easily absorbed by our skin. That means it softens and moisturizes skin without being greasy, and is light and gentle enough for any skin type. The intensely hydrating olive squalane allows our concealer to not just provide even coverage, but also brighten, soothe and heal all those blemishes.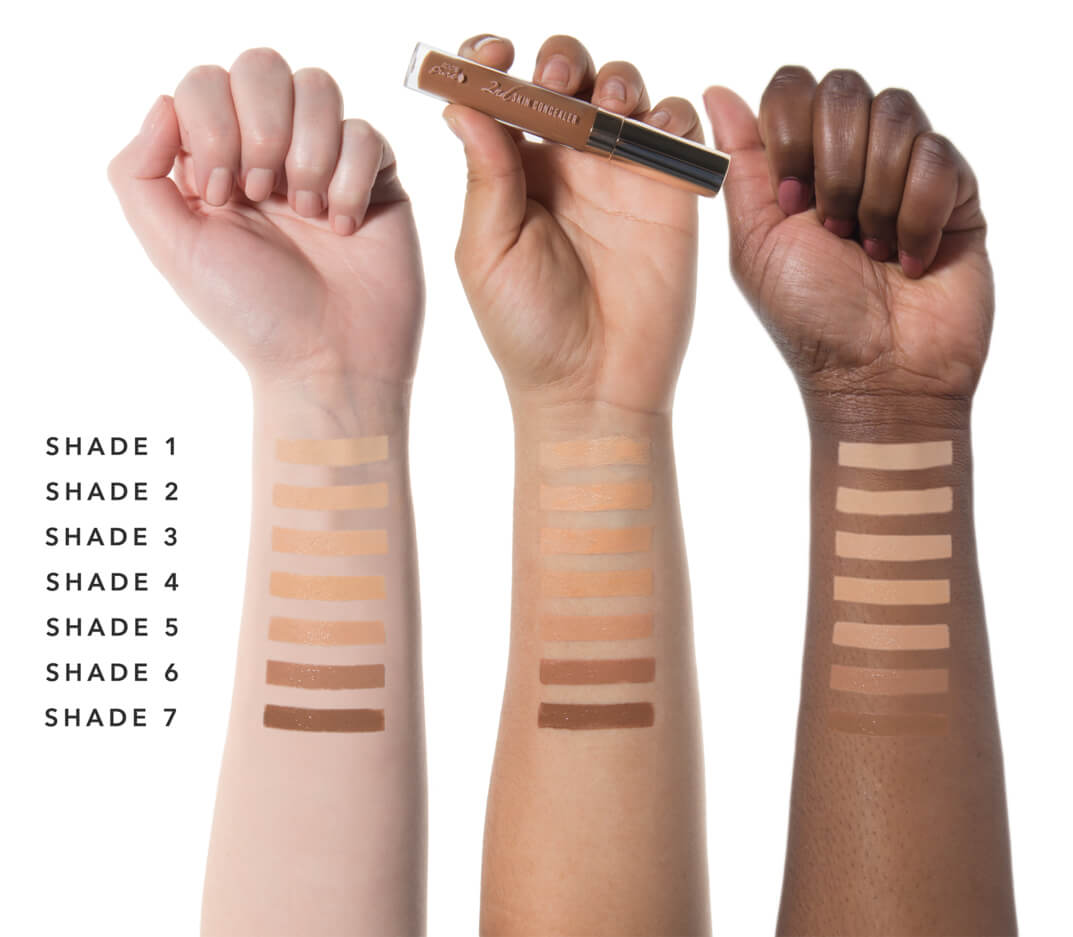 2nd Skin Concealer Swatches
Skin Type: Normal
Coverage: Medium to Full
Finish: Satin
Shade Range: 7
Cruelty Free: Yes
Vegan: Yes
What Fans Are Saying About Fruit Pigmented® 2nd Skin Concealer
★
★
★
★
★
Awesome weightless coverage
I love this concealer! I dislike heavy foundation and concealer because it usually breaks my skin out. This blends so easily and feels really lightweight but has great coverage.
- Carmen, Verified Buyer of Fruit Pigmented® 2nd Skin Concealer
★
★
★
★
★
No more bags!
Dark eyes is my biggest struggle. This does the trick. I don't feel cakie or weighed down. My eyes are brighter and I look younger. Highly recommend.
- Sarah I., Verified Buyer of Fruit Pigmented® 2nd Skin Concealer
★
★
★
★
★
Great Coverage
Wonderful! I'm a mom of two, the youngest is still an infant, so I have pretty dark circles under my eyes from being very short on sleep these days. This concealer does a great job covering up that area, does not bother my sensitive skin, and makes me feel good about using awesome ingredients. I usually only use powder makeup, but I'm very happy using this liquid, it doesn't feel like I'm overdoing my makeup at all, I still have a very natural look, while hiding my sleep-deprived skin.
- Meghan C., Verified Buyer of Fruit Pigmented® 2nd Skin Concealer
We carefully hand-select products based on strict purity standards, and only recommend products we feel meet this criteria. 100% PURE™ may earn a small commission for products purchased through affiliate links.
The information in this article is for educational use, and not intended to substitute professional medical advice, diagnosis, or treatment and should not be used as such.
Sign up to our email newsletter for more blog updates and exclusive discounts.
< Older Post | Newer Post >