Nude Makeup - Get the Look!
We're here to revamp what you think about neutral tones with this nude makeup look that will blow you away.
Posted on March 1, 2018
Written by: 100% PURE®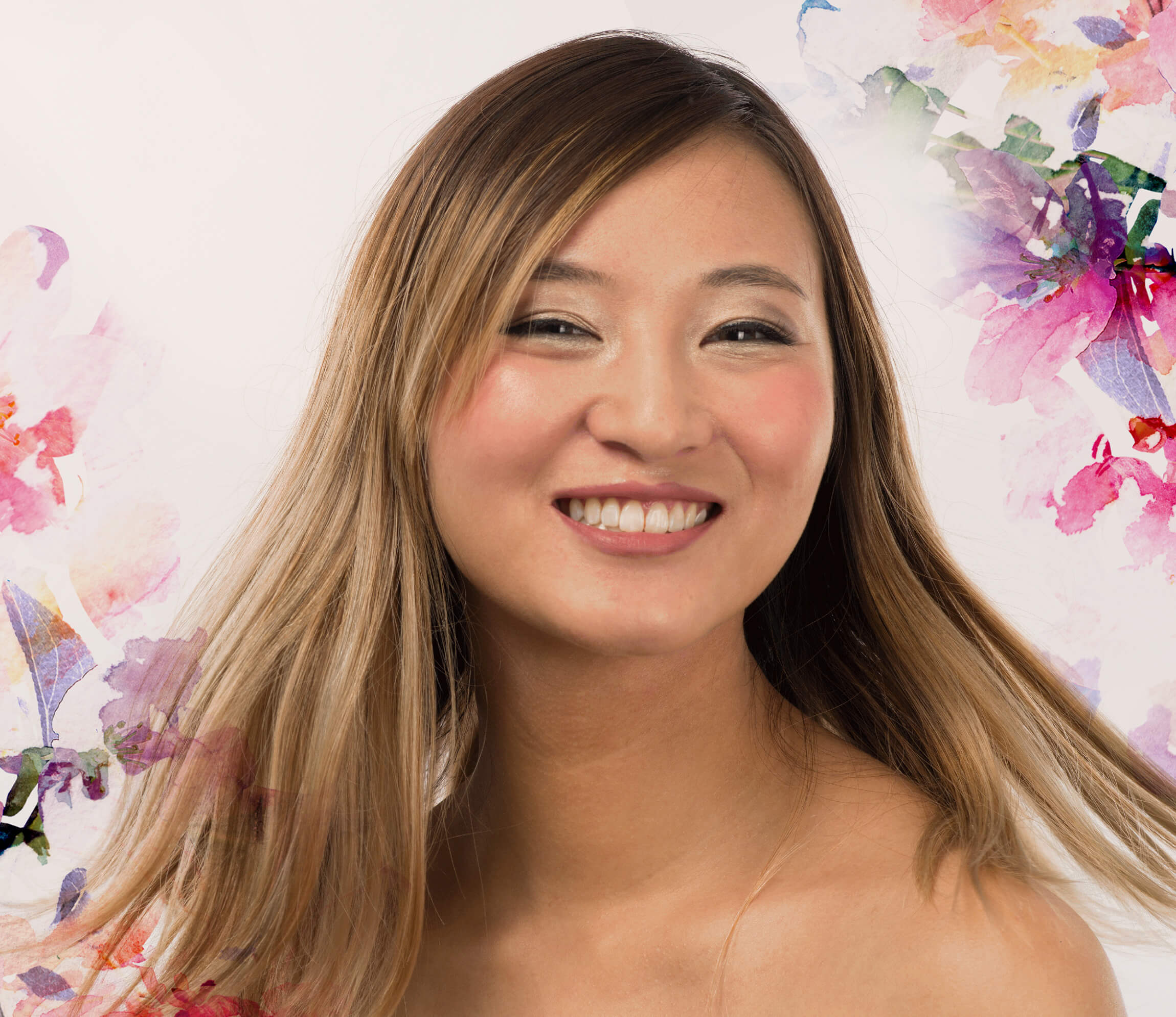 When you think nude makeup, typically a toned down, neutral look comes to mind. But today, we're going to blow your mind. If you're looking for a step by step tutorial to creating the most gorgeous, flawless natural look that will completely change how you look at nude makeup, you've hit gold (the nude kind!). We're talking about a gleaming complexion with polished, nude colors that bring out your natural beauty. Silky smooth eyeshadow and lipstick in soft pinks, corals, and browns to enhance your smile...you'll be thinking about trying this nude makeup look for your next date, beach trip, interview - who knew nude makeup could be so dreamy and wearable! If that's up your alley, keep on scrolling to see us put our best nude makeup to work.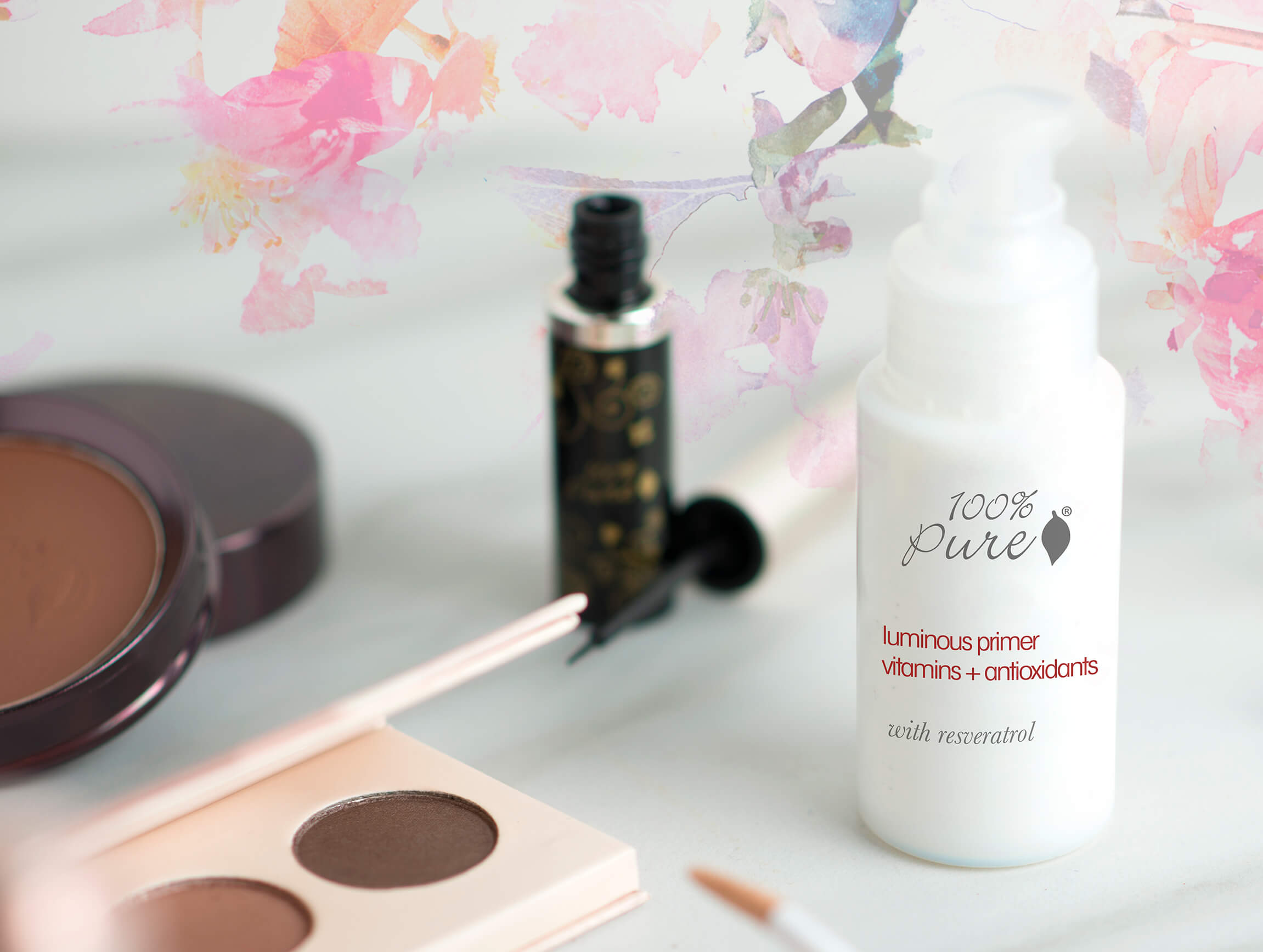 Step 1: Apply Luminous Primer for a dewy glow.
Apply evenly to clean or moisturized skin with cotton pad and allow to set for 90 seconds. If you're wondering about the secret to that dewy complexion that still looks naturally radiant even after makeup application, here's the answer! Our Luminous Primer works behind-the-scenes to ensure your nude makeup goes on and stays on flawlessly. Did we mention that it's packed with skin restoring resveratrol too?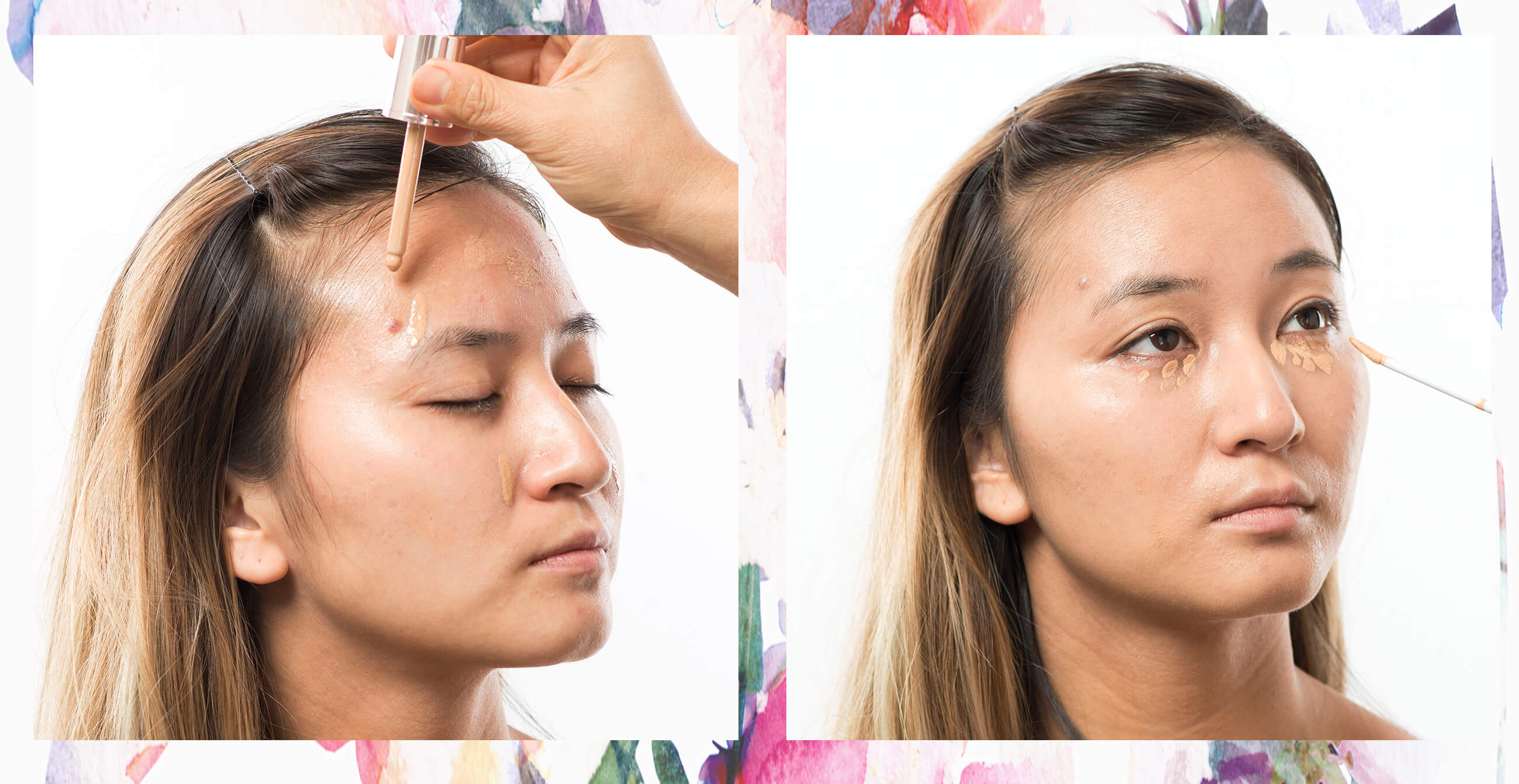 Step 2: Follow with 2nd Skin Foundation, blend for flawless coverage.
With pipette applicator, dispense three to four drops onto the back of your hand, and use your fingertips to apply evenly over face. Remember to blend with a sponge! This ultra lightweight fruit pigmented® serum foundation is perfect for a nude makeup look. Aptly named "2nd skin," it feels and looks as natural as a flawless layer of skin. The formula even contains moisturizing olive squalane, a soothing oil that has a similar composition to your skin's own oil to bring out your natural beauty.
Step 3: Apply 2nd Skin Concealer to remove dark circles and blemishes.
Sweep applicator over dark eye circles and blemishes. Gently blend into skin with makeup blender. Also made with our signature fruit pigments and hydrating olive squalane, this concealer gives even coverage with a natural finish that won't cake or crease, keeping your nude makeup fresh and ready for the long day!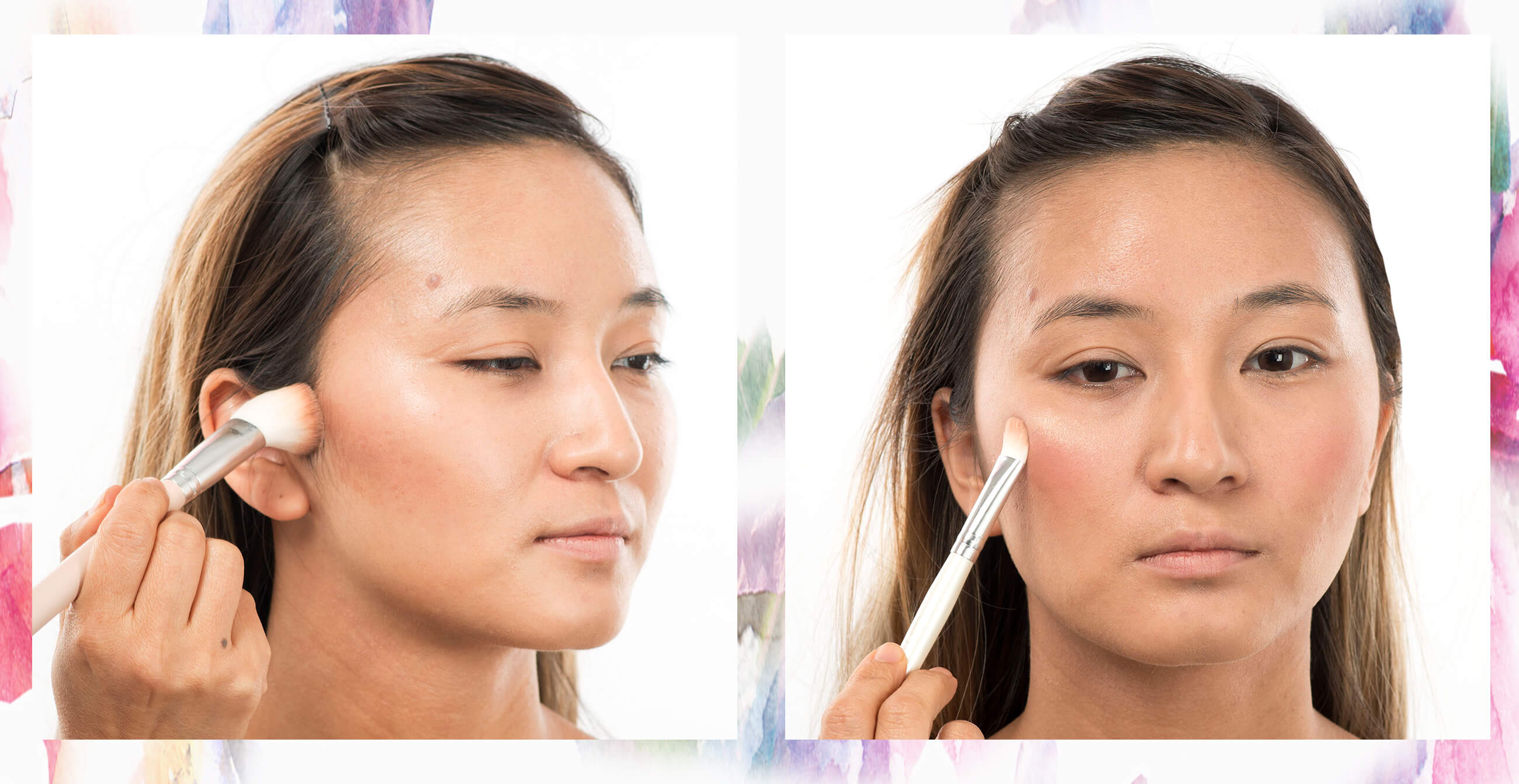 Step 4: Contour with Cocoa Glow Bronzer to build sculpted and defined cheeks.
Swirl Cruelty Free Flat Kabuki Brush into bronzer powder and brush in downward strokes on top of cheeks. Blend in upward strokes with Cruelty Free Powder Brush for a natural, sunkissed look.
This natural bronzer is colored with antioxidant rich pigments of cocoa, coffee, tomato and berries for a healthy glow. Interested in learning how to contour based on your face shape? Check our handy contouring and highlighting guide.
Step 5: Apply the NEW Better Naked Palette to add warmth to the cheeks.
It's time for our newest fruit pigmented® makeup palette to shine! Lightly pat Bunny blush with Cruelty Free Flat Kabuki Brush onto cheeks and use Cruelty Free Eye Shadow Brush #2 to blend out and soften edges.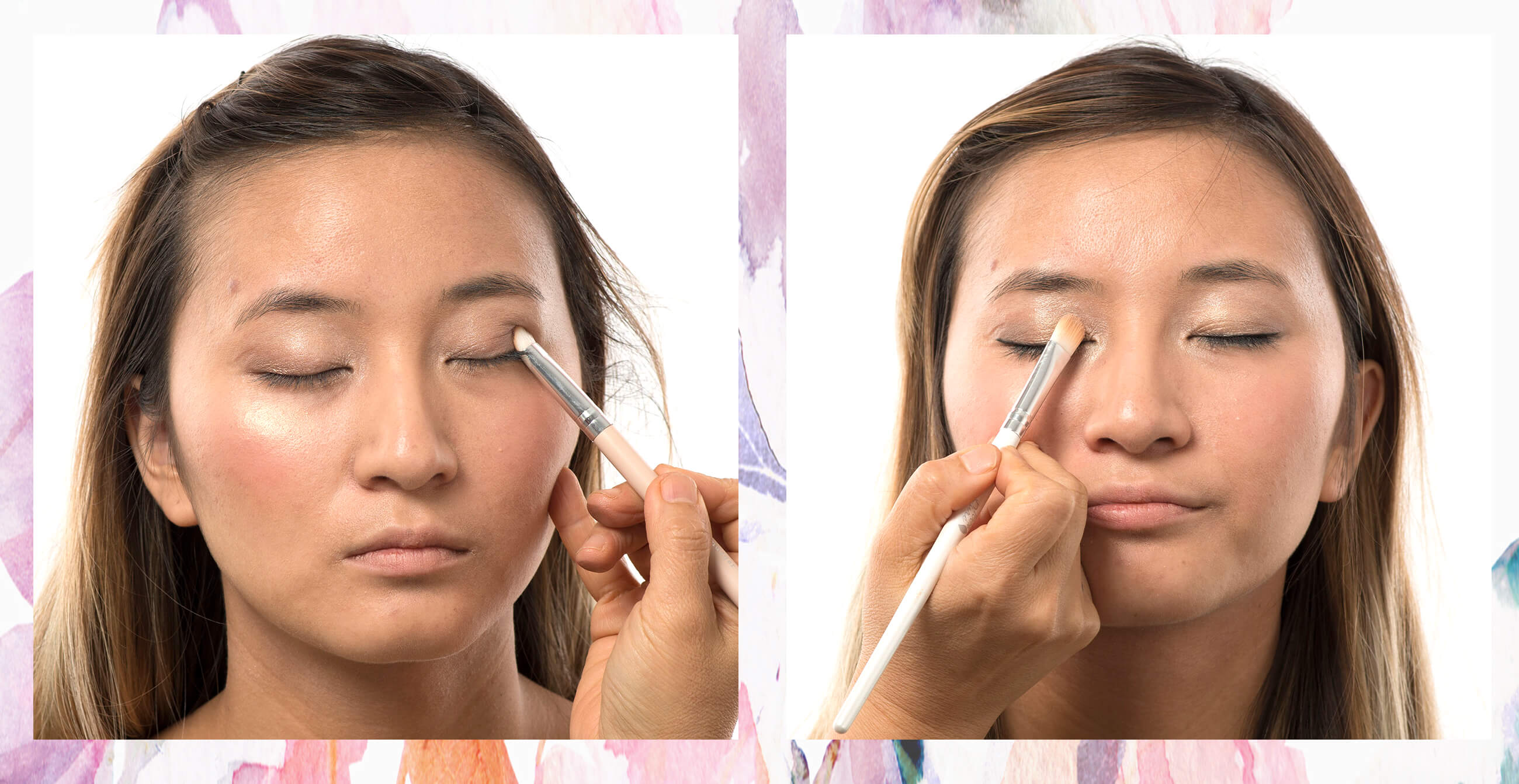 Step 6: Apply Satin Eye Shadow in Tahiti for a luminous eyeshadow base.
Sweep in short strokes all across eyelids with Cruelty Free Smudger Brush to create a smooth, luminous base. An eyeshadow base is important for creating a smooth, luminous base for easier eyeshadow application and enhance color payoff. Our Fruit Pigmented® Satin Eye Shadows are packed with anti-aging black currant and red wine resveratrol. Tahiti is a warm, peachy sheen that complements any nude makeup look.
Step 7: Apply the NEW Better Naked Palette's Eye Shadows to create depth around the eyes.
Pat Butterfly shade onto the outer corners of your eyes close to your crease with Cruelty Free Eye Shadow Brush #2 and blend out edges. Sweep Bear on top around outer corners of your eyes for natural depth. Like the rest of our makeup, our deluxe palettes are all packed with fruit, rice power, and natural mica minerals to boast stunning color without the harmful chemicals in conventional makeup products. Our new Better Naked Palette features beautiful rose, taupe, and beige toned nudes with natural mica shimmer to create that flawless nude look.
Step 8: Apply Satin Eye Shadow in Star for added brightness around the eyes.
What better way to create a nude makeup look than a fresh #iwokeuplikethis feel in your eyes? Gently dab this shimmery eye shadow around your tear ducts for more awake eyes. Learn more about our natural eye shadows that might as well be eye cream.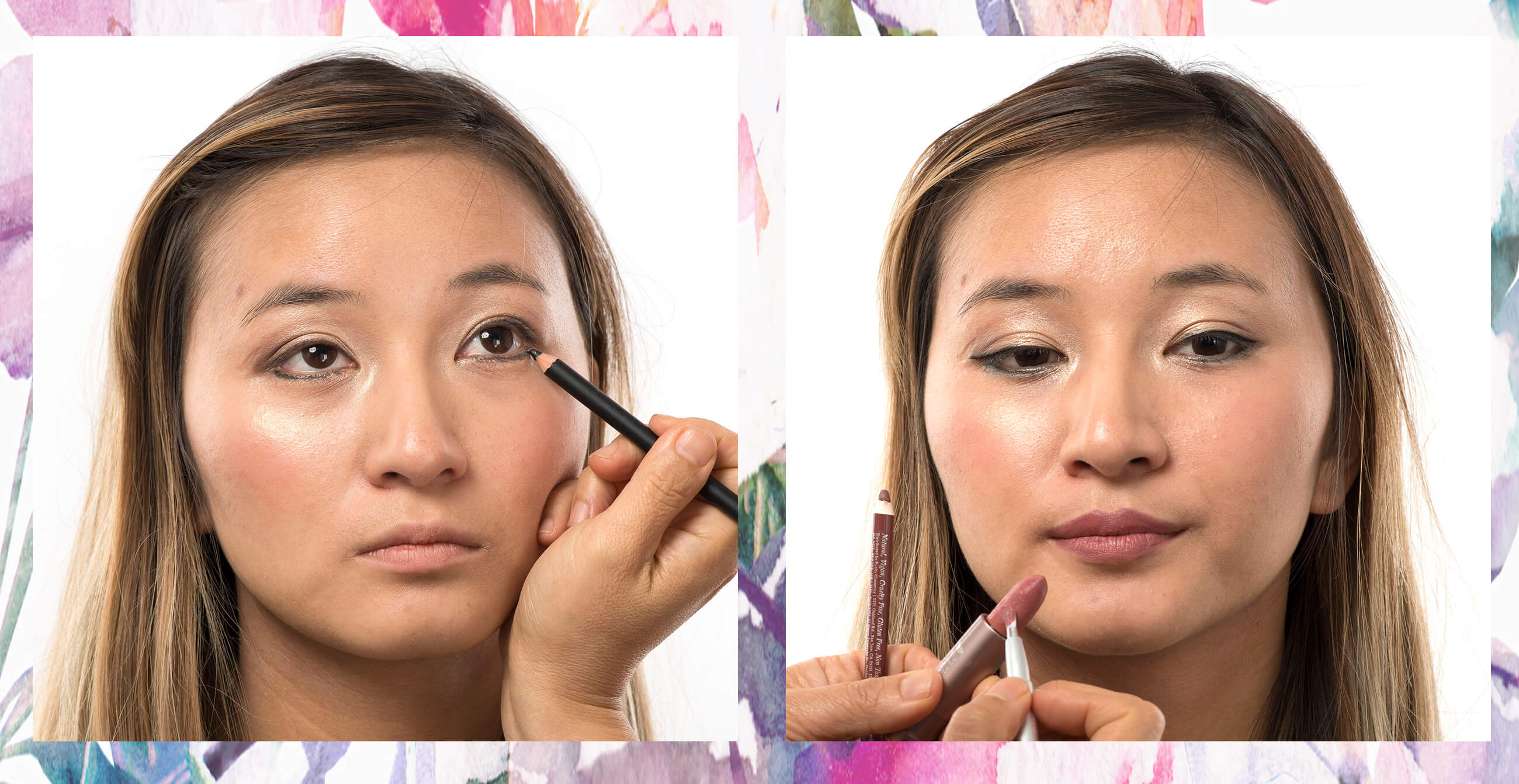 Step 9: Apply Long Last Liner: Blackest.
Gently line your lower lash line and the outer corner of your upper lash line with this creamy long last liner that defines while nourishing your delicate eye area skin with vitamin E.
Step 10: Apply Liquid Eye Liner in Black Tea for added definition.
Apply a thin layer as close to your upper lash line as possible for a natural, defined shape. This black tea pigmented liquid eyeliner is smudge proof and free of artificial fragrances and other toxins.
Step 11: Apply Lip Liner in Chai to define lip edges.
It's time to prep for your lipstick! Hold lip liner pencil at a 45 degree angle and gently line your lips in short strokes. Don't forget your cupid's bow! A lip liner is especially important for a nude makeup look to define your nude lippie and prevent it from being washed out. We've matched our natural lip liners to all of our 100% PURE lipstick shades so you don't need to waste precious time choosing the right lip liner color. For nude makeup, pick up Creamy Long Last Lip Liner: Chai that matches with deeper shades of pink-nude and brown-nude.
Step 12: Apply Cocoa Butter Matte Lipstick in Cassia to fill the lips with natural, nude color.
A matte lipstick that goes on smoothly is the cherry on top to the best nude makeup look! Cocoa butter and shea butter moisturize your precious chops for a flawless matte finish. Cassia is a neutral, deep antique pink. We love nude lippies so much that we recently launched 12 new gorgeous shades with our anti-aging pomegranate and moisturizing cocoa butter formulas.
Step 13: Lightly apply Foundation Powder.
Gently buff this lightweight powder foundation all over your face with Cruelty Free Flat Kabuki Brush to blend color into a natural look.
Step 14: Apply Peach Lip Butter. to give cheeks a rosy glow.
Lightly dab this playful coral lap butter onto your cheeks and blend out with a brush. The semi sheer finish creates a rosy glow that enhances nude makeup.
Step 15: Apply Ultra Lengthening Mascara for full and luscious lashes.
Wiggle the mascara from the root of your lashes upwards to the tips. Natural lash conditioning ingredients like vitamin E, pro-vitamin B, and cocoa butter separate lashes without clumping or smudging for a fresh look.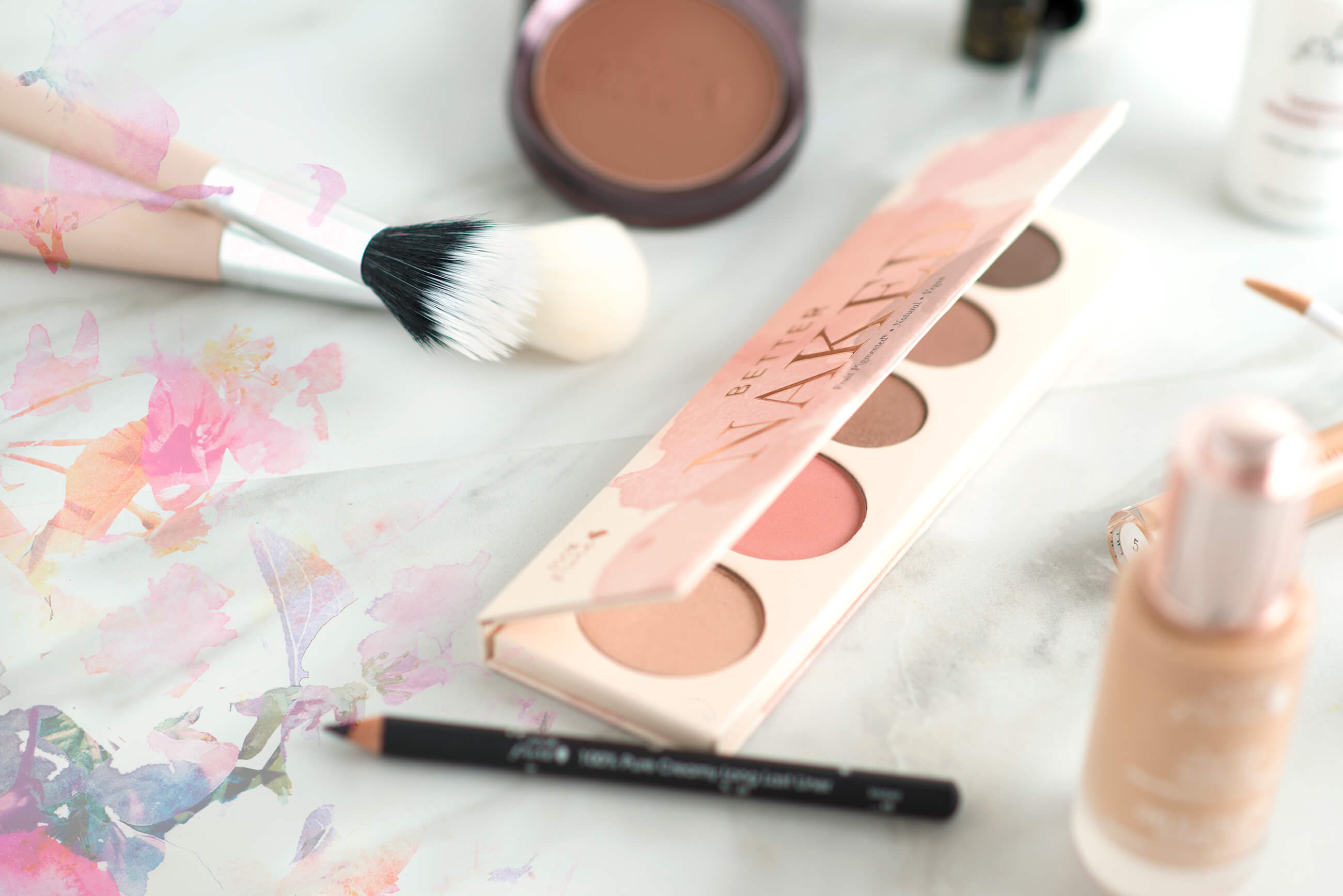 And there you have it, a chic look with dreamy, soft nude tones, made sincerely by the latest and best natural products in nude makeup. Anyone can pull off a flawless nude makeup look, and our skin nourishing fruit pigmented® makeup is here to make you feel like a professional makeup artist AND model. Tried the look? We'd love to see! Share your photos by hashtagging us with #100percentpure.
We carefully hand-select products based on strict purity standards, and only recommend products we feel meet this criteria. 100% PURE™ may earn a small commission for products purchased through affiliate links.
The information in this article is for educational use, and not intended to substitute professional medical advice, diagnosis, or treatment and should not be used as such.
Sign up to our email newsletter for more blog updates and exclusive discounts.
< Older Post | Newer Post >