How to Make Lipstick Last
With the right lipstick and beauty hacks, anyone can enjoy long lasting, full lips.
Posted on March 6, 2018
Written by: 100% PURE®
Gone are those days when you're constantly looking down at your phone camera to check that your lipstick hasn't smeared and make you look like you just woofed down a slice of cherry pie. What a way to ruin a date night! Or maybe you need your fave nude lippie to stay put so you can puff off the dreamiest nude makeup look! Today we're walking you through the ultimate guide on how to make lipstick last with the best lipstick hacks and beauty insider tips.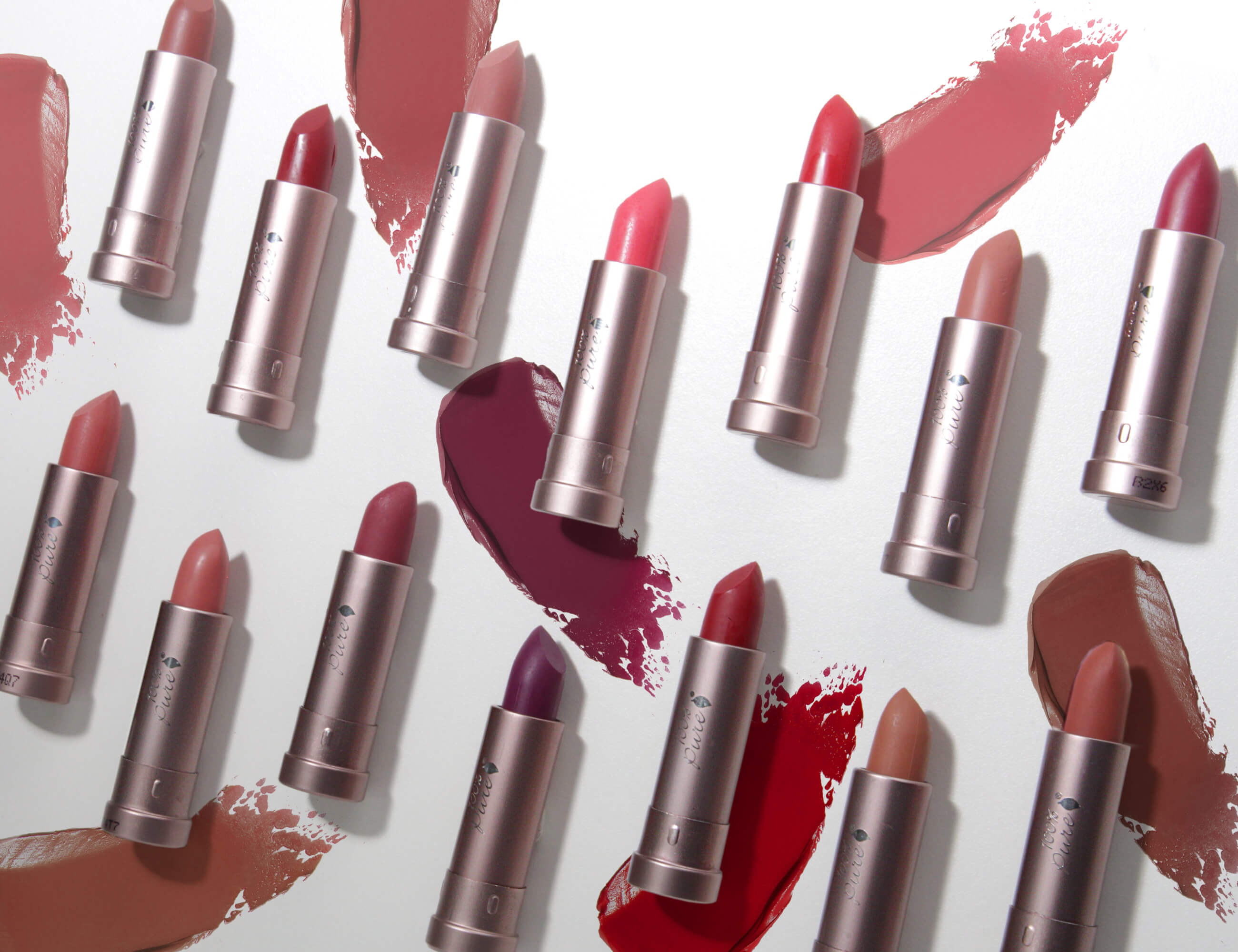 The first step is quality product. Ever stain your white t-shirt while munching on a strawberry and struggled to get the mark off? What better ingredient to use for a long lasting lipstick than natural fruit pigments! Our latest Cocoa Butter Matte Lipstick: Protea is a rosy red lippie colored with raspberries, blueberries, and other fruits that are as nourishing as they are gorgeous in color. That color payoff looks great, but the real question is, how to make lipstick last when your lips are all chapped and flaky? A rich blend of cocoa butter, shea butter, and vitamin E moisturize your chops for a smooth canvas and flawless lipstick application.
If your lips are really suffering from being a flaky, wrinkled mess though, we highly recommend that you add a lip exfoliator to your routine for on-fleek lipstick application. Add on our tricks for full lips and you'll have baby soft, plump lips that deserve to be on the big movie screen. And finally, to make those beautiful, luscious lips last, we're sharing with you some more easy beauty hacks to get addicted to. Follow this routine to a tee and you'll enjoy longer lasting lipstick application - every time.
How to Make Lipstick Last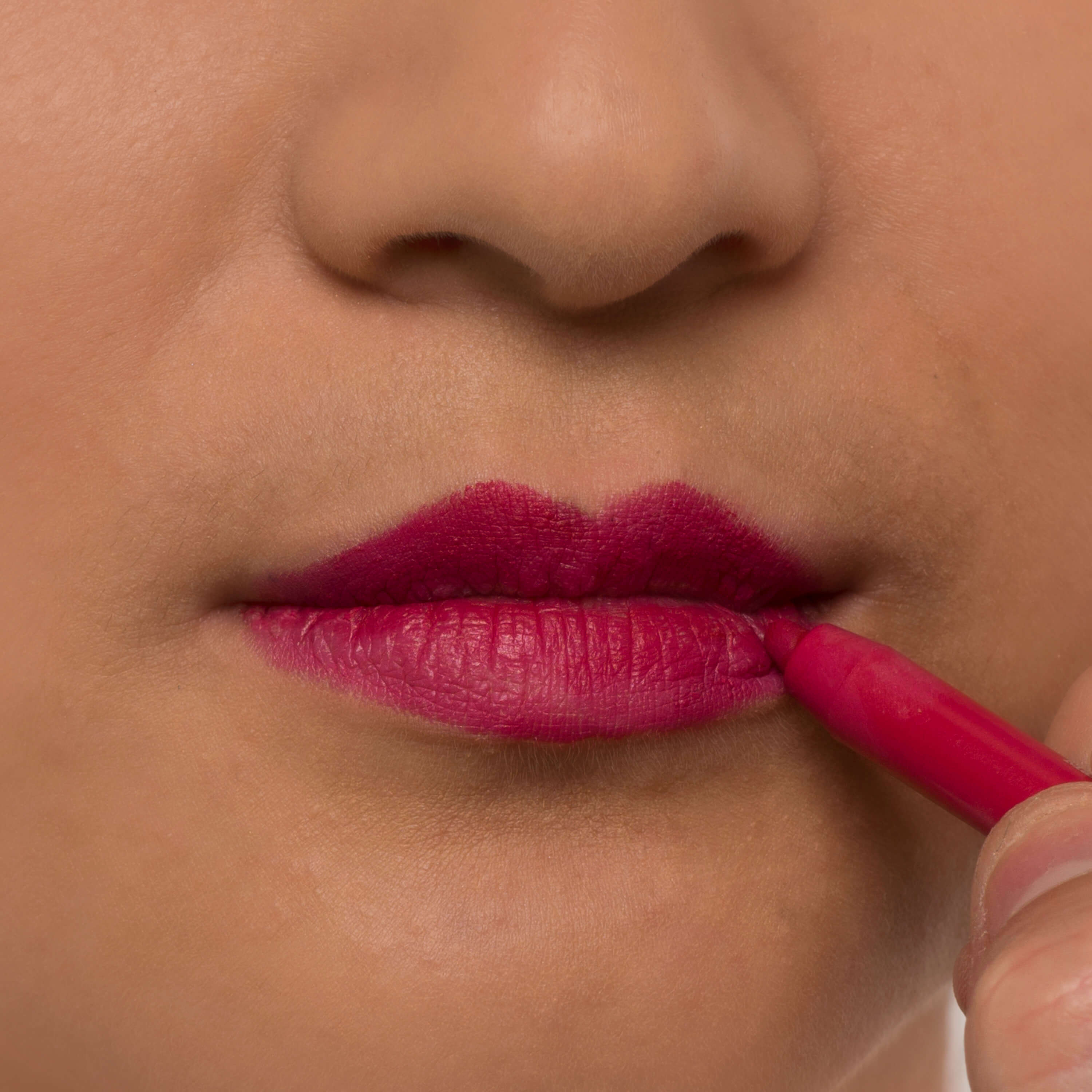 Step 1: Fill with lip liner.
Hold your lip pencil at a 45 degree angle and outline your lips in short, gentle strokes. Then fill the rest of your lips, making sure to cover all gaps. The trick here is to not just line the edges of your lips, but also make sure to cover your whole lips in lip liner. Like how primer helps keep foundation in place, lip liner provides the perfect smooth base to keep your lipstick where you put it. Our natural lip liners are packed with skin nourishing ingredients like jojoba oil and pomegranate seed oil, and dyed with natural fruit pigments. No nasty synthetic dyes or plasticizers here, so line away! Creamy Long Last Lip Liner: Pink Brandy is the perfect lip liner to match our new Cocoa Butter Matte Lipstick: Protea or any other shade of pink.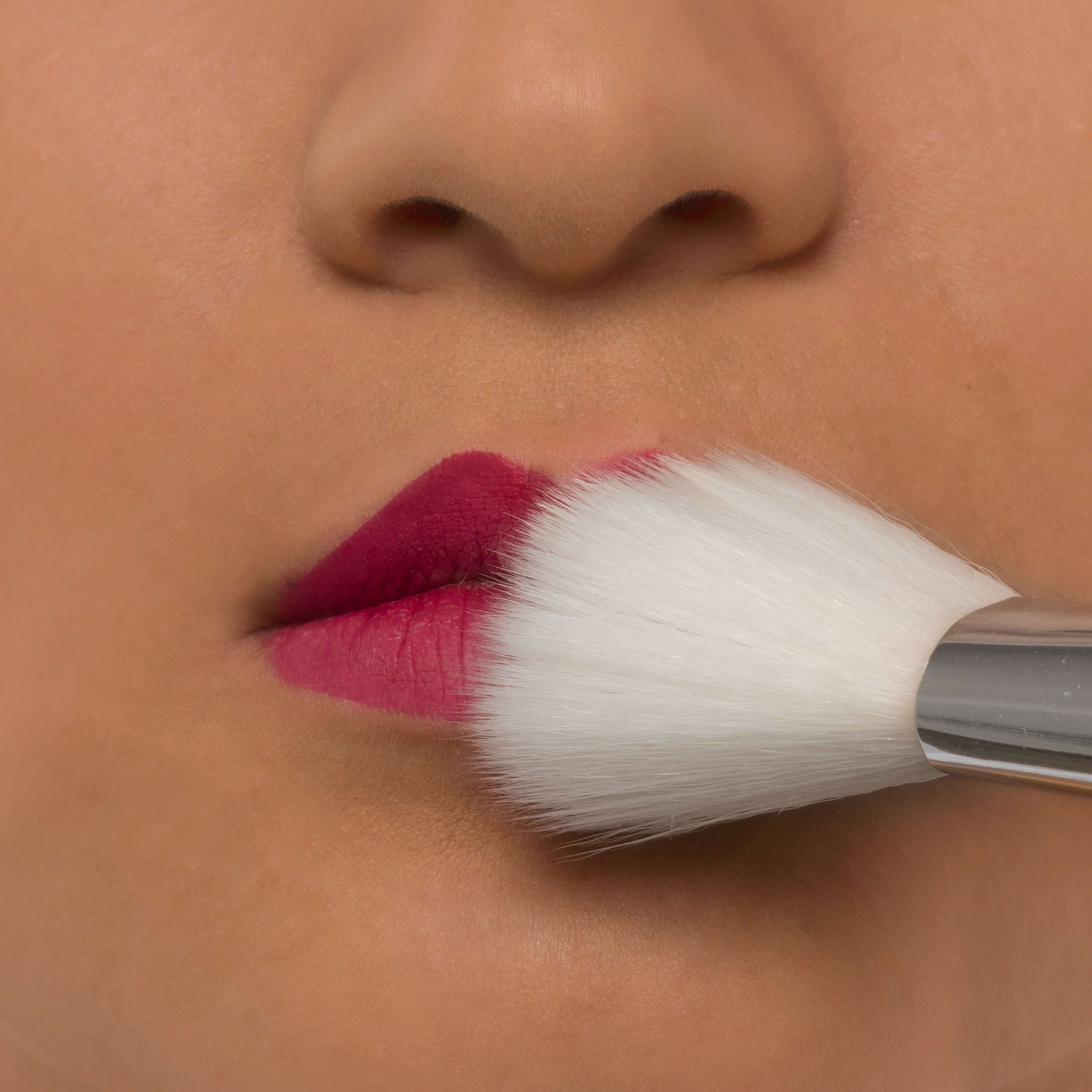 Step 2: Set with Bamboo Blur Powder.
You don't need to be a perfectionist when applying your lip liner, because thankfully our natural setting powder is here to even out your lined lips. Dust a layer of Bamboo Blur Powder over your lips with Cruelty Free Flat Kabuki Brush. Don't worry about getting this powder near your lips because it's made with 100% natural bamboo silica and is vegan too. In addition to setting your makeup, this smooth powder also soaks up excess oil to keep your lips looking flawless.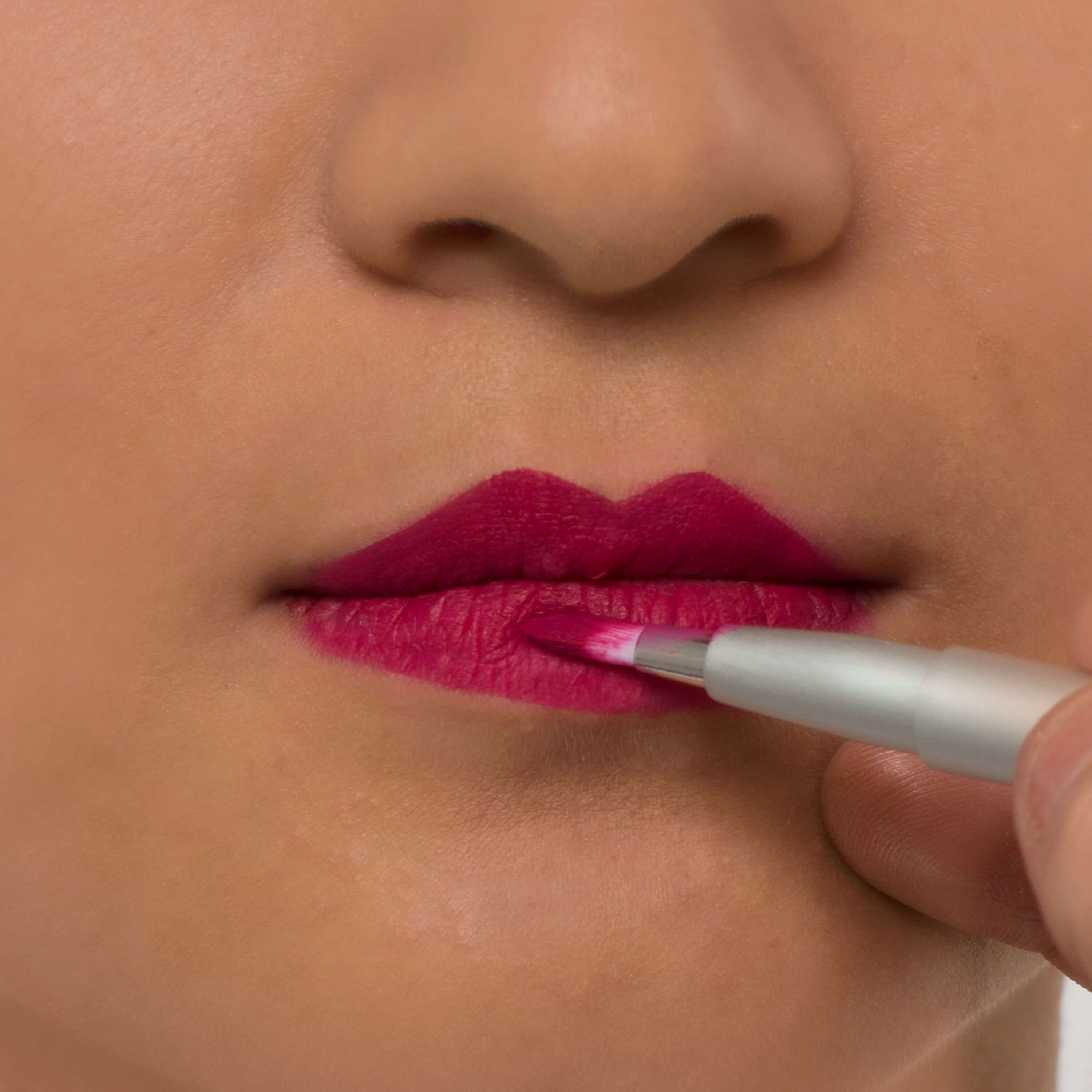 Step 3: Apply lipstick with Lip Brush.
We all love popping open a fresh tube of lipstick and admiring that clean crisp edge as it goes on our lips. But what do you do when you can't simply sharpen your fave lippie? For best accuracy in lipstick application, you should be investing in a lip brush. Our retractable brush features a soft, narrow paintbrush tip for pristine application. Simply dab the tip of your brush onto your lipstick bullet, start from the center of lips, and then work outwards. Make sure to touch up the corners and your cupid's bow!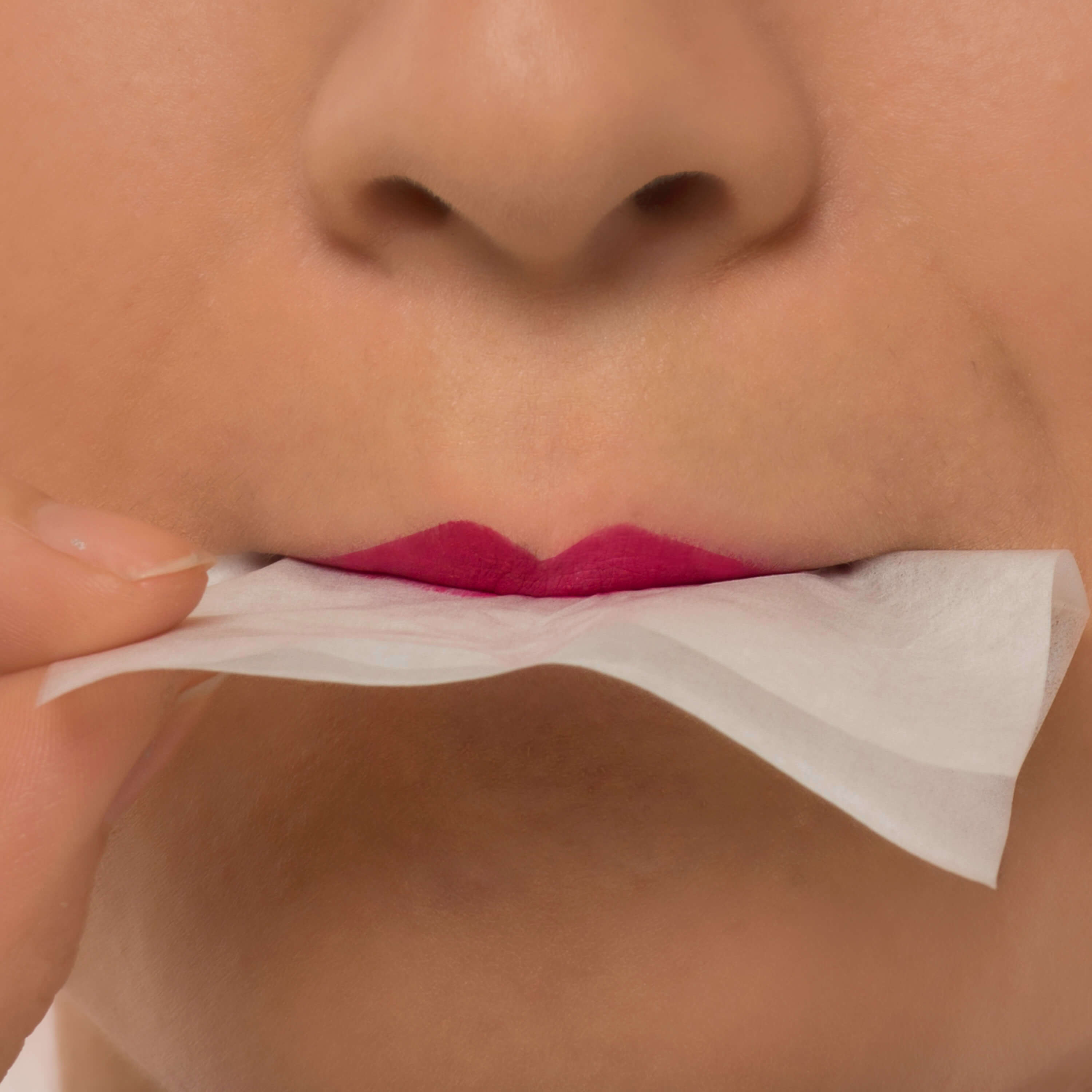 Step 4: Blot lips.
How to make lipstick last for more than just an hour after your first selfie of the day? Use a blotting paper as your final step to set and seal in the gorgeous fruit pigment. Hold blotting paper between your lips and gently press. This sets the pigment and ensures it's evenly distributed over your lips. Our blotting paper is made with antibacterial wood pulp and hemp. Say goodbye to dreaded gaps and feathering, and wear your luscious lips proudly!
Step 5: Wear your luscious lips proudly!
Voila! With these makeup hacks to make lipstick last, you can avoid having another fiasco and admire your masterpiece everytime you look into the bathroom mirror. No more stressing over smudging or fading, go out there and slay with those beauties!
We carefully hand-select products based on strict purity standards, and only recommend products we feel meet this criteria. 100% PURE™ may earn a small commission for products purchased through affiliate links.
The information in this article is for educational use, and not intended to substitute professional medical advice, diagnosis, or treatment and should not be used as such.
Sign up to our email newsletter for more blog updates and exclusive discounts.
< Older Post | Newer Post >