How to Serve a Fresh-Faced Makeup Look
Time to swap out your winter products for something sweet and stunning – like natural makeup inspirations for a fresh, flawless complexion!
Posted on March 28, 2019
Written by: 100% PURE®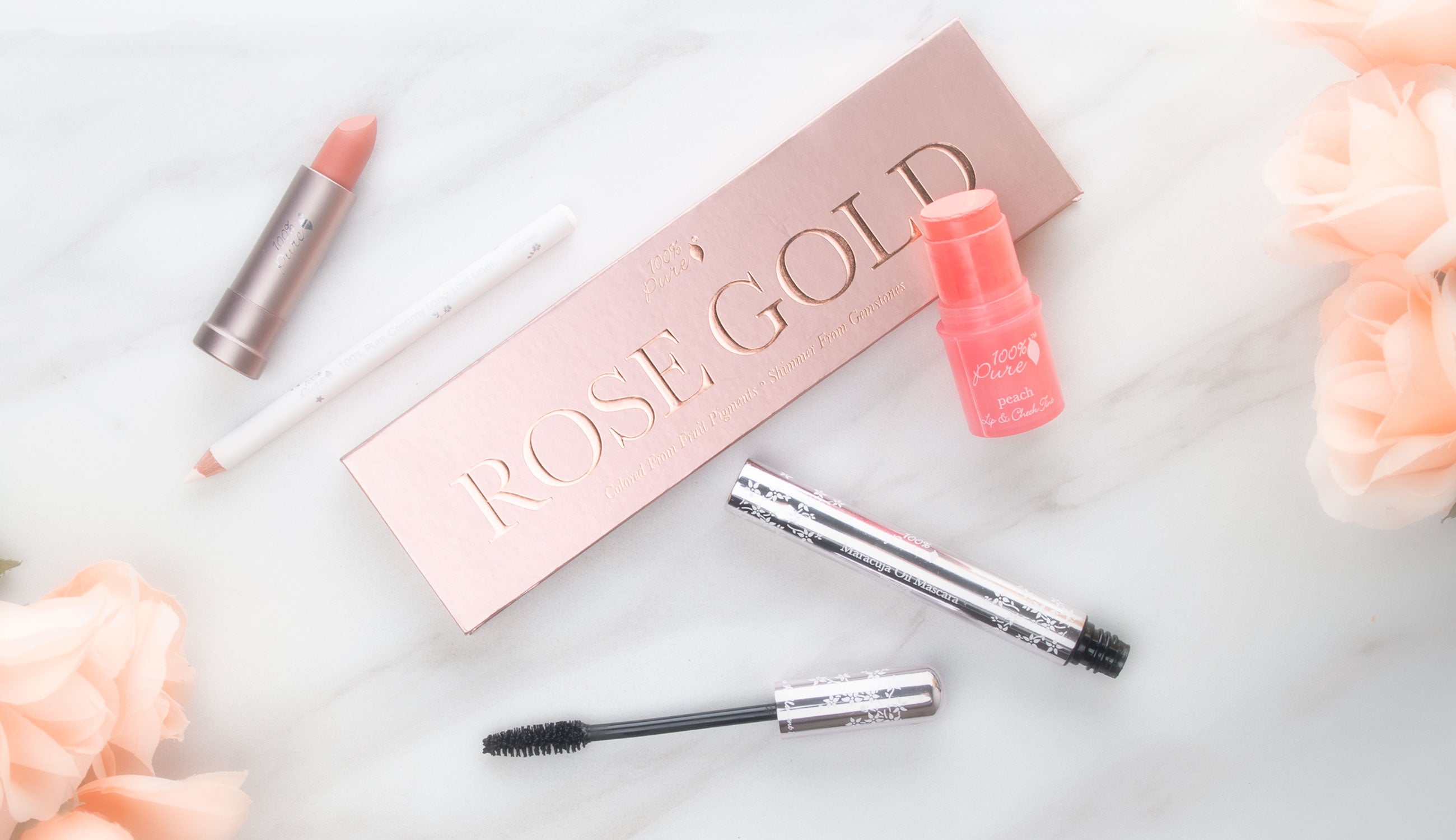 What does spring mean to you? For us, it's longer and brighter days, lush flowers (a la Antelope Valley poppy fields), and trees blooming all around. Oh, and the reimplementation of our leg-shaving routine (hi, knee-length hems), and an all new makeup look that's as fresh as spring rain. What we're getting at is that spring has finally sprung – and we're looking forward to a spring beauty refresh!
What are some trends that come into play for winter makeup, that we can swap out this spring? Below we're going to play a little game of bloom or bust, to highlight our favorite spring trends by replacing our old winter style.
Bloom: Glass Skin
Bust: Matte Complexions
In the austere beauty of the colder months, matte skin looks striking and high end. It enhances the planes of our faces, brings out contrast, and is all about being bold. Alas, this spring is calling for softer complexions in natural, satin, dewy, and glass finishes. Think young, pearlescent, and editorial. We want our skin to catch all the newfound light from the sun, and radiate a velvety glow. It's less about sharp angles and more about smooth, delicate softness.
Ideally, this glassy glow will enhance the apples of our cheeks, the curve of our nose, and plumpness of our lips. Another perk? Dewy skin picks up the sparkle in our eyes, and the glint of our jewelry, making us look altogether ethereal. All of those light-catching elements work together in a silent symphony, to make your natural makeup look seem enviably effortless.
Bloom: Breathable Skin
Bust: Cakey Coverage
Before you go up in arms over the importance of coverage in your beauty routine, hear us out. Breathable skin means wearing products that give your skin the space it needs to stay balanced throughout the day. It also means lighter coverage, letting your real skin peek through via natural makeup. Full coverage products from other brands can be so heavy that they often wear like a mask (sliding off at the first opportunity). This spring, we should be focusing on targeted coverage with concealers and your-skin-but-better foundation alternatives that celebrate your natural complexion.
Now more than ever, there's an emphasis on #cleanbeauty. Make the effort to go the extra mile and use natural, organic, and toxin-free products in your beauty routine. Not only will they feel better on your skin, but you'll be able to see the difference in the quality and finish of your look.
Bloom: Fruity Lips
Bust: Dark Lips
Don't get us wrong, a dark lip will forever be a simple and sophisticated way to make a statement; however, this spring we're shifting our vampy reds to the back of the lipstick rack, in favor of spring-friendly alternatives. We know that glosses are dominating once again – from sheer gloss (that can be worn over plain lip balm, lip stain, or lipstick) to shimmering glosses and opaque colored glosses, there is certainly an option for everyone.
More than just the gloss though, we're also trading in our wintry maroons and smoky browns for lively peach, coral, and candy pink. These colors work for everyone because they suit any skin tone, any undertone, and pair well with all neutrals – especially soft smokey eyes in brown, charcoal, and olive. Celebrate color! Often in spring the pastels get all the attention, but this year the beauty community is shaking things up with bolder colors that make for lots of eye-popping combinations.
We're throwing out perfect for polisheds, so don't worry too much about exactly even eyeliner and brows, or a crisp and super sharp lip line. The nature of spring is to be frivolously carefree when we wanna be – so start by loosening up your beauty routine!
Our Favorite Products for a Fresh Face
These natural makeup besties will be there when you need them, to execute a perfectly fresh, soft complexion and flawless beauty look
Vegan, natural, and rich in vitamins, this little primer really packs a punch. Look to antioxidants from green tea and red wine resveratrol to detoxify and tone the skin, while vitamin E and healing aloe create a hydrated base and even surface for your makeup.
Fruit Pigmented 2nd Skin Concealer
This concealer feels like it's made of air, and sits on the skin much the same way. You won't be able to tell what's your skin and what's concealed, thanks to the smooth and poreless finish. Use this on your whole face, or just on blemishes before finishing with an equally light foundation.
Fruit Pigmented® Tinted Moisturizer
If you have naturally dry to normal skin, you will be especially obsessed with this foundation. The hydrating formula features aloe leaf and cucumber juices, and a fully loaded blend of fruits like peach, goji, and pomegranate. With a dewy finish and light, buildable coverage, you can go just about anywhere and pull off pretty much any beauty look.
You know how they say diamonds are a girls' best friend? This is the same, except that highlighter is considered diamonds in this case (it's no coincidence our highlighters are made with real gemstones). This soft-touch highlighter makes you look purely radiant and embodies the essence of glass skin (with just a tad bit more sparkle).
Top off your look with shimmering gloss in shades Rose Quartz or Peacock Ore. With a galaxy of fine shimmer in this sweet and moisturizing gloss, an even sheen of sparkle gives the illusion of a fuller, plumper pout.
While you're here, check out more posts suited for springtime beauty:
We carefully hand-select products based on strict purity standards, and only recommend products we feel meet this criteria. 100% PURE™ may earn a small commission for products purchased through affiliate links.
The information in this article is for educational use, and not intended to substitute professional medical advice, diagnosis, or treatment and should not be used as such.
Sign up to our email newsletter for more blog updates and exclusive discounts.
< Older Post | Newer Post >