The Wondrous Benefits of Pink Grapefruit
Learn how this rejuvenating citrus moved from the breakfast table into your natural skin care routine, and see our guide to a head to toe pink grapefruit treatment!
Posted on March 24, 2019
Written by: 100% PURE®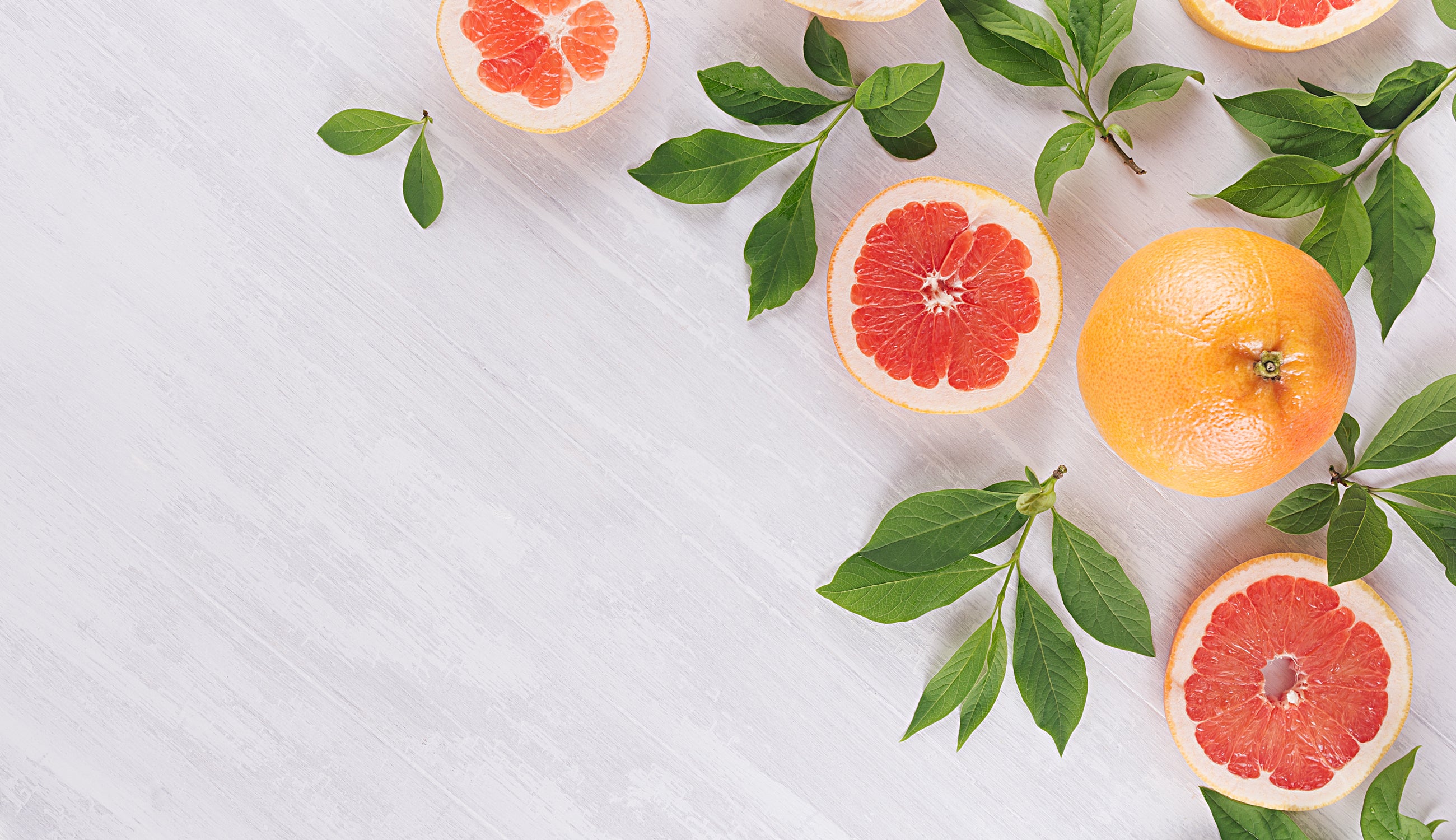 Hailing from ancient Asia, but now being sold in your local produce market, comes our current ingredient obsession: Pink Grapefruit. The pink grapefruit is praised for its abundance of vitamin C, as well as a handful of other vitamins such as vitamins and B. We wouldn't be bothering you about this superstar citrus unless it had real benefits for you beauty game.
The gorgeously fragrant grapefruit offers a wealth of benefits including — but not limited to — more vibrant hair, glowing skin, improved cardiac and respiratory systems, improved digestion, and of course: a healthy breakfast or standalone snack! Get the full scoop on this fabulous citrus below!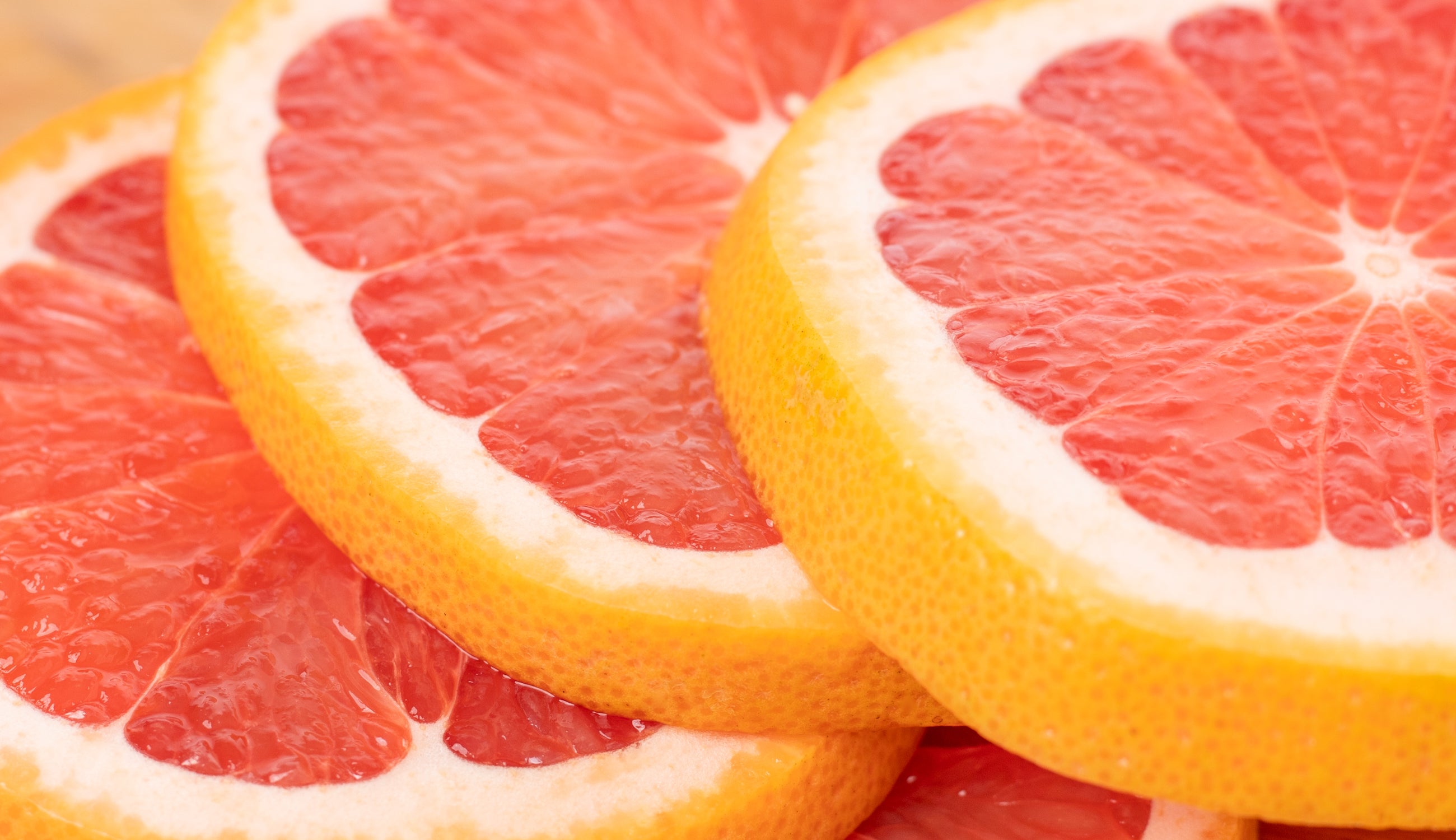 5 Reasons to Add Grapefruit to Your Diet
Grapefruit? More like great-fruit! It ranks high above other fruits simply for its sheer abundance of vitamin C alone, while also providing other benefits, including hydration and a general boost to your bodily systems. Here's how to incorporate this multi-beneficial fruit into your health routine this summer!
Immune System Booster
Grapefruit is the perfect fruit if you need to boost your vitamin C intake. This immune-boosting vitamin will help you keep colds at bay.
Kick Starts Metabolism
If your metabolism is a little sluggish, help it to ramp up with some grapefruit added into your daily diet.
Reduces Bad Cholesterol
Studies have shown that eating grapefruit regularly can reduce your bad cholesterol by 15%.
Eases Insomnia
Who knew that a glass of grapefruit is full of the sleepy-feeling chemical, tryptophan? Yep, pink grapefruit is basically a vegan alternative to the sleepytime effects of Thanksgiving dinner. Night, night!
Hydration
Sip a delicious glass of pink grapefruit juice for tart and tasty hydration. Grapefruits contain a LOT of water: about 88% of the fruit's weight, to be exact!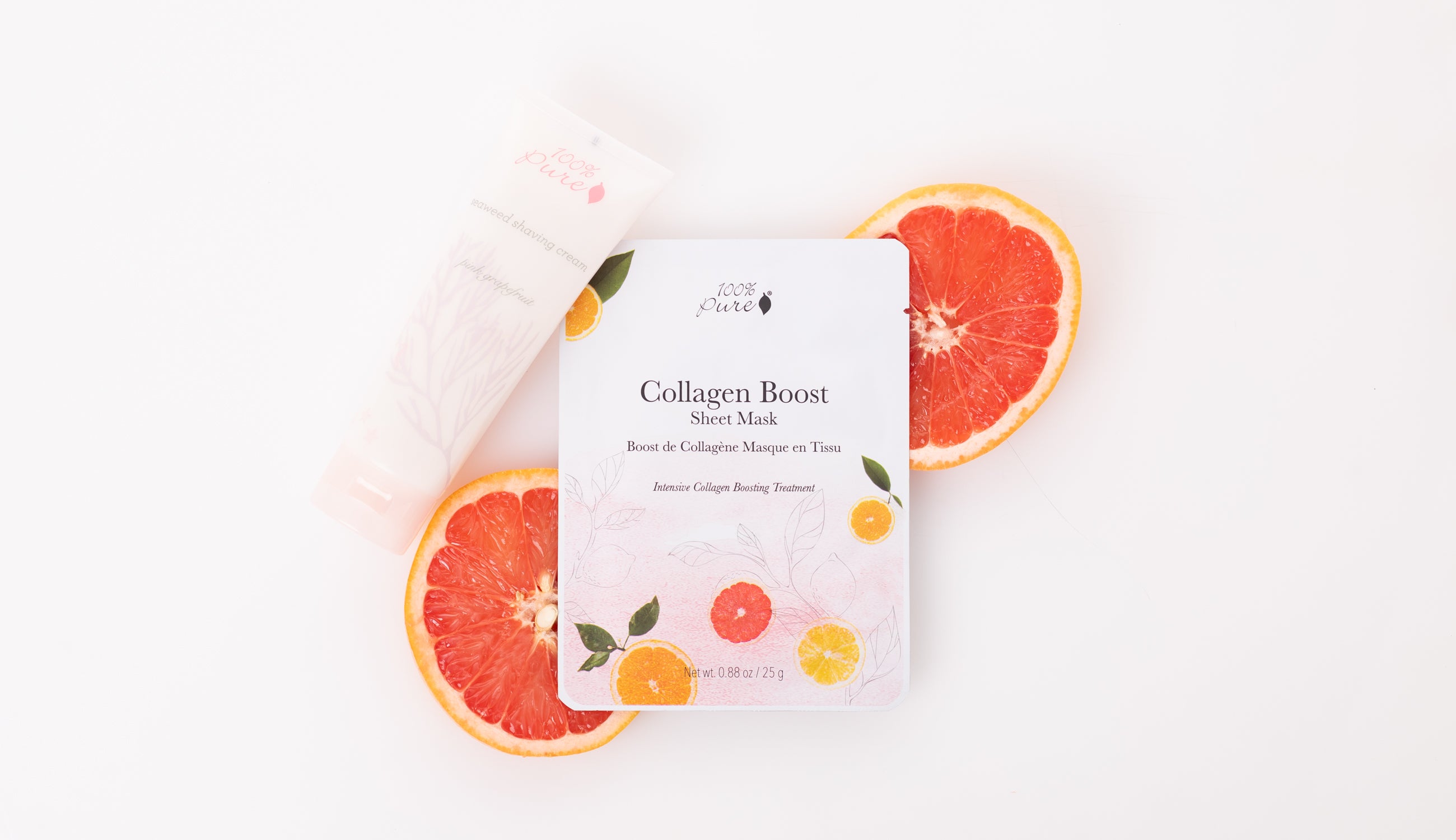 Pink Grapefruit in Your Skin Care Routine
We're sure you're craving pink grapefruit by now, and wanting to know how it can help your skin routine, too! We'll take you from shower gel to hand cream with a delectable pink grapefruit routine!
Start with our Pink Grapefruit Shower Gel for a therapeutic cleansing experience, while treating your legs to an at-home spa day with the Pink Grapefruit Seaweed Shaving Cream. The naturally hydrating properties of seaweed, sea buckthorn oil, and green tea help soothe and smooth your legs while giving you a closer shave.
To kickstart your skin care routine, gently drape our Wrinkle Smooth mask over your face, to boost anti-aging benefits and deeply hydrate the skin. The vitamin C content in grapefruit acts as a gentle natural exfoliant, while lightening dark spots and nourishing skin that has been damaged from prolonged sun exposure and aging, environmental toxins.
In regards to body care, pink grapefruit's excellent moisture keeps your skin looking healthy and vibrant. For a moisturizing infusion of full body well-being, start with our Pink Grapefruit Nourishing Body Cream. This hydrating, smoothing body lotion contains potent anti-aging antioxidants and vitamins to rejuvenate and brighten your skin. Applying this product helps protect your skin from TEWL (transepidermal water loss), which your skin can be more prone to in the winter. Take care to pay extra attention to areas that are commonly more rough, such as elbows, knees, and bottoms of the feet.
To moisturize those extra rough patches and dry spots, or to simply ensure an extra layer of moisture, seal in your body lotion with the decadently rich Pink Grapefruit Whipped Body Butter. Packed with cocoa, avocado, and shea butters, this formula is designed to keep skin feeling moisturized and soft, long after you've applied it. Don't forget your hard working hands! To stick with a sweet citrus theme, snag our Pink Grapefruit Hand Buttercream to moisturize and repair dry or damaged hands.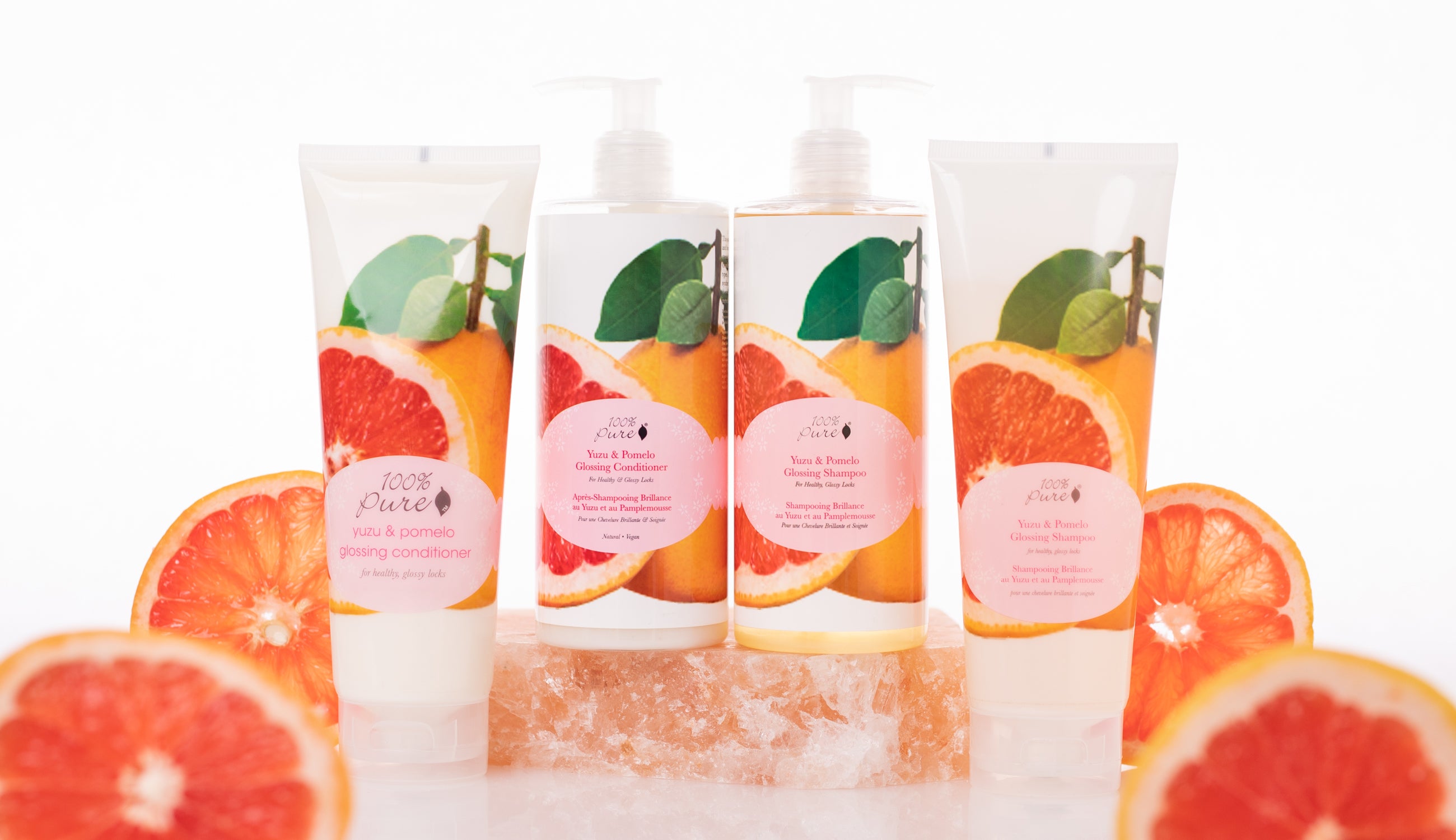 Restore Vibrancy to Lackluster Locks with Yuzu and Pomelo
Pink grapefruit is undoubtedly one of the best fruits out there and luckily nature made some close relatives to this superfruit. Meet Yuzu and Pomelo! We've harnessed the powder of these close cousins in our natural hair care duo: the Yuzu and Pomelo Glossing products were designed to be hydrating and super gentle, while uncovering brilliant shine, bounce, and vibrancy! It's gentle enough for color treated hair and perfect for all hair types.
Our natural hair care products contain no petrochemicals, parabens, synthetic chemicals, artificial fragrances, sulfates, detergents or chemical preservatives. Just the goodness of natural Yuzu and Pomelo working their magic for healthier hair!
Now that you've got your daily grapefuit-ine nailed down, make sure to add citrus to your self care routines, too! The benefits of this magical citrus simply go on and on!
We carefully hand-select products based on strict purity standards, and only recommend products we feel meet this criteria. 100% PURE™ may earn a small commission for products purchased through affiliate links.
The information in this article is for educational use, and not intended to substitute professional medical advice, diagnosis, or treatment and should not be used as such.
Sign up to our email newsletter for more blog updates and exclusive discounts.
< Older Post | Newer Post >