Self Care Ideas with Pink Grapefruit
How a mighty citrus fruit can help brighten your skin and mood!
Posted on Feburary, 1 2018
Written by: 100% PURE®
The winter months can often bring storms, dark clouds, and sometimes a sense of gloominess. But it doesn't have to be that way! We want to share with you some of our favorite self care ideas for uplifting your mood and taking care of yourself during the darker time of the year. We've already discussed how to keep your skin healthy and happy this winter and how to warm up your winter complexion. Today we're focusing on self care ideas involving pink grapefruit - packed with vitamins to help restore your skin's natural vibrance and say goodbye to winter skin care woes. Pair it with the rest of our citrus skin care collection and immerse yourself in tropical paradise.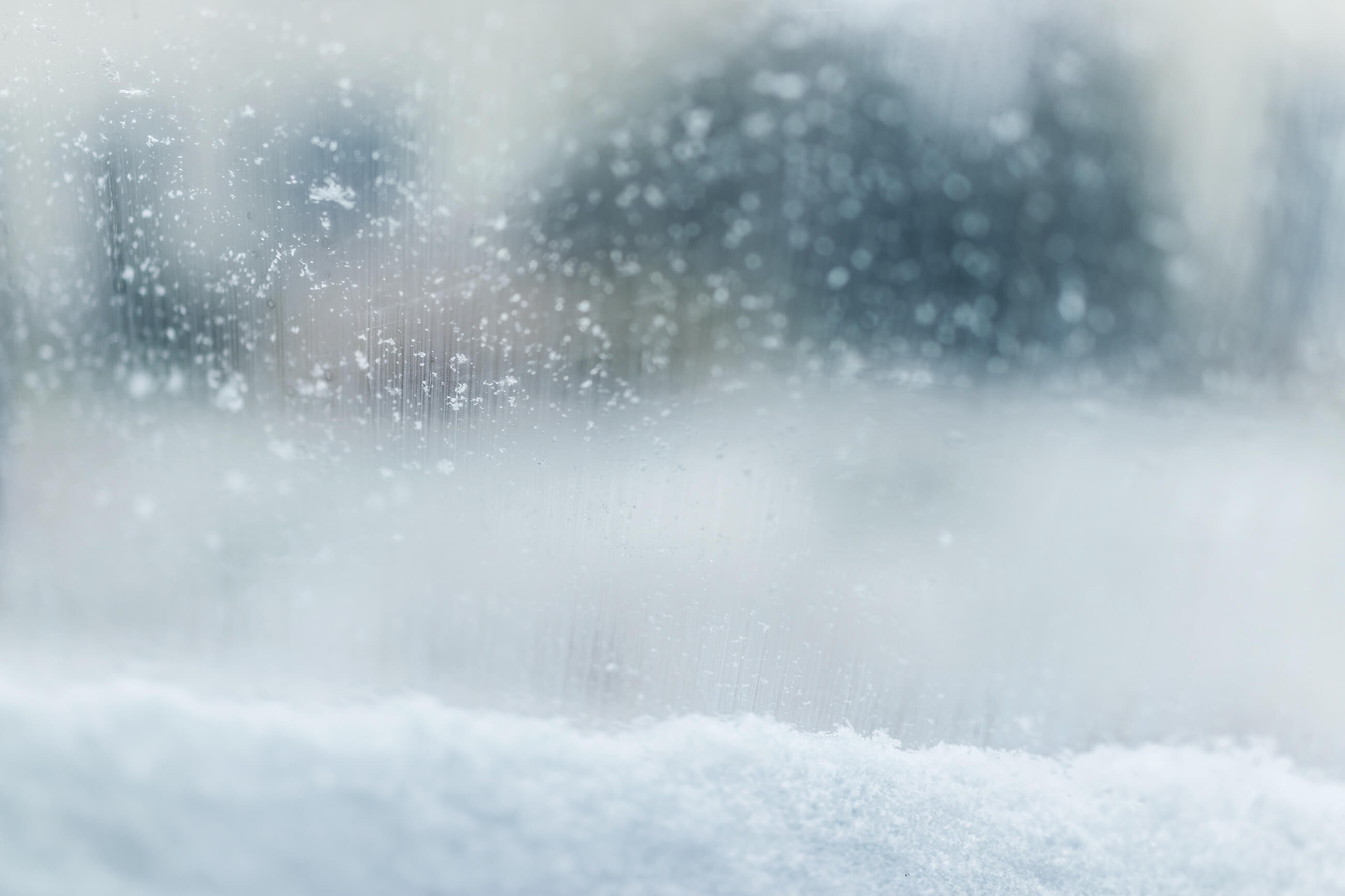 Winter Blues
During the winter months, some people experience feelings of being a little down, some may feel less social, and others may feel extra tired (hibernation season, we feel you!). This is because there is usually less sunlight and the days are shorter during the winter. When we're exposed to less sunlight, it can throw off our hypothalamus (that's part of your brain), which plays a role in affecting our appetite, sleep and mood. Yep that's right, exposure to light affects many areas in our life! Some other species such as bears go into full on hibernation mode during the winter. Unfortunately for us, we don't get to sleep until the warm weather and sunshine come back. But luckily Mother Nature has prepared for us some yummy juicy ingredients like pink grapefruit to help us keep the positivity flowing.
Uplifting Citrus Fruits
Citrus fruits are known for their uplifting and energizing qualities. Thanks to their hefty amount of vitamin C and other nutrients, these tropical fruits can help to boost your mood and energy levels during any encounter with the winter blues (check out more health benefits of pink grapefruit!). In the morning when it's difficult to crawl out of your bed, showering with a citrus shower gel such as Pink Grapefruit, Blood Orange or Gingerade can help to kickstart your day. Also make sure to pack a hand buttercream in your purse in any of these delicious citrus scents. That way you can apply and smell the uplifting citrus all day.
Have you ever peeled a pink grapefruit and squeezed the rind? A small spray of citrus essential oil mists from the rind! This is similar to the method that citrus essential oils are extracted. The peels of the fruit are cold pressed to get the essential oils. Below are our favorite self care products that contain citrus essential oils that can help brighten up your day.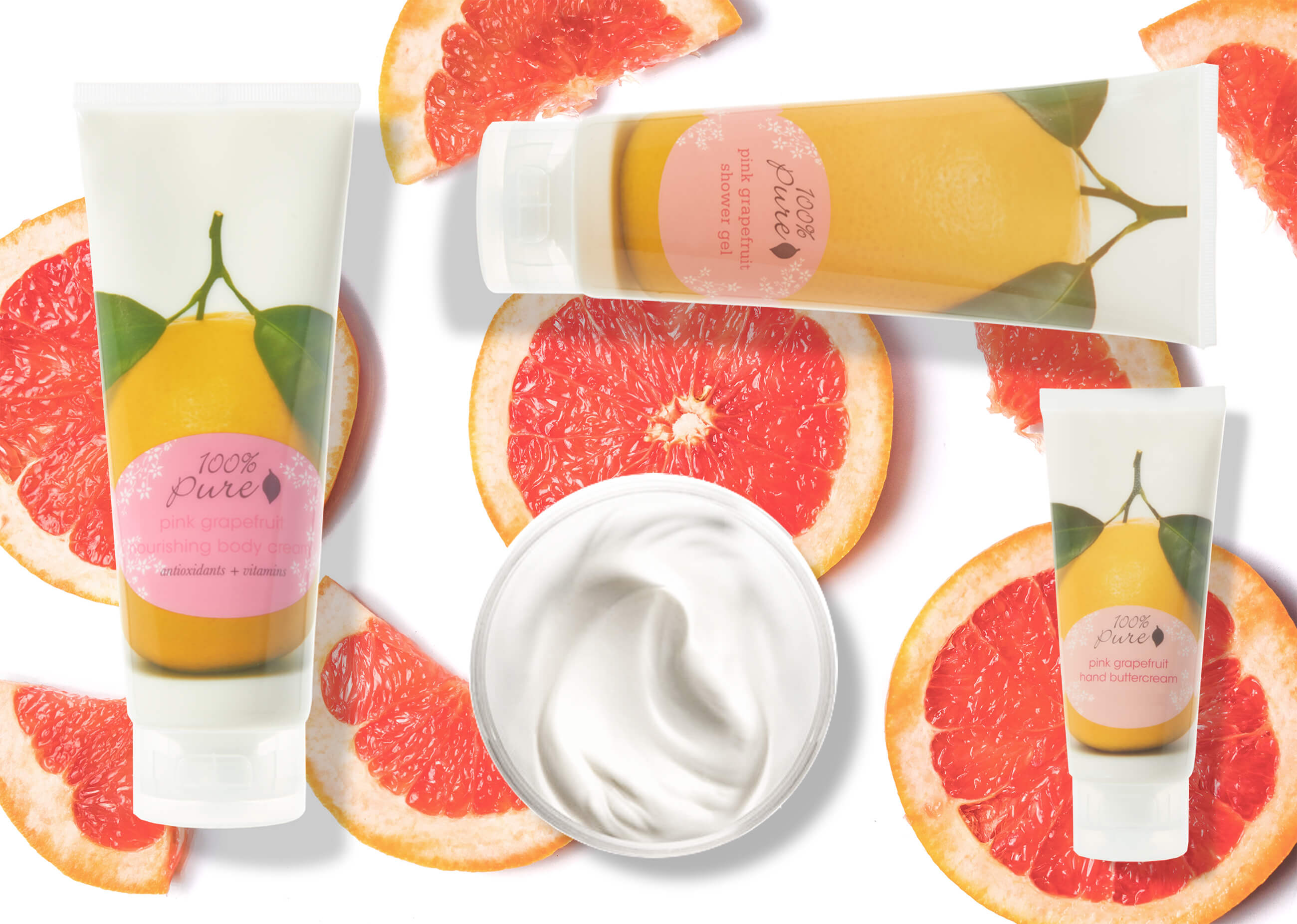 Pink Grapefruit: Ah, pink grapefruit - the goddess of all citrus fruits. This collection is fresh, light, and comes with a sparkly uplifting scent that'll send you straight to tropical heaven. That's the power of pink grapefruit. This is a great option for those who are sensitive to strong fragrances.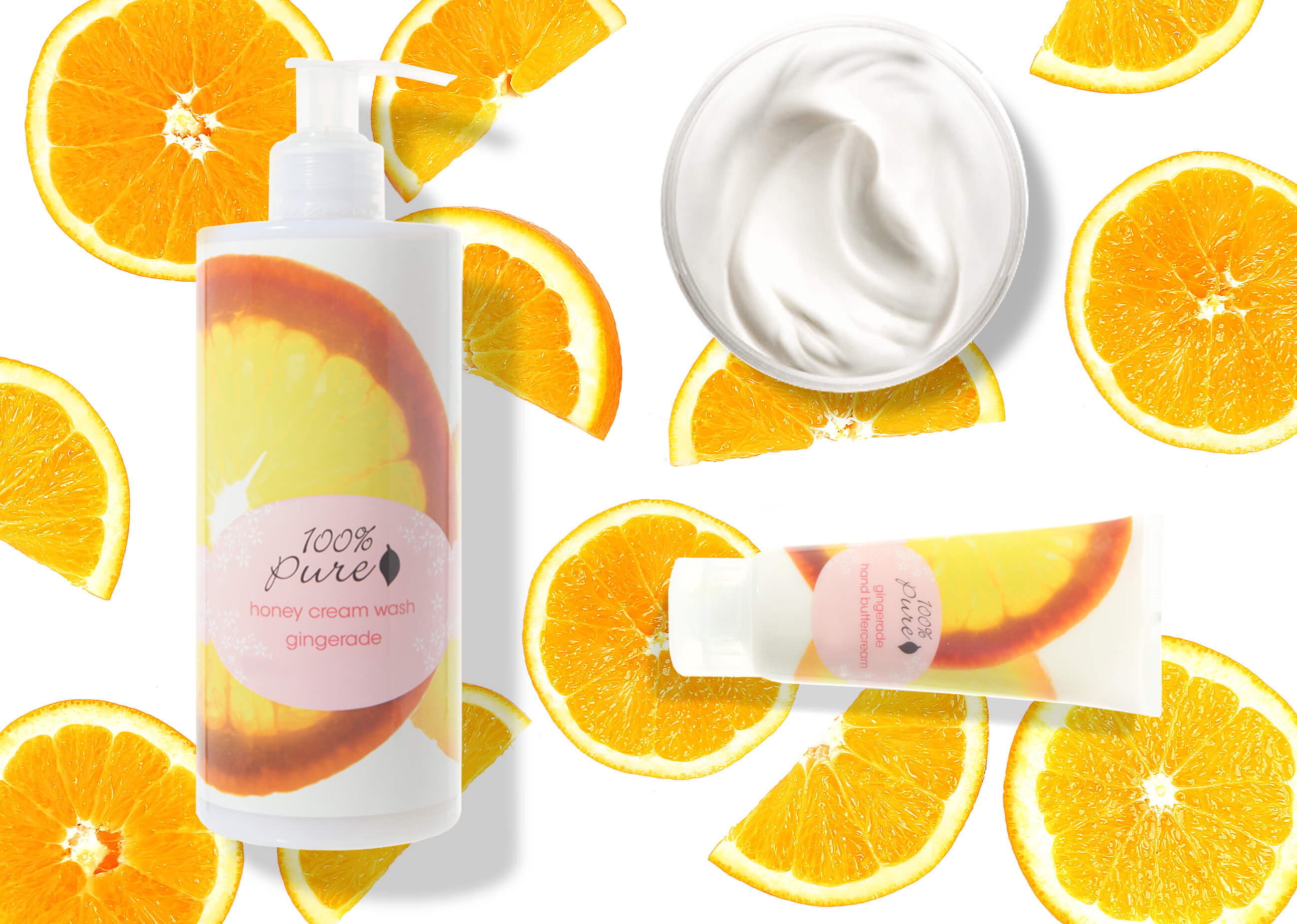 Gingerade: This collection has a crisp ginger and citrus scent. One of the best invigorating scents to wake up to in the morning, and a sweet fruity alternative to your morning coffee (and a winner over artificial fragrances!).
Blood Orange - The Blood Orange collection smells of sweet ripe blood oranges, an invigorating scent all from natural fruit oils, never any synthetic fragrances.
Pink Grapefruit Body Care Routine
Make sure to give yourself some TLC during the gloomy weather months! Here's a guide for an uplifting bath experience featuring your new citrusy BFF.
Start by applying a half dollar sized amount of Pink Grapefruit Shower Gel to a bath sponge or washcloth. Gently cleanse in circles all over the body and rinse thoroughly.
Following your bath or shower, dry yourself off and apply Pink Grapefruit Body Lotion to keep skin moisturized and hydrated. Applying this product helps protect your skin from TEWL (transepidermal water loss), which your skin can be more prone to in the winter. Take care to pay extra attention to areas that are commonly more rough, such as elbows, knees, and bottoms of the feet. You might need to try our Pink Grapefruit Whipped Body Butter to deeply soften and moisturize those extra rough and dry spots!
Pamper your hardworking hands with Pink Grapefruit Hand Buttercream. Your hands accomplish a lot and they tend to be exposed to the harsh winter air more if you aren't careful to wear gloves. Carry it in your tote or keep it on your office desk so you'll never have to complain about flakey, cracked palms again.
Spend Time Outdoors
One of the optimal ways to care for yourself when feeling the winter blues is to try to get some sun exposure in. The window of opportunity can change depending on how close or far you are located from the equator. Going for a lunch hour walk, or waking up a little earlier to enjoy some hot tea in the early morning on your porch are great ways to squeeze some extra sunshine into your day, especially for those who work indoors and may be far from the window.
Spending time in the sunshine also provides us with much needed vitamin D. Make sure that even when you are spending time outdoors for your daily dose of vitamin D to apply your sunscreen. We like to use our Yerba Mate Mist SPF for all over protection. You only need to be in sunlight for half the amount of time it would take you to burn.
Treat Yourself
Give yourself a little pamper session with a mani or pedi! Especially if you choose a bright color, it can help to lift those winter blues.
Start by getting either a bucket (for feet) or a bowl for hands
Add water that is nice and warm to soak your hands and feet in.
Use your favorite body scrub to slough off dead skin cells and leave hands and feet baby smooth.
Dry hands, and once they are completely dry apply a base coat of nail polish. Select a nail polish shade to give your tips a pop of color.
Apply 2 coats, and finish off with Glass Top Coat.
Once nail polish is completely dry, apply some pink grapefruit scented hand butter cream to protect and moisturize hands
Remember to do other nice things for yourself, like 5 minutes of meditation a day to clear your mind, write your dreams in a journal, or snuggle with your favorite fur baby. Hopefully the winter blues won't hit you too hard, but these self care ideas can be useful to pull you out of a winter funk, and feel cheery and fresh again. Self care, citruses like pink grapefruit, and some sunshine can really help to boost your mood and power you through the rest of the winter months.
We carefully hand-select products based on strict purity standards, and only recommend products we feel meet this criteria. 100% PURE™ may earn a small commission for products purchased through affiliate links.
The information in this article is for educational use, and not intended to substitute professional medical advice, diagnosis, or treatment and should not be used as such.
Sign up to our email newsletter for more blog updates and exclusive discounts.
< Older Post | Newer Post >