The Top Korean Skin Care Trends
How to achieve glass skin, velvet skin, and more with natural and nourishing skin care products
Posted on February 16, 2019
Written by: 100% PURE®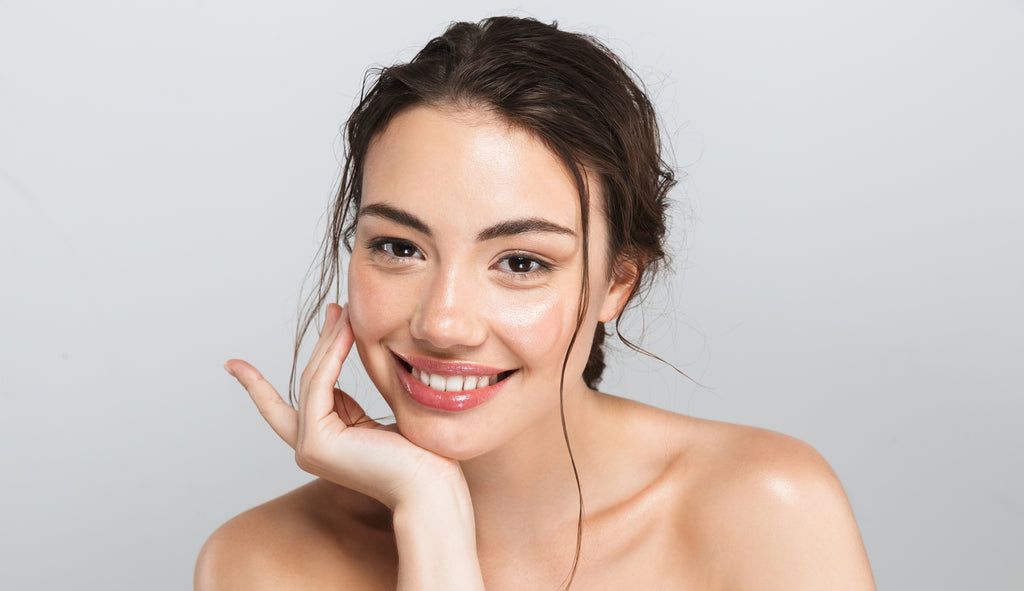 Korean skin care continues to lead major trends in the beauty industry, and for good reason: Korean beauty trends have offered the Western world innovative alternatives to some of our most conventional ways of thinking about skin care. We have K-beauty to thank for double-cleansing: a gentle approach to skin cleansing that ensures all debris gets removed from our skin. And of course, Korean beauty brought us the sheet masks that can be found on literally *every* Insta feed today!
While there are some K-beauty brands out there who use natural products, there are also many who use harmful, synthetic chemicals. Wherever you source your beauty products from, it's important to make sure you're not putting anything dangerous onto your skin (and therefore into your body). In this post, we'll discuss some of our favorite Korean skin care trends, and our favorite natural products and active ingredients for achieving them!
#1: Skip-Care
Think of Skip-care as the opposite of the 10-Step Korean skin care routine; it's all about paring down your beauty routine to a small number of multitasking essentials. This is a great trend for beauty lovers who don't have the time, funds, or interest to invest in a complicated assortment of products.
One popular product that falls into the Skip-care category is the foundation-moisturizer hybrid. This kind of double-tasking foundation can moisturizes your skin while evening complexion and covering up imperfections. It eliminates the need to apply a separate layer of moisturizer underneath your foundation
Our Fruit Pigmented® Cream Foundation is the perfect product for anyone looking to cut down their morning routine. Thanks to its creamy texture, it glides seamlessly onto skin for a smooth and silky look, without any help from primer or moisturizer. It also features a blend of skin-conditioning, plant-based moisturizers like avocado butter and pomegranate oil. Each delivers its own dose of omega fatty acids and antioxidants to nourish your skin.
Another dynamic product that fits in with the Skip-care trend is beauty water. Beauty waters are commonly used in the morning in the place of oil based cleansing and toning. They generally have astringent properties to remove oil from your skin, as well as calming and toning properties to tighten and brighten your skin. Our water based cleanser, the Rose Micellar Cleansing Water, can be a great substitute for morning cleansers and toners. Not only can it remove makeup, oil, and grime from your skin with micellar oil molecules, it can also condition and tone with purifying rose water (a great ingredient to add to both dry and sensitive skin routines). All you need to do is swipe it over your skin in the morning, quickly rinse, and you're ready to go!
#2: Glass Skin
'Glass' skin is the popular trend of using skin care products to create the look of smooth, lustrous, and perfectly clear skin. You might think that the glass skin look is created with makeup products — but glass skin actually starts with skin care!
To get the glass skin look, start by exfoliating up to three times per week with a concentrated vitamin exfoliant like our Acai Pulp Facial Scrub. Exfoliating regularly will remove dull, dead skin cells while stimulating circulation on your face — giving your complexion a bright, glowy look. Exfoliate in the evenings, and follow up with our Brightening Serum for ultra dewy and luminous skin.
In the morning, you'll put the final touches on your glass skin look with a simple three-step routine. First, massage a few drops of Argan Oil into your skin, focusing on your cheekbones. This will help to create a dewy, lustrous finish while conditioning and moisturizing your skin.
For the makeup phase, start by applying your foundation with a brush — only to the T-zone or areas where you might need more coverage (you gotta let your glowing skin shine through). Try our Water Foundation to give your skin a natural, semi-dewy finish.
Finally, dab a bit of the liquid Luminating Creme onto your cheekbones, and use a dampened makeup blender to seamlessly blend it into your foundation for a luminous, glassy sheen.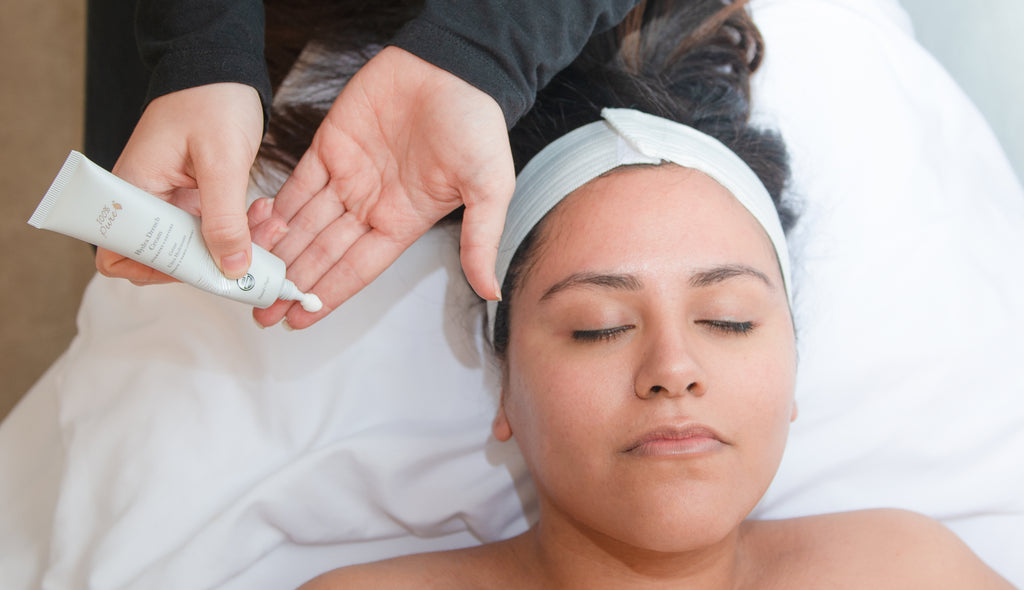 #3: Velvet Skin
Velvet skin is a K-beauty trend that centers around flawlessly smooth, poreless skin with a velvety finish. Like glass skin, you'll probably get the best results if you exfoliate regularly and use a hydrating serum / moisturizer combo in the evening. Removing dead skin cells and keeping your skin moisturized will help your makeup products glide evenly over your skin without caking, flaking, or becoming patchy.
To get the velvet skin look, we start your morning routine with an oil-absorbing primer to blur imperfections and help your makeup glide on smoothly. Our Mattifying Primer is made with seaweed collagen, green tea, and rice starch to minimize appearance of fine lines and prep skin for foundation. Follow up with a layer of foundation that delivers a satin finish, like our Fruit Pigmented® 2nd Skin Foundation.Finish by blotting away oil from your T-zone with a finishing powder — we're crazy about our Bamboo Blur Powder, which uses natural bamboo silica to eliminate excess oil while creating a satin, poreless finish.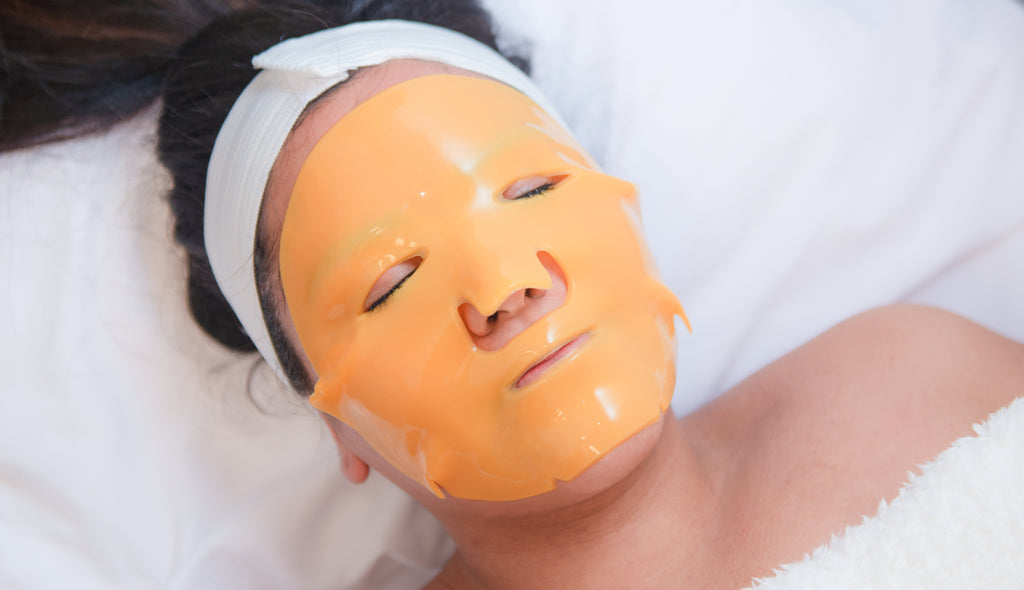 #4: Hanbang Skin Care
Some pioneering K-beauty brands have found ways to blend together makeup and skin care products with hanbang: traditional herbal medicine. Hanbang skin care involves using traditional ingredients, like ginseng, alongside contemporary ingredients, like hyaluronic acid. Essentially, hanbang skin care centers around blending the best of traditional wisdom with the best of modern dermatology — resulting in potent products that work to benefit the health of your skin.
Ginseng is an anti-aging root that can benefit many skin types (especially aging) in many ways.It stimulates circulation and cellular renewal, resulting in brighter, firmer, and more youthful looking skin. It can also help to boost collagen production in your skin, and to promote healthy cell functions, rejuvenating your skin at its most critical level.
You can experience the benefits of ginseng by using our Ginseng Collagen Boosting Masks: revitalizing gel masks made from 95% aloe juice and 5% plant cellulose, and instilled with nourishing natural ingredients. Ginseng and vitamin C promote circulation and collagen production and fade dark spots, while manuka honey and royal jelly heal and restore the skin.
Keep up with our blogs to learn more about recent beauty trends — and how you can take advantage of them with natural, toxin-free ingredients.
We carefully hand-select products based on strict purity standards, and only recommend products we feel meet this criteria. 100% PURE™ may earn a small commission for products purchased through affiliate links.
The information in this article is for educational use, and not intended to substitute professional medical advice, diagnosis, or treatment and should not be used as such.
Sign up to our email newsletter for more blog updates and exclusive discounts.
< Older Post | Newer Post >