BB Cream 101: Everything You Need to Know About Beauty's Best Kept Secret
Why BB Cream is Every Beauty Aficionado's Must-Have
Posted on November 3, 2023
Written by: 100% PURE®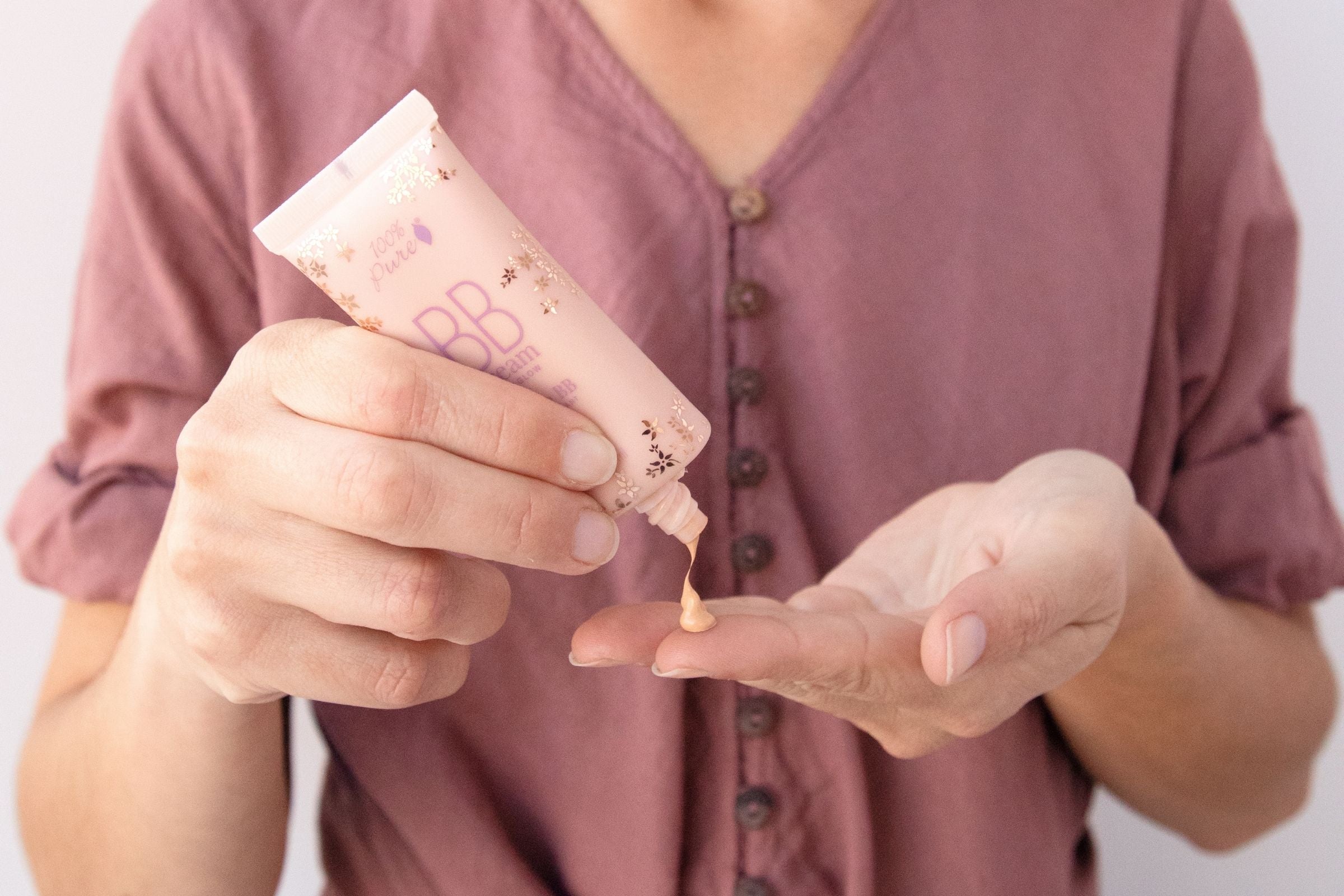 The world of beauty products is a multifaceted realm, constantly evolving to meet the diverse needs of individuals seeking to enhance their appearance. Among the many innovations in this industry, the emergence of BB cream has made a transformative impact. Bridging the gap between skincare and makeup, BB cream has revolutionized daily beauty routines, offering a blend of hydration, coverage, and sun protection. Its versatility and convenience have earned it a special place in the hearts of beauty enthusiasts, underscoring the ever-changing landscape of cosmetics and skincare.
BB Cream: The Origin Story
BB cream has a rich history that reflects its remarkable journey from its origins in Germany to becoming an integral part of the beauty industry worldwide.
The origin of BB cream can be traced back to a German dermatologist in the 1960s. Initially, it served a modest role as a post-procedure product, designed to alleviate and safeguard the skin of patients following dermatological treatments like laser therapy or chemical peels. This early iteration primarily focused on concealing imperfections and assisting in skin recuperation, rendering it a specialized product with limited appeal.
The true metamorphosis of BB cream unfolded as it made its way to South Korea during the late 1980s and early 1990s. South Korean cosmetics enterprises discerned the potential of this product and embarked on a journey of refinement and innovation. They seized the opportunity to craft a multi-functional product that aligned with the Korean beauty ethos, which prizes radiant, flawless skin.
The triumph of BB cream in South Korea swiftly radiated to other Asian regions before gaining momentum in the Western world. Beauty enthusiasts worldwide embraced BB cream for its convenience and versatility. It offered a streamlined approach to daily beauty routines, unifying the benefits of a moisturizer, foundation, sunscreen, and, at times, even anti-aging serums within a single product.
The "BB" in BB Cream: What Does It Stand For?
The "BB" in BB Cream stands for "Blemish Balm" or "Beauty Balm," a dual-purpose cosmetic marvel. This nomenclature reflects its philosophy, as it combines skincare and makeup into one product. Originally developed to soothe and conceal post-procedure blemishes, BB cream evolved to provide everyday beauty enhancement, aligning with the desire for flawless, radiant skin. The name encapsulates its purpose: to be a balm for blemishes and a balm for overall beauty, a versatile solution that simplifies beauty routines while promoting healthy, radiant skin.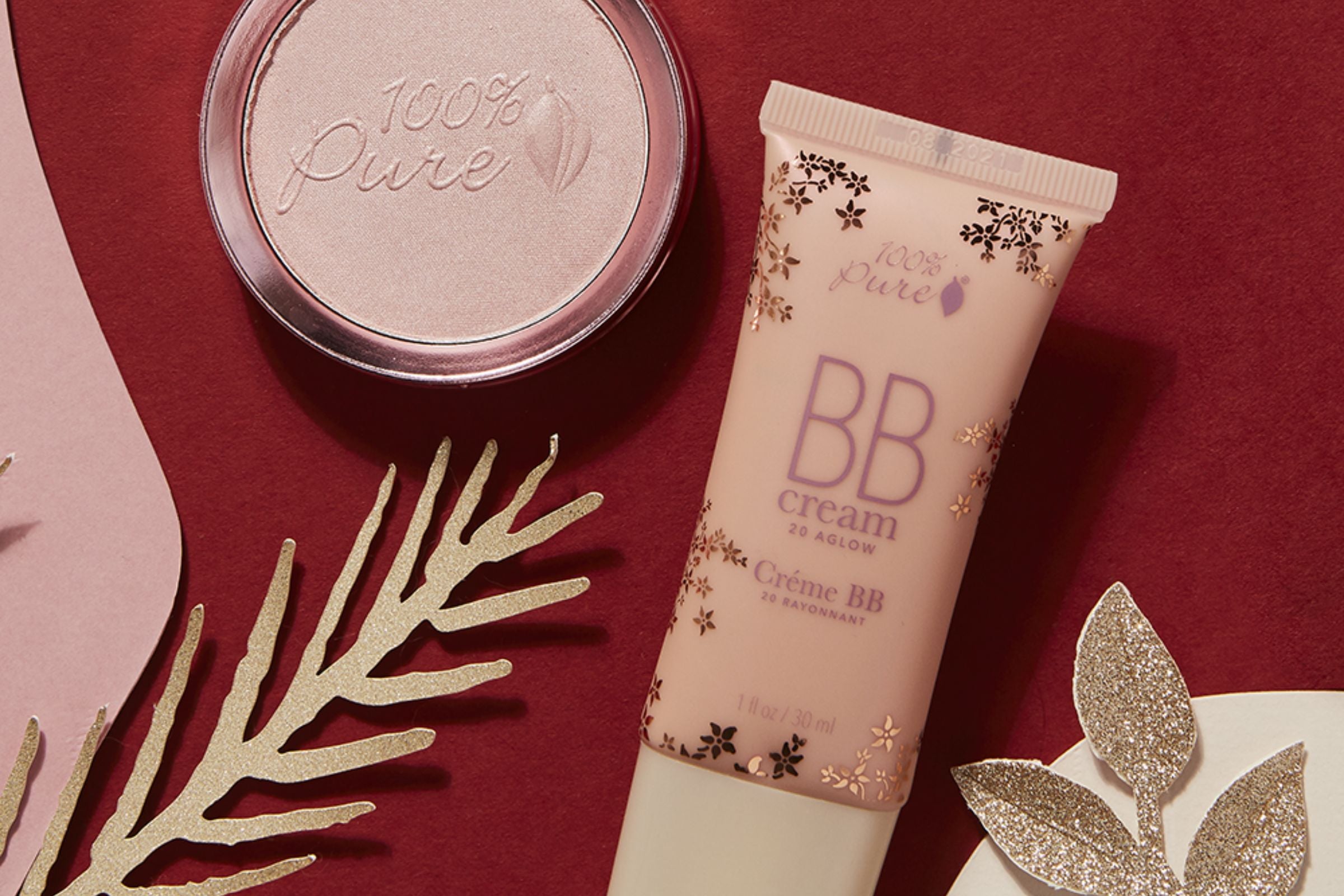 Why BB Cream Stands Out in the Beauty Crowd
BB Cream stands out in the beauty world for its exceptional all-in-one approach. It combines the roles of moisturizer, primer, sunscreen, foundation, and more in a single product. This multifunctional gem not only saves time but also simplifies your beauty routine, making it more efficient without compromising on efficacy. With BB Cream, you get the benefits of skincare and makeup in one, offering a streamlined and effective solution for your daily beauty needs.
Key Benefits of Using BB Cream
BB cream offers a variety of benefits that cater to both skincare and makeup needs, making it a convenient and versatile choice for individuals seeking an efficient and effective beauty solution.
Skin Protection: BB cream often includes sunscreen, safeguarding your skin from harmful UV rays and environmental stressors, and reducing the risk of premature aging and sun damage.
Hydration: Packed with moisturizing ingredients, BB creams keep your skin well-hydrated, preventing dryness and maintaining a healthy, radiant complexion.
Coverage: These creams offer light to medium coverage, concealing blemishes and evening out your skin tone for a natural, flawless look.
Anti-aging: Some BB creams incorporate anti-aging components that help prevent wrinkles and support skin repair, contributing to a youthful appearance.
100% PURE BB Cream
100% PURE BB Cream is a popular choice for those seeking a natural, multifunctional beauty product. This BB cream is known for its emphasis on using pure, clean ingredients. It is designed to provide not only coverage but also skincare benefits. It caters to various skin types, making it a versatile addition to your beauty routine.
Natural Ingredients: 100% PURE prides itself on using natural ingredients. You won't find synthetic dyes, fragrances, or other potentially harmful additives in this product. The key ingredients of this BB cream are cherry, raspberry seed oil, bilberry seed oil and cornflower water.
Hydration for Dry Skin: This BB cream is particularly beneficial for individuals with dry skin. It contains ingredients like aloe and shea butter, which offer hydration and soothing properties.
Fruit Pigment: Instead of traditional colorants, this BB cream uses fruit pigments for a natural and healthy tint.
User Reviews: Many users have praised 100% PURE BB Cream for its ability to provide decent coverage while keeping their skin well-moisturized. Its use of natural ingredients is a standout feature, with customers often highlighting the radiant finish it imparts. Here let's take a look at some of the authentic reviews left by our buyers:
"It's the best bb cream I've ever tried. Good coverage." - Ligia
"This BB Cream feels amazing and leaves my skin feeling soft and glowing. I love the ingredients and not having to worry about what I'm putting on my skin! Would definitely buy it again!" - Lily
"Currently using this in my summer makeup routine. I have older skin so sometimes I even add a little bit of moisturizer to make it even more sheer. I love it to get that little bit of extra glow, which is especially great during the summer!" - Sherry
Newsletter
Subscribe
for more blog updates and exclusive discounts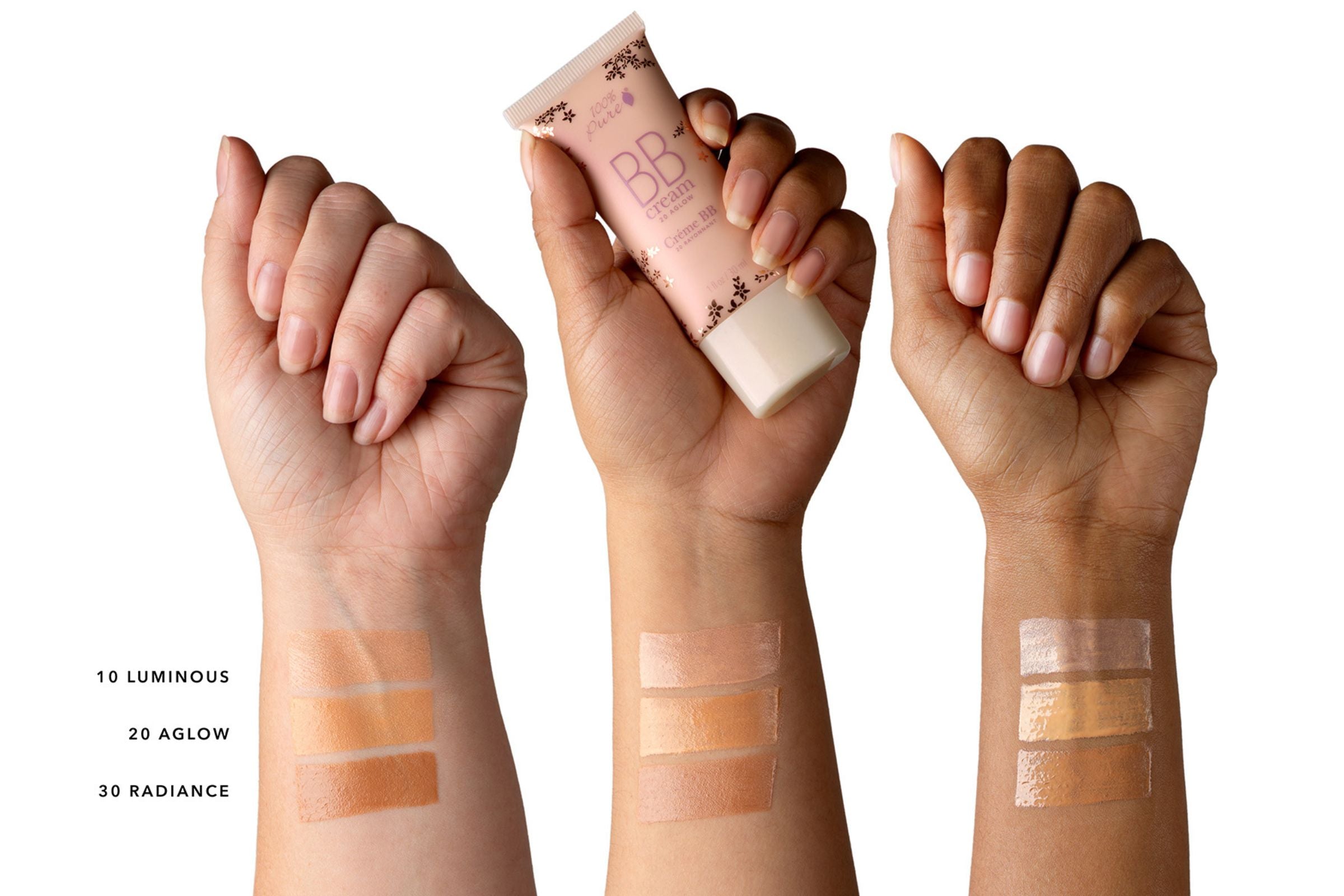 Application Tips for Flawless Finish
1. Start with a clean, moisturized face.
2. Apply a small amount of BB Cream evenly to your face. Begin with the center and blend outward for a natural look.
3. Use your preferred tool for application: fingers for a natural finish, a beauty blender for a seamless blend, or a brush for precision.
Tools to Use: Fingers vs. Beauty Blenders vs. Brushes
1. Fingers: Ideal for a natural finish. Warm the product in your hands and gently pat and blend onto your skin.
2. Beauty Blender: Provides a flawless, airbrushed finish. Dampen the Non-Latex Makeup Blender before use for better blending.
3. Brush: Offers precise application and can be great for a more controlled finish.
Tips for a Flawless Finish
1. Use a primer like Luminous Primer to create a smooth canvas for the BB cream.
2. Set your BB cream with Bamboo Blur Powder to reduce shine and improve staying power.
3. For added radiance and to minimize pores, finish with Lavender Niacinamide Pore Minimizer Tonique for a polished look. Layer as needed to achieve your desired coverage.
Frequently Asked Questions About BB Cream
What's the difference between BB cream and CC cream?
BB (Blemish Balm) and CC (Color Correcting) creams are both versatile cosmetic products, but they serve different purposes. BB creams offer a blend of skincare and light coverage, while CC creams are primarily designed to correct color issues like redness or uneven skin tone. CC creams tend to have more color-correcting pigments, making them suitable for those with specific complexion concerns.
How do I find the right shade for my skin tone?
To choose the correct shade of BB cream, match it as closely as possible to your skin tone. Many brands offer a range of shades to suit different complexions. You can test shades on your jawline or wrist to find the one that blends seamlessly with your skin. Consulting with a beauty expert or using online shade-matching tools can also be helpful.
Can I use BB cream daily without clogging pores?
BB creams are generally formulated to be lightweight and non-comedogenic, meaning they shouldn't clog pores. However, individual reactions can vary. If you have sensitive or acne-prone skin, opt for BB creams labeled "oil-free" or "non-comedogenic" to reduce the risk of clogged pores.
How do BB creams fare against full-coverage foundations?
BB creams offer light to medium coverage and a more natural finish compared to full-coverage foundations. They are ideal for a natural, everyday look. Full-coverage foundations provide heavier coverage and are better suited for special occasions or when you need to conceal significant blemishes or imperfections.
Are there organic or vegan BB cream options?
Yes, many brands like 100% Pure now offer organic or vegan BB creams. These formulations use natural, plant-based, and cruelty-free ingredients, catering to individuals with specific ethical or environmental preferences. Always check the product labels or the brand's website for information on their organic or vegan certifications.
Conclusion
Today, we celebrate BB cream's ability to simplify daily beauty regimens while providing a natural and radiant look. It also serves as a shining example of how the beauty industry continues to innovate, meet diverse needs, and bridge the gap between beauty and skincare. This beauty staple is poised to remain a cornerstone of our cosmetic collections, embodying the timeless ethos of both innovation and adaptability.
We carefully hand-select products based on strict purity standards, and only recommend products we feel meet this criteria. 100% PURE™ may earn a small commission for products purchased through affiliate links.
The information in this article is for educational use, and not intended to substitute professional medical advice, diagnosis, or treatment and should not be used as such.
Sign up to our email newsletter for more blog updates and exclusive discounts.
< Older Post | Newer Post >