Aloe Vera in Skin Care and Makeup
The many beauty benefits of this famous succulent
Posted on December 17, 2020
Written by: 100% PURE ®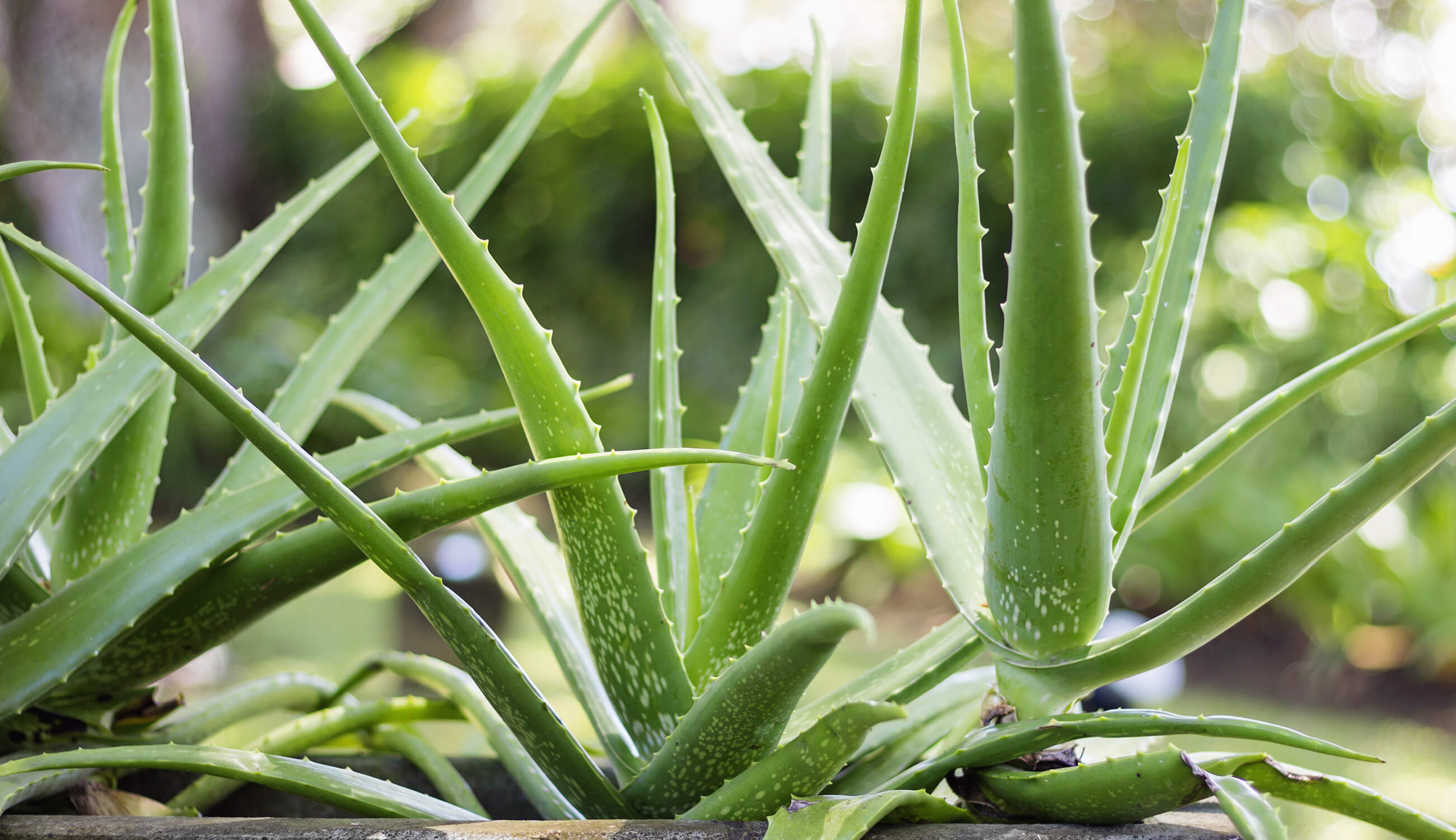 Known by the ancient Egyptians as the "plant of immortality", aloe vera is in the pantheon of our all-time favorite ingredients. It's used as a base ingredient in hundreds of our products, from makeup to masks to hair care. Its ability to moisturize with a natural abundance of antioxidants, minerals, enzymes, and vitamins makes it a no-brainer for beauty products.
Throughout history, aloe vera has remained one of the main plants associated with healing and holistic health. We all know that it's great for sunburns, but what else do we know about aloe vera benefits for skin?
In this post, we'll take a quick tour of the anatomy of aloe vera, and the ways in which it can help keep our skin healthy.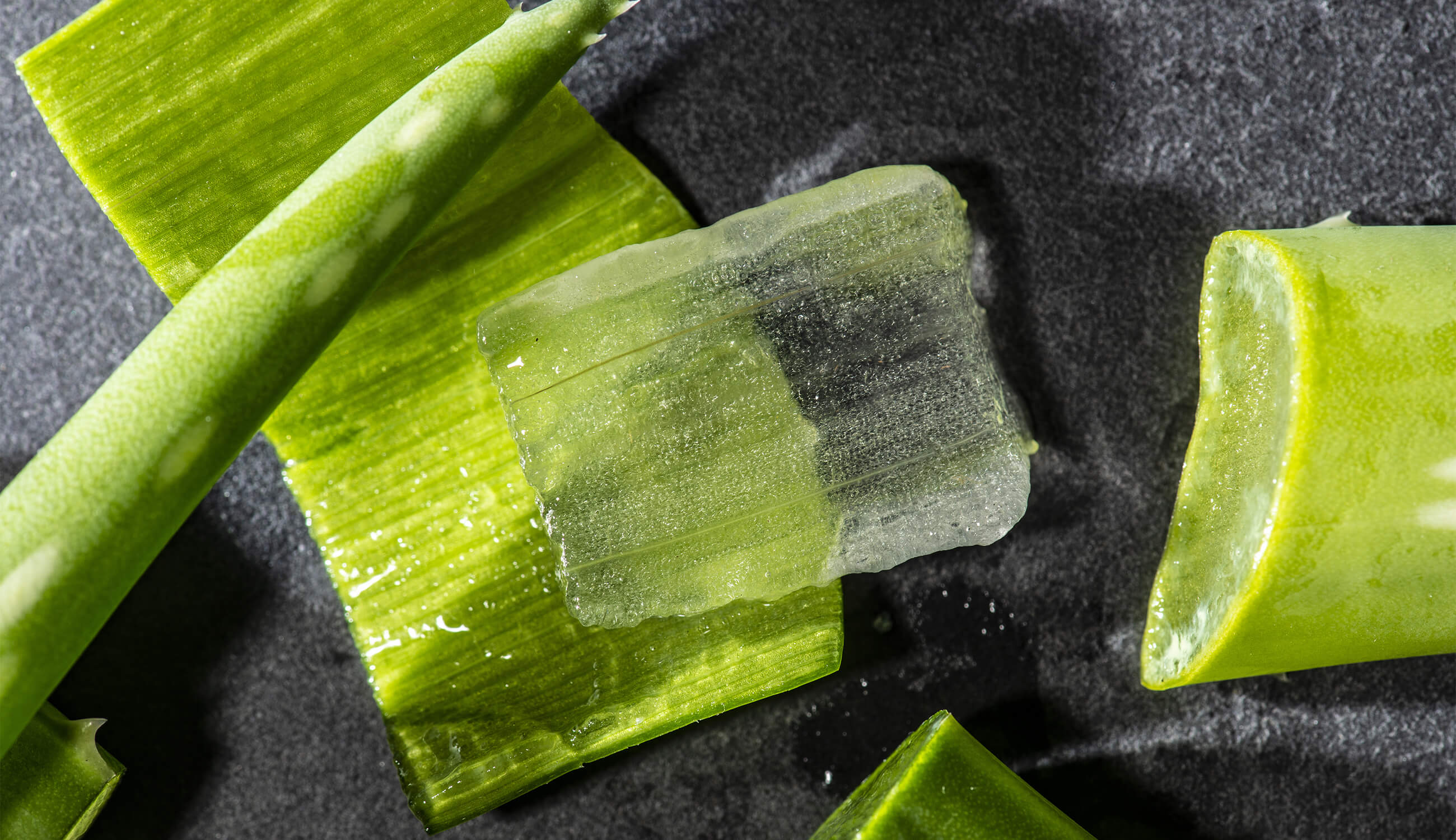 Anatomy of Aloe Vera
Aloe vera is essentially 99-99.5% water with the rest being classified as "gel". While this is the most sought after part of the plant when employing aloe vera benefits for skin, it's worth considering all parts of the plant.
There are three main components to the aloe vera leaf:
Aloe Rind
This dark green outer layer acts as a protective barrier to retain the juice inside. This part of the aloe does not appear to have any measurable nutritional value.
Aloe Latex
This is the yellow-ish liquid that comes out when a leaf is cut or squeezed, and has a slightly bitter taste (though it should not be consumed orally unless it has been properly processed). This thin lining stands between the aloe rind and aloe gel inside.
Aloe Leaf Gel
A clear and odorless gel makes up the majority of the aloe leaf. Aloe leaf's fleshy interior is full of nutrients and antioxidants, and is touted for both its topical and ingestible healing properties. You'll often see it listed as 'juice' or 'gel' in ingredient lists.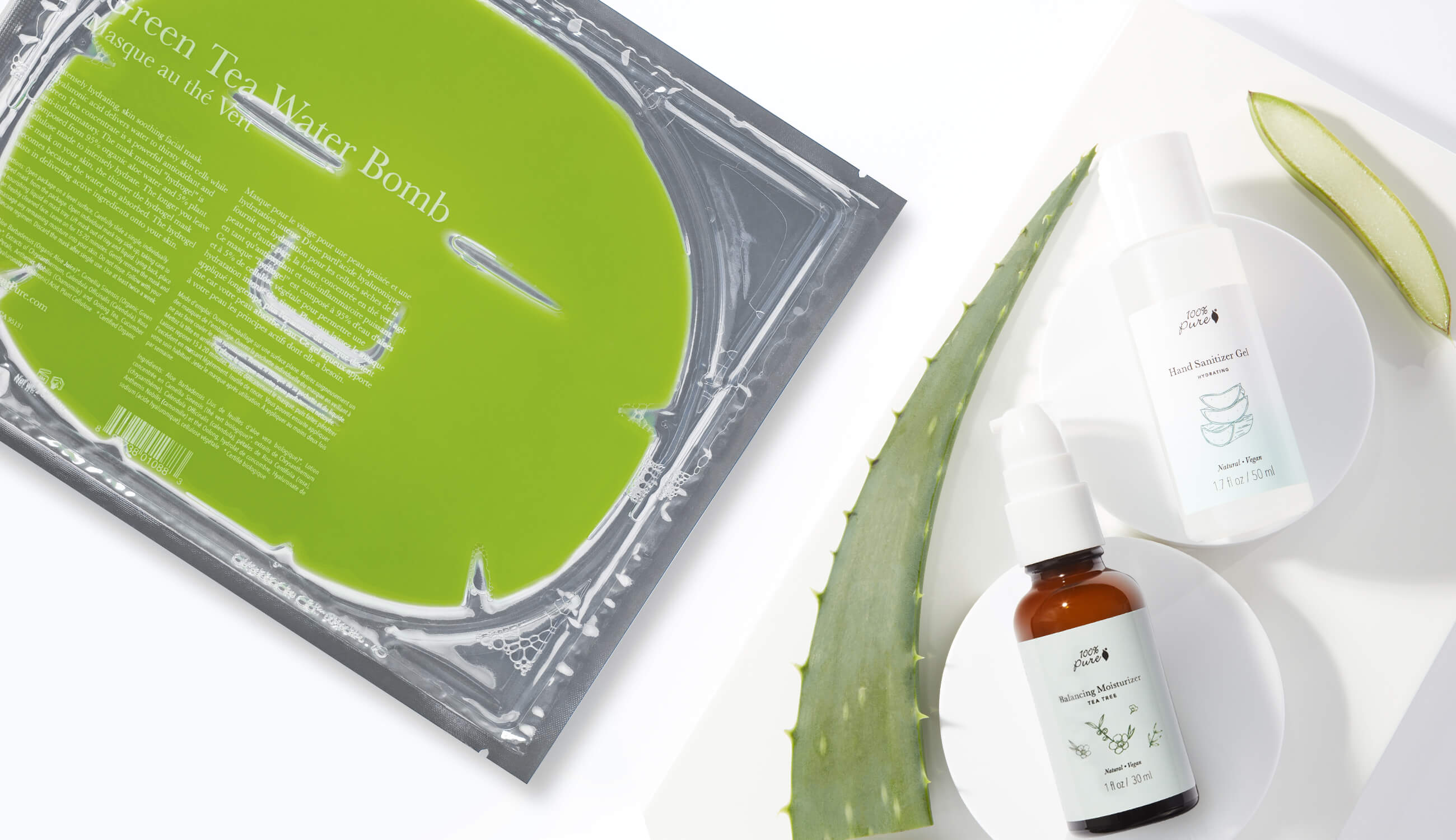 What Kind of Nutrients Are in Aloe Vera?
The well-known soothing properties, antioxidant content, and obvious hydration benefits of Aloe vera make it a no-brainer addition to skin care and makeup. These healing effects have been recognized for thousands of years, and we're maintaining that long-lived tradition. Aloe vera has the ability to penetrate deep into our skin, transporting nutrients while also helping to remove toxins.
Here are some key nutrients found in this natural ingredient:
Minerals
Aloe vera is chock full of minerals, bursting with over 20 skin nourishing stars like selenium, calcium, iron, magnesium, potassium, copper and zinc.
Vitamins
Who knew that in just 1% worth of aloe content, there could be so much good stuff brewing? Aloe vera touts an impressive vitamin list including vitamin A, B1, B2, B3, B6, C and E to supplement your skin-soothing crew.
Beta-Hydroxy Acids
Aloe vera contains beta-hydroxy acids: oil-soluble acids that help clear the pore, making them great for oily, congested or acne-prone skin. Aloe vera also contains salicylic acid, which is known for its gentle and effective acne-fighting properties.
Fatty Acids
These players bring anti-inflammatory and antiseptic properties to the party, for more clear and balanced skin.
Amino Acids
This spiky plant packs a lot into each cubic millimeter of its mass, containing twenty of the twenty two amino acids that humans need – including seven of the eight essential amino acids.
3 Aloe Vera Benefits for Skin
Now that we have an understanding of this unique plant's parts and compounds, here are three of the most prominent aloe vera benefits for skin.
Aloe Vera for Hydration
Aloe vera is well-known for its hydrating benefits for all skin types. Thanks to aloe vera, our Mattifying Primer can quench skin in a pinch. On top of that, aloe vera gel may even help with skin conditions like seborrheic dermatitis.
While this major hydration factor is due in part to the fact that aloe vera contains 98% water, this is also due in part to two natural hormones found in the plant: gibberellins and auxin.
Gibberellins and auxin have both been shown to contain anti-inflammatory properties by helping the hormones in your body stimulate new cell growth. Through this process, the healing process can be expedited, while the appearance of scars can be reduced.
We love using aloe vera as one of the main hydrating ingredients in some of our skin-soothing staples. Our Green Tea Water Bomb Mask is one such product, which is perfect for anyone who needs an extra boost of hydration.
We've added in organic green tea concentrate (a powerful antioxidant) to help with inflammation, while soothing calendula works to provide calming hydration. This hydrogel mask is perfect for all skin types, from dry to oily skin. This natural face mask will help your skin feel youthful, hydrated, and happy.
While we love aloe vera in our products specially formulated to moisturize the skin (hello, Tea Tree Moisturizer) we also enjoy it as a balancing ingredient in products that may be drying to the skin, like Hand Sanitizer Gel.
While we strive to make our sanitizer as gentle on the skin as possible, any alcohol or antibacterial ingredients can tend to strip the skin of its natural moisture. But with the assistance of aloe vera, this formula stays balanced and gentle on your lipid barrier.
Aloe Vera for Clarifying
Believe it or not, aloe vera benefits for skin may even extend to clearing acne. This is due in part to the fact that aloe vera is anti-inflammatory and antibacterial, but is also thanks to natural salicylic acid content.
Another factor is that aloe vera is super moisturizing – and your skin is efficient at healing itself when it's healthy and hydrated. While it's not recommended to apply aloe vera directly to an irritated pimple, it's great for when your skin is in the healing process, especially for the purpose of helping fade acne scars.
If you've recently experienced a breakout, our Tinted Moisturizer contains aloe vera, and helps provide some coverage while providing your skin with nutrients to help its healing process.
Aloe Vera for a Healthy Glow
As our skin ages, it gradually produces less collagen. This leads to a loss of elasticity and more prominent fine lines and wrinkles – luckily, aloe vera makes a great anti-aging ingredient. Its hydrating powers help, and the way salicylic acid exfoliates and encourages new cell turnover.
In our innovative Vitamin C Serum, we harnessed the power of vitamin C in a base of nutrient-rich organic aloe juice. This was to help protect your skin against free radicals, which lead to premature aging and sun spots.
Our PM treatment works for all skin types and is best when applied as the first step in your nightly skincare routine; a serum works best when applied directly after cleansing. It's perfect for anyone looking to help firm and brighten their overall skin tone.
We carefully hand-select products based on strict purity standards, and only recommend products we feel meet this criteria. 100% PURE™ may earn a small commission for products purchased through affiliate links.
The information in this article is for educational use, and not intended to substitute professional medical advice, diagnosis, or treatment and should not be used as such.
Sign up to our email newsletter for more blog updates and exclusive discounts.
< Older Post | Newer Post >