Why Coconut Shampoo Actually Works for Silky Smooth Hair
With the right natural ingredients, coconut shampoo is a savior for dry, damaged hair.
Posted on March 30, 2018
Written by: 100% PURE®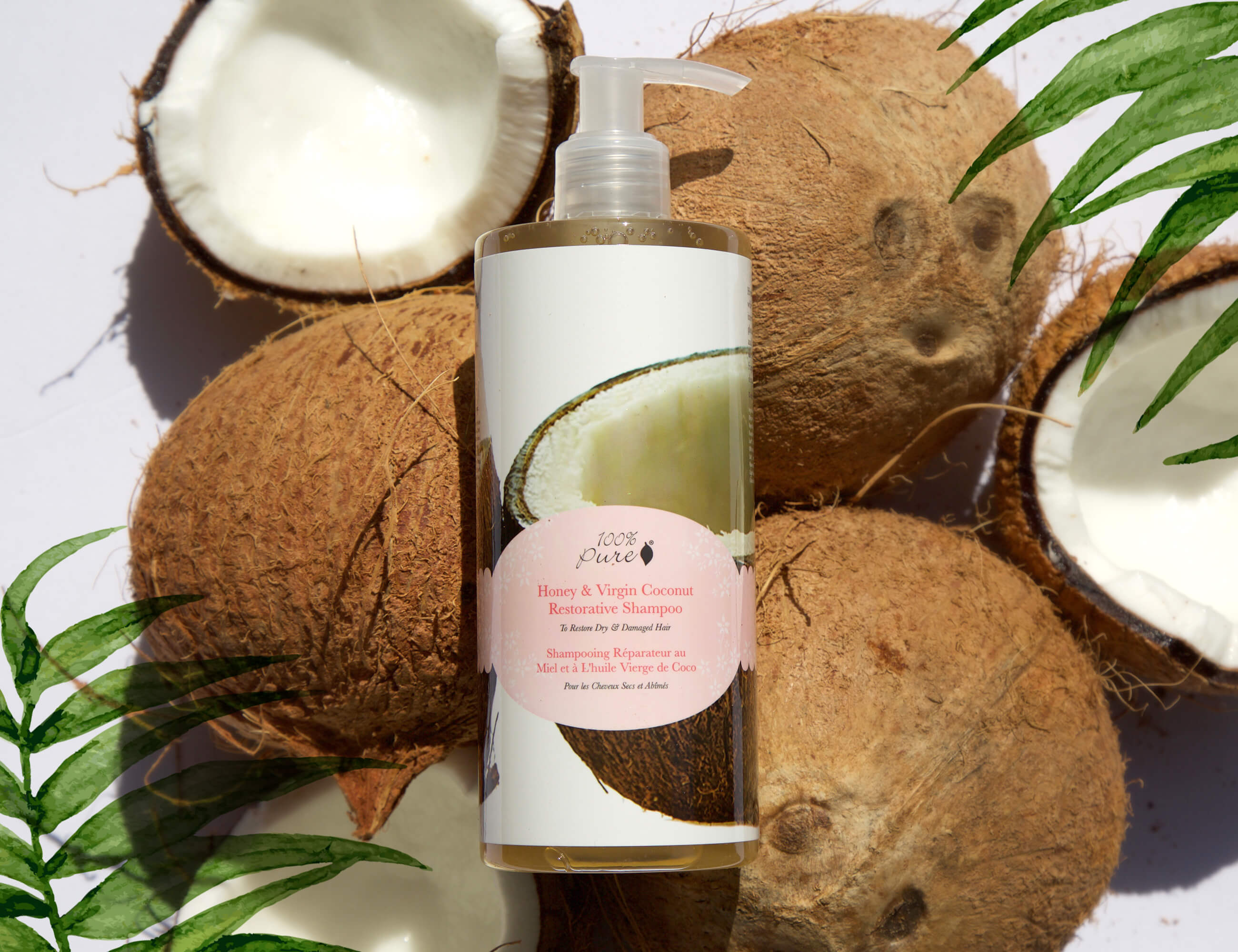 What's the solution to healthy hair? Some of us have it naturally, but most of the time, beautiful, manageable, healthy hair comes with the right hair care products and routine. Some of us have a strict Monday-Wednesday-Friday wash schedule, while the rest of us just try to get it in when we can fit it in. And easy hair care isn't so simple when you learn the ugly truth about dry shampoo. No matter our hair type or routine, we can always treat our hair better. When thinking of the products you use on your luscious locks, can you remember any highlight ingredients? Sure, some products claim to be scented with cherry blossoms and organic rose petals and that all sounds good, but what proof is there on the label? Our hair products make it into many bathrooms and regimens because we formulate using the best, wholesome ingredients. Possibly our favorite ingredient for hair care is coconut oil. Keep reading to learn how we use it in our coconut shampoo, and you'll have a new hair care favorite!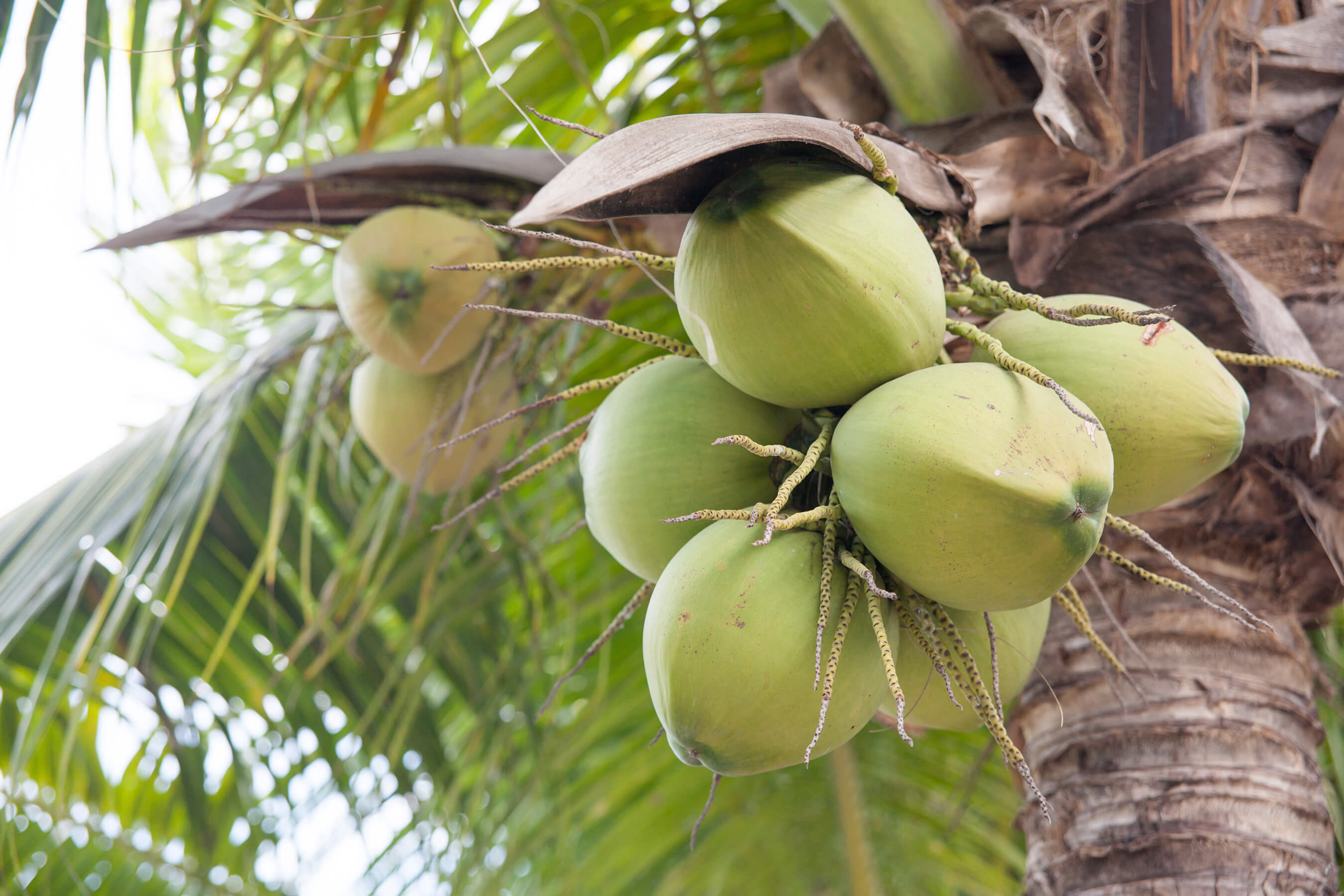 What's in Coconut Shampoo?
Our mission has always been, and continues to focus on gently cleansing products that enhance hair for a brighter shine, deeper cleanse and balanced hydration. Along with our mission of using natural ingredients, we found that saponified coconut oil was the perfect natural base for cleansing hair. We're not usually a fan of big words, because they usually mean harsh chemicals like sulfates, but in this case saponified is a term we can get behind.
You might be saying to yourself, "what in the world is saponified coconut oil?" Saponification is a modern process of creating a cleanser out of a natural, organic oil. The process is relatively simple and varies based on the oil in use. Basically, by mixing the oil with a natural alkaline, the combination creates a creamy, cleansing lather still packed with all the benefits of the oil and free of harsh chemicals. Saponified coconut oil comes with lots of glycerin which is a humectant, drawing moisture into the hair and maintaining moisture levels for longer. The saponified coconut oil in our products create a bubbly yet silky lather, perfect for smoothing between strands and washing away any dirt, dandruff or debris.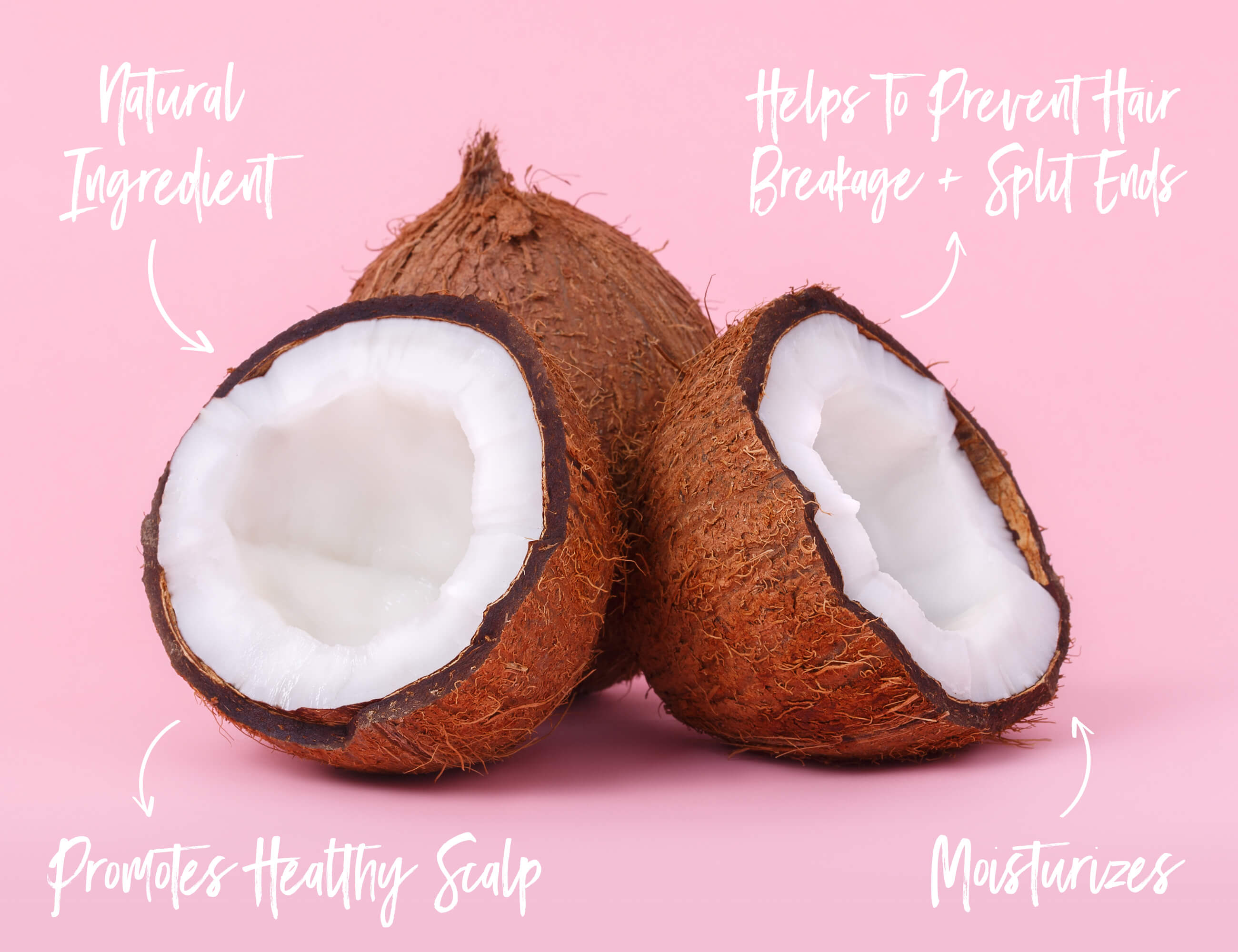 Benefits of Coconut Shampoo
This creamy oil is nothing short of a miracle for hair. If you have ever applied raw coconut oil to your ends for a softening deep conditioner, you would have noticed how instantly your hair changed. It is almost as if coconut oil is the answer to our hair prayers. One of the main reasons we include coconut oil in our formulas is that it is naturally anti-bacterial. In cleansing products such as our Honey & Virgin Coconut Shampoo, the coconut oil pulls double duty by conditioning and cleansing the hair. Coconut oil contains a natural chemical called lauric acid, which deeply penetrates the hair shaft for strengthening and conditioning. This can lead to longer, stronger and fuller hair and repair split ends. Coconut oil also works as a great heat protectant and styling agent. Since it deeply penetrates the hair, it makes a protective seal that can reduce damage from heat exposure. Use this oil as a styling agent for a sleek and smooth high ponytail, for juicy bouncy curls or braid into hair for loose beachy waves the next day.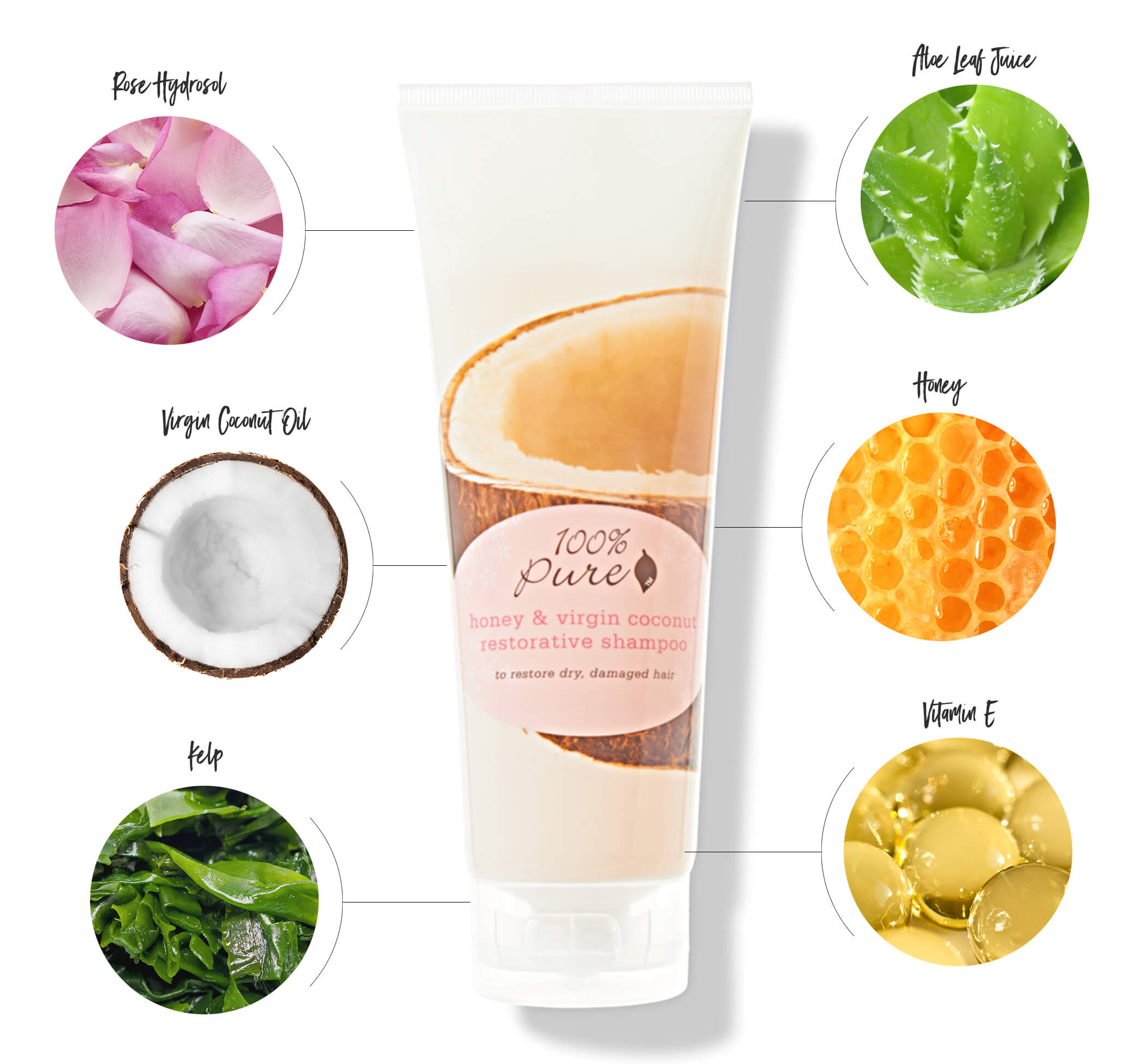 We honestly can't think of any situation where honey and coconut is a bad combination (beachside cocktails, anyone?) but in terms of hair, this combo is more of a dynamic duo. Honey is another powerhouse humectant, super useful for deeply moisturized hair that stays bouncy and juicy all day long. Honey is also naturally antibacterial and anti-inflammatory. For those of us suffering from scalp issues, honey helps to calm and soothe for a healthy scalp, leading to healthy hair. Our shampoo base utilizes rose and aloe for a gentle cleanse that brings hair to a healthy balance instead of stripped and crunchy from chemical hair products. This shampoo also utilizes rosemary, oregano and sea salt for a stimulating scalp cleanse to get us that much closer to healthy, manageable hair.
We don't believe in rules, but one thing we can't endorse is missing the opportunity for heavenly hair conditioning. Follow up your coconut shampoo with this complementing conditioner, great for any hair length or type. In addition to the rose and aloe vera found in our coconut shampoo base, this conditioner includes rich avocado butter complete with healthy fats for shiny, lustrous hair. Our Honey & Virgin Coconut Conditioner also includes flaxseed oil which is a rich source of vitamin E and fiber for strengthening the hair and promoting hair growth. The soft, lightly sweet and natural scent lingers in your mane for shine and softness that doesn't quit.
We all want healthy hair, but trying to tame it into submission isn't the way to go. We all just end up frustrated, with wilted ends and even worse confidence that our hair will ever look its best. Instead, we use natural ingredients to enhance hair for healthy, honest results. For volumized hair, our coconut hair products create lightweight volume without compromising hair health or texture. The honey and saponified coconut in our coconut shampoo and conditioner impart vitamin E, moisture and shine for a diamond-like finish. Who wouldn't want to use organic and natural ingredients in their products and see even better results than the high-end, expensive salon stuff? Celebrate your beautiful, natural hair with our natural ingredients and healthy, high-quality results.
We carefully hand-select products based on strict purity standards, and only recommend products we feel meet this criteria. 100% PURE™ may earn a small commission for products purchased through affiliate links.
The information in this article is for educational use, and not intended to substitute professional medical advice, diagnosis, or treatment and should not be used as such.
Sign up to our email newsletter for more blog updates and exclusive discounts.
< Older Post | Newer Post >