Everything You Wanted to Know About Powder Foundation
We're covering the best natural powder foundation and why oily skin types should be trying this foundation right now.
Posted on April 5, 2018
Written by: 100% PURE®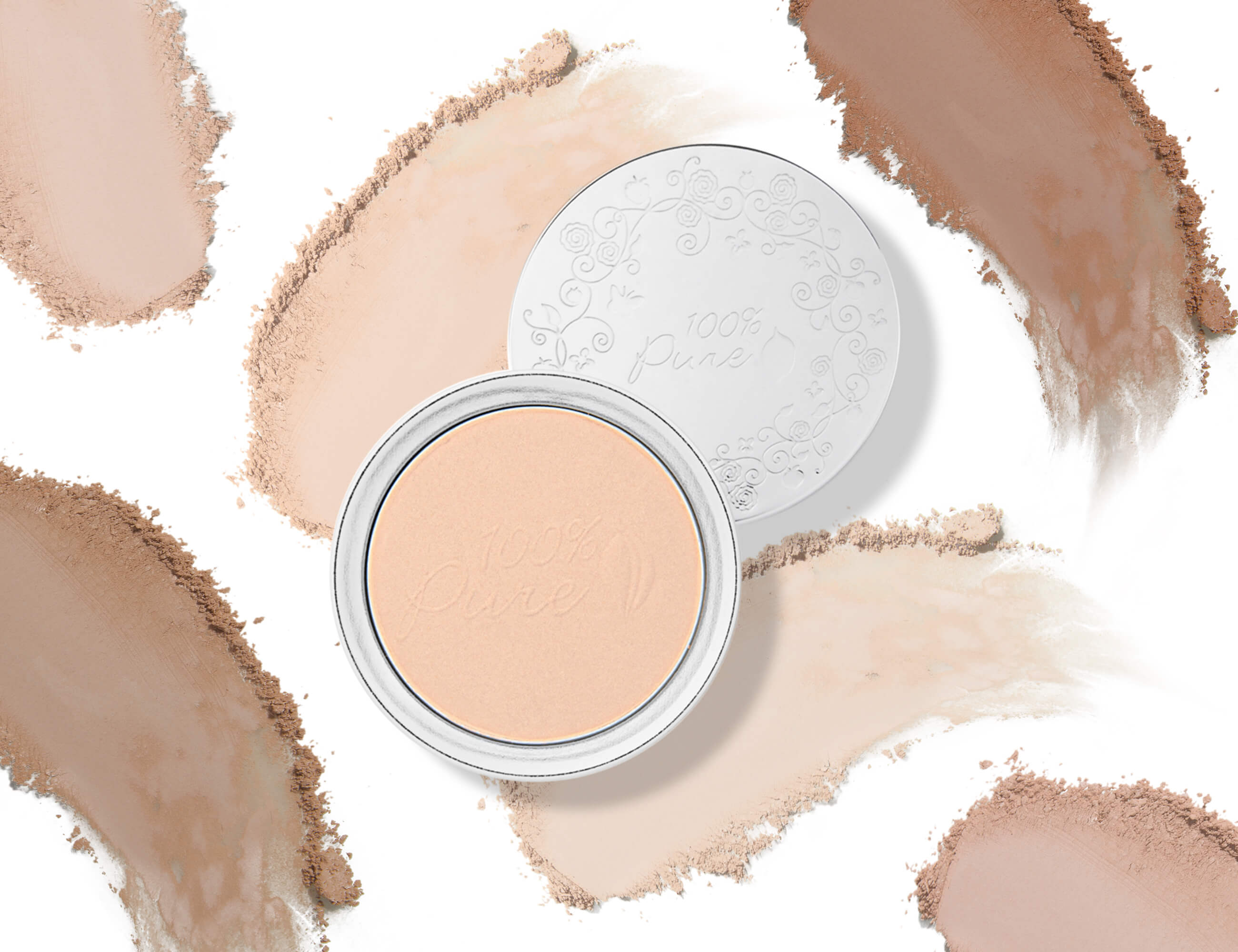 Powder Foundation Versus Liquid Foundation
Is liquid foundation or powder foundation better for your skin? Well, it all depends on a few simple questions. While there are many different foundation formulas to choose from, there are some key factors to consider: coverage, application and skin type. With a little help from technology and our in-house beauty experts, we've whipped up a natural foundation finder to help you score your perfect foundation formula 24/7. Are you still on the fence about which formula is right for you? Peep below at our handy formula checklist to see which category you fall under. No matter if you are team liquid or team powder, all of our natural foundation formulas are chock full of skin beneficial ingredients, vitamins and healthy fruit pigments.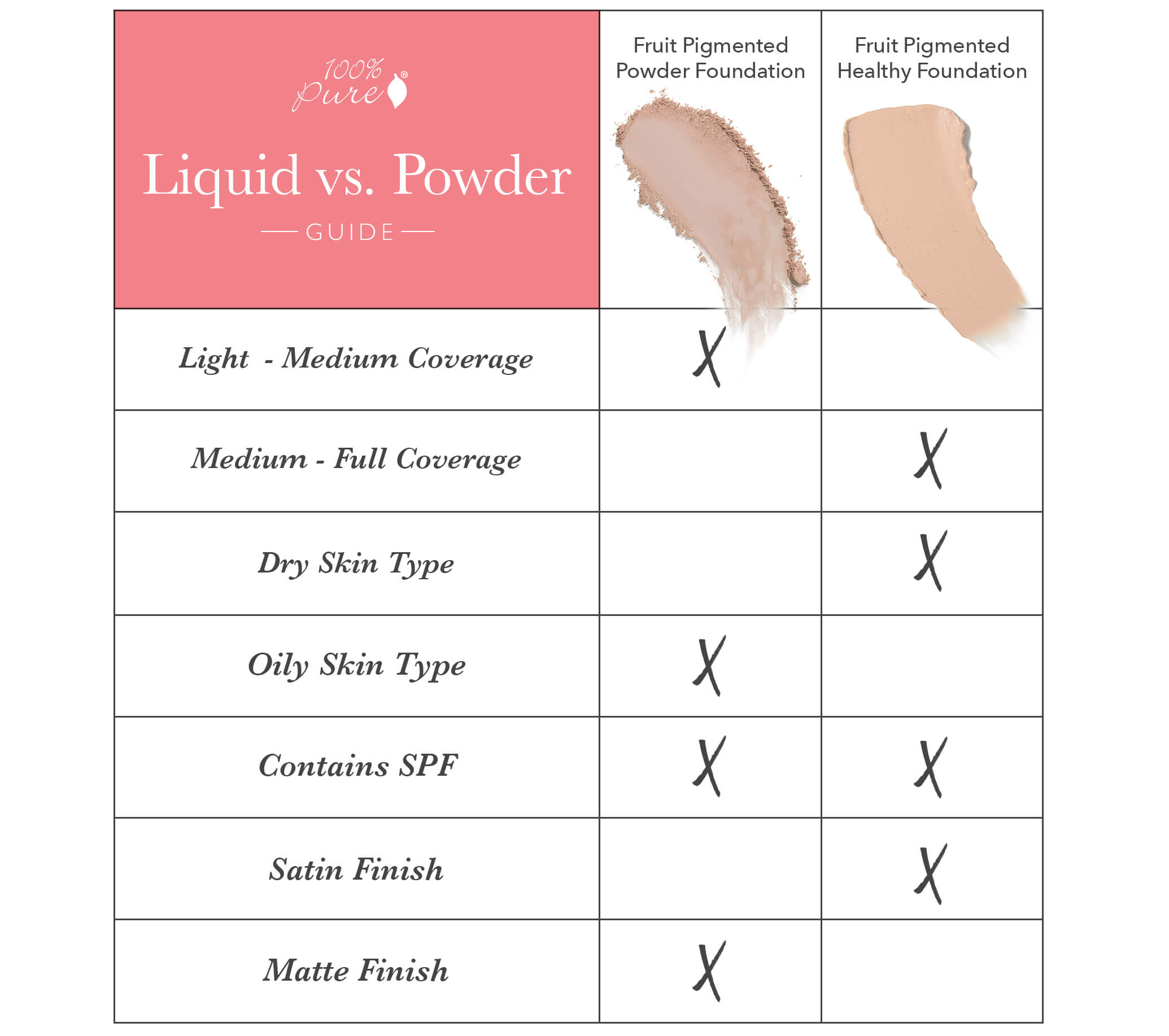 Fruit Pigmented® Foundation Powder Formula Breakdown
Our silky, lightweight powder is made with rice starch, fruit pigments, and luxurious melted avocado butter. Most conventional powder foundations can be drying, but we've fixed that common problem with an avocado butter base. Our natural foundation prevents skin from drying out and settling into fine lines and wrinkles (another common powder problem). Did we mention it contains tons of anti-aging vitamins and antioxidants? We've also added in skin purifying eucalyptus, soothing calendula, chamomile, and rose to calm acne prone or sensitive skin. Our perfectly balanced formula was specifically made to absorb excess oil with the addition of a natural ingredient rice powder versus conventional makeup that relies on talc. We'd recommend using alone as a light to medium coverage or over our other natural foundations as a finishing powder for a matte makeup look.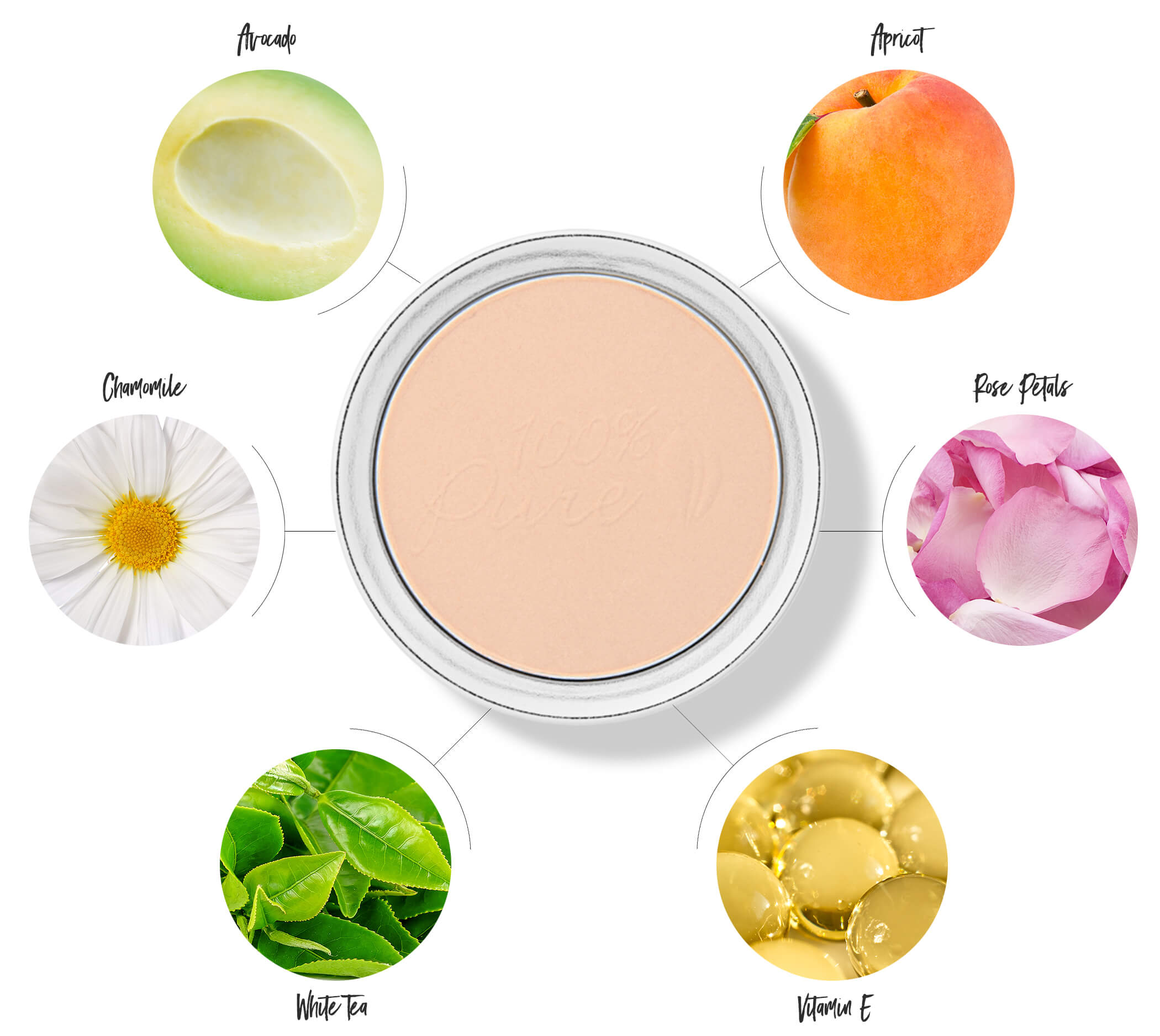 Rice
Oryza Sativa Germ
Rice Starch softens and relieves inflamed skin.
Fruit Pigments
Extracts from Peach, Apricot, Cocoa Beans, Papaya and more!
Fruit pigments are safe alternatives to toxic, synthetic dyes.
Chamomile Flower
Matricacria Chamomilla
Chamomile helps to relieve inflammation and is anti-bacterial.
Eucaluptus Leaf
Eucalyptus Globus
Eucalyptus helps fight and prevent acne.
Rose Petals
Rosa Damascena
Rose Petals soothe and moisturize skin.
Vitamin E
Tocopherol
Vitamin E helps to reduce age spots, fine lines, and scarred skin.
White Tea
Camelia Sinensis
White Tea helps to combat sun damage with antioxidants.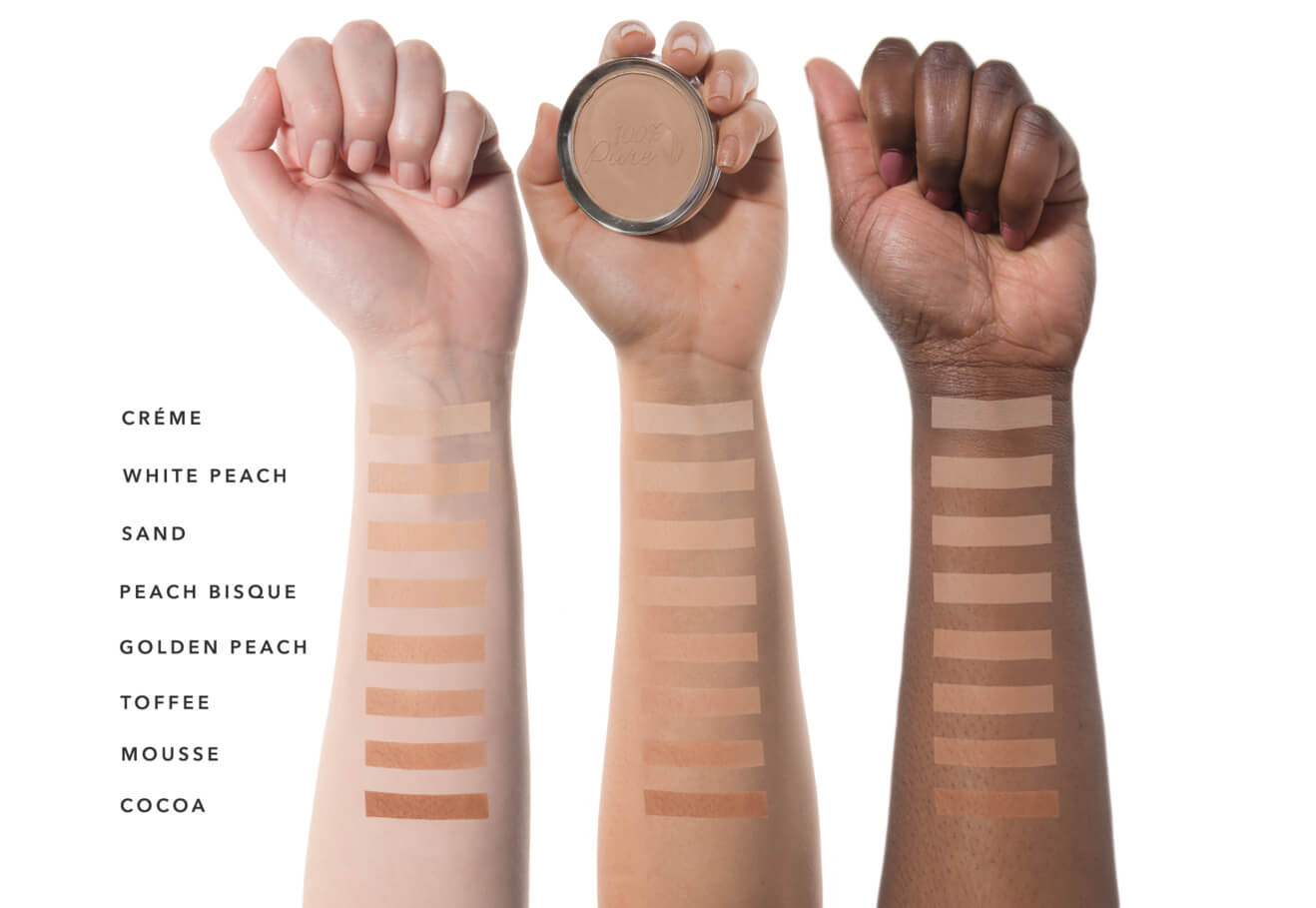 Natural Powder Foundation Swatches
Skin Type: Normal to Oily
Coverage: Light to Medium
Finish: Matte
Shade Range: 8
SPF: Yes
Cruelty-Free Yes
Vegan: Yes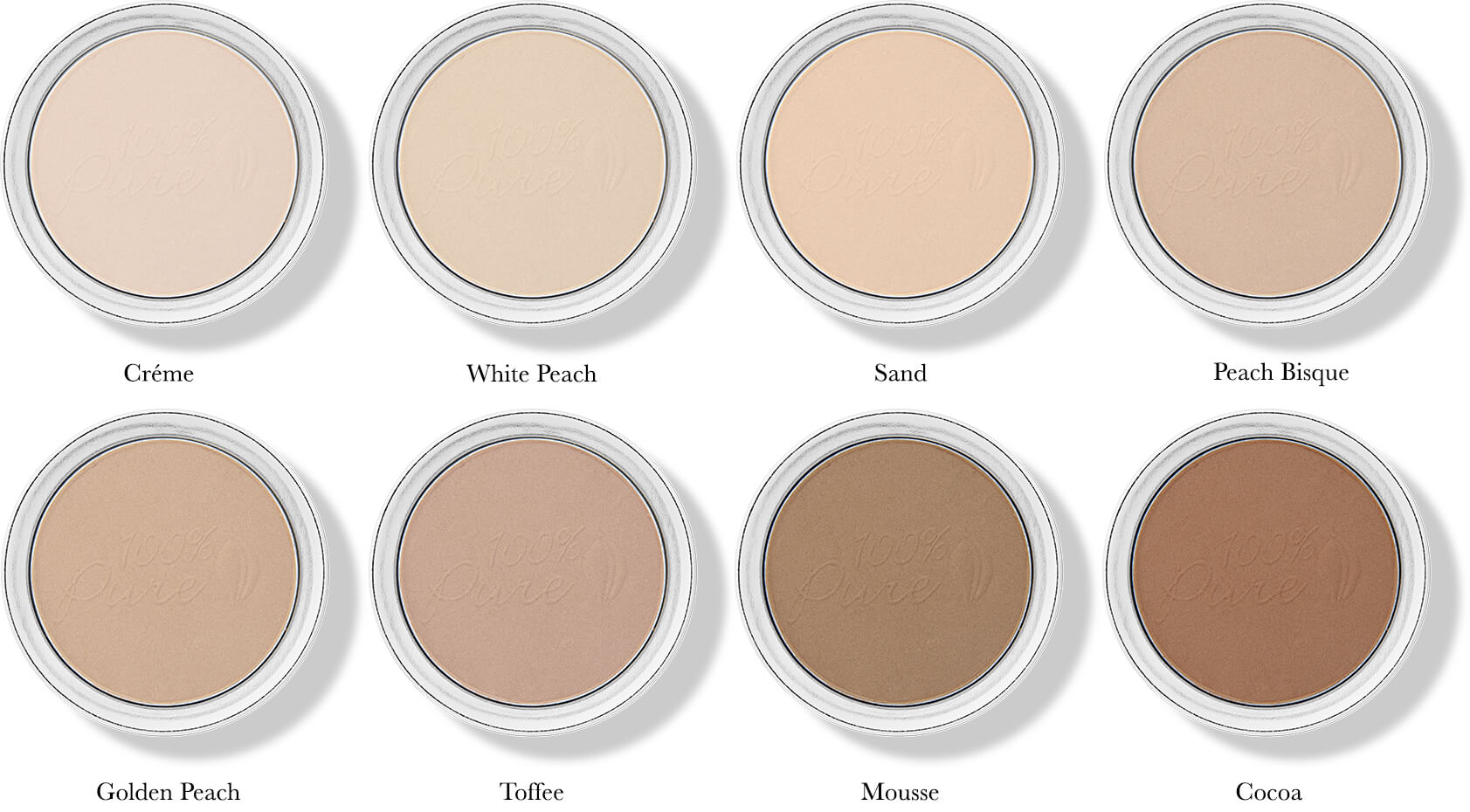 Powder Foundation Shade Options:
Fruit Pigmented Foundation Powder: Creme: Fair skin with yellow undertones
Fruit Pigmented Foundation Powder: White Peach: Light skin with yellow undertones
Fruit Pigmented Foundation Powder: Sand: Light to Medium skin with neutral undertones
Fruit Pigmented Foundation Powder: Peach Bisque: Medium skin with yellow undertones
Fruit Pigmented Foundation Powder: Golden Peach: Medium to Tan skin with neutral undertones
Fruit Pigmented Foundation Powder: Toffee: Tan skin with neutral undertones
Fruit Pigmented Foundation Powder: Mousse: Tan to Deep with yellow undertones
Fruit Pigmented Foundation Powder: Cocoa: Deep with neutral undertones
PRO TIP: Use a Cruelty Free Flat Kabuki Brush F40 for full, dense coverage. Use our Cruelty Free Powder Brush F50 for lighter coverage, or to set and mattify your foundation.

The Pros and Cons of Powder Foundation
PROS
Sheer Coverage
If you're a fan of medium to light foundation coverage, then a natural powder foundation is for you! The major benefits of a powder is it's sheer, buildable coverage, that lends a more "natural" look than higher coverage formulas. Let those freckles peek out, while still having a smooth, even complexion.
Oily Skin Lifesaver
All the oily skin types raise your hands! It might be a seasonal thing, or a year-round skin type but powder foundation is your new best friend! It's your go-to formula because it does exactly what you'd think a powder base does...absorbs oil! Goodbye shiny forehead, chins and T-Zones, powder is here to help matte you down.
Hot Weather Savior
Is Spring starting to come round in your area? Maybe it's been warm and sunny all year long (we're so jealous of you Southwest region of America!). Powder foundation is a must if you tend to live in a warmer climate or are about to be approaching Spring or Summer. With the rising temps brings the perspiration, not-so-glamorous glistening and shininess we're all trying to avoid.
Easy Application
Are you just getting into green beauty? Our powder foundation formula is a great gateway product to gaining makeup application confidence. While we all appreciate the mastery behind how to highlight and contour, this advanced makeup application might not be for the guppies. Powdered makeup is easy to apply, so there's hardly any risk of overdoing it. Just apply layer by layer with a cruelty free powder brush until your desired coverage is achieved. Bonus points that it's also easy to re-apply throughout the day for on-the-go touch-ups!
CONs
Slightly Messier
If we're trying to be truly unbiased then we'll mention that powder foundation is *slightly* messier than a cream foundation formula. It's mostly contained to the time when you are sweeping and swirling your brush in the pan (maybe we're just super excited and a little carried away)! But overall on the super tidy to uber messy, foundation powder is barely moving the needle on this fictional measurement scale.
Fine Lines and Wrinkles
Powder foundation is sometimes known as the younger person's product. Most conventional formulas tends to settle into fine lines and wrinkles or clump around dry or damaged skin. Powders tend to sit on the surface of skin, while liquids and creams usually absorb into the skin. Not to say this is the case for everyone, but it can be a little off-putting, so powder foundation tends to get a bad rap. With a little extra practice, diligent brush work and our avocado butter base, you'll be able to smooth out any problem areas in a jiff.
Longer Application Time
Have you ever heard a makeup lover exclaim "blending is my cardio?" Well, they might have been referencing applying powder foundation. Powder foundation is applied in many, light layers so you're going to get a mini workout if you are striving for even coverage. It might take a little more time and work, but there's no denying the transformative powers of a great natural powder foundation.
How to Get Color Matched
Not sure what shade to choose? We're here to help and are shade matching experts! Email our color matching team at [email protected] with a picture of your clean face taken in natural lighting. You can also always call 1-844-PURE-100 or webchat with us for any foundation recommendations or application assistance.
We carefully hand-select products based on strict purity standards, and only recommend products we feel meet this criteria. 100% PURE™ may earn a small commission for products purchased through affiliate links.
The information in this article is for educational use, and not intended to substitute professional medical advice, diagnosis, or treatment and should not be used as such.
Sign up to our email newsletter for more blog updates and exclusive discounts.
< Older Post | Newer Post >