How to Transition into Spring Makeup
Find out what our recommended beauty swaps are for upgrading your makeup bag from winter to spring.
Posted on Feburary 19, 2018
Written by: 100% PURE®
Is the cold, arctic wind already a distant memory? We hope so! Spring is just about here and we can't help but notice all the little buds and birds coming out from their winter slumber. It's that seasonal change again, and it's time to tuck away deep berry red lipsticks and hang up your snow gear - the season of fresh neutrals, lighter jackets and a spring vacation getaway is finally here. We loved the cozy nights by the fire sipping a hot toddy, but we already have our new sunglasses picked out. With a little adjustment, you can easily make the switch for the upcoming season. Here are our recommended beauty swaps for upgrading into spring makeup.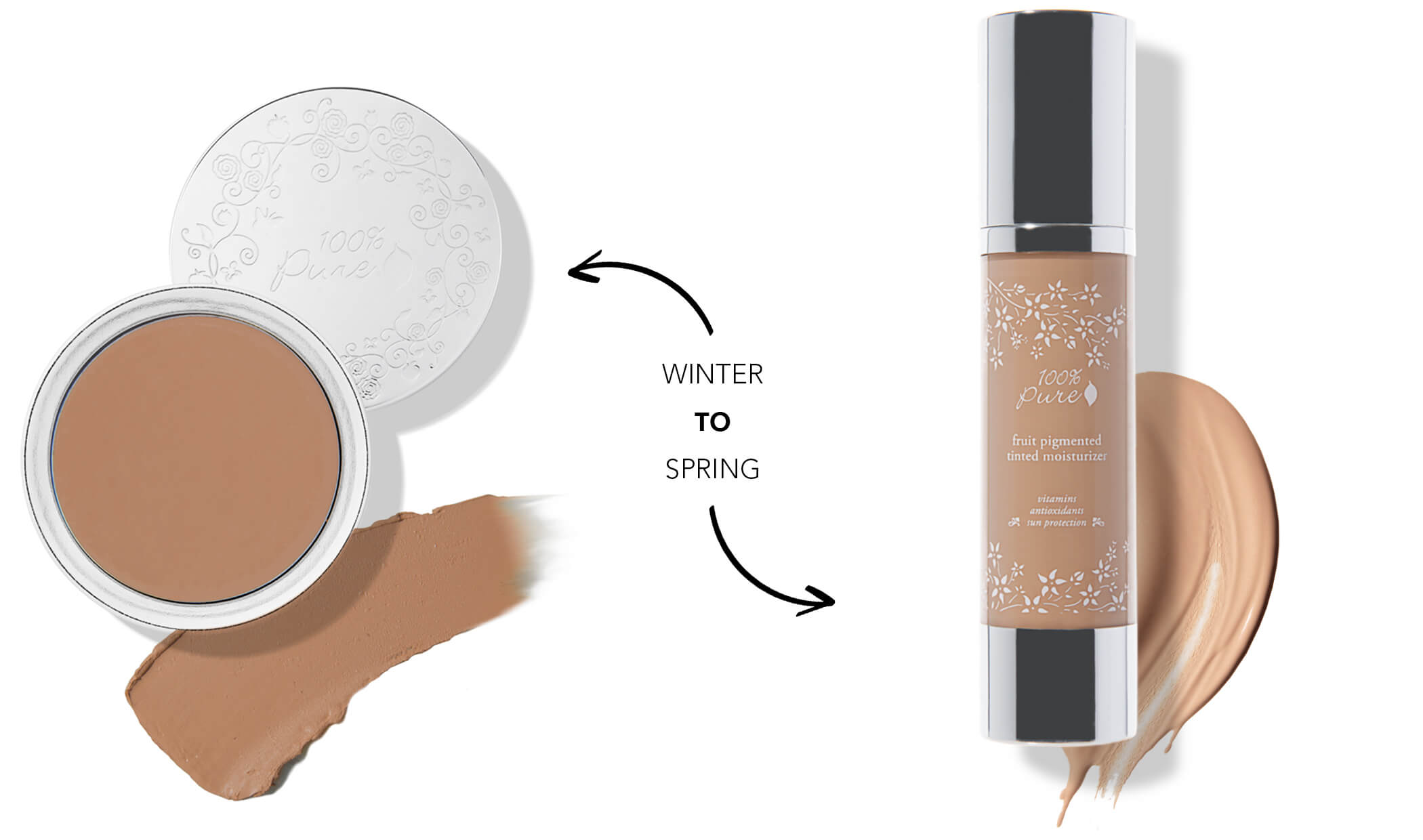 Foundation
Winter: Fruit Pigmented® Cream Foundation
Spring: Fruit Pigmented® Tinted Moisturizer
The #1 complaint during winter is dry skin. The dry indoor heat and cold outdoor air are not doing you any favors. While the nourishing oils of avocado and pomegranate were behind-the-scenes moisturizing your skin in our natural cream foundation, it's time to think about a more seasonally appropriate foundation. With the snow melting, and the sun peeking out more and more, we'd recommend swapping to a natural foundation that contains SPF. Ultra lightweight, with a dewy finish, natural tinted moisturizers could be your new spring beauty staple for anyone with normal to dry skin. We've pigmented our natural foundations with carrots, cocoa beans and tomatoes to give your skin a daily dose of healthy vitamins, antioxidants and minerals. While we aren't out of the woods completely with chillier temperatures, an aloe and cucumber juice base will help keep your face intensely hydrated until spring is officially here.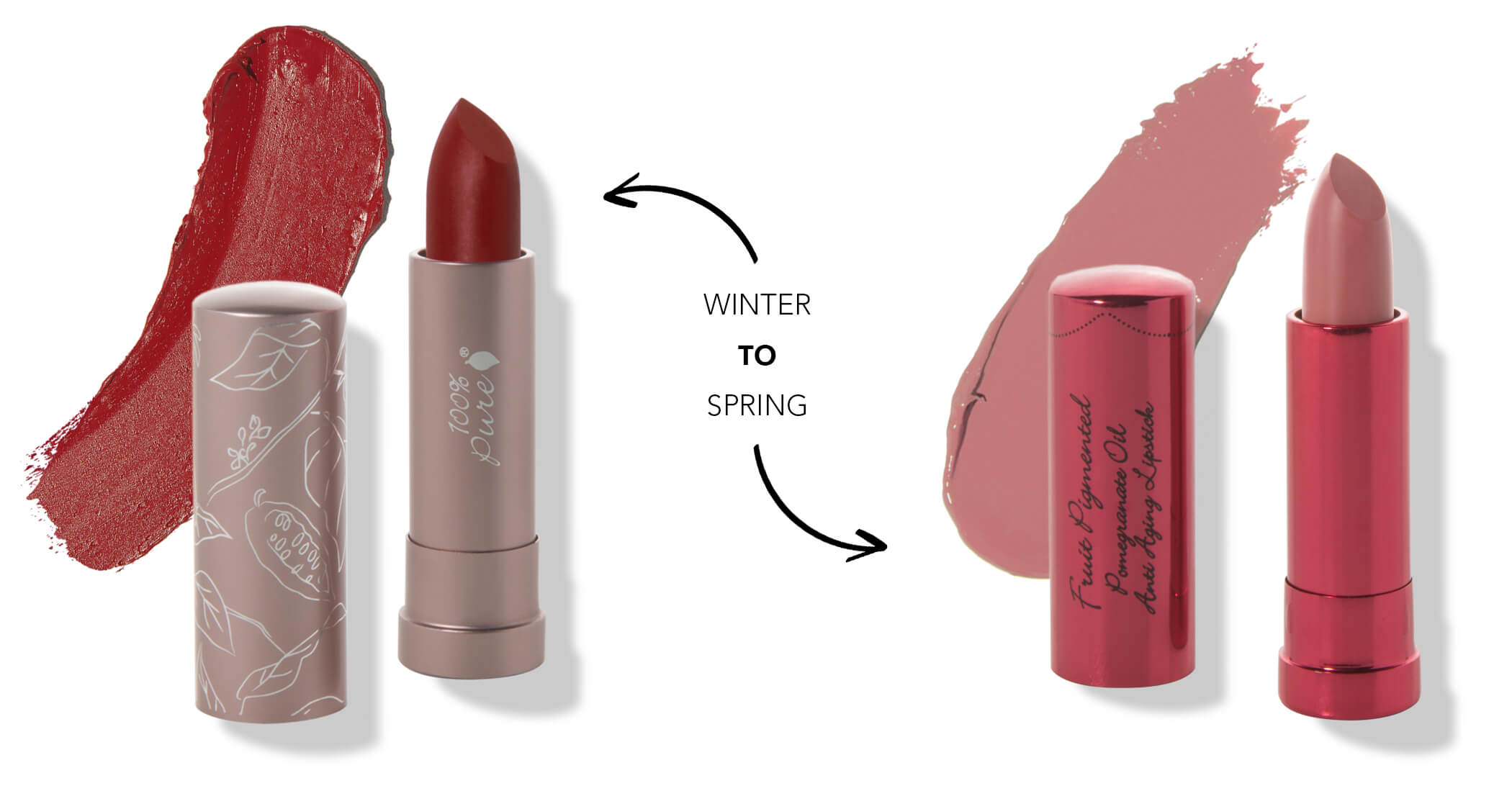 Lipstick
Winter: Cocoa Butter Matte Lipstick: Blood Orange
Spring: Fruit Pigmented® Pomegranate Oil Anti Aging Lipstick: Buttercup
Deep velvety reds, warm brick oranges and vibrant berry hues. Your winter lips were dramatic, warm and luxurious. If you didn't wear a show stopping red lip during the holidays, did they really even happen? Just like the strings of cranberries and perfectly iced sugar cookies, it's time to trade in holiday-inspired shades for fresh neutrals and nudes. You might have missed while in full winter hibernation that we expanded our collections by adding the best new nude lipstick shades and expertly formulated natural lip liners. Step into spring makeup with antique rose inspired shades, as well as cool rosy milk chocolate lips. We're totally vibing on the understated, no makeup lips for a fresh spring start.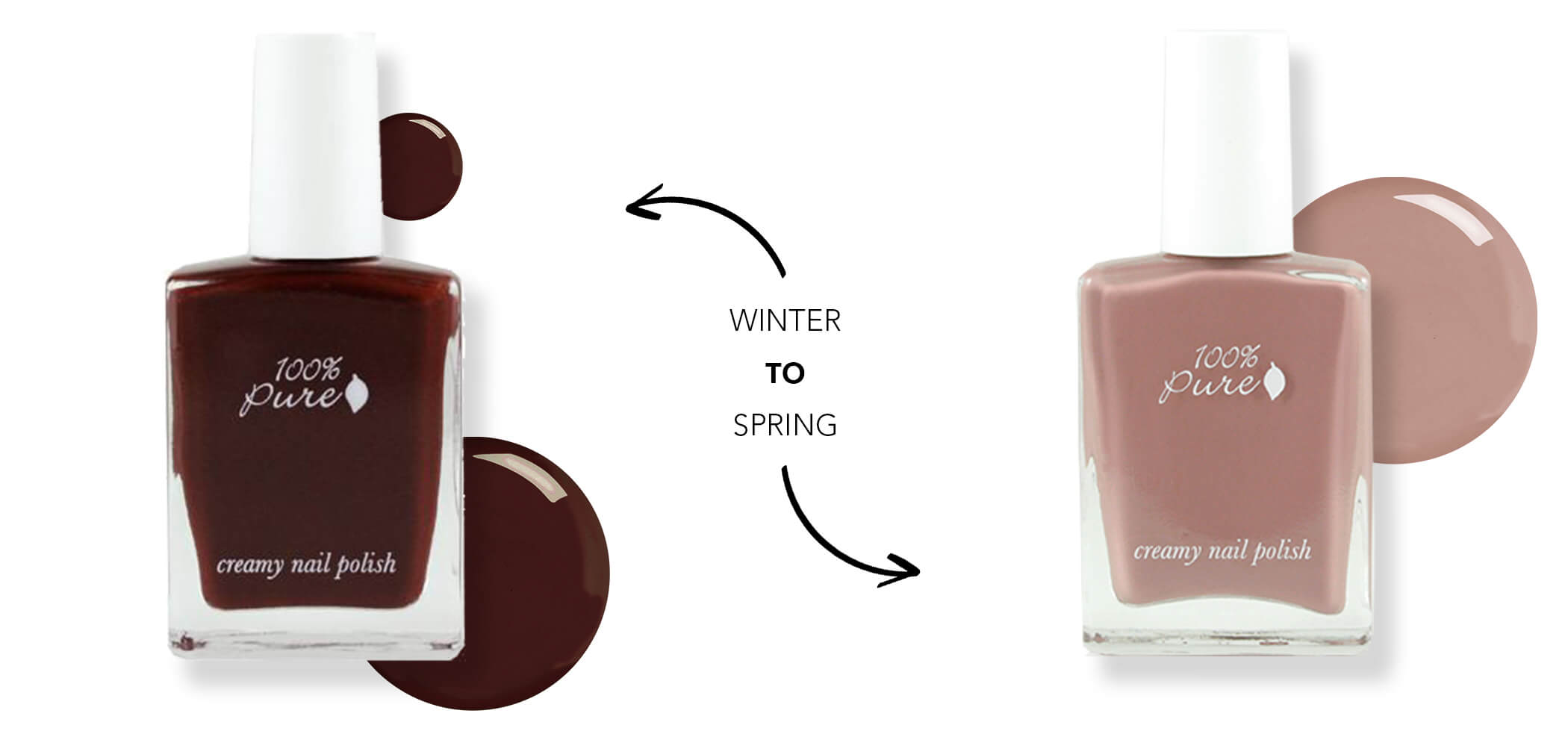 Nail Polish
Winter: Creamy Polish: Jam
Spring: Creamy Polish: Velveteen
Have you noticed the trend? Warming spices have had their time and now it's on to new beginnings. What better way to dip your toes into spring makeup than by painting them in this season's color palette. Piggy back on your low-key pout with understated mani's and pedi's. We've formulated our ten free nail polishes without the ten most common toxic ingredients, like formaldehyde, toluene, DBP, and camphor. If you haven't even seen your toes for the past three or four months due to heavy winter boots and thick socks, check out How to Get the Perfect Manicure and Pedicure at Home. It might be best to break those puppies out at home for their first signs of spring, before frightening anyone at the local nail salon.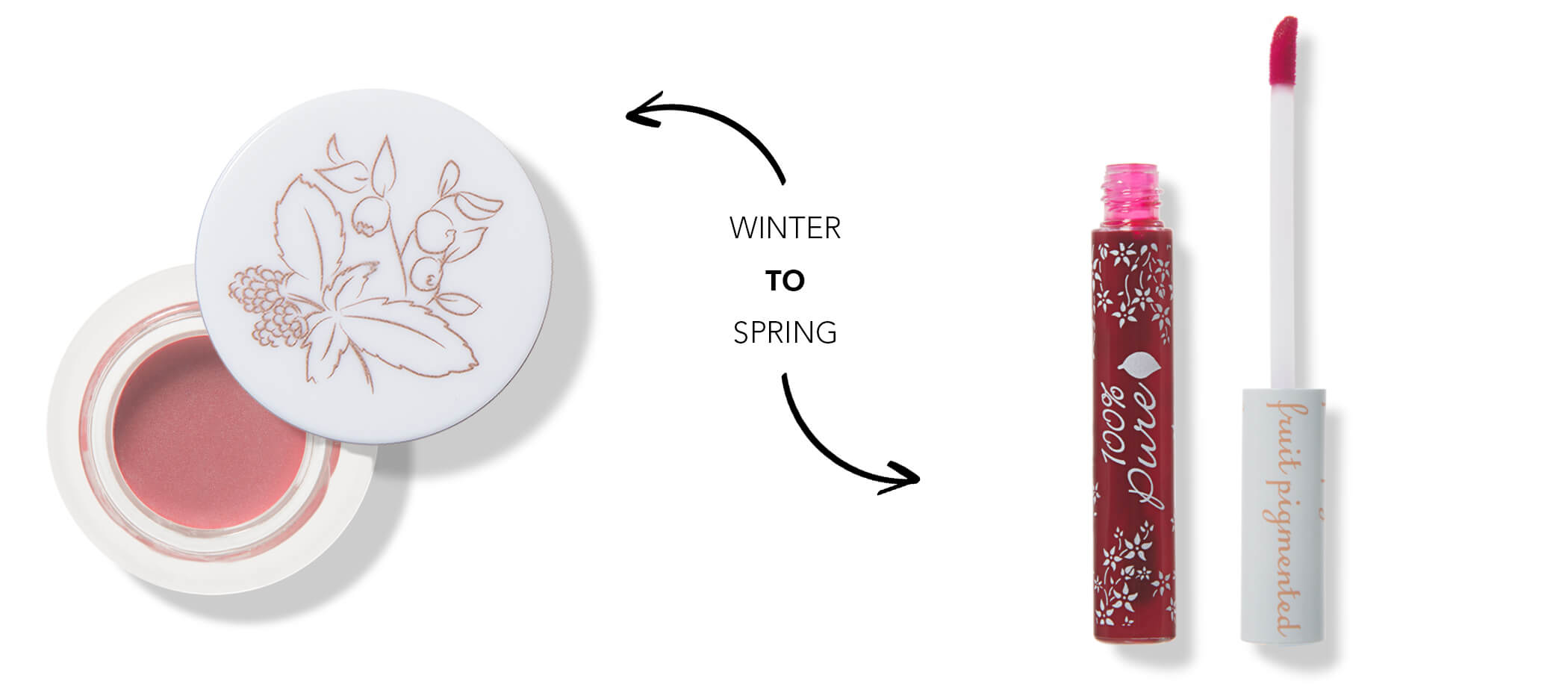 Cheeks
Winter: Fruit Pigmented® Pot Rouge Blush: Pinkie
Spring: Fruit Pigmented® Cherry Lip & Cheek Stain
We do appreciate the natural flush winter temperatures gave us but we're willing to trade that all in for brighter skies and warmer vibes. Cream formulas were the name of the winter game, especially our natural pot rouges. You'll find super moisturizing oils here, with avocado butter and rosehip oil nourishing your dry, chapped cheeks while giving you the perfect healthy glow (sans wind chill). Remember that talk of spring break getaways? Pack our natural cheek stain in your carry-on. The water-resistant, buildable stain is the perfect spring makeup swap for achieving a sweat and oil resistant healthy glow. A deep berry red stain is from the pure pigments of beets, blueberries and pomegranates.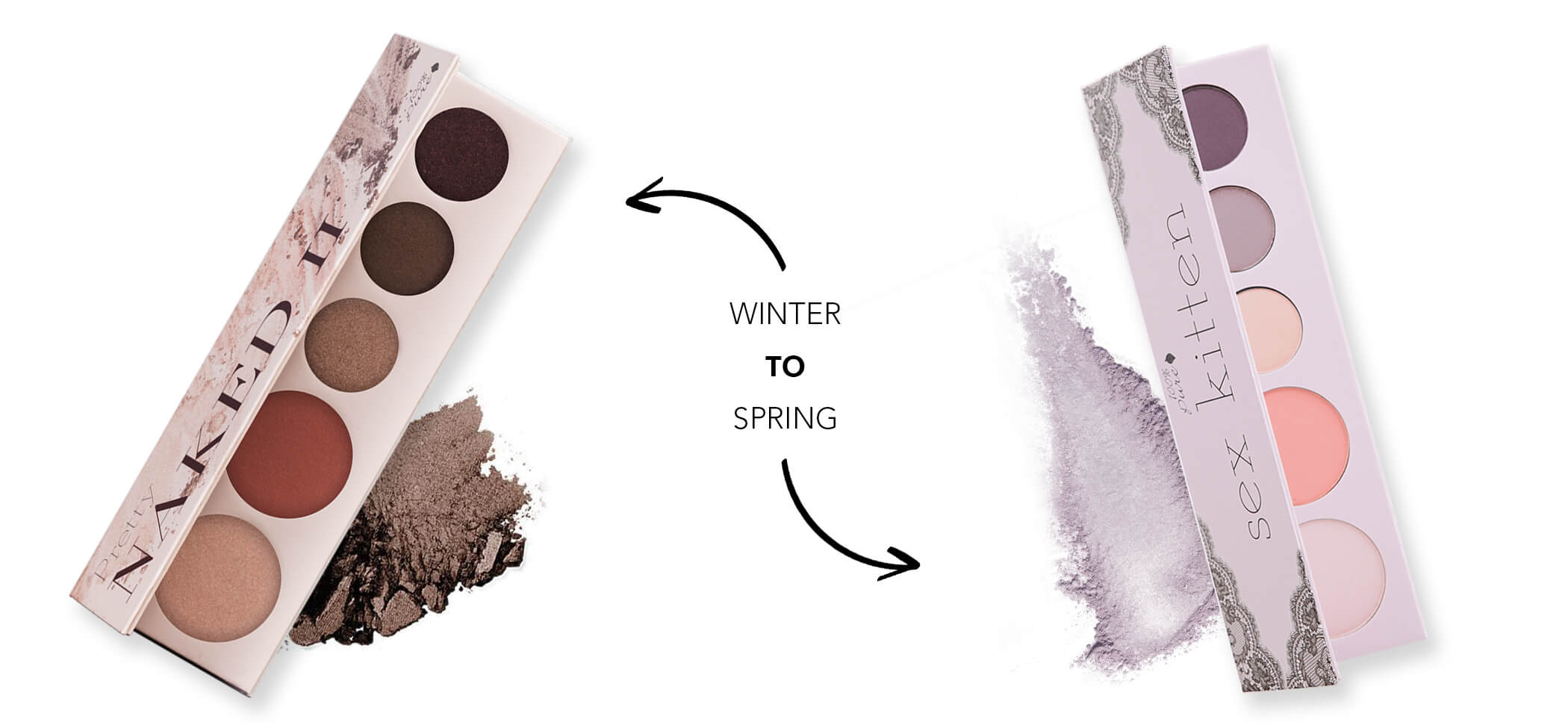 Makeup Palette
Winter: Fruit Pigmented® Pretty Naked II Palette
Spring: Fruit Pigmented® Sex Kitten Palette
Are you still scrolling through your camera roll admiring your 2017 holiday makeup looks? You were a shining star and your makeup was flawless. With a natural makeup palette as your guide, your killer smokey eye with metallic touches was the talk of the ladies bathroom. There's no secret to that luminous glow. No synthetic dyes, no chemicals, just pure healthy, vitamin-packed fruits and vegetable dyes. You instantly became resident trendsetter of your office holiday party. Looking to keep the guru aura going for spring makeup? Transition your traditional evening makeup palette for a fresh take on spring's smokey eye look. A soft and still seductive makeup palette trades dark chocolates for midnight purples with pearlescent shimmer. For a daytime look, opt for the pale purple eyeshadow with natural luminizer.

Eye Liner
Winter: Creamy Long Last Liner: Blackest
Spring: Creamy Long Last Liner: Gleaming Pewter
Cat eyes, kitten eyes and smokey eyes. These are all winter go-to's (if not all year long). With the new horizon of spring, we'd suggest looking into expanding your natural eyeliner comfort zone. Have you thought about using a shimmery grey natural eyeliner instead of going into auto-pilot reaching for a natural black eyeliner? The subtle shimmer from the gorgeous pewter will give your eyes that just woke up, doe-eyed look every spring woodland creature naturally has. A creamy long lasting formula with vitamin E helps glide onto your precious eyelids to push your look into the new season.
We carefully hand-select products based on strict purity standards, and only recommend products we feel meet this criteria. 100% PURE™ may earn a small commission for products purchased through affiliate links.
The information in this article is for educational use, and not intended to substitute professional medical advice, diagnosis, or treatment and should not be used as such.
Sign up to our email newsletter for more blog updates and exclusive discounts.
< Older Post | Newer Post >