How to Make Your Own Lip Tint
All about fruit pigmented® lip tints and a DIY lip tint recipe!
Posted on Feburary 21, 2018
Written by: 100% PURE®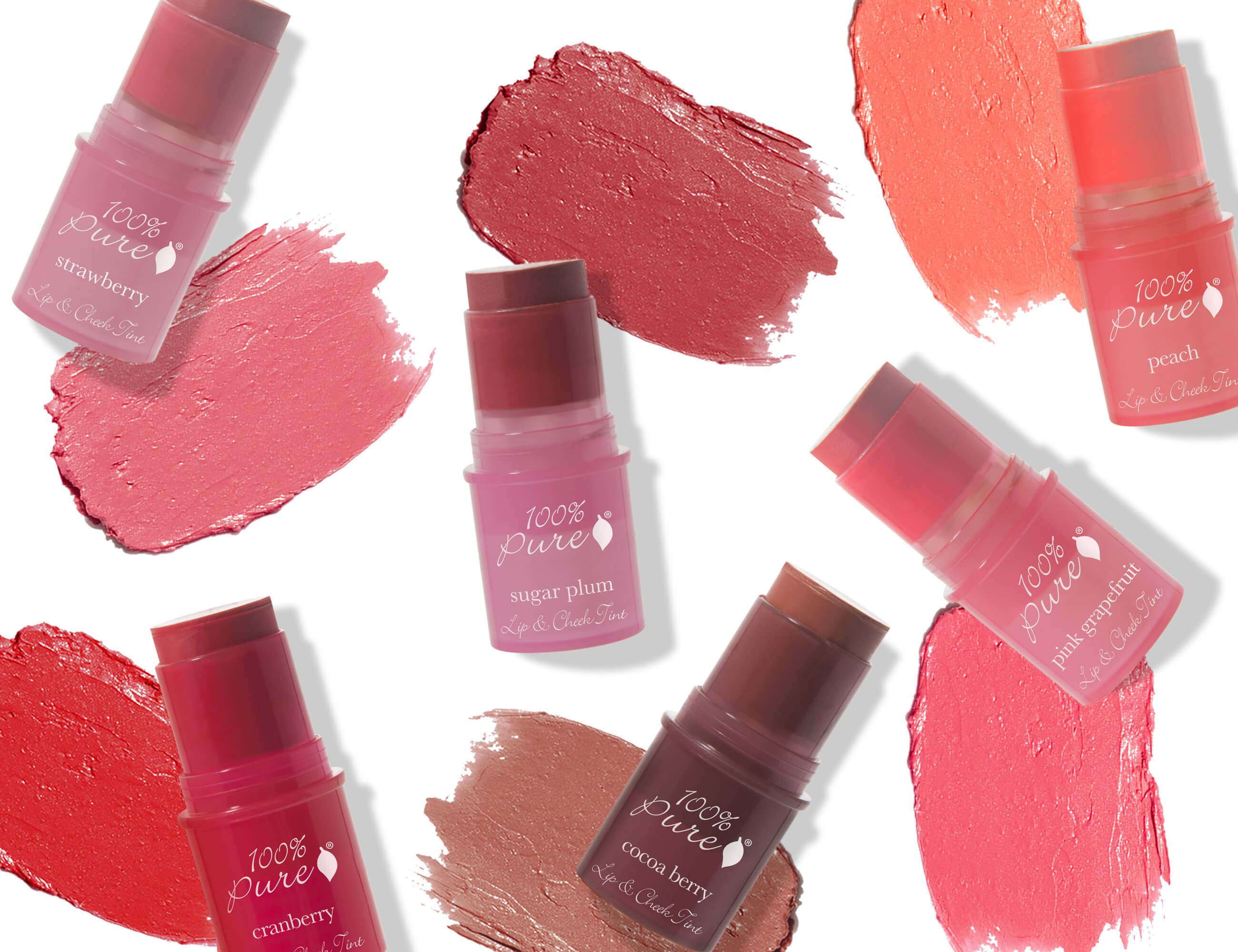 We've bragged about our unique fruit pigmented® technology before, and how we were able to unlock a whole new realm of safe natural cosmetics. As complicated as it sounds, the inspiration actually came from very humble beginnings! Our founder Susie Wang first came up with the idea while picking berries in her garden. Nourishing and antioxidant rich fruit pigments instead of toxic synthetic dyes? We have a clear winner here! Want proof of how simple yet effectively natural fruit pigments work for stunning makeup color? You can easily make your own lip tint with the similar natural ingredients that we use in our Lip & Cheek Tint collection.
Ever eat a strawberry and accidentally squeeze some juice onto your shirt? The resulting stain can be a huge headache to remove! Fortunately that also means that fruit pigments are fantastic for creating natural makeup products. Our founder Susie Wang was inspired by a similar incident. As she was plucking the ripe blackberries in her garden, she noticed how brightly they stained her fingertips. She had spent years formulating for some of the biggest beauty brands and was all too familiar with the toxic chemical dyes used in conventional cosmetic products. What she realized that day in her garden completely revolutionized 100% PURE's natural cosmetic lineup.
Finding a natural and nourishing alternative to toxic synthetic dyes and iron oxides completely changed 100% PURE's natural makeup game. Our Pretty Naked Palette was the first ever "naked" palette to wow our makeup-obsessed fans, while running on vitamin rich fruit and vegetable pigments alone. We've even managed to create stunning and dramatic looking mascaras with enriching black tea, cocoa, and berries. Needless to say, we're experts on creating fruit colored cosmetic products that are high performing and also nourishing for your skin. Discover your new favorite from our collection of natural eyeshadows that might as well be eye cream!
Another collection of fruit pigmented® makeup products we're proud of are our Fruit Pigmented® Lip & Cheek Tints. The moisturizing base of shea and cocoa butter make them the best lip tint for ultimate lip softening, and vibrant fruit pigments like pomegranate and raspberry work to create the perfect pout. They also do double duty as a cream blush! We've packed this goodie with vitamin C for a brightening and plumping effect, and vitamin E to moisturize and lock in nutrients. For a deep dive into more vitamins that are good for your skin, check out our vitamins for skin guide. Our fun lip tints totally bust the myth that synthetic dyes last longer and are more vibrant. Still not convinced? Let our satisfied customers do the talking.
★
★
★
★
★
I love this!
I love how this color looks on me. And I'm very happy with the ingredients. I'm glad I bought this.
- Jennifer C., Verified Buyer of Fruit Pigmented® Lip & Cheek Tint: Peach Glow
★
★
★
★
★
Love It!
This is a lovely shade of pink that goes on super smoothly and stays on all day. I have a fair olive complexion with brown eyes, and it looks great on me. I love rubbing it into my cheeks as a blush and also using it as a lip stain. I love that it's 100% clean and pure, and my skin feels so good with this line of makeup. Highly recommend!
- Kenya W., Verified Buyer of Fruit Pigmented® Lip & Cheek Tint: Pink Grapefruit Glow
★
★
★
★
★
Great easy product!
The fruit pigmented lip & cheek tint is the best solution for any easy added glow without a lot of fuss. It is moisturizing, smells great, easy to throw in my purse, and goes on the skin nice and smooth. I like a simple routine that still adds a bit of color when I am going out. I use it on my cheeks, my lips and a little just above my eyelids. Super easy and it is a bonus that it is made with ingredients that I trust against my skin and lips. It also lasts a long time so don't be fooled by the small container.
- Lisa Z., Verified Buyer of Fruit Pigmented® Lip & Cheek Tint: Cranberry Glow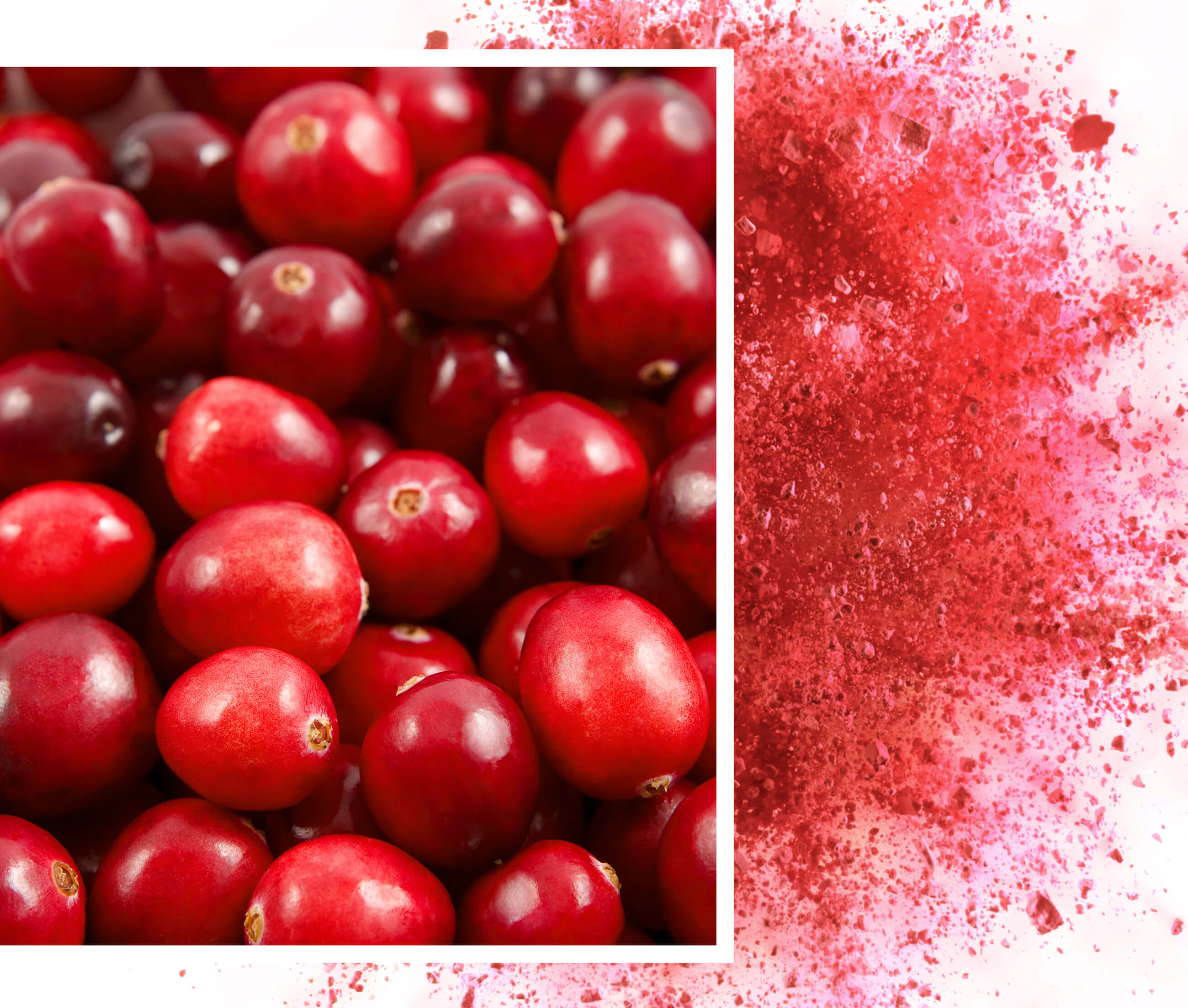 DIY Lip Tint
No secrets here, you can easily recreate our popular lip tint because of the natural ingredients you can find at the grocery store - or maybe they're already in your kitchen pantry! You only need a few ingredients, meaning they're even easier to customize to your liking - whether it's a fiery ruby red you want to achieve that perfect pout, or a playful coral that just screams summer. Slip it into your purse for fast touch ups during the day. Make a larger batch and they're the perfect gift to share with your friends.
Berry Red Lip Tint
Ripe looking red lips like freshly picked berries are a no fail look. Our Fruit Pigmented® Lip & Cheek Tint: Cranberry Glow is a classic red that adds a slight pop of color to bring out your healthy rosy complexion. You can create a similar lip tint by using cranberry powder. Simply mix 1 tablespoon each of shea butter and organic beeswax, and 1 teaspoon of coconut oil into a small glass or any heat resistant bowl. Slowly melt the mixture over simmering water or in the microwave (keep a watchful eye for this option though to prevent overheating!) and continue mixing. When the mixture has melted into a creamy consistency, add a teaspoon of cranberry powder. Pour the mixture into a small jar or tin and allow to cool. Once your DIY lip tint has set, apply to lips and enjoy!
Light Magenta
If a playful light magenta lip tint is more your game, simply use cherry powder for your DIY lip tint instead and follow the same process as above! You can use more coconut oil for a softer consistency. And no worries if you add too much, you can keep on adjusting for a larger batch to gift to your gal pals. Or if you want a vegan lip tint instead, replace the beeswax with more shea butter. Experiment with different fruit powders to create your dream lip tint. And there you have it, your own homemade lip tint ready to enjoy or gift!
We carefully hand-select products based on strict purity standards, and only recommend products we feel meet this criteria. 100% PURE™ may earn a small commission for products purchased through affiliate links.
The information in this article is for educational use, and not intended to substitute professional medical advice, diagnosis, or treatment and should not be used as such.
Sign up to our email newsletter for more blog updates and exclusive discounts.
< Older Post | Newer Post >