Our Seaweed - Where is it From, and Why does it Matter?
Seaweed may be wondrous for your skin, but is it contaminated with heavy metals and toxins?
Posted on April 3, 2018
Written by: 100% PURE®
We've sung the praises of seaweed many times before, and highlighted it as the beauty ingredient that keeps Ariel's skin so radiant underneath the sea. But before you jump into adding seaweed into your beauty routine, you should first ask yourself (like with all of your other cosmetic products): where exactly does this stuff come from? We won't blame you if you think we've just been tugging up sea kelp and algae from the ocean floor (SEAweed, duh). Unfortunately the ocean isn't as glorious as Ariel made it out to be. It's littered with trash, pollution, and other toxins you don't want infiltrating your skin. Here's where we're getting our seaweed from instead.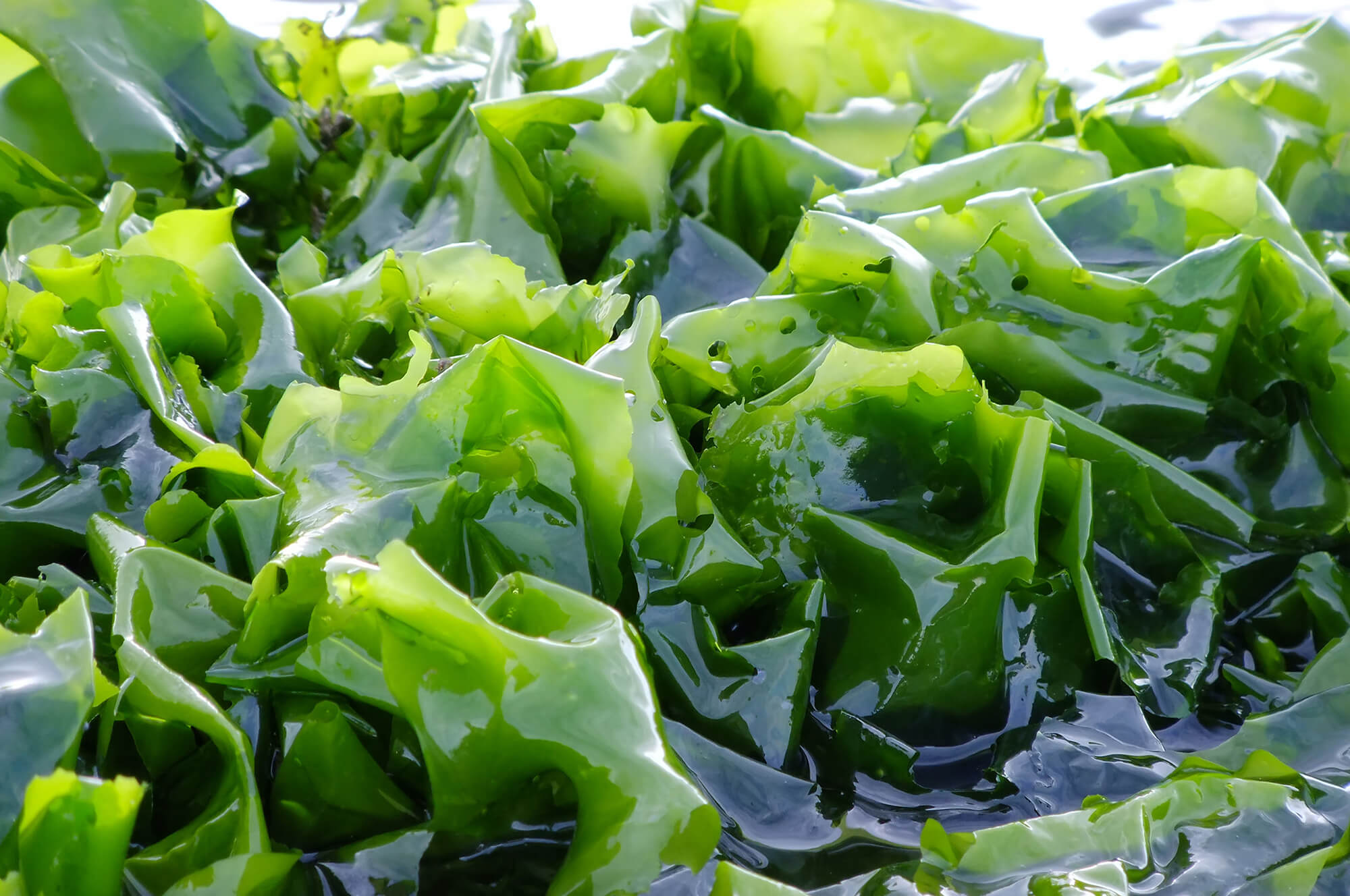 Where Our Seaweed is From
If you've ever made miso soup, you've seen how much dried seaweed expands when you let it sit in your bowl. Seaweed is a beauty miracle because of how it can similarly absorb and trap moisture into your skin for endless glow. Seaweed, algae, and kelp are hydration powerhouses packed with sea minerals. They contain anti-inflammatory polysaccharides that are soothing for your skin, as well as antioxidants for fighting signs of aging. But think about those tall columns of sea kelp swishing around on the ocean floor, and what they could be absorbing down there! Sure, seaweed is great for detoxifying your skin, but also for the ocean waters.
For example, in the Persian Gulf, seaweed absorbs and cleans the ocean waters of many of the byproducts of the petrochemical industry. Lead, cadmium, nickel and copper have been found in seaweed in that region. We say no to any toxins and chemicals in our cosmetics, let alone heavy metals! It's important to not just avoid using chemicals and other synthetic ingredients, but also make sure that the natural ingredients we are using come from clean sources.
We still wanted you to reap the full beauty benefits of seaweed. So instead of using polluted ocean seaweed, we use clean farmed seaweed. Because who says you have to sacrifice health for beauty? We're fully committed to providing the cleanest possible seaweed and natural ingredients for our products. Clean farmed seaweed ensures that no heavy metals and toxins are seeping into your skin care products and onto your skin. They retain the full beneficial nutrients that they naturally contain without being contaminated by dangerous byproducts that are toxic for both you and the planet.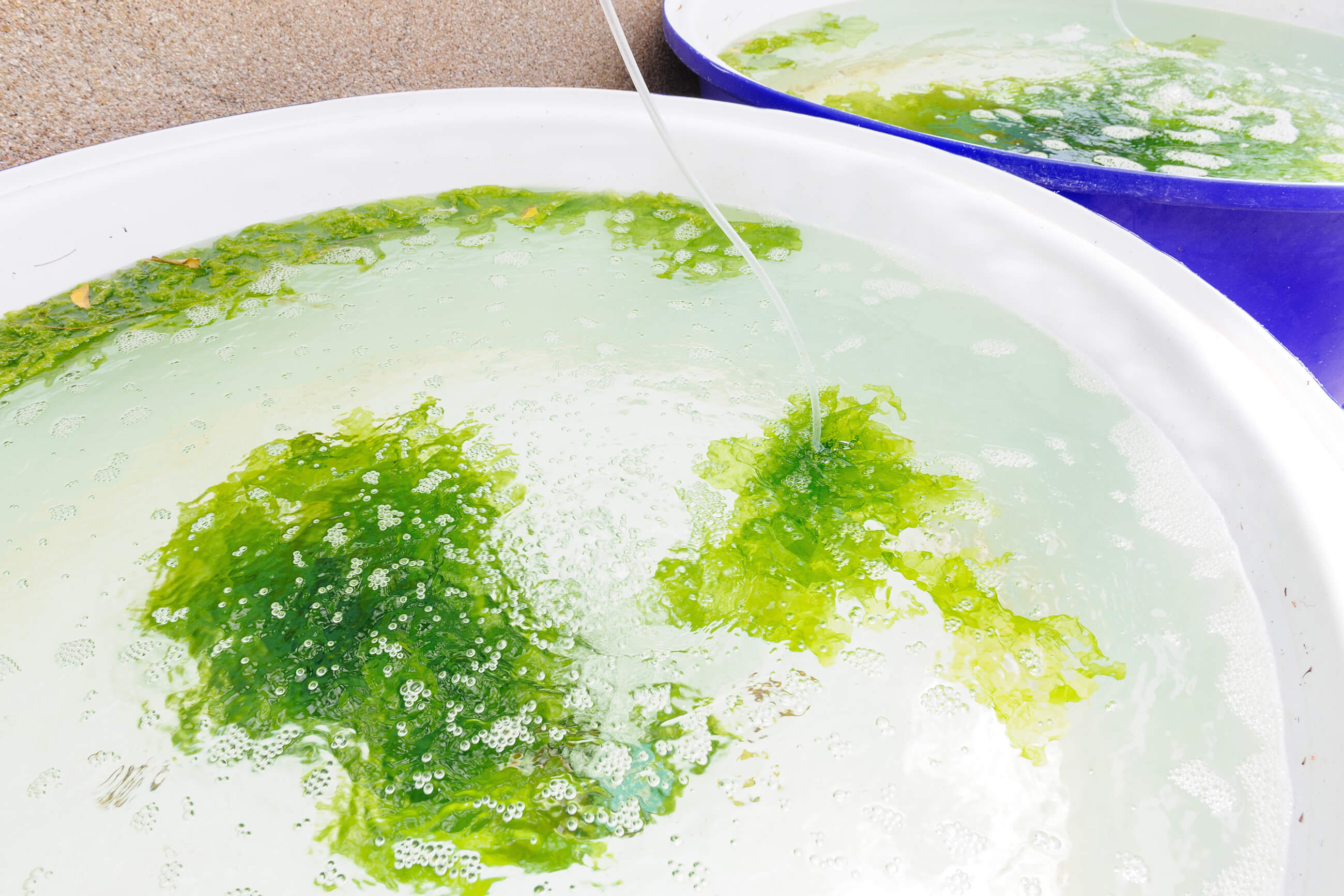 What Our Seaweed Contains
Amino acids for conditioning and enhancing elasticity of skin
Detoxifying minerals like potassium, iron, calcium, iodine, magnesium
Polysaccharides hydrate skin
Antioxidants and vitamins like vitamin B-12, vitamin A, vitamin C
What Our Seaweed Does NOT Contain
Heavy metals like lead, cadmium, nickel and copper
Arsenic
Pesticides and herbicides
Growth hormones
Chemical fertilizers
Oil
Plastic
Sewage
Detergents
Other pollutants and toxins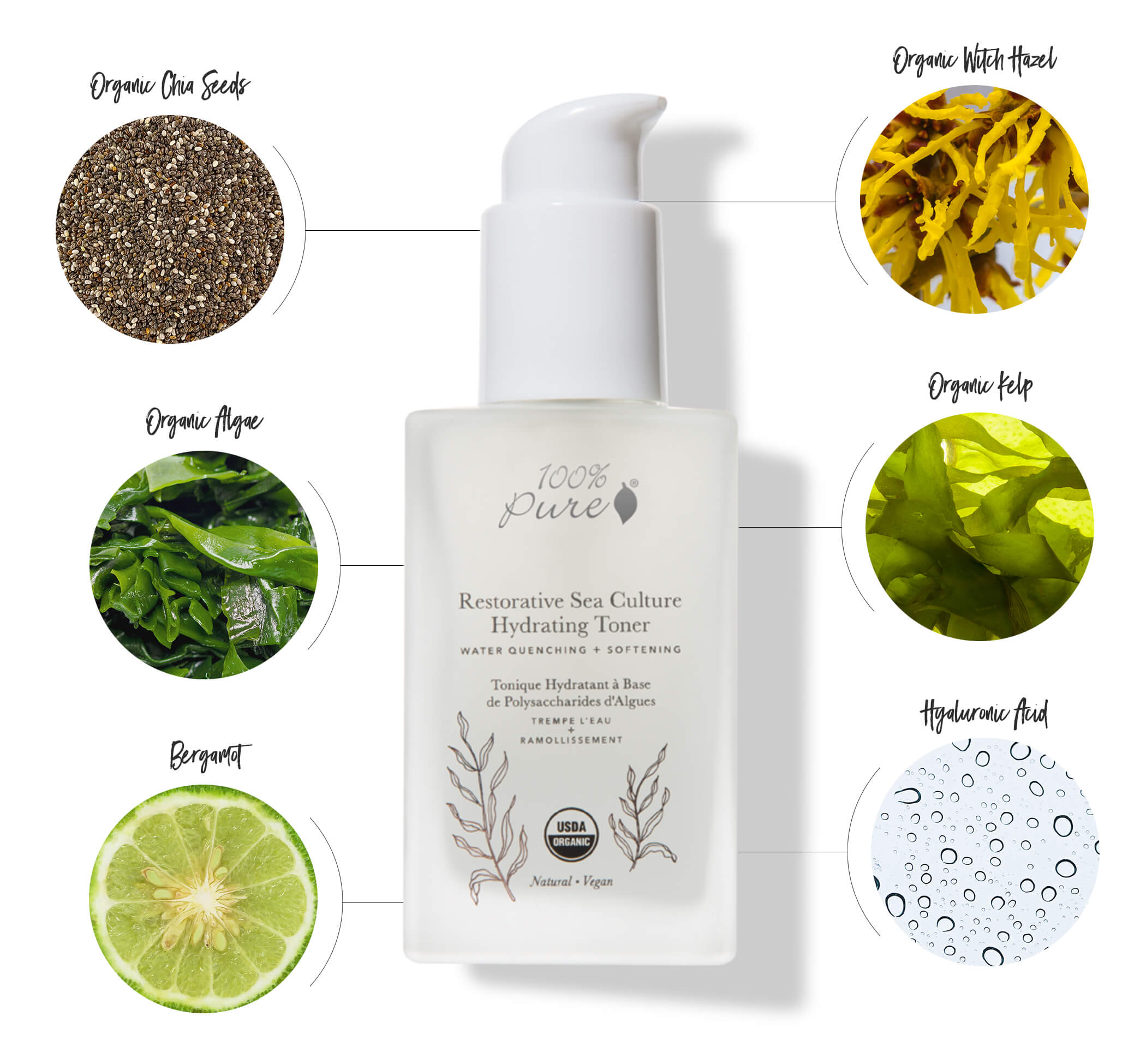 Clean Seaweed for Hydrated, Spring Skin
Why use a Seaweed based Toner?
Welcome spring with supple, hydrated skin. The Restorative Sea Culture Hydrating Toner utilizes sea kelp and algae extract as well as chia, yeast ferment, witch hazel and hyaluronic acid for refreshed, toned and pH balanced skin. When we wash our faces with water, the surface pH of the skin comes into contact with a liquid of pH 7. The natural pH of the skin is between 4.5 and 6.0, giving it the name the "acid mantle." Skin pH imbalances have been linked with many skin disorders including acne. It's important to follow up your cleansing routine with a pH balanced toner! Using a toner with seaweed extracts ensures that while your skin is benefiting from the astringent, skin-purifying properties of ingredients like witch hazel, it won't be left dry and water starved. The sea kelp and algae extracts provide deep moisturization and nourishment, creating a perfectly balanced toner for healthy, supple skin.
After cleansing and toning the skin, using a serum will deliver nutrients, hydration and moisturization to even deeper skin layers. While moisturizers contain larger molecules and prevent water loss from the top layers of the skin, serums contain much smaller molecules and penetrate all four layers of the epidermis. The Restorative Sea Hydrate Serum is packed with antioxidants, chia which has skin brightening ingredients like linoleic and alpha linolenic acid, and skin plumping hyaluronic acid. Sea kelp and algae extract moisturize and nourish the skin. The full effect of a serum is visible after four weeks of use, when the bottom most layers of the epidermis come to the top and one cycle of cellular turnover is complete.
Seaweed is the perfect solution to dull or dry problem, moisturizing the skin while simultaneously nourishing it with important nutrients. Our rich, luxurious face cream drenches skin with deep moisture while delivering nutrient-rich sea minerals, antioxidants, amino acids, vitamins, and other beneficial trace elements for a healthier, softer complexion. Seaweed polysaccharides and red algae lock in long-lasting hydration for supple, nourished feeling skin. Combined with cassia angustifolia, which contains a polysaccharide that mimics the hydrating activity of hyaluronic acid, you can say goodbye to dry skin.
We carefully hand-select products based on strict purity standards, and only recommend products we feel meet this criteria. 100% PURE™ may earn a small commission for products purchased through affiliate links.
The information in this article is for educational use, and not intended to substitute professional medical advice, diagnosis, or treatment and should not be used as such.
Sign up to our email newsletter for more blog updates and exclusive discounts.
< Older Post | Newer Post >