All About Luminizer - Your Way to Glowing Skin with Real Gemstones
Our luminizer contains real gemstones. Here's how to use one, and why you'll love its natural ingredients.
Posted on April 2, 2018
Written by: 100% PURE®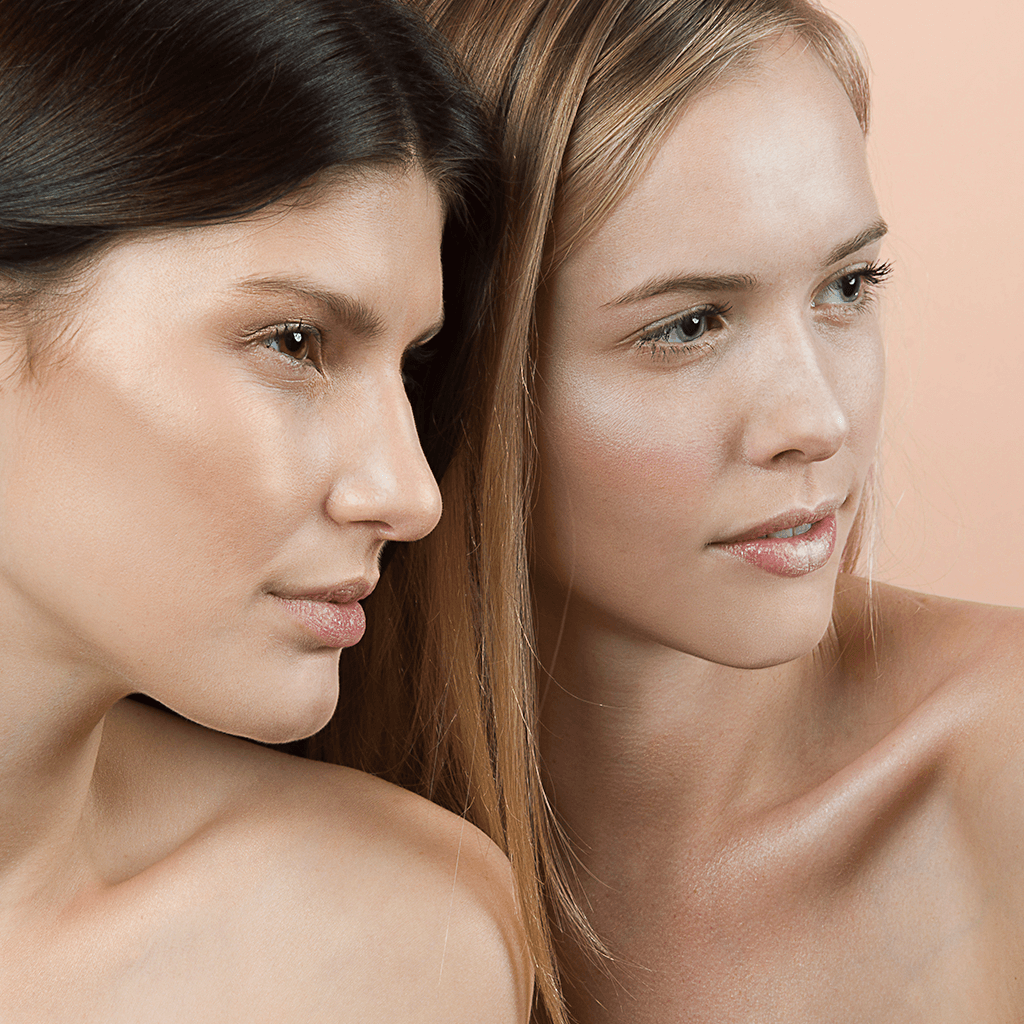 We used to be obsessed with getting those "on fleek" eyebrows or that perfect winged eyeliner, but 2018 is all about one thing - getting your glow on. Social media peeps have been breaking out their inner unicorn, mermaids, space princesses with sparkling cheeks and pastel rainbows. And of course, we want that dewy glimmer on our skin even in our daily and more natural looks. What's the easiest way to achieve that starkissed look? Natural gemstones in our luminizer collection of course!
Why Use a Luminizer?
We love putting shimmer and sparkle on our faces, but only if it doesn't hurt our skin. Irritated, torn skin is hardly glamorous. But when you put glitter on your face for that perfect festival look, you're putting yourself at risk for exactly that! Craft glitter is handy to get from your local store, and you may be tempted to put it on your eyelids for that sparkly mermaid scale look. But craft glitter is made from tiny shards of metal that can scratch and cause irreversible damage to your corneas.
Don't think you're safe just yet with glittery makeup products. The glitter and shimmer used in makeup is made of plastic, which is labeled as "Polyethylene" (PET) on an ingredient list. Here's where it gets tricky: the FDA doesn't allow PET in cosmetics, but they also don't consistently regulate this ban. That's why you still see this ingredient in those thousands of shimmery, pearlescent, and glitter cosmetics (it's hard to tear your eyes away from them!). We know that won't stop your love for glitter, so we took the matter into our own hands by creating a luminizer that is safe for your skin with out of this world shimmer.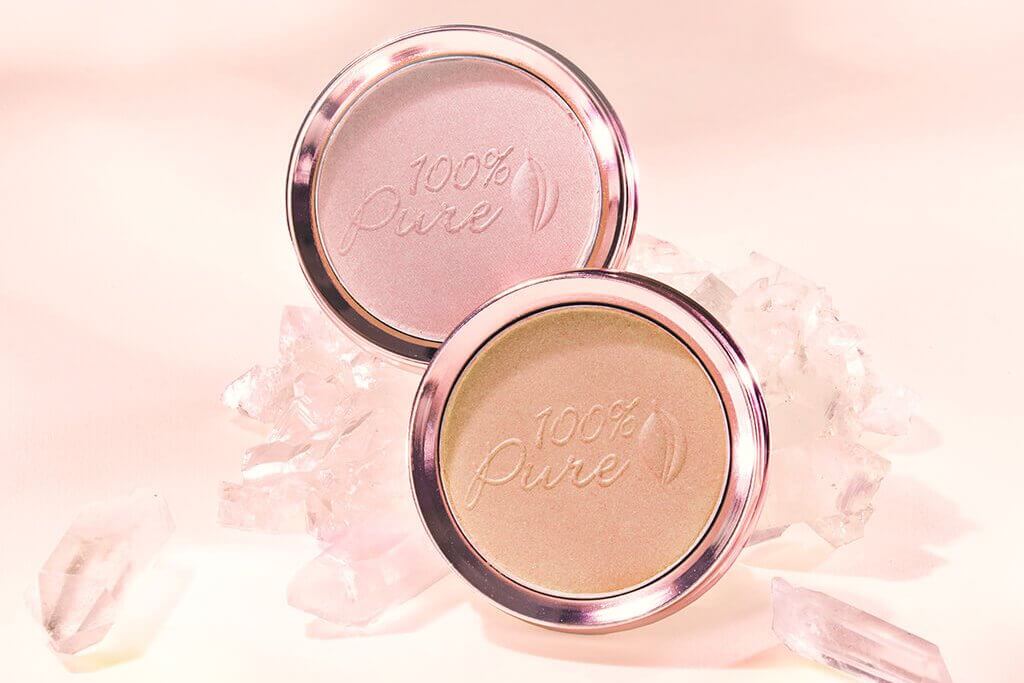 You might be familiar with our Fruit Pigmented® Luminizer powder in Pink Champagne. But what sets our Gemmed Luminizers apart from our beloved original is the fact that these two new shades have real gemstones in them! That's right, no skin irritating plastic in here, or in any of our makeup for that matter (we say no to chemicals in all cosmetics). Apply these gemmed babies on your face or anywhere you want to glow, for luminous skin with light reflecting shimmer. They're infused with the healing power of real gemstones like Australian opal and sunstone, so you can achieve that healthy glow, naturally.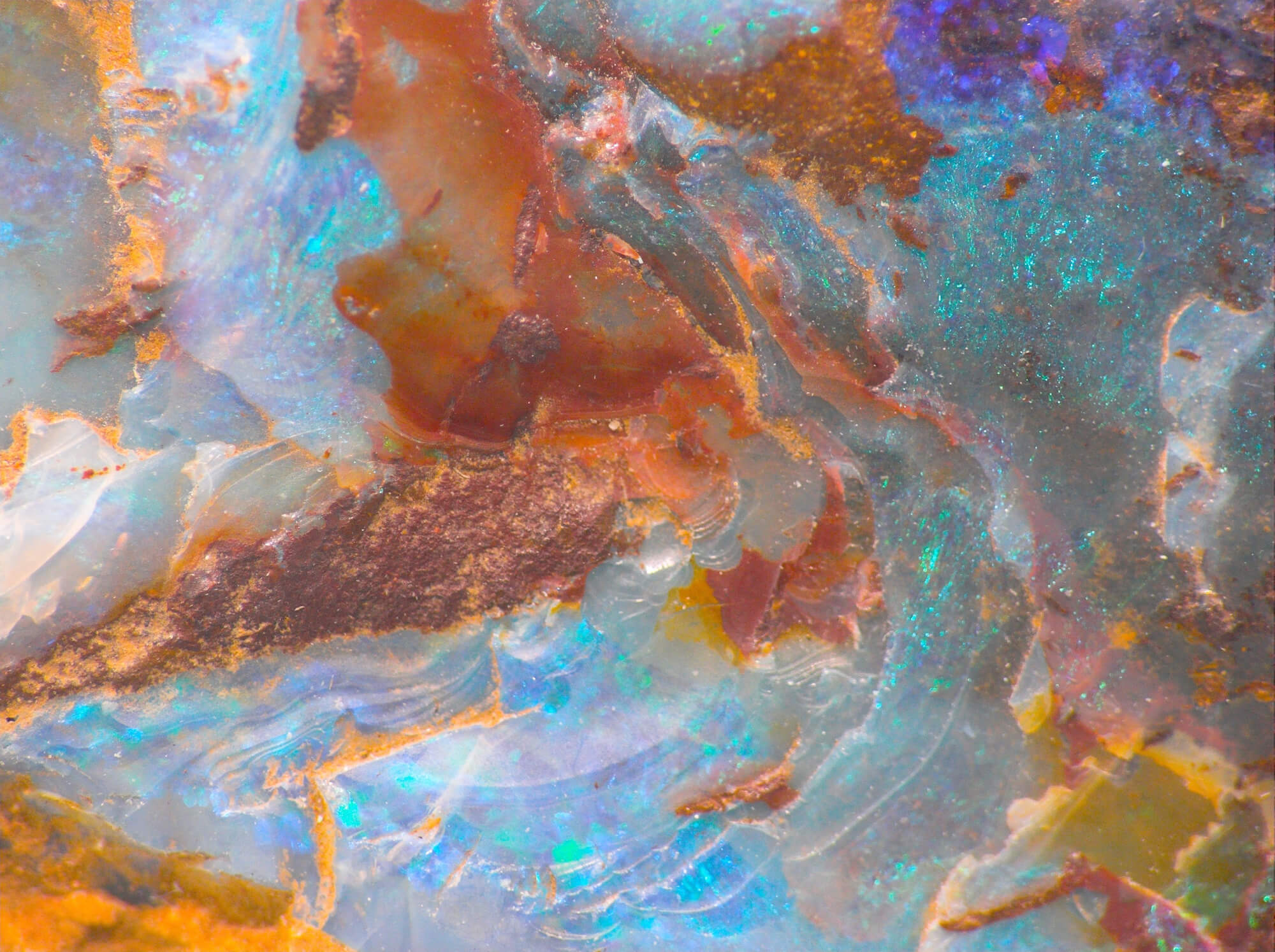 Australian Opal
Opal is the stone of inspiration, creativity and change. We invite you to open up your imagination and see things with a new eye. Opal is also a spiritual stone associated with water and emotions.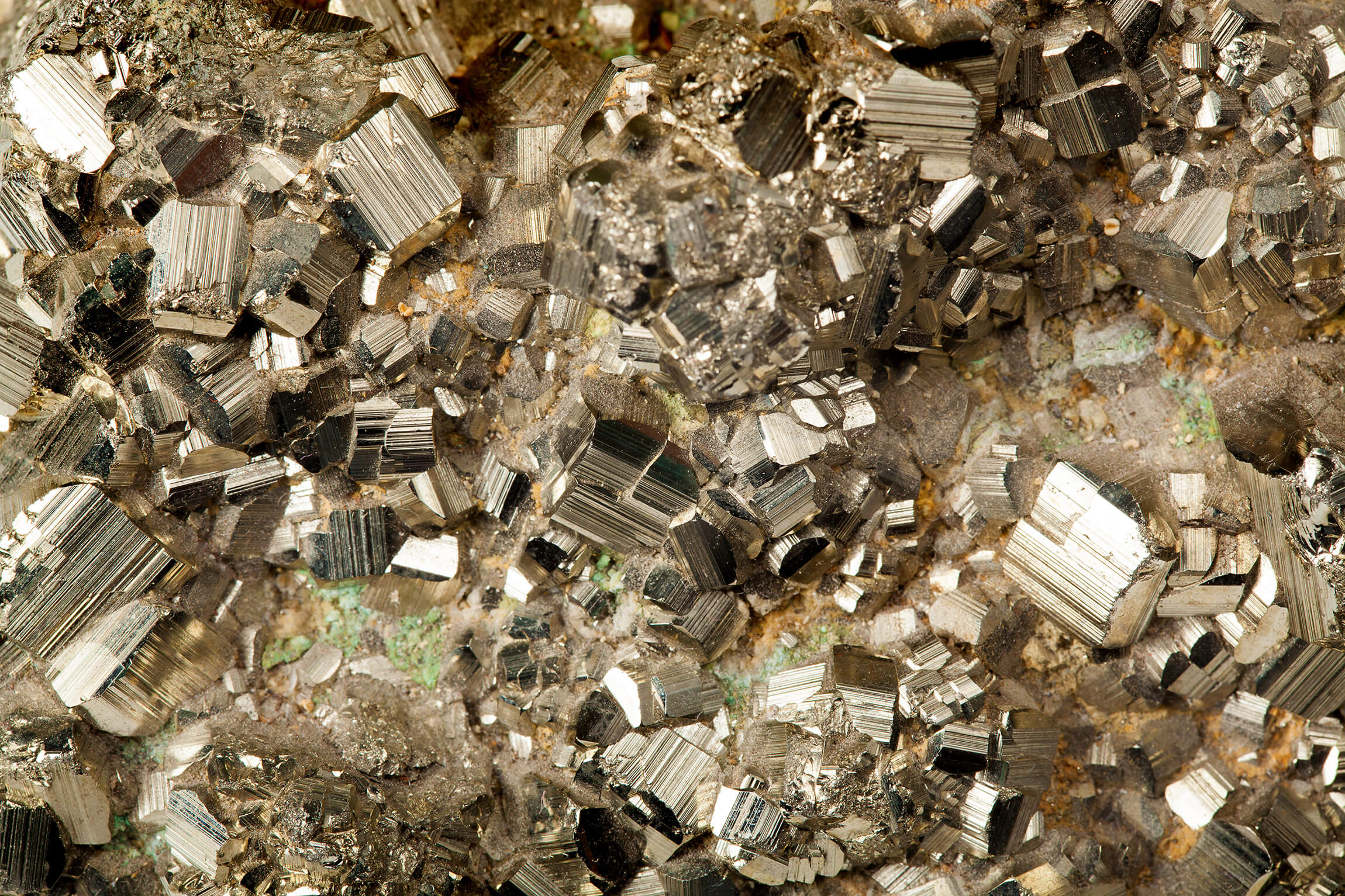 Pyrite
Pyrite promotes positivity and open, honest communication. Remove negativity from your thoughts and relationships, and view things with a more balanced eye. Think carefully and then take wise action.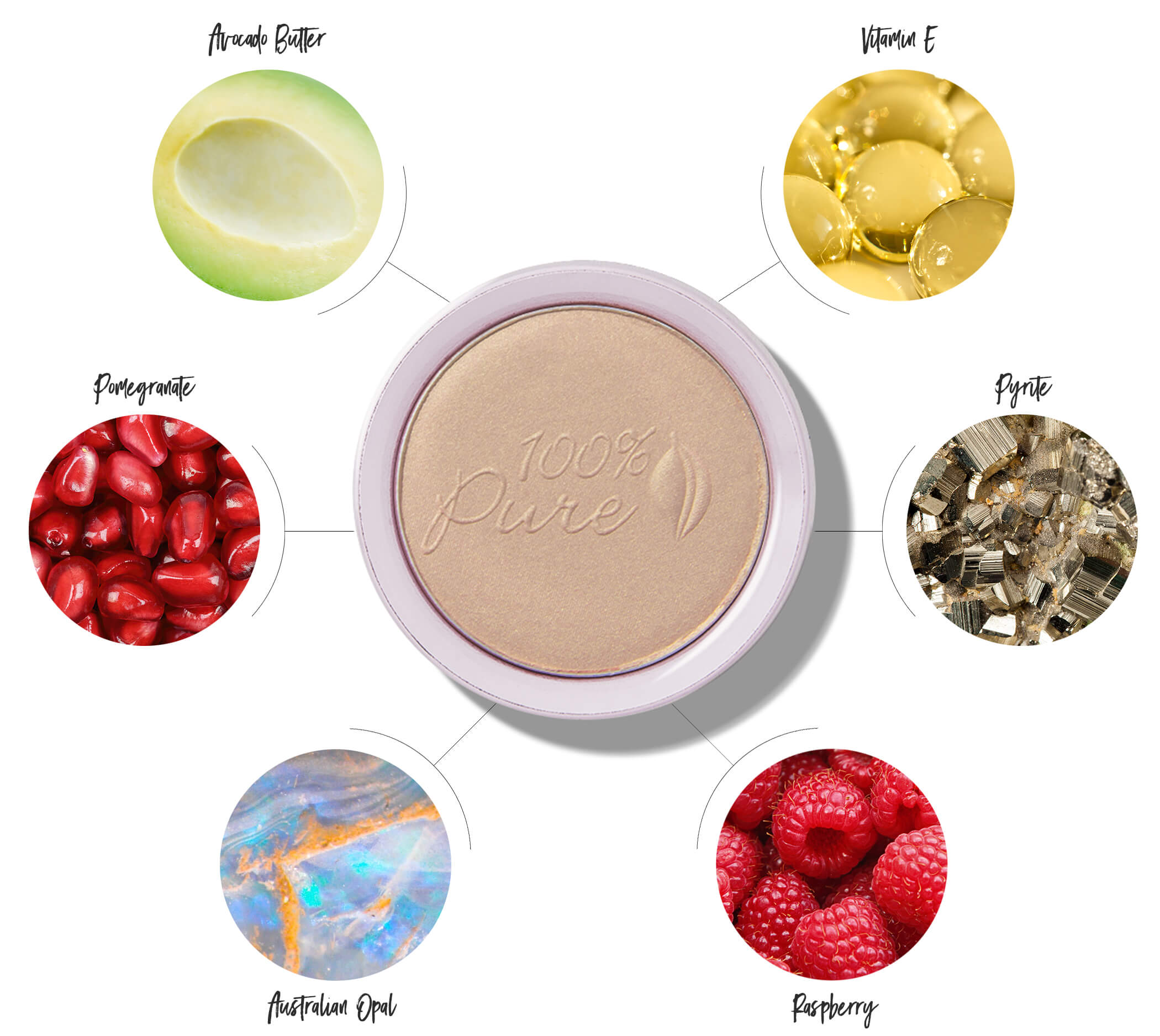 Why Use a Natural Luminizer?
Another huge plus of our luminizer collection is that they're colored from antioxidant rich fruit pigments, rather than harmful synthetic dyes. So go ahead and buff up the shine on your cheek bones, because you won't have to worry about skin or eye irritation here. Yup, we're talking about pomegranate, cranberry, raspberry, apricot - all of those enriching pigments that help plants protect themselves, now being used to nourish and pigment your skin too. Avocado butter is packed with healthful fatty acids to moisturize skin and ensure flawless luminizer application. And if that wasn't enough, vitamin E will minimize flaking and clumping for smooth, glowing skin.
Here's another perk: we use rice powder in our luminizer collection. That's where you get an ultra soft texture that keeps oil production under control and minimizes excess shine. Rice powder is a natural, skin softening alternative to talc that can potentially be contaminated with toxic asbestos. It's also a star when it comes to minimizing the appearance of your pores, while making our luminizer super blendable and comfy for all day wear.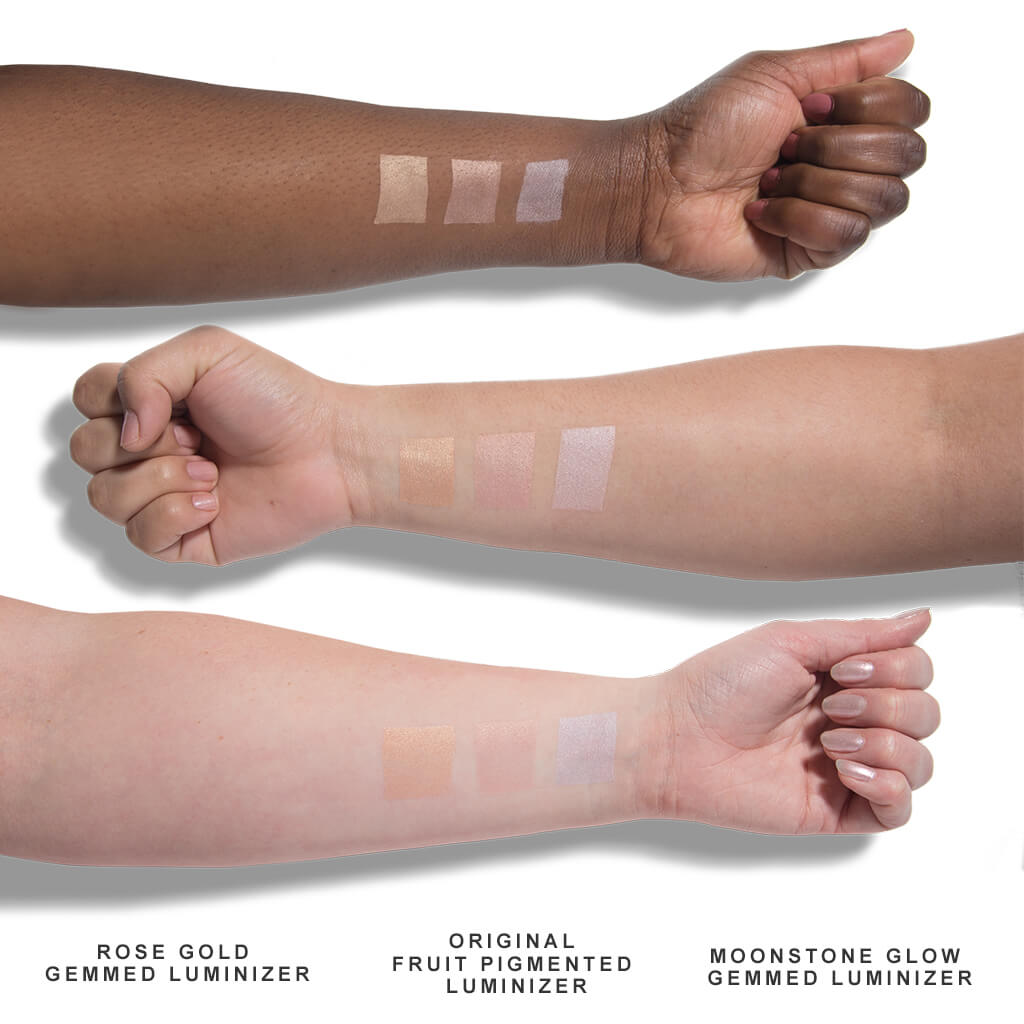 Luminizer Swatches
Rose Gold: Warm, peachy gold luminizer with golden yellow shimmer. Contains natural gemstones labradorite, moonstone, Australian opal, pyrite, sunstone.
Original Fruit Pigmented® Luminizer: Pink champagne luminescent powder.
Moonstone Glow: Icy pink luminizer with white and lavender shimmer. Contains natural gemstones labradorite, moonstone, Australian opal, pyrite, sunstone.
How to Wear a Luminizer
Apply Gemmed Luminizer with our Cruelty Free Blush Brush on the highest points of the cheeks, bridge of your nose and anywhere else you want to glow! Be sure to check out more tips on highlighting with a luminizer for your face shape.
Rose Gold is especially beautiful on warmer skin tones or for anyone desiring a rosy-gold glow. We love it during the spring and summer, when Rose Gold's warm hues shimmer with the sun. See it in action!
PRO TIP: Apply some of our Gemmed Luminizer in Rose Gold right below your brows for a warm-toned highlight. You can also dot a little just outside your eyes (towards the bridge of your nose) for a warm "golden glow" look.
Moonstone Glow creates a refreshing, iridescent glow for those desiring a cool shimmer or highlight. See it in action!
PRO TIP: Apply Gemmed Luminizer in Moonstone Glow to your cheeks for a luminescent, soft pink blush that'll make you stand out from the crowd.
What Our Fans are Saying about Our Luminizers
★
★
★
★
★
Beautifully Luminescent
Had this product dusted on my cheeks in store and loved the warm, beachy glow of this shade instantly. Since incorporating it into my makeup routine, I use it to highlight my brow bone and the inner corners of my eyes also. It totally illuminates my face with a subtle shimmer and adds an ethereal magic to my makeup looks. Love it and will repurchase as soon as I'm empty!
- Anderson Bajovski, Verified Buyer of Gemmed Luminizer: Rose Gold
★
★
★
★
★
So Beautiful!
The color looks beautiful on my light brown skin. It gives my cheeks warmish highlight.
- Letitia E, Verified Buyer of Gemmed Luminizer: Rose Gold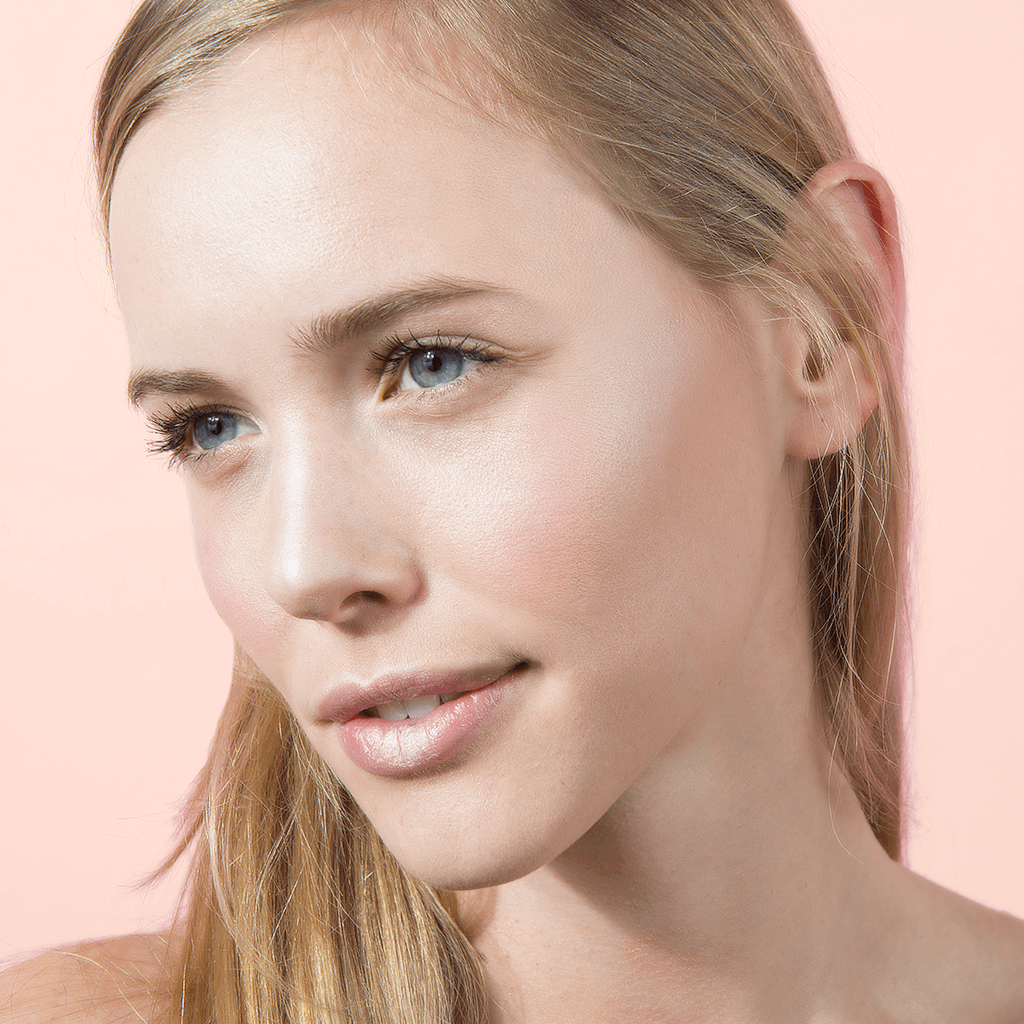 ★
★
★
★
★
Love it!
I love this highlighter! It's such a pretty pink/lavender highlighter which is something I've been looking for. I love that it has real labradorite, moonstone, and opal in it as well! It really makes you feel like a glowing goddess. It's a great highlighter if you are looking for something that isn't too glittery.
- JordanRose, Verified Buyer of Gemmed Luminizer: Moonstone Glow
★
★
★
★
★
Changed my entire look
I like to use highlighters regularly and bought this the first day I was so excited! And it's been a game changer! My makeup looks flawless and to be honest it's better than any kit I had before going clean. It's safe, good for me and an absolute must have! If you don't have this you're missing out. It also looks INCREDIBLE in photos. Gives you a filtered look.
- Hasti K, Verified Buyer of Gemmed Luminizer: Moonstone Glow
We carefully hand-select products based on strict purity standards, and only recommend products we feel meet this criteria. 100% PURE™ may earn a small commission for products purchased through affiliate links.
The information in this article is for educational use, and not intended to substitute professional medical advice, diagnosis, or treatment and should not be used as such.
Sign up to our email newsletter for more blog updates and exclusive discounts.
< Older Post | Newer Post >