How To Get Natural Matte Makeup
Curious about how to pick matte makeup for dry skin or oily skin? We'll fill you in on why natural matte makeup is the answer for healthy, poreless skin!
Posted on June 24, 2023
Written by: 100% PURE®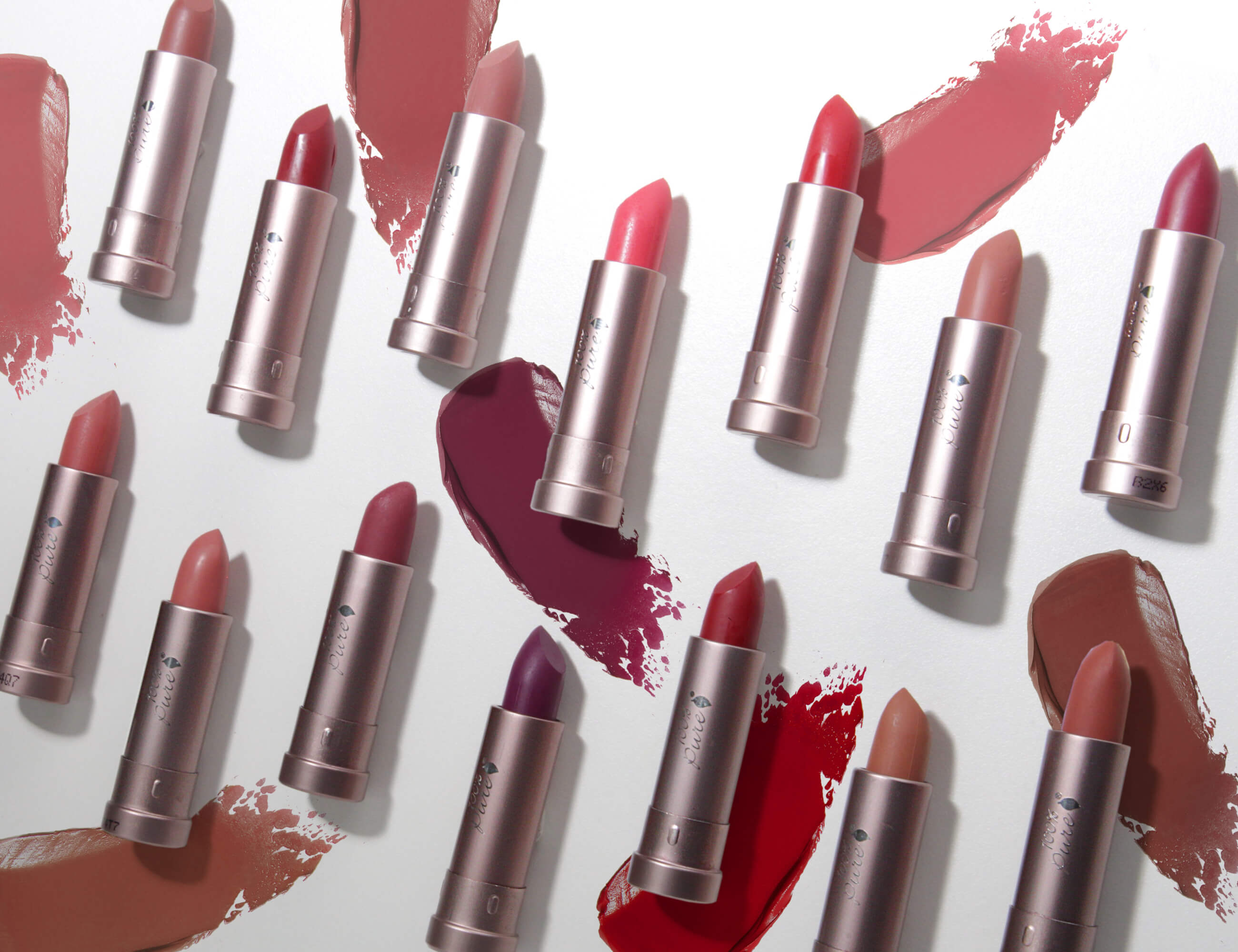 You'll also be on the lookout for aluminum starch, which is an anti-caking agent that offers both thickening and mattifying effects for matte foundation formulas, but is unfortunately a synthetic byproduct of aluminum. Speaking of aluminum, the powder byproduct of this metal is quite a popular cosmetic colorant in many foundations available on the market today; it's especially prevalent in the most recognized cosmetic brands.
Ever wonder what aluminum can do after sitting on your skin for hours? Try neurotoxicity, organ system toxicity, and enhanced absorption. It's not quite what we were hoping to apply to our delicate dermis for hours on end each day!
What We Use Instead
100% PURE plays it safe by formulating with only natural ingredients, meaning these ingredients only undergo chemical changes from biological processes like fermentation, distillation, and cold processing. Instead of talc, we use finely pressed rice starch.
Instead of aluminum starch or other harsh anti-caking, mattifying components, we use bamboo silica, which is the protective layer in the epidermal cell walls of bamboo. Bamboo silica also provides impressive light-refracting abilities, which we'll get into later!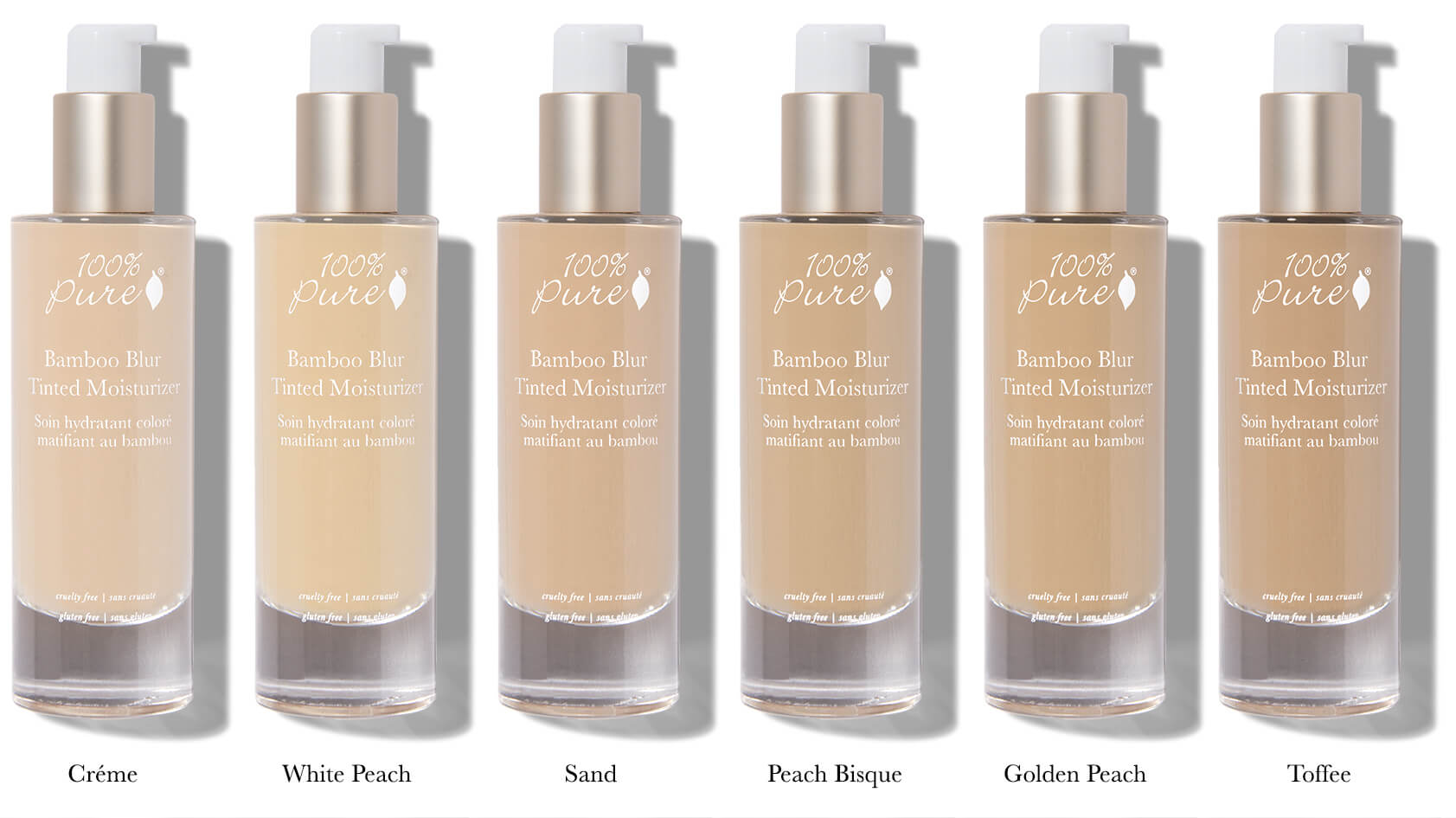 Matte Makeup for Dry Skin
It seems like we batted our flirty lashes, and matte makeup disappeared. We used to be obsessed with non-reflective, full-coverage matte skin with bold, shine-free lips. Then poof; it was gone in a blink and traded for dewy skin tints, shiny creamy pigments, and juicy lip glosses. We're not complaining about the glow-goddess look, but has matte been muted forever?
We think not – matte is back, and you'll be batting your eyes over at natural matte makeup all over again. Let's explore how you can achieve a natural matte look whether you have dry or oily skin without cakey, heavy foundations and powders and why matte makeup is here to stay. It's time to let matte makeup shine!
What Is Matte Makeup?
Matte makeup gives the impression of poreless skin and a pristine finish, meaning shine and oil are nowhere to be found. The matte makeup look is often associated with dry, powdery skin that's perfect for oily skin types, but that's not necessarily accurate!
Oily skin types might swear by matte makeup finishes to combat and cancel shine daily. But fruit pigmented® matte makeup is made with nourishing ingredients that can cater to dry skin types, too. Being a great asset for full but not cakey coverage on any skin type, it's no wonder matte makeup is arguably more of a lifestyle than a trend.
A fully mattified face will serve stunning porcelain doll vibes, making people wonder how you've gotten your pores to virtually disappear in a matte-r of minutes. Much like dewy or shimmery makeup, matte makeup can have bold impact when applied properly.
Tips: You'll need to work from your base upwards to go fully matte, meaning starting with a matte facial primer is an absolute must. For normal to oily skin types, you'll also want to employ a translucent setting powder for finishing your matte makeup look. More on these tips below!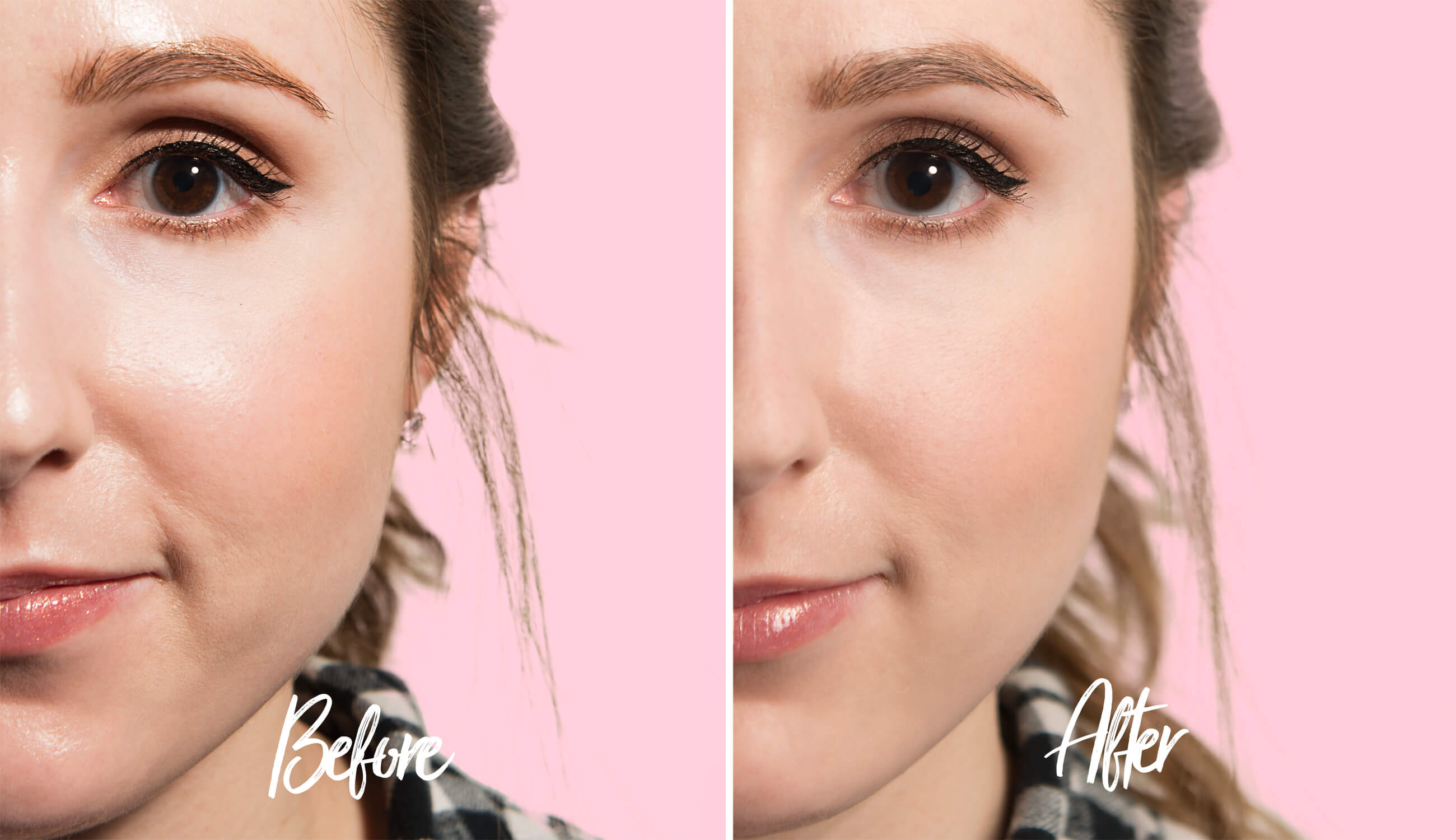 Natural Matte Makeup
What We Leave Out

Sadly, most matte makeup products will use somewhat unsavory ingredients to achieve an opaque, oil-free finish. Talc is used to achieve a powdery matte finish, but has also been linked to potential asbestos contamination and can dry out the skin, robbing it of necessary natural oils.
Talc is both an anti-caking and mattifying ingredient, meaning you'll find it in almost every kind of conventional cosmetic, not just matte makeup products. It's the prime ingredient in most conventional eye shadows, liquid foundations, foundation powders, and powder blushes.
While most know to shop matte makeup for oily skin, one of the biggest searches is to find healthy matte makeup for dry skin. It's no secret that using matte face powder will absorb oil and minimize shine, which is why oily skin types love our Fruit Pigmented® Foundation Powder made with rice starch. Oily skin types also love our Fruit Pigmented® Healthy Foundation, which is made with both rice starch and anti-aging superfruits.
If you're looking for matte makeup for dry skin, you'll need to both prime your skin (we'll give you deets below) and use matte products that are free of skin-stripping alcohols and chemicals. Our Bamboo Blur Powders are the ideal matte makeup for dry skin thanks to their featherweight feel and ultra-hydrating base. These translucent to tinted setting powders are made with mattifying bamboo and skin-nourishing apricot and papaya that leaves dry skin totally hydrated and supple.
If your skin is really dry, be sure to apply a natural moisturizer and primer first to create a poreless porcelain finish. Naturally, dry skin doesn't produce as much sebum or oil as other skin types do, so it's essential to quench it with hydrating ingredients and a nourishing primer to have the ideal makeup base to your perfect natural matte makeup look. More details on these below!
Newsletter
Subscribe
for more blog updates and exclusive discounts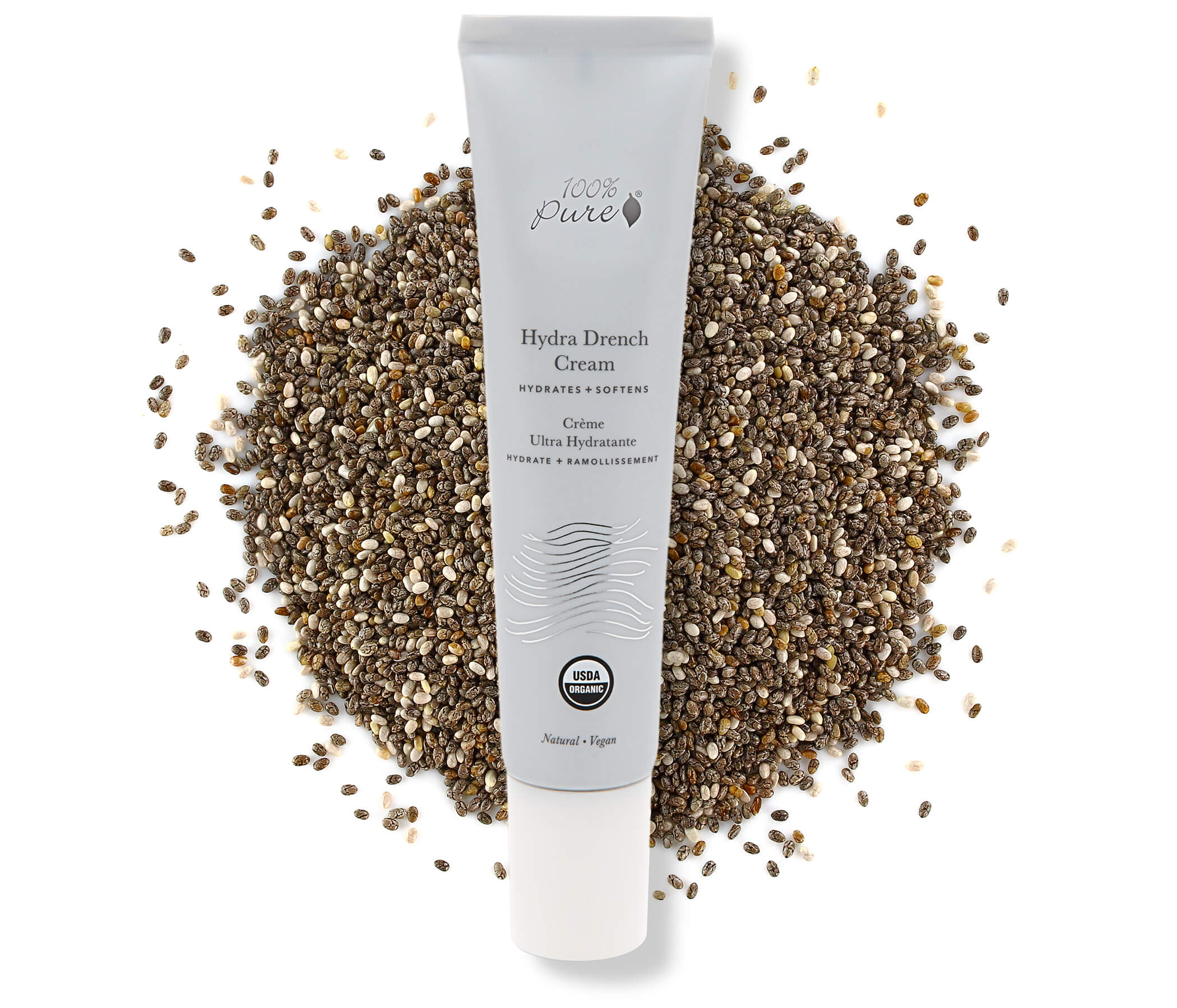 Moisturizer and Primer for Matte Makeup
Perhaps the most crucial step in your matte makeup routine is to prime your skin. But before we can dive into the dangers of non-natural facial primers, let's talk skin priming. While there are multiple moisturizer options for your skin type, our favorite for all skin types is the Hydra Drench Cream. This chia gel based natural moisturizer brings hydration (a must for all skin types) in spades plus a fast absorption rate, and can be layered under another facial oil or moisturizer for dry skin types.
Do you have super dry skin and want to stick to just one moisturizer? Then you'll be obsessed with our Sea Culture Creme, which will plump and moisturize dry skin in no time. But because of the higher oil content in this moisturizer, your matte makeup finish may be slightly compromised. But to counteract any dewiness peeking through, finish your matte makeup look with a finishing powder.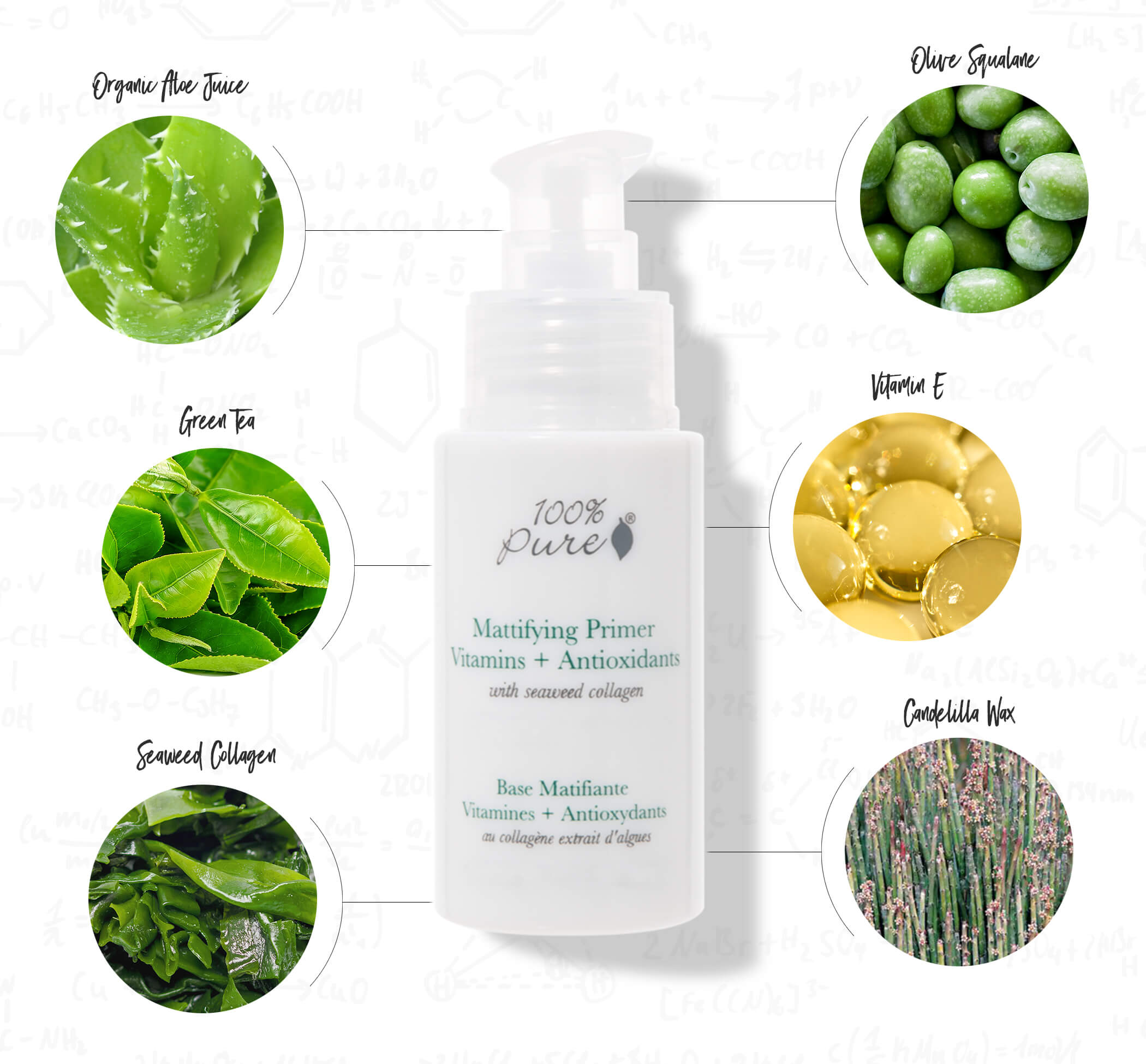 There are plenty of primers out there capable of mattifying your precious skin, but they come with a bit of baggage: think synthetic silicone, vinyl dimethicone, aluminum starch, and even iron oxide colorants if they're tinted formulas. Want to avoid heavy metals and synthetics being applied to your naked, vulnerable skin? Opt for a silicone-free primer, and scan the ingredients list for any synthetic stowaways.
Our Mattifying Primer is made strictly with vegan ingredients that anyone will recognize: think organic aloe juice, olive squalane, rice starch, and seaweed collagen. Seaweed is great for plumping and collagen-boosting, aloe for hydration and eucalyptus for purifying. This natural primer is excellent for oily and acne-prone skin. You'll get hydration, youthful skin plumping, and a silky matte finish that holds makeup in place for longer wear.
5 Natural Matte Makeup Favorites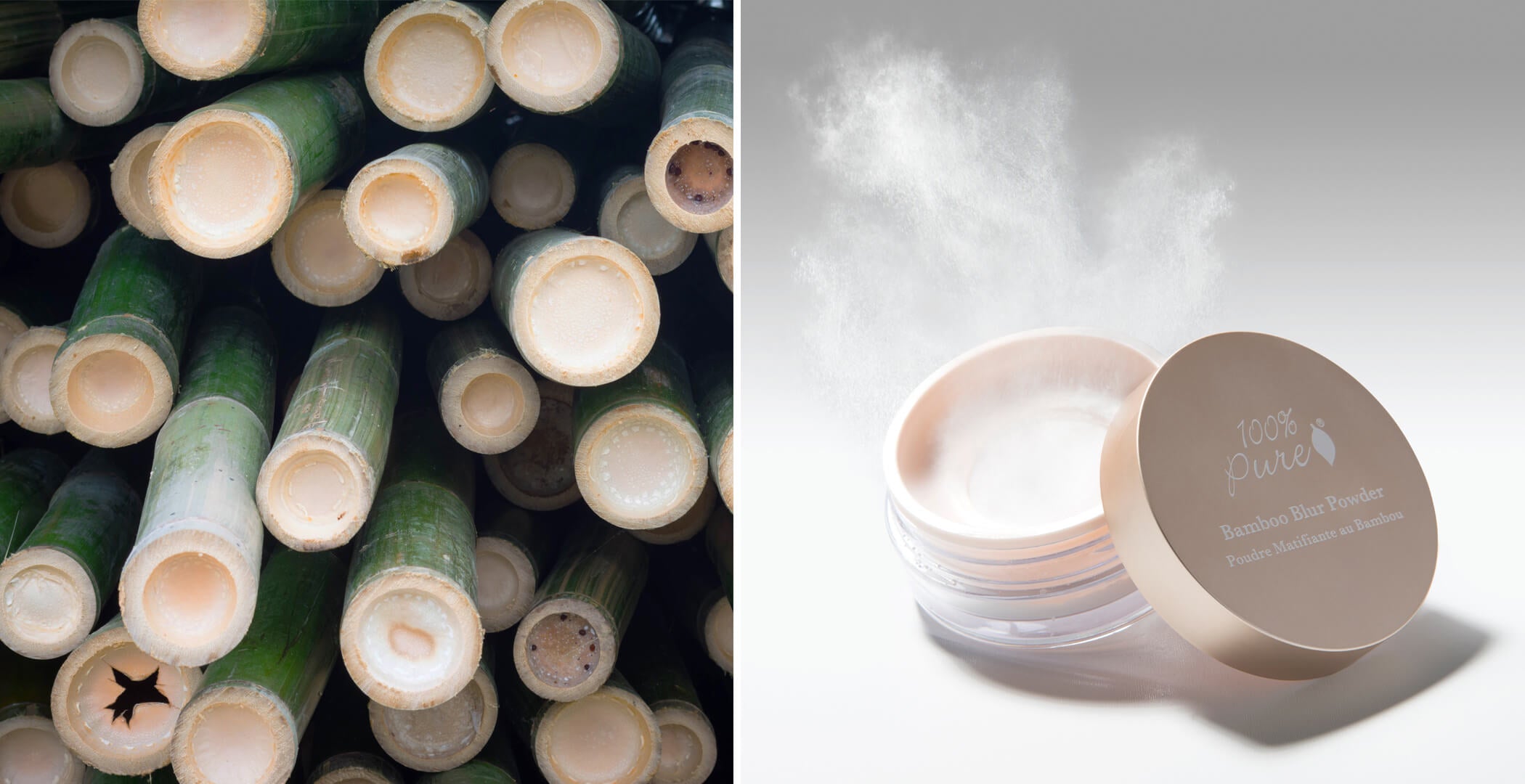 Bamboo Blur Powder

We're convinced that our Bamboo Blur Powder is the ideal translucent powder for getting a poreless finish. Comprised of only a single ingredient, this setting powder will become your most critical ally for getting a soft focused matte makeup look. Thanks to light refracting bamboo silica, all you need is a light application with your cruelty-free makeup brush to see oil 100% diffused and to stamp out shine.
Cocoa Butter Matte Lipstick

Currently our most popular lip formula, the Cocoa Butter Matte Lipstick line has reached new heights with its recent summer shade additions. Now featuring a broad color spectrum that includes shades like vibrant pink, peace, and coral hues, and vibrant red-orange, this line is intensely pigmented and perfectly matte. Made using cocoa and shea butters to keep lips moisturized, despite the matte finish provided by rice starch.
Fruit Pigmented® Blush Powder

Our collection of Fruit Pigmented® Blush powders is so extensive that you'll need a roadmap for choosing your perfect shade, thanks to a broad color spectrum yielded by natural fruit and cocoa pigments. Natural rice starch ensures a matte finish while rosehip oil, avocado, and cocoa butters will moisturize skin, rather than strip or irritate like the harsh synthetics found in conventional powder blush formulas.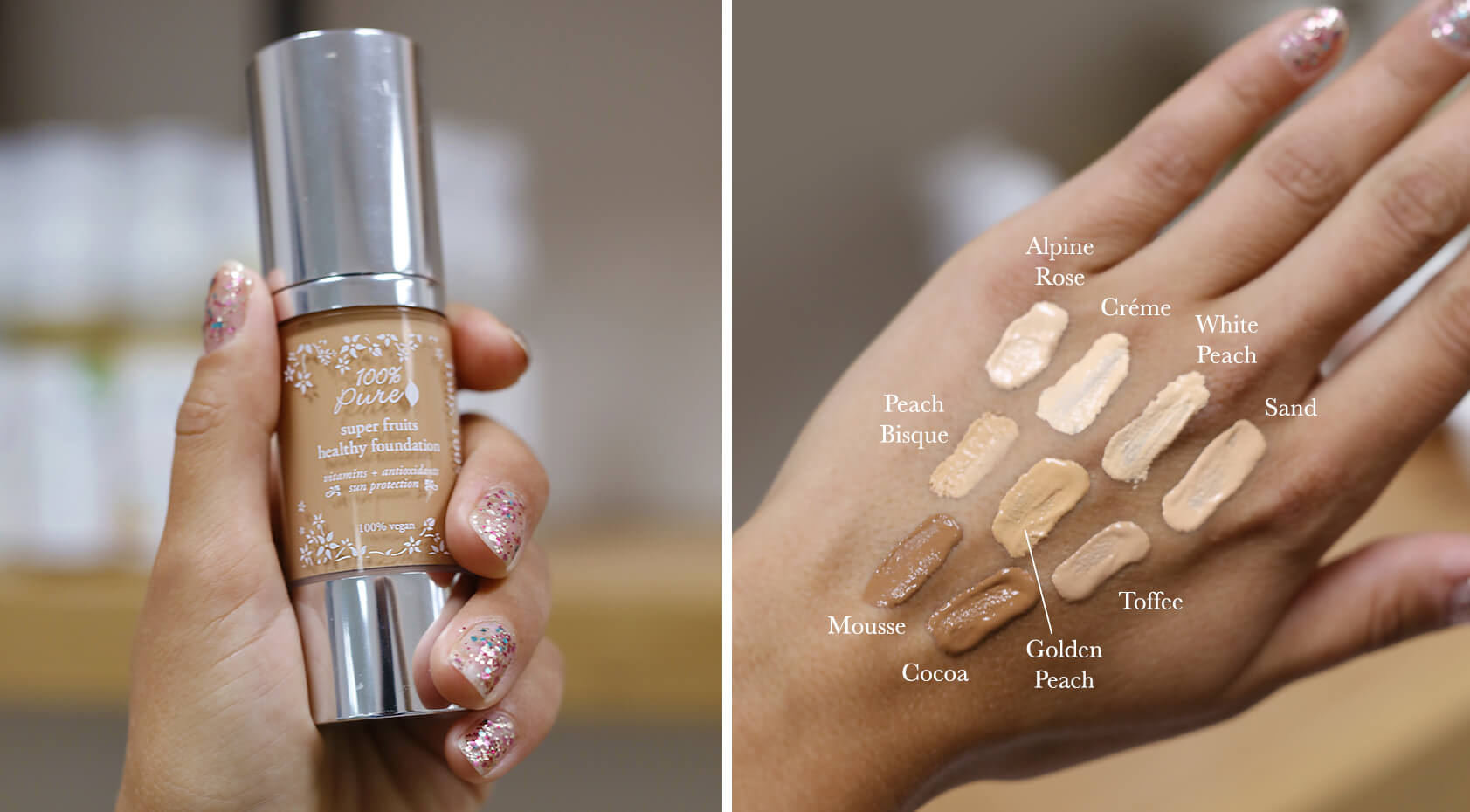 Fruit Pigmented® Healthy Foundation

Touting the most opaque coverage of any 100% foundation formula, our Healthy Foundation is a must for matte makeup lovers. Perfect for almost any skin type (extra dry skin types may prefer our Bamboo Blur Powder), this foundation packs some serious hydrating, moisturizing, and anti-aging benefits with its completely plant based ingredient list. Finishes with totally flawless, matte coverage.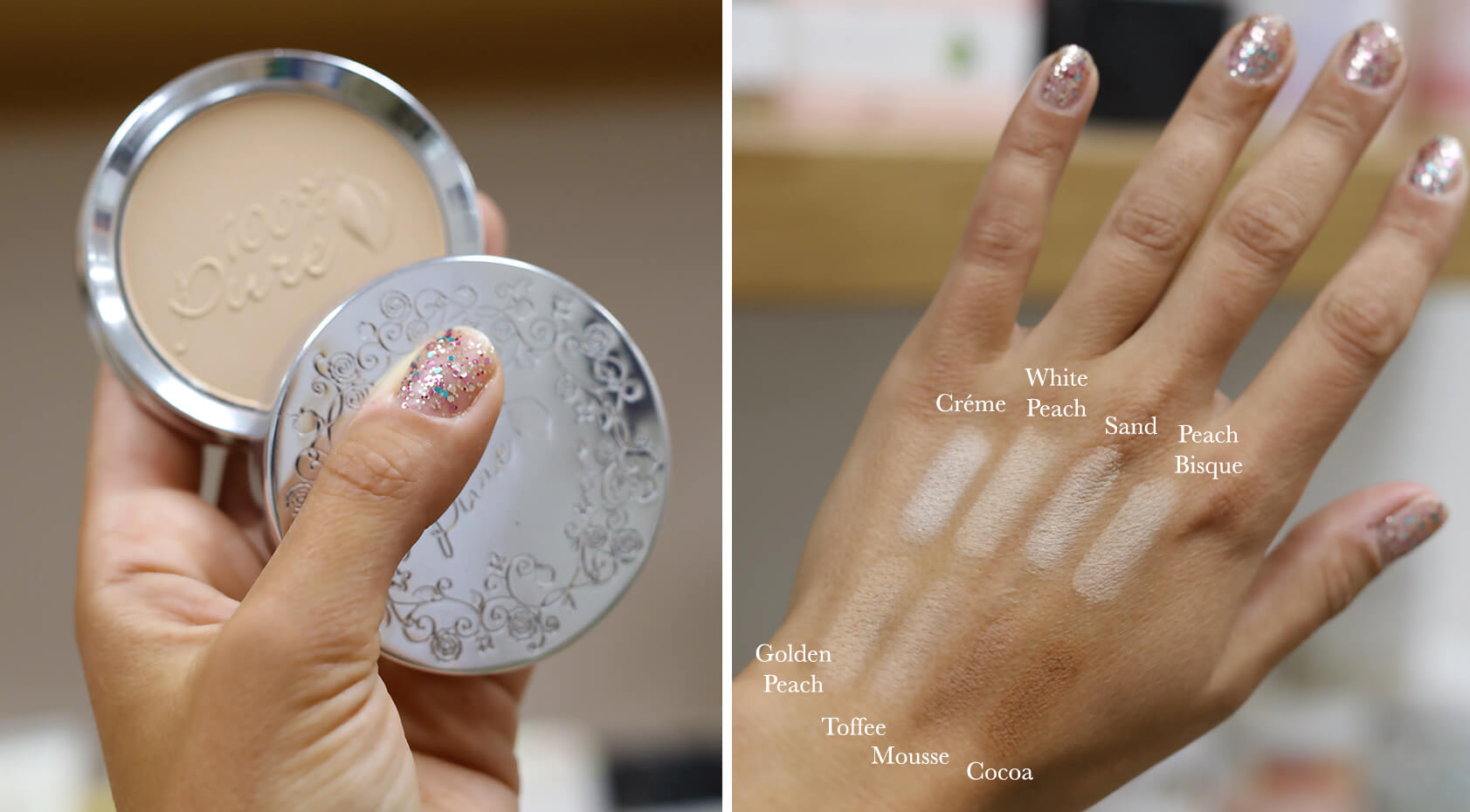 Fruit Pigmented® Foundation Powder

A favorite of oily to normal skin types, this natural powder foundation line is a go-to for those seeking a blend of medium coverage, a perfectly matte finish, and major oil-diffusing power. Want to double down on your matte coverage? After moisturizing and priming clean skin, layer Healthy Foundation onto skin with a kabuki brush, then finish with a color-matched shade of Fruit Pigmented® Foundation Powder.
FAQs About Natural Matte Makeup
Ready for some useful tips about natural matte makeup? Yes, we've heard your questions – and we're grateful to offer you answers. Let's call this a 'Q and A' about un-muting matte makeup and making it shine in your daily routine for flawless skin no matter your skin type.
How can I control shine on my oily skin with natural matte makeup?
Answer: Use a natural, lightweight foundation that delivers a natural matte finish and balanced skin from morning to night. Oil-absorbing rice powders will help combat shine, while antioxidants will help balance skin. Following with a natural powder to set makeup and balance excess oil.
Should I use powder or liquid products for natural matte makeup?
Answer: It depends on your skin type. Oily skin types might swear by liquid matte makeup finishes to combat and cancel shine daily. But fruit pigmented® matte makeup is made with nourishing ingredients that can cater to dry skin types, too. If you have really oily skin, using a powder makeup like our Bamboo Blur Powders are ideal for stamping out shine, while this formula works for very dry skin thanks to their featherweight feel and ultra-hydrating base.
How can I achieve a natural-looking matte finish on my lips?
Answer: Avoid glosses and balms and go for natural matte lipsticks with a vegan and cruelty-free formula that keeps lips moisturized all day long while providing stunning, long-lasting color. You can also dust some translucent powder over them for a mega-matte finish.
Can I achieve a natural matte look without using heavy foundation?
Answer: Yes! Sadly, most conventional foundations use somewhat unsavory and skin-harming ingredients to achieve an opaque, oil-free finish. Talc's and starches in these formulas contribute to a cakey, heavy foundation look. However, natural foundations and powders can help you achieve a perfect natural matte look – your skin, but better.
How can I set my makeup for a long-lasting natural matte look?
Answer: Try applying a lightweight, natural setting powder after you're done applying all your complexion products. This not only mattifies by soaking up excess oil left on the skin but will also set your makeup for a longer wear.
Whether you have oily or dry skin, it's easier than you think to achieve a balanced, healthy, and happy complexion with natural matte makeup. You'll feel confident using minimal amounts of makeup, and you won't have to worry about exposing your skin to harsh chemicals or ending up with a cakey makeup look. We're happy to say matte is back and it's here to stay. Now, let your matte makeup shine!
We carefully hand-select products based on strict purity standards, and only recommend products we feel meet this criteria. 100% PURE™ may earn a small commission for products purchased through affiliate links.
The information in this article is for educational use, and not intended to substitute professional medical advice, diagnosis, or treatment and should not be used as such.
Sign up to our email newsletter for more blog updates and exclusive discounts.
< Older Post | Newer Post >