Best Tea Tree Products for Clearer, Worry Free Skin
All the skin loving benefits of tea tree, and how to add it to your skin care routine to fight acne and other skin conditions.
Posted on April 9, 2018
Written by: 100% PURE®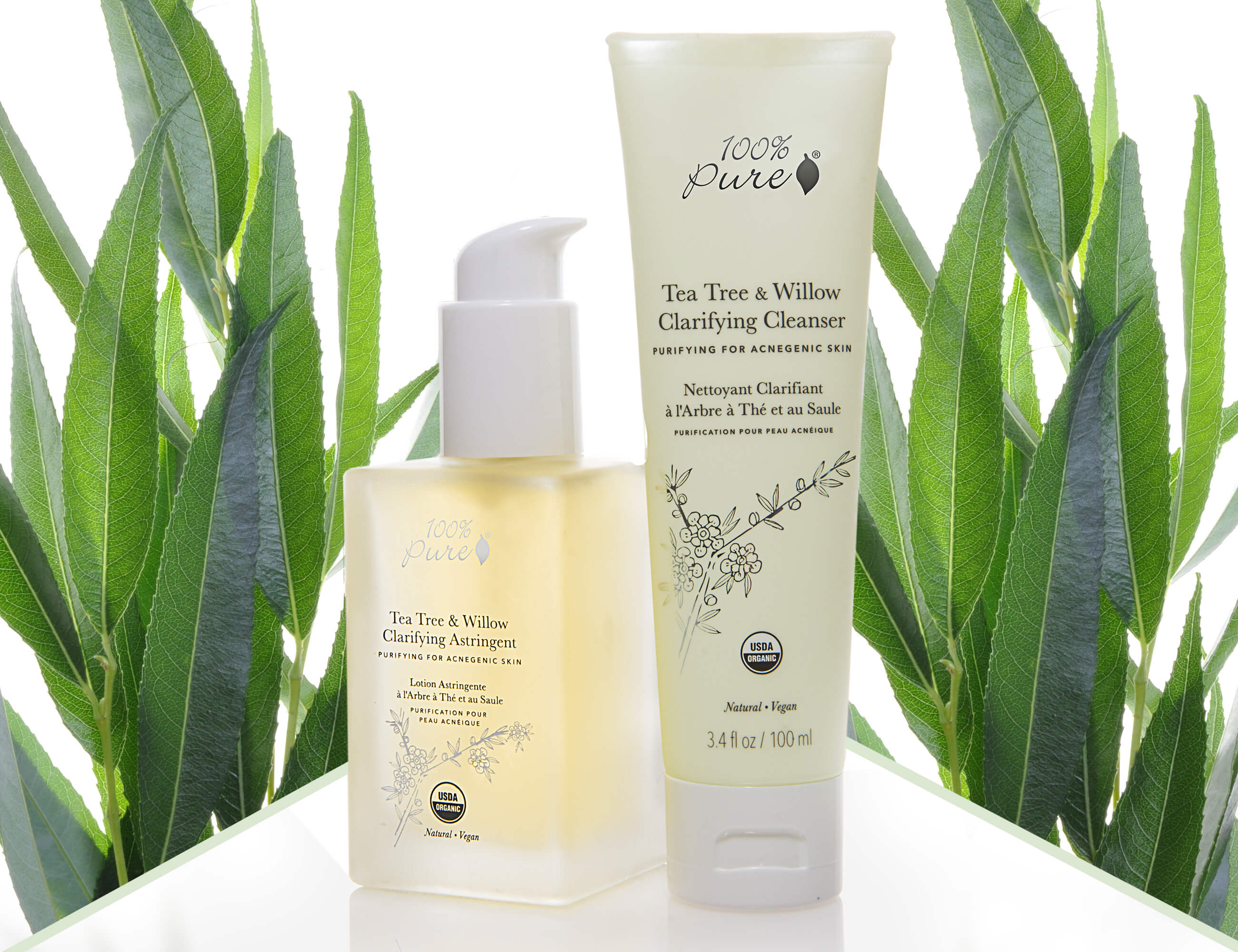 So you've heard about lavender oil and all its wondrous benefits for skin. But what about tea tree oil? Tea tree may not be as pretty as its purple counterpart, but it's packed with potent benefits for skin. We even formulated a tea tree skin care duo so you can easily add it to your daily skin care routine (that's how essential of an ingredient it is!) and enjoy soothed, purified skin. Here are all the skin loving properties of tea tree - possibly an answer to all your skin care woes, from acne to eczema and other skin infections.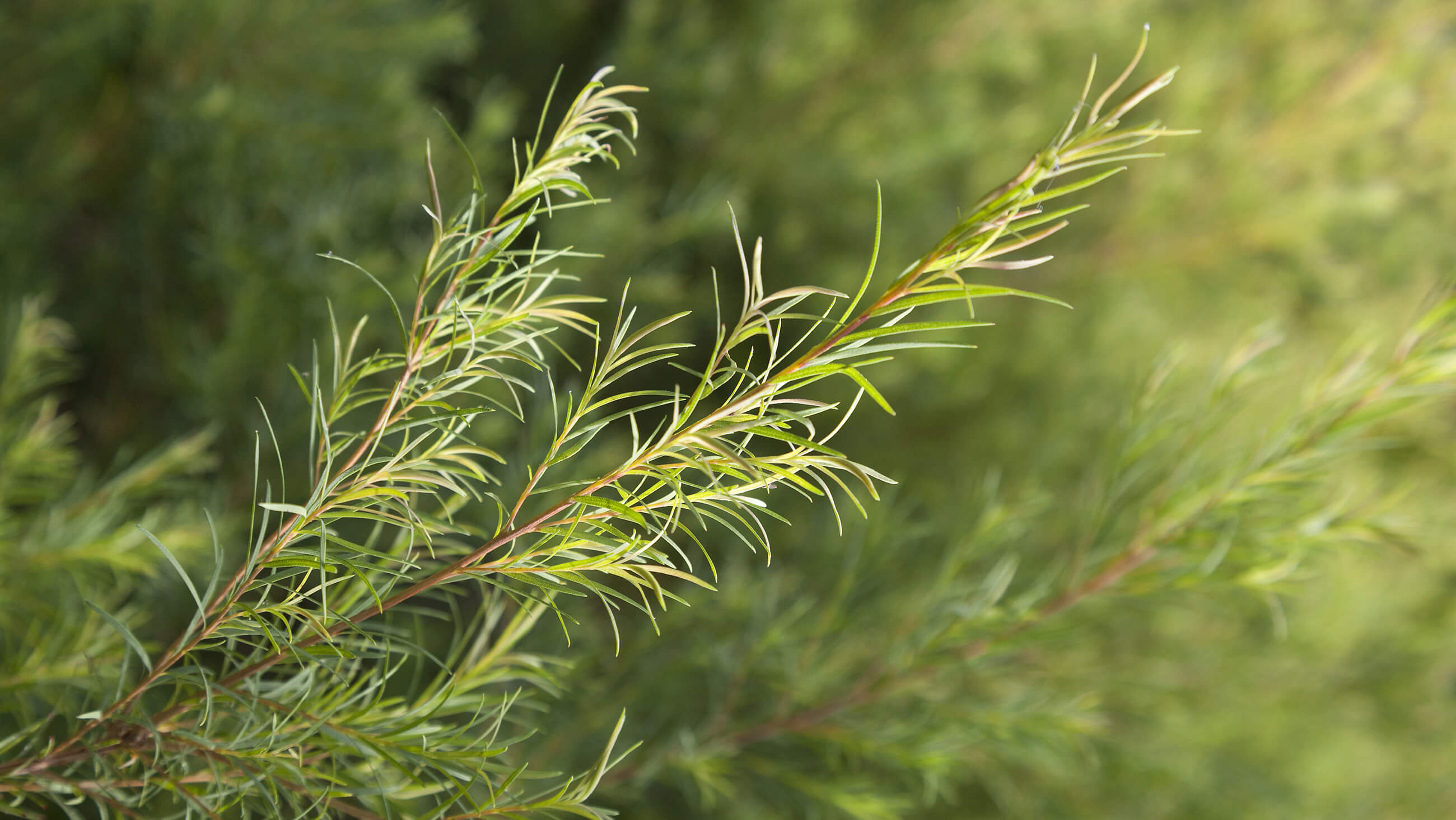 Your Guide to Tea Tree
Tea tree oil is a bit more difficult to get your foot in compared to other essential oils. That's because tea tree is actually toxic to ingest and extra potent, meaning it can irritate skin if used at too high of a concentration (make sure to keep it away from children and pets!). But that didn't stop the indigenous Bundjalung people in eastern Australia from using tea tree leaves as a traditional medicine to treat colds and skin infections for hundreds of years. Tea tree is an iconic Australian plant, and usually grows along wet settings like swamps and along streams. Its leaves were traditionally crushed and placed over skin infections. Mass production of tea tree oil actually didn't begin until the 1920s, when Australian researchers discovered the potent antiseptic properties of tea tree oil. Soldiers even brought it onto battlefields with them as an antiseptic.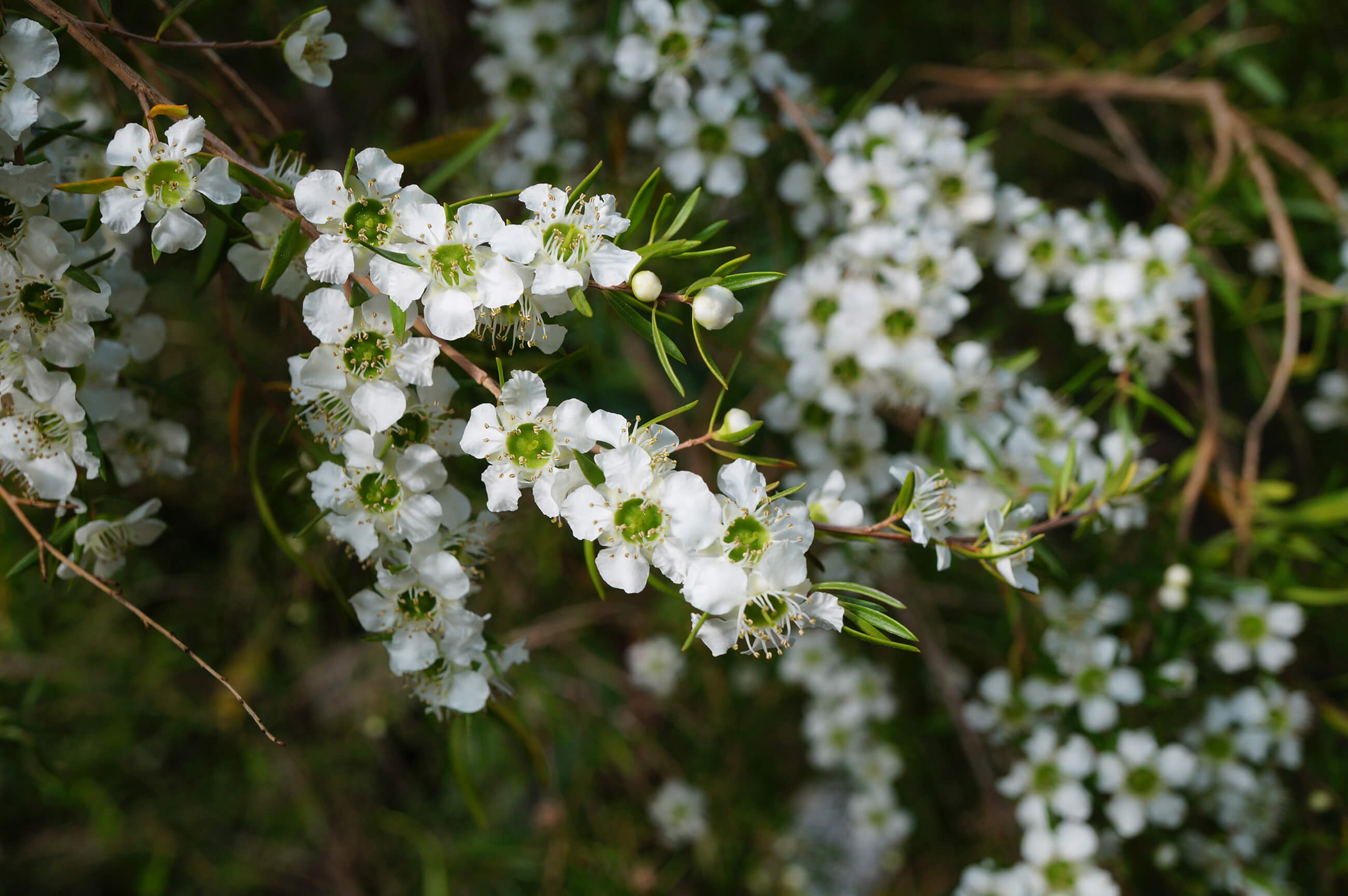 As they're harvested, the tea tree leaves and twigs are finely chopped to prepare for steam distillation. The best way to get tea tree oil from a tea tree plant is steam distillation, and the same applies to all essential oils. Steam distillation ensures you get the most benefits of the tea tree while preserving its active ingredients such as terpinen 4-ol that make it such a potent anti-inflammatory. This process also creates a pure, clean oil without being contaminated by chemicals like acetone or hexane in solvent extraction methods.
Benefits of Tea Tree for Skin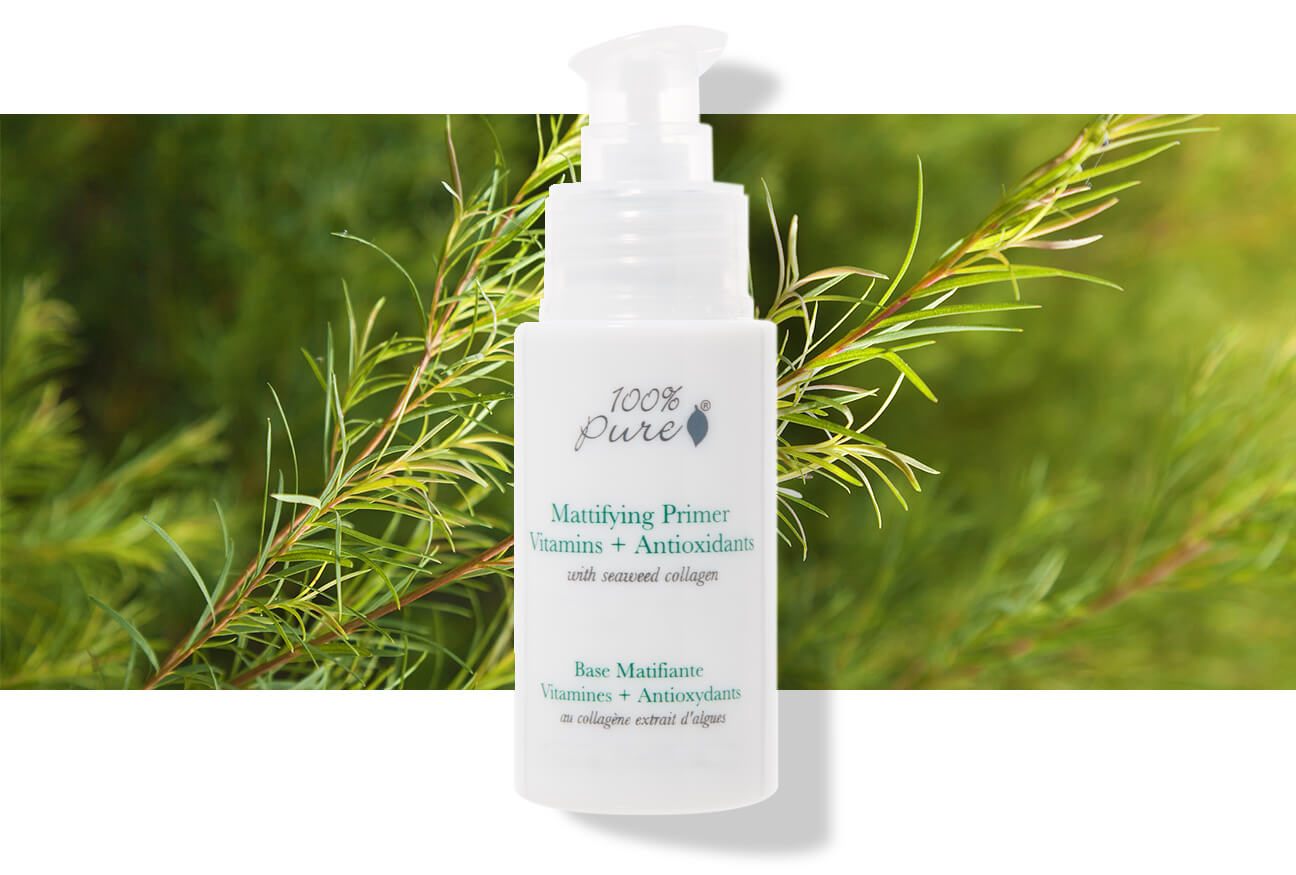 1. Reduces Inflammation
Use tea tree for skin to help reduce redness, blotchy patches, and acne scarring. Tea tree's anti-inflammatory properties make it great for soothing and healing skin that's irritated or reddened from the sun, insect bites, or bacteria. Afraid to put makeup on top of irritated skin? For a primer that will provide smooth coverage and heal inflamed skin at the same time, pick up a Mattifying Primer that contains tea tree and seaweed collagen for a refreshed complexion and silky smooth canvas. The benefits of a natural face primer go further than you think!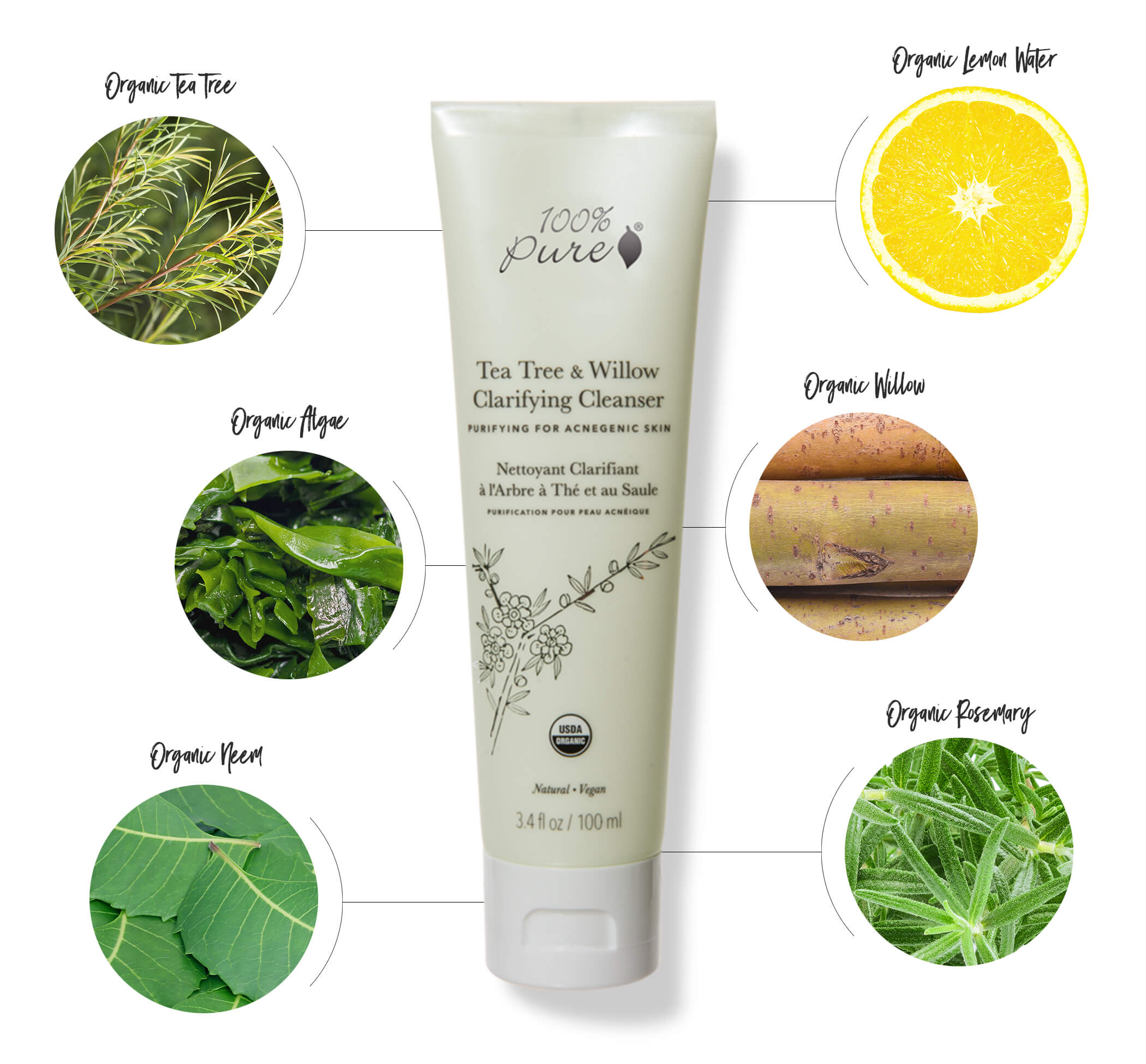 2. Naturally Cleanses Bacteria and Debris from Skin
Australian researchers have been testing the use of tea tree as an antimicrobial for almost 100 years, and it was historically used as a safer, natural antiseptic in place of harmful chemicals. When cleansing your skin, you'll want to focus on removing all traces of oil, bacteria, and toxins that your face gathered throughout the day in order to prevent against irritation. Doing this will also help minimize the appearance of enlarged pores and make your skin a clean canvas for absorbing the rest of the potent natural ingredients in your skin care routine (vitamin C, retinol, all that good stuff!). Pick up a Tea Tree & Willow Acne Clear Cleanser for a soothing wash that will clear impurities for a refreshed complexion.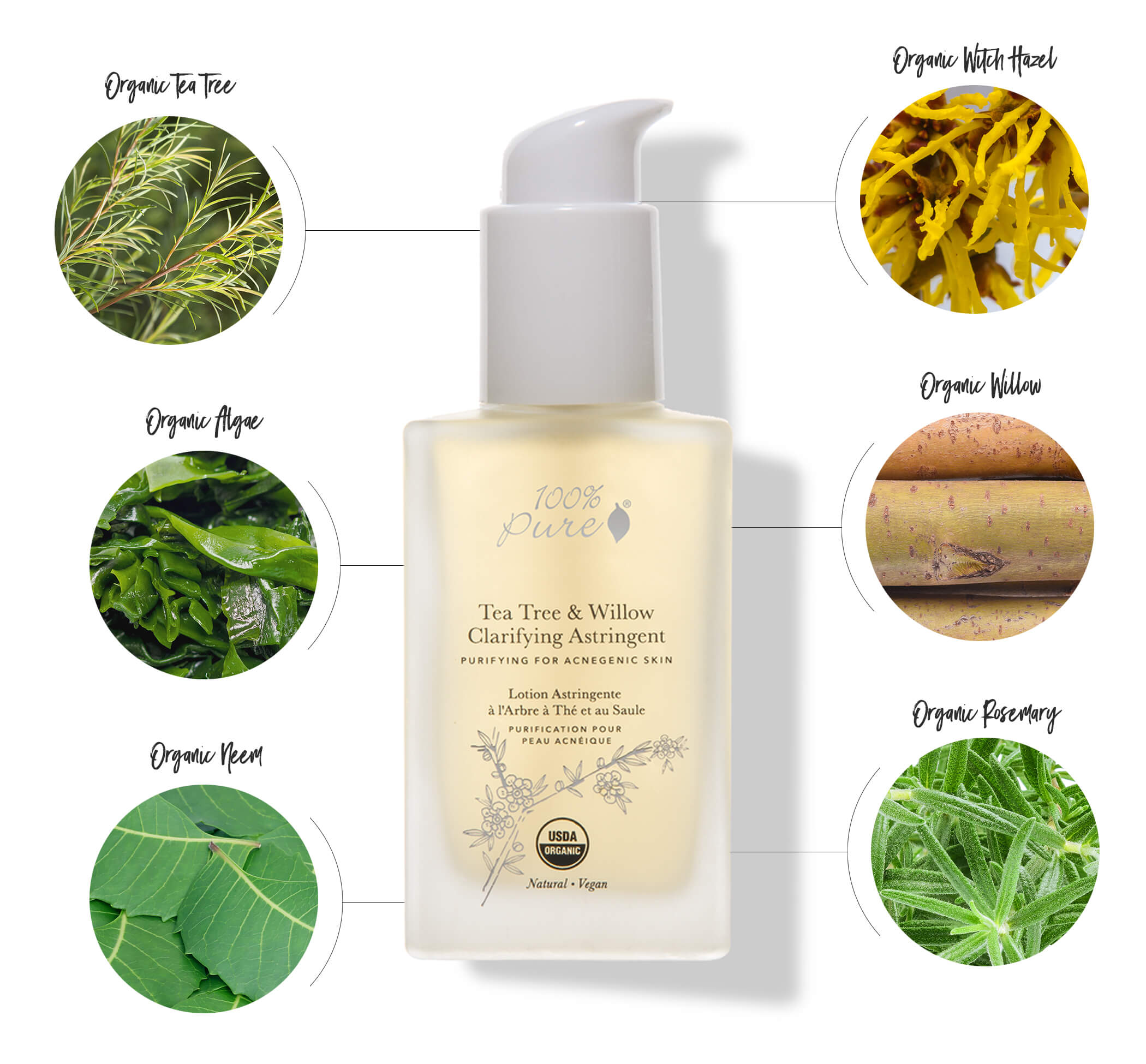 3. Fights Acne
Tea tree's antiseptic properties go beyond use in a first aid kit. Australian researchers later discovered that a 5 percent solution of tea tree oil was just as effective as benzoyl peroxide - the medication found in conventional acne skin care that can be stripping or irritating on many skin types. We're all about natural skin treatments that come without the skin irritating side effects of synthetic ingredients, while also being more effective. Since 5% pure tea tree oil can be too intense for some skin types, we've used a more careful dosage in our natural acne care products. Tea Tree & Willow Acne Clear Astringent contains a potent dose of 1% pure tea tree oil, combined with a blend of soothing witch hazel and other anti-inflammatory heavy hitters.
But first, what makes tea tree oil so great at treating acne? Because bacteria play a huge role in causing acne flare ups. Your body is home to not only your cells, but also trillions of bacteria that keep you healthy but can also threaten your health with infection. The bacteria P. acnes naturally lives deep inside your pores consuming sebum (your skin's natural oil) and dead skin cells. But when stress triggers your skin to overproduce sebum, P. acnes increases too, leading to inflammation and irritated clogged pores. That's how that pesky pimple appeared on your face. What's more, further bacteria buildup from picking at your pimples is what leads to stubborn acne scars. You see why you'll want an acne treatment like tea tree oil that naturally wipes out bacteria, rather than benzoyl peroxide or other skin irritating chemicals?
4. Moisturizes Skin
Regardless whether you have dry or oily skin, or a combination of both, your skin needs both moisture from oil and hydration from water to maintain a healthy balance. Excess oil sitting on top of your skin can actually be a symptom of skin that needs more moisturizing, because your skin is trying to compensate by producing too much! Tea tree oil is an effective natural moisturizer, and is what makes our Tea Tree & Willow Acne Clear Cleanser such an effective cleanser that doesn't strip or dehydrate skin. We've also included tea tree in our Pink Grapefruit Seaweed Shaving Cream, since moisturizing is key to a smooth shave. Tea tree, argan oil, and coconut work to purify and prevent irritation.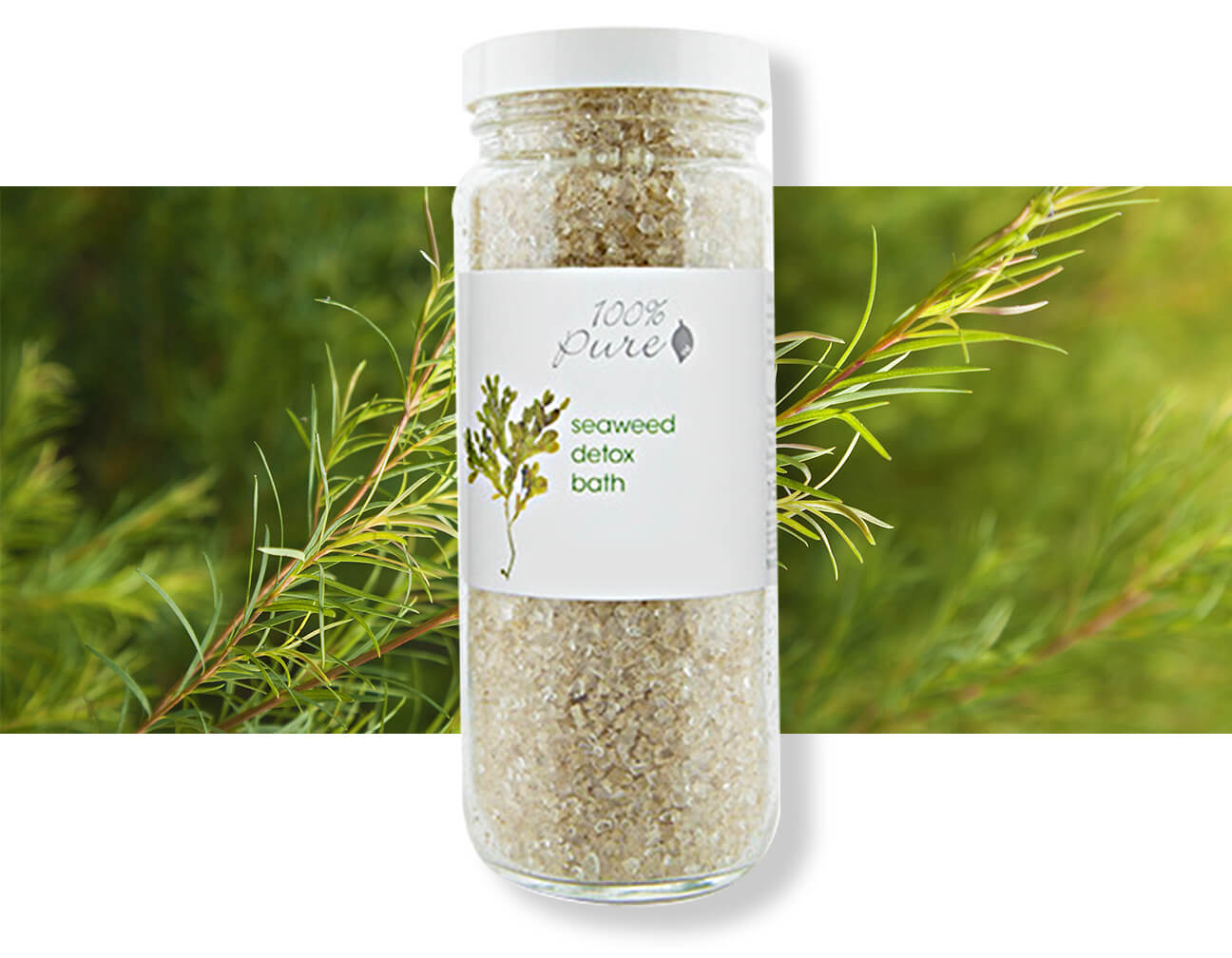 5. Detoxifies
Being anti-inflammatory and a great cleanser, tea tree oil was a must have for our Seaweed Detox Bath. Tea tree oil, rosemary, ginger root and seaweed help to draw out toxins and other impurities from your skin. Take a therapeutic bath with this natural bath salt made from French crystallized kelp to refresh your pores with a soothing cleanse. The aromatics of tea tree and peppermint alone will have your skin feeling tingly, fresh, and totally cleansed!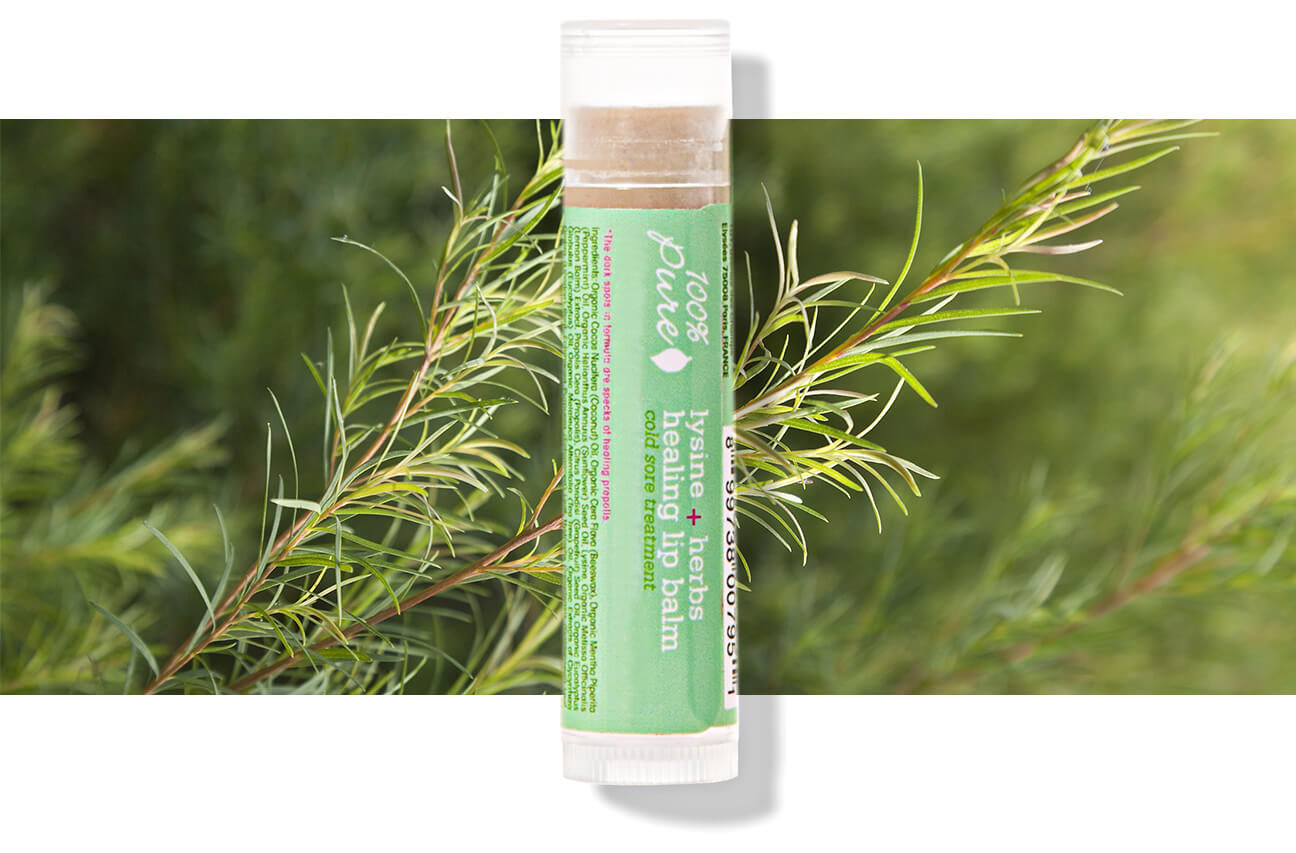 6. Soothes Cold Sores, Fungal Infections, Eczema
Cold sores, fungal infections, eczema, bug bites - you name it! Skin conditions are no fun, but we've got your back! Tea tree is great at tackling irritating skin conditions that leave you desperate for any sort of relief or comfort. Itchy skin and dry patches can really do a number to your self esteem too. Tea tree's anti-microbial properties mean that it can help fight fungal conditions and sooth itching or inflamed skin. Incorporate our Tea Tree & Willow Acne Clear Cleanser and Tea Tree & Willow Acne Clear Astringent (they do more than just fighting acne!) into a targeted treatment plan for clearer, healthier skin. We've also added tea tree oil along with a purifying mixture of propolis and herbs in our Lysine + Herbs Lip Balm to help you tackle the cold sore virus.
We carefully hand-select products based on strict purity standards, and only recommend products we feel meet this criteria. 100% PURE™ may earn a small commission for products purchased through affiliate links.
The information in this article is for educational use, and not intended to substitute professional medical advice, diagnosis, or treatment and should not be used as such.
Sign up to our email newsletter for more blog updates and exclusive discounts.
< Older Post | Newer Post >