Lavender Flower for Happiness & Health
How to use this summer favorite flower throughout your daily routine
Posted on August 12, 2020
Written by: 100% PURE ®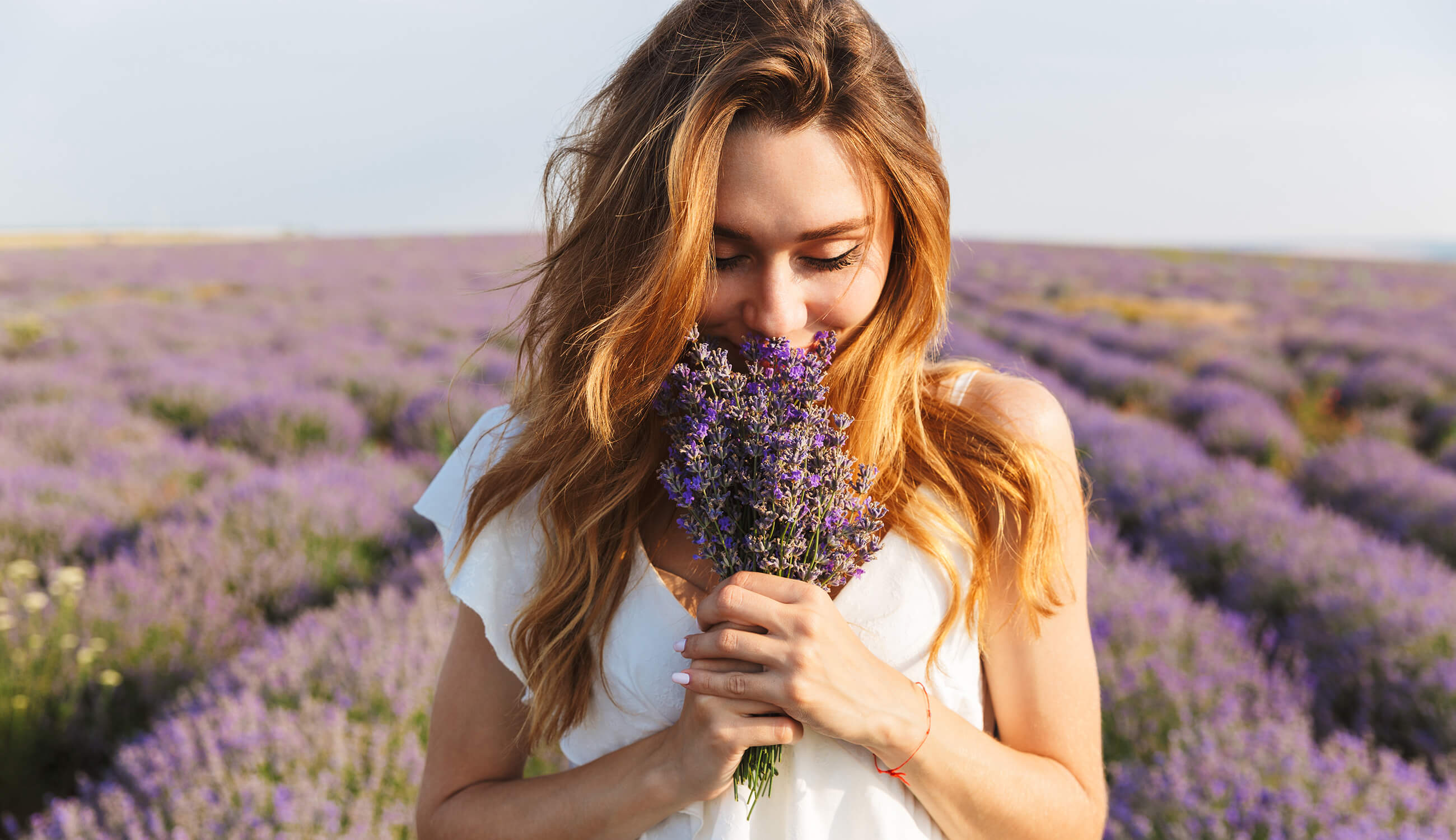 Lavender is one of our favorite ingredients to use in self care and skin care. However today, we wanted to spotlight this soothing flower's many summer-friendly uses; not only for our skin, but in our homes, gardens, and kitchens!
Keep reading to learn more about the ways you can enjoy lavender this summer.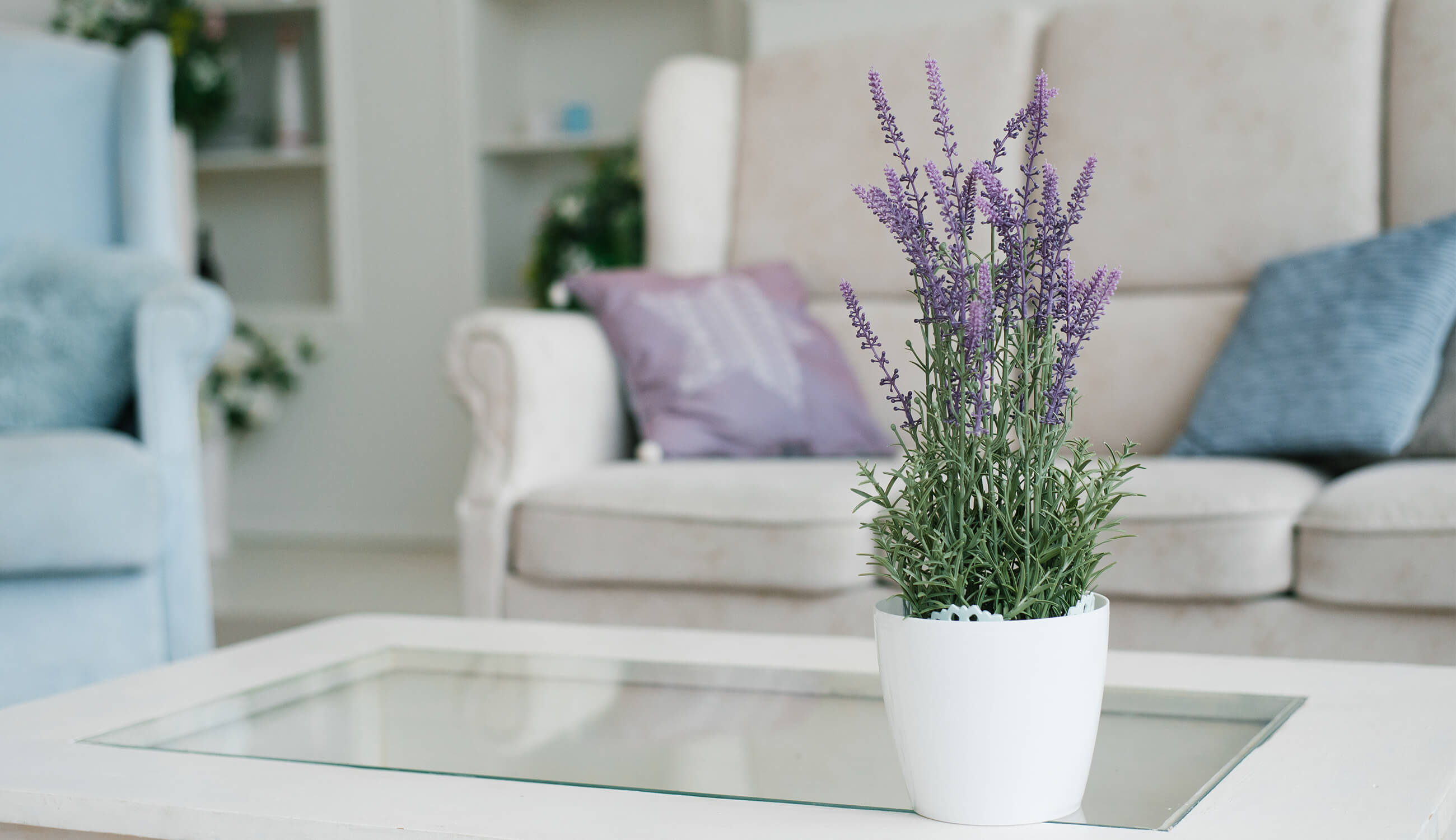 Lavender for the Home
Lavender can provide a crisp, calming aroma that helps deodorize the air and create a serene environment in your home. Here are a few ideas for incorporating the aromatherapeutic benefits of lavender into your living space!
Lavender Laundry Sachets
Lavender soap or shower gel make you feel fresh and clean, but you can also use lavender to freshen up your sock drawer. By making a simple lavender sachet, you can boost laundry freshness and skip out on perfumed deodorizers.
All you need are lavender flowers, small drawstring muslin or fine mesh bags, and whatever additional dried flowers you want. We recommend rose, orange blossom, or herbs like thyme and rosemary. These sachets are so simple to assemble, and make cute summertime "just because" gifts!
PRO TIP: Stash a few sachets under the seats in your car to keep stuffy air a thing of the past.
Diffusing Lavender
Using lavender essential oil with a diffuser is an excellent way to freshen stale air in any room. It may also provide some relief for those suffering from headaches and nausea, and can also work as a decongestant when seasonal allergies are in full swing.
With its known ability to promote a sense of calm, lavender is an excellent scent to have in the room while you sleep – especially when combined with eucalyptus or chamomile. There's a reason sleepy-time baby lotions and bubble baths are infused with lavender!
Grow Your Own Lavender
If you've got a lot of love for lavender, why not grow it in your own backyard? Not only will it give you a beautiful scent all year long, it will be super popular with your local pollinators – including honey bees and butterflies.
Even when your lavender isn't flowering, you'll still be able to enjoy their aroma through their soft fragrant leaves.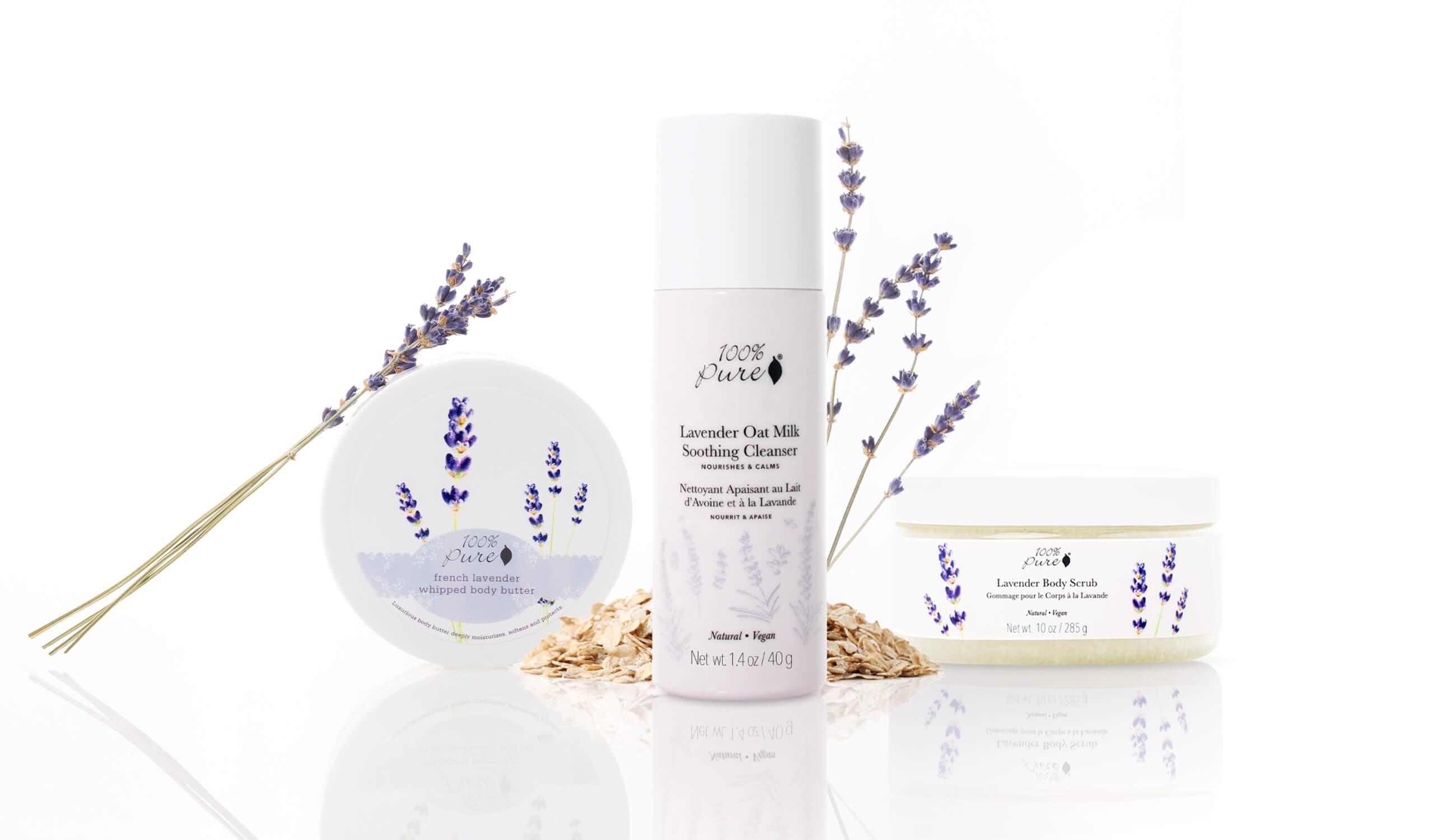 Lavender for Beauty
Of course we couldn't talk about lavender without mentioning the ways it helps our skin – especially during sweaty summer months! Lavender is beloved for its antifungal, antibacterial, and anti-inflammatory properties, which make it ideal for fighting acne & refreshing tired skin in our Lavender Oat Milk Soothing Cleanser.
A night of flower-powered spa therapy will put your mind and body at ease, and our Lovely in Lavender bundle simplifies the experience. It includes:
Soothing benefits of our French Lavender Hand Buttercream. It includes ultra-hydrating ingredients like avocado butter, argan oil, and shea butter, along with anti-aging antioxidants like resveratrol and vitamin E (tocopherol). Hand creams are essential for a summer when you're washing hands and using hand sanitizer more than ever before!
A nourishing boost from the French Lavender Whipped Body Butter. This fresch-scented butter provides expansive moisture replenishment for dry, heat-sapped skin.
A refreshing shower might be our favorite thing after a long, hot summer day. This lavender shower gel gives us aromatherapy vibes while gently sudsing away sweat and debris.
If you'd rather keep things DIY this summer, try a homemade recipe:
DIY Lavender Hand & Body Butter
7 oz (198 g) shea butter

2 ½ oz (70 g) carrier oil (jojoba, rosehip, coconut, etc.)

2 ½ TSP arrowroot or tapioca flour

½ TSP white or purple Brazilian clay

25-30 drops lavender essential oil
Place the shea butter in a mixing bowl and beat for several minutes, preferably with a standing mixer or hand mixer.

Once the shea butter has a whipped and fluffy consistency, add the rest of the ingredients.

Resume beating at a low speed until everything is incorporated, adding more arrowroot/tapioca flour if the mix still feels greasy.

Spoon into containers and tightly seal. Give it some time at room temperature to settle & melt a bit for a consistency that's easy to apply.
Rosemary Gladstar's Miracle Grains
From Rosemary Gladstar's Herbal Recipes for Vibrant Health
If you're up for another DIY, renowned herbalist Rosemary Gladstar recommends this cleanser DIY as one of her favorite skin care recipes! It uses a dreamy duo of lavender flowers & white clay, which work as incredibly gentle exfoliants.
Ingredients
2 cups white clay

1 cup finely ground oats

¼ cup finely ground almonds

⅛ cup finely ground lavender flower

⅛ cup poppy seeds or finely ground blue corn (optional)

⅛ cup finely ground roses
Reference: Rosemary Gladstar's Recipes for Vibrant Health book; Page 127.
Combine all ingredients. Store the grains next to the sink in a glass container, or in spice jars with shaker tops.

To use, mix 1-2 teaspoons of the cleansing grains with water. Stir into a paste and gently massage onto the face. Rinse off with warm water.
While Gladstar recommends the use of dry grains for better storage, you can also make moist Miracle Grains by adding honey and distilled rose water (or distilled plain water). This makes your grains conveniently ready to use, while the honey acts as a natural preservative. If made properly, it should last 1-2 weeks.
Lavender for Holistic Purposes
Apart from home and skin, lavender can be a wonderful herb simply for the sake of your well-being. Its reported digestive benefits and sleep-promoting properties make it a major player in holistic medicine.
This calming recipe for lavender tea – which can be combined with other teas of your choice to create the flavor you want and the calming effects you need.
Soothing Lavender Tea
Lavender and chamomile make for a totally relaxing herbal blend that's great for de-stressing during afternoon meetings, between homeschooling sessions, or before bedtime. Add in dried rose petals for an even more elegant taste.
Ingredients
1 TSP lavender flowers

1 TSP chamomile flowers

4 oz water
In a tea infuser, combine the lavender flower & chamomile flower while water brings to a boil. Place the infuser in your tea cup, then pour water over the tea blend. Allow 5-7 minutes to steep before removing the infuser.

If desired, add raw honey or oat milk to taste.
Read our full list of our favorite lavender products for more botanical beauty, and our guide to lavender home spa treatments!
We carefully hand-select products based on strict purity standards, and only recommend products we feel meet this criteria. 100% PURE™ may earn a small commission for products purchased through affiliate links.
The information in this article is for educational use, and not intended to substitute professional medical advice, diagnosis, or treatment and should not be used as such.
Sign up to our email newsletter for more blog updates and exclusive discounts.
< Older Post | Newer Post >