Lavender Essential Oil Benefits for Mood
The incredible benefits of lavender for your mood, and easy ways to incorporate this calming botanical into your daily routine
Posted on August 19, 2019
Written by: 100% PURE®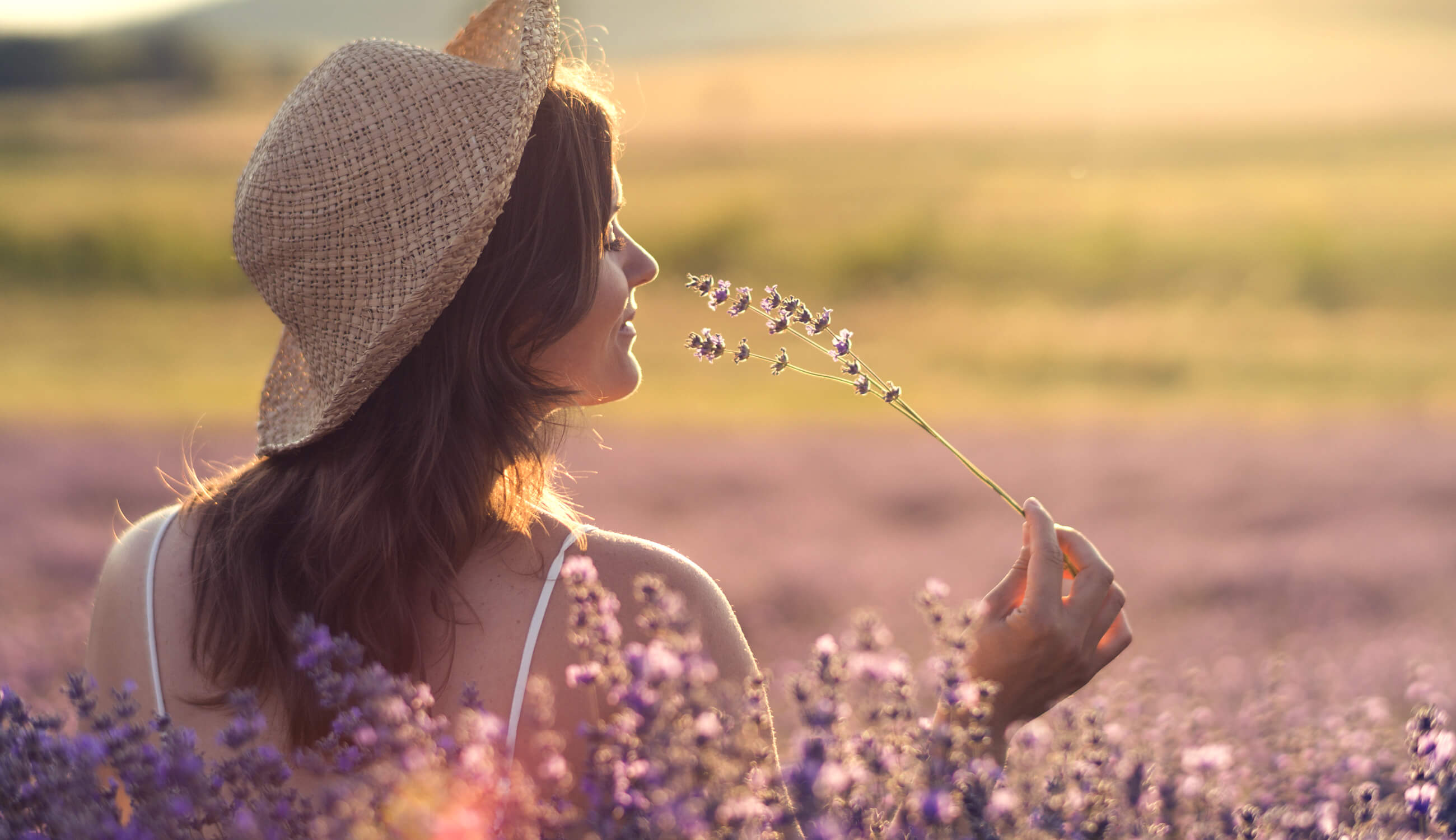 If you didn't already know, we're obsessed with the power of plants — and there's something particularly magical about lavender. For centuries, lavender has been coveted for its clean, alluring, floral aroma. The Ancient Romans would apply the scent of lavender to literally anything: baths, bedding, clothes, and body. In Ancient Egypt, even Cleopatra supposedly applied the scent of lavender to her skin to attract her lovers. Its continued use in baking, perfumery, and aromatherapy makes it one of the most widely utilized flowers in the world.
Alas, lavender is so much more than just a pretty flower with a crisp scent. From ancient times to today, many people are utilizing lavender and its aromatherapeutic properties to benefit both the body and mind. It's an easy flower to incorporate into your daily routine, and can greatly benefit anything from your mood to your sleep cycle.
3 Ways Lavender Essential Oil Benefits Mood and Mind
Ready to explore the power of this gorgeous flower? Here are the top ways in which lavender can make an impact in your day-to-day routine.
#1: Promotes Restful Sleep
Do you remember those childhood days, when your parents would lull you to sleep with lullabies? While we're probably too old for lullabies, we still need some help falling asleep – especially if suffering from anxiety or restless thoughts.
Lavender essential oil benefits include a leg-up on restful sleep, and can help to promote relaxation with the sedating and calming aromatherapeutic properties found in the purple bloom. In the 16th century, French herbalists would actually prescribe sleepless patients with a bundle of lavender under, to place under one's pillow for a solid night's sleep.
How to use lavender essential oil benefits in your sleep routine:
Add a few drops of lavender essential oil to a spray bottle, diluting the oil with deionized water. Spritz onto your pillows, sheets, and linens to benefit from the aromatherapeutic scent of lavender and lull yourself into a deep slumber.
Alternatively, you can pin a few sprigs of dried lavender to your wall beside your bed, or in a vase on your nightstand if you don't want to put them under your pillow. This method is both aesthetically-pleasing and allows you to benefit from the peaceful, sleep-inducing scent of this delicate bloom.
#2: Supports Calm and Relaxation
Today, you've had a super long day. Maybe it was the traffic on the way to work, or the kids bouncing off the walls from sun-up to sundown. It could also be those looming deadlines at work, approaching far too quickly for comfort – take your pick! The point here is that stress is often unavoidable, and weaves its way into our everyday lives (just breathe!). When you need help unwinding or are desperate for some mental solace, lavender flower is here to help.
How to use lavender essential oil benefits in your relaxation routine:
Simply add a few drops of lavender essential oil to your diffuser to create a relaxing, soothing environment for inducing tranquility and peace of mind. For full body and mental relaxation, add a few drops of pure lavender essential oil or lavender-infused bath salts to a warm bath. You can also suds up with a lavender soap bar. The crisp, gentle aroma will help relieve mental stress while lavender-infused bathwater eases muscles of stiffness and aches. Hello, ultimate relaxation — how amazing does that sound?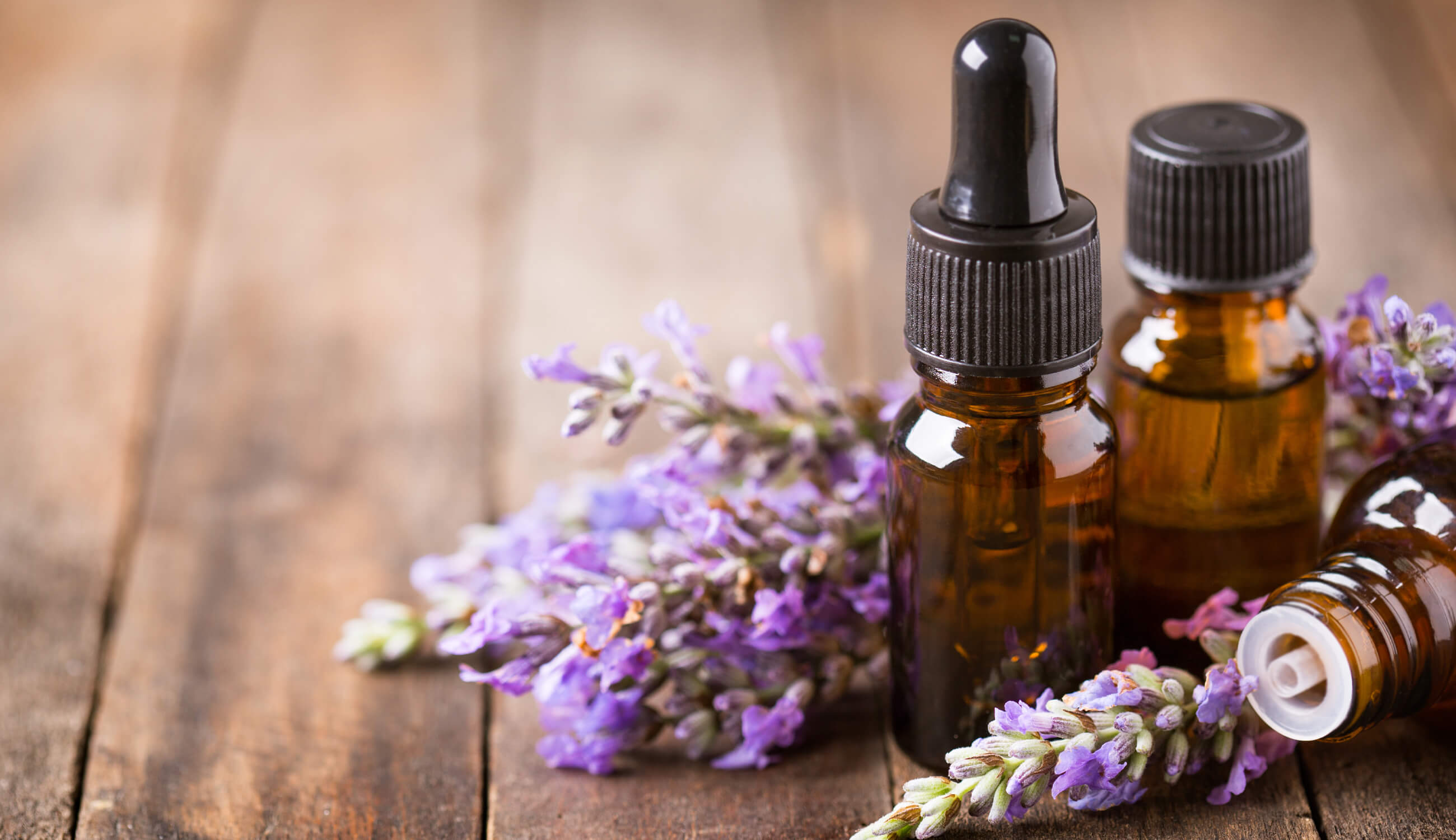 #3: Reduces Headaches, Tension, and Muscle Stiffness
Many people swear by lavender essential oil benefits for headache relief. By gently massaging this particular essential oil onto your temples, you can help to alleviate stress-related tension headaches and migraines. Even a simple whiff of its soft, soothing aroma can help reduce your pain.
PRO TIP: Store a bottle of lavender essential oil in your desk at work – take a quick whiff when work stress comes creeping up on you!
How to use lavender essential oil benefits for your physical care routine:
If you suffer from tension headaches or stiff necks, you can relieve pain and discomfort by massaging the oil onto your neck and shoulders. First, add a few drops of your lavender essential oil with an ultra-moisturizing carrier oil; we use Argan Oil for a non-greasy DIY massage treatment. Plus, you can also give your face a mini-massage with this concoction because lavender is a calming superstar for your skin, too!
If you're looking for a quick, effortless way to benefit daily from the calming effects of lavender, try incorporating its scent into a beauty treatment that you use every day. You can swap out your current body lotion with our French Lavender Nourishing Body Cream: a silky smooth cream that's infused with soothing lavender essential oil. It can help you relax and fall fast asleep at night, or help relieve stress throughout the day when applied in the morning.
There's a reason why lavender has stuck around for centuries — and it's not just because of its unique scent. Thankfully, since it does smell so amazing, it's even easier to incorporate into your daily routine. Tonight, we'll certainly be dreaming of magical lavender fields in Provence, France… right after our lavender bath!
We carefully hand-select products based on strict purity standards, and only recommend products we feel meet this criteria. 100% PURE™ may earn a small commission for products purchased through affiliate links.
The information in this article is for educational use, and not intended to substitute professional medical advice, diagnosis, or treatment and should not be used as such.
Sign up to our email newsletter for more blog updates and exclusive discounts.
< Older Post | Newer Post >