How to Love Your Lips on National Lipstick Day
Simple tips for celebrating the best – and avoiding the worst – in lipstick!
Posted on July 29, 2020
Written by: 100% PURE ®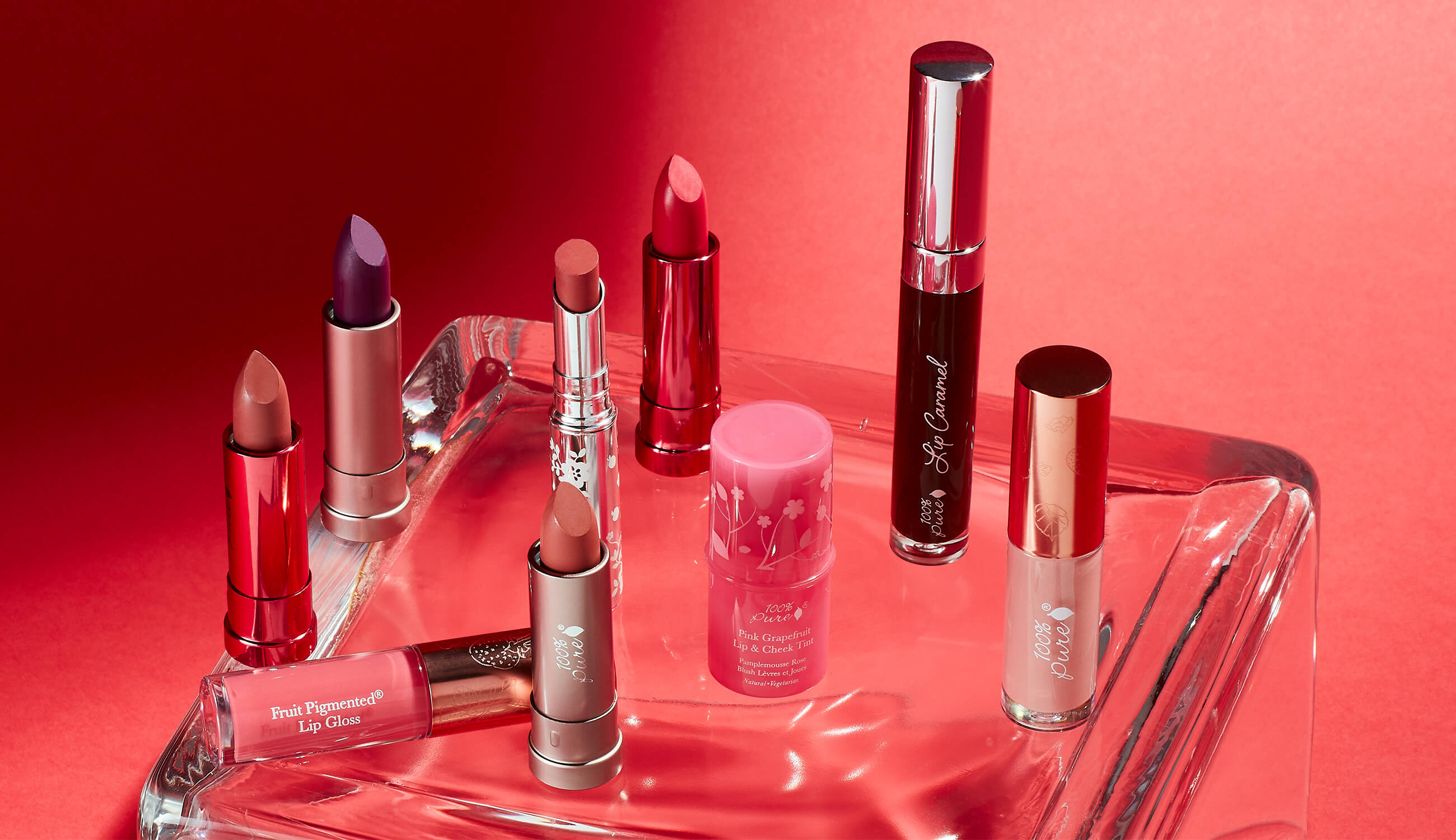 It's National Lipstick Day – what's on your lips? We think balms, glazes, glosses, and rich colors are definitely worth celebrating. What we put on our lips needs to be healthy and clean, but does your lipstick pass the test?
Most of the common lipstick ingredients are familiar to us – waxes, oils, and pigments – but some of the mainstream lipsticks you'll find on the market have mysterious ingredients that we don't want anywhere near our mouth. In honor of National Lipstick Day, let's check in on our lipstick stash and check out any products that don't meet our clean and cruelty-free standards!
Hey, Lipstick: Your Toxic Ingredients Are No Longer Welcome Here!
There's no lipstick shade more captivating than a rich, bold red. Universally flattering, red lipsticks bring out the blush in our cheeks and brighten our smiles. The bad news is that toxic, animal-derived colors often contribute to the rich red pigment in our favorite lipstick shades.
An insect naturally native to cacti plants called cochineal is responsible for many of the red beauty products on the market. This insect creates the red pigment component of many blushes and lipsticks, and is often labeled carmine in makeup formulas. This ingredient actually comes from crushed – yes crushed – cochineal beetles.
Overlooking the fact that this process is downright inhumane, this ingredient can often cause allergic reactions. Swelling, itching, rashes and hives or even anaphylactic shock are just some of the reactions sufferers report. Considering just how much of our lipstick ends up in our mouth… carmine coloring is definitely not something we want in our lip color collection.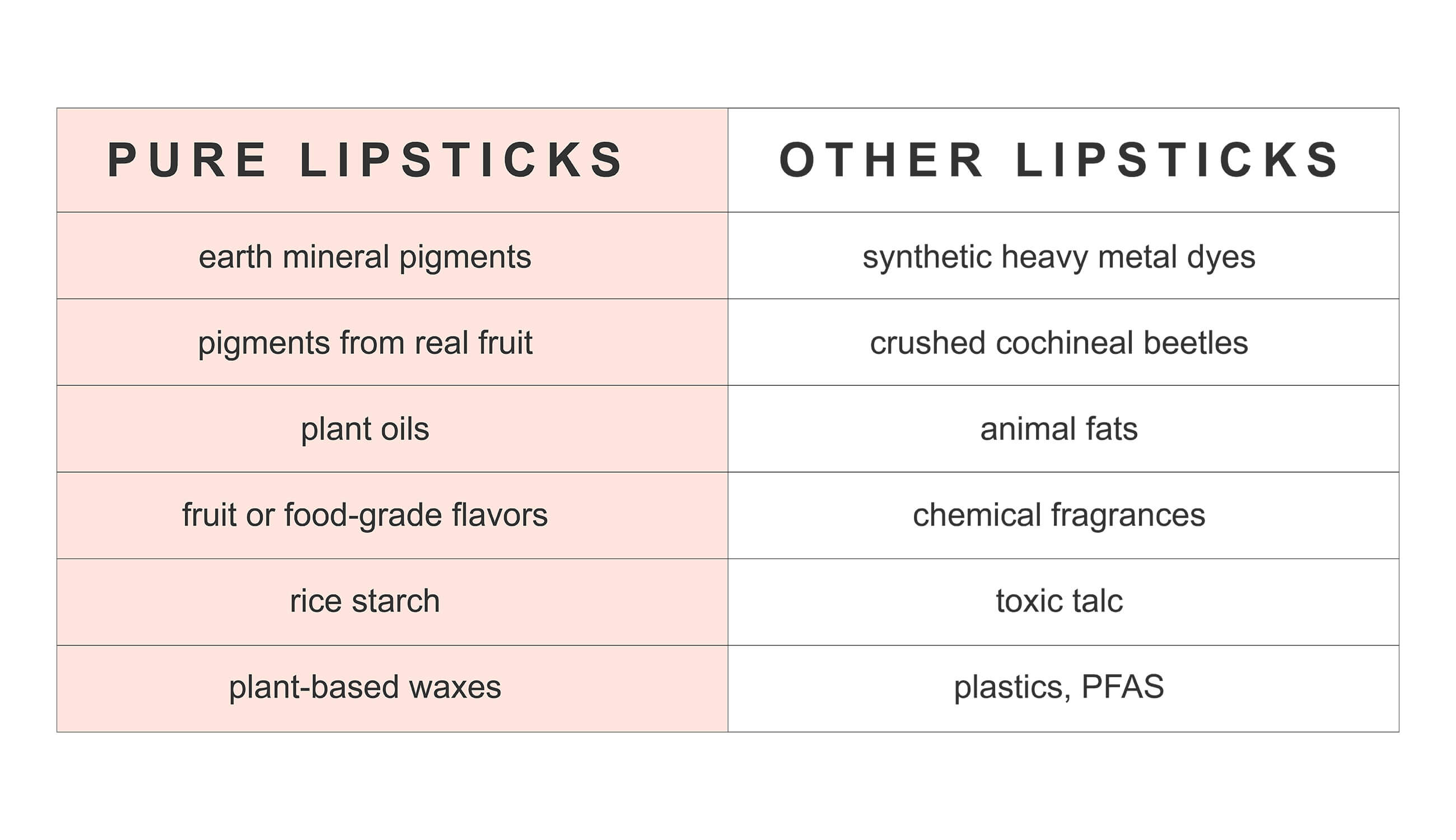 Learning more about carmine had us thinking: what other toxic and animal-based ingredients are hiding in our lipstick formulas? Did you know that rendered animal fats are found in some of your lipsticks? Next time you apply a super silky lipstick with a long-lasting oily feel, consider the possibility.
Trigger warning: the process of rendering animal fats is gruesome. It requires boiling animal carcasses down until a fatty substance slips to the surface, and is then scraped away and shipped off to cosmetic companies. What we've found in our quest for better beauty is that animal ingredients aren't necessary to make great products, and cruelty-free formulas are just as beautiful and even better for us than the rest. So why else are ingredients so important?
One of the most vulnerable areas of our bodies is the mouth. We're constantly touching our lips, putting everything from a not-so-clean canteen to a too-old lip balm smack dab on our mouths. Think about how often you apply lipsticks – sometimes once a week, other times every day – that's a lot of lipstick going on (and in) our mouths.
Did you know that the average lipstick wearer consumes about 4-9 pounds of lipstick in their lifetime? If that figure doesn't shock you, think about all the carmine, rendered animal fat, and other unsavory ingredients (such as guanine and lanolin) that our bodies are digesting. The world deserves cruelty-free beauty, and so do animals.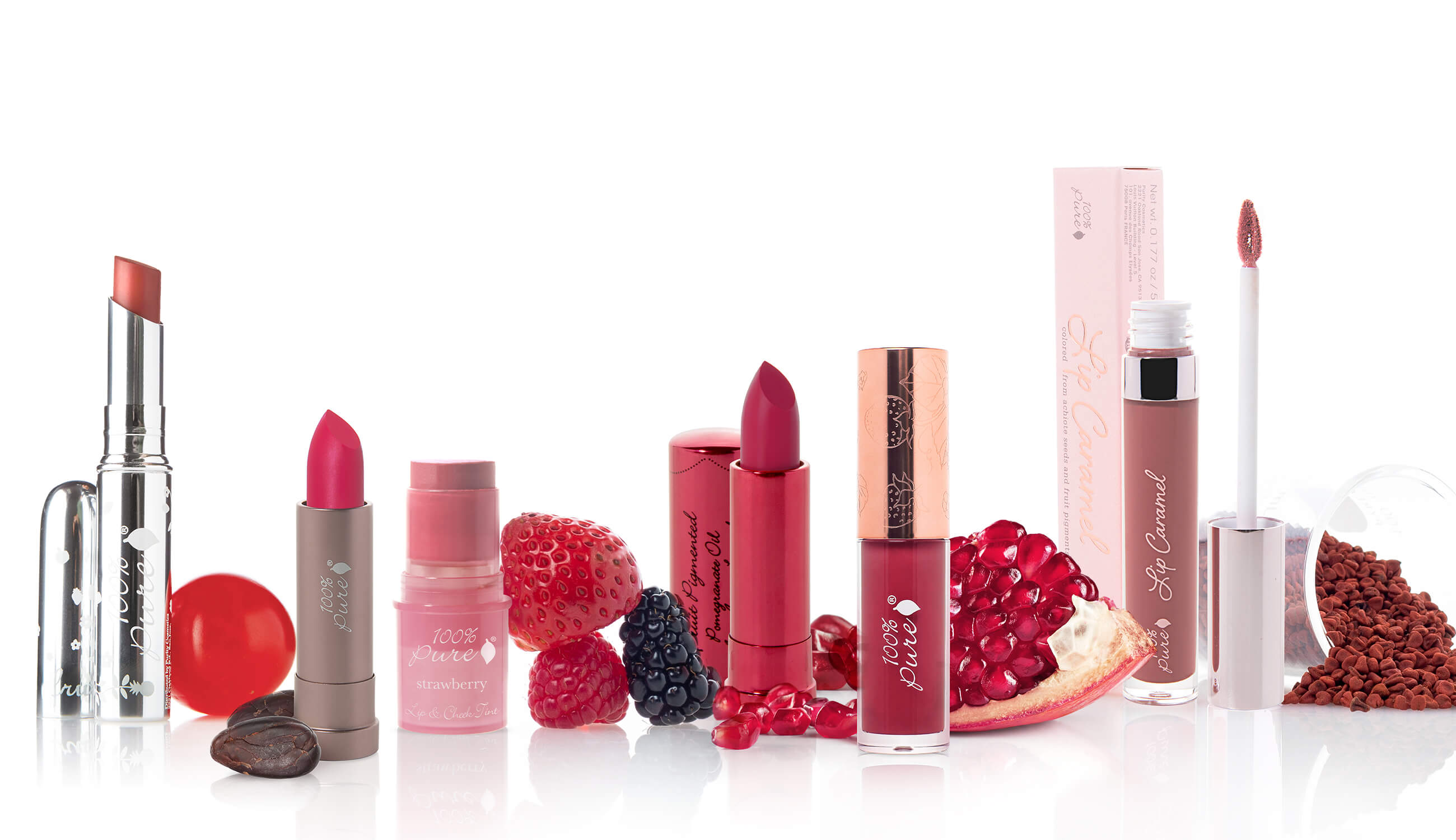 Lipstick Lovers Unite
So what makes a perfect lipstick in our eyes? Most importantly, the texture should be right. The lipstick should glide across the lips, leaving vibrant color and a smooth finish.
Speaking of finishes, while we're big fans of all finishes: satins and shines are undeniably the most comfortable, with more moisturizing components to give back to our lips. Maximum hydration from ingredients like aloe vera, shea butter, and sunflower seed oil supports skin with vitamin E, and keeps the moisture in while maintaining baby soft lips.
We've got two words for all you lipstick lovers out there: fruit pigmented. We love developing natural, cruelty-free, and vegan beauty products – and our lipsticks are no exception. Instead of using aluminum based dyes, animal fats and harsh dyes, we're using plant-based ingredients to create colors sourced from natural earth minerals and real fruits.
You'll find a summery fruit medley in our natural lipsticks: cherry, pomegranate, grape and mango just to name a few. In addition to providing vibrant color, these fruity ingredients give our lipsticks a natural flavor and nutrient-rich antioxidant profile that leaves lips happy as can be – especially on National Lipstick Day!
3 Fruity Favorites for National Lipstick Day and Beyond
Fruit Pigmented® Cocoa Butter Matte Lipstick
One of our best-selling and most flattering formulas, this lipstick has an enriching cocoa butter base. These shades deeply moisturize the lips and feed the delicate skin on our mouths with nourishing vitamin E. This collection offers a diverse array of 24 shades, from dark plum to creamy, dreamy nude. Shea butter, vitamin E, and candelilla wax give this matte lipstick formula a rich velvet finish for full pigmentation and all-day wear.
Fruit Pigmented® Pomegranate Oil Anti-Aging Lipstick
The superstar ingredient in this satin lipstick is antioxidant-rich, anti-aging pomegranate oil. Pomegranate oil helps to smooth the skin, lessening the appearance of wrinkles and fine lines from sun damage and premature aging.
This nutritious formula features real raspberries, with a boost of vitamin C to tone and brighten the skin. The color on these lipsticks is unmatched, especially for a formula so hydrating and rejuvenating. Any of the 16 shades in this collection will suit your summer days, cozy pumpkin spice nights, and all the seasons to come.
Fruit Pigmented® Lip Glaze
20 shades, cruelty-free, vegan, and made in the USA – sounds too good to be true, right? Lucky for us, dreams do come true in the form of our legacy Lip Glaze collection. Semi-sheer pigment, irresistible shine, and a harmonious blend of ingredients like rose petal, plum, and avocado butter. The best part: loving your lips with these shades is completely guilt-free.
Trendy Tips for National Lipstick Day
Since today is all about celebrating lipsticks, how do we make them more fun? Surprising combinations are one way to spice things up with fruit pigmented® lip colors!
Love the full bodied opacity of matte lipstick, but still want a little shine? Apply sepia brown Cacti first, then add a few swipes of Rose Petal in the center of each lip. This combo will magnify your pout, and deliver a two-tone ombre that looks sweet and sultry any time of the year.

Hot colors make us feel cool on summer days. Red-orange Hibiscus worn on the center of the lips highlights a trendy K-beauty craze – topped and blended with a clear Naked gloss, you'll get a bubbly, youthful blush of color.
With these clean beauty tips, this National Lipstick Day will be one you certainly won't forget!
We carefully hand-select products based on strict purity standards, and only recommend products we feel meet this criteria. 100% PURE™ may earn a small commission for products purchased through affiliate links.
The information in this article is for educational use, and not intended to substitute professional medical advice, diagnosis, or treatment and should not be used as such.
Sign up to our email newsletter for more blog updates and exclusive discounts.
< Older Post | Newer Post >