Breaking down our collection of clean, non-toxic hand sanitizers!
Posted on July 29, 2020
Written by: 100% PURE ®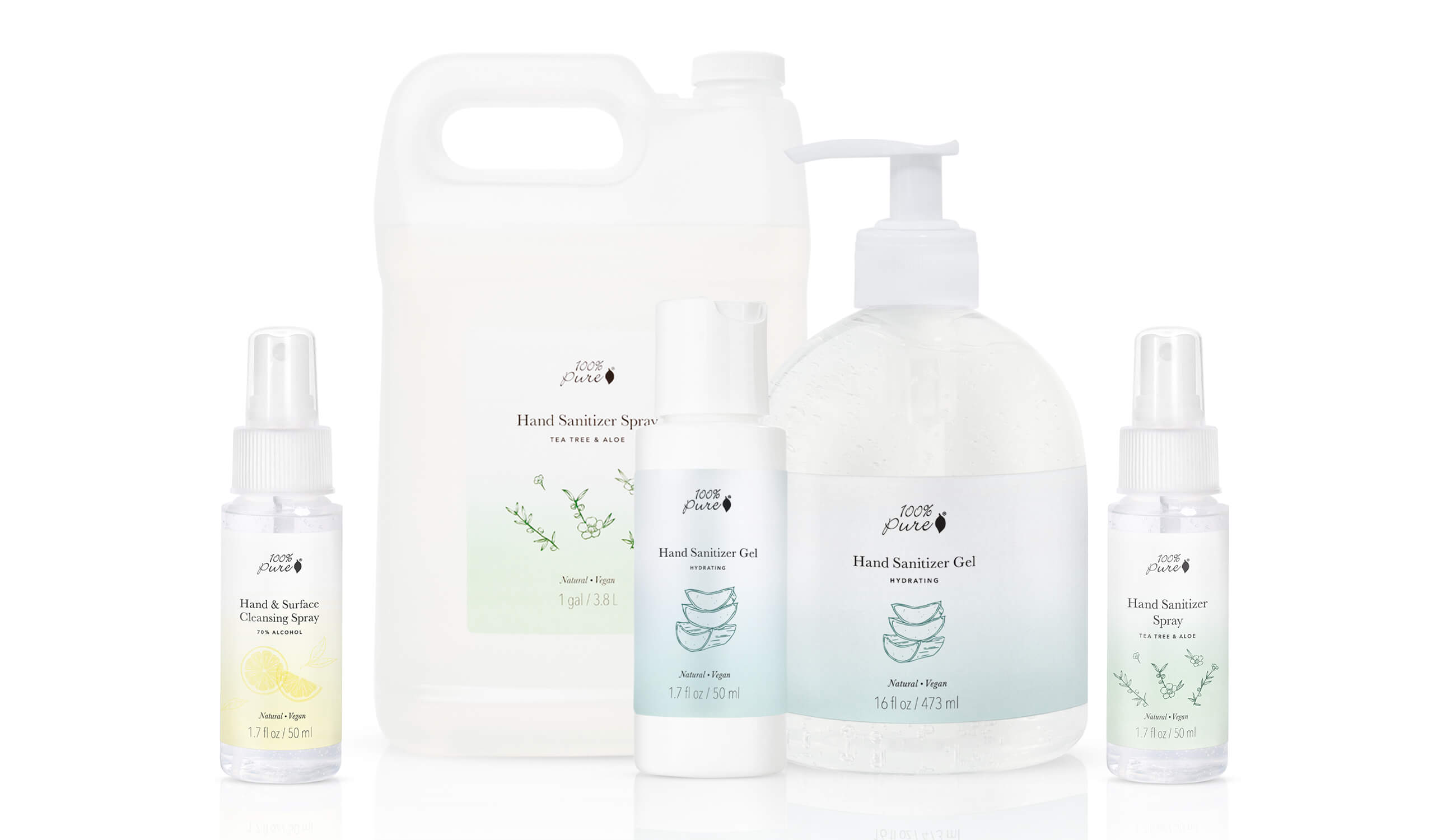 Clean hands are the order of the day for pretty much all of 2020. While the CDC recommends washing hands with soap and water when you can, a sink isn't exactly portable. For those moments when you're worried about pesky germs (that's putting it lightly), you'll need to stock up on a sanitizing crew that gets the job done in a pinch.
Enter our ever-expanding line of home and hand sanitizers! These formulas bring a whole new meaning to the word "clean" – they feature grain sourced ethyl alcohol, natural antibacterial herbs and citrus, and pure aloe vera juice. Neon dyes, cloying perfumes, and synthetic silicones are nowhere in sight.
If you're overwhelmed by the choice of "which is best for me?", fear not – we've arranged a hand sanitizer showdown for your learning pleasure. We're featuring ingredient information and formula highlights, to help you decide which hand sanitizer is right for you!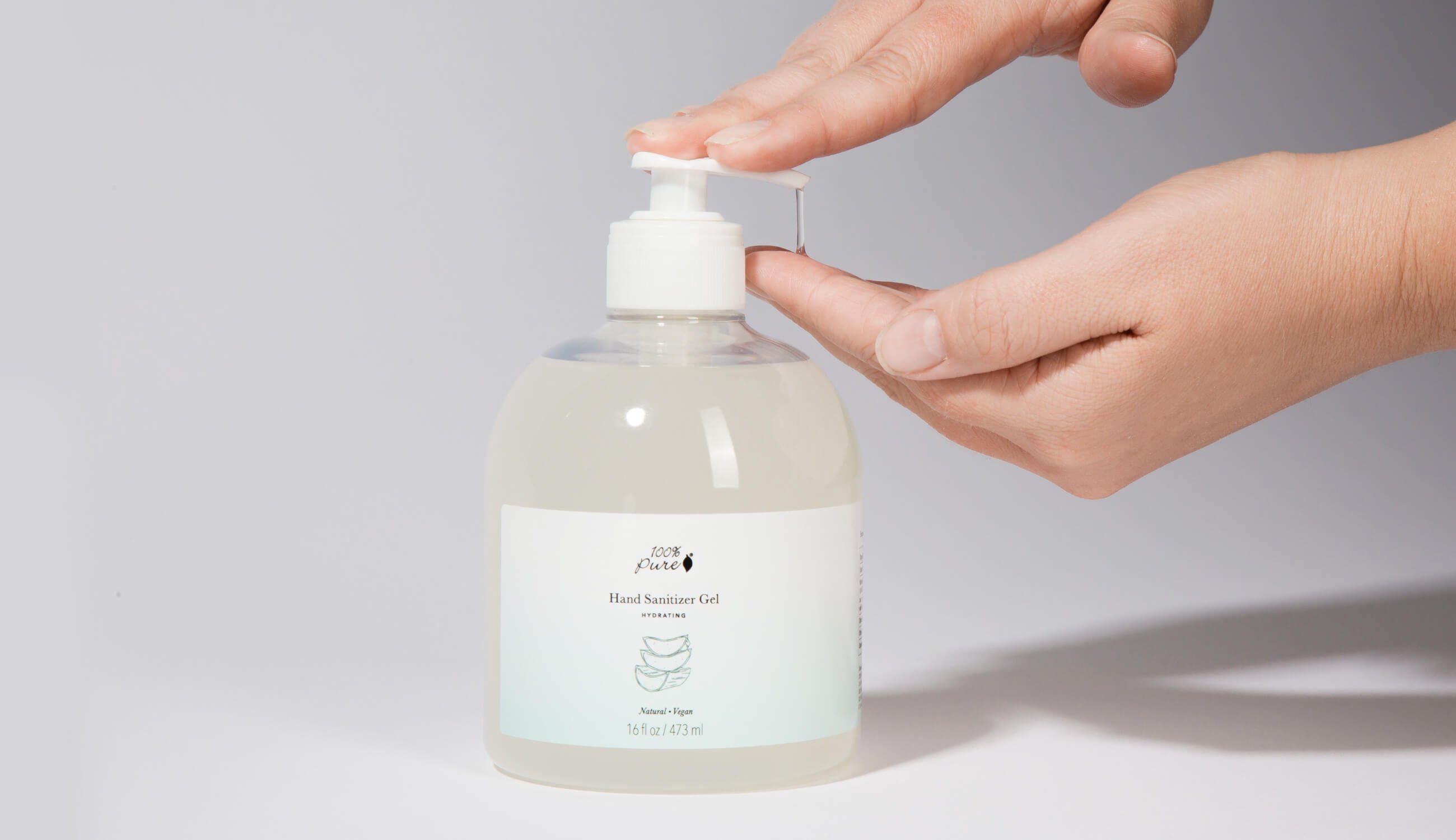 Hand Sanitizer Gel
The newest addition to our natural hand sanitizer collection comes in the form of a hydrating, silky smooth gel. This fragrance-free hand sanitizer gel is made with plant-based emulsifiers, rather than synthetic silicones and PEGs.
This formula features just 6 ingredients: ethyl alcohol, aloe juice, vegetable glycerin, guar, citric acid, and water. The result is an ultra light, non-sticky gel formula that dries fast thanks to 62% alcohol sourced from grains. Glycerin and aloe vera keep hands feeling soft and hydrated, while citric acid adds powerful antimicrobial and preservative benefits.
PRO TIP: What is Hydroxypropyl Guar? We use this plant-derived ingredient to stabilize and increase viscosity in our hand sanitizer gel. It's derived from the polysaccharides of guar beans, and gives this gel formula a silky smooth texture that's easy to dispense and apply.
Best for:
Reducing disease-causing bacteria on hands, when traditional hand washing isn't available

Purses, pockets, makeup bags, diaper bags and strollers (for parents), car cup holders

Soothing dry hands, especially those affected by harsh or stripping hand sanitizers

Boosting germ-killing power with antimicrobial citric acid

Skin that is easily irritated by artificial perfumes and fragrances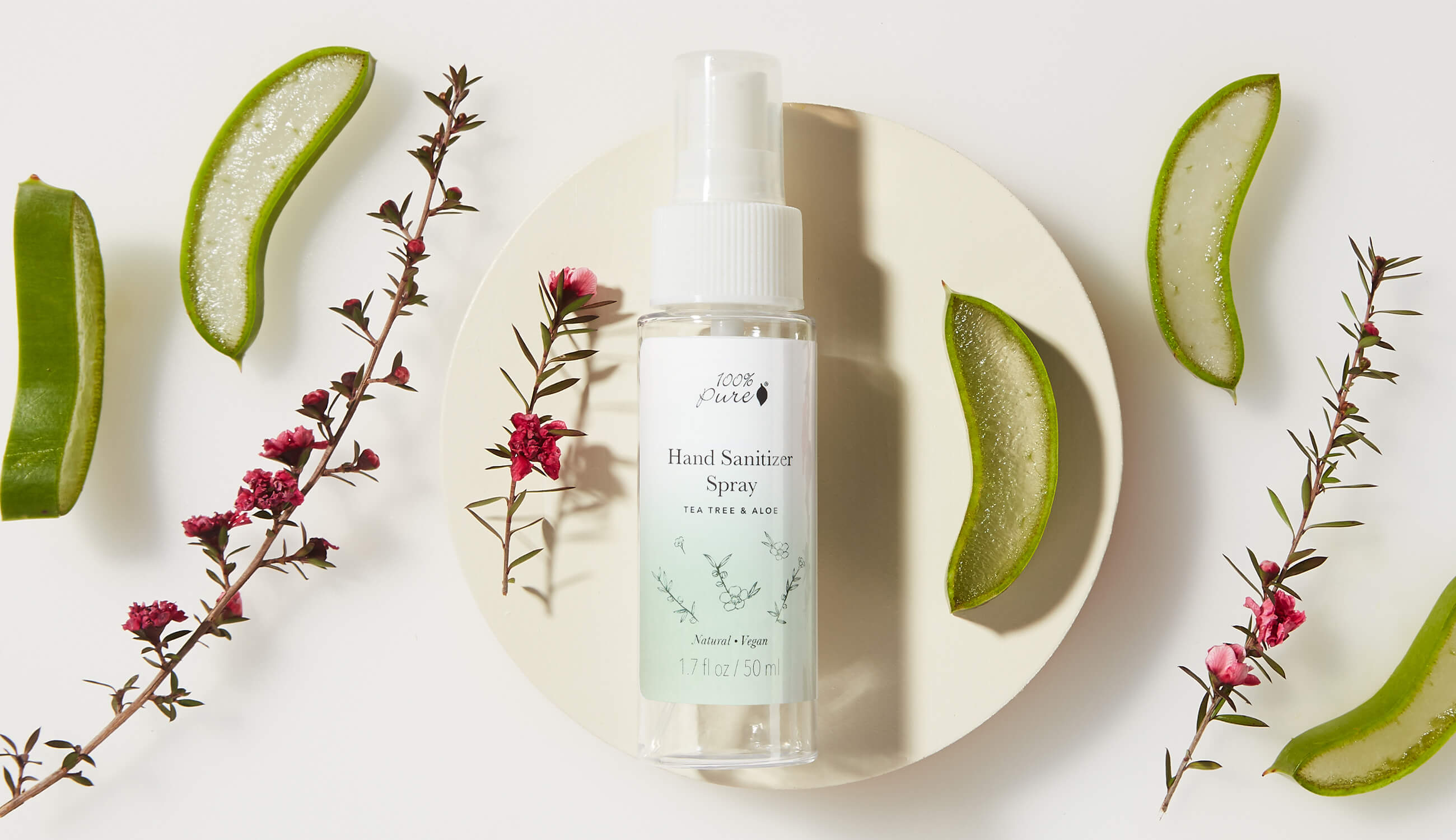 Hand Sanitizer Spray
This hand sanitizer spray does more than reduce disease-causing bacteria. The crisp, fresh herbal scent instantly soothes your senses, thanks to pure tea tree oil. The blend of 62% ethyl alcohol and antibacterial tea tree oil promises a quick-dry finish, while aloe vera gel and vegetable glycerin ensure hands feel fully hydrated.
This formula also boasts a few bragging rights, with both Allure and Yahoo! Lifestyle naming it as one of the best hand sanitizers of 2020. Our original Hand Sanitizer Spray comes in a convenient 1.7oz size, and a 1 gallon refill bottle that you can use to fill any empty spray bottle!
Best for:
Reducing disease-causing bacteria on hands, when traditional hand washing isn't available

Purses, pockets, diaper bags and strollers (for parents), car cup holders

Refreshing your senses with light aromatherapeutic benefits

Boosting germ-killing power with an antibacterial herb

Those looking for the fastest drying hand sanitizer for on-the-go use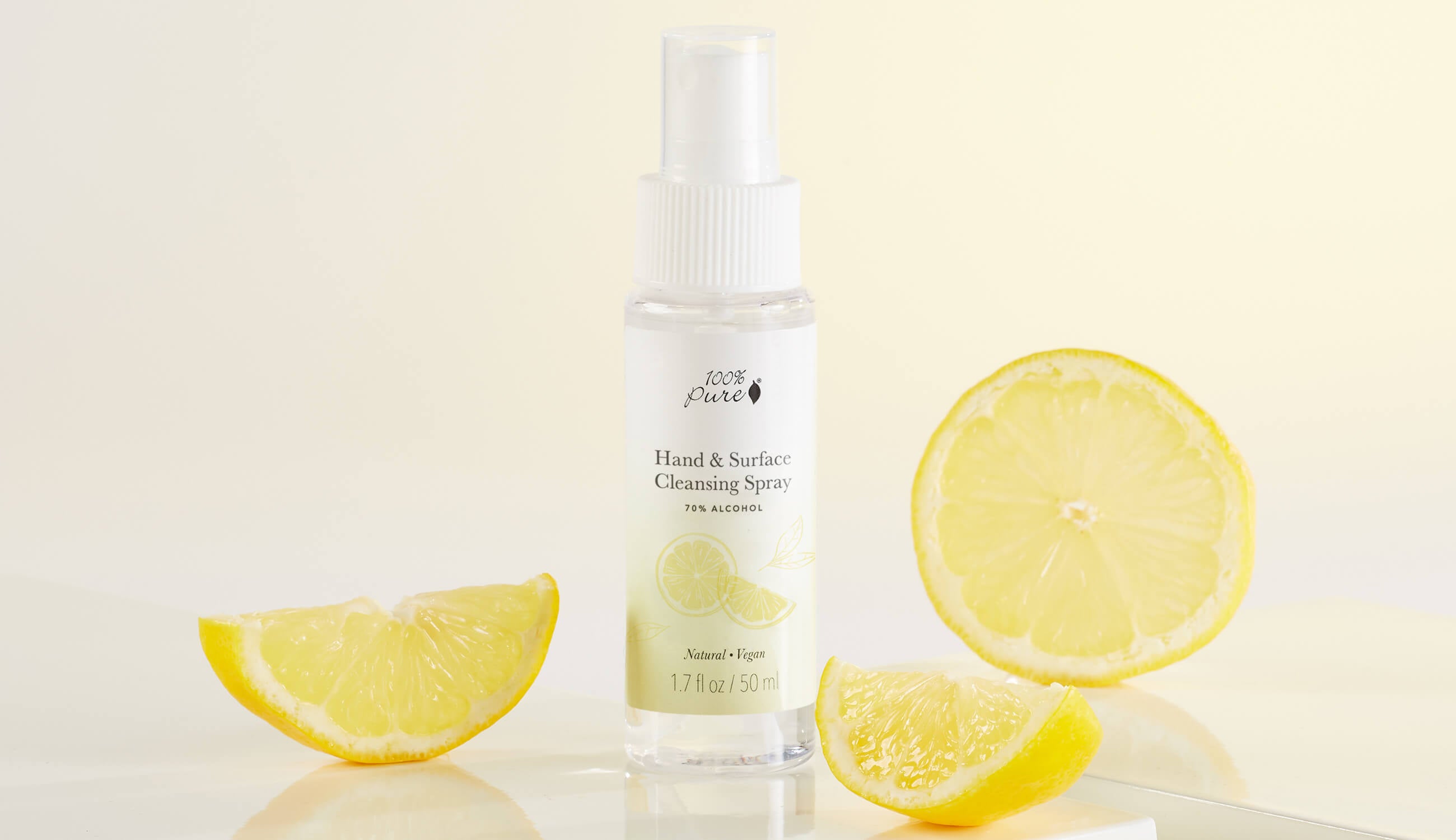 Hand & Surface Cleansing Spray
Our hybrid hand sanitizer and surface cleaner may be new, but she knows a thing or two about quick cleansing. Made with antimicrobial lemon oil and 72% ethyl alcohol, a spritz of this sanitizer on either hands or surfaces will help mitigate the spread of unwanted germs. MSN.com even named this as one of the top sanitizers for cleaning hands in a pinch!
Best for:
Reducing disease-causing bacteria on-the-go, for both hands and non-porous surfaces

Non-porous surfaces like finished wood, cell phones, laptops, doorknobs and more

Home offices, laptop bags, and grocery trips (spray those cart handles!)

Those who prefer a light scent of lemon, rather than an herbal aroma

Boosting germ-killing power with antimicrobial lemon essential oil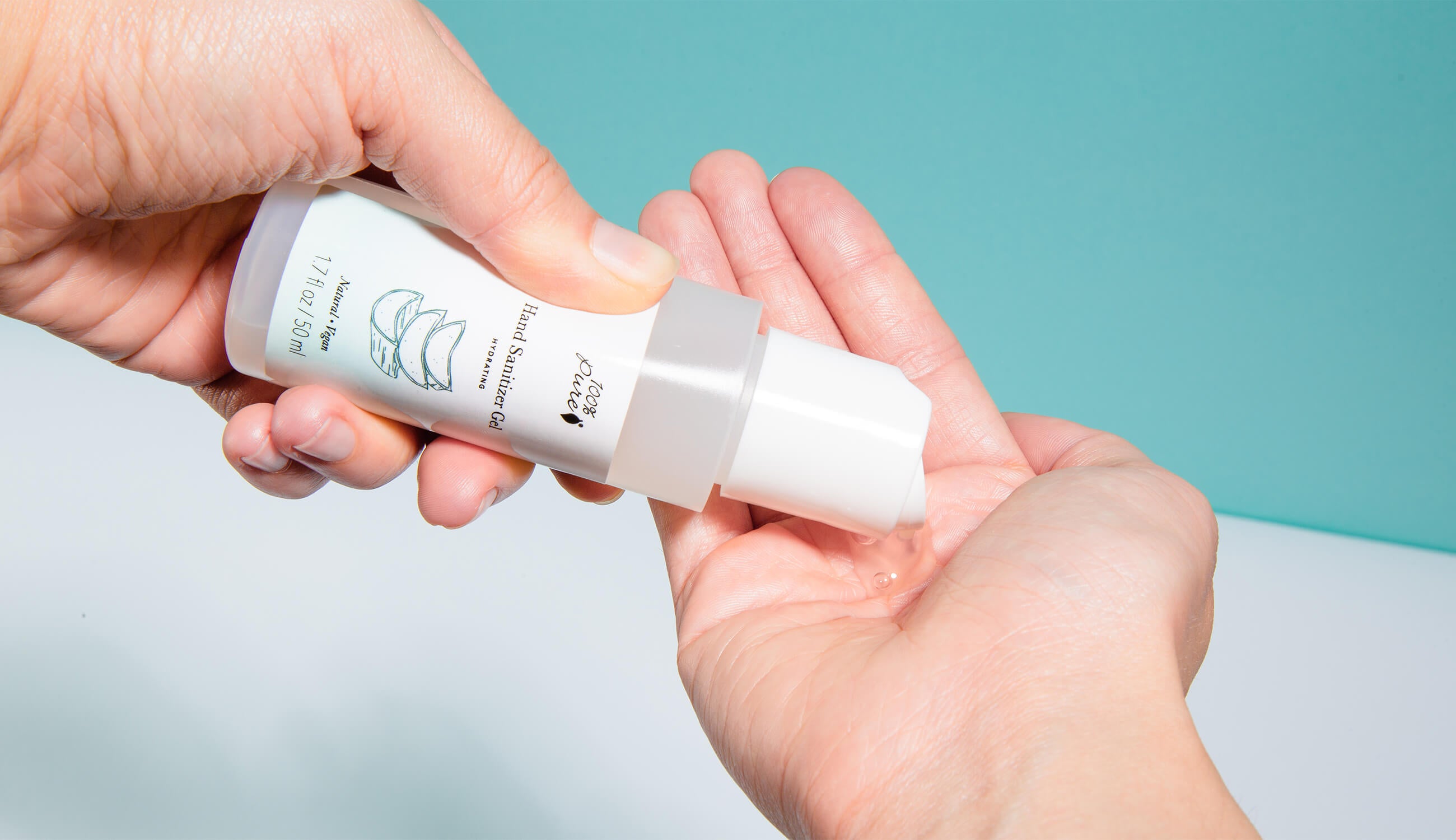 Toxic Hand Sanitizers, Begone!
Have you heard the news about toxic hand sanitizers? While we've always been a brand to shy away from toxic ingredients, there's one in particular generating bad press. Amidst a spike in hand sanitizer production in response to the coronavirus pandemic, methanol is making a comeback as a dangerous byproduct being found in over the counter formulas.
The Methanol Question
So what is methanol? While its origin might seem harmless – it was once sourced from wood – this ingredient has undergone an insidious transformation, and can now be derived from non-renewable sources like coal. It's a base material in formaldehyde, and can be life-threatening if ingested. It can cause severe irritation when applied topically; this concern has sparked the recent FDA investigation into hand sanitizer contamination.
Methanol poisoning is serious, and can include symptoms such as: "nausea, vomiting, headache, blurred vision, permanent blindness, seizures, coma, permanent damage to the nervous system or death." The current public concern is that hand sanitizers containing ethyl alcohol may contain trace amounts of toxic methanol.
So how can you know if your hand sanitizer contains methanol? It won't be listed on the ingredient label, so you'll need to be proactive in your research. First, check the FDA's running list of contaminated hand sanitizer products. Second, consider the quality and reputability of the brand you're purchasing.
Methanol is a natural byproduct that occurs during manufacturing of ethyl alcohol, so finding a brand with high quality standards is key. We only source ingredients from the most reputable suppliers, who follow strict quality assurance standards that support our mission.
For more on hand sanitizers, read our complete breakdown of FDA compliance, good vs. bad alcohols, and more! You can also help frontline workers directly through our site, by making a hand sanitizer donation to someone in need. And don't forget: hands can get dry when you're constantly washing and sanitizing. Keep a little tube of hand cream nearby for when things get rough!
We carefully hand-select products based on strict purity standards, and only recommend products we feel meet this criteria. 100% PURE™ may earn a small commission for products purchased through affiliate links.
The information in this article is for educational use, and not intended to substitute professional medical advice, diagnosis, or treatment and should not be used as such.
Sign up to our email newsletter for more blog updates and exclusive discounts.
< Older Post | Newer Post >