How Foundation Makeup Works
A guide to foundation makeup ingredients and techniques
Posted on February 25, 2021
Written by: 100% PURE®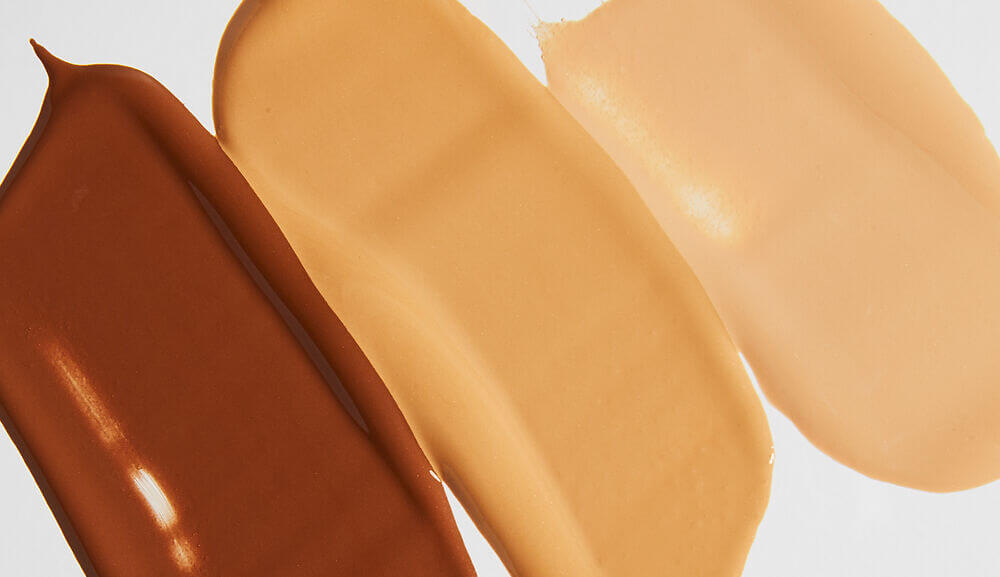 Ever wondered about the technology behind your favorite makeup? How do natural beauty brands create the rich color and moisturizing effects of foundation makeup?
While most mainstream beauty brands focus on colors made from petroleum byproducts, natural cosmetics focus their attention on plant-based and mineral technology. We use a variety of good-for-you ingredients that can benefit your skin in the long run and provide you with flawless color.
Read on for some insight into how we pigment our natural foundations, how they work to replenish moisture and hydration, and how you can get the most from your makeup!
Shade Technology
100% PURE® uses fruit, vegetable, mineral, tea, coffee, and cocoa pigments to color our foundations. One could argue that our foundations are safer for your skin than the conventional color dyes found in mainstream brands. The added antioxidants are a huge plus, bringing nourishment to your everyday makeup routine.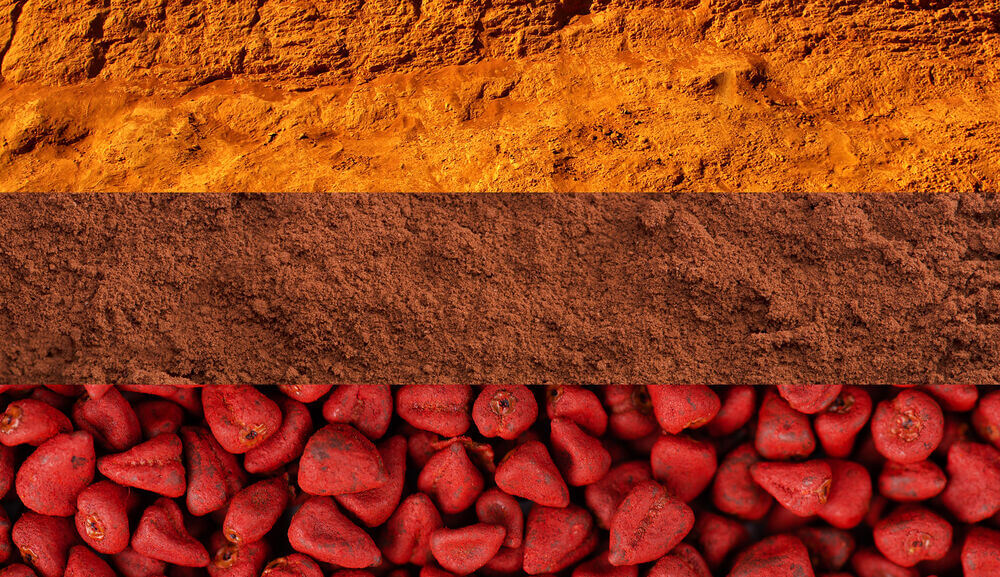 Earth Pigments
Synthetic pigments have a history of coming from petroleum byproducts, like coal tar. As an alternative, we use minerals and plant byproducts to obtain color for our cosmetics. Minerals usually serve to add opacity or subtle shimmer to foundation makeup. They may be listed as iron oxides, titanium dioxide, or mica on your ingredient panel.
Cocoa Pigments
Our bronzers and foundations contain real cocoa. Yep, you heard that right: the same cocoa that's used to make chocolate is used in many of our makeup products. Our Fruit Pigmented® Tinted Moisturizers and Cocoa Pigmented Bronzers are just a few makeup formulas that contain this delectable ingredient.
Fruit Pigments
Our founder, Susie Wang, discovered fruit stains while picking berries in her garden. Unlike conventional dyes that are simply bought from suppliers, fruit pigments must be created. This process calls for juicing, sifting, dehydrating, and isolating fruit pigments.
Did you know that the more antioxidants a fruit has, the stronger it's color payoff will be? We use antioxidant-packed fruits like pomegranate, apricot, tomato, and goji berry to pigment our natural foundations.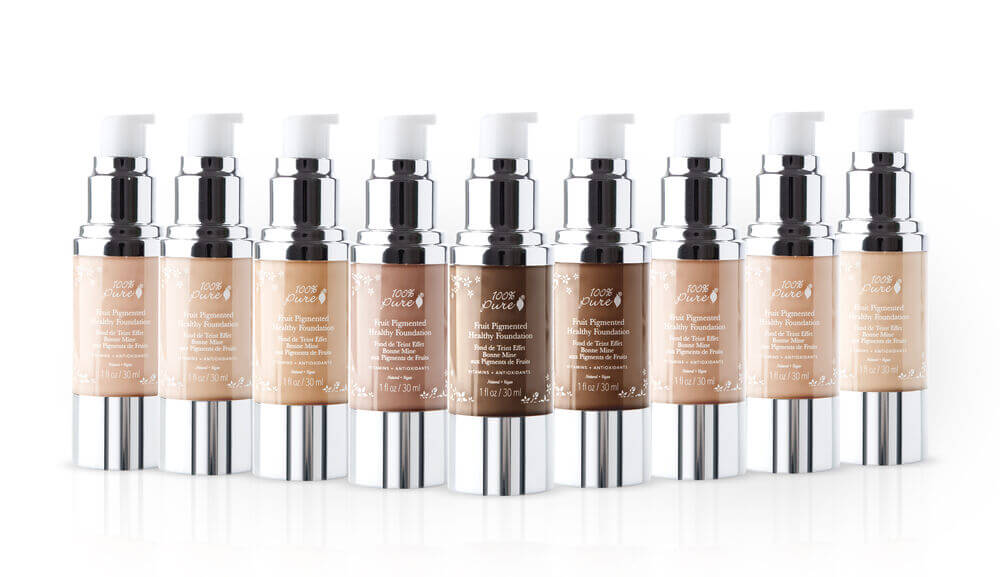 Which Foundations Can Help Moisturize the Skin?
Moisturizing foundation makeup will have different key ingredients compared to our mattifying foundations. So what makes different foundations more moisturizing than others?
First, they're formulated with more humectants that hold hydration in your skin. These foundations work best for normal to dry skin types, which need help holding moisture. If you're looking for a dewy finish, hydrating foundation makeup might just be the answer for you, regardless of skin type. Do keep in mind that many of our hydrating products also contain oils, for balanced moisture and hydration.
PRO TIP: Which oils are right for your skin type? Find out in our post on Non-Comedogenic Oils.
For light to medium coverage, our Tinted Moisturizer is the way to go. The name says it all: it's primarily a moisturizer, infused with color for lighter coverage that you can build up. Aloe juice and cucumber juice provide refreshing hydration. Acai berry fruit oil and pomegranate seed oil lightly seal that hydration, while giving your skin a softer appearance.
For medium to full coverage, try a BB cream. Aloe, shea butter, and vitamin E are some of the main moisturizers and conditioners in this formula. Aloe quenches thirsty skin, while shea butter and vitamin E maintain moisture levels. Not to mention, shea butter has wonderful emollient properties - AKA it can lead to baby soft skin.
For a light dewy finish and full coverage, our Full Coverage Water Foundation is infused with aloe and green tea as hydrators. This may be a good option for normal, dry, or combination skin types who still want a bit of a glow.
All About SPF Foundation Makeup
SPF foundation is a favorite among beauty and skin care enthusiasts. Why? Combining sun protection with an everyday makeup item is a total win. A caveat: depending on how much foundation you use, you may not apply enough product to get full SPF protection. But an SPF foundation can still be beneficial, because you get an extra layer of protection.
Foundation with zinc oxide or titanium dioxide can be beneficial for people with sensitive skin, too. Sensitive skin types tend to avoid chemical filters, like avobenzone, as they can be irritating.
SPF foundations aren't for everyone, as some people find them comedogenic. Formulating a foundation with zinc oxide and titanium dioxide can make the end product feel heavy on the skin. For certain people, this texture can clog pores and lead to breakouts.
The issue goes further when you take into account that zinc oxide and titanium dioxide often leave a white cast on the skin. Deeper skin tones might want to look for a sheer sunscreen that blends into skin, that they can use under foundation makeup.
Inclusivity
Every skin tone deserves access to clean, cruelty-free foundation makeup. We are currently working to expand our shade ranges, and are making inclusion a key factor in our product development process.
Many people of color, particularly those with deeper skin tones, often find that mainstream and natural brands don't offer foundation makeup that matches their skin. Even if a range does include deeper shades of foundation, undertones may be lacking – sometimes undertones can be too imbalanced to match skin. This often leads to people of color exerting more effort in mixing foundations, in order to create a product that matches their skin.
We recognize that we have plenty of room to grow when it comes to shade range and inclusivity. Our Full Coverage Water Foundation is our most expansive collection, but it's not enough; we are committed to improving our shade offerings and are working to provide better formulas for everyone. This includes not only expanding the skin tone range, but including warm, neutral, and cool options for different undertones.
Reminders for Perfecting Your Foundation Makeup
If you're looking for tips on perfecting your base, see below:
Apply foundation makeup before concealer. Otherwise, your complexion may end up looking chalky.

Cleanse your face and go through your essential skin care routine before putting on makeup. You don't want to trap bacteria under your foundation by applying makeup to unwashed skin.

Wear sunscreen under your foundation, even if you're using foundation with sunscreen in it – unless you can be sure that you're applying a thick enough layer of your SPF foundation.

Clean your brushes at least once a week. Makeup hygiene is essential for a smooth finish, and fewer bacterial breakouts.

Use a face primer to create a smooth, poreless canvas to apply your foundation on.
Convinced about plant-powered foundation? Find your shade by sending our Brand Ambassadors a photo of your bare face in direct, natural lighting at [email protected] – you can also check how to match your foundation and concealer or choose a natural foundation on our blog!
We carefully hand-select products based on strict purity standards, and only recommend products we feel meet this criteria. 100% PURE™ may earn a small commission for products purchased through affiliate links.
The information in this article is for educational use, and not intended to substitute professional medical advice, diagnosis, or treatment and should not be used as such.
Sign up to our email newsletter for more blog updates and exclusive discounts.
< Older Post | Newer Post >