Holiday Eyeshadow Inspiration
2 gorgeous holiday eyeshadow looks, featuring all new fruit pigmented® shades!
Posted on November 8, 2018
Written by: 100% PURE®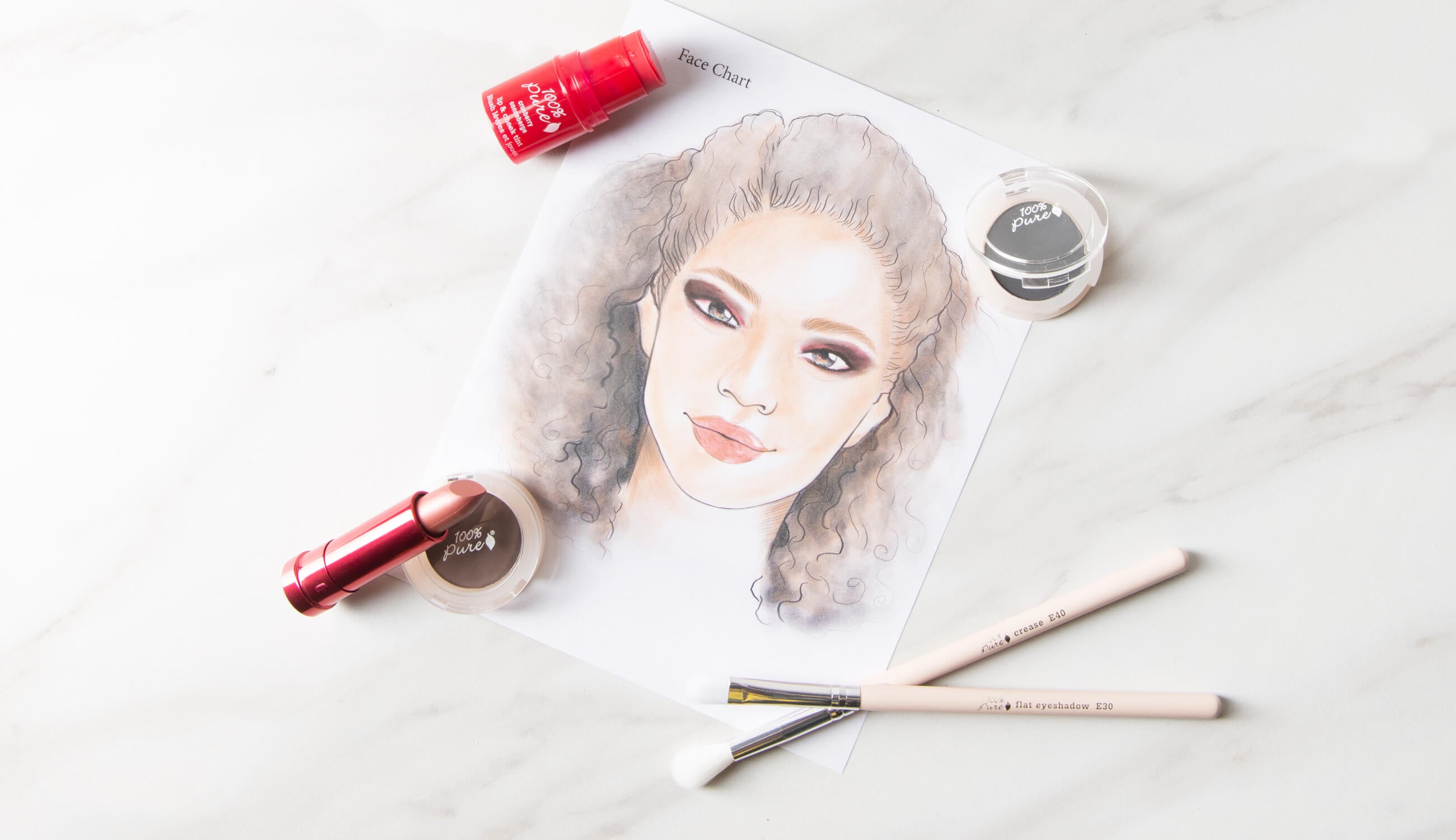 Glowy and gorgeous -- is there any other way we'd rather look? While healthy skin is certainly key to any beauty look, it all starts with the eyes. If eyes are the windows to the soul, why not play up the trim? We've dreamt up two face chart looks to inspire your own holiday makeup creations! Oh, and by the way… we used newly released eyeshadows, and even a couple shades from our upcoming palette. No biggie!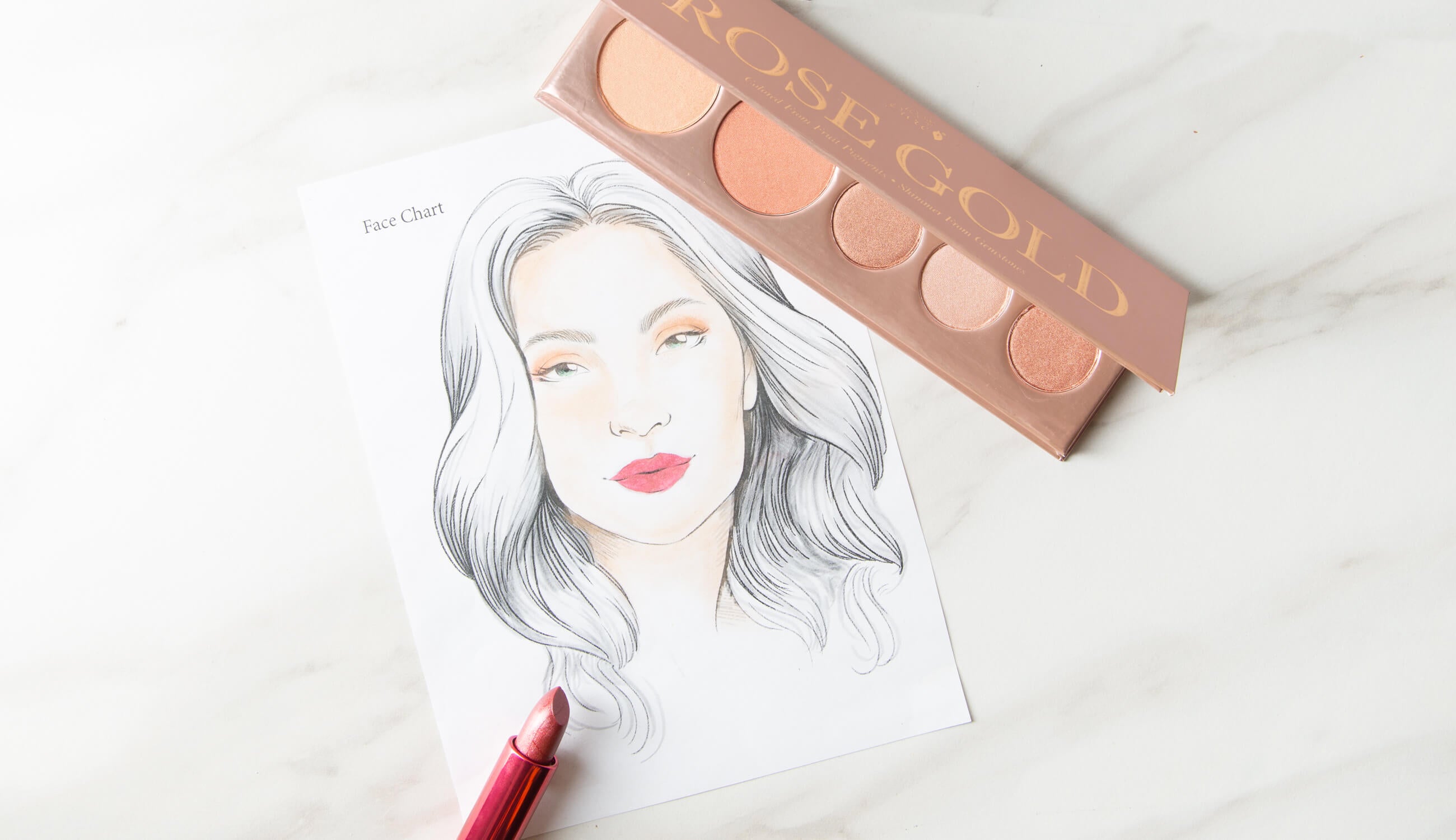 Look #1: Daytime Holiday Beauty
So you're swamped with Friends-giving parties, holiday shopping, and work -- but are still trying to look gorgeous while bouncing around town. This eyeshadow look is lower than low-maintenance, and easy to apply before running out the door. Start with a fresh-faced foundation, and a little glow from your favorite blush. Now focus the rest of your efforts on the eyes!
For a warm but wintry vibe, we're using colors of champagne and copper for this eyeshadow look. From the new Fruit Pigmented® Rose Gold Palette, we used our E40 crease brush to apply Prism all over the lid. Prism is a pale, rose gold highlighter with pearl shimmer. This soft, metallic shade will brighten and awaken the eye area on any skin tone!
To add dimension and warmth to your eyes, dip into Primp from the Rose Gold Palette with your crease brush. Primp is a coppery blush with hints of rosy pink and gold shimmer. We love this shade for both cheeks and eyes because it brings out skin's glow, while serving a magical metallic sheen. Finish your eyeshadow look with a lengthening and separating mascara, to help open and brighten the eyes even more.
For a pop of glamour, add a subtle-but-stunning metallic lipstick that will compliment the champagne tones of your shimmery eyeshadow. Try Red Gold Pomegranate Lipstick for a metallized twist on a classic red lip.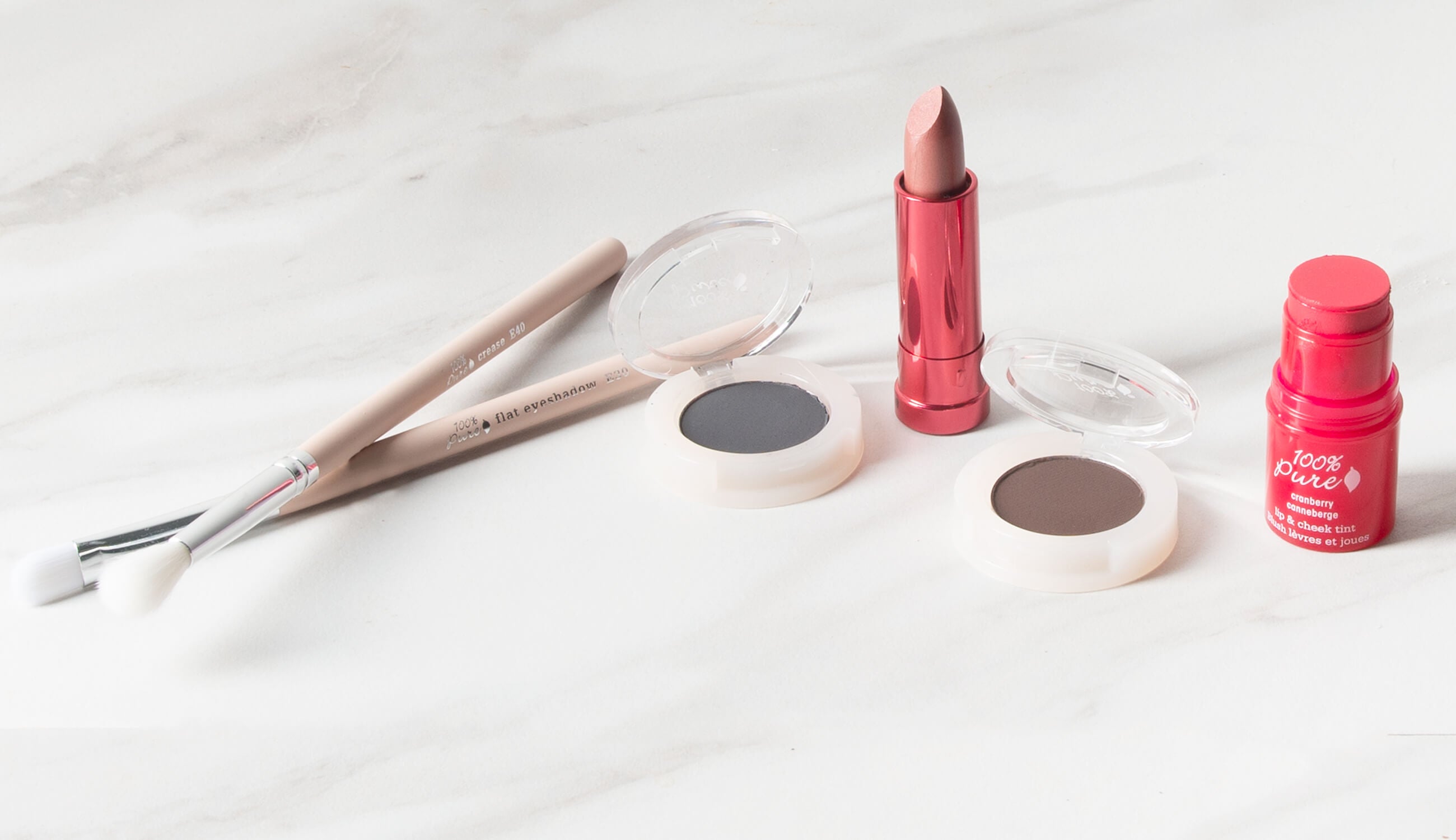 Look #2: Late Night Holiday Party
After your holiday errands and family functions are over... go home and reinvent your makeup for a night out! This eyeshadow look delivers warmth, smokiness, and glamour for any complexion, and any eye color. To achieve a berry undertone, we used an unconventional base. To create deep and smokey drama, we used 3 new eyeshadows. So, to sum up this look: it's all about layering!
Start with clean, primed lids. First, you'll use an E30 flat shader brush to create an even layer of Cranberry Glow Lip & Cheek Tint all over the lid, across the crease, and a little past the outer corner of your eye. The vibrancy of this red will transform into a neutral berry tone as you layer the other eyeshadows on top, and the cream texture will help hold powder pigment in place.
Next, you'll layer 3 Fruit Pigmented® Eye Shadow shades over your base. Start with mauvey Mink, applied all over Cranberry Glow with your E40 crease brush. You'll notice that the intensity of the red base is a bit more berry-mauve. The next layer is your blending shade: Potatoe. This deep, matte brown will go in your crease, outer corner, and under your bottom lash line. Use tight, circular motions to blend it seamlessly into your brow bone, just above your crease. Use the E20 smudger brush to bring Mink under your lash line, all the way to your inner corner.
The final touches are to nail-down that late-night, smoldering gaze! Your last shade of eyeshadow is Bamboo Charcoal. This deep, matte grey should be applied in the deepest part of your crease, and at the outer corner of your lid. This intensifies the depth of smokiness on your lids, and should be finished with a full-lining of kohl-black eyeliner all the way around the eye. With your eyeliner, go into your lower waterline, and along the upper lash line before finalizing the look with a black volumizing mascara.
Make this holiday-ready look a gift to behold by adding a little shimmer to your lips! The silky semi-gloss finish of Rose Gold Pomegranate Lipstick will balance the intensity of this mattified eye look. The pale, rosy-mauve tones of this metallized lip color will lift the undertones in your eyeshadow, without stealing the show.
Still in the holiday mood? Check out our 2018 holiday gift guide, or our feature on 2 new shimmery lipsticks. You'll be holiday-ready in no time!
We carefully hand-select products based on strict purity standards, and only recommend products we feel meet this criteria. 100% PURE™ may earn a small commission for products purchased through affiliate links.
The information in this article is for educational use, and not intended to substitute professional medical advice, diagnosis, or treatment and should not be used as such.
Sign up to our email newsletter for more blog updates and exclusive discounts.
< Older Post | Newer Post >