Browse gift sets for every budget, gift ideas for everyone on your list, and our 5 favorite stocking stuffers!
Updated on November 2, 2018
Written by: 100% PURE®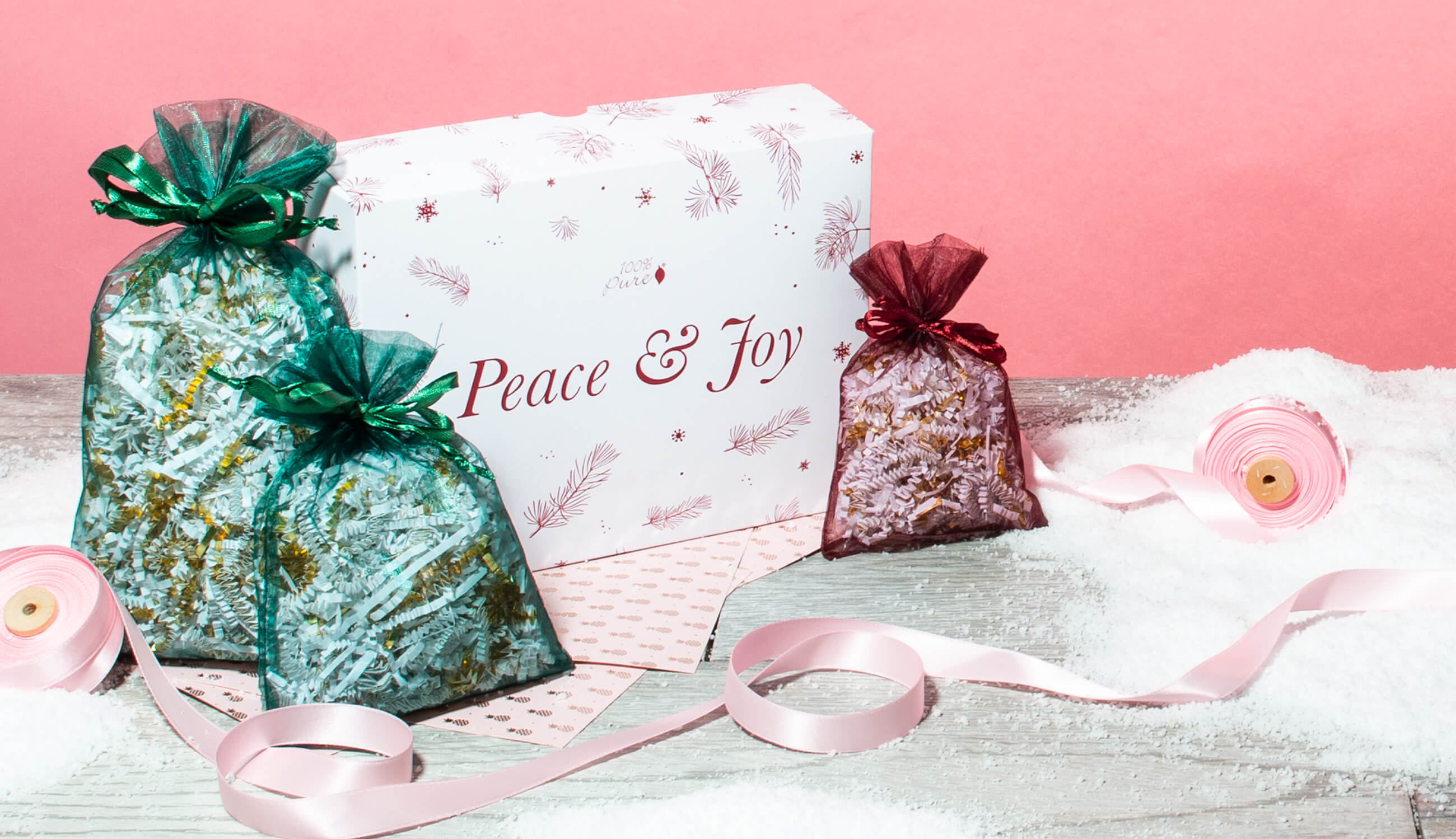 There will always be those same culprits who answer "nothing" when urged to reveal what gifts they'd like to receive for the holidays. Time to make an executive decision for these overly-low maintenance gift recipients: get them something you know they'll use, something that will improve their lives, and something that shows you care. Gifting natural skin, hair, and body care is always a safe bet -- rather than gifting 'junk food' for skin and body, gifting organic and natural is like loading up a gift basket with goodies from your local farmers market. Now that's some classy gift-giving!
We've got the lowdown on holiday gift giving, and it's all here to make your holiday season a breeze! Read on for a gift guide for every budget, plus our top picks for the top names on your list.
Holiday Gift Sets for Every Budget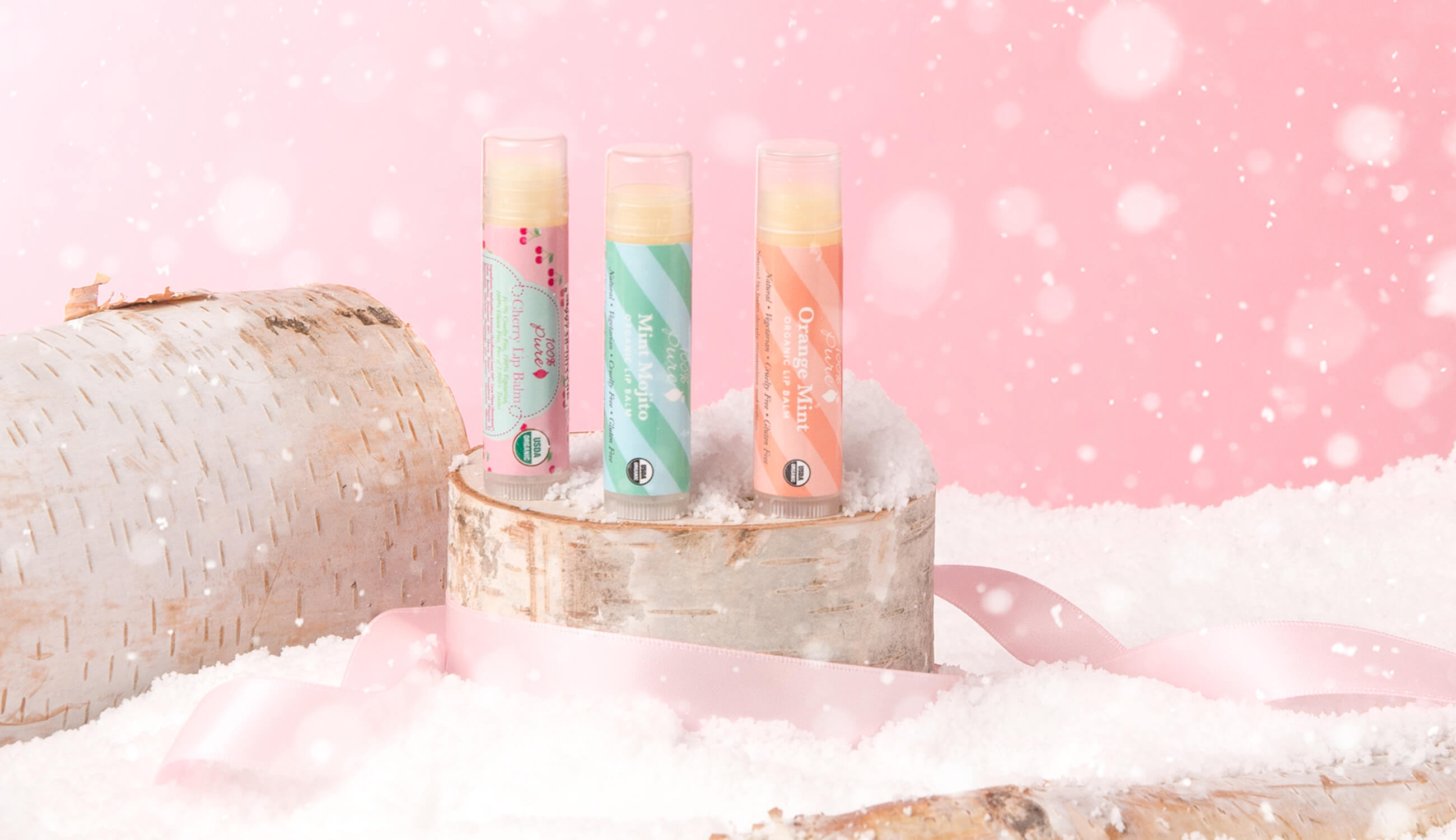 Budget Gift Sets ($30 or less)
These stocking stuffer-sized gifts pack big gift attitude! They're perfect for supplementing middle range to luxury gifts, can fly solo as a stocking stuffer or make a perfect 1-each gift for larger groups.
Luscious Lips ($13)
You can't go wrong with this lip-softening gift set! It includes 3 moisturizing natural lip balms, 2 of which are brand new flavors: Mint Mojito and Orange Mint! The third flavor is our uber popular Cherry Lip Balm. Comes in a festive holiday gift bag!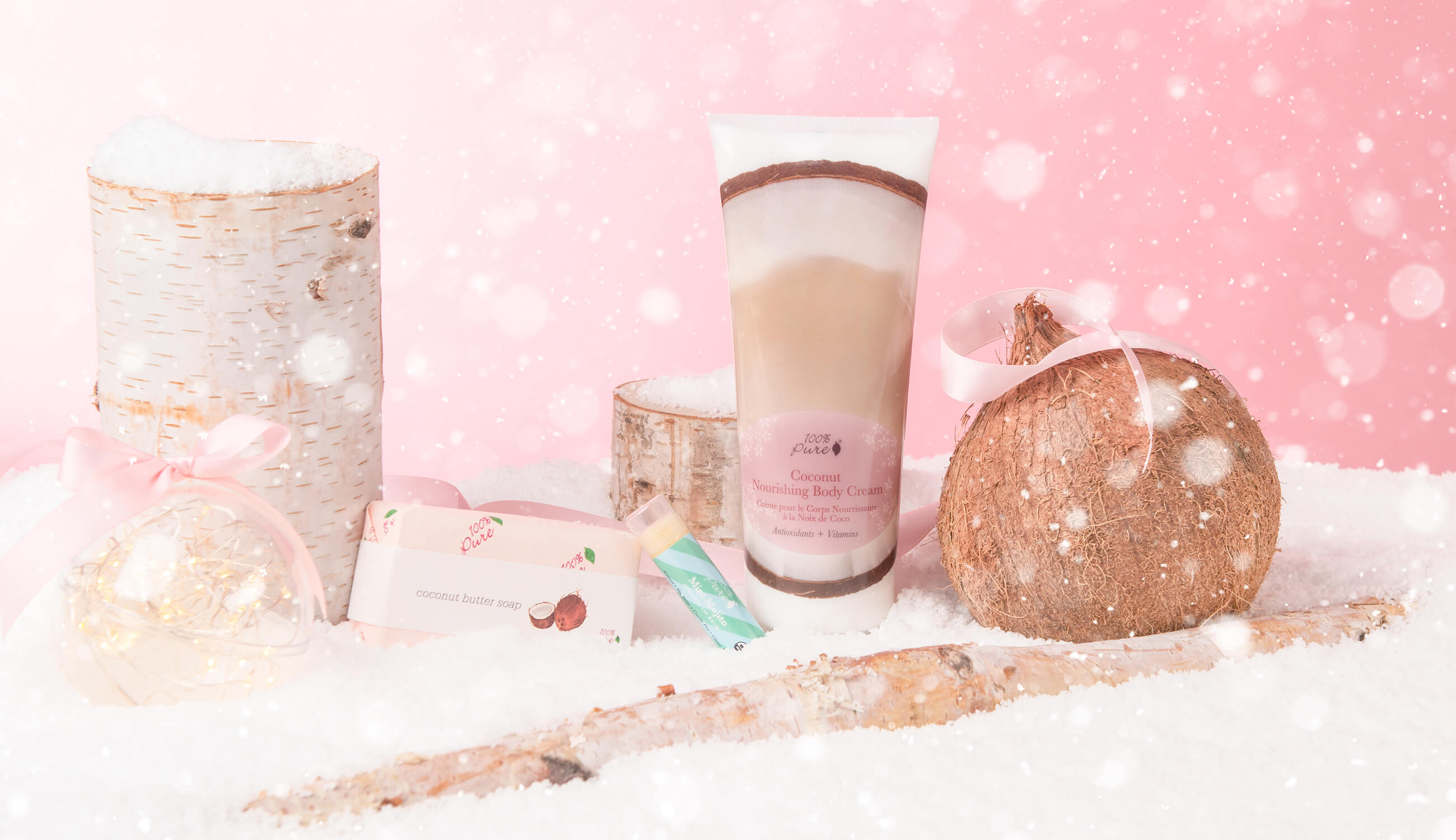 Island Dreams ($26)
This 3pc set transports you to tropical sandy beaches -- even if just in your imagination! Featuring the new Mint Mojito Lip Balm, the decadent triple-milled Coconut Butter Soap, and our rich and nourishing Coconut Body Cream. Comes in a festive holiday gift box!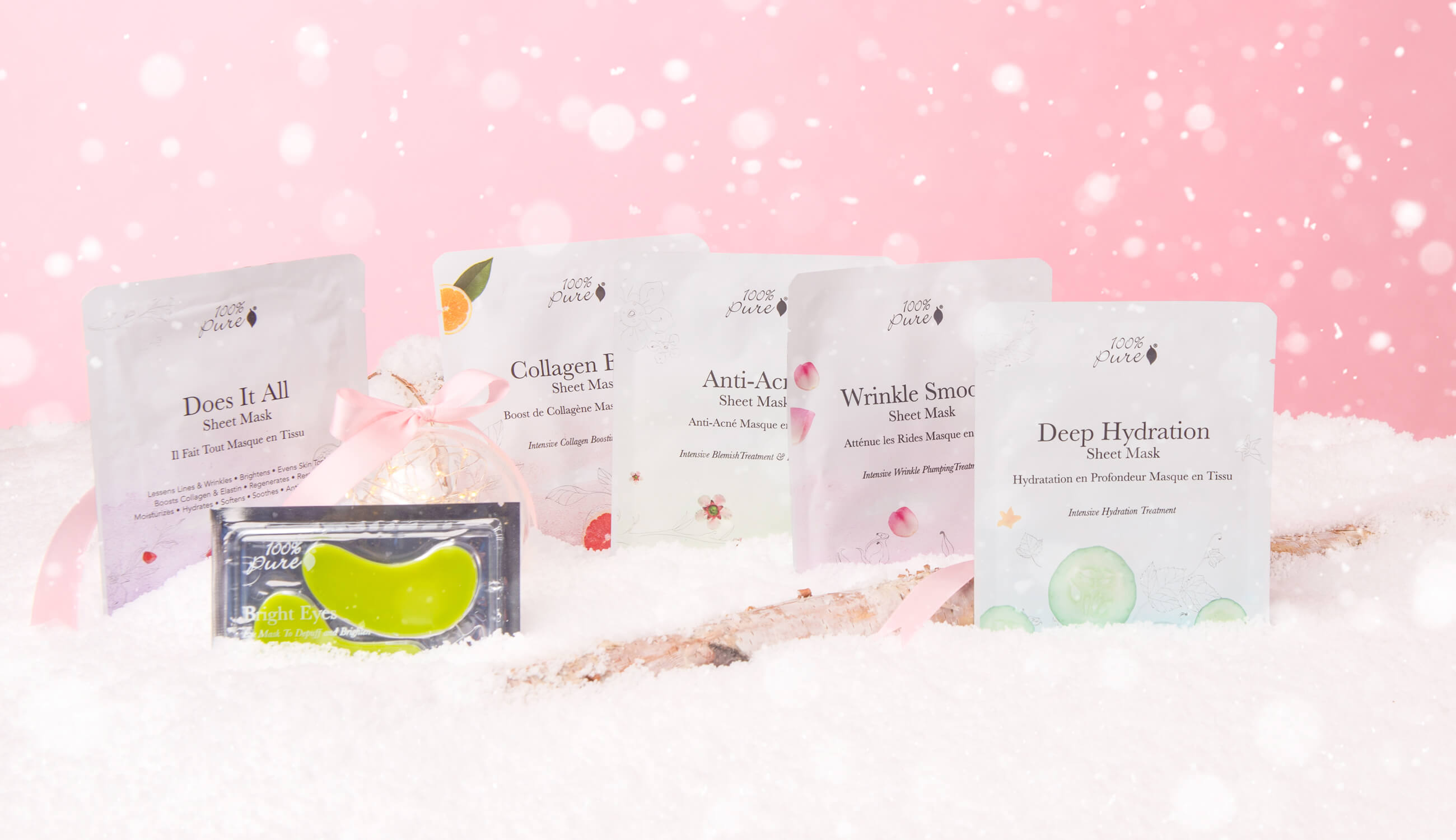 Mask Extravaganza ($26)
You know that one gift that you buy for a friend, but kinda want to keep when it comes time to wrap it? This comprehensive sheet mask set is the gift that everyone wants! This box set includes one of each mask: Deep Hydration, Anti-Acne, Wrinkle Smooth, Does It All, Collagen Boost, and Bright Eyes. Comes in a festive holiday gift box!
Mid-Range Gift Sets ($30-$60)
These gift sets are priced just right! Take your pick of cosmetic, body care, or hair care gift sets that anyone on your list will absolutely love. Time to set the bar high and gift them with toxin-free cosmetics, paraben-free body care, and silicone and synthetic-free hair care. Their hair and skin will thank you!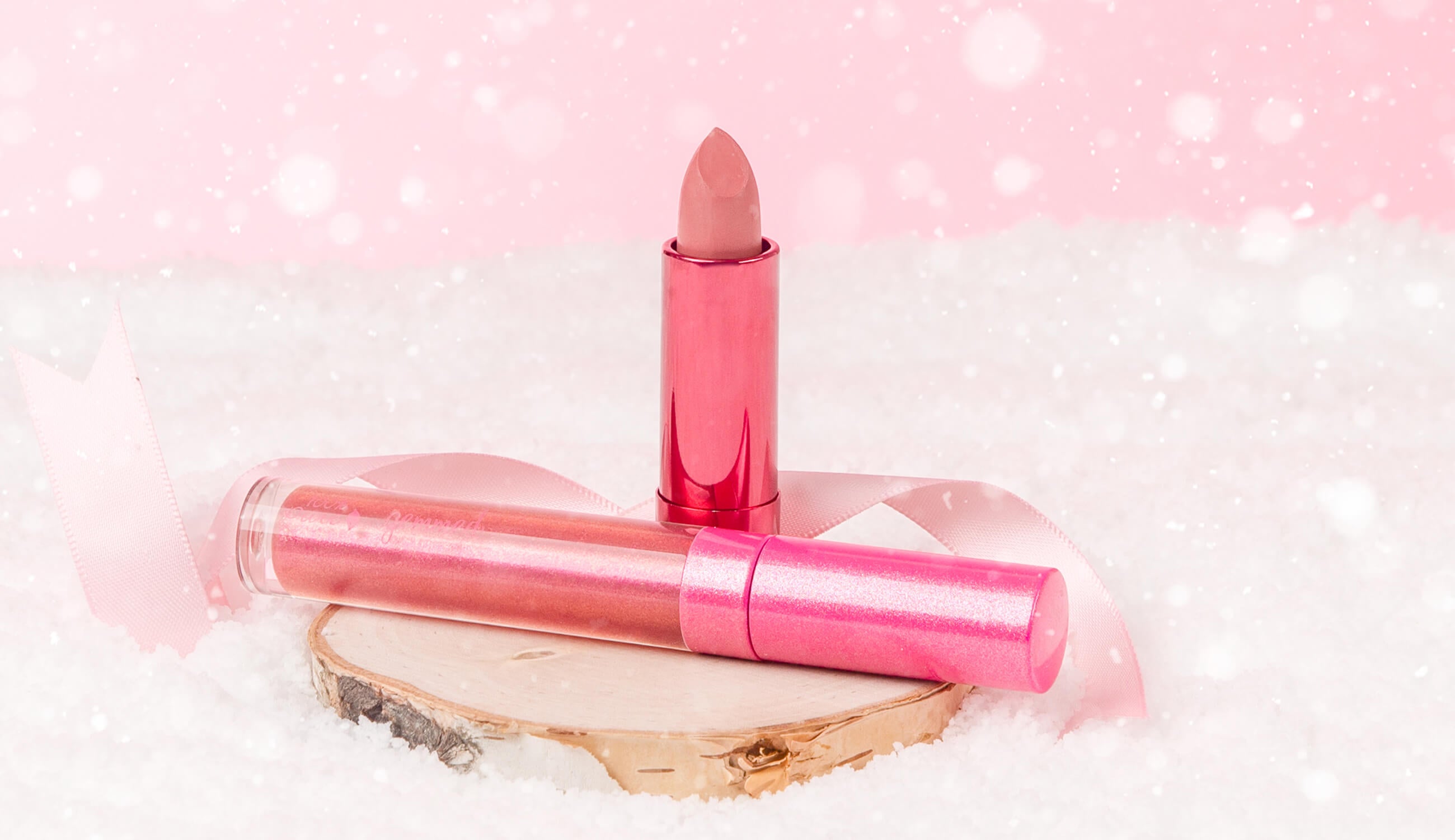 Glossy Peach Lip Duo ($39)
This fruit pigmented® combo is designed to create a sweet and subtle, glossy nude lip that's perfect for any occasion. This gift bag includes Bee Balm Pomegranate Oil Anti-Aging Lipstick (a warm, deep peachy pink) and Moonstone Gemmed Lip Gloss (a sheer mauve nude).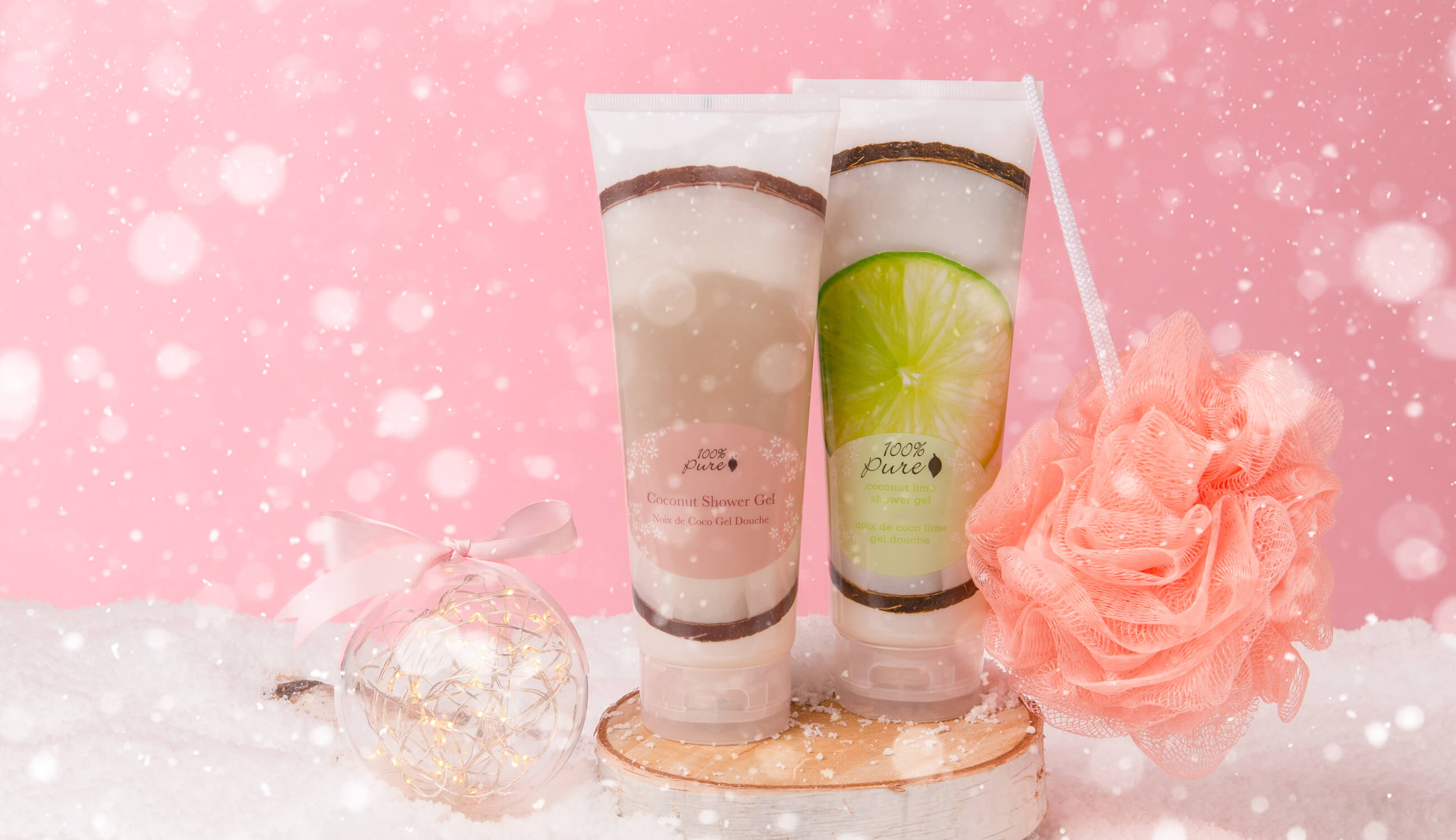 Tropi-Coco - or - Lavender Macaron Shower Set ($32 each)
Each of these sweet and sudsy sets is perfect for holiday gifting, for anyone on your list! You can go the tropical route with Coconut and Coconut Lime shower gels, to transport your giftee straight to a beachfront bungalow.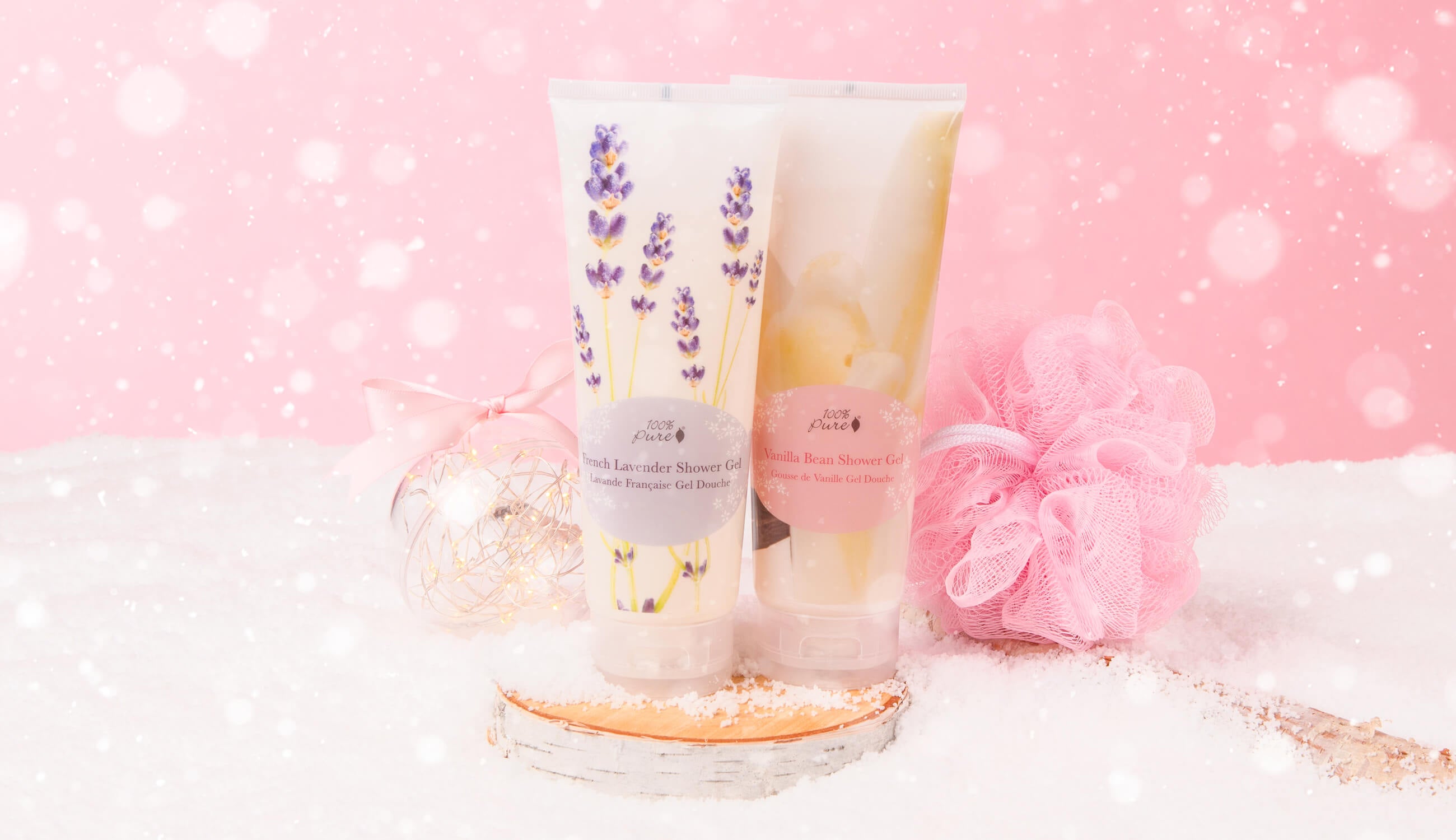 Or you could opt for a sweet duo that smells like an authentic French patisserie, with French Lavender and Vanilla shower gels. Each gift bag comes complete with 2 shower gels and a loofah in a custom holiday gift bag.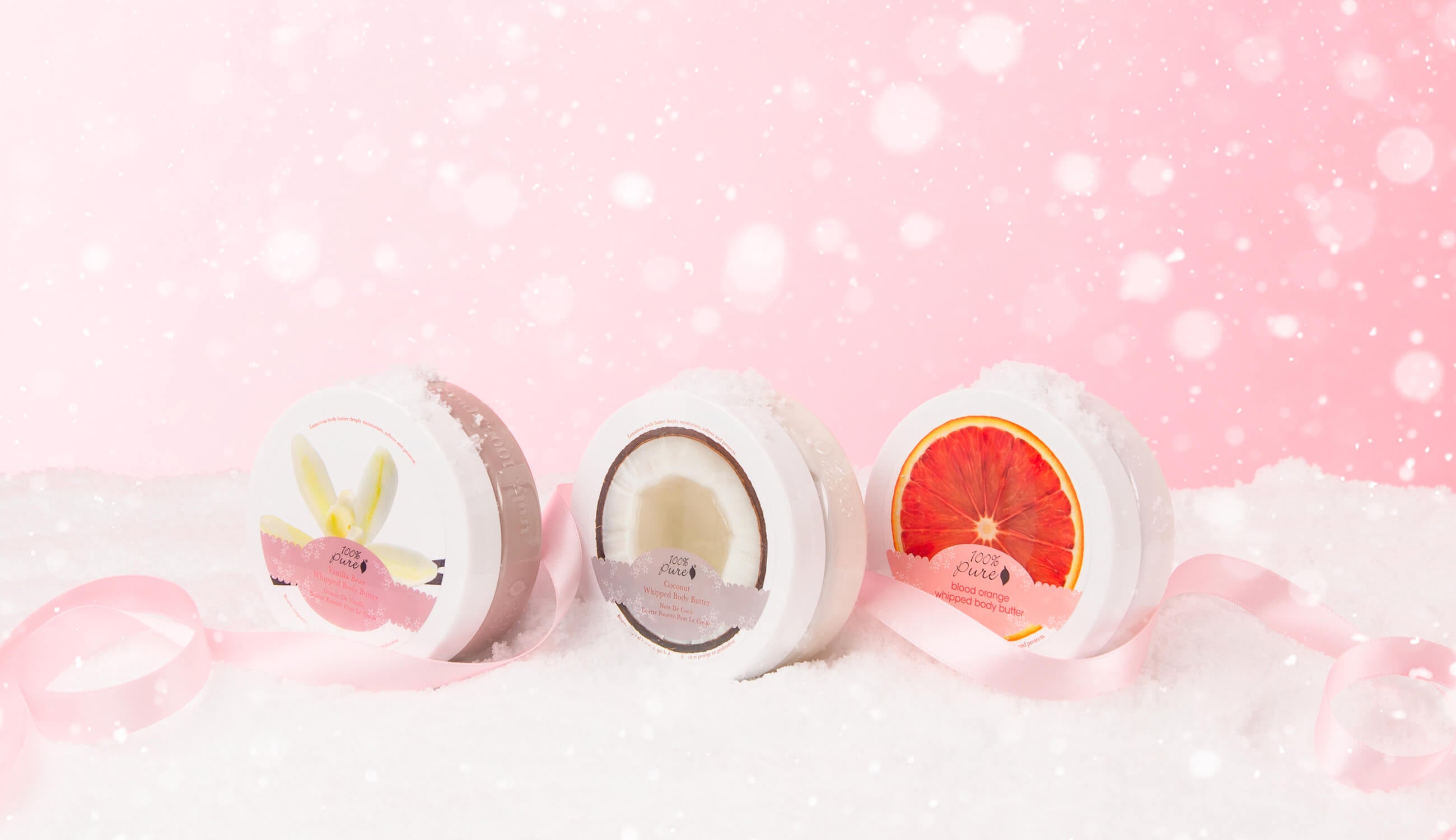 Sweet Treats Body Butter Set ($55)
This holiday gift set has 'decadence' written all over it! This mega-rich Whipped Body Butter trio includes 3 scents: sweet and nutty Honey Almond, sweet and citrusy Blood Orange, and sweet and mellow Vanilla. Made with rich avocado, shea, and cocoa butters to nourish and soften skin -- who could say no to that?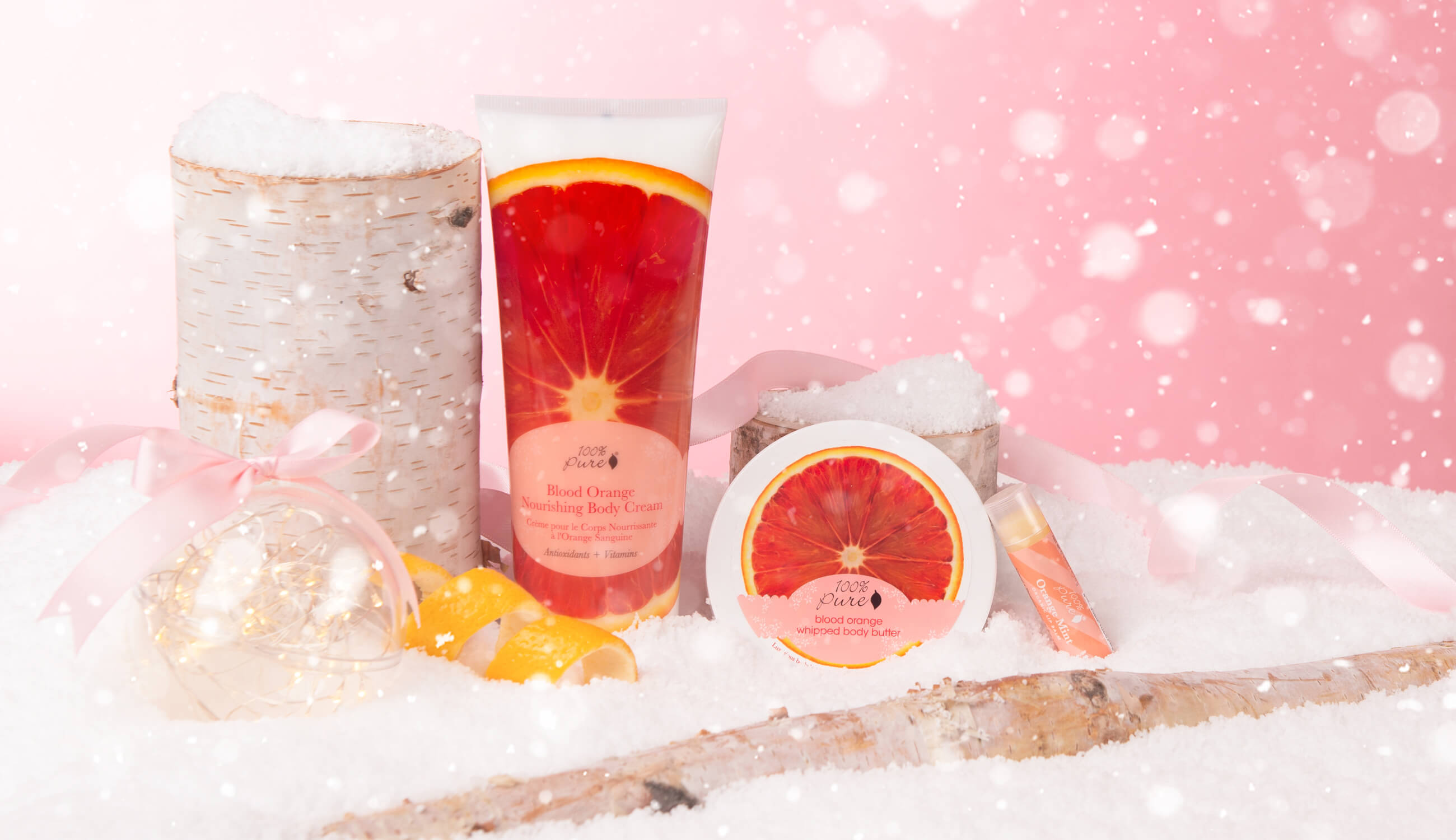 Winter Sunshine ($37)
Know anyone who's a sucker for citrus? This gift set is sure warm up any winter day by brightening both your skin and your mood! Gift box includes our new Orange Mint Lip Balm, Blood Orange Whipped Body Butter, and Blood Orange Nourishing Body Cream.
Luxury Gift Sets ($60+)
These extra special holiday gift sets are built to impress, with super limited edition combos of 100% PURE best sellers from both skin care and cosmetics. Grab these beauties before they're gone, because these lineups won't last!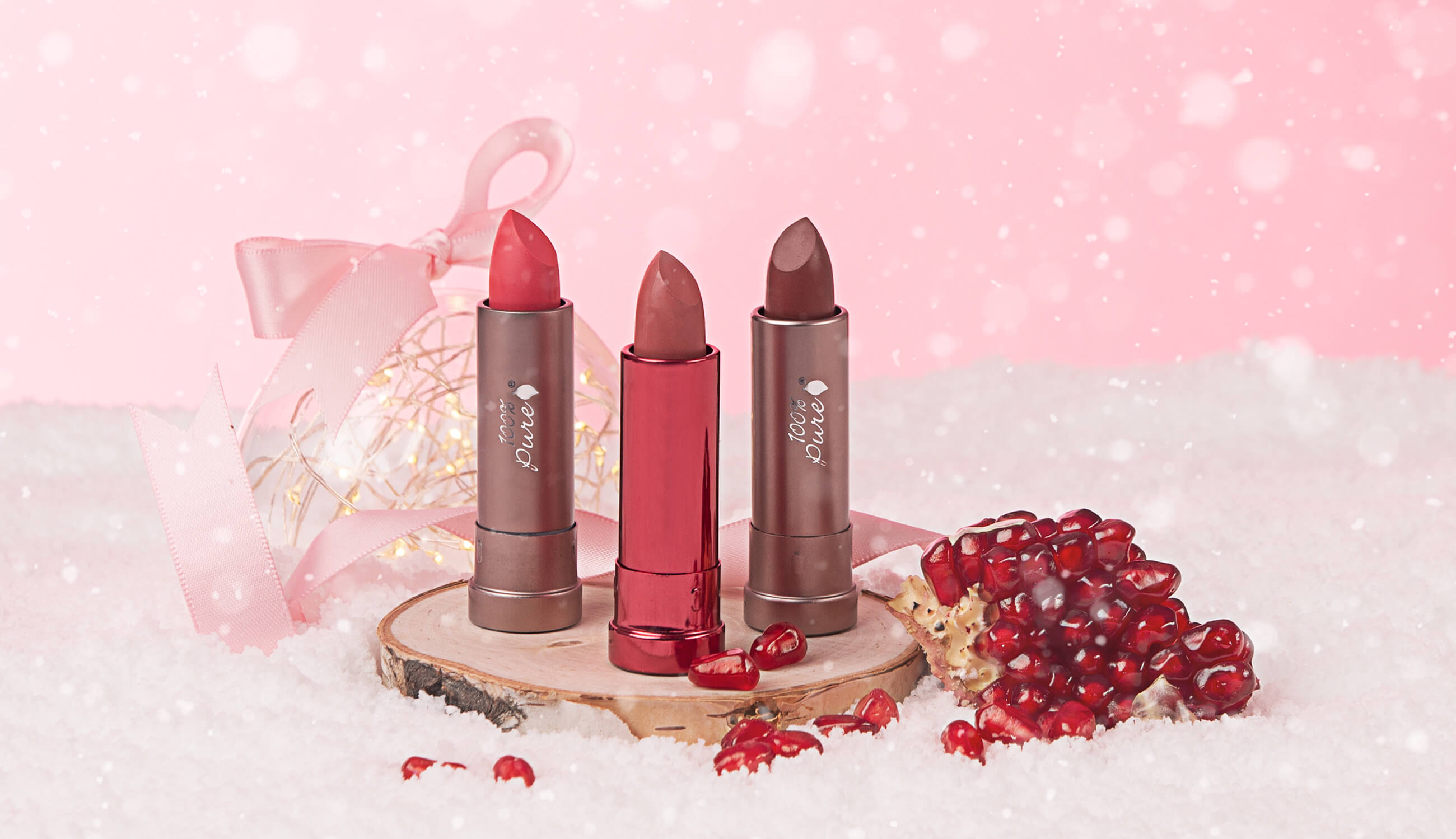 Fruit Pigmented® Lipstick Trio ($61)
If someone on your list LOVES lipstick (and seems to sport a new shade every week), you can't go wrong with this gift set. A versatile trio of lip-softening, fruit pigmented® lipsticks will make any makeup lover jump for joy! This gift bag features 3 shades: Cacti (a cool, sepia brown) and Prickly Pear (a vibrant coral pink) Cocoa Butter Matte Lipsticks, and Bee Balm (a warm, deep peachy pink) Pomegranate Oil Anti-Aging Lipstick.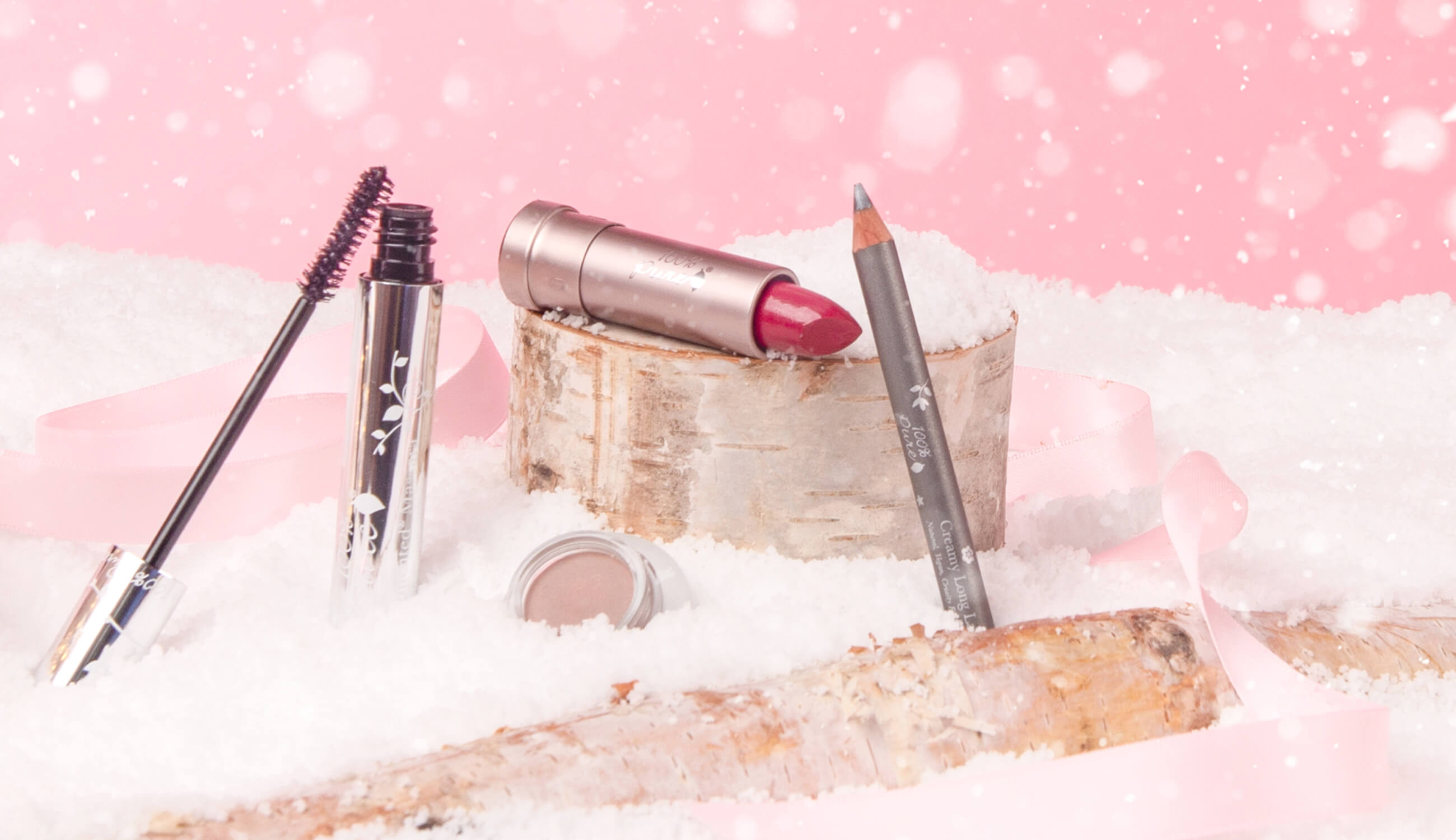 Barbados Berry ($75)
Create stunning makeup looks with this exclusive set, featuring berry hues and gleaming silver! Set includes Currant Cocoa Butter Matte Lipstick (a berry red), Blackberry Ultra Lengthening Mascara (a deep purple), Barbados Satin Eye Shadow (a shimmery chocolate brown), and Creamy Long Last Liner in Gleaming Pewter (a true silver).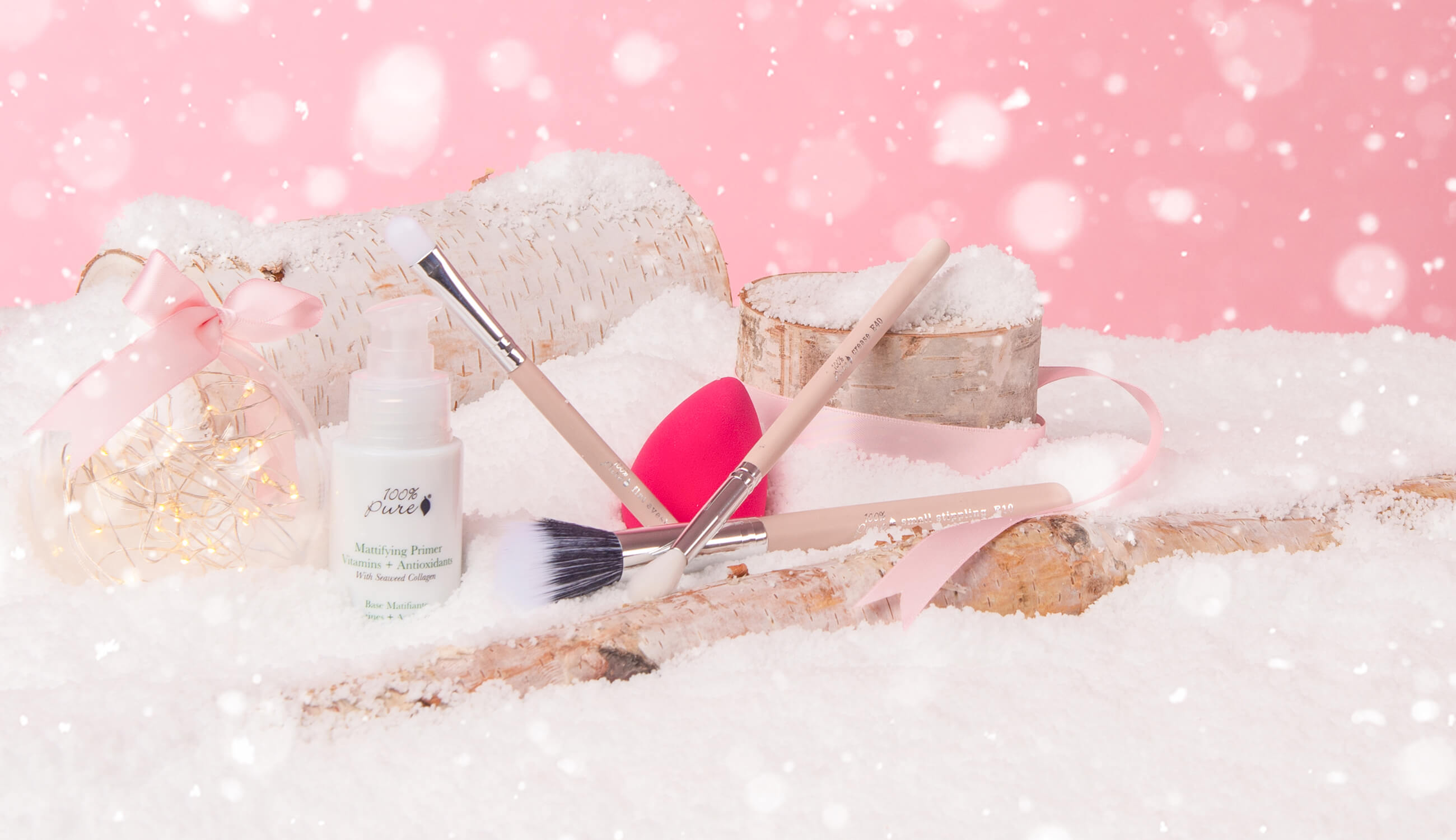 Makeup Essentials ($86)
This gift box contains a one-stop-shop for the makeup lovers on your list! It includes every tool they'll need to create a flawless full makeup look: Mattifying Primer, Cruelty-Free Smudger Brush E20, Cruelty-Free Flat Shader Brush E30, Cruelty-Free Small Stippling Brush F10, and our Non-Latex Beauty Blender. Want to really blow them away? Throw in some fruit pigmented® makeup, too!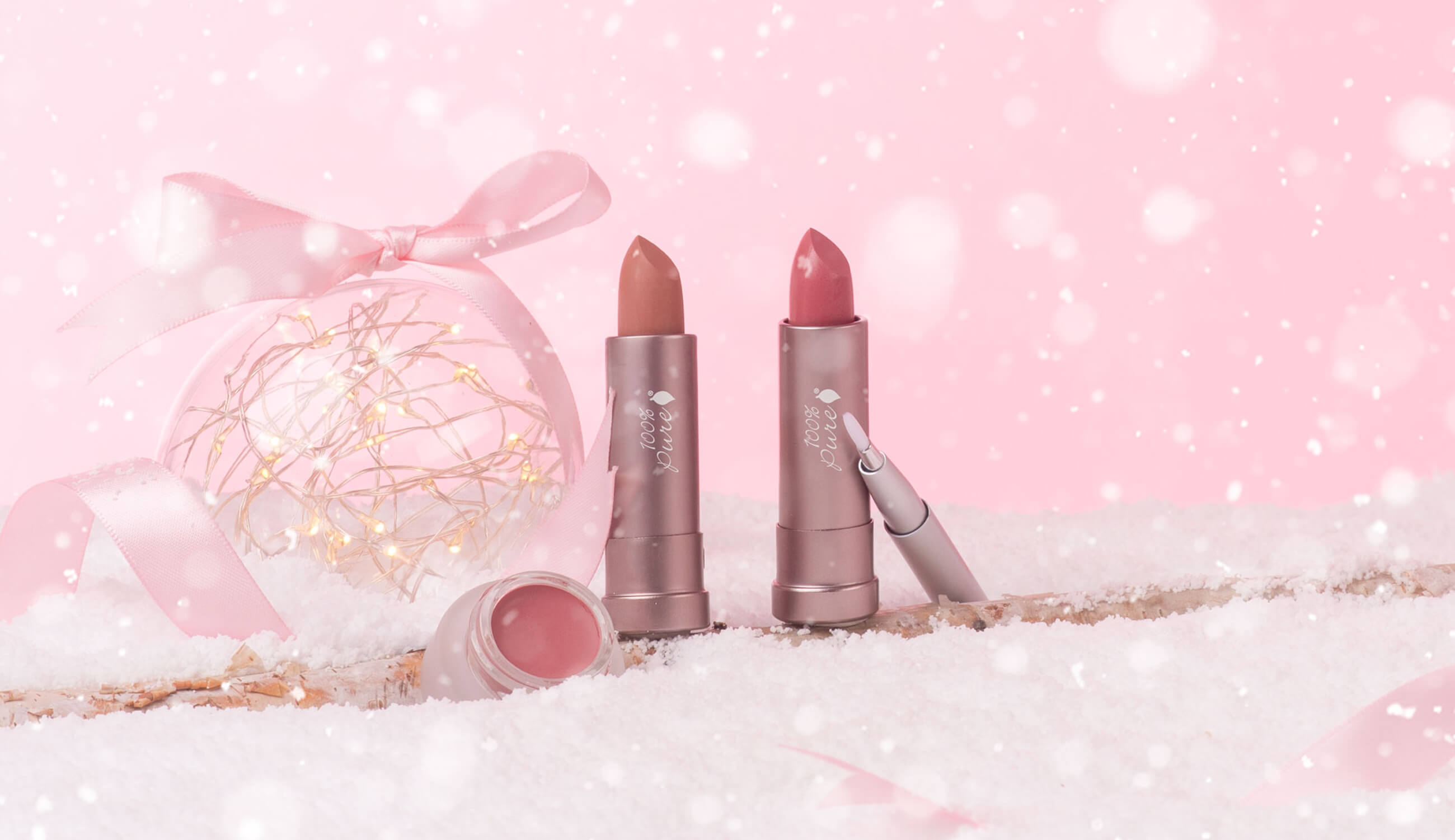 Desert Sunset Makeup Set ($66)
Warm up winter skin with this fruit pigmented® lipstick, blush, and brush set! Featuring gorgeous tones of rose, brown, and dusty pink. This gift bag includes Pinkie Pot Rouge Blush, Cruelty-Free Lip Brush L10, and 2 Cocoa Butter Matte Lipsticks in both Agave and Mirage.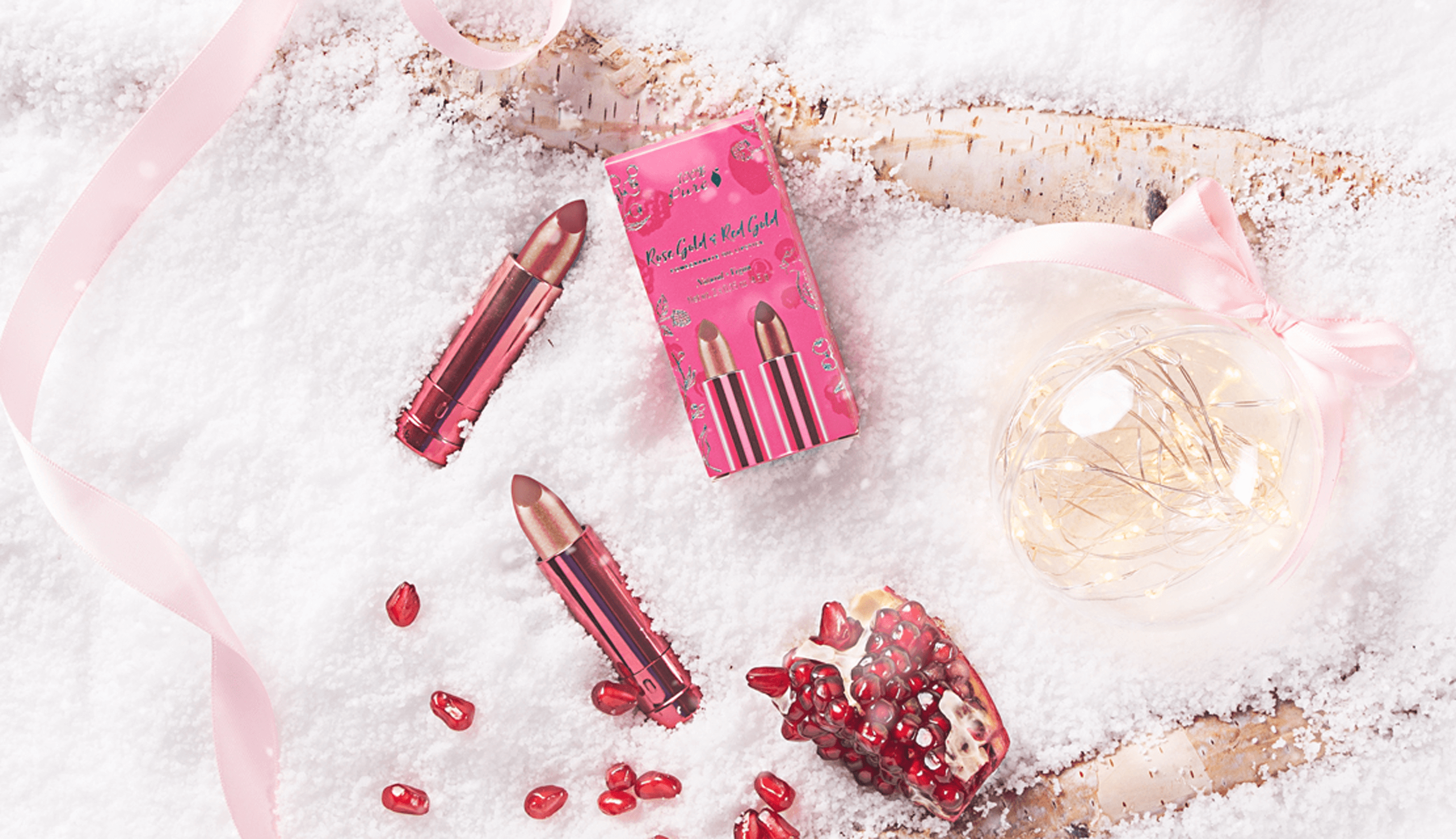 Best Gifts for Your Favorites
As you can see, we're featuring some all-star gift sets this holiday season. Check out our fave picks for a few of the biggest names on your gift list!
Mom
For mom, we're loving anything that says "I love you… now pamper yourself for once!" For that special lady in our lives, we're obsessed with gifting skin-loving face masks or an award-winning scrub. It's the easiest way to transport her straight to the spa, and will have her snapping and sending selfies to you all day long.
Dad
Sorry Dad, but sometimes you're definitely the hardest to shop for. If your dad is a low maintenance dude, chances are he doesn't have much of a skin, body, or hair care regimen. Get Dad's feet wet with an online gift card and show him the ropes by picking a routine that works just for him.
BFF
Shopping for your bestie is the next best thing to shopping for yourself! You get to shop for the stuff you want, without the guilt of spending money on yourself when you're on a holiday budget. Snag a neutral makeup palette that's versatile enough to fit any skin tone. Or a show-stopping lipstick duo infused with subtle gold shimmer (perfect for NYE). How about a long-lasting, Ultra Lengthening Mascara in your bestie's signature shade for good measure?
Coworker
You're on the grind together, sharing in your goals, victories, and failures (along with a few laughs). Reward your fave coworkers with a gift that means something to someone who works hard for a living: spa-worthy or desk-friendly is the best way to go! To help them unwind after an especially tense holiday season, gift them with relaxing bath soaks, made with crystallized kelp from the Brittany Coast of France. For their desk, hit them with a cute and useful duo of Hand Buttercream and Lip Butter.
Grandma
If Granny is into her skin, we've got just a few winning ideas! Set her up with a Whipped Body Butter trio that will soften her skin with decadent butters and anti-aging oils. Or, opt for our fan-favorite Multi-Vitamin Serum that will boost elasticity and gently brighten her complexion. Another safe bet from Grandma? Load her up with a skin safe, toxin-free body care set that she'll love sharing when her kids and grandkids come to visit.
GIFTING PRO TIP: Overthinking a gift? Want to gift your BFF with a foundation she'll love, but not sure what shade she wears? We're so so happy to introduce our 100% PURE online gift card! Get gifting with a gift of $10, $25, $50, $100, $150, $200, or $250 that will unlock all of their beauty and skin care dreams.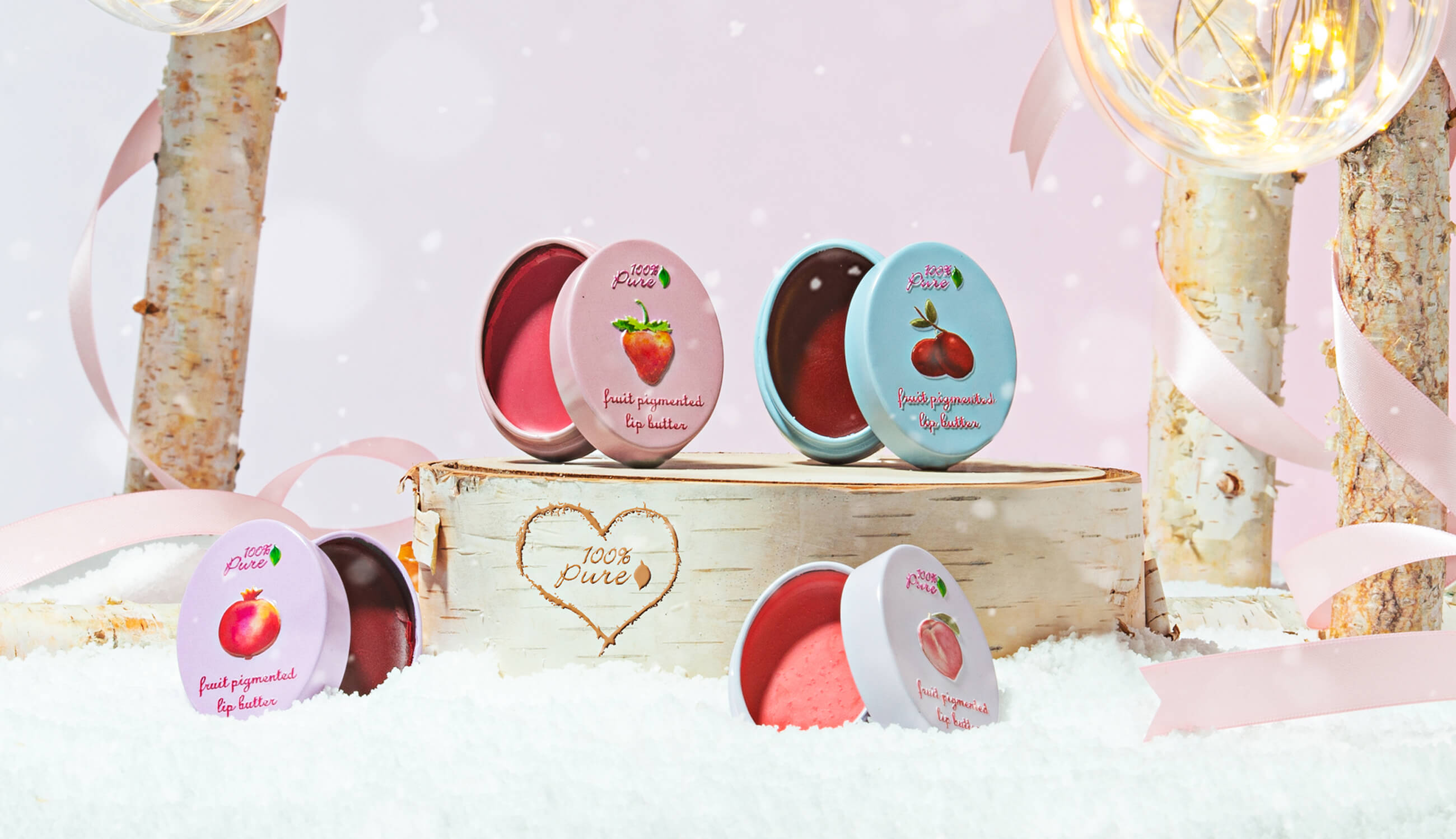 Don't Forget the Stocking Stuffers!
Pick up a few of our best-selling and most giftable small items to stuff those stockings!
Bright Eyes Mask (single or 5pk)
These refreshing eye masks are perfect for at-home spa treatments, extra early mornings, or a midday eye refresher that can be worn anywhere.
Coffee Bean Caffeine Eye Cream
This brightening, skin softening eye cream will be a fast favorite for anyone on your gift list. Potent doses of caffeine from green coffee and green tea keep eyes looking fresh and awake while de-puffing and minimizing dark circles. Also available in a mini size!
We call it 'Buttercream' for a reason! This super luxurious hand cream is thick enough to soothe and soften hard working hands with decadent cocoa, avocado, and shea butters. Get one for each of your besties in their signature scent!
Our Butter Soap collection is triclosan-free and made with only a few skin nourishing ingredients, including mega skin softening oils of olive, virgin coconut, and avocado. Our fave Butter Soap scents? Sweet and mild coconut, refreshing eucalyptus, and soothing lavender.
Lip Butter (Cranberry, Peach, Pomegranate, or Strawberry)
These thick and buttery tinted lip balms are the absolute ideal stocking stuffers! You can pick the perfect shade for each of your friends, or gift them with the whole set! Made with rich veggie and seed butters, and colored by real fruits like cranberry, strawberry, and peach.
This holiday season, we've got your back. We hope you've enjoyed our customized holiday gift guide, and that you can cross some names off your list! Check back on our blog for more useful guides and helpful skin care hints!
We carefully hand-select products based on strict purity standards, and only recommend products we feel meet this criteria. 100% PURE™ may earn a small commission for products purchased through affiliate links.
The information in this article is for educational use, and not intended to substitute professional medical advice, diagnosis, or treatment and should not be used as such.
Sign up to our email newsletter for more blog updates and exclusive discounts.
< Older Post | Newer Post >