Day to Night Natural Makeup Look
How to use natural makeup to take your look from sunny to sultry in a few simple steps!
Posted on June 10, 2023
Written by: 100% PURE®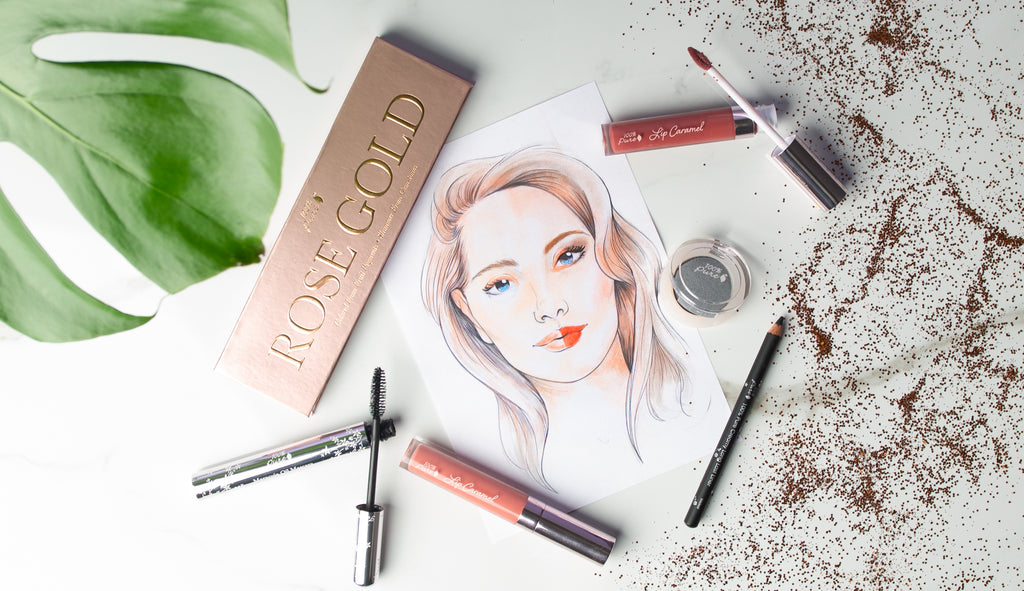 It's 5pm on a Friday: ahead lies freedom.
A kid-free night with the hubby, a night out with the girls, an awards season watch-party with friends - and a refreshed, revved-up makeup look. We're living in the age of multi-tasking, schedule-cramming, and general overachieving, so an easy transformative day-to-night natural makeup look is key.
We've put together a simple makeup look that keeps you looking gorgeous throughout the day, and can be easily layered up at night. The natural makeup products we've used are also multi-taskers on their own, which are made with bold, anti-aging fruit pigments.
Follow these simple steps for a customizable day-to-night makeup look with the best natural beauty products for your personal freedom fest!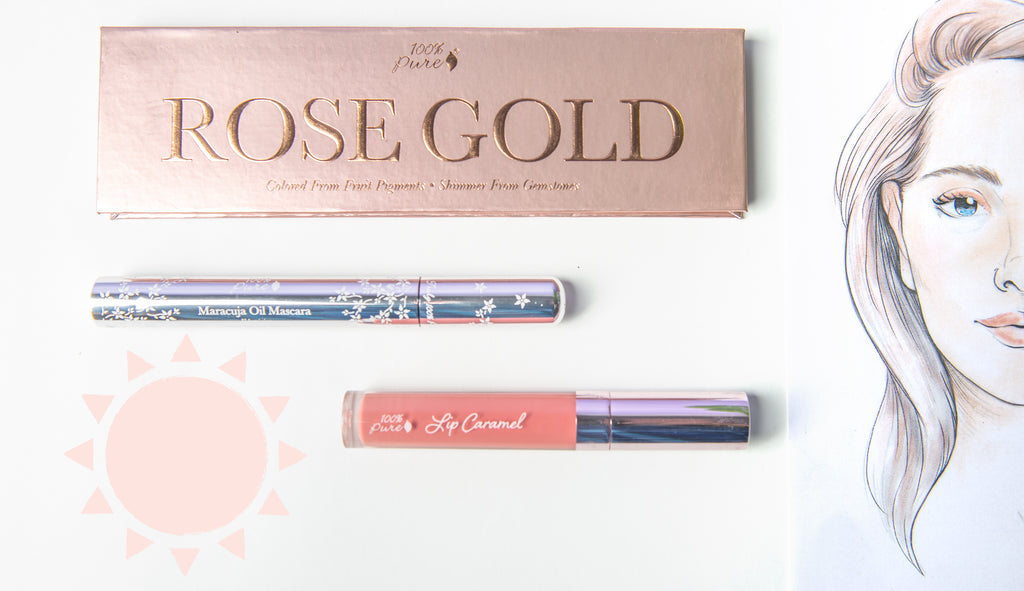 Part 1: Daytime Natural Makeup Look
FACE (dewy + luminous)

We start our daytime look with a refreshing BB cream formula. These daytime warriors keep skin luminous, dewy, and refreshed all day with ingredients like aloe, shea, cornflower water, and even antioxidant-rich fruit oils from raspberry and bilberry. BB creams are great for daytime wear because they create a creamy base with medium to full buildable coverage and a soft-focused finish.
To apply, use clean fingers and pat into skin. Finish by blending creases around nose and eyes with a cruelty-free stippling brush. You can also opt for a damp makeup blender for a slightly softer, more dewy effect.
If you have oily skin but want a healthy glow sans slick skin, use our Luminous Primer. This silicone-free, antioxidant infused primer diffuses pores and illuminates with light reflective pigment while giving flawless, long lasting cosmetic application.
CHEEKS (glowy flush)

For a daytime blush, use a warming shade that gives your skin a light flush of natural color. We used our Fruit Pigmented® Blush in Mimosa, to keep with the warm tones in our eye makeup look (see below), but you can choose any shade that flatters your skin tone! You can choose the perfect shade of blush for your skin tone, made with fruit pigments like plum, strawberry, and cherry.
To apply for daytime wear, use your cruelty-free blush brush and swirl into your powdered blush of choice. Tap brush once on the side of your pan before softly dusting along the apple of your cheeks. For cream blush formulas, use clean fingertips or a small makeup brush to swipe a layer onto skin, then blend with fingers into apples of cheeks.
PRO-TIP: Applied too much? Use a damp beauty blender or stippling brush to diffuse the pigment for a more natural flush.
BROWS (soft + feathery)

For daytime looks, we favor the brushed-up, youthful effects of a brow tint. Our Green Tea Fiber Brow Builder helps stimulate hair growth for fuller, healthier brows and uses tea and cocoa to provide a natural tint of color.
For a light and airy natural brow look that's polished enough for work or errands, grab your Fiber Brow Builder. If you have dense brows, first use a clean, dry spoolie brush to comb your hairs upwards; this will help to achieve a more controlled application of your brow tint. Now use the same upwards combing motion with your Brow Builder spoolie, and finish by combing the top edge of the brow down towards the tail. Brush up the hairs once more at the inner end of each brow for a feathery finish.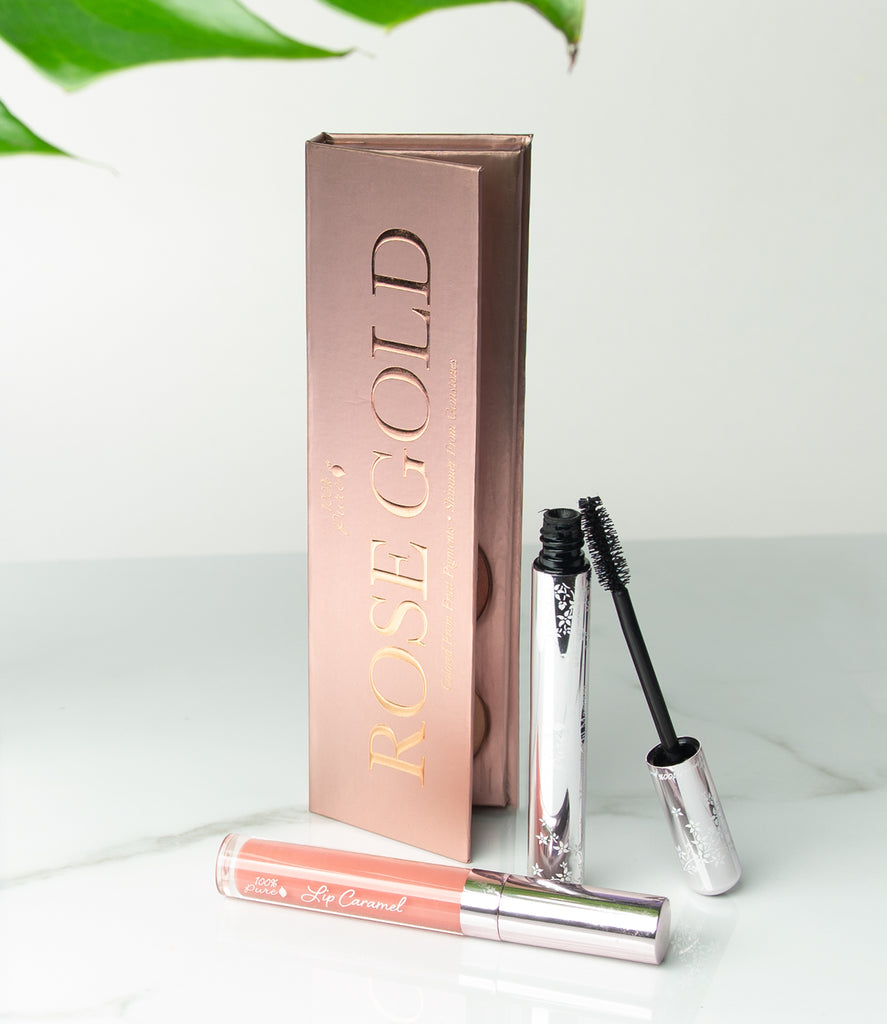 EYES (light + bright)

Our pick for daytime eye makeup is light and subtle, and can be easily layered up for your evening makeup look. First, dab on an under-eye concealer. Our 2nd Skin Concealer is a creamy, lightweight concealer colored from fruit and made with hydrating olive squalane. It's a blendable and buildable formula for medium-full coverage with a natural finish.
We then chose two soft eyeshadow shades from our Rose Gold Palette: Primp blush and Gleam eye shadow. These gorgeous shades are made with fruit pigment and shimmery mica, offering flattering pink and copper tones to complement eyes and skin.
To brighten the eyes for a "woke up like this" glow, apply the pale pink, luminescent Gleam shadow all over lids. Use fingers, or a small, flat eye shadow brush for even color payoff. Next, using a brown cocoa eyeliner, trace a line on your top lash line. Next, using the same flat brush, pack Primp blush pigment on top of the white line. The result is a pinky copper 'liner' effect around your eyes, which will flatter any eye color or complexion.
Finish this daytime eye makeup look by applying mascara to your top lashes only, making sure to use a natural volumizing mascara that cleanly separates and fluffs each lash. This mascara will carry your look well into the evening, too!
Newsletter
Subscribe
for more blog updates and exclusive discounts
LIPS (juicy + bare)

Diamonds are great - but we'd argue that a nude lip gloss is a girl's best friend! A juicy, moisturizing lip gloss can elevate any no-makeup or full-glam look in a single swipe - not many lip products can boast that particular power. Keeping this in mind, and the fact that we'd be layering on a whole new color when we transition to our evening look, we opted for a natural lip gloss for our daytime face.
Using Naked Lip Gloss (or any shade that suits you; they're all sheer), swipe over clean, dry lips.
PRO TIP: For those of you who prefer a pop of color, stay in the gloss family but opt for a neutral shade. Our Pink Caramel gloss is the perfect neutral shade for glossing up your daytime smoochers.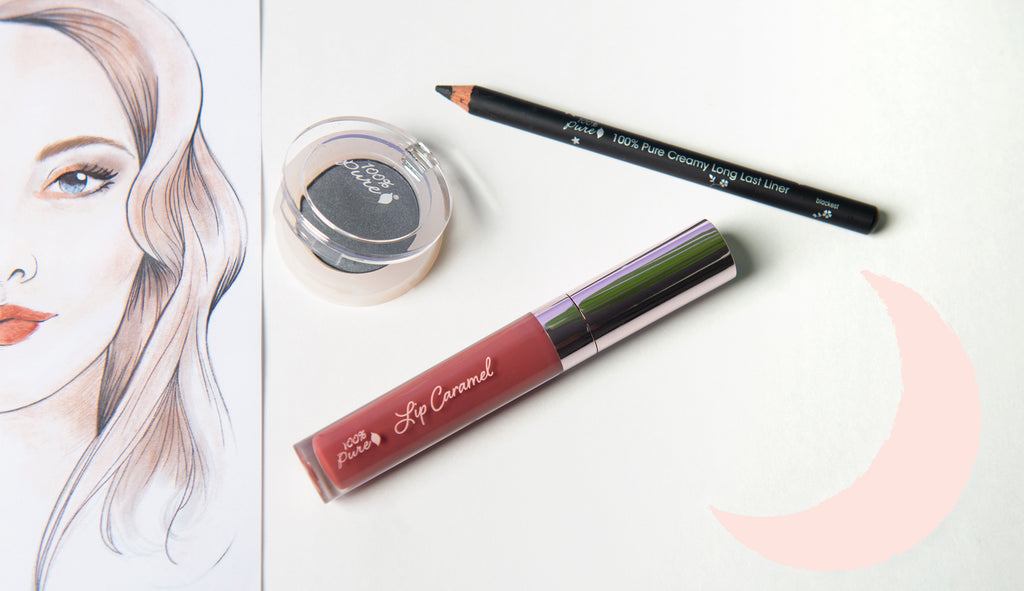 Part 2: Nighttime Natural Makeup Look
FACE (semi-matte glow)

To touch up your daytime foundation, you'll simply be layering a full coverage formula over you BB cream. We chose the ultra-lightweight Water Foundation for the task. This soothing formula is made in a base of hydrating aloe juice that will perk up thirsty skin and restore a healthy glow. Full coverage means makeup that looks flawless (and natural - no cake-faces here) in both bright light and low-light. With these day + night formulas layered together, the result is a soft glow beneath a seamless semi-matte finish.
Before you start your nighttime foundation touch-up, refresh your skin with a spritz of our purifying and pore-refining Lavender Tonique. Next, depending on how heavy of an application of BB cream you added in the morning, you may only need to 'spot apply' your PM foundation.
Start with a damp makeup sponge, and pump Water Foundation onto the bulbed end. First apply to your forehead, inner cheeks around the nose, and chin by bouncing the sponge against skin until it's blended out. You can also apply anywhere you feel skin has started to produce and oily shine or makeup has smudged off during your day.
CHEEKS (soft + structured)

Transitioning cheeks from day to night is simple: you can reapply your daytime formula, or add a soft swipe of powder highlighter. Our Gemmed Luminizer is a stunning powder highlighter that is colored by fruit pigments and laced with light-reflecting gemstones like opal, pyrite, and moonstone to illuminate your skin.
A big mistake that most make is to double down on blush during the night, or worse, choose a darker color. There's no faster way to clown-face than the heavy-blush express. Simply give a single re-dusting of your daytime formula, and add a light swipe of highlighter for a glow that catches the starlight just right.
Step 2 of your nighttime cheek makeup comes in the form of contouring with a bronzer. Grab a Cocoa Pigmented Bronzer that matches your skin tone, and a cruelty-free angled contour brush. Swipe bronzer to the areas of the face where you could use a little extra definition, like the jawline, below the cheekbones, and along the sides of the bridge of your nose. Structuring your face will help define your features at night, and using the warm glow of a bronzer is the best way to do it subtly, without looking 'painted'.
Need a more detailed tutorial on contouring? Check out our highlight and contour post with natural makeup!
BROWS (full + defined)

Since your brows will already be tinted from earlier in the day, transitioning to your evening look will be a piece of cake. The goal here is to add structure, and touch up on fullness and texture. We've employed our brow pomade product, Long Last Brows. This conditioning formula comes in 4 shades and glides onto brows and skin for a natural finish that won't clump up. Pigments from cocoa and tea deliver long-lasting pigment that won't smudge or budge as your evening goes on (looking at you, 80's dance night).
Using an angled brow brush, collect a small amount of pigment from the Long Last Brows pot. Using the thin edge of your brush, lightly line the edge beneath your brow. Start about a fingernail length from the inner end, and finish with a soft, tapered point at the other end, just past the length of your last hair. With the remaining pigment, use thin brushstrokes to emulate hair growth along the rest of your brow. The goal is to simply add definition, and add extra pigment if your brows tend to be sparse. Finally, finish with a reapplication of your brow tint.
Need a more detailed tutorial on achieving the best brows ever? Check out our post on how to get fuller brows in a few easy steps!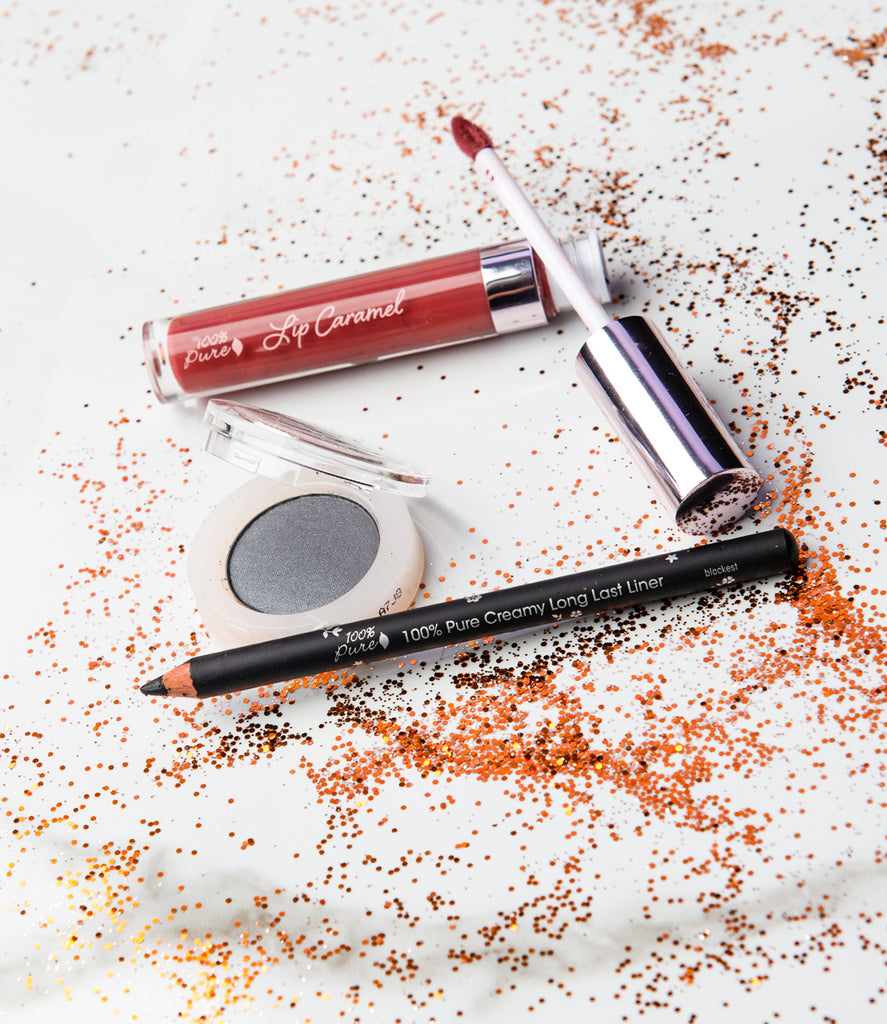 EYES (soft + smokey)

While keeping with the rosy pigments from your daytime eye makeup, we'll be adding smokiness to the evening version of this eye look. This time we're adding matte shades for depth and drama, and amping up the smudge-factor on your copper liner for an eye brightening and smoldering effect.
Start with your flat shader brush and Mink eye shadow. This fruit pigmented® pressed formula is one of our newest shades, and offers deep, mauvey brown pigment with a matte finish. Cover your lid in this shade, all the way up to your crease. Next, dip into the shade Bamboo Charcoal, which is a rich, deep pewter gray with dark blue undertones. Blend this shade along the outer corner of your eye, just above your lash line and making a sideways "v" into your crease.
Buff into your base shade until you get a soft and smokey effect. Follow with the leftover pigment on your brush just under the bottom corner of your eye, to give the appearance of thicker bottom lashes. For more precision, use our Cruelty Free Eye Liner Brush #6. Finish with a black pencil eyeliner along the upper lash line, and under the outer edge of your bottom lashes, to enhance smokiness.
Finish this look by reapplying the coppery Primp blush from your Rose Gold Palette. This time, use a smudger or tapered brush to buff extra pigment along your bottom lash line, for a warm, metallic smokey effect that balances the deep shadows of your upper lid. The last step for pretty PM peepers? Curl lashes with our stainless steel Eyelash Curler and your trusty volumizing mascara and use the tapered outer tip to lightly coat your outer, bottom lashes.
LIPS (matte + bold)

Taking your lip color from day to night is a step that can-NOT be forgotten! You can juxtapose your daytime glossy look with a matte finish for evening, or glide over with a glossy liquid lipstick. For this look, choose from the warm clay-brown of Mojave Cocoa Butter Matte Lipstick, or the deep, mauvey-brown gloss of Truffle Lip Caramel.
If you're looking for a more long-lasting pout, our Cocoa Butter Matte Lipstick in Sonora gives you the perfect vibrant pucker! This formula is colored from real fruit, and a nourishing blend of cocoa and shea butters to moisturize and soften lips.
Ta-da! With the wave of your magic (makeup) wand, your sweet daytime face has transformed into a spellbinding evening visage! Use this blog as a roadmap for a by-the-book look, or simply for natural makeup inspiration. Most importantly, make the most of your evening hours of freedom - before your carriage turns into a pumpkin!
We carefully hand-select products based on strict purity standards, and only recommend products we feel meet this criteria. 100% PURE™ may earn a small commission for products purchased through affiliate links.
The information in this article is for educational use, and not intended to substitute professional medical advice, diagnosis, or treatment and should not be used as such.
Sign up to our email newsletter for more blog updates and exclusive discounts.
< Older Post | Newer Post >